MasterClass currently have a Black Friday 2-for-1 deal. Click here to find out more.
Here at Learnopoly we've fully completed and provided in depth reviews of over 90 of the best MasterClasses across every category. 
So if you're wondering what the top classes on the platform are, this article is here to help.
And as MasterClass regularly brings new instructors to the platform, we update this article regularly to make sure it has the latest classes included.
So, let's get to it.
First, if you're short on time, here's a quick round up:
Quick summary
Top 10 overall best MasterClasses
This is our top ten countdown of the best MasterClasses out of the 90+ classes that we have completed and reviewed in full.
Of course, what's best for you depends on what you're interested in. So check out our reviews in the best in category section below if you have a particular interest.
10. Jocko Willink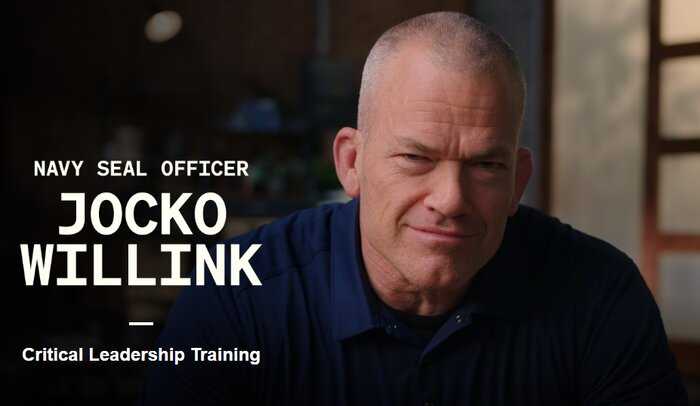 Course: Jocko Willink – Critical Leadership Training Length: 1 hour and 11 minutes divided into 10 video lessons Category: Business
Jocko Willink's depth of knowledge when it comes to leadership is hard to beat, and with his MasterClass you can learn the leadership techniques that took him decades of experience and training to refine and perfect. Although he covers similar ground in his book, Extreme Ownership, here we get to see the same techniques neatly summarized in a video course, and being applied in real-world situations. It's well worth the investment.
9. Chris Voss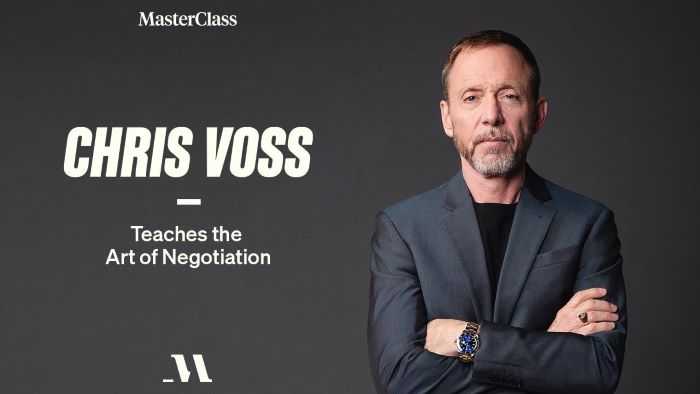 Course: Chris Voss teaches the Art of Negotiation Length: 3 hours and 4 minutes divided into 18 video lessons Category: Business
The techniques taught in this course are easy to use, memorable and effective. The theory behind them is thoroughly explained and you can see them backed up in action – sometimes with real life footage from hostage negotiations. Take this course and you'll learn how to let the other person have your way.
8. Yotam Ottolenghi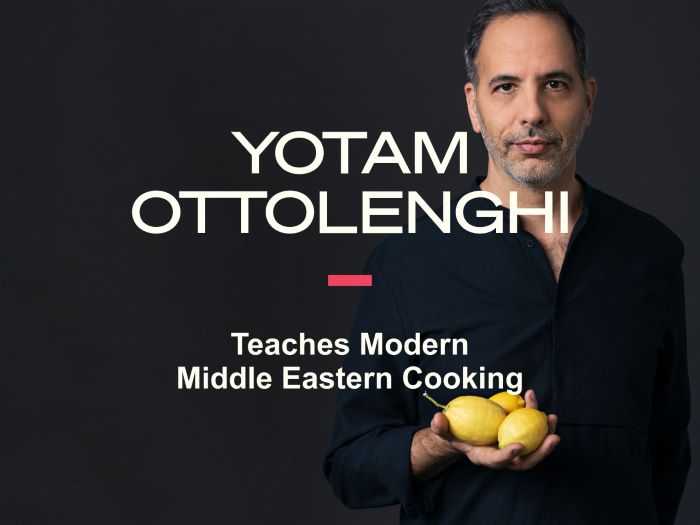 Course: Yotam Ottolenghi teaches Modern Middle Eastern Cooking Length: 5 hours and 40 minutes divided into 26 video lessons Category: Food
An amazing MasterClass that builds skills from simple to complex in logical steps that take your cooking from good to great. Also has lots of tips for hosting guests and staying calm in the kitchen. Helps you impress your friends and make Middle Eastern dishes that look as good as they taste.
7. James Cameron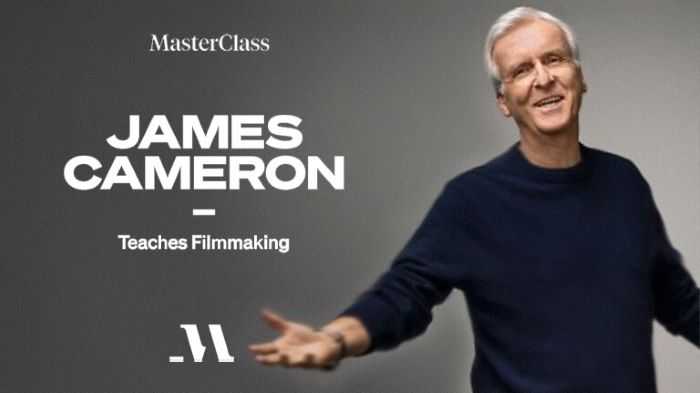 Course: James Cameron teaches Filmmaking Length: 3 hours and 20 minutes divided into 15 video lessons Category: Entertainment
A well planned and carefully structured MasterClass that provides a wealth of practical tips and techniques supported by clear working examples. This class provides you with a new lens for understanding film. A unique opportunity to learn from an academy award winning director with over four decades of experience and an infectious passion for his art.
6. Stephen Curry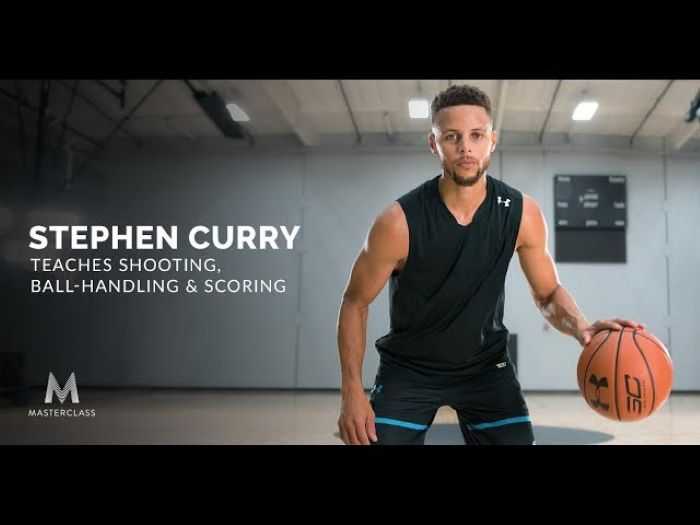 Course: Stephen Curry teaches Shooting, Ball-Handling and Scoring Length: 3 hours and 41 minutes divided into 17 video lessons Category: Sport and Gaming
An extremely well crafted and taught MasterClass with a superb balance of theory and practice. The attention to detail is great and there are detailed explanations of the techniques and how to apply them. The routines have a sound learning curve and can slot into your practice straight away.
5. Thomas Keller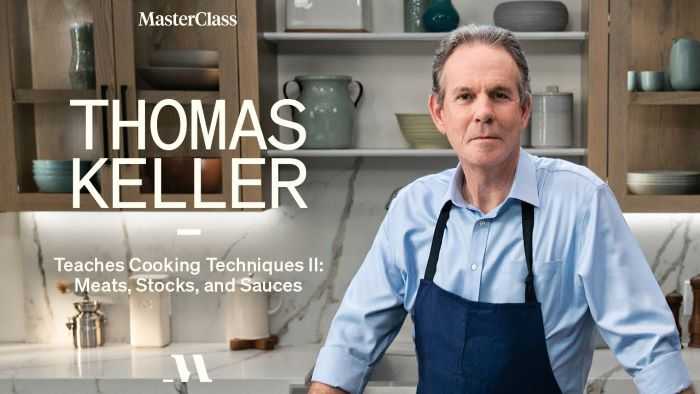 Course: Thomas Keller teaches Cooking Techniques Length: 17 hours and 33 minutes divided into 3 separate MasterClasses (totaling 75 video lessons) Category: Food
Keller's classes provide a strong focus on technique, not recipes. Every food group is covered by America's most decorated chef in a modest, down to earth style. Building from simple to complex, this MasterClass will provide you with transferable skills and the confidence to apply them and become a more adventurous cook.
4. Salman Rushdie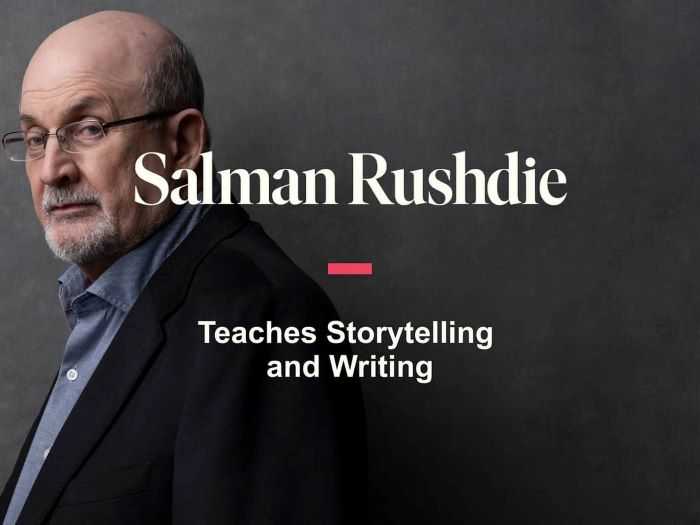 Course: Salman Rushdie teaches Storytelling and Writing Length: 4 hours and 17 minutes divided into 19 video lessons Category: Writing
Rushdie's MasterClass contains an abundance of practical guidance and tips that you can use straight away to improve your writing. It's carefully curated and structured and accompanied by exercises and resources that continue to support learning long after the MasterClass is over. An eye opening course that will equip you to tell your story in the best way.
3. Chris Hadfield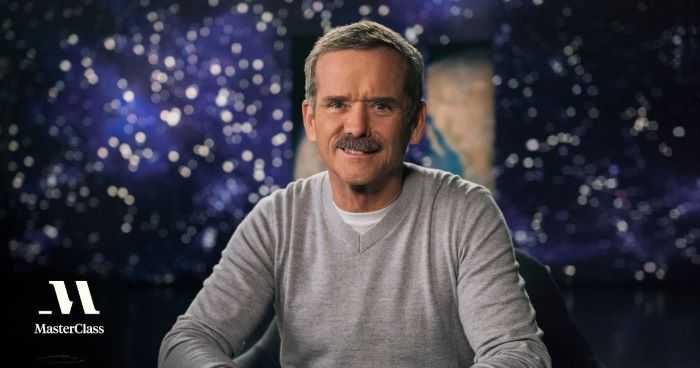 Course: Chris Hadfield teaches Space Exploration Length: 7 hours and 47 minutes divided into 29 video lessons Category: Science and Technology
A truly great MasterClass that is transformative, accessible and fun. There is a lot of theory but it's clearly explained with strong examples, props and resources. Hadfield is a gifted, passionate teacher and his class will change not just how you think about space, but about yourself and the future.
2. Tom Morello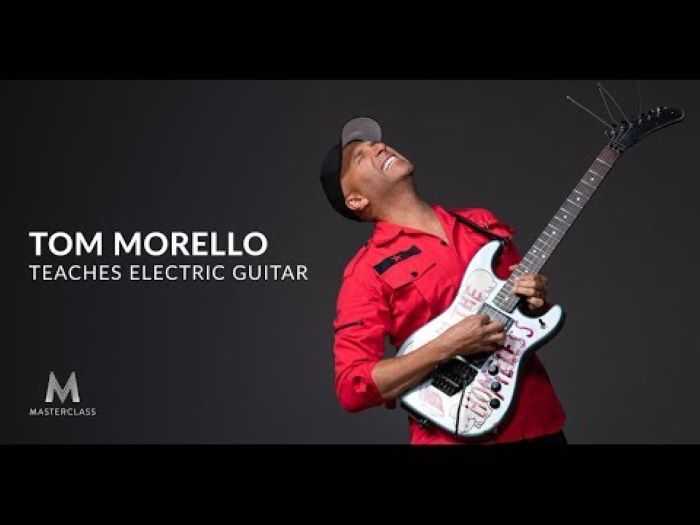 Course: Tom Morello teaches Electric Guitar Length: 5 hours and 34 minutes divided into 26 video video lessons Category: Music
Morello is both an incredible musician and phenomenal teacher. There's tons of practical takeaways and tips, together with carefully crafted assignments that tangibly improve playing and confidence – especially with improvisation. The accompanying workbook is a fantastic post course resource and lots of bonus advice for sustaining a career in the music industry. Tom's class features in our top guitar lessons online review.
1. Gordon Ramsay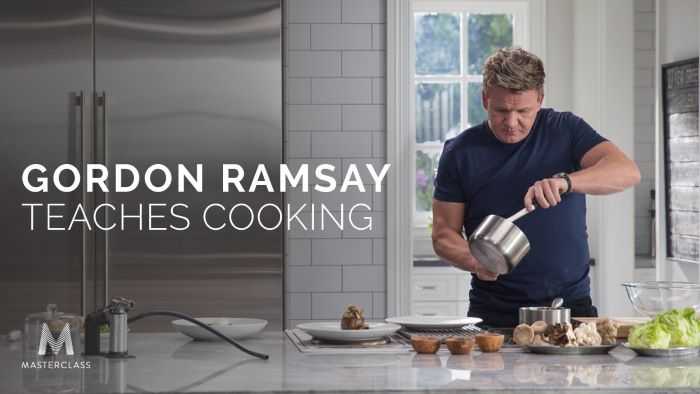 Course: Gordon Ramsay teaches Cooking Length: 8 hours and 34 minutes divided into two separate MasterClasses (in total 35 video lessons) Category: Food
Ramsay's uncompromisingly high standards and competitiveness have resulted in a determination to produce the best MasterClass on the platform. And it delivers. Ramsay provides accessible explanations into the theory and science behind great cooking that will equip you to improve your culinary skills on a continuous basis. An incredible opportunity to learn from a 16 Michelin starred chef who's also a gifted and entertaining teacher.
Best MasterClass reviews by category
The best MasterClass for you obviously depends on what you are interested in. So we've reviewed up to five MasterClasses in each category below so that you can truly get a flavor of what's on offer on the platform across every topic.
-Cooking
5. Aaron Franklin teaches Texas style BBQ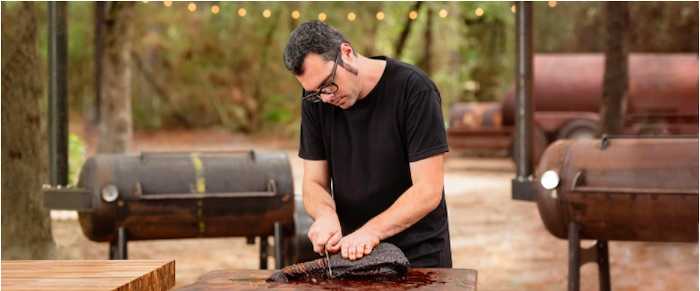 Course length: 16 lessons totaling 5 hours
Aaron Franklin is a barbecuing legend and virtuoso pitmaster. His no-reserve Franklin Barbecue in Austin has been awarded Best BBQ in the US (Bon Appetit) and counts among its many celebrity patrons Barack Obama and Gordon Ramsay (who waited in line for four hours to get in!)
Seriously, if you want to hone your pit skills, you should consider this MasterClass. It's an incredibly thorough and engaging course on all aspects of Texan BBQ.
Learn how to:
Build and maintain a great fire and understand the smoke
Game plan your way to perfection
Cook simpler cuts of meat low and slow and grill more complex cuts with parts that cook at different speeds – preparing you nicely to tackle 'the mother of all Texan barbecue cuts', the brisket
The art and science of preparing, smoking and slicing brisket
The story of Aaron's success from brisket botcher to brisket master
Pros
Learning from a world-renowned smoker and skilled trainer
Engaging, warm self-deprecating approach and great teaching style
Full technical (but accessible) explanations of how and why things work
Good balance of theory and practical elements
Cons
Biased towards Central Texas BBQ
Best for: Barbecue enthusiasts who want to establish a new level of confidence or entertain on a bigger scale as well as seasoned smokers who want to try out a different style of cook, alter their philosophy or are considering opening their own BBQ joint and want to benefit from Aaron's success.
Read our full Aaron Franklin MasterClass Review.
4. Niki Nakayama teaches Modern Japanese Cooking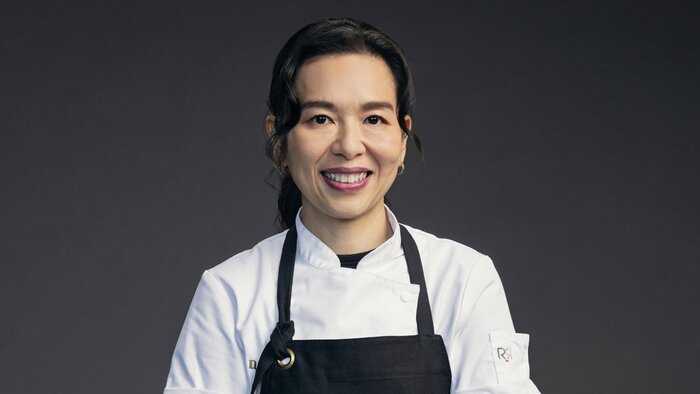 Length of course: 18 videos totaling 4 hours and 7 minutes of video content
Niki Nakayama is a Japanese culinary icon and a champion of female chefs in an incredible male-dominated field. She's won 2 Michelin stars at n/naka and is respected across the globe.
This MasterClass is instructional, beautiful and inspiring. Niki and her wife, Carole, are great teachers and share amazing nuggets of wisdom that only Michelin star chefs would know. Its position as number four is due to it not being for everyone (eg: vegans, fish haters and coeliacs) but if you love fish and want to master Japanese Kaiseki cuisine, this unique MasterClass is money well spent.
You will learn:
The centuries old tradition of kaiseki, with a personal, modern twist
All about traditional Japanese cooking and how you can adapt it to your own kitchen
How to work within a mottainai zero-waste approach
Niki Nakayama's Michelin star tips for creating amazingly beautiful food
Pros
Unique opportunity to learn from an incredible 2 Michelin star chef
Really great teaching style from Niki and her wife and sous chef, Carole
Great instructions for making kaiseki in your kitchen at home
Impressive, but manageable recipes
On screen glossary for unfamiliar words
Cons
Not for everyone
Some hard to source ingredients
Best for: fans of Japanese cuisine, seafood enthusiasts, anyone looking to broaden their cooking repertoire, anyone who wishes they could eat at n/naka, and Niki Nakayama fans! Not for vegetarians, vegans or fish haters!
Read our full Niki Nakayama MasterClass Review.
3. Yotam Ottolenghi teaches Middle Eastern Cooking
Length of course: 26 videos totaling 5 hours and 40 minutes
Yotam Ottolenghi is an amazing chef and an incredible, fascinating person. He's won multiple James Beard Awards and has 7 restaurants in London. He knows how food can bring people together and that's what he seeks to do in this MasterClass.
For me, this is one of the best online courses I've taken, so why is it third on the list? It won't hit the spot for those who prefer meat-led recipes or don't like Middle Eastern flavors. That said, if you're looking to mix things up in the kitchen and wow your friends, it's an amazing course which progresses from simple to complex mains in a way that builds up skills gradually.
You will learn:
13 incredible Middle Eastern recipes that are packed full of flavor
How to make and use Ottolenghi's 'flavor bombs' that add a punch to any dish
Practical tips for hosting lots of guests and staying relaxed and calm in the kitchen
The non-negotiable steps that take your cooking from good to great
How to make food a dramatic visual experience
Ancient Middle Eastern cooking techniques that have been enjoyed for millenia
Yotam Ottolenghi's core philosophy on food
Pros
Amazing recipes including some signature dishes from his deli, Ottolenghi, in London
Incredibly clear and reassuring teacher
Really versatile recipes that give you so much scope far beyond the end of the MasterClass
Cons
Not for everyone (bold flavors and veg-forward recipes)
Best for: anyone wanting to experiment with rich and vibrant Middle Eastern cuisine that is packed full of flavor. And of course… Yotam Ottolenghi fans!
Read our full Yotam Ottolenghi MasterClass Review.
2. Thomas Keller teaches Cooking (I – III)
Course length: Part 1 36 videos totaling 6 hours and 36 minutes/Part II 22 videos with a run time of 6 hours and 6 minutes/Part III 17 videos totaling 4 hours and 51 minutes.
Thomas Keller is quite simply America's most decorated chef. He holds three Michelin stars, has won countless prestigious honors from the James Beard Foundation and the Culinary Institute of America, and was the inspiration behind the character of Chef Remy in Ratatouille.
Keller's MasterClasses represents an amazing opportunity to learn from one of the world's most accomplished chefs. His three courses represent the most comprehensive guide to cooking techniques out there, building from simple to complex. Keller is an endearing chef who wants you to believe in yourself and I am undoubtedly a more confident cook as a result of engaging with these classes.
You'll learn to:
Shift your focus away from recipes to transferable skills.
Get to grips with all the essential principles behind the science of cooking
Class I: Use a variety of techniques for working with Vegetables, Eggs and Pasta
Class II:Master more complex skills with Meats, Stocks and Sauces
Class III: Work with more demanding ingredients and techniques with a focus on Fish, Sous Vide and Desserts:
Pros
A super exciting opportunity to learn from one of the very best chefs in the world
Modest, down to earth teaching style
Focus on transferable techniques that will elevate all your cooking
Wide variety of food types covered, simple to challenging
Super helpful workbooks
Cons
Some of the ingredients are expensive
Best for: Someone beginning their cooking journey who wants to focus on techniques from the outset, through to more experienced cooks who want to deepen their understanding of the science behind good cooking, entertain on a bigger scale or just become more adventurous. And of course Keller fans who want to benefit from his experience.
Read our full Thomas Keller MasterClass Review.
1. Gordon Ramsay teaches Cooking (I & II)
Course Length: Part I 20 video lessons totaling 3 hours and 54 minutes/Part II 15 video lessons totaling 4 hours and 40 minutes
Gordon Ramsay is probably the best known chef and restaurateur in the world. He runs 32+ establishments across 3 continents, holds 16 Michelin stars and a Most Excellent Order of the British Empire from the Queen of England for his contribution to the world of food!
Ramsay is famed for his incredibly high standards and extreme competitiveness. I'm convinced this made him determined to deliver the best MasterClass on the platform. And he has. Hence, his courses are ranked first. He's not just a sublime chef but an entertaining and gifted teacher who equipped me with a deep understanding I've used to improve my cooking on an ongoing and continuous basis.
You'll learn to:
Master world class tips and techniques to elevate your cooking far beyond the end of the class
Get incredible flavor from modest ingredients
Train your palate and understand the flavor profiles of herbs and seasonings
Develop restaurant-worthy knife skills
Create phenomenal dishes including some iconic Gordon Ramsay recipes such as Beef Wellington and Herb Crusted Rack of Lamb
Pros
Learn from the world's most accomplished and iconic chef
Incredible insight and explanation into the theory behind great cooking which equips you to improve far beyond the end of the course
Recipes that use unexpected ingredients and encourage you to think outside the box
Amazing video production that's beautiful and informative
Alternative ingredients sections in the workbook that allow you to tailor the recipes according to specific dietary requirements
Cons
More complex recipes are demonstrated with some components already made
Sometimes uses hard to find or expensive ingredients
Best for: Anyone wanting to truly understand the principles behind good cooking to gain more confidence and elevate their current cooking (course 1). Those wanting to wow friends and family and pull off spectacular culinary delights (course 2). And of course Gordon Ramsay fans!
Read our full Gordon Ramsay MasterClass Review.
Other food related MasterClasses include: Apollonia Poilane (bread baking), Lynette Marrero and Ryan Chetiyawardna (Mixology), Gabriela Camara (Mexican cooking), Massimo Bottara (Modern Italian Cooking), James Suckling (Wine Appreciation), Dominique Ansel (French Pastry Fundamentals), Alice Waters (Home Cooking), Wolfgang Puck (Cooking)
-Arts and Entertainment
This is a big category covering lots of different areas. So, to do it justice we're subdividing it into:
Filmmaking
Photography
Acting
Screenwriting
General Entertainment
Best Filmmaking MasterClass
3. Werner Herzog teaches Filmmaking
Course length: 26 lessons totaling 5 hours and 57 minutes
Werner Herzog is a self-taught filmmaker with over 70 films to date. As a multi-award winner, he's best known for Grizzly Man, Fitzcarraldo, and Nosferatu the Vampyre. François Trufault described him as "the most important film director alive."
In this MasterClass, you learn from Werner's unique perspective and gain valuable insight into a documentary style of filmmaking. There's lots of useful theory which is always cemented with clear examples and case studies. And the workbook provides a range of resources that will keep you learning way beyond the end of the class.
You will learn to:
Develop your skills in storytelling
Create suspense and flow
Understand your audience's relation to film
Introduce compelling characters and narratives
Pros
Learn from a respected filmmaker
Good insight into the creative process
Great balance of theory and practical
Plenty of examples and suggested viewing
Cons
Covers a niche style of filmmaking
Less coverage of technicalities
Best for: Those interested in self-teaching rather than film school, and those who would welcome an understanding of a more documentary style of filmmaking.
Read our full Werner Herzog MasterClass Review
2. Ron Howard teaches Directing
Course length: 32 videos totaling 7 hours and 48 minutes
Ron Howard is an Oscar-winning director, famous for some of Hollywood's most well crafted and critically acclaimed films including, A Beautiful Mind, Apollo 13, and The Da Vinci Code.
What's impressive about this MasterClass is not only Ron's reputation, but the sheer quantity of subjects he covers – from script-evaluation to editing and everything in between. It's all well structured, carefully explained and supported by excellent practical examples – including an amazing restaging of Frost/Nixon.
You will learn how to:
Find a story you love
Work with your team
Cast the right actors
Evaluate and refine a script
Understand different camera techniques
Collaborate with your editor
Use sound design and music to enhance themes
Pros
Learn from an acclaimed expert with great teaching skills
Gain insight into working relationships
Understand the importance of story
Great case studies
Cons
Occasional unexplained jargon
Some over long lecture style lessons
Best for: anyone interested in filmmaking or writing. It even gives some good insight into acting. Most of the lessons are easy to follow, but it's worth noting that Ron does assume some basic knowledge of cameras, lens types, and film terms.
Read our full Ron Howard MasterClass Review
1. James Cameron teaches Filmmaking
Length of course: 15 video lessons totaling 3 hours and 20 minutes
Academy Award winner, James Cameron, has directed some of Hollywood's most iconic movies – including the first two films (Titanic and Avatar) ever to gross over $2bn. During his four decade career, Cameron has pioneered innovations that have transformed the industry and garnered him a place among the movie greats.
But Cameron hasn't forgotten the hard lessons learnt from experience and the debt he owes to those who came before him. So, he's put a lot of thought into how to deploy his hard earned wisdom to provide signposts for the next generation. He shares a wide range of tips, processes and techniques supported by clear working examples. I left this class with a much stronger understanding of filmmaking and have viewed films more intelligently since.
You will learn:
The hard-earned wisdom that Cameron's accumulated over four decades
How to recognize ideas worth developing
To understand the writing process so your story is told your way
'The Rules' of filmmaking – and how, when and why they should be broken
A wide range of techniques for building and maintaining tension
About the role of lighting, lens selection, the score and sound design
To be canny and creative within budget constraints
To craft and introduce compelling characters
About the groundbreaking technology used to create Avatar
The importance to directing of great leadership and collaboration
And how to master tricks of the trade that will make your path smoother
Pros
Learn from a globally acclaimed filmmaker with great teaching skills
Gain hard earned tricks of the trade the easy way
Provides a new lens for understanding film
Supported by brilliant examples and detailed scene analyses
Great workbook with that supports and extends the class
Cons
Strongly focused on Terminator and (to a lesser extent) Aliens
Would benefit from more "How To" advice
Best for: Anyone interested in gaining insights into just what goes into making a movie great. Cameron's detailed scene analyses will give anyone even mildly interested in cinema a new lens through which to view film. Film students may already be familiar with some of the content, but will benefit from gaining insight into Cameron's approach to the art.
Read our full James Cameron MasterClass Review
Other film related MasterClasses include: Jodie Foster (Filmmaking), Spike Lee (Independent Filmmaking), Martin Scorsese (Filmmaking), Mira Nair (Independent Filmmaking), Ken Burns (Documentary Filmmaking), David Lynch (Creativity and Film).
Best Photography MasterClass
2. Jimmy Chin teaches Adventure Photography
Length of course: 20 lessons totaling 4 hours and 10 minutes
Jimmy Chin is a professional climber and photographer for National Geographic. He's famed for his daring expeditions and recognised as one of the greatest adventure photographers of our time. He also won an Academy Award and a BAFTA for his 2019 documentary, Free Solo.
In this MasterClass, you get a unique chance to learn from Chin himself as he takes you through his shooting process. With the on-location and post-production segments, you get to follow Chin's journey from pitch to final edit. There is a lot packed into the course including some amazing trade secrets. And while many of Chin's projects involve mountaineering, this course does include excellent tips for all outdoor photographers.
You will learn:
Chin's process for shooting on location
How to tell a story through photography
Advice for pitching to and working with clients
How to prepare for expeditions
Chin's editing and post-processing tips
Insights into building a portfolio of work
Pros
Learn from a world-renowned photographer
Strong visual examples and walk-throughs
Precise and easy to follow instructions
Surprising number of trade secrets shared
Cons
Assumes some prior camera knowledge (could be a pro for some as it means no time is lost on the basics)
Technical terms not always explained
Best for: those who are serious about improving their adventure photography and that want to learn from one of the best. Helpful if you already have some basic knowledge of photography and/or climbing.
Read our full Jimmy Chin MasterClass Review
1. Annie Leibovitz teaches Photography
Length of course: 15 lessons totalling 3 hours and 4 minutes
Annie Leibovitz is one of the most recognized portrait photographers in the world. Her photography career spans 50 years and she has been declared a Living Legend by the US Library of Congress.
The one thing everyone hopes for when they do an online course is that they'll actually improve. And I really did improve as a result of this MasterClass which is why it's rated #1. It's accessible and practical with great assignments. If you want to learn from a world-renowned photographer, unlock your creativity and take interesting photographs, this is worth every cent.
You will learn to:
"See" like a professional photographer
Come up with interesting photo concepts
Develop your creativity with practical exercises
Blend natural light with artificial to make your photos pop
Understand Leibovitz's core philosophies and influences
Appreciate the work that goes into iconic images like the John Lennon and Arnold Schwarzenegger photographs
Pros
My photos actually improved throughout the duration of the course
Leibovitz gives very practical assignments to learn very abstract ideas
Go behind the scenes to watch Leibovitz at work on real photoshoots
Suitable for a range of levels, from novice to pro
Amazing unique opportunity to learn from an iconic photographer
Cons
Not a technical course on camera settings (could be considered a pro)
Contains some nudity and the warning is only explained in the last video
Best for: anyone who wants to open up their creative vision, take more interesting portrait photographs, and of course, Annie Leibovitz fans!
Read our best Online Photography Course review and our full Annie Leibovitz MasterClass review
Other photography related MasterClasses include: Tyler Mitchell (Storytelling through Portrait Photography).
Best Acting MasterClass
1. Helen Mirren
Course length: 28 lessons totaling 6 hours and 25 minutes
Helen Mirren is a Royal Shakespeare Company trained actress. Her role in UK police drama, Prime Suspect, took her from the stage to the small screen. She is now renowned for her cinematic roles including Elizabeth I and Elizabeth II, winning Golden Globes for each. These sit alongside one Oscar, four BAFTAs, four Primetime Emmys and a Tony.
Her class is a once-in-a-lifetime opportunity to learn from Helen herself. She teaches you everything from breaking down a script to creating compelling characters on stage and screen. This is an in-depth, insightful MasterClass which gives plenty of practical advice on how to stand out as an actor. Because of this, I'd say few other classes can compete with Helen's level of teaching.
Learn how to:
Break down a script into manageable chunks
Find and research your characters for a film
Develop your film-acting techniques
Understand and use "naturalism" in acting
Prepare and rehearse for a scene
Make the most of props and costume choices
Work effectively with writers and directors
Pros
Learn from a critically-acclaimed actress
Extensive and in-depth lesson content
Highly informative Workbook
Cons
Veers towards the abstract at times
No group acting workshops
Best for: Students who are new to acting and keen to learn the basics as well as fans of Helen Mirren
Read our best Online Acting Class review and our full Helen Mirren MasterClass Review
Other acting related MasterClasses include: Natalie Portman (Acting) and Nancy Cartwright (Voice Acting).
Best Screenwriting MasterClass
2. Aaron Sorkin
Course Length: 35 videos totaling 7 hours and 58 minutes.
Aaron Sorkin is an American screenwriter and director, most widely recognized for his work on 5x Emmy award winning The West Wing. He also holds an Academy Award for his work on The Social Network, and his 2015 biopic, Steve Jobs, won him a Golden Globe Award for Best Screenplay.
A standout feature of this course is how practical Aaron's advice is. He talks to us plainly and backs up any abstractions with concrete explanations and, more often than not, examples. His examples from The West Wing are where I think this course excels. I found him motivating throughout and liked that he included case studies and workshops.
Learn how to:
Recognize and work within the rules of drama
Develop interesting characters
Find and incorporate research
Understand your audience
Create compelling story arcs
Exercise strong writing habits
Write and link scenes
Craft captivating dialogue
Approach rewrites and edits
Pros
Learn from a proclaimed screenwriter
Understand the rules of drama
View strong case studies
Cons
Best for: Aaron Sorkin devotees who want to develop a deeper understanding of his works and those who are just starting out in the world of screenwriting.
1. Shonda Rhimes
Course length: 30 lessons totalling 6 hours 15 minutes.
Shonda Rhimes is an American TV and film writer, producer, and showrunner. She has an array of awards under her belt (including two Publicists Guild of America awards) and is known for creating long-running and critically-acclaimed series such as Grey's Anatomy and Scandal.
Her class contains a great range of content to mix up the lessons and keep you engaged. This includes a writers' room setup, pilot analysis, screenings, and various in-depth case studies. There's also a wide range of exercises and printable resources to help you cement and develop your skills. Another standout is the detail Shonda gives to breaking into the TV industry. If you're a fan of Shonda Rhimes, or are serious about breaking into TV writing professionally, this course is a must-watch.
Learn how to:
Analyze TV to become a better writer
Find and grow compelling ideas
Effectively research for your story
Create memorable characters
Successfully pitch your show
Write an enticing and marketable script
Craft naturalistic dialogue
Pros
Learn from a successful TV writer
Excellent resources for further study
Varied and interesting content
Cons
Writers' room feels distant
Often case study-specific
Best for: Writers who are looking to pitch their scripts or progress in their TV writing.
Read our best Online Screenwriting Course review and full Shonda Rhimes MasterClass Review
Best General Entertainment MasterClass
1. Penn and Teller teach Magic
Course length: 17 videos totaling 2 hours and 52 minutes.
Penn and Teller have been dazzling stage and screen audiences with mind blowing tricks for nearly half a century. They've performed on stages from Broadway to Las Vegas, been frequent guests on multiple TV shows, and hosted their own TV specials – including Fool Us and Bullshit.
In this MasterClass, they pull back the curtain to share some of the secrets behind their magical performances. The course is carefully structured and very little is required in the way of specialist equipment. You can quickly gain enough skill to perform simple tricks with conviction. The class also provides tips and hints to help you adapt tricks to make them your own. A super fun class from the best in the business.
Learn how to:
Perform a series of impressive card, coin, and rope magic tricks
Master the art of sleight of hand and misdirection
Understand the fundamentals of each trick and how you can customise them to make them your own
Appreciate how Penn & Teller think about magic
Pros
Learn tricks requiring no specialist equipment that can be performed anywhere
Well structured MasterClass, allowing rapid progress
Great balance of theory and practice
Excellent delivery and teaching style
Enormously fun and entertaining
Input from other magical greats
Cons
Best for: Anyone interested in learning a series of quick and impressive tricks that can be performed anywhere using very little (or no) specialist equipment. Plus anyone looking for inspiration to sharpen up their act as well as fans of Penn and Teller (of course).
Read our best Online Magic Class review and our full Penn and Teller MasterClass Review
Other general entertainment MasterClasses include: Steve Martin (Comedy)
-Music
3. Danny Elfman teaches Music for Film
Length of course: 21 video lessons totaling 3 hours and 10 minutes
From Batman to Good Will Hunting and The Nightmare Before Christmas; Danny Elfman has scored some of the greatest films of all time. And to prove it he's bagged himself four Oscar nominations, two Emmy awards and a Grammy. But he's not just a great composer, he's a great teacher too.
From beginning to end, he's engaging, insightful and passionate. You won't learn the technical nitty gritty in three hours, but you will learn about the methods and stories of one of Hollywood's greatest maestros. I gained a much stronger understanding of how a composer like Elfman puts his scores together than I thought possible from this class.
You will learn:
The technical side of setting a score to a film, such as creating a template and holding a spotting session
Danny's method for combining inspiration with originality
Insights behind some of Danny Elfman's most legendary scores
Tips for finding a tune or a melody
How to work with directors and studios on a tight schedule
Danny's journey to where he is today, and his advice for budding composers
Composing leitmotifs; pieces of music for specific settings or characters
How to choose the right instruments for your score
Pros
The opportunity to learn from a legend with a really warm and engaging style of teaching
Anecdotes that enlighten rather than distract from the lessons
Technical terms and examples used in a manner that's easy to understand
Danny's passion shines throughout; it's almost impossible to take this class and not leave wanting to be a composer
Cons
Sometimes the lessons are quite abstract
Limited on 'how-to' advice
Best for: people with some prior musical knowledge who are interested in gaining insights on how composing for cinema actually works. Danny's stories and examples also mean anyone with an interest in movies and filmmaking, or is a fan of Danny Elfman, will get a lot out of this MasterClass.
Read our full Danny Elfman MasterClass Review.
2. Armin van Buuren teaches Dance Music
Length of course: 33 video lessons totaling 6 hours and 50 minutes
This Dutch producer and DJ has been on top of the EDM scene for almost twenty years. He broadcasts to 40 million listeners, has performed at major festivals all across the globe and been ranked #1 DJ by DJMag a record-breaking 5 times.
Armin does cover a LOT of ground in this class which might feel a little overwhelming at times. But there are a wealth of truly practical tips for improving your sound and if you're an aspiring DJ, this is perfect. And it's a real privilege to gain so much knowledge from a single course, especially when its teacher has had such a stunning career.
You will learn:
Armin's process for constructing a track; from chords to kick to mixing
How to create and build sounds with pads and leads
Technical tips on using Logic Pro
How to construct a groove and arrange a big drop
What to look out for when critiquing your track
How to work with a vocalist
All about building a DJ setlist and mashups
Armin's approach to the decks
Advice on how to start your career as a DJ
Pros
Very instructional with lots of direct and explicit tips
Incredible insight about the dance music game from a leading music producer and his collaborators
Exclusive fly-on-the-wall content of how Armin creates a track
Engaging, passionate and clear teaching
Diverse Teaching methods make the classes dynamic
Cons
Can be overwhelming in terms of the amount of content per lesson
Quite long (this might be a plus for you)
Best for: those with a little experience and a lot of love for dance music. Although total novices might struggle with some of the technical aspects, musicians of any background can take a lot away from Armin's philosophy on why and how his tracks get us dancing. Ideal for aspiring music producers, club DJs and EDM fans.
Read our full Armin van Buuren MasterClass Review.
1. Tom Morello teaches Electric Guitar
Length of course: 26 videos totaling 5 hours and 34 minutes
Tom Morello is famed for his unique and unconventional playing style and use of guitar effects. He's showcased these with many bands including Rage Against the Machine, Audioslave, Prophets of Rage and during his tours with Bruce Springsteen. He holds two Grammy Awards.
His class features at #1 not only because Morello is an incredible musician, he's a phenomenal teacher. His many years experience teaching guitar really shows. There are literally tons of practical lessons and tips. I completed all the assignments, tangibly improved my playing and gained huge confidence in improvisation. For me this MasterClass was worth every penny!
You will learn:
The secrets behind Morello's signature sounds
How to develop your creativity
Practical tips for improving your guitar proficiency through practice, developing speed and unlocking the fretboard
Tips for becoming confident and free with improvisation
How to write a killer rock riff and build it into a rock song
Morello's real-world advice for sustaining a career and being true to yourself
Pros
Actionable tips and assignments
Tom Morello is both a guitar legend and an awesome teacher
Great balance of practical and theory
Really thorough workbook complete with tabs and traditional notation
I actually became a better player
Cons
Not for complete beginners
Some backing tracks missing
Best for: Tom Morello / RATM / Audioslave / Prophets of Rage fans, as well as electric guitarists and instrumentalists who want to create innovative riffs and sounds in their music.
Read our full Tom Morello MasterClass Review.
Ultimately music can be broken down into different areas. So for some quick-fire best specific music MasterClasses see below:
Other music related MasterClasses include: Questlove (Music Curation and Djjing), Alicia Keys (Songwriting and Producing), Jake Shimabukaro ('Ukulele), Sheila E (Drumming and Percussion), Timbaland (Producing and Beatmaking), Carlos Santana (Art and Soul of Guitar), Hans Zimmer (Film scoring), deadmau5 (Electronic Music Production), Reba McEntire (Country Music), Christina Aguilera (Singing), Usher (Art of Performance)
-Writing
3. Dan Brown teaches writing Thrillers
Length of Course: 19 videos totaling 3 hours and 32 minutes.
Dan Brown is a world-renowned author, 3-time Pulitzer Prize winner and New York Times best seller. He's known as the master of thriller-writing, with his Robert Langdon series being adapted into a critically-acclaimed film trilogy.
His MasterClass ranks third because it's an opportunity to learn the art of suspense from one of the world's best. And though its main focus is writing thrillers, Dan provides a wealth of actionable advice to make you aware of, and develop, your general writing style. I picked up some good tips on how to overcome self-doubt and get out of a rut. He also unlocks new techniques for me to try out!
You will learn to:
Find inspiration for your story
Create suspense through location and character creation
Research for authenticity and cohesion in your story
Use a range of techniques to give your readers a white knuckle ride
Communicate with publishers and develop resilience
Pros
Learn from a world-renowned author
Develop awareness of your own writing style
Great assignments to help you actively improve
Very accessible and jargon free
Inspiring no nonsense explanation helps elevate your writing
Cons
Workbook can be hard to navigate
Contains spoilers if you haven't read Dan's books
Best for: Anyone interested in writing. Dan does a great job of introducing people to the thriller genre but also caters to those that are further along in the writing process.
Read our full Dan Brown MasterClass Review.
2. Margaret Atwood teaches Creative Writing
Length of Course: 23 videos totaling 3 hours and 4 minutes
Margaret Atwood, author of The Handmaid's Tale, is an acknowledged doyenne of dystopian and speculative novels. She is a Booker Prize holder and has received both the Los Angeles Times Innovator's Award and the Franz Kafka International Literary Prize.
Atwood's course gives great insight into how to generate ideas, research and compile manuscripts and create compelling characters. Her course ranks #2 because her advice is encouraging and pragmatic in equal measure and she seems to have a solution to almost every stumbling block a writer might encounter. If novel-writing is your area of interest, I'd say this is definitely the course for you.
You will learn how to:
Research and write speculative fiction
Create a strong plot and structure
Bring characters to life and write compelling dialogue
Revise your work for publication
Take writing from a hobby to a vocation
Pros
Learn from a globally revered author
Detailed lessons to help you craft narrative worlds
Breaks the writing process down and provides numerous working examples of how to plan, draft, and revise
Encouraging and pragmatic advice that helps overcome fears around getting started and writers block
Refers to the work of other authors resulting in a well-rounded course that goes beyond one style of writing.
Explores useful literary terms and theories to help you improve your work, but always grounds these in concrete examples.
Cons
Specific to writing novels so not helpful for short story writing or poetry
Best for: Anyone interested in writing a novel who's struggling to get started. Some advice is a little basic for seasoned writers. But this is more than made up for by the inspiration and wisdom gained from hearing about the influences and experiences that have made Atwood the writer she is.
Read our full Margaret Atwood MasterClass Review.
1. Salman Rushdie teaches Story Telling and Writing
Length of course: 19 video lessons totaling 4 hours and 17 minutes
Sir Salman Rushdie is a prolific British-Indian novelist, best known for his writings on migrations and post-colonialism. He received international acclaim with his second novel, Midnight's Children, which won the Booker Prize, and is now a household name.
This is an eye-opening course into storytelling traditions and writing to engage audiences. It's #1 on our list because of the abundance of practical guidance and tips that you can implement immediately to improve your writing. The working knowledge and skills I gained from this course make it easily the best writing course I've taken.
You will learn how to:
Tell your story in the best way
Create powerful story openings
Draw influences from storytelling traditions
Conceive and bring characters to life
Become a better observer and writer
Use surrealist and magic realist techniques
Develop and improve your relationship with writing
Form strong relationships with editors and agents
Pros
An unrivalled opportunity to learn from one of the most influential writers of this generation
Great examples and additional resources
Full of practical exercises you can use to support learning
Unique and international point of view
Cons
Fast-paced so you may need to watch parts more than once
Best for: Anyone serious about writing and willing to put in the time and effort to get their work finished. If you're keen to share something important with your readers and are looking to develop writing skills in order to share a story that is both personal and culturally relevant this is absolutely the MasterClass for you.
Read our full Salman Rushdie MasterClass Review.
Other writing MasterClasses include: N K Jemsin (Fantasy and Science Fiction), Amy Tan (Fiction, Memory and Imagination), Roxanne Gay (Writing for Social Change), Issa Ray (Cretaing Outside the Lines), Walter Mosley (Fiction and Storytelling), David Sedaris (Storytelling and humor), Joyce Carol Oates (Short Stories), David Baldacci (Mystery and Thriller Writing), Billy Collins (Poetry), Neil Gaiman (Storytelling), Malcolm Gladwell (Writing), R L Stine (Writing for Young Audiences), Judy Blume (Writing), David Mamet (Writing)
-Business
4. Bob Iger teaches Business Strategy and Leadership
Course length: 13 video lessons totaling 2 hours and 11 minutes.
Bob Iger reinvented Disney and increased its capitalization four fold through a series of multi billion dollar acquisitions and the expansion of Disney's global presence. He was named Time's Business Person of the Year in 2020 and is a NYT #1 bestselling author with his book The Ride of a Lifetime.
We ranked this class #3 because it's a unique opportunity to learn strategy and leadership from one of the world's most successful CEOs. Iger distills the wisdom gained from nearly half a century in the entertainment business to give you the tools you need to think strategically. And though there's a strong focus on the entertainment industry, there are lots of actionable tips for leadership that you can bring to bear on your own personal and professional life.
Learn how to:
Restructure your day for maximum focus and effectiveness
Develop core leadership attributes
Build strategy
Sell your vision and negotiate like a pro
Navigate complex deals
Embrace change
And gain insights into the processes behind major acquisitions by the Walt Disney Company
Pros
Delivered by a titan of the entertainment industry
Practical takeaways throughout
Structured to promote understanding
Cinematic quality with footage that really supports learning
Cons
A little on the short side
Quite focused on the creative industries
Best for: anyone wanting an insight into effective leadership and strategy from one of the world's most accomplished CEOs. Also, anyone who wants to develop their negotiation skills or has an upcoming interview or pay review. Less suitable for those already experienced in business leadership and strategy. That said, there is still much to be gained in terms of the case studies of mergers and acquisitions and Bob's own perspective.
Read our full Bob Iger MasterClass Review.
3. Daniel Pink teaches Sales and Persuasion
Course Length: 16 videos totaling 2 hours and 57 minutes.
Daniel Pink has been studying the science of persuasion for over 20 years. He's written several NYT bestselling books all about sales and persuasion, including "WHEN" and "DRIVE".
Pink's class provides a short cut to the latest and best science on persuasion and selling. And Pink has put together in a course that will transform your ability to influence others. If you are serious about learning these skills and are prepared to put what you've learnt into practice, I think you'll find this is a great investment.
You will learn:
The most effective way to persuade someone according to science
Questions you can ask to influence the other side's thinking
What makes a pitch successful and 6 different pitch techniques
A toolbox of 9 frames you can use when selling
How to improve your commercial decision-making
How to gain perspective and what you should do with it once you have it
To read a room and understand group dynamics
To create meaningful connections
Pros
Scientifically proven techniques that actually work
Great selection of strategies taught
Well structured, actionable lessons
Cons
Could benefit from even more examples and role plays
Not all of the ideas are unique to this course
Best for: Anyone serious about improving their sales and persuasive skills and looking for a comprehensive, science based approach. Beginners will fast track their progress with this course. People who are familiar with the topics will further their knowledge. Less suited to those looking for a traditional sales course that has you selling ice to Eskimos!
Read our full Daniel Pink MasterClass Review.
2. Jocko Willink teaches Critical Leadership
Course length: 10 videos totaling 1 hour and 11 minutes
After 20 years of decorated service as a Navy SEAL, Jocko Willink retired and co-founded Echelon Front, a leadership development company whose goal is to provide tailored, high-quality leadership training that maximizes team performance.
With leadership credentials second to none, in his MasterClass you can learn the leadership techniques that took decades of experience and training to refine and perfect.
Pros
Confident, articulate presenter with a wealth of experience
Simple and concise structure
Good use of real-world examples and anecdotes
Takeaway techniques that can be utilized immediately
Universal relevance, everyone can learn something
Cons
Occasional lack of depth
Some of the same takeaway points are available in Jocko's book (but seeing it in video is more impactful)
Best for: Anyone can benefit from this course as you can implement leadership throughout your daily life. However, those looking to get into leadership or improve will get the most from the class.
Read our full Jocko Willink MasterClass review.
1. Chris Voss teaches the Art of Negotiation
Course length: 18 videos totaling 3 hours and 4 minutes
Chris Voss is a former lead FBI hostage negotiator (for some 20 years), best selling author, business leader, and guest lecturer at Harvard Business School. He has years of experience of high-stakes, life and death negotiations including more than 150 international hostage cases.
The Chris Voss MasterClass is our #1 choice because Voss is not only an unrivalled negotiator, but an incredibly qualified and engaging teacher. The techniques taught are simple, easy to use, memorable and effective. And to see them backed up in action with real life footage from hostage negotiations is a rare and exciting opportunity.
You will learn how to:
Deploy the tactics Voss has used in over 150 life and death negotiations
Achieve your goals through collaboration, not opposition
Use a range of strategies that build rapport and create trust based influence
Read body language and speech patterns
Respond to different situations effectively
Frame questions that shape the other sides thinking
Be alert to crucial snippets of information that can be game changers
Pros
Learn from one of the world's top hostage negotiators
Real life footage of actual FBI negotiations
Easy to implement techniques
Engaging teaching style
Well structured, professionally produced course
Active online community
Cons
Would benefit from even more real-life examples
Some overlap with Chris Voss's book
Best for: This course requires nothing but a willingness to listen. No prior negotiating experience is necessary. The techniques you will learn will enable you to get more of what you want with the respect, rather than the enmity, of others. Anyone who wants that can benefit.
Read our full Chris Voss MasterClass Review.
Other Business related MasterClasses include: Sir Richard Branson (Disruptive Entrepreneurship), Bill Clinton (Inclusive Leadership), Hillary Clinton (Resilience), Kris Jenner (Personal Branding), Robin Roberts (Effective and Authentic Communication), Elaine Welteroth (Designing your Career), Robert Reffkin (Buying and Selling Real Estate), Jeff Goodby and Rich Silverstein (Advertising and Creativity), Sarah Blakely (Self Made Entrepreneurship), Anna Wintour (Creativity and Leadership), Howard Schultz (Business Leadership), Diane von Furstenberg (Building a Fashion Brand)
-Science and Technology
2. Jane Goodall teaches Conservation
Course length: 29 video lessons totaling 5 hours and 6 minutes
Dr Jane Goodall has worked in conservation for 6 decades and is famed for her groundbreaking study of chimpanzees and her passion for environmental activism. She's published many books, including My Life with Chimpanzees, and runs the Jane Goodall Institute which is dedicated to conserving wildlife and promoting a more sustainable world.
Goodall has committed her life to educating people to appreciate and care for the planet. So you can trust that this MasterClass has been created in a way that will truly inspire you to find ways of making a tangible difference to the world. Jane's teaching is engaging and informative and though she has hard messages to deliver, her approach is positive, solutions-based and uplifting.
You will learn:
How Jane Goodall came to study chimpanzees and wildlife in Africa
Many fascinating facts about animal and plant life around the globe
The interconnected threats humanity poses to wildlife
How extinction and environmental destruction are connected
What you can do to support sustainability and animal welfare
How to effectively communicate conservation to others
Best ways to join the conservation sector – whether it's your passion or future career
How to remain hopeful and inspire change
Pros
An opportunity to learn from a top expert who feels like a friend
Covers the fundamental concepts of sustainability and conversation that will help you make a difference
Jane Goodall is an accessible yet charismatic speaker with a vast amount of knowledge on conservation
Inspirational and uplifting content
Cons
The focus is on sharing insightful stories and inspiring change than on teaching concrete conservation skills
Best for: Those beginning their conservation studies or environmental enthusiasts that want to learn more about the planet, wildlife, and sustainability from one of the best conservationists in the world.
Click here to read our full Dr Jane Goodall MasterClass Review
1. Chris Hadfield teaches Space Exploration
Course length: 29 lessons totaling 7 hours and 47 minutes
Chris Hadfield is a passionate advocate for science, retired astronaut, engineer and one time fighter pilot. He's flown three space missions, was the first Canadian to walk in space and spent six months in orbit commanding the International Space Station (ISS) where he performed his own version of Space Oddity (which has 49m views on YouTube).
This truly is a great MasterClass. Hadfield is an incredibly interesting person and in this class he's distilled decades of experience and knowledge into a really insightful course. And he's done so in a way that's transformative, accessible and fun. This class will change how you think not just about space, but about yourself and the future.
You will learn:
All about space and exploration
How astronauts approach problem solving
How rockets and orbital mechanics work
What it takes for humans to survive in space
What's involved in commanding the ISS
Chris Hadfield's perspective on space exploration
Spaceship design
The future of space travel
The technical and societal challenges of taking humans to Mars
Pros
Teaching from a world renowned astronaut and advocate for science
Learning supported with strong examples, props and resources
Well structured lessons that flow logically
It's exciting and makes you think!
Cons
More theoretical than practical (as you might expect)
Some lessons would benefit from more footage to break up the presentation
Best for: Anyone wanting a comprehensive overview of space exploration from one of the world's most gifted scientific communicators. Also, anyone who's intellectually curious or looking for life lessons on problem solving, leadership and being your best self.
Click here to read our full Chris Hadfield MasterClass Review
Other Science and Technology MasterClasses include: Bill Nye (Science and Problem Solving), Neil deGrasse Tyson (Scientific Thinking and Communication), Matthew Walker (Science of Sleep)
-Sports and Gaming
3. Simone Biles teaches Gymnastics Fundamentals
Course Length: 17 videos totaling 2 hours and 11 minutes
Simone Biles is the most decorated US gymnast of all time and a globally revered household name. But Biles has not had an easy path to fame and has had to channel unbelievable strength, discipline and resilience to win her 30 Olympic and World Championship medals. So if anyone knows how to build a successful gymnastics career from nothing, it's her.
That's why her course is #3 on our list. This is a golden opportunity to learn from the world's best in her field with lots of practical tips and advice for budding gymnasts. But beyond that, even if you're not a gymnast, there's a lot to learn from such a talented and driven young woman. I absolutely loved the class and found myself rewinding to rewatch skills with awe!
You will learn:
Gymnastics fundamentals and advanced skills for each gymnastics discipline: uneven bars, floor, balance beam and vault
Which fundamental drills Biles comes back to again and again
Core objectives within each drill and practical advice such as how many reps to complete in each practice
How skills translate into competition, and where to watch out for deductions
How to prepare to build confidence
Simone's own journey to becoming one of the best gymnasts of all time
Pros
Get to see Simone Biles in action and learn her top tips for levelling up your gymnastics
Biles is a great teacher: confident, clear and concise
Incredible on-screen graphics and animations work alongside Biles' instruction to help you understand critical components
A great combination of accessible skills and drills, and inspirational elite skill demonstrations
Excellent workbook with additional information and suggestions for getting the most out of your gymnastics journey
Cons
Not for everyone — gymnastics is a niche subject so not as accessible as some other MasterClasses
At least 4 classes focus on higher and elite level skills which will be out of reach for most students
Best for: Young gymnasts (with their parents!) and gymnastics coaches, Olympic hopefuls, anyone with an interest in the mindset of such a successful athlete, and of course, Simone Biles fans!
Click here to read our full Simone Biles MasterClass Review
2. Phil Ivey teaches Poker Strategy
Course Length: 12 videos totaling 3 hours and 30 minutes
Phil Ivey is widely recognised as one of the greatest poker players of all time. He's won 10 World Series of Poker bracelets (the most coveted non-money poker prize), has achieved over $29 million in casino winnings and his net worth is $100m +.
Phil Ivey is a master of the mental side of poker and in this MasterClass he walks you through famous hands and what he was thinking throughout. The hand reviews alone make this class well worth the investment. I found that I was quickly able to bluff more convincingly while at the same time calling opponents in theirs.
You'll learn how to:
Implement the strategies and techniques Ivey has used to become one of the most decorated poker players of all time
Master Pre and Postflop play to maximise your chances of winning, extract value from your opponents, and minimise risk
Use key fundamental concepts like Ranges, Position, and Board texture to your advantage
Disguise strong hands, bluff convincingly, read your opponents and induce tilt
Think like Phil Ivey through a series of world class hand reviews with elite poker players
Master the mental game, develop your judgement, and think critically
Pros
Unique opportunity to learn directly from Phil Ivey
Materially improved my own poker playing
Insanely good hand reviews
Cons
Definitely not for everyone
Light on poker math (odds and probabilities)
Best for: someone that is serious about improving their game and wants to learn from one of the greatest players of all time. Less suited for complete beginners and those seeking a math-heavy course.
Click here to read our full Phil Ivey MasterClass Review
1. Stephen Curry teaches Shooting, Ball Handling and Scoring
Course Length: 17 video lessons totaling 3 hours and 41 minutes
Stephen "Steph" Curry is point guard for the Golden State Warriors. He showcases his terrifying skill as a shooter each and every time he appears on court. He's a 7x NBA all star and a 2x MVP who has quite simply revolutionized the sport.
Curry's course ranks #1 because it's so cleverly curated and taught. The attention to detail is brilliant, with great explanations of the biomechanics of the techniques, and common mistakes and how to avoid them. The training routines have a great learning curve and can be implemented into your practice straight away. Easily one of the best courses I've taken to date.
You will learn:
Basketball fundamentals and some advanced tips for core techniques such as shooting, dribbling, rim shots and more
Effective drills for each of these techniques to help you develop a daily practice routine
How to apply these drills and techniques in a live game. You'll also see how Steph himself applies them
How to build your confidence as a basketball player and deal with performance pressure
The importance of film study and why you should do it
Pros
High-quality instruction on basketball technique, with great attention to detail
Learn personal tricks and drills Stephen Curry used to become one of the best players of all time
Film study of Curry's games with commentary from the man himself
Well-designed workbook with detailed workouts and practice routines
Cons
Some lessons may be less useful for more advanced players
Less focus on partner drills and team play
Best for: Beginner/intermediate basketball players who want to up their shooting skills and learn solid fundamental techniques. Particularly players who want to learn how to develop an effective training routine.
Click here to read our full Stephen Curry MasterClass Review
Other Sports and Gaming MasterClasses include: Robin Arzon (Mental Strength), Wayne Gretzky (Athlete Mindset), Tony Hawk (Skateboarding), Misty Copeland (Technique and Artistry), Will Wright (Game Design and Theory), Daniel Negreanu (Poker), Gary Kasparov (Chess), Serena Williams (Tennis)
-Wellness
4. RuPaul teaches Self Expression and Authenticity
Course length: 16 lessons with a total run time of 2 hours
RuPaul is the most iconic drag queen of the 21st century. His Drag Race has inspired millions of people all over the world and is the most awarded reality competition show in Television Academy history. And he's one of Time Magazine's 100 most influential people in the world.
But on his journey to self realisation Ru has experienced trauma, addiction and prejudice. And that's why his course ranks #3 here. Anyone struggling with confidence issues will benefit from the actionable advice Ru offers to help you uncover your true self and express it confidently. Ru shares the techniques he's used to overcome obstacles and live life unapologetically in a genuine and inspirational way.
Learn how to:
Find your true self and express it confidently
Be mindful of how past hurts influence present actions and identity
Attract people on your wavelength
Overcome setbacks and let go of what's not working
Nurture and reassure your inner child
Break free of bullies
Use meditation, breathing and visualization to manage anxiety
See failures as opportunities to improve
Understand your proportions so you can correct your silhouette
Identify clothing that emphasizes your best points
Refine your makeup
Pros
Unique opportunity to learn directly from RuPaul
Lots of universally applicable advice
Inspiring guest appearances
Genuine and passionate delivery
Upbeat and positive feel
Cons
Some aspects geared more towards drag culture
Lacks specific 'How To' advice in some areas
Best for: RuPaul devotees, gay men and women will gain hugely from this class. That said, anyone needing a confidence boost or who is just looking to reboot their lives will find a wealth of universally applicable tips to help you be your happiest authentic self.
Click here to read our full RuPaul MasterClass Review
3. Donna Fahri teaches Yoga Foundations
Course length: 10 video lessons totaling 1 hour and 58 minutes
Donna Farhi is a Yoga teacher with over four decades of practice behind her. She's written five books on practising and teaching yoga and has taught all over the world. Her teaching combines anatomical principles, breathing and moving.
I've ranked her #2 here because she seeks to cultivate an inner awareness that enables students to evolve their own practice safely, in line with their own specific needs and abilities. This near 'individual' focus is a rare thing to find in a video class, never mind from one of the most sought after teachers in the world. And it helped me realize the complete benefits of yoga for the first time.
Learn how to:
Commit yourself to a program of relaxation
Overcome limiting conditions (stiff joints, etc)
Warm up
Set up for basic poses
Listen to your body so you can evolve your practice to match your needs
Perform the Sun Salutation along with 13 postures – with different ways in and props to allow for you and your individual body
Apply what you learn ON the mat, OFF the mat
Pros
Lessons from one of the most sought after yoga teachers in the world
Comprehensive course on Yoga fundamentals grounded in anatomical principles
Well structured course that builds understanding and practice incrementally
Focus on inner awareness to evolve & personalize your own safe practice
Improves flexibility and releases tension
Boosts your mood and concentration
It's effective – for me anyway
Cons
Not for everyone (see below for details)
Best for: Beginners, anyone who feels they 'can't do Yoga' or has tried it and had a bad experience. I would say it's less applicable to anyone above intermediate level, although if that's you, you could still get a lot of value with an all access MasterClass pass
Click here to read our full Donna Fahri MasterClass Review
2. James Clear teaches Build Habits for Success
Course length: 10 videos totaling 1 hour and 30 minutes
James Clear is the author of the #1 New York Times bestseller, Atomic Habits, which has sold more than 15 million copies globally. He's also a motivational speaker who's worked with the likes of Capital One, General Electric, Honda, Intel, LinkedIn, McKinsey, Merrill Lynch and more.
His focus is on building good habits, breaking bad ones and improving performance using techniques backed by science. This class is a good mix of clearly explained theory and practical exercises. It provides a simple, manageable and logical way to build habits that stick, eliminate bad habits and set yourself up for consistent, incremental success.
Pros
Teaching from a renowned expert in the field of behaviour change
Carefully structured to promote learning
Good mix of theory and practice
Motivating and uplifting
Cinematic quality and great use of supporting footage
Cons
A short class – though by his very nature Clear is not a procrastinator
Duplicates some of what's in his book – but in a more immediate and powerful way
Best for: Anyone who has struggled to maintain good resolutions and habits (and stop bad ones). Also those interested in finding a simple system that leads to big, and compounding, improvements in their lives.
Read our full James Clear MasterClass review.
1. Jon Kabat-Zinn teaches Mindfulness and Meditation
Course length: 20 videos totaling 6 hours and 31 minutes
Jon Kabat-Zinn is an American former professor of medicine, internationally recognized author and teacher, and is generally regarded to be the godfather of modern mindfulness. He's devoted half a century to bringing mindfulness and mediation into the mainstream, demystifying it, grounding it in a scientific context and making it accessible to all.
Simply put, Kabat-Zinn is a phenomenal teacher. His practice is grounded in science and his ability to communicate not just how, but why, things work helps you fully engage, calm your mind and make the most of every single moment.
Learn how to:
Increase self awareness, focus on the present, and reduce negative emotions
Build skills to better respond to stress and manage pain
Become more mindful in your actions
Meditate in a variety of ways and poses
Understand the science behind how and why mediation works
Pros
Comprehensive course grounded in scientific principles and taught by a credible and respected teacher
Well structured, lessons build on and support each other
Great balance of theory and practice
Extremely effective (or it was for me)
Massive feel good factor if you give it a go
Cons
The class itself needs some time commitment
Would benefit from footage to break up the presentation
Best for: Anyone who wants a greater level of health and wellbeing and is open minded and curious. Also great for anyone who has struggled with mindfulness and mediation in the past and would appreciate a fuller and more scientific understanding of its benefits.
Click here to read our full Jon Kabat-Zinn MasterClass Review
Other Wellness MasterClasses include: Joe Holder (Fitness and Wellness Fundamentals), Emily Morse (Sex and Communication)
-Design and Style
2. Tan France teaches Style for Everyone
Course length: 12 lessons totaling 2 hours and 17 minutes
Tan France is an internationally celebrated style icon, cohost of Emmy award winning Queer Eye and the author of NYT biographical bestseller, Naturally Tan. He's helped literally thousands of people uncover their unique style. His mission: to make people shine, no matter who they are or what they look like.
The class kicks off with sound principles that underpin the whole course and the lessons progressively build skills. Tan's passion and sincerity for the worthiness of his craft are tangible throughout. He delivers a MasterClass that provides the tools you need to unearth your inner style and feel positive and poised every day
Learn how to:
Discover the best version of you and express it confidently
See style as a vehicle for getting what you want out of life
Understand what style is and how the principles of style work
Build a capsule wardrobe
Choose the right style and fit for your proportions
Incorporate print, color and texture
Be selective with inspiration and shop smart
Be well packaged at all times
Set trends, not be a slave to fashion
Pros
Learn from an internationally celebrated style icon
Inspired delivery and teaching
Thoughtfully structured
Good balance of theory and practice
The workbook is a great post course reference
Lively community of fellow students
Lush production values
Cons
More suited to style novices
Even more visual transformations would be a treat
Best for: Anyone, regardless of age, gender or race who wants to discover their best self and express it confidently. Those at the beginning of their style journey will gain the most as this course does start with the basics.
Click here to read our full Tan France MasterClass Review
1. Bobbi Brown teaches Makeup and Beauty
Length of course: 19 lessons totalling 3 hours and 48 minutes
Bobbi Brown began her career as a makeup artist in NYC in the 1980s and has been a household name in the industry for over 40 years. She has her own makeup line, Jones Road; runs a luxury-boutique hotel and curates JustBOBBI.com. She's a beauty industry guru and a badass female entrepreneur to boot!
This class is jam packed with incredible tips that can only be gleaned from a lifetime of working with makeup. But it's Bobbi herself that makes it so special; she's such a champion for elevating others. Her class gives you everything you need to learn to love how you look and put in that extra effort to feel invincible. I truly found this MasterClass life-changing and will be watching it over and over.
You will learn:
Top secrets to looking great, whether in day to day life, on the runway or under studio lighting
Bobbi Brown's tried and tested techniques gleaned from a 40 year career working as an MUA
Transferrable techniques that are easily customized to suit you
Business and life tips that are applicable to both aspiring makeup artists and anyone pursuing a passion project
How to feel and look like the best version of you possible
Pros
Demonstrations on a range of different models of different skin tones and ages makes it easy to understand how to adapt a look to your skin
Amazing tips that I would have never thought of in a million years
I came away from the course taking so much more pride in my appearance — and I think you will too!
Cons
Focuses on a lot of basics so could be too simple for a fully fledged makeup guru
Very specific makeup look
Best for: anyone who wants to look and feel better about their appearance, anyone stuck in a makeup rut who needs to get back to basics, and of course… Bobbi Brown fans!
Click here to read our full Bobbi Brown MasterClass Review
Other Design and Style MasterClasses include: David Carson (Graphic Design), Kelly Wearstler (features #1 in our best online interior design classes), Frank Gehry (Design and Architecture), Marc Jabobs (Fashion Design)
-Home and Lifestyle
2. Ron Finley teaches Gardening
Course length: 10 lessons totaling 2 hours and 11 minutes.
Ron Finley shot to fame after his 2013 'guerilla gardener' TED Talk. In it, he described how he took on the system and turned neglected LA wastelands into fertile arcadia. Transforming entire communities in the process. It took passion, gardening know-how, and great powers of persuasion to succeed. And he did.
This makes him the perfect person to teach a MasterClass on gardening. And it's why he features #2 on our list. Ron does a superb job of explaining why he takes the actions he does and what would happen if he didn't. So you can avoid setbacks and keep progressing. This punchy motivating MasterClass inspires you to grow what you eat and bring beauty to the world, quickly and easily, even if you don't have a garden!
Learn how to:
Grow "your own damn food!"
Get creative in any space (no matter how small) and make it beautiful
Appreciate the holistic benefits of nurturing a plant from seed to fruition
Identify your climate zone and create your own microclimate
Understand your soil and how to improve and enrich it
Create planters out of almost anything
NOT kill your plants
Use various techniques for energizing, regenerating or rescuing plants
Multiply plants (and save money) using propagation
Pros
Direct, clear no nonsense teaching style
Carefully structured with clever content
Proves you don't need a garden to garden
Great selection of plants to demonstrate different techniques
Cons
Lacking in advice on pest control
Lots of cussing! (This doesn't offend me but it's worth pointing out)
Best for: beginners to intermediate gardeners, and anyone who thinks gardening isn't for them – but is open to the idea of giving it a go. Ron's down to earth passion and no nonsense style will convince even those who think they have 'black thumbs' that anything's possible.
Click here to read our full Ron Finley MasterClass Review
1. Brandon McMillan teaches Dog Training
Course length: 15 lessons totaling 2 hours and 55 minutes
Brandon McMillan has been in the animal training business since the age of 4. After training a service dog for an Afghan veteran, he realised his calling – to focus on training dogs to make lives better. Since then, the Emmy Award winning host of Lucky Dog has rescued hundreds of 'untrainable' dogs and transformed them into well mannered companions using the same system taught in this MasterClass.
Brandon clearly has the credentials to be teaching a MasterClass on dog training. He understands the importance of explaining 'why' as well as 'how' and has created a class that is progressively structured and underpinned with sound theory. I was guilty of letting my dog get the better of me when trying to use other training techniques. This positive easy to follow system helped me deal with the results and remain consistent in the future!
Learn how to:
Successfully master 7 common commands
Overcome common behavioral issues – including housebreaking
Build trust with your dog to maximize and accelerate progress
Effectively deploy the control, train, treat process
Embed training for long lasting results
Understand when, and for how long, training sessions should take place to optimize results
Pros
It works (for me and my dog at least)
Well structured
Great balance of theory vs practice
Great delivery and teaching style
Includes lots of canine students of different breed, size and temperament
Key points and key takeaways are highlighted
Great supporting workbook
Cons
More geared toward early training
Does not address some problem behaviors
Best for: Those thinking of getting a puppy or who already have a young puppy. Plus anyone with an older dog who's missed some training steps, or has history that has resulted in trust or behavior issues.
Click here to read our full Brandon McMillan MasterClass Review
-Community and Government
1. Paul Krugman teaches Economics and Society
Course length: 22 lessons, totaling 4 hours and 45 minutes
In his four decade career, Krugman has held professorships at America's most prestigious universities, written 27 books, won a Nobel Prize and has come to be acknowledged as possibly the most influential economist in the world. He's also widely noted for his commitment to making abstract economic concepts accessible and relatable. And that's why he's here in the #1 spot.
This is a class that really makes you think, delivered in an accessible way with great use of storytelling, analogy, charts and animated graphics to support learning. Krugman's MasterClass provides a structured framework for making sense of the world that will shift and sharpen your thinking on major issues such as health care, taxes and trade.
Learn how to:
Use economic principles to analyze events and issues
Appreciate how economic thought has evolved
Understand why the 2008 crisis happened
Think critically about trade, globalization, taxation and private health care
Understand the massive expansion of China and its impact on the US economy
Adopt sound strategies to check for accuracy of data and information
Challenge your own assumptions and biases
Generally become a more aware, active citizen
Pros
Tuition from one of the world's most influential Nobel prize winning economists
Accessible teaching style and a warm and self-deprecating approach
Good use of analogy and storytelling to support learning
Super helpful graphics and animations
Genuinely educational (in my view)
Great sources of data and information provided
References the work of other economists
Cons
Biased towards the US economy and a liberal view of economics
Pre Covid-19 – needs a bonus chapter discussing the impact of Coronavirus
Best for: Anyone who is open minded and intellectually curious and does not have a professional economics background.
Click here to read our full Paul Krugman MasterClass Review
Other Community and Government MasterClasses include: Doris Kearns Goodwin (US Presidential History and Leadership), Bill Clinton (Inclusive Leadership), Hillary Clinton (the Power of Resilience), David Axelrod and Karl Rove (Campaign Strategy and Messaging)
How to find the best MasterClass for you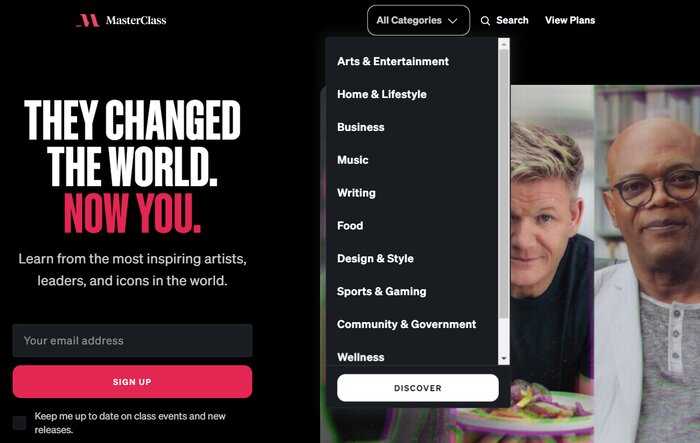 MasterClass offers several ways for you to explore the platform. You can:
Browse its library by category and sample lessons for free
Scroll down the Welcome Screen to find what's new and trending
Search for instructors, classes or topics
Watch the YouTube trailers which give a great feel for each class
Or Read our MasterClass review to get a good understanding of how the platform works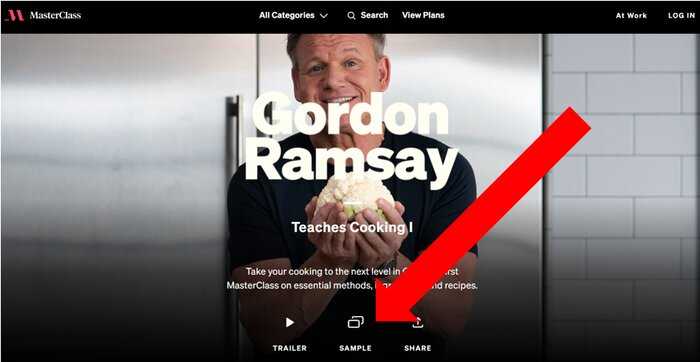 How does MasterClass work?
MasterClass is a subscription platform with three plans:
Standard/Individual (single user)
Duo/Plus (two users simultaneously access the platform on separate devices)
Premium/Family (six users can access the platform on separate devices at once)
The Table below shows you what you can expect for each kind of subscription:
| | | | |
| --- | --- | --- | --- |
| | Individual | Duo | Family |
| Users who can access MasterClass at the same time | 1 | 2 | 6 |
| Access to every MasterClass | ✔ | ✔ | ✔ |
| Access to MasterClass sessions | ✔ | ✔ | ✔ |
| Watch on computer, TV, phone or tablet | ✔ | ✔ | ✔ |
| Download for offline viewing | No | ✔ | ✔ |
Once you've signed up you have 30 days to explore everything MasterClass has to offer. If you change your mind within that period there's a no quibble money back guarantee.
And there's lots to explore.
There are 190+ MasterClasses available across 11 topics. Each one comes with a downloadable instructor's guide containing assignments, supporting and additional information, suggested readings, links to relevant resources, etc.
MasterClasses are pre recorded and self paced. You can dip in and out whenever and wherever you like. They are usually broken into around 20 separate lessons lasting (on average) around 10 minutes each.
Your subscription also gives you full access to MasterClass Sessions. These are time bound classes that you take with a cohort of fellow students. The format is more hands-on and project based and you get to engage with your peers and receive feedback from teaching assistants.
At the time of writing, an individual MasterClass subscription is $10 per month billed annually. For full details of the MasterClass pricing structure and how you can radically reduced your costs with premium/family membership, check our article on MasterClass cost. MasterClass also offers gift options.
Final words
MasterClass provides an amazing opportunity to learn from globally acclaimed masters of their respective trades. The platform does a great job of curating the wisdom and backstories of its teachers into carefully structured courses. All in one place and all in incredible cinematic quality.
There are always actionable insights that you can apply directly to your professional and personal life. But MasterClass can't take you from zero to hero. The more practical classes (food, magic) will give you start to finish instructions. But you will not learn to play the guitar or the piano from scratch after a couple of hours with Tom Morello and Herbie Hancock!
The best way to get a feel for MasterClass is to watch some of their YouTube trailers. If you enjoy them, then it's safe to say you'll enjoy MasterClass.
And since you can sample every class for free – and have 30 days to get your money back after subscribing, you really have nothing to lose by giving MasterClass a go.
What is the best overall MasterClass?
Of the 90 MasterClasses we have reviewed in full, the best MasterClass is Gordon Ramsay on cooking
What is the best cooking MasterClass?
Cooking with Gordon Ramsay with Thomas Keller a close second.
What is the best writing MasterClass?
Salmon Rushdie teaches storytelling and writing.
What is the best music MasterClass?
Tom Morello teaches electric guitar.
What is the best filmmaking MasterClass?
James Cameron teaches filmmaking.
What is the best photography MasterClass?
Annie Leibowitz teaches photography.
What is the best acting MasterClass?
Helen Mirren teaches acting.
What is the best screenwriting MasterClass?
Shonda Rhimes teaches writing for television.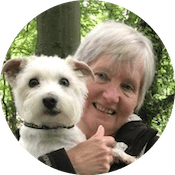 Liz Hurley has 30+ years of high school teaching experience and is one of our senior writers here at Learnopoly.