Want an insight into the mind and life's work of one of the world's most revolutionary and iconic architects? The Frank Gehry MasterClass promises to provide just that.
Gehry's extraordinary career spans more than half a century. And he's also served as professor of architecture at Columbia University, the University of California, and Yale.
So he undoubtedly knows what he's talking about and how to deliver his message.
But if you're here, you may be wondering: – is this MasterClass right for me, what can I expect, or is it worth the price tag?
This Frank Gehry MasterClass Review provides detailed answers to all such questions – including (to my mind) both its strengths and weaknesses.
There's lots of information here – but if you're wanting the headlines, this outline is for you:
.
Quick summary
Learn:
About Gehry's architectural journey and the principles and inspirations that inform his work
How Gehry's design process evolves from start to finish
Tips and advice for generating ideas and developing your own unique, creative signature
How to give your ideas the human touch and use inert materials in innovative ways
Ways to tackle creative block and see mistakes as opportunities
The importance of focusing on what you can control and having a technically competent team
How to build trust with clients and create a collaborative partnership
About Gehry's business model and ethics as well as his attitude towards financial discipline
Pros
The chance to learn from one of the world's most important contemporary architects
Strong case studies that show Gehry's design process in its entirety
Engaging, endearing and humorous delivery
High production quality
Cons
Fairly slim workbook with very basic activities
Quite anecdotal and not technically detailed
Course length: 17 lessons in 7 sections, totalling 2 hours and 49 minutes.
Best for: Anyone fascinated by Gehry's work, or is curious about the world of architecture. Students of architecture and fellow professionals will gain a fascinating insight into Gehry's motivations and how he 'plays the game' – but this is not a technically detailed course.
Overall: A captivating glimpse into the career and life of a globally renowned, yet irreverent, architect. The class will transport you into Frank Gehry's world – from his evolution as an architect through to his business model and ethics (view details).
Now for my more detailed review, here's what I'll be covering:
A look inside the Frank Gehry MasterClass
Pros and cons of the course
Is the content unique?
Is there anything better?
Verdict: Is the Frank Gehry MasterClass worth it?
First the basics:
About Frank Gehry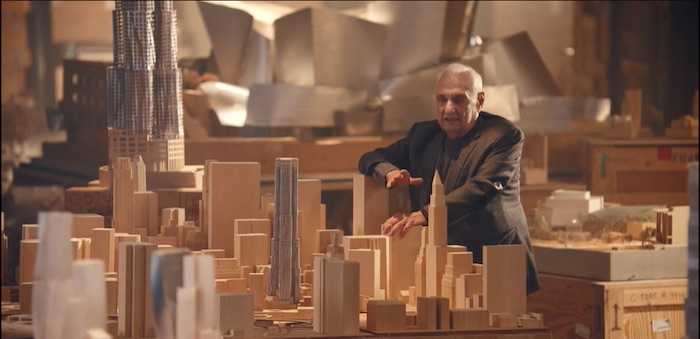 Frank Gehry is one of the world's leading contemporary architects.
With more than fifty years of practice behind him, Gehry is famous for disrupting the very meaning of design within architecture.
Many of his projects have become world renowned attractions in and of themselves – regardless of their function.
Among his numerous awards, Gehry is in receipt of the Pritzker Prize—which honors a living architect, "whose built work demonstrates a combination of those qualities of talent, vision, and commitment, which has produced consistent and significant contributions to humanity and the built environment through the art of architecture."
Gehry's structures are amongst the most iconic and instantly recognizable monuments of our time.
From the folds and curves of the Guggenheim Museum Bilbao, to the sails and icebergs of the Louis Vuitton in Paris, Gehry has demonstrated the power that results from playful, yet masterful, design.
Gehry is also famed for his surprising use of materials and his professionalism.
This – and the fact that he has taught at Harvard, Columbia, Yale and the University of Southern California – makes him extremely well qualified to teach a MasterClass on Architecture and Design.
And if you haven't seen the Frank Gehry MasterClass trailer yet, I highly recommend you check it out:
About MasterClass
MasterClass is an online educational platform founded in 2015. It's proposition? Everyone deserves access to genius.
The online education platform provides inspirational MasterClasses taught by those who have gained global celebrity status in their fields of expertise.
Some of the celebrity names include; Martin Scorsese, Timbaland, Dan Brown, Howard Schultz, Serena Williams, Neil deGrasse Tyson and Gordon Ramsay.
Inside the Frank Gehry MasterClass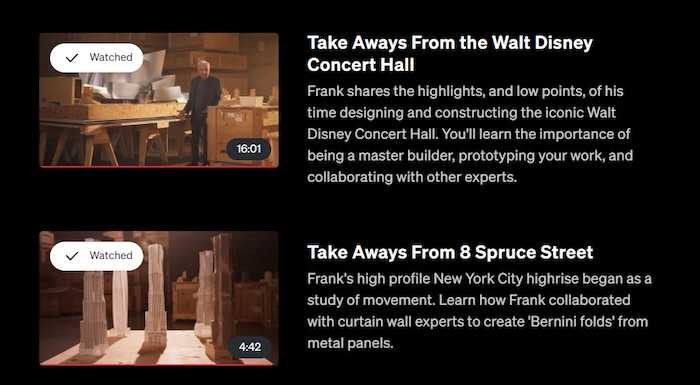 The Frank Gehry MasterClass consists of 17 lessons which vary between about 5 and 15 minutes in length. In total it runs for just under 3 hours.
It's divided into the following seven sections:
Introduction – Meet Your Instructor
Creativity and Inspiration
Creating Your Signature Design Style
Materials and Context
Working with Clients, Teams and the World
Case Studies
The Life of an Architect
To give you an idea of what to expect, I've summarised these below.
Section 1/7: Introduction – Meet Your Instructor
"Promise me that whatever project you make or design, you'll take the risk of doing something for humanity ".
Frank Gehry's MasterClass opens with evocative music and dramatic footage of some of his most iconic buildings.
He then shares what he hopes you'll gain from this MasterClass – which is that you should learn about:
The basic principles that inform his work
The issues he's been confronted with, and
The way he 'plays the game'
He emphasises that his MasterClass is not about making you like him.
The class will provide insight into his world. But if you want to follow (or are following) a career in architecture, then above all it's about encouraging you to develop your own unique, creative signature.
Section 2/7: Creativity and Inspiration
"There is a 'you' that's different from a 'him' or 'her'. And it's worth pursuing because that's where you're the strongest"
Frank frames this section by discussing how we reveal ourselves in our signatures. How the small automatic act of drawing your name is a visual representation of your persona.
He explains how that unique persona should be present in all you design. And will be – if you let it. However, insecurity and the rejection of others often gets in the way.
So after discussing how he sees insecurity as a positive thing, and how he's dealt with negativity, Frank shares some of sources of his inspiration. From the homely comfort of the simple fabric fold to the works of the Great Masters.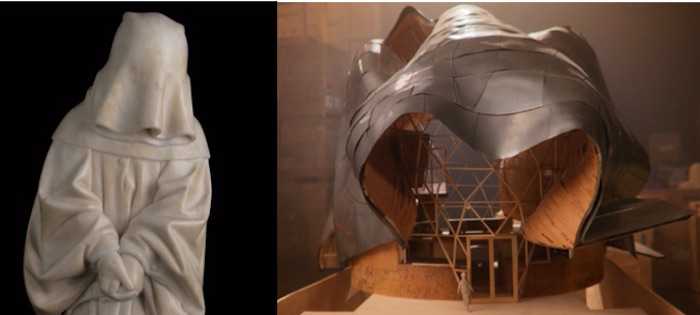 He relates how he interprets and translates these inspirations to develop his own creative signature.
This section is a great segue into the next, in which Frank relates how he developed a philosophy that enabled him to create his own signature style.
Section 3/7: Creating Your Signature Design Style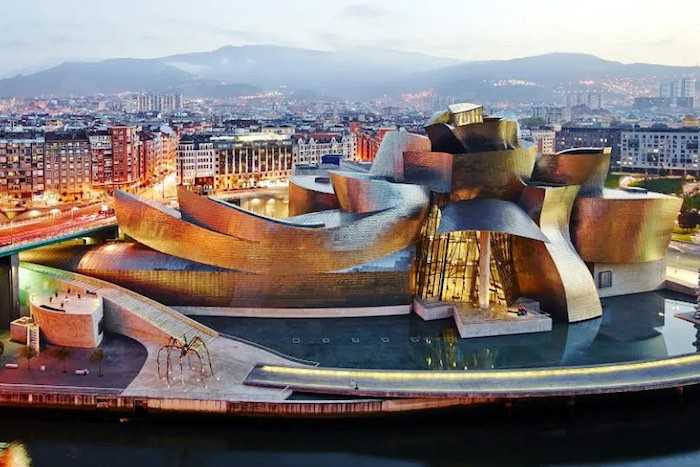 Frank begins this section by stressing his belief that architecture must be human friendly and designed for real life.
He rejects the idea of the beautiful "pristine box". For him, the severity of that kind of design imposes a lifestyle on those who live or work in it that can be negative and cold.
He sees his mission as an architect as being able to:
Imagine he is the audience for the building
Use inert materials to create feelings and emotions that improve quality of life
And he advocates:
Rejecting symmetry and embracing the freedom of asymmetry
Sketching by hand first (not using a computer) to give your ideas the human touch
Architecturally respecting the environment your creation will find itself in
He provides examples of how he did this with the Disney Concert Hall (Los Angeles) and the Beekman Tower (New York).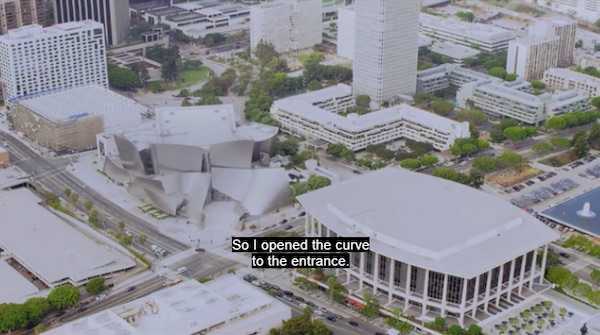 In the remainder of this section, Frank provides tips and advice for:
Generating and developing ideas
Trusting your intuition
Taking risks
Using inert materials in innovative ways – especially those that express movement
Dealing with creative block
Overall, this section took the time to lay down the theories and ideas that Frank sees as fundamental to an architect's process.
I liked the way it shed light on how Frank has evolved his own signature style – including the anecdote about how a fish inspired the Guggenheim museum.
And you'll also gain a sense of how you can use your own reactions to your experiences and the things around you to develop your unique style.
Section 4/7: Materials and Context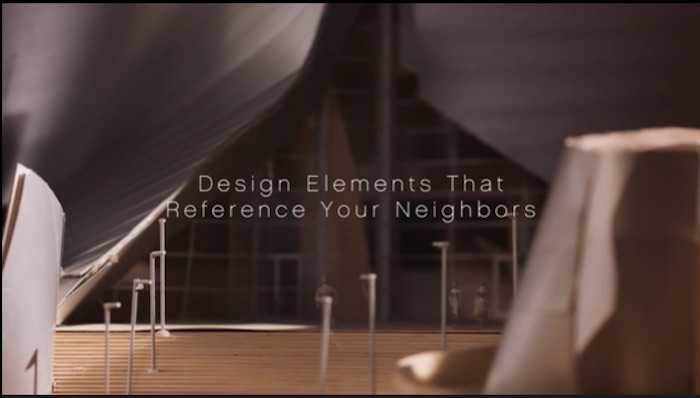 "Be an iconoclast, but be a friend at the same time."
For Frank, context is vitally important to architecture. Using the example of the Beekman Tower, he shares how he found a way for this iconic building to fit in and 'talk to' the Woolworth building and the Brooklyn Bridge.
And materials are as important as structure in achieving this harmonious relationship.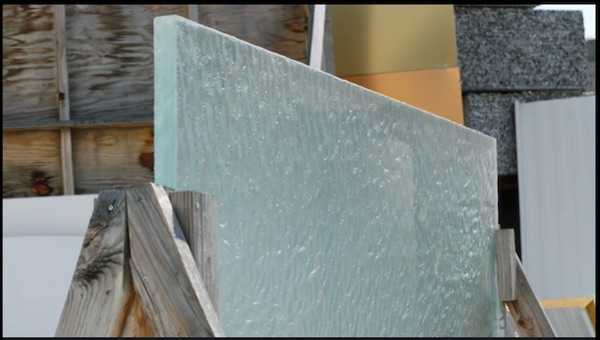 You get a glimpse into his 'bone yard' where he continuously plays with materials to realize his original concept. He highlights the:
Importance of continuous research into new materials
Ways he revisits and plays with existing materials
Necessity to be creative within budget
Need to use materials in away which gives them 'humanity'
And, in particular, the influence of light on the material you have chosen
And he discusses how he has put these guidelines into practice in relation to the:
Barry Diller building
Luma Arles tower
And the Guggenheim Museum
Though Frank is famed for his surprising use of materials, I found this one of the less engaging sections of the course. He discusses his choice of materials in various projects, but there are almost no visuals to support understanding.
And since the class class is filmed within his model archive, I feel a trick was missed to exemplify how his scale models of entire districts are used to see how his new projects will fit in.
This section ends by Frank driving home the need to continuously communicate with the client in relation to material costs – which is a nice link to the next section, Working with Clients.
Section 5/7: Working With Clients, Teams and the World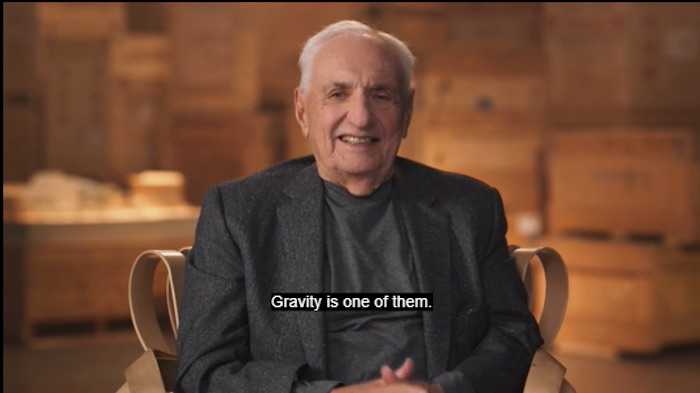 "There are so many rules. There's a lot of room for creativity outside that.. You can meet all those constraints and still make architecture out of it. "
Frank opens this section with a discussion of the constraints that impact on the work of an architect, and how he tackles them.
He is keen to emphasise that, within those constraints, there is room for creativity and freedom.
This section portrays the reality of architectural practice and in it Frank provides tips to help you:
Focus on what you can control
See mistakes as opportunities
Build trust with clients and create a collaborative partnership
Respect the budget
Be sensitive to the different demands of different projects and clients
Build and manage a technically competent team
For me, as a non specialist, it was fascinating to learn about the complex puzzle that is architectural practice – and to listen to Frank's anecdotes relating to his experiences.
However, I am not sure the advice in this chapter would be specific enough to help a practicing architect.
And once again, there were a lack of supporting visuals making this section more of a 'talking heads', lecture style session. I'm glad to say this was rectified in the next section – Case Studies.
Section 6/7: Case Studies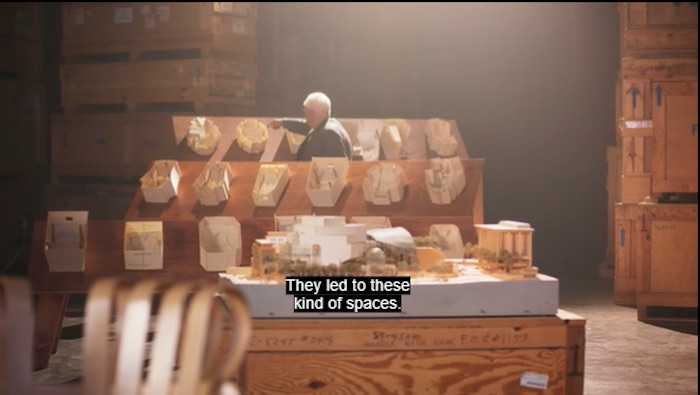 This section was a real highlight of the course. It provided a palpable insight into the unfolding of Frank's design process from start to finish.
It was great to finally see Gehry interacting with his model archive whilst recounting the decisions that led to the fulfilment of his vision for the Disney Concert Hall and 8 Spruce Street (The Beekman Tower).
There's a lot of fascinating details included such as the incredible lengths Frank went to to perfect the acoustics in the Disney Concert Hall. And in it, Frank's passion for his craft was manifest and tangible.
This section really exemplified, in a visual way, what Frank meant when he said the mission of an architect is to imagine he or she is the audience for the building.
In the case of the Disney Concert Hall, this commitment was applied to every seat in the house.
Section 7/7: The Life of an Architect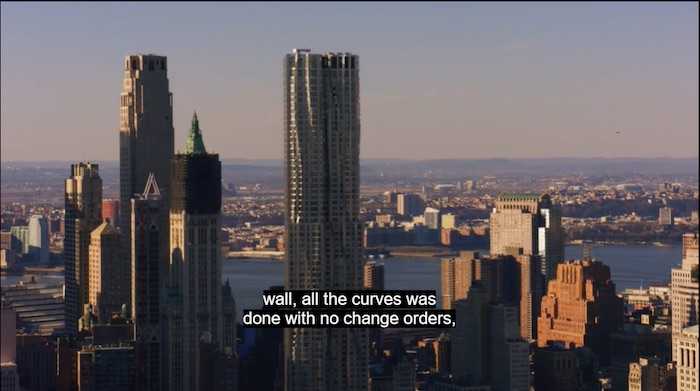 "You don't have to be super rich to do this stuff. You have to have the heart and the will and the tenacity not to fold under pressure"
Having run a successful, creative architectural practice for over half a century, it's great to hear Frank lay out his:
Business model
Ethics
Attitude towards financial discipline
Understanding of 'constructability' (which gives him greater control over his projects)
It's hugely entertaining to hear how Frank proved a building contractor (who said the Disney Concert Hall could not be built) wrong – thanks to his knowledge of how buildings are actually built.
Having anticipated the problems the contractor would raise, Gehry built a 1:1 section of the building in his parking lot and invited the contractor to come see how those problems had been technically solved.
It's in this section that Frank reveals, as promised in the introduction, how he plays the game successfully.
As the MasterClass draws to a close, Frank imparts some final words of wisdom to help you nurture your curiosity and creativity and play the game your own way – hopefully, ethically and with humanity at the forefront.
What I Liked About Frank Gehry's MasterClass
The chance to learn from one of the most important architects of the modern age
Frank Gehry's work divides people, but there is no doubt that he is felt by many to be one of the most important architects of our age.
His designs are iconic and instantly recognizable and have disrupted and revolutionized the world of architecture in many ways.
This is a unique opportunity to gain words of wisdom from someone who is most definitely qualified to impart them.
And how many opportunities have you had to be taught by Gehry? If you're like me, the answer prior to this was 0.
Excellent Case Studies
The section containing the case studies provided a vivid unfolding of Frank's design process from conception to reality.
Through the use of stunning visuals and by interacting with his model archive, Gehry reveals the decisions that enabled him to fulfil his vision for the Disney Concert Hall and The Beekman Tower.
It included fascinating detail such as the incredible lengths Frank went to perfect the acoustics in the Disney Concert Hall. And in it, Frank's passion for his craft was manifest and tangible.
Engaging, fun delivery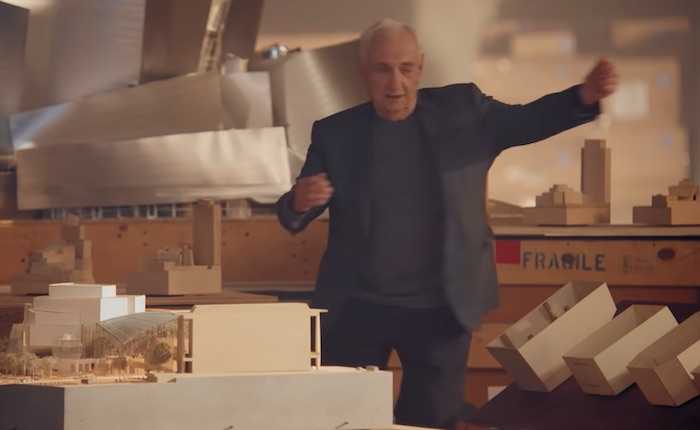 Gehry is relaxed and charming, engaging and fun to watch (he's graciously performing a little pirouette above).
At the same time as imparting expertise, he exudes a comforting rags to riches modesty.
High Production Values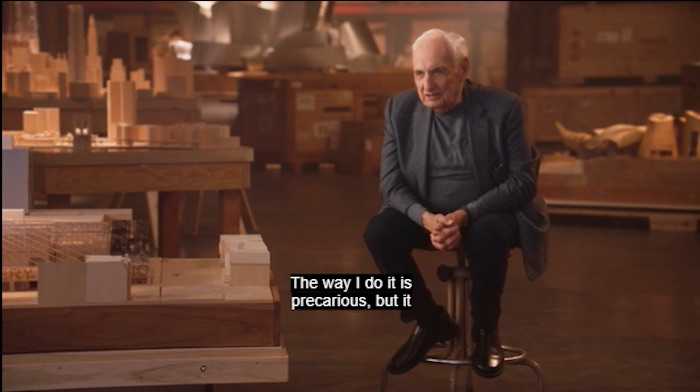 This MasterClass is a treat for the senses. It's dramatically set in Gehry's never seen before capacious model archive.
There's sumptuous lighting and amazing visuals of Gehry's projects accompanied by grand orchestral swells.
The YouTube trailer alone has clocked up 11.8 million views (at the time of writing).
What I Thought Could Be Improved
The workbook and activities
The workbook did not follow the flow of the course. I like to annotate as I go along and so I found this confusing.
The suggested reading was helpful. But I think, were I a student of architecture, I would find the accompanying assignments rather simplistic. For example, sharing your signature with students in the MasterClass Community to get their take on what it suggests about your sense of style.
There were also only five assignments, though the class itself has 17 lessons.
Quite anecdotal and generalised
Some sections of the course rely too much on anecdotes and a 'talking heads' approach.
I myself have no architectural background. But if you do, I suspect you may find this course rather general and lacking in technical detail. There are even a few 'stuffs' and 'blah blah blahs' here and there.
I think it's reasonable that a three hour MasterClass in the complex discipline of architecture be fairly superficial. But it's good to manage expectations if you are thinking of investing your money in it.
Who is this MasterClass for?
In my opinion this class would be a good fit for anyone who can tick one or more of the following boxes:
Admirers of Frank Gehry's work
Anyone considering a career in architecture
Students of architecture (or practitioners) who want an overview of Gehry's life and work, motivations and business practice
Those with an all access MasterClass pass with an interest in architecture
In terms of existing knowledge? On a scale of 1-10 (where 1 is a newcomer to the discipline and 10 is an experienced architect) I would rate this course as suitable for those who fall between 1-7.
How much does the Frank Gehry MasterClass cost?
MasterClass has been known to change their pricing and so for the latest purchasing information please check here.
At the time of writing, there are two options available:
Option 1: You can purchase any individual MasterClass as a standalone class for $90 – which is around the same price as a good architectural textbook. The class and the workbook are then yours to keep forever.
Option 2: MasterClass also offers an annual all access pass for $180. This provides access to all 85+ MasterClasses and their resources for a full year.
Frank Gehry class is the lone architect on MasterClass. But there are other masters whose classes could complement this one. These include Kelly Wearstler on Interior Design and Jeff Goodby & Rich Silverstein on Advertising and Creativity.
Or you could opt for something completely different and perform magic with Penn and Teller then learn negotiation skills with former FBI hostage negotiator, Chris Voss.
Alternatives to the Frank Gehry MasterClass
There are no other MasterClasses on Architecture available on the MasterClass platform.
That being said, David Carson has a MasterClass on graphic design and Kelly Wearstler on interior design.
There are a number of short, very specific courses (eg: Sustainability in Architecture) on the edX platform. This includes an entry level course provided by Harvard which teaches "how to 'read' architecture as a cultural expression as well as a technical achievement."
These classes are not taught by architects of Gehry's calibre and cover a narrow range of topics (albeit in more detail).
The Frank Gehry MasterClass: What Others Have Said
I trawled a range of reviews as well as comments from the MasterClass community, and those beneath the trailer for this class on Youtube. This helped me to gauge the reactions of others who had taken this course.
Those commenting on YouTube (who had actually taken the course) were positive about it. This comment was fairly typical of others:
"I found Mr. Gehry to be fascinating - subtle but very informative and insightful. Loved his videos."
- Comment from YouTube
Interestingly, the first comment I read on the Frank Gehry MasterClass community said:
"Please guide me through the process of how I can be refunded".
- Comment from the community
Which isn't very encouraging. The good news is that MasterClass does operate a 30 day refund policy. However, the remaining comments (and I read them all) were all favourable. Here's a couple of tasters:
"Frank Gehry's masterclass helps me to glimpse the mind, thinking and approach of a master architect and learn from his views on creativity. It has been fascinating so far…"
- Comment from the community
"After working as a developer on small projects on the side, I am interested in a Master of Architecture. 

I have been fortunate enough to be around and inside of Mr. Gehry's work, but I was never such a fan as after watching this and seeing what an incredible and humble person he is as well as the inspiration behind his designs. This was wonderful, thank you."
- Comment from the community
And this student was so inspired, she was taking the class for the second time:
"I decided to retake the class just for the fun. Mr. Gehry's philosophy resonates with me and so repeating the class is an inspiration and validation of my own work."
- Comment from the community
After reading and watching reviews by professional architects I noticed a consensus that this MasterClass is a conversational overview rather than a technically detailed course.
That said, a practicing architect (Eric Reinholdt) sums up his comments by saying:
"To sit and learn from a Pritzker Prize Winning architect with a massive body of built and unbuilt work behind him, a practitioner in his 80s who arrives at his studio each day and faces the blank page, it's a great opportunity. 

And I'm certainly not a Gehry fanboy, just a perpetual student of architecture. So my recommendation? I think there's something for all of us to learn from Frank Gehry. It's an unqualified yes, I think you should take this course."
Is the Content Unique?
Frank has produced a monograph featuring more than 240 of his building projects.
There are also a few free YouTube videos featuring excerpts from interviews with Gehry. These range from around 5m to 35m. They generally cover how he got started or focus on specific projects.
But none of the videos I have watched come close to the range of topics covered in this class. And though his monograph is visually attractive, it doesn't come close to the experience of his MasterClass.
So you could probably piece something together for yourself by combining lots of YouTube searches with some additional reading..
But it wouldn't be as visually stunning, compelling, wide ranging or well structured as a MasterClass.
So in that respect, the content of this class is unique.
What You Will Need
Nothing at all – though you may want to print the workbook out and annotate it, which is what I do.
Is the Frank Gehry MasterClass Worth It?
In my view: yes.
This was a class I truly enjoyed taking and learned a lot from.
And it definitely is a visually compelling and unique opportunity to learn from a Pritzker Prize Winning architect.
That said, I do worry that it is short on technical detail and quite conversational and generalized in places.
That's fine for me, as a non specialist.
But if you're an architect, or are studying architecture, you need to appreciate that this course will provide you with an engaging, candid overview of Frank's life experiences and ideas. As well as how they played a part in the evolution of his work.
If you're happy with that then yes, it is worth the $90 price tag.
If you're still wavering, consider the $180 all access pass. As long as you can find at least two other classes that pique your interest it represents great value for money.
For me, hearing Frank verbalize his thought process and walking through case studies of his most iconic work made this class worthwhile.
You will learn about:
The fundamental principles that inform Gehry's work
His sources of inspiration and how these are translated into finished projects
How to generate and develop ideas and evolve your own unique, creative signature
Some of the issues Gehry has been confronted with and how he 'plays the game'
Embracing the freedom of asymmetry
Architecturally respecting the environment your creation will find itself in
Using inert materials in innovative ways – especially those that express movement
Seeing mistakes as opportunities and dealing with creative block
The importance of respecting the budget and being sensitive to the different demands of different projects and clients
Building and managing technically competent team
Gehry's business model and ethics.
Frequently Asked Questions
How much does the Frank Gehry MasterClass cost?
You can purchase this MasterClass on its own for $90, making it yours forever. Or you can purchase an all access pass for $180. This will give you access to all 85+ classes and their accompanying resources for 12 months.
Can I get the Frank Gehry MasterClass for free?
Unfortunately you cannot get the Frank Gehry MasterClass for free. But MasterClass has a range of purchasing options and offers refunds if you're not happy.
Can I get a refund if I don't like the Frank Gehry MasterClass?
Yes, MasterClass offers a 30 day full refund policy. However, if you buy the class from another provider, check out their returns policy first.
How long is the Frank Gehry MasterClass?
It consists of 17 lessons across 7 sections. The play length is 2 hours and 49 minutes.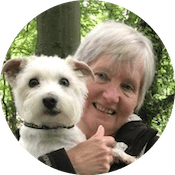 Liz Hurley has 30+ years of high school teaching experience and is one of our senior writers here at Learnopoly.