I absolutely love Gordon Ramsay. As an avid home cook, I constantly watch cooking shows. But there's something about Chef Ramsay that's irresistible. He's got it all — the Michelin stars, the fame, the talent, and the charm.
When I first saw the trailer for the Gordon Ramsay MasterClass on YouTube, I was hooked. The chance to learn from a true culinary master? Count me in!
Chef is never one to mince his words and only stands for the best, so in this Gordon Ramsay MasterClass review I'm staying true to the master: I'll let you know when things are great and I'll let you know if anything is F#@king raw!
Now, the down side of Chef Ramsay being so high profile is that he has content everywhere.
So can his MasterClass content really be that unique? Or will paying for the content just make you feel like you've been duped?
There are 2 Gordon Ramsay MasterClasses available:
Gordon Ramsay Teaches Cooking 1
Gordon Ramsay Teaches Cooking 2: Restaurant Recipes at Home
So which one should you take? Course 1? Course 2 Both?! So many questions!
I have completed both courses, from start to finish, so let me take you through everything you need to know about Gordon Ramsay's MasterClass.
.
Quick summary
What you will learn:
Create mouthwatering dishes including some iconic Gordon Ramsay recipes such as Beef Wellington and Herb Crusted Rack of Lamb
Get incredible flavor out of modest ingredients
Train your palate and understand the flavor profiles of herbs and seasonings
Develop restaurant-worthy knife skills
World class tips and techniques to elevate your cooking far beyond the end of the class
Pros
Get hands on, practical tips from Gordon Ramsay himself
Incredible insight and explanation into the theory behind great cooking which equips you to improve far beyond the end of the course
Recipes that use unexpected ingredients and encourage you to think outside the box
Amazing production values
Alternative ingredient suggestions to allow for dietary requirements
Cons
More complex recipes are demonstrated with some components already made
Sometimes uses hard to find ingredients
Ramsay keeps blowing the steam away from the pan. It's likely so they can capture a better shot of the food, but it's also kinda gross! (Sorry, GR!)
Length-Gordon Ramsay Teaches Cooking 1: 20 videos totalling 3hrs and 52 mins
Length-Gordon Ramsay Teaches Cooking 2: 15 videos totalling 4 hrs and 13 mins
Total course time: 8 hrs and 5 mins
Best for: Gordon Ramsay fans who want to elevate their current cooking (course 1) and learn show-stopping recipes to dazzle friends and family (course 2).
Overall: These courses are a whirlwind tour of food. Alongside Ramsay, you will journey from the homes of Italian nonnas to the streets of Asia, and back to Chef's home kitchen with the perfect scrambled egg.
Now let's get stuck into the more detailed Gordon Ramsay MasterClass review!
Here's what's in store:
An inside look at both of Gordon Ramsay's MasterClasses
What I loved and what I thought could be improved
Who the course is aimed at
Pricings, uniqueness and alternatives
Are Gordon Ramsay's MasterClasses worth it?
About Gordon Ramsay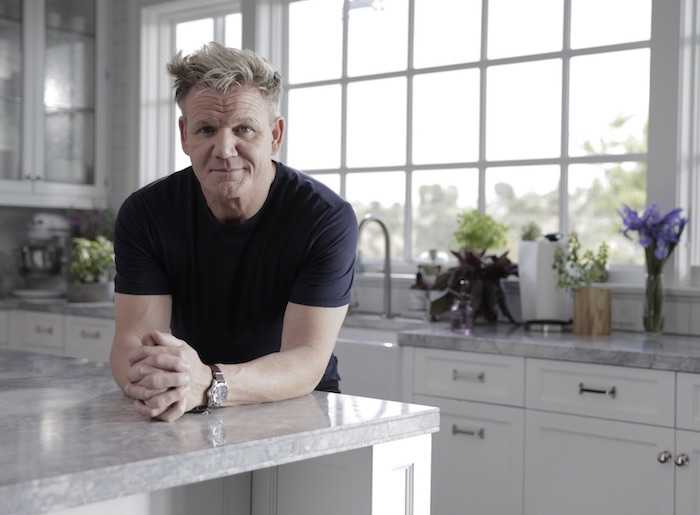 Between you and me, I left writing this section of my review to the very end.
Why?
Because how on earth can you introduce the one and only Gordon Ramsay?!
Gordon Ramsay is perhaps the best known chef and restaurateur in the world. He owns and runs 32+ establishments spanning the US, Europe and Asia, and still has time to grace our screens with favorites Hell's Kitchen, MasterChef and more!
If you're looking to take the MasterClass, you're likely a fan of Ramsay, so here's a bit more about Chef Ramsay that makes him a once-in-a-lifetime instructor:
He trained with some of the powerhouses of modern French cuisine: Jöel Robuchon and Guy Savoy
Between his restaurants, he has won 16 Michelin stars to date
He holds a Most Excellent Order of the British Empire (OBE) from Queen Elizabeth II (!) in recognition of contribution to the culinary industry
About MasterClass
"Our instructors are the best in the world."
The premise of MasterClass is very simple: learn from the best. They have a carefully curated pool of instructors from different disciplines including:
Each course runs as a series of video lessons accompanied by a PDF workbook which is full of summaries, further reading, and assignments.
If you want more details on MasterClass and some of its most popular classes, check out our Masterclass review and best MasterClass article.
Inside Gordon Ramsay Teaches Cooking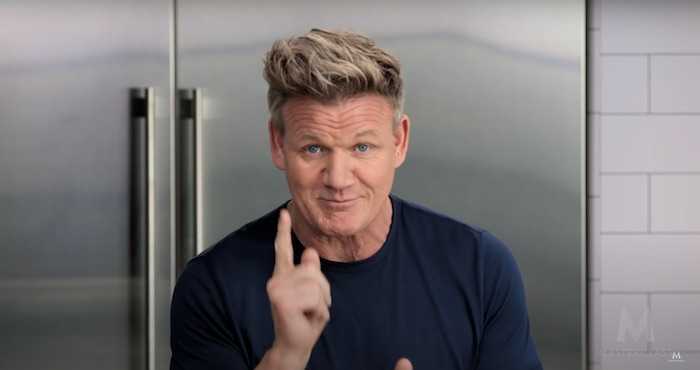 "When you cook, it's not from a script — it's from the heart."
The lineup of Gordon Ramsay's MasterClasses is:
Gordon Ramsay Teaches Cooking 1 (20 lessons totalling 3hrs and 52 mins).
Learning techniques and principles, then applying them within recipes
Gordon Ramsay Teaches Cooking 2: Restaurant Recipes at Home (15 lessons totalling 4 hours and 13 mins) Learning to cook recipes from Gordon Ramsay restaurants at home (of course!)
You can choose to complete just one course for $90 or you can buy an all-access annual pass for $180 dollars that gives you unlimited access to all MasterClass courses for a year (view details). Make sure you don't buy both courses individually or you'll be missing out!
Gordon Ramsay Teaches Cooking 1
The 20 lessons in course 1 break down into the following general sections:
Getting to know Gordon Ramsay
Mastering the kitchen
Mastering vegetables and herbs
Elevating eggs
Developing knife skills
Mastering meat: chicken, beef, lamb and pork
Mastering seafood: fish and shellfish
Making the perfect pasta
Recipes
Getting to know Gordon Ramsay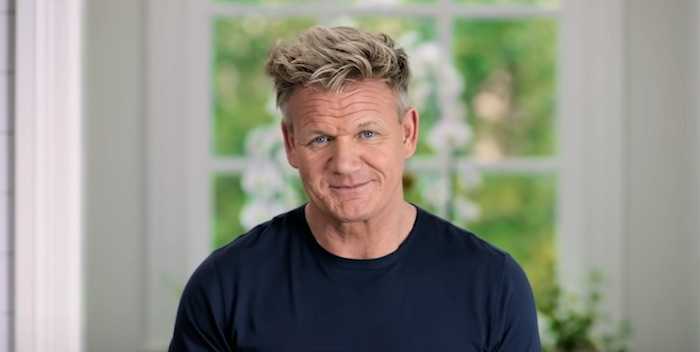 "You'll see a side to me that I don't think has ever been shown before."
Ramsay starts the course by guiding us through the journey he took to become the world-renowned chef we see today. Many of the facts I had heard before but seeing Gordon, stood in his home kitchen filled with nods to his early days and his oven dedicated to his kids, it feels so much more raw and real.
If you only know Gordon Ramsay from Hell's Kitchen then prepare to be in for a shock. We hear the story of a young chef, desperate to make it, learning from the best (including his mom!) and having to deal with "the biggest b@s!@rd [he] ever worked for".
The introduction manages to inspire hope that with hard work and dedication you can cook amazing things, but also fills you with awe and gets you fired up to learn from a culinary legend.
Mastering the kitchen
After the introduction, you'll learn the best way to layout your kitchen and what equipment is essential to create amazing food.
So often, content can be filled to the brim with ads for appliances or equipment and so I found this section refreshing.
"You don't need a $100,000 kitchen to cook good food."
Ramsay boils down his kitchen equipment to 6 key items and maintains that really, if you've got a pan and a stove, you've got the potential to do amazing things. (We provide a list of Gordon Ramsay's suggested equipment towards the end of this review.)
That said, he does advocate for investing in a few great pieces that will help you in the kitchen and a more detailed list of useful kitchen equipment is included.
Mastering vegetables and herbs
The section on herbs and vegetables had so much information — and my notes in the workbook show it!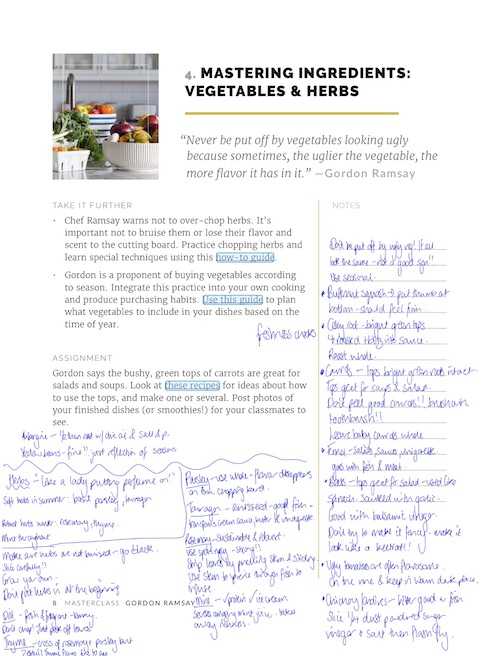 Here, you learn a wealth of useful and practical tips for elevating your veg:
How to check specific vegetables are fresh and ripe
The best way to utilise parts of vegetables you might otherwise through away (beetroot and carrot tops)
How to cook a variety of vegetables to get the best flavor from them (there is a crazy tip for cooking endives!)
Understanding the flavor profiles and categories of herbs and how you should treat them to keep them fresh and potent
You'll also learn the perfect technique to "chiffonade", or roll then slice, your mint. About chiffonade, Gordon says: "this technique, my friend Snoop Dog taught me…"
Elevating eggs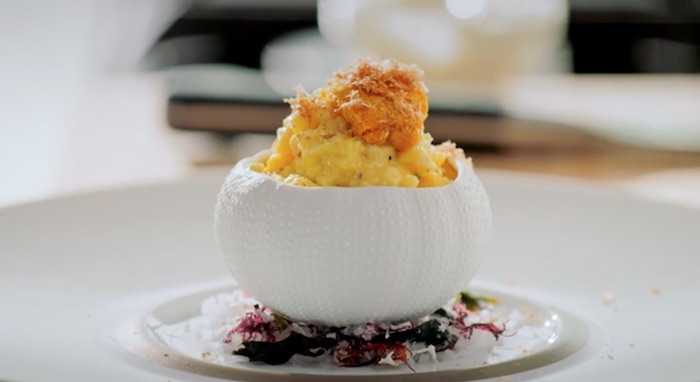 Eggs are commonplace in almost everyone's diet and often we think of them as being the simplest ingredient of all to cook. However, in French culinary training, the humble egg is used as a training ground and benchmark standard for testing good technique.
So how do we go from amateur egg cook to elevating our eggs à la Gordon Ramsay?
In this section, we learn everything from techniques to pairings including:
How to strengthen egg whites (useful for poaching and whipping)
Unconventional ways to cook eggs
Luxury ingredient pairings for eggs
Developing your knife skills
Everyone wants to shout about how to make beautiful food that looks and tastes incredible but great knife skills are the foundation of efficient, accurate and safe food prep.
Both Ramsay and the workbook are full of tips and tricks on how to become a pro with a knife.
Ramsay doesn't quickly gloss over this section, but rather physically demonstrates the movements, showing how your body should be, how your hand should grip the knife, the points of contact of the blade on the board. He demonstrates, then repeats and recommends how you can safely practice to become a real pro with your knife work.
In this section, Gordon Ramsay mentions safety a lot and I really loved this. He doesn't say to go slow but then continue to chop fast himself. Rather he emphasises that you should chop safely with understanding and accuracy and goes slowly too.
It's a small thing but something about seeing Gordon Ramsay humble himself to chop at snail's pace really makes you feel like you're learning from a teacher who cares.
Mastering meat: chicken, beef, lamb and pork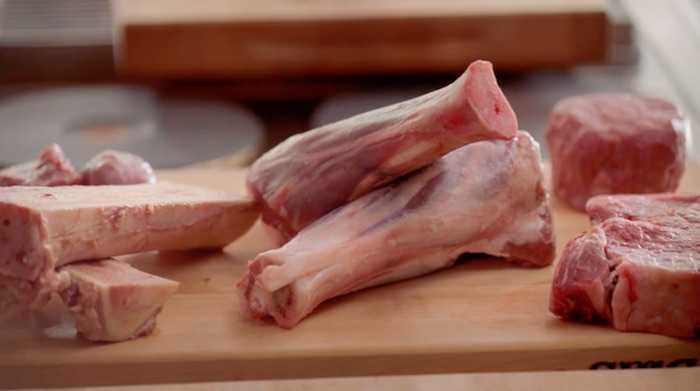 One really accessible part of the Gordon Ramsay MasterClass is that Gordon isn't afraid to speak about being frugal and using humble ingredients.
In the meat sections of the course, you will learn:
How to break down and utilise a whole chicken
How to elevate humble cheap cuts of meat into something magical
Great uses for pork cheeks, bone marrow and lamb shank
How to identify a great steak and adjust your cooking method to the meat's particular qualities
Mastering seafood: fish and shellfish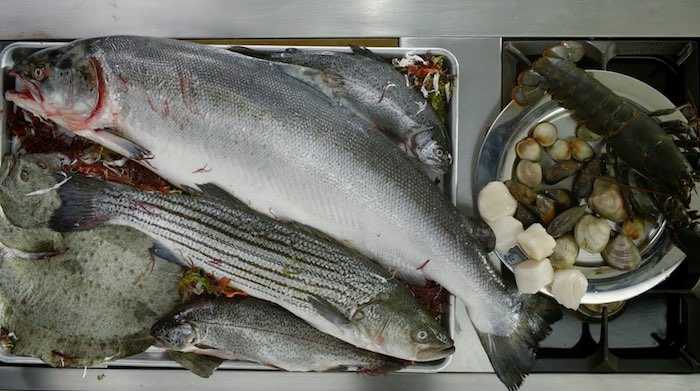 "There's only one temperature for fish, and that's perfection."
No pressure! But don't worry, Ramsay takes you through step by step from selecting the right fish, to how you should store it for maximise flavour, all the way through to how you should cook and present it.
The great thing about Gordon Ramsay throughout these classes is the word "because". He doesn't only tell you that you should opt for one type of shellfish over another but also then goes on to explain why.
That "why" makes you feel equipped to make good decisions at the store and in the kitchen rather than opting for something just because Gordon Ramsay said so.
Other things you'll learn in this section are:
How to check that fish is really fresh
What you should ask of your fishmonger
In what circumstances farmed salmon is ok
Which types of fish render the best fish stocks
How to store scallops so that they sear properly and look great on a plate
Making the perfect pasta
Chef Ramsay tells the story of being in Italy and sitting in the corner of a kitchen learning from Italian 'nonnas".
The art of making pasta dough is incredibly complex and, because no two eggs are exactly the same, it often requires the confidence to divulge away from the written recipe.
This section is jam-packed full of practical tips: what the pasta should look like at different stages, how it should feel, how to rectify problems if your dough isn't quite right.
You also get a thorough kneading demonstration with Gordon Ramsay explaining the movements and breaking it down. You learn where to place your fingers and how to move your body.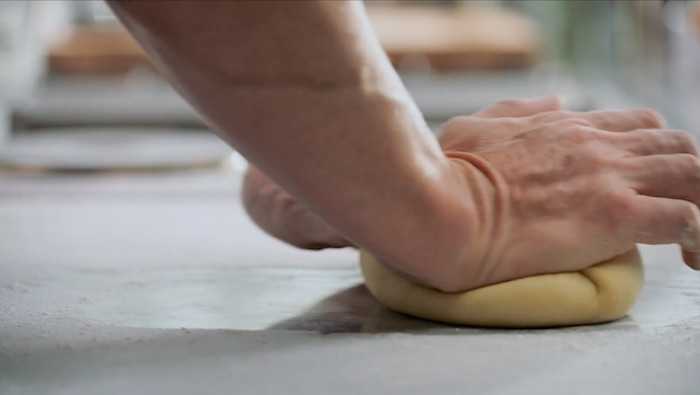 Throughout the pasta-making sections, you really feel the reverence that Gordon has for pasta and his experiences in Italy and get a real understanding of what is required to make amazing pasta at home.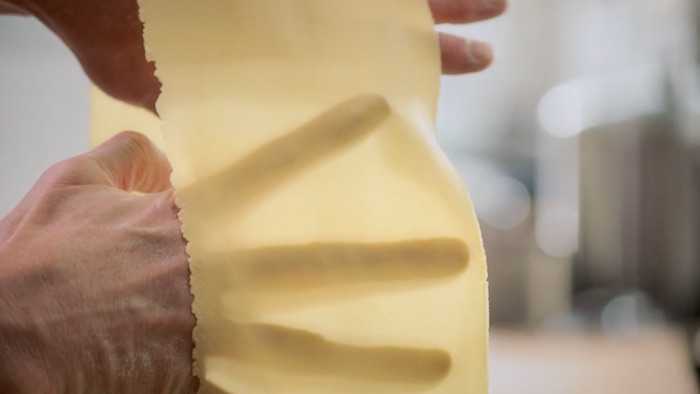 (And, there's a guest appearance from Chef Ramsay's PA which results in some classic Gordon Ramsay interactions!)
Recipes
If you've ever wondered how hard it is to cook that iconic beef wellington or rack of lamb that's so often "f*#@ing raw" in Hell's Kitchen, now is your chance. After completing both courses, you should know how to cook the beef wellington to perfection and how to make that beautiful herb-crusted rack of lamb.
Although really, Gordon:
Recipes from Gordon Ramsay Teaches Cooking 1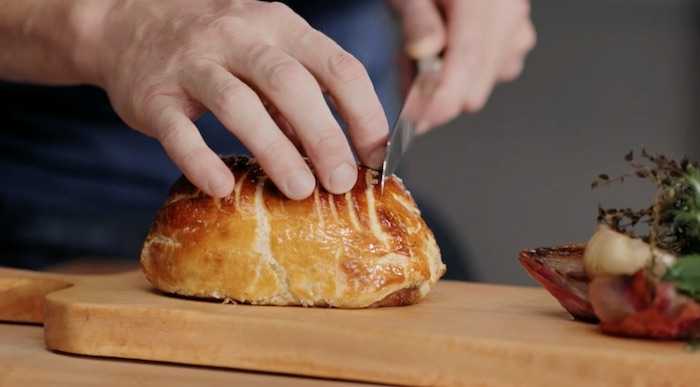 In the first course, there are 6 recipes interspersed between the relevant technical lessons. The layout of the course feels so intuitive: learning a technique then applying it in the following recipe class.
Poached Egg & Mushrooms on Brioche
Elevated Scrambled Eggs
Chicken Suprême with Root Vegetables
Salmon with Shellfish Minestrone
Lobster Ravioli
Beef Wellington
Recipes from Gordon Ramsay Teaches Cooking 2: Restaurant Recipes at Home
"And there we have, maybe one of the most daunting, but let me tell you, one of the most delicious duck dishes you can ever cook."
The second course, Restaurant Recipes at Home, is recipe-based. Chef Ramsay still talks fundamentals but focuses more on the whole process from cooking all the way through to presentation and service.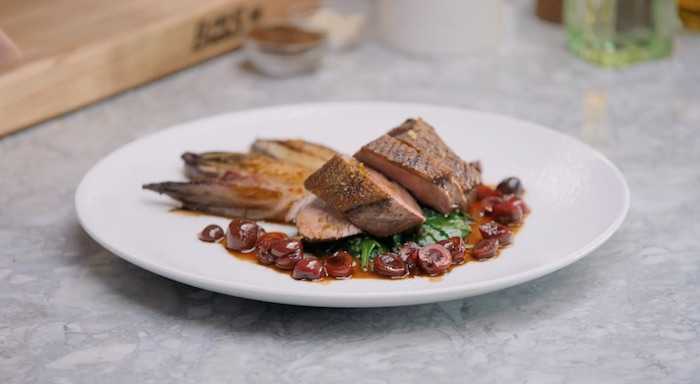 In the workbook, each recipe is accompanied with everything you would need to serve the food up at a dinner party: alternative suggestions for dietary requirements, ingredient notes, which parts can be prepped in advance, a recipe timeline to get all elements on the plate together, and also a drinks pairing for each recipe.
Red Wine Poached Egg, Asparagus and Mushrooms
Crispy Duck, Red Endive and Spinach
Pomme Purée
Cauliflower Steak, Olives and Mushrooms
Rack of Lamb with Thumbelina Carrots
Roasted Eggplant with Basil and Feta
Grilled Baby Leeks, Miso Broth and Caviar Vinaigrette
Szechaun Roasted Whole Chicken
Hoisin Chicken and Pickled Daikon
Szechaun Chicken Breast and Udon Noodles
Sesame Crusted Tuna with Cucumber Salad
Fried Branzino with Thai Chili Lettuce Cups
Raspberry Soufflé
Recipes I made
"Trust me, the food will speak for itself."
I cooked a few of the recipes for friends – Pomme Purée; Cauliflower Steak, Olives and Mushrooms; and Roasted Eggplant with Basil and Feta – and each went down an absolute treat.
"If I'd paid $90 just for you to learn how to cook the cauliflower dish, it would have been so worth it." ~ very happy guest at my house!
To tell the truth, the cauliflower didn't look like much because I couldn't source edible flowers, but it did taste amazing!
GR's: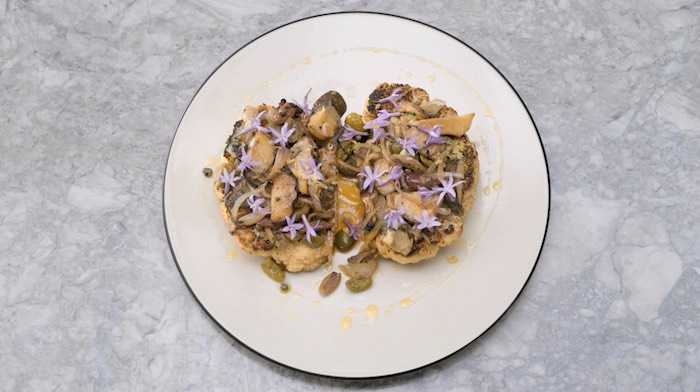 My attempt: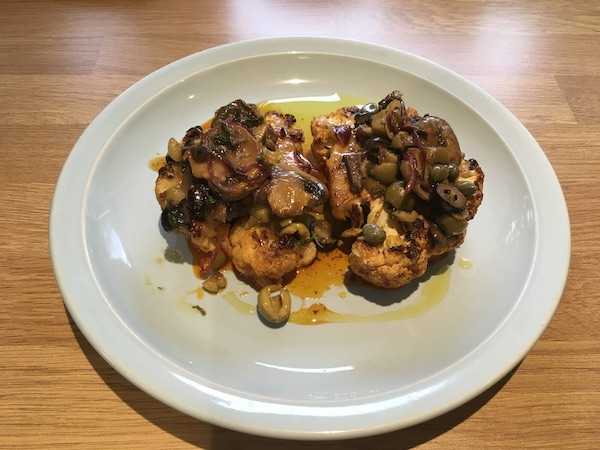 I found that the recipes had interesting combinations of flavours that I would never ever dream up (mushrooms, orange juice, olives, mint and capers in the same dish?!) but that's what made it so special. It really tasted like nothing I would cook at home.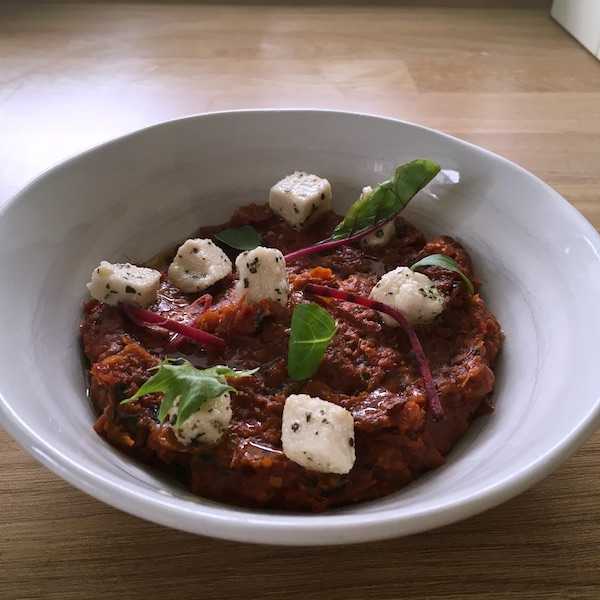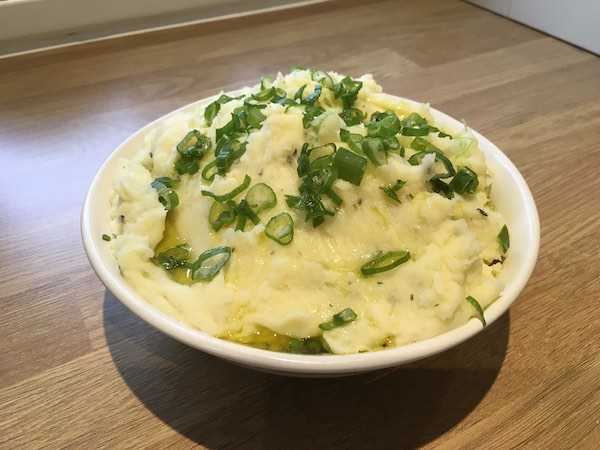 The roasted eggplant was so rich in flavour and didn't taste bitter at all as some eggplant recipes tend to. (Even better, you'll end with a glass of two of strained tomato juice – perfect for an after class Bloody Mary!)
During the pomme purée class, I discovered that Chef Ramsay is really very passionate about potatoes. I ran out of cream and had to use a regular potato masher for my pomme purée so it was a little more chunky than Ramsay's but the flavors were incredible. They were so popular at the dinner table alongside the roasted cauliflower.
What I liked about Gordon Ramsay's MasterClass
It's Gordon Ramsay!
If you're contemplating taking this course then the likelihood is that you are also a Gordon Ramsay fan.
We're so used to seeing him shouting and screaming on Hell's Kitchen and it's so refreshing to watch a really refined video of his passion for food coming through. It makes you take a step back and think "sh*t – this guy really really knows what he's doing!"
Chef Ramsay is an incredible teacher
Gordon Ramsay really cares about good food and that comes across in his teaching style. He understands and explains everything in great detail.
I have been teaching one-to-one classes for well over a decade and I always tell my students that the end goal is that one day they will be just fine without me.
That's exactly what Gordon Ramsay does:
He doesn't just give you steps to follow along with, but rather he equips you with great knowledge and understanding that will allow you to achieve great things in the kitchen long after this course is over.
I particularly loved a section in the Salmon recipe where he stated that you should serve the salmon skin side up. It would have been perfectly fine to stop there but we get a visual demonstration of how the salmon looks skin side down and skin side up.

Great practical advice
Throughout the entirety of the course, Gordon Ramsay gives great practical advice and, for the most part, the workbook helps to give even more.
For example, near the end of the second course, the workbook states that "cooking is a labour of love that takes time and effort to perfect".
It then goes on to list techniques, elements and recipes from throughout the course that you can practice according to how much time you have.
It suggests that if you only have a little time, you could practice making Olive Pistou or Sesame Crusted Tuna. If you have an hour or so, Udon Noodles and Ramen Broth or Crispy Five-Spice Duck Breast.
Great food hygiene and safety
It can be tempting to just focus in on the glamorous bits but Chef Ramsay doesn't shy away from the fact that cooking without due care and attention can be dangerous.
Throughout the course, he is frequently washing his hands and reminding you to do the same when handling raw meats.
He also gives safety tips about working with hot oil and how to work safely and efficiently with a knife.
Alternative ingredients and dietary requirements
The world is becoming increasingly conscious about what food they consume and I really appreciated the dietary requirements and alternative ingredients sections.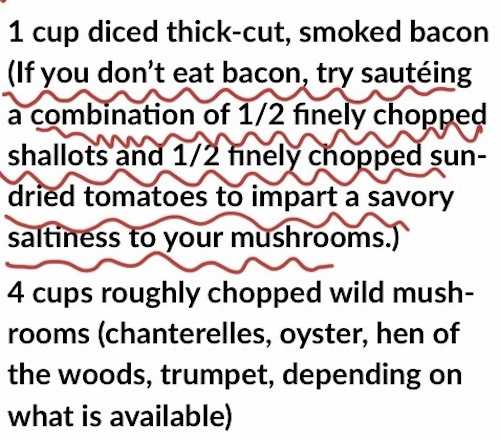 For example, for the Poached Egg and Mushrooms on Brioche, the recipe states:
"If you don't eat bacon, try sautéing a combination of ½ finely chopped shallots and ½ finely chopped sundried tomatoes to impart a savory saltiness to your mushrooms."
It also gives examples of other mushrooms you could use depending on what is available.
Beverage pairings
It's a small touch but I really love that each of the recipes in the second course come with a beverage pairing. With each of the meals I made, I bought the suggested wine and thought that the suggestions were spot on.
Most recipes also come with a suggested cocktail recipe too but I found that by the time I had completed the cooking, I was just ready to crack open a bottle of wine rather than make a cocktail from scratch!
Great mix of theory and practical
The layout of the first course in particular ensures that there is a great mix of theory and practical. We first have the "Method" section which is weighted towards techniques, followed by the "Make" section which puts those techniques into practice with a recipe.
It's really helpful to have the bulk of the technical work separated out in their own videos because it makes it easier to go back and revise.
Sense of community despite being an online class
Alongside every MasterClass course runs an online discussion forum. There, you can post pictures of your creations, ask questions about the recipes and generally discuss all things culinary related with your classmates.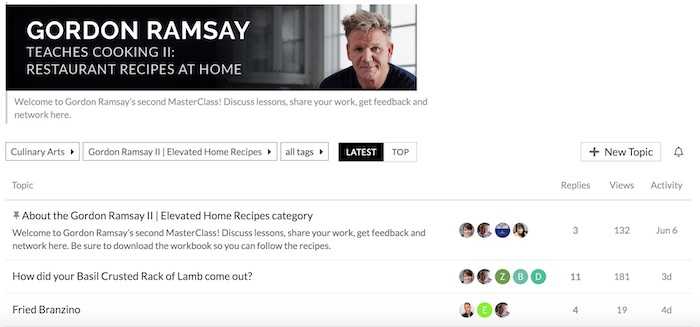 Amazing production quality
I've mostly talked about Gordon Ramsay in this review so far, but kudos to MasterClass for the absolutely stunning production.
The videos and camerawork are second to none. As a predominantly plant-based eater, I found myself salivating over shots of rack of lamb.
It's also really handy to have an on-screen glossary pop up to explain technical terms. Other MasterClasses miss this and it was a very welcome feature in both of Chef Ramsay's classes.

Each video also has markers throughout the timeline so that you can easily navigate to watch sections again.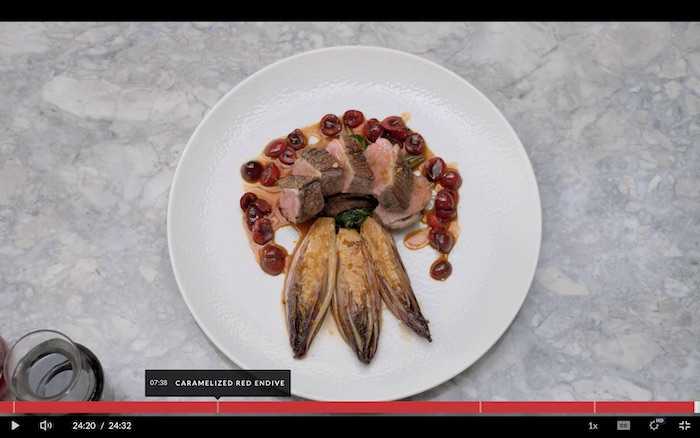 What could be improved
There are really very few things that could be improved on this class, but some things do stand out as less than ideal.
Some classes start with pre-cooked elements
It's completely understandable that some parts of the recipes are pre-prepped. Really, nobody needs to see Chef Ramsay dicing every single onion in advance of actually cooking the recipe.
And often, the pre-prepared elements are not particularly demanding and so it's fine that the actual making of them is skipped over.
That said, for a few recipes, it feels like vital steps are skipped out. In the Rasberry Soufflé recipe – a notoriously difficult dish – we don't see Gordon make the pastry cream and really only get to see the preparation of the ramekin and the combining of the ingredients. Yes, these are arguably the most important parts, but it seems like many of the MasterClass community have struggled to perfect their soufflé even after watching the class. More information would definitely be helpful here!
The same goes for recipes like lobster ravioli – we learn to make the pasta but not the lobster filling which feels like an equally daunting task which requires more expensive ingredients!
More accessible ingredients
For the most part, the Ramsay MasterClasses are incredibly accessible. Gordon frequently talks about cooking with humble ingredients and minimal equipment but some of the recipes include ingredients like sea urchin tongues, truffle and lobster.
While it is great to see examples of how you can use more high-end ingredients, it would perhaps be better to have these ingredients as an add on and clearly state ways you can make similar recipes with day-to-day ingredients.
See cocktails being made
Nearly every recipe in the second course comes with a written cocktail recipe that complements the dish.
It would have been nice to see Gordon making a few chef-lead cocktails as we do in the Wolfgang Puck MasterClass.
Revised workbook
Odd timelines
Also, in the second workbook, a meal timeline is included to help you organise your time and bring everything to the plate on time. These didn't always seem so accurate and might end up ruining a meal for a less experienced chef.
For example, in the poached egg with asparagus and mushrooms, it suggests that you poach and plate the egg before any of the other steps. In his example, Chef Ramsay leaves the poaching right until the end, plating the egg last.

No timings on recipes
While the timelines are helpful, they give no indication of actual timings, only in what order to prep and cook.
It's a small thing, but when I came to prepare a whole meal, I had no concept of how long the total process might take me or when I should start cooking by to have the meal ready for my guests.
Missing parts of recipes
In the second MasterClass, the recipe for Basil Crusted Rack of Lamb is also incomplete, missing out the mint yogurt sauce. An ironic joke? Could well be!
Some recipes hard to follow
The order of some recipes were really difficult to follow along with – I had this problem particularly with the Raspberry Soufflé recipe.
To me, it felt like bits of the recipe were missing or that they were written later than I would have expected so that things weren't ready when they needed to be.
Typos
Overall, the workbooks are really great, however they could do with a revision as I noticed a few typos throughout the workbooks. It's a small thing, but if you're paying $90-180, you want a really polished product!
Who is Ramsay's MasterClass for?
"The MasterClass, for me, is about someone that loves food."
Although Gordon Ramsay demonstrates and explains some basic cooking principles (particularly in his first MasterClass), if you've never cooked before, this MasterClass is probably not for you.
You're probably looking for a course that teaches you how to cook pasta from a packet more than how to make it completely from scratch!
However, this could be a great course for anyone who:
Is a big Gordon Ramsay fan
Wants to understand the principles behind cooking to feel more confident on their own (Gordon Ramsay Teaches Cooking 1)
Really wants to "wow" their family and friends and pull of some spectacular cooking (Gordon Ramsay Teaches Cooking 2: Restaurant Recipes at Home)
Wants to get out of their comfort zone and experiment with new flavours and techniques
If 1 is a complete cooking novice and 10 is Gordon Ramsay, I would say that the course is suited to skill levels from 2-10.
How much is Gordon Ramsay's MasterClass?
At the time of writing MasterClass had three subscription offers. The cost of these (per month) is:
Individual (1 user) $15
Duo (2 users) $20
Family (6 users) $23
All are billed annually, which at first glance may seem pricey.
However, you can considerably reduce your costs by taking as many courses as possible.
With over 150 courses on the platform you're likely to find quite a few to interest you. Even if you buy an individual membership and find only 10% of the courses of interest this still works out to only $12 a course:
$180 (annual individual membership fee) / 15 courses = $12.
And if you join with friends or family then the cost of each course is drastically reduced. Check out our MasterClass review or MasterClass cost articles to see how.
Bearing in mind that these classes are taught by global leaders in their fields the value is unbeatable. You can pay over $100 for an online course taught by someone you've never even heard of, never mind the caliber of Gordon Ramsay.
What's more, MasterClass also offers a 30 day refund if you're unhappy with your purchase.
You can also purchase MasterClass as a gift.
Chef Ramsay is passionate about sharing culinary knowledge so it seemed likely that he would have other courses elsewhere.
At his UK restaurants, you can book a masterclass experience (not to be confused with MasterClass). These masterclasses are not run by Ramsay himself but by relevant chefs at the various restaurants. I dug into the price lists for some comparison.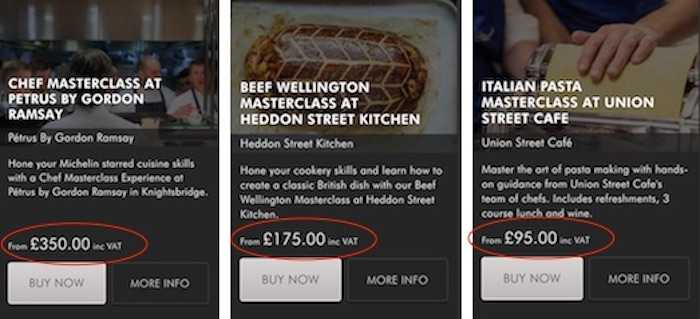 Beef Wellington Masterclass–Price: £175 (~$230)
"Hone your cookery skills and learn how to create a classic British dish with our Beef Wellington Masterclass at Heddon Street Kitchen."
Italian Pasta Masterclass–Price: £95 (~$125)
"Master the art of pasta making with hands-on guidance from Union Street Cafe's team of chefs."
Cocktail Masterclass–Price: £60 (~$80)
"Shake, muddle, and pour. Discover how to make signature Lucky Cat cocktails."
Now, I'm not so naive to think that an online course is going to blow an in person masterclass out the water. In fact, I'm sure that all of the above classes are incredible experiences.

But, with the Gordon Ramsay Teaches Cooking MasterClasses, you get incredible value for money with instruction directly from Chef himself.
If you complete both courses, you'll get a Beef Wellington MasterClass, and an Italian Pasta MasterClass, and recipes for Ramsay Restaurant signature cocktails, AND more!
For those 3 courses, you could pay $415 in person.
$180 for an all-access pass sounds pretty good right now, doesn't it?!
$180 is not a small amount of money, but with over 8 hours of teaching combined, it works out at about $22 per hour to learn the secrets of one of the best chefs in the world.
Alternatives
Depending on what you are looking for, there are a few alternative options that will help you to improve your cooking.
Other cooking courses available on MasterClass are:
Thomas Keller: Teaches Cooking Techniques 1 – Vegetables, Pasta and Eggs; Teaches Cooking Techniques 2 – Meats, Stocks and Sauces; Teaches Cooking Techniques 3 – Seafood, Sous Vide and Desserts
Niki Nakayama: Teaches Japanese Cooking
Wolfgang Puck: Teaches Cooking
Massimo Bottura: Teaches Modern Italian Cooking
Aaron Franklin: Teaches Texas-Style BBQ
Apollonia Poilâne: Teaches Bread Baking
Yotam Ottolenghi: Teaches Middle Eastern Cuisine
Gabriela Cámara: Teaches Mexican Cooking
Alice Waters: Teaches the Art of Home Cooking
Dominique Ansel: Teaches French Pastry Fundamentals
If you're reading through the above list wondering how to choose, don't forget: your subscription gives you access to all of them, plus the other 150+ MasterClasses on the platform.
Alternatives to MasterClass
YesChef: a platform similar to MasterClass but is 100% focused on cooking
Skillshare and Udemy: Both platforms have a huge range of culinary courses where anyone can be a teacher
Learning With Experts (Classic French Cuisine: The Roux Way): online cooking course by Michel Roux Jr
AirBnb Online Cooking Experiences: more of a one-off class than a course but with live instructor interaction
And if you're particularly interested in baking, you might want to check out our best online baking classes guide.
What others have said
The reviews for this course are overwhelmingly positive.
"For me, this is a masterclass that is really a bargain. You get a 30 years of  experience for only $90. Best part is you can repeat it again and again."
- Comment from Gordon Ramsay MasterClass Reddit
"$90 is an incredible steal for these masterclasses. It's amazing that you guys have been able to bring on such high-caliber professionals."
There was a critic who was disappointed about the lack of guidance for the Raspberry Soufflé section:
"Love Gordon Ramsay. Been following him for years and even met him in one of his restaurants. Really nice guy and normally a great teacher. But his second set of classes are ridiculously difficult and almost always incomplete. Bought this or the raspberry soufflé and he completely blew it."
But then he changed his mind and wrote that despite, having some issues with the recipes, he would recommend these classes:
"I was a little harsh here. I would recommend this set of classes but was a little disappointed with the recipe selection."
- Comment from Reddit
Perhaps the most telling person to look at is Gordon Ramsay himself. Visiting a person's website is always so illuminating. It shows what a person values and showcases the very best of them.

And guess what's up there, one click away on any page?
His MasterClass.

Is the content unique?
The down side of knowing Gordon Ramsay through television is that there are so many of his videos and tutorials already out there.
His own YouTube description states that he posts "Recipe tutorials, tips, techniques" — so how unique can his MasterClass tutorials really be?

My answer: very.
Yes, there are videos on YouTube with titles like "Gordon Ramsay Demonstrates Basic Cooking Skills | Ultimate Cookery Course" but these videos hardly touch the information covered in the MasterClasses.
For example, in the aforementioned YouTube video, Chef Ramsay covers pork chops, scallops and chicken in one 23 minute video. While he gives a couple of nods to knife technique and technical terms, there is so much information you don't get:
How should you choose your scallops? How should you store them? What factors can affect your scallop sear?
These are all not addressed in the "Ultimate Cookery Course" video but are addressed in Ramsay's MasterClass.
The core difference between MasterClass and other resources is that MasterClass keeps in the unglamorous bits. You get to see the shots of Chef slicing slowly and repeating the importance of a knife movement for the third time.
It doesn't make good television and it doesn't make good YouTube. But it makes excellent learning and really sets MasterClass out from the crowd.
What you will need
"That's all I had. This one electric burner. This tiny little stove that I used to practice my risottos on, on a Sunday night."
Gordon Ramsay is a firm advocate that you do not need masses of equipment to cook good food. In fact,
He does, however, have a list of kitchen essentials which can help you along the way and I've separated these into two categories: used in the MasterClass, and suggested but not used in the MasterClass.
Essentials
Great nonstick pans (Gordon uses ScanPan pans throughout the MasterClass but generally a well-made pan with a heavy bottom will do)
Cutting board (Gordon uses Boos Block but any large wooden board is good)
Great knives (He uses Zwilling Henckles knives throughout the MasterClass but also uses Wüsthof at Hell's Kitchen)
Knife steel
Gordon Ramsay's kitchen essentials used in the MasterClass
Boning knife
Small and large saucepans
Frying pan with lid
Stainless steel sauté pan
Paring knife
Bread knife with serrated edge
Cutting board (Gordon uses Boos Block but any large wooden board is good)
Microplane
Toaster
Strainer or sieve
Kitchen scissors
Aluminum foil, plastic wrap, parchment paper
Finishing salt (Chef Ramsay loves Maldon Salt from the UK)
Is Gordon Ramsay's MasterClass worth it?
If you've read this far, you're probably anticipating my answer already: it's a resounding YES!
Of course, no course is suited to absolutely everyone. If you're a complete novice, it may still be worthwhile doing the course but aim to spread it out over a long period of time.
For me it's a no brainer though. This course is expertly crafted and taught with amazing high quality production. I particularly love that course isn't a series of videos to cook along with, rather lessons where you can learn techniques, learn the reasons behind why they work, and then apply them.
I loved that the MasterClass subscription allows me to keep revisiting the lessons throughout the year and also that I can keep the workbooks full of recipes and tips forever.
Yes, it's expensive, but when you think about how much you would pay to learn from one of the best chefs in the world, it really doesn't seem so much.
Overwhelmingly, the consensus online is that these two MasterClasses from Gordon Ramsay are incredible. Having completed both of them, I completely agree.
Frequently asked questions
How much does the Gordon Ramsay MasterClass cost?
An individual subscription is $180/pa which includes both courses as well as access to all the other 150+ classes on the platform.
How long is Gordon Ramsay's MasterClass Course?
Both courses are around 4 hours each, totalling 8 hours and 5 minutes of watch time together.
Can you get Gordon Ramsay's MasterClass for free?
Gordon Ramsay's MasterClass courses are not available for free. However, MasterClass does allow you to sample the classes for free, and they offer refunds if you are not happy with your purchase.
Can I get a refund if I don't like Gordon Ramsay's MasterClass?
Yes. MasterClass operates with a 30 day refund period on all purchases.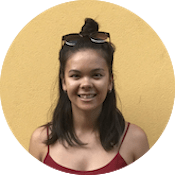 Glenda is an award winning full time professional harpist. Alongside harp she also plays the piano and violin. Besides music, her passions are cooking, writing and learning.