Wolfgang Puck presides over an award winning restaurant and catering empire that spans the globe.
When I found out that this influential chef and caterer to the Oscars was offering a MasterClass, I'm not going to lie – I was excited!
But if you're reading this then you might be unsure whether the Wolfgang Puck MasterClass is a good match for you. So, in this Wolfgang Puck MasterClass review, I'll be sharing my experience of taking his class to help you answer that question.
If time is an issue for you or you just want a summary of key points this is for you, it's followed by a more detailed review below:
.
Quick summary
Learn how to:
Train your taste buds in order to flavor food correctly
Use a range of seasoning ingredients to elevate your cooking
A range of techniques used to make nine of Wolfgang's most popular (and varied) recipes
See food as an experience, not just nourishment
Pros
Learning from a world-class expert
Fun and engaging classes
Covers transferable techniques as well as recipes
Cons
Workbook could be easier to follow
Some of the recommended equipment is expensive
Course length: 16 videos, 3hr 47m
Best for: Someone who has basic to intermediate cooking skills who wants to become more adventurous and develop transferable skills.
Overall: A varied and engaging course taught by a revered and versatile chef.  From adventurous Tuna Sashimi to classic Mac and Cheese to Cocktails, there is something for everyone in this course.
Below you'll find a much more detailed review that should answer most of your questions and help you identify anything that might be a deal breaker for you.
Here's what I'll be covering:
About Wolfgang Puck and MasterClass
Inside Wolfgang Puck's MasterClass (an overview of the course)
What I loved about this MasterClass and what could be Improved
Who this MasterClass is suitable for, alternatives and uniqueness of content
What others have said
Is Wolfgang Puck's MasterClass worth it?
So, let's get started!
About Wolfgang Puck
Wolfgang Puck is a world-renowned chef. He has 4 Michelin stars to his name across his restaurants which include Spago and CUT. 
He is also the only chef in the world to have been awarded the prestigious 'James Beard Foundation Award for Outstanding Chef of the Year' twice.
Having started his culinary journey at only 14, he gained attention in the late 1970s by reversing the fortunes of LA restaurant, Ma Maison, before shooting to fame with the launch of his first restaurant, Spago, in 1981.
Puck has graced television screens many times in his 56-year career so you may recognise him from shows like Good Morning America and the Ellen DeGeneres Show, or even as a guest judge on Hell's Kitchen.
Having been the chef for the Oscars for over 25 years, Wolfgang is a favourite among celebrities, welcoming the likes of Madonna, Prince and Richard Gere into his restaurants. As well as stars, he loves to entertain family and friends at home.
If you haven't seen the trailer for the course, I highly recommend you watch it:
About MasterClass
"Our instructors are the best in the world."
MasterClass launched in 2015 with one simple goal: allow everyday people to learn from world-class experts. Every single instructor is a household name.
Wolfgang Puck. Gordon Ramsay. Natalie Portman. Helen Mirren. Hans Zimmer. Neil Gaiman. The 150+ strong list goes on!
You can either access individual courses or opt for a subscription.
With an annual subscription, you can gain unlimited access to any MasterClass course, so if you want to really hone your cooking skills, you can learn from Wolfgang Puck, Gordon Ramsay, Thomas Keller and Aaron Franklin, all with one yearly payment.
Inside Wolfgang Puck's MasterClass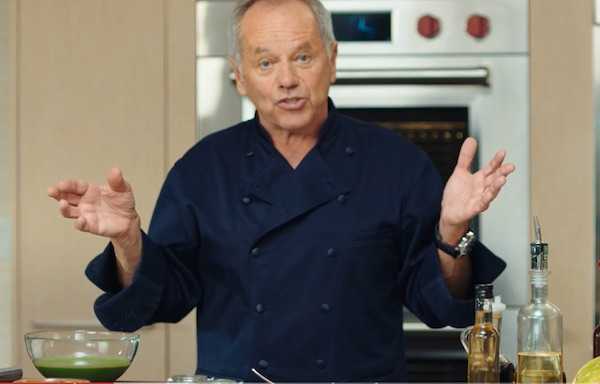 Wolfgang Puck's MasterClass is made up of 16 videos with an average length of around 14 minutes and a total viewing time of 3 hours and 47 minutes.
With the course, you will also get a 57 page PDF workbook which works alongside the video classes. Each section of the workbook includes full written recipes, additional reading recommendations and extra tips and assignments.
Here's a play by play breakdown of the lessons so you can decide if this is the right course for you. The first lesson is a short intro, which follows into:
Chapter 2: Develop your palate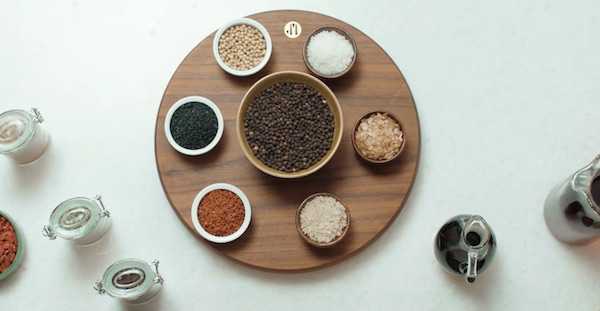 What this lesson covers:
Training your taste buds so you can adjust flavors
An introduction to a range of seasoning ingredients
Understanding acidity
How and why to flavor dishes gradually
Following a short introduction, the course kicks off with a section dedicated to developing your palate. This was a really interesting section and one that I was glad to see included so early on in the course.
For Wolfgang, developing your palate is fundamental to creating great dishes:
"Musicians have to train their ears to listen to music. Painters have to train their eyes to learn about perspective and how to mix colors. In the kitchen we have to learn how to train our palate and how to season things properly because without that, you can buy the most expensive ingredients and the food will taste flat."
Overall this was an interesting introduction with some helpful points covered – Wolfgang explains that there are 5 basic flavours for cooking with a 6th neutral, grounding flavor.
He also goes into some detail on which ingredients belong to which of the basic flavors with a demonstration on how to balance a simple pea soup.
The Learn More section of the workbook contains additional detail as well as 10 links to external resources for extra reading.
Lessons 3-12: Learn how to cook some of Wolfgang's most popular recipes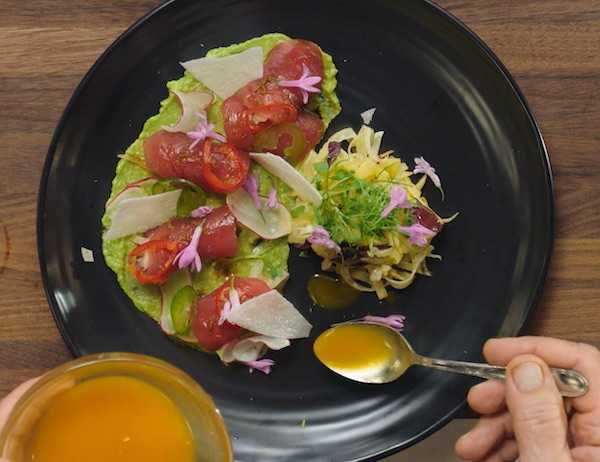 These chapters cover the techniques and methods needed to cook nine of Wolfgang' most popular recipes as well as a short chapter on mixing cocktails:
Tuna Sashimi – matching flavors and color
Veal Stock and Demi-Glace – perfecting a rich, flavorful base stock
Pepper Steak with Red Wine Sauce – searing to perfection and transforming a stock
Farro Salad with Roasted Carrots (v) – bringing out natural sweetness
Roasted Chicken with Mustard Port Sauce – creating texture and sweetness
Béchamel Sauce: Mac and Cheese and Creamed Spinach (v) – perfecting and utilizing a mother sauce
Roasted Branzino – knowing when fish is fresh and how to season it
Oatmeal Risotto (ve) – learning correct knife skills to make this unusual dish
Seafood Gazpacho – identifying fresh shellfish, making a mire poix and garnishing to perfection
Cocktails: Berry Margarita, Negroni, Bellini, Bloody Mary – I think these were fab-u-lous, but can't remember much!
"I have people who come to our restaurant – especially at CUT – they only come for the macaroni. I have vegetarians who come to our restaurant – they only come because of the macaroni and cheese… Of all the side dishes, this is the most asked for."
There's also a bonus recipe included for his signature Smoked Salmon Pizza from Spago.
Lesson 13-15: Wolfgang's journey and philosophy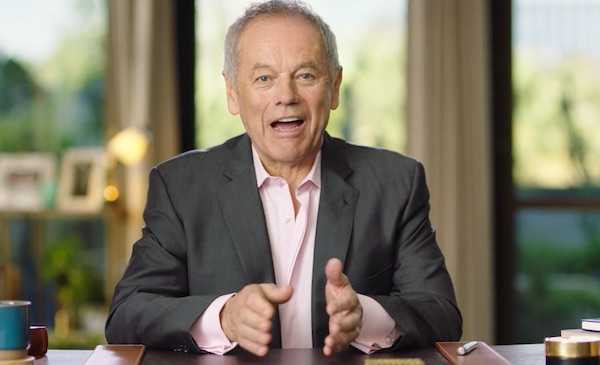 What these lessons cover:
Wolfgang's journey from adversity to success
The insights Wolfgang has gained from his failures and successes
The key ingredients of Wolfgang Puck's culinary philosophy.
For Wolfgang, food is not just nourishment, but also an experience.
In Wolfgang's restaurants, the experience starts right from the busboy, to the doorman, the waiter, and the chef, and even at home you should take the same care to create an experience.
He shares how you can do this by going beyond taste and incorporating all the senses into a dish and as well as caring for your dinner guests.
Chapter 16: Kitchen Essentials
At the end of the course, there is a detailed section dedicated to Wolfgang's Kitchen Essentials. He is certainly not a minimalist in the kitchen but stresses that great cooking goes hand in hand with great equipment.
"If you want to have a good time in the kitchen, you need the right tools, you need the right appliances – and then it's fun in the kitchen."
Wolfgang's list of kitchen essentials is quite long so later in the article, I have split the equipment into 3 categories:
Necessary to complete the course
Helpful to complete the course
Good to have in the kitchen but not used in the course
If you do want to buy equipment in advance of taking the course, there are links to suggestions below.
It is possible to complete the course with limited kitchen equipment – I managed with a basic range of pots and pans and a good chef's knife – but having completed the course, will definitely look to upgrade to some of Wolfgang's suggestions.
My experience of Wolfgang Puck's MasterClass
Now I have covered what's included in Wolfgang's MasterClass, it's time for me to share my own personal experience.
There were lots of things that I really loved about Wolfgang Puck's MasterClass and I'll go into detail below. That said, no review is complete without an honest look at the shortcomings so I'll also take a look at the things that could be improved.
It's really important to read both the positive and the negative to understand if this course is a good fit for you.
What I liked about Wolfgang Puck's MasterClass
Learn from a world-class chef with an engaging teaching style
Wolfgang Puck is a chef who is highly respected by peers such as Gordon Ramsay and Thomas Keller. He trained under some of the old school greats of cooking including Raymond Thuilier, and you'll learn directly from him.
If any of this sounds intimidating, don't worry: his calm, fatherly approach to the class makes you feel at ease and comfortable cooking alongside him.
You learn that he came from humble roots in Austria, overcoming hardship and adversity. And that he too, has left his pot unwatched and burned his béchamel sauce which makes him even more relatable and approachable.
Learn key recipes that will transform you cooking
One of the things I particularly loved about the MasterClass was the attention given to really key skills such as how to make a béchamel sauce and how to make an excellent stock.
Béchamel is a really helpful "mother sauce" to learn how to cook because you can use it in a variety of dishes including:
Mac and Cheese
Creamed Spinach
Lasagne
Potato gratin
Mornay sauce
Fish pie
… the list goes on!
The béchamel class is over 20 minutes long, focusing on not only how to make the sauce, but also demonstrates a couple of applications for dishes such as mac and cheese and creamed spinach.
I used some handy tips from the béchamel class in a weeknight dinner recipe and without prompting had comments that the sauce was silky smooth!
Similarly, the stock class was very helpful. It does focus on veal stock but the method is transferable to any other type of meat and Wolfgang highlights this in his class. We then also learn how to transform a simple stock into a demi-glace reduction which can be used as a base for many sauces.
The stock and demi-glace are referred back to in later recipes such as when making the red wine sauce.
Nice variety of recipes
Wolfgang Puck is a very versatile chef whose repertoire covers French, Italian and Californian cuisine. This is evident in the selection of recipes in the course.
From adventurous Tuna Sashimi to classic Steak and Red Wine Sauce to Cocktails, there is something for everyone in this course.
Good mix of theory and practical
In any course, it's important not only to learn how to do something, but also learn why you do it that way. This gives you freedom to apply your new knowledge to other recipes rather than being limited to what has been taught in a course.
I felt that this course leant slightly to the more practical side of things with lots of recipes to follow and less extra learning added in.
However, I am a very keen "why" learner and the additional reading in the workbook does help to add more detail.
Become a better chef and develop a stronger appreciation for food
Despite being an avid home cook already, completing Wolfgang's MasterClass did help me to become a better chef and take more care in the food that I cook.
I find that having completed the course, I taste my food more frequently and feel more equipped to improvise and adjust balancing to my own taste.
After watching just a few classes, I found myself wiping down the sides of plates before serving up home cooked dinners and going that extra mile with garnish and squeezes of fresh lemon to make the food sing.
Fantastic community
Completing an online course can often mean that you miss out on one vital thing: community. You can complete a whole course online without ever interacting with another person.
This is not the case with MasterClass.
MasterClass has a really great online community. Scroll down to the comments section of any video and you will find current, engaging questions and helpful tips from your MasterClass classmates.
At the end of every video, you are prompted to Join The Discussion where you can benefit from forum based conversations and share pictures of your work.
Opportunity to feedback
Along the way, I was often asked to give feedback in detail. I know that not everyone loves this, but to me it feels like MasterClass really cares about making their courses the best possible and are always looking to improve.

For each class, you also have a final class review option as well as a comment box to add additional thoughts.
Accessibility
This MasterClass course has subtitles available but only in English. Thankfully, the captions are not auto-generated, so if you are reliant on them, you should have no problem.
It could be a nice touch other languages included, especially in Wolfgang's native tongue: German.
What could be improved
Overall, my impression of the MasterClass is very good, but there are some things that could be improved. Read on to see if there are any deal breakers for you.
Order of the lessons
Overall, the order of the MasterClass was fun and often it was clear why the course had been structured that way.
For example, early on, you learn how to make a great stock which is then used in later recipes.
However, to me, the first recipe – Tuna Sashimi – felt quite inaccessible.
Though technically quite simple, fish (let alone raw fish!!) isn't a unanimously loved dish like Mac and Cheese (featured later) and requires some confidence and skill in sourcing good ingredients.
We don't learn much about sourcing good quality fish until lesson 9 so it feels like this class should be left until much later.
That said, it's great to end on the Cocktail Class! A true celebration of reaching the end of your MasterClass course!
Course workbook doesn't always follow the lessons directly
The workbook was a really handy tool to have and throughout the course, I meticulously made notes in my workbook so that I could refer back to new learnings later down the line.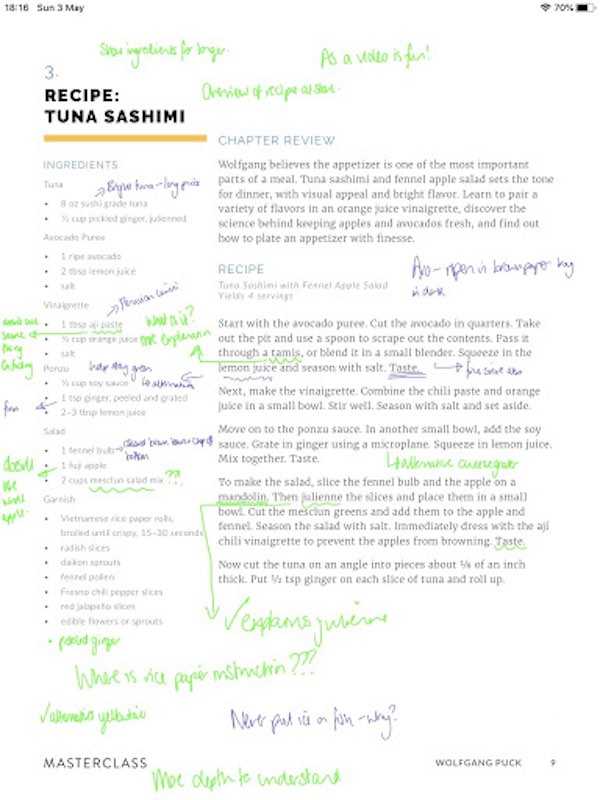 This did highlight a problem though: the workbook doesn't follow the class exactly so I had to flick back and forth between sections and, in some cases, write down where ingredients were listed differently.
Occasionally, steps of the recipe were missed off or listed additional ingredients which were not used in the class.
The workbook has a Learn More section for each class where you can find links to external resources and recipes to further your learning. It's interesting to note that these are mostly not by Wolfgang Puck and also aren't even exclusive to MasterClass at all. All of the additional resources can be found by a simple Google search.
However, there was one point that I was really impressed with. Upon downloading the workbook, you'll see that my copy is version 3 which suggests that MasterClass are ever-evolving their courses.

Periodically throughout the course, I was asked for my feedback and to expand on any points I was not satisfied with. I will be monitoring this space to see if my comments are reflected in version 4!
On balance, probably not suitable for vegetarians and vegans
I had read comments online that this specific MasterClass is a vegan-friendly class and was interested to see if this was really the case.
Out of the nine food recipes, only one was vegan and two were vegetarian but could be adjusted to be vegan with relative ease.
As you would expect from a non-vegan cooking course, there are many closeups of cuts of meat and whole fish which you may be sensitive to if you are vegan or vegetarian.
In general, the course would be more suited to a non-vegan cook who may be interested in adding a couple of vegetarian and vegan dishes to their repertoire.
If you are happy to dip in and out of the course, vegan friendly classes in the course are:
Introduction
Training Your Palate
Farro Salad with Roasted Carrots
Béchamel Sauce
Oatmeal Risotto
12. Cocktails
13. Wolfgang's Journey
14. Wolfgang's Business Philosophy
15. Wolfgang's Culinary Philosophy
Bonus. Kitchen Essentials
Missing a glossary
Throughout the course, Wolfgang Puck often uses technical cooking terms such as "reduce" and "deglaze". Sometimes he explains the terms as he goes along and sometimes the technical words are addressed in the "Learn More" section of the workbook.
However, this isn't always the case so it would be helpful to see a glossary of terms to help make the course more accessible to novice cooks.
Double dipping!
It's a small point, but I noticed it and so did others:
"With all due respect for one of the greatest, most accomplished chefs in the world, the whole 'taste it again and again' with the SAME SPOON in a cold soup is really disgusting and unsanitary. I hope Wolfgang teaches his young chefs to use a new spoon each time they taste something which is being served to someone else..."
- Comment from the community
While most of the content is great, I was very surprised to see Wolfgang double, triple and sometimes even quadruple dipping with the same spoon.
Who is this course for?
It's important to recognise that there is no one-size-fits-all approach to learning and taking a class that is suited to your current skill level is important. A class that is too hard will likely leave you confused and unmotivated, whereas a class that is too easy may not teach you anything new.
MasterClass helpfully includes a skill guide for not only courses, but nearly every single class that is available on the platform.

Some basic technical terms such as "reduce" and "deglaze" are used without further instruction so some knowledge is helpful.
I think that the whole course would be suitable for anyone falling into one or more of the following categories:
Has basic to intermediate cooking skills
Wants to become more adventurous in the kitchen
Is interested in some fundamental theory behind good cooking
Would like to develop transferable skills
Is interested in how to good skills to the next level
Lacks confidence
Wants to be inspired by the rags to riches story of one of the best chefs in the world.
If a complete novice were at 1 and a Michelin star chef at 10, I would say that the course is suitable for anyone who falls in the 2-7 category.
How much does the course cost?
MasterClass pricing may have changed since this review was written, so for the latest purchasing information please check here.
At the time of writing, a MasterClass subscription costs $180 per year. AKA $15 a month.
With the subscription, you have access to all the 150+ courses on MasterClass. 
The great thing about this offering is that the more classes you take, the less the effective cost per class is.
For example, if you're able to find at least 4-6 classes you like, it means you're effectively paying $30-$45 per course. ($180 / 6 classes = $30).
Bearing in mind that these classes are taught by world experts the value is unbeatable. It's sort of a way to hack learning.
Whatsmore, MasterClass also offers a 30 day refund if you're unhappy with your purchase.
Alternatives to Wolfgang Puck's MasterClass
There are other cooking courses available on MasterClasses. These courses are by:
And remember, with an all access pass you can any of the above, plus the other 90+ courses on MasterClass.
There are also cooking courses available on other platforms such as Udemy who cover a variety of cuisines including Thai cooking and even medicinal herbal cooking. Other platforms include YesChef, SkillShare and America's Test Kitchen.
And if baking is your thing, we have a guide dedicated to the best online baking classes you might be interested in.
Wolfgang Puck's MasterClass: what others have said
In addition to my own review, I have looked online for other Wolfgang Puck MasterClass reviews. However, I feel that many were purely trying to sell the course rather than having completed the course and honestly reviewed it so it's difficult to take their judgement seriously.
That said, comment sections often offer the least biased opinions. Here's what people had to say:
"Wonderful lesson, you can feel his passion for cooking and it's addictive"

"LOVE how practical he is, teaching me HOW to cook, not just completing a recipe while being videoed."

"Not even interested in cooking but he really got me feeling like a chef-wannabe"
- Comments from the community
The negative comments that I did see generally came from people who hadn't taken the course and seemed averse to learning from a "celebrity" chef rather than a regular teacher.
If you rule those comments out, the rest are nearly all positive comments from happy customers who have actually completed the course.
Is the content unique?
One concern with having celebrity instructors is that they have often been in the media for a long time, giving interviews and cooking demonstrations. This is certainly the case for Wolfgang Puck, so is it possible for this course to have truly unique content?
The content covered in Wolfgang Puck's MasterClass includes everything from a simple béchamel sauce to "chef-led" cocktails and tuna sashimi.
You need only turn the television on or open up YouTube to watch Wolfgang Puck at work in the kitchen, and a quick Google search brings up very similar recipes to those included in the book.
For example, a simple YouTube search for "Wolfgang Puck Mac and Cheese" shows five videos of Wolgang Puck explaining how to make his famous Mac and Cheese.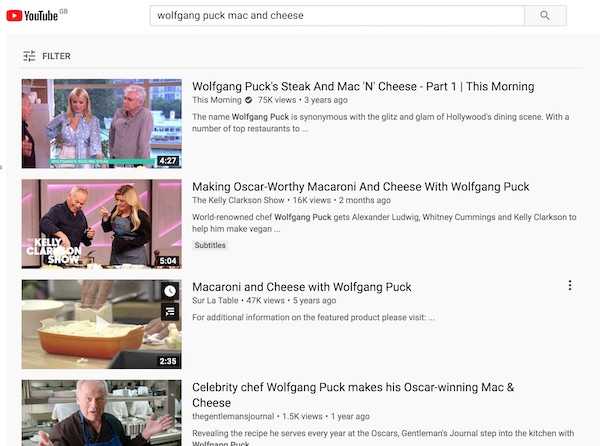 To check that the MasterClass content is truly unique, I watched all of the above videos alongside the MasterClass Mac and Cheese lesson and here's what I found:
There are some similarities between the videos readily available on YouTube and the MasterClass video
The MasterClass video is significantly longer – 21 minutes – compared to the YouTube clips which are all under 5 minutes
Wolfgang Puck goes into much more detail in the MasterClass, explaining how to make a béchamel sauce with anecdotes and top tips for the best results
Despite there being similar free content available online, I felt that the MasterClass, with more depth of detail and guided learning, was definitely different and well worth paying a premium for.
Certification
The MasterClass courses are great for learning new skills in a fun and relaxed environment.
However, they do not offer any certification. If you're hoping to do a course that you can add to your CV, you may want to check out more formal learning platforms such as Coursera, EdX, or Leith's School of Food and Wine.
Wolfgang's Kitchen Essentials
Wolfgang Puck is a big advocate of having the right equipment:
"If you want to have a good time in the kitchen, you need the right tools, you need the right appliances – and then it's fun in the kitchen."
At the end of the course, there is a Kitchen Essentials section where Wolfgang recommends the equipment he recommends every basic kitchen have. It's quite extensive and not everything is used in the MasterClass so I have categorized them by how essential they are for the course.
| | | |
| --- | --- | --- |
| Necessary for course | Helpful for course | Not used in course |
| Cutting boards | Cocktail set: shaker, jigger, muddler | Immersion blender |
| Set of good quality knives | Knife sharpener | Meat fork |
| Saucepans | Colander | Stand mixer and attachments |
| Non-stick pan | Tongs | Scale |
| Stockpot with lid | Blender | Spider |
| Measuring cups | Soup spoons for tasting | Arizer |
| Measuring spoons | Meat tenderizer or hammer | Chinois strainer |
| Spatulas | Garlic press | Blowtorch |
| Whisks | Tweezers | Muffin pans |
| Ladle | Meat thermometer | Pie molds |
| Cheese grater | Food processor | Rolling pin |
| Pepper mill | Mandolin | |
| Fine sieve | Tamis | |
| Mixing bowls | Pressure cooker | |
| Roasting pan | Cast iron pan | |
| Baking sheets | Cast iron casserole dish | |
Above all, he highlights the importance of having quality pots and pans:
"If you want to cook like me, you need a good sautée pan!"
"Be sure to have the right pot. Really important to have a thick bottom."
He explains that good, heavy pans disperse heat evenly and prevent hot spots and burning. His recommendation is for tri-ply pots and pans which are made from a central core of copper sandwiched between outer layers of stainless steel which doesn't react with food and can be easily washed in the dishwasher.
Wolfgang Puck MasterClass: is it worth it?
Yes! I had a really great time completing this course. I learned a lot in a fun and relaxed way that didn't feel like a chore at all.
It's particularly suited to anyone who, like me, already has an interest in cooking and wants to explore new recipes with guidance and a further instruction in practical cooking skills.
Pros:
Learning from a world-class expert
Fun and engaging classes with excellent production quality
Includes transferable techniques as well as recipies
Great value for money with a subscription
Cons:
Workbook could be easier to follow
Would be good to have some further learning from Wolfgang
The price point of $90 for only the Wolfgang Puck MasterClass does feel high and honestly, I'm not sure that I would pay that much for it as a stand alone course.
However, I really think that the annual subscription for unlimited classes is well worth the money because you also have access to a ton of other cooking courses as well as additional subjects like writing and acting.
All in all, I really enjoyed learning from Wolfgang Puck and look forward to returning to parts of the course as my culinary adventure with MasterClass continues!
Frequently Asked Questions
How much is Wolfgang Puck's MasterClass?
A MasterClass all-access-pass costs $180 a year ($15 a month). This gives you access to Wolfgang Puck's, alongside 150+ other courses.
How long is the Wolfgang Puck MasterClass?
16 videos totalling 3 hours 47 minutes
Can you get Wolfgang Puck's MasterClass for free?
Unfortunately you cannot get the Wolfgang Puck MasterClass for free. But MasterClass has a range of purchasing options and offers refunds if you're not happy.
Can I get a refund if I don't like the Wolfgang Puck MasterClass?
You can obtain a refund within 30 days of purchase from MasterClass. If you purchased from another provider your purchase may be subject to their returns policy.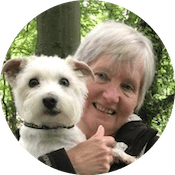 Liz Hurley has 30+ years of high school teaching experience and is one of our senior writers here at Learnopoly.