Asking yourself how does Pianote work, how much does it cost and is it worth it? Then this comprehensive and balanced Pianote review is here to help.
I've completed several lessons on Pianote and put what I've learned into practice. Plus I've taken other online music lessons from different providers so I can compare and contrast with what else is on offer.
In this Pianote review I'll be covering all the information you need to know and sharing my personal experience to help you decide if this is the right place for you to learn piano online.
So let's get started!
If you're short on time, here's the highlights:
.
Quick summary
You will learn:
All you need to get started, from choosing the right piano to posture and positioning
Musical theory, from chords to keys, to cadences
How to play chords like a pro
The basics of sight-reading
The circle of fifths, and major and minor scales
How to train your ear to become a better musician
Applying what you've learnt to your favorite songs on the piano
The difference in technique required for playing different styles
How to get started with your own composing
Pros
Course structure is beautifully methodical, and will help you progress rapidly, with new concepts introduced at the perfect time
Comprehensive content that covers everything a beginner needs
Enthusiastic teachers with years of experience
Plenty of useful resources
Emphasis on personal practice; essential for any budding musician
Develops you as an all-round musician rather than just teaching you songs
Cons
Less for advanced players; better for those at beginner to intermediate level
Could explain complex musical ideas more clearly and earlier in the course
Length of course: As long as you want it to be! New content is added all the time and if you drop in with some experience it will obviously take less time. And you can take as many additional lessons and courses as you please.
Best for: Beginners with an interest in piano. If you have always wanted to give the piano a go, but haven't found the time, teacher or courage, this is a perfect place to start. There isn't much for advanced players, but intermediates looking to hone their style also have a lot to choose from.
Overall: Pianote is a fantastic introduction to the piano and is one of the best, if not the best, ways to learn piano online. By following 'The Method', you will not only see yourself rapidly improve your ability to tinkle the ivories, but you get a general musical education some spend years working on in just a few hours. On top of this, students are also spoiled for choice, with a range of other courses in learning songs, styles and how to generally improve their playing. In my opinion, it's well worth the investment.
In this review I'll be covering:
All about Pianote
My review of the method and other courses
What I liked about this platform
What I think could be improved
Who I think this platform is for
The cost and any potential alternatives and most importantly…
Is Pianote worth it?
What Is Pianote?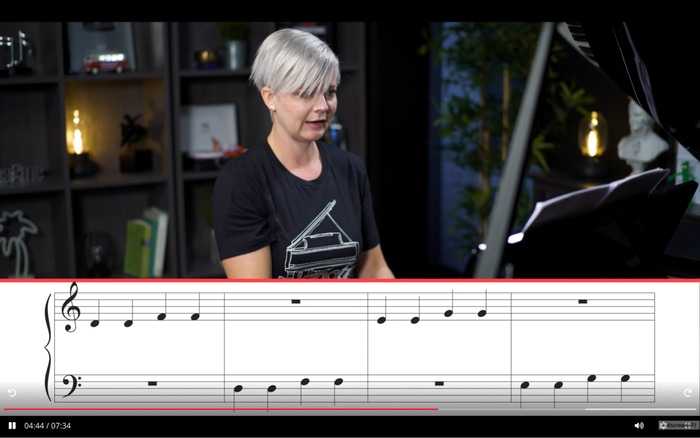 Pianote is an online learning platform dedicated exclusively to teaching piano.
The focus is specifically on taking you from a complete beginner to an intermediate level player.
You'll learn in a structured way that allows you to progress rapidly and develop a strong understanding of the instrument.
And you'll be learning directly from real piano teachers, mainly but not exclusively, through pre-recorded online lessons that you can enjoy from the comfort of your own home whenever it suits you.
Pianote is part of the larger musical learning platform; Musora. This company also hosts sites where you can develop your skills in other instruments including Drumeo for drums, Guitareo for guitar, and Singeo for vocals.
How Does Pianote Work?
You pay a membership fee to join (details below) giving you access to the courses on the site.
The main focus in the Pianote Method, which is made up of 10 levels including:
Getting started on the piano
Keyboard confidence and control
The key to beautiful music
Playing chords like a pro
How to read (and write) music
Developing your musicality
Common piano player problems
Exploring musical styles
Composition and songwriting
Go anywhere on the piano
A level is typically broken down into 3-4 lessons. You'll be introduced to an idea, get to see it in action, and then get the theory behind how it works. This in itself is a really effective way to learn.
Besides the Pianote Method there's also the ability to:
Deep dive into specific topics with a wide variety of quick tip courses
Learn some of the most popular piano songs
Connect with real teachers
Access weekly live lessons
Have your questions answered
Lessons typically come with a ton of useful resources like backing tracks, sheet music, and practice tips — all of which you can easily download.
My Review Of The Pianote Method

Here's where I'll go into even greater detail about what's on this site. If you're searching for a comprehensive insight into Pianote look no further.
I've spent time exploring the site, including The Method, song lessons and quick tips. Most of this section will focus on the Pianote Method, but I'll also spend a little bit of time exploring the other courses and lessons on offer.
Pianote recommends you take each level at your own pace, but to make things easier, I've divided the Method levels into three sections: beginner, intermediate and advanced. This should give you some idea of how you'll progress throughout the course.
Levels 1-3: Beginnings
Pianote wastes no time diving into getting started with the piano. After all, you are here to learn.
Assuming you've already seen the How It Works video, you'll be familiar with your instructor. The cheery and talented Lisa Witt will be the one to primarily guide you through the Pianote Method.
Here's what to expect from the first three levels of the Pianote Method:
You will learn:
All the necessaries before you start playing, like posture and choosing your piano
What pianists mean by rhythm and melody
How to play the C scale and power chords
Your first chord progression and first song
Building major and minor triads, and how to invert them
What suspended chords are, and how to play them
Pros:
Led by a warm and encouraging teacher
Helpful visual cues
Went over a lot of aspects of piano many aren't taught and have to re-learn
Introduced complicated topics at appropriate times
Provides beginners with the opportunity to hear their progress
Cons:
Explaining rhythms was a bit more complicated than it needed to be
Could've dived into explaining how music theory works
Length of Course: Altogether, these three levels take around 5 hours to complete. Each level lasts around 1 – 1.5 hours.
Best for: This part of the course is definitely for absolute beginners. The fundamentals of music –– melody, chords, rhythm and performance –– are all laid out here. Musicians with even a bit of experience might not gain as much, even if their piano skills are a bit rusty
Overall: This was a fantastic introduction to the instrument. Not only did they introduce essential elements of the piano in a methodical and easy to understand way, but they also gave students the ability to get a few famous songs under their belt. Teaching external elements of the piano, like how to sit at the instrument, was a really rare find, especially for an online course. Whilst I do think elements of rhythm and harmony could've done with a bit more explanation, this was a brilliant introduction overall.
Levels 4-6: Intermediate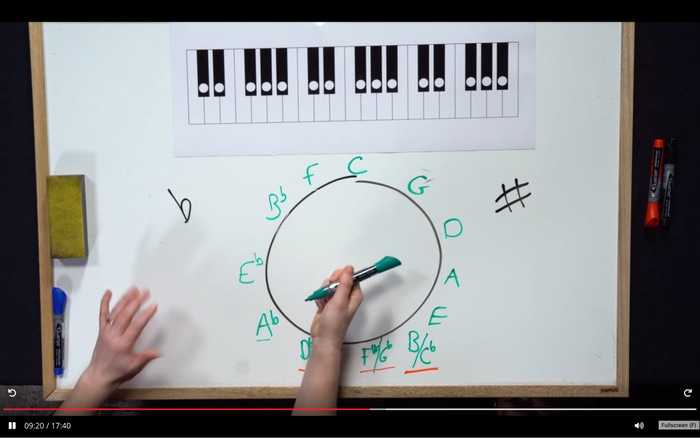 With those first three courses out of the way, it's now time to move on to the real playing.
By taking Levels 1 to 3, students should have developed a decent understanding of the piano's core components. This sets them up well to understand the more complicated elements of the instrument, which are delved into here.
Here's what you'll learn in Levels 4 to 6 of The Method.
You will learn:
The formula for learning new keys
New chords beyond the triad, like the 7th chord and the slash chords
How to sight-read, and the difference between the bass and treble clef
Hearing rests and intervals, and seeing them in notation
New warm-ups and introducing sight-reading into your routine
How to hear cadences, diminished chords and tritones
Pros:
Appropriately introduces technical terminology
Focus on the physical shape of the hands when playing
Tips for improving musicianship more generally, especially with the focus on ear training
Positive encouragement of improvization and mistakes when practicing
Straightforwardly applies musical theory to famous songs
Cons:
No counting in before playing; harder for beginners to understand rhythm
Length of course: This section is a little longer, with these three courses together totalling around 7 hours. Each level takes around 2 hours to complete entirely.
Best for: Those of us who have already completed the first three levels. Level 4 is a very natural follow-on from level three, and throughout these courses you will be drawing what you have worked on so far in the method. Those with a bit of experience playing piano might also find this to be a good place to start.
Overall: These three levels are a real highlight of the whole Method. The balance is perfectly struck between making sure new pianists are comfortable with what they're learning, and challenging students to push their musicality. There are essential lessons on ear training and musical theory, made all the more accessible by applying them to popular songs. I think my enthusiasm for this segment is reflected by the one, tiny nit-pick of a con I had.
Levels 7-10: Advanced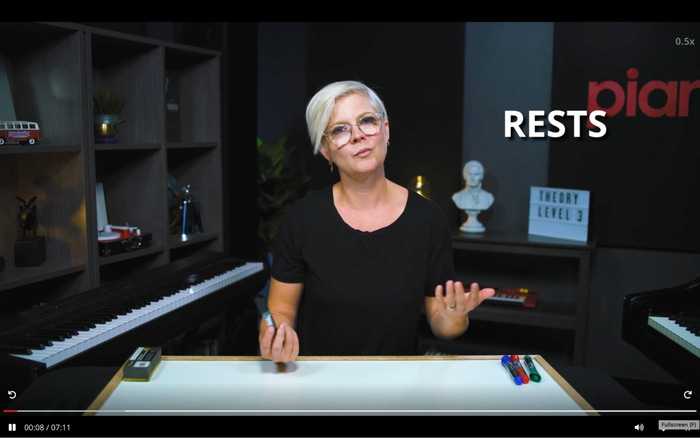 We're cooking with fire now.
At this stage, students will have covered so many essential aspects of this instrument. Lisa has taken us through chords, keys, scales and more. We've seen these elements applied to our favorite songs, picked up tips on personal practice and gone through fun but tricky ear training.
So now it's time to get into the real meat and potatoes of this instrument.
These final lessons will take you through:
You will learn:
The circle of fifths, what it is and how to use it
Solving piano player problems, like your accuracy and speed on the keys
Playing in distinct genres: jazz, blues and classical
How to write your first melody
The next steps for your technique and improvization
The essentials of playing in a band
Developing your repertoire
Pros:
Excellent emphasis on the circle of fifths and its importance
Focuses on genres and composition where other websites only teach songs
Strikes the correct balance in composition between being creative and using a musical formula
Gives students more to work on, even though the method is over
In-depth lessons on a diverse range of repertoire
Disagreement between teachers highlights how subjective music truly is
Final assignment encourages students to perform; that's what this is all about!
Cons:
Introduction of a second teacher means lessons lose focus slightly
Circle of fifths lesson was a little overwhelming
Could've introduced lessons on Pop and Rock as that's what many will want to learn
Length of course: I've grouped this segment to include four courses, so it will feel a little longer all together. All added up, these courses should take 15 hours, with each level averaging about 2 to 3 hours.
Best for: Again, the ideal audience for this course are those who have been following since level one. Even advanced piano players, particularly those only experienced in one genre or who don't compose, might gain something from some of these levels. But ultimately, this is a well-thought out structure, and those who will benefit most will be the students methodically going through each level.
Overall: Ending on a real high, these final levels sees the Pianote team branch out to teaching new genres, styles, improvization and compositional techniques. This gives those who have been following The Method the ability to draw on a big bank of knowledge for all piano occasions. It was so refreshing to see such a diverse finish to what has been a helpful, insightful and fun course.
Other Pianote Courses
There's so much more to explore on the website. Much more than I can cover here.
Instead, I thought I'd show you just a few of the other courses on the site that jumped out at me.
These include:
The Four Pillars of Improvization
Introduction To Latin Jazz
How to play Fly Me To The Moon by Frank Sinatra
How to play Let It Go
Calming Keys – How The Piano Can Make You Feel GOOD
10 Piano Player Problems And How To Solve Them
Stuck In A Rut? How To Get Re-inspired At Playing The Piano
These lessons are taught by a range of instructors, all bringing their expertise to the table. They also follow a very similar structure to lessons from The Method, going so much more in-depth than just the songs.
Pianote wants to make their students into all-around musicians.
Although still fairly beginner orientated, with not too much for advanced students, there's still plenty to choose from and plenty to learn on the rest of the site.
What I Liked About Pianote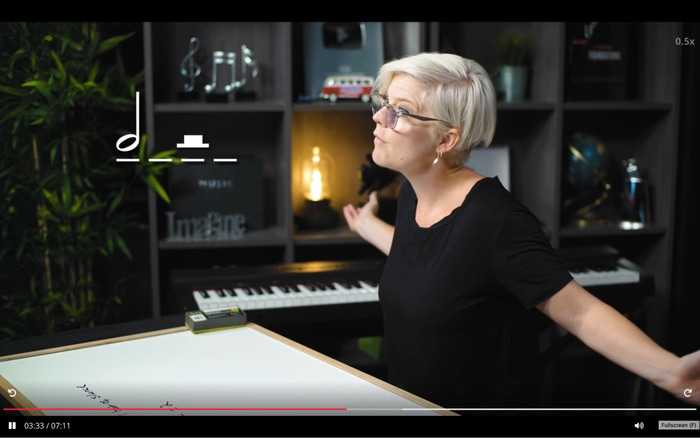 Having read the review so far, it doesn't take a genius to notice my enthusiasm for this site oozing from each description of a lesson.
But whilst I've really enjoyed using this site and learnt so much more about this fascinating instrument, there's always room for improvement.
This isn't to say that Pianote isn't the perfect site for you. Our brains are so complex and individually wired it would be impossible to create a method that works for everybody.
So, the criticisms I have of this site may not be criticisms in your eyes, and the same goes for the aspects I liked. It's important to keep this in mind when going through this review.
With that said, let's kick it off with the highlights.
Methodical
I know, right? It's hardly a big surprise that a highlight of a learning platform centered on a 'Method' is that it is methodical. But this is truly one of Pianote's biggest assets.
There seems to be an obsession these days with learning faster, not learning smarter and it isn't hard to find a platform that will teach how to play a simple tune in a few minutes. But Pianote's aim isn't to have you learn a few songs; instead, they want you to become a better piano player and a more accomplished musician.
What this entails is starting with things as simple as posture, and sitting at the piano correctly, and then gradually introducing other elements bit by bit as you get more comfortable.
For some, this may seem slow, and a bit overwhelming. But remember, you can complete this all at your own pace and fit everything in around your schedule. There is no pressure for you to complete the course in the quickest time or gain the most experience points.
Contrary to an increasingly popular belief, this competitive style of learning is not the best way to teach music.
As a result, all these tiny nuggets of information that Pianote methodically introduced in each lesson add up to create a bank of knowledge that Pianote students can draw from when they get to a more advanced level of playing.
It was so refreshing to see a learning website have the courage and intelligence to take time with their lessons, especially in a world where everything seems to move so fast.
Comprehensive Content
As I said above, the benefits of a methodical style of teaching are self-evident. But even if your teaching style is impeccable, it's hard to get anywhere without the lesson content to back it up.
Thankfully, Pianote has our backs in this department. Just as when and how to introduce certain themes has been well thought through by the Pianote team, so have the themes and topics themselves.
Going into my journey with this website, I was a little skeptical. So many musical learning platforms seem intent on taking lots of money for you to only get a few songs out of them. But let me tell you, as someone who has been surrounded by music since I could walk, Pianote doesn't just teach you Piano:
It teaches you how to become a better musician.
Whether it's covering the circle of fifths, to learning about intervals and why they matter, to even having discussions about introducing riffs and improvization far earlier than I expected, there is just so much content, both in the method and beyond, that will help even the most inexperienced beginner become a better musician by the end of level 1.
Part of the content's success is owed to the structure I praised above; not dividing lessons into practical music and music theory would make it much harder for the reams of content on display here to be truly effective.
Thankfully, both work in tandem, and I left the method with a far greater depth of knowledge about the piano than I've ever had before.
Warm and Engaging Teaching Style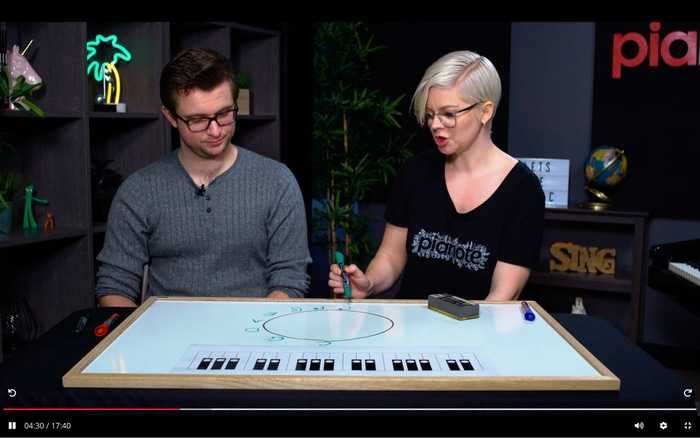 In line with the success of the content and The Method, Pianote ensures that every student is comfortable with what they are learning with the assistance of a really warm and engaging teacher.
Here I'd like to give a special shout out to Lisa Witt, the primary instructor of The Method.
Glowing with experience from the first video, Lisa will be your main guide into this site. And if this is your first experience with the black and white keys, you would be hard-pressed to find a better teacher.
Not only does she bring a big burst of enthusiasm to each lesson, but her experience with teaching kids means she is incredibly patient and works through new ideas at a pace everyone can understand.
She's also clearly a great musician. It's hard to imagine her musical instincts not rubbing off on new students. Not to mention her voice; it's a real treat to hear her sing every once in a while, even if it's just to enhance a theory point.
But just as Pianote expands beyond The Method, the teaching expands beyond Lisa. All the other courses and lessons on offer here are taught by a wealth of experienced instructors who I'm sure you'll love to learn from.
Excellent Resources
With its comprehensive structure and course content, it'd be easy for Pianote not to expand much outside The Method.
But they do!
Not only does each level of The Method include its resources, including backing tracks, sheet music and practice tips, but every course on Pianote is packed with further instructions to enhance your playing.
I said before that there are many websites where novices can learn a few songs from scratch; the focus here is on making you a better musician. But even Pianote knows that some of us are pressed for time, and so they offer a big list of songs, old and new, that you can learn right here, right now.
Part of the beauty of these lessons is that they'll often draw on what you'll learn from The Method, a real testament to how much you gain from Pianote's main offer.
There are also quick tips that help you develop a range of skills, both at the piano and as a musician more generally. Other courses beyond The Method allow you to hone in on certain styles and genres, especially if you're more experienced. And for those of you not content with sitting and watching videos, why not book in a session over at Pianote Live.
The diversity of courses and lessons is one thing, but this all without even mentioning the active forums and comment sections where you can discuss your progress with your Pianote peers. There's a real sense of community here.
Also, they have a Podcast!
You Get Out What You Put In
Even with all the resources they have, there still isn't a sense of hand-holding on this site.
One small but important highlight I found was the encouragement of individual practice.
Although music itself is often collaborative, your relationship to your instrument is almost entirely individual. Part of what drives so many musicians' passion is using the tones, rhythms, melodies and harmonies of their chosen discipline to express themselves.
Expressing yourself doesn't require you to be an expert by any means, but gradually improving your abilities on an instrument allows you to play the music that means something to you.
This takes time and, above all, practice.
Now there isn't any punishment for not practicing, and Pianote understands that you will often be busy with more important things.
But I valued the emphasis on practice, and on investing a bit of time every day working out and going over the main points of each lesson.
The practice room is the place where most musicians will be almost driven away from their instrument. But it's also the place where finding a new skill or tackling a new challenge will help you fall in love with music.
By focusing on individual practice, Pianote has tapped into an essential aspect of mastering the piano.
What I Think Could Be Improved
More Emphasis On Advanced Players
It's very rare to find any two people who are exactly at the same level of learning. What I need from piano lessons will be different from what a total beginner needs. This will be different to what a pianist with a 'few years' experience will need from a piano lesson, and that will be different from what Lang Lang needs.
When your students are in a world of players with widely varying levels of experience it can be hard to strike exactly the right balance.
For someone like me, Pianote was ideal. It was as if they had made it for me. I could start with The Method and work through it at my own pace. As I got more confident I could move out to more complex lessons with a focus on specific styles or songs.
However, as I explored the site, I found there wasn't much for advanced players. Don't get me wrong, this site isn't just for novices, and I'm sure advanced players could gain a lot from some of these courses. It's just that most lessons here feel very beginner-to-intermediate oriented.
This makes a lot of sense. If you're looking for piano lessons online, you probably haven't had a lot of experience, so Pianote is aiming at the right audience.
Rather than a big criticism, this is just something to keep in mind if you are an advanced player and thinking about investing in these courses.
I also feel it would benefit the Pianote community to have a few more advanced players in the community, just to show that the difference between us and them can be a few hours of practice.
Doesn't Always Delve Into Technical Explanations
This might seem like a weird con and a bit of a contradiction of what I've talked about in terms of every lesson being so methodical. There were just a few moments where I felt that Pianote could trust the students more with the technical aspect of the instrument.
Naturally, people come to this site to learn piano, and many won't have any prior experience when it comes to music at all. So it makes sense for each lesson to be taken at a really slow pace, with information introduced bit by bit.
With that said, I feel there were several points where a musical idea would be introduced and not quite explained to its fullest extent.
For example, I felt power chords were introduced at an appropriate time. At this stage in The Method, most students would have some understanding of melody and would be beginning to play notes together.
But there was no explanation of what a power chord is; instead, we were just taught how to play them. Whilst I understand that the teachers would want to hold off overwhelming the students, it's important to remember that one of the benefits of this site is everybody working at their own pace.
Just trusting that the students would be able to understand concepts a little more than Pianote did would ensure learners could grasp the fullest extent of a musical idea, preventing confusion when they have to employ them further in their musical journey.
Unlike traditional piano lessons, those that don't understand are capable of rewatching the content, asking the comment section for advice, or using the quick tip function.
Who Is Pianote For?
Looking at the layout, design, motive and even my own words about Pianote, it's easy to assume that this is a site for beginners.
Whilst it's true that this group will probably gain the most from using this site, that isn't to say they're the exclusive audience.
Intermediate level players are sure to pick up from a lot of the tips of the later levels of The Method. Even if you feel a bit beyond that, there's still a lot to learn from the quick boosts and other courses.
Other people who could benefit from Pianote include:
Those looking for the best way to learn piano online
Someone wanting to understand the depth of the instrument, rather than learn a few songs
Musicians from a different instrument who would like to get to grips with the technicalities of the piano
Pianists and musicians who are already familiar with performing, but would like to develop their music theory
Pianists from semi-beginner to intermediate level looking for tips and tricks about playing specific styles and genres
Learners looking for a collection of songs with backing tracks in-depth instructions on how to play piano
Musicians of all types who have hit a bit of a brick wall with practice
As I said above, there isn't a lot for more advanced players, and I do believe that expanding their community and lessons to accommodate this group would be a real asset.
With that said, the only other group to who this might not appeal is people with absolutely no interest in the piano. But even then I'm sure a few lessons would change your mind!
And if you find yourself remotely intrigued by this wonderful instrument, I'm sure there's something for you on Pianote.
Costs And Refunding
There are two Pianote subscription options.
The first is the Pianote lessons only plan, which costs either $16.67 per month (billed annually at $200) or $25 per month on a pay as you go basis. As the name suggests, this gives you access to the lessons only and not the songs.
The second option is the Pianote Plus subscription. This gives you access to everything on the site, including all the songs. It costs either $20 per month (billed annually at $240) or $30 per month pay as you go.
All subscription types come with a 7 day free trial.
If you aren't happy with your purchase, Pianote offers a 90 day money-back guarantee.
Alternatives To Pianote
What do Beethoven, Elton John and Alicia Keys all have in common?
Their careers all started behind the piano!
No other instrument shares such a sprawling and influential legacy, and with this in mind, it's easy to see why so many piano teachers are taking to the internet to share their expertise.
Luckily this means we are spoiled for choice, and if the Pianote Method isn't for you there are still plenty of alternatives for you to explore.
You can read our detailed best online piano lessons review here to find out why Pianote made it to number one out of ten courses we reviewed. Or read on for a quick comparison.
Flowkey is another big name in the piano teaching industry. Although a lot less structured and methodical than Pianote, it does give you the option to either get to grips with the basics or just dive right in with learning songs.
If you're looking to learn piano on the go, this site might be a better fit for you.
Other websites dedicated to piano include Piano Marvel and Skoove. Whereas Piano Marvel aims to help you learn and practice your favourite songs, Skoove adopts a more interactive approach to teaching and offers you your first 25 lessons for free.
Another platform I have tried is Playground Sessions. If you start your piano-playing journey here, you can be sure that you are getting a uniquely strong foundation in music that'll make your life easier. The interface, the engaging in-person teaching style and the wonderful practice exercises all come together to make Playground Sessions another great choice.
One of the best apps for getting you started on the piano is Simply Piano. It doesn't cover theory but stands out as the best way to get to grips with the basics.
Given the popularity of this instrument, it's no wonder that there's no a shortage of piano lessons to take on sites like Udemy or Skillshare too. If you're a beginner, why not try Pianoforall on Udemy, described as a fantastic new way of learning piano.
And we haven't forgotten about you more advanced players looking to develop your skills in a more specific genre. You overachievers can check out The Ultimate Gospel Piano Course on SkillShare if you want a challenge.
Lastly, if you're looking to develop more than just your playing skills, you can also develop your writing, production and hustle skills on Soundfly.
What Others Have Said
As you can probably tell, I have been pouring out praise for the structure, content and teaching style of Pianote. But that doesn't make it the right site for you.
We all learn at different stages. The ideal course for me is not necessarily the ideal course for everybody else. So before deciding that this is a worthy investment, it's important to consider the opinions of other learners as well.
So I spent a bit of time scouring the internet, specifically the piano-playing community, to get a sense of what the consensus around the site is.
The wider opinion seems to be very similar to mine.
I mentioned before that this course has a very strong community of learners, and Pianote facilitates reactions between us all. So even in each lesson, you're able to get a sense of how others are feeling about what they're being taught.
One of the most positive comments I found was this one:
"This. This is a gift! For me improv was this mind blowing, untouchable skill that was simply out of reach for a 50yo. beginner. A 9 min video, a couple practice sessions, and I think I just improvised something that sounds… a little bit good." - Pianote user 
I really enjoyed reading this comment. It summed up a lot of the stronger qualities of the site, demonstrating how the lessons and skills Pianote teaches, coupled with a bit of practice, can make anyone achieve something on the piano they didn't think they were capable of.
Going through the Pianote community itself, most of the comments share similarly positive messages of people developing and progressing their technique.
However, people also feel like they can express suggestions to the Pianote team.
"I would love for the visuals to actually give the note being played, for example A minor of D major. This would be very helpful in identifying the chords. We would then play the actual chords." - Pianote user
I also agree with the comment above. Although so many elements of The Method are fantastic and useful ways of improving your piano playing, there are just a few points where aspects of the lessons could be fine-tuned to create an even better experience.
But it wouldn't be fair to get all my opinions from the site itself. The piano community can be found in many corners of the internet.
This comment on Reddit appeared to reflect the consensus.
"I use Pianote and I like it quite a bit. They may only have 100 or so songs, but they have an entire series of method tracks that give really good information and walk you through learning as a complete  beginner. It's a bit pricey compared to other sites but I've always thought it was worth it." - Reddit commenter 
This appears to be the general view of Pianote. If you're looking to quickly get a few songs under your belt, it might not be the best investment. But for those of us wanting to take a deep dive into a new instrument, it's a wonderful place to start.
Is Pianote Worth It?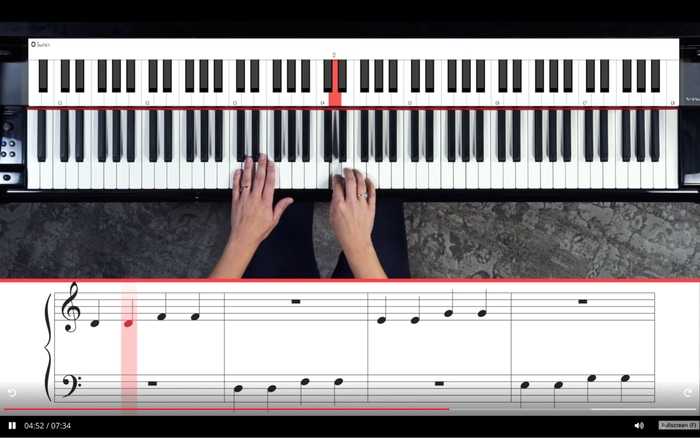 So, having looked at everything: the content, the pros, the cons, the cost and the alternatives, it's finally time to answer the question I'm sure you've been asking this whole time.
Is Pianote worth it?
I feel very confident admitting that Pianote has absolutely been worth the investment. The core Method is cleverly structured, with content that ensures even an absolute beginner will develop – not only as a piano player, but as a general musician.
A wonderful balance is struck between all the many aspects of music here. The team at Pianote understand that many of their casual students are interested in getting a few songs in their repertoire. But they also devote time and attention to musical theory, ear training and personal practice, ensuring that the students develop so much more than just pressing the black and white keys.
There's also so much to explore beyond The Method. From quick tips to song lessons, to their ever-growing community, there is so much on offer here.
Advanced players, this might not be the best site for you. But for everyone else with any slight interest in piano, why not start your journey here.
Before exploring the site I only knew a few chords, and could barely stumble my way through Somebody That I Used To Know. Through using Pianote, I was able to develop rapidly, with a range of both songs and knowledge to can draw from.
And remember, if you don't have that same experience, Pianote offer a 90 day money-back guarantee.
Frequently Asked Questions
How much does Pianote cost?
Depending on your choice, Pianote can either cost $29 per month or $197 yearly for the same content. The second option is cheaper and comes with an additional practice planner.
Does Pianote have a refund policy?
Yes. Pianote offers a 90-day money-back guarantee.
How many courses are there on Pianote?
The Method is Pianote's main offer. This consists of 10 levels with 3-4 courses. There are also booster lessons, song lessons and live lessons if you wish to expand beyond the method.
Does Pianote have a free trial?
Yes, there is a 30-day free trial.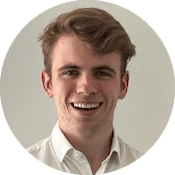 Charlie is a student reading politics at King's College London. He is also a passionate musician with over 14 years of experience. In his free time, he also enjoys cinema, long-distance running and learning new things.