Simply Piano has rapidly shot to the top of the online Piano lessons market. It's been downloaded an astonishing 100 million times.
But if you're here, you must be wondering what exactly is Simply Piano? How does it work? And, above all, is it worth it?
To help you answer these questions (and more) I've completed several lessons on Simply Piano. And put what I've learned into practice. Plus I've taken online piano lessons from other providers so I can compare Simply Piano with what else is on offer.
With its unique, interactive approach, Simply Piano aims to keep you motivated, moving forward and discovering something new every single time you sit at the keyboard to play the songs you love.
But does Simply Piano live up to this promise? Is it the right platform for you? Read on to find out.
.
Quick summary
Features
Wide range of over 33 courses which introduce basic piano concepts
The opportunity to join a community of 200,000+ fellow pianists
Groundbreaking technology that recognises the notes you play and when you're ready to be moved along to the next stage
The choice between Chords and Soloist pathways
Insight into general musicianship with classes on broader music theory
The chance to learn hundreds of popular songs
Downloadable sheet music
5-Min workouts to help you practice
Pros
Important Concepts simply explained; ideal for beginners 
Incredibly easy to access
Learn through practicing 
Many pop favorites included 
Flexible! Pick and choose between courses depending on your preferences 
Lots of additional features
Aesthetically pleasing with good production values
Cons
Not comprehensive, you might feel you need more (this depends on the learner)
Can feel a little disjointed
Best for: Absolute beginners – particularly those who have never tried the piano and want an easy way in. Also those who've been put off learning the piano due to an overemphasis on scales and theory. Simply Piano has a strong focus on songs and practice.
Overall: This is the way to start out on piano. Simply Piano is a great app for beginners to master the basics. Simply Piano will have you playing directly and you will gradually grow a list of popular songs. As you do, you'll gain a clear understanding of notes and chords, and how they fit into a more general musical context. However, the lack of direct teaching means there might be a few gaps to fill if you want to take your piano playing further. That said, out of everything out there, Simply Piano is a fantastic way to get started.
In this detailed Simply Piano review, I'll be covering:
What Simply Piano is and how it works 
What a lesson is like
A review of 3 classes
What I liked and thought could be improved
Who Simply Piano is for
Costs, refunds and free trials
Tips for finding the right course
Alternatives to Simply Piano
What others have said
Is Simply Piano worth it?
So, let's go!
What is Simply Piano?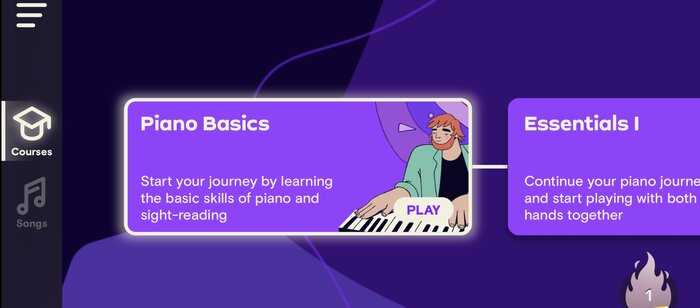 Simply Piano is a piano-learning app created by JoyTunes, a company that specializes in teaching crafts and hobbies, like music.
The app is one of many in their roster and has gone on to become one of their most popular. Other apps include Simply Guitar, Simply Sing and Simply Tune.
Simply Piano is also critically acclaimed, winning Google Play's Best App Award in 2019.
Like other piano sites, including Skoove and Yousician, Simply Piano moves away from traditional teaching styles. Instead, the learning is very interactive as students play what's on the screen.
However, Simply Piano is unique in the sense that it is designed specifically for Mobile and Tablet. This makes it a more accessible and flexible way of learning. 
How does Simply Piano work?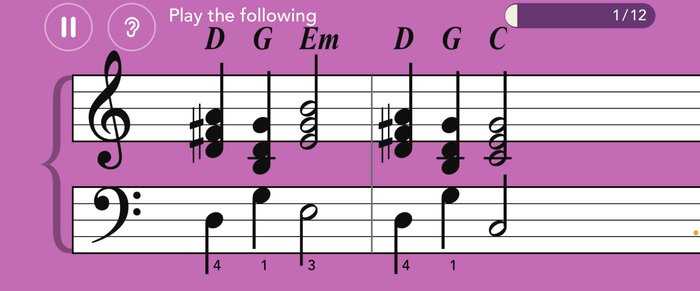 Simply Piano works like most apps in that it needs to be downloaded to your device to get started.
It teaches by listening to the note you play and letting you know whether it is correct or not before moving you along to the next stage. This way you can learn your favorite songs in the fastest times possible.
What you need
To use Simply Piano you will need:
A keyboard/MIDI keyboard (which you plug in to your device)
A tablet or smartphone
You'll have to download the app onto your device. Then, either find a place for your phone where it can register the notes you're playing, or plug in your MIDI keyboard (which Simply Piano will guide you on).
Accessing the app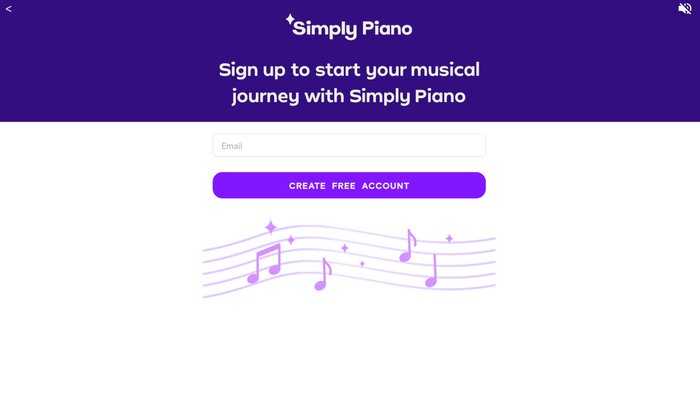 The next step after downloading the app is to create an account with your email. This will be your main profile, although you can add others later.
The site is subscription based, so you pay for access to the materials for a specified period (typically $59.99 for three months).
Once you've purchased a subscription, or you've signed up for a free trial, then you're free to really get started. 
Courses and progression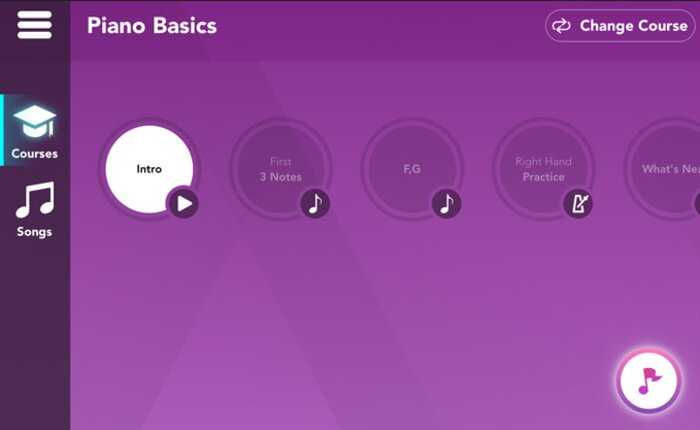 Simply Piano has around 33 courses, plus various shorter exercises and lessons to help you on your way.
The courses are structured to get progressively harder as you build on what you've learnt.
The first course is Piano Basics, where you get started with the basic skills. Once you've completed the initial courses, you're free to progress to the rest of the classes.
Other features on the site include 5-Min workouts, focused on practicing what you've learnt in the course you're taking, Sheet Music, where songs you've learnt from your courses are stored and Join The Community, where you can interact with over 200,000 other users.
You also have the chance to unlock more songs as you progress..
Simply Piano classes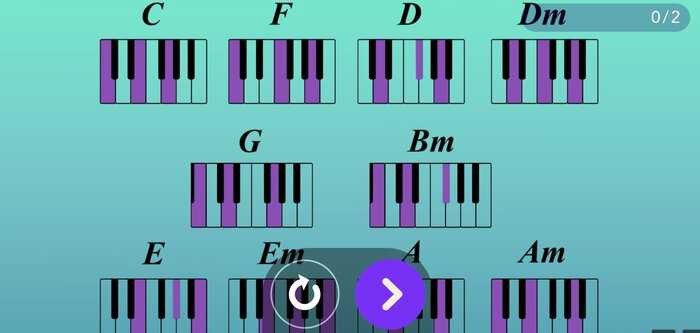 Simply Piano has over 33 courses.
Most of these are divided into two categories:
However, you can pick and choose between these categories to make your own curriculum.
The Soloist Pathway focuses on sheet music, sight reading and technique. So, you'll learn how to play the melody in the right hand and accompaniment in the left. As you get more advanced, you'll learn some popular piano music.
Chord lessons are focused more on accompaniment. You'll learn the key chords and the pop songs that use them, before going into more specific genres like jazz and blues.
You don't need to stick to either pathway and can choose courses from anywhere. You can also start at any point, so if you're more advanced, feel free to dive right in with the later courses.
Some courses don't fit into either category. These include the first two courses, Piano Basics and Essentials I, the reading courses Lead Sheet I,II, and III, as well as the music theory course, Theory 101.
What a lesson is like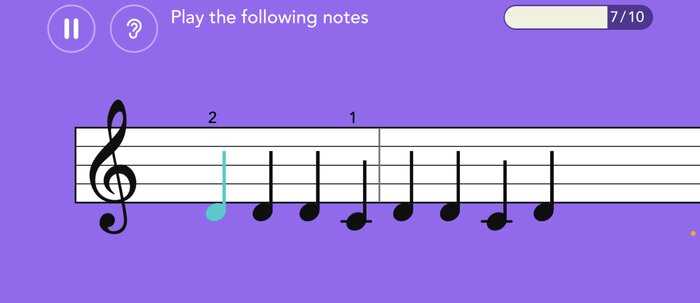 A lesson typically starts with the introduction of a concept in video form, explaining what the lesson is about.
Then there's a practice session, where Simply Piano will provide you with notes, and later chords, and ask you to play them on your keyboard.
If you get a note right, the note will appear blue. If you get a whole passage right, a tick will appear in the top right corner and you'll be able to move on.
Getting it wrong means the note will turn red. If you continuously get it wrong, Simply Piano will slow down the tempo and get you to play it right a few more times until you progress.
Typically a lesson will end with you playing what you just practiced but with a backing track, usually from a popular song.
The same process applies, you'll be asked to play what's on the screen and you'll progress if you get it right.
Most lessons are structured like this. However, gradually lessons will get more and more complex as new ideas are added to what you've learnt. 
My review of 3 classes
In order to review Simply Piano, I spent some time taking and testing various courses on the site.
Below is my review of three Simply Piano classes.
I've chosen them because they are aimed at beginner, intermediate and advanced players.
One is the first course on the course page, one comes somewhere along the middle and one is right at the end.
This should give you a good sense of the spectrum of courses on offer.
Piano Basics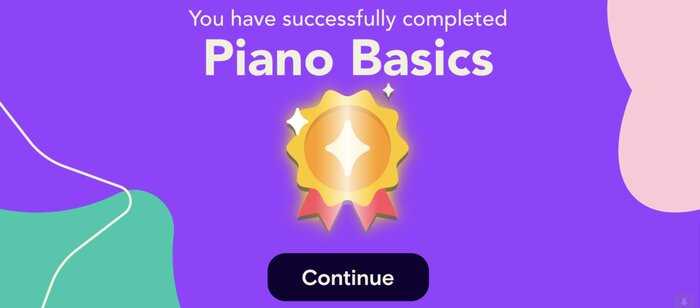 You will learn:
A basic overview of the piano
Your first three notes (C,D,E)
F and G notes
Right-hand practice
Where to go next
How to play a song of your choice
Pros:
Game-like teaching structure helps to internalize notes
Slow and easy-to-understand pace
Lots of practice examples
Opportunity to learn a song very early in the process
Video lessons introduce you to the practical sections
Focuses mainly on getting you familiar with notes, with some tips on posture and finger positioning
Cons:
No general musical ideas explained
Requires a piano
Length of Course: Will depend entirely on how long it takes you to complete the practice section.
Best for: Absolute beginners. Specifically, those who prefer to learn by practically doing things rather than having things explained to them.
Overall: This is an extremely basic introduction to the piano, so if you've been keen to get to grips with the instrument but have never known where to start, this is for you. It is especially useful for those who want to learn songs quickly and enjoy learning things by practicing them. 
Pop Chords I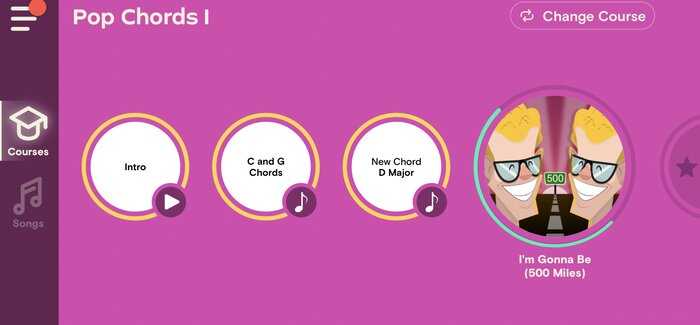 You will learn:
What chords are
C and G chords
D major chord
Adding the left hand
E minor chord
4 chords and the bass
Reading chords and lyrics
4 chords melody
Songs like Say Something, Knocking on Heaven's Door, and more
Pros:
Really focuses in on fundamental pop chords
Progressively gets harder and builds on your knowledge
Teaches you about popular music
Allows you to get some famous songs in your repertoire
Continual practice will develop your musical intuition
Genre-specific; lots of people are interested in piano because they want to play popular music
Cons:
A little disjointed; you go from lesson to lesson without a bigger idea of why chords are important
The note-recognition function does not correct other musical factors, like tempo or dynamics
Length of Course: Will depend entirely on how long it takes you to complete the practice section.
Best for: Anyone who has completed Piano Basics and Essentials I. Specifically those who are interested in playing (and maybe even singing) popular music.
Overall: This course is great for anyone with a basic understanding of the notes on the piano to get to grips with chords. Specifically, it's useful for people whose learning goal is to be able to play popular songs. Although at this level the problem of not teaching more general musical ideas is more apparent, students will still get the chance to understand the fundamental pop chords, which is what many of them will be using Simply Piano for. 
Jazz Chords I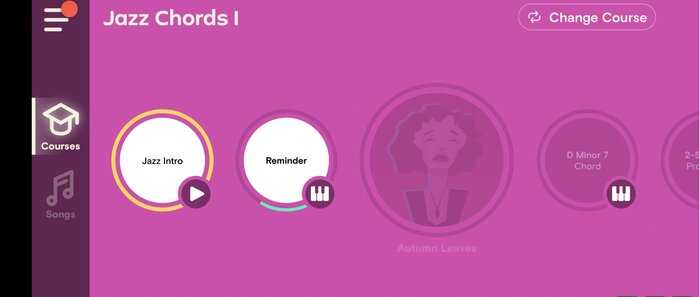 You will learn:
A re-cap of the chords
D Minor 7 chords
2-5-1 progression
Jazz rhythmic pattern
C major 7 chord
A minor 7 chord
Turnaround progression
A variety of jazz standards
Pros:
Teaches you the absolute fundamentals of jazz
Combines both harmonic and rhythmic lessons
Lessons in both specific chords and useful progressions
Add some of the most famous tunes in the jazz songbook to your repertoire
Progressively builds on what you've learnt so far
Focuses on a specific but widely popular genre
Cons:
The technology isn't as good with recognising rhythms, which are fundamental to jazz
Could be more comprehensive
Length of Course: Will depend entirely on how long it takes you to complete the practice section.
Best for: Students who have been going along with the Chords pathway. It assumes that you have learnt some chords from there, although anyone with a basic to intermediate level of piano and an interest in jazz should be happy with this course.
Overall: One of the courses at the end of the Chords' Pathway, and therefore one of the more advanced classes on the app. At this point, it was pretty clear to me that the app was for beginners. Although this will give you a strong grounding in jazz concepts, you might find at this stage that you've outgrown Simply Piano and need something more comprehensive. 
What I liked about Simply Piano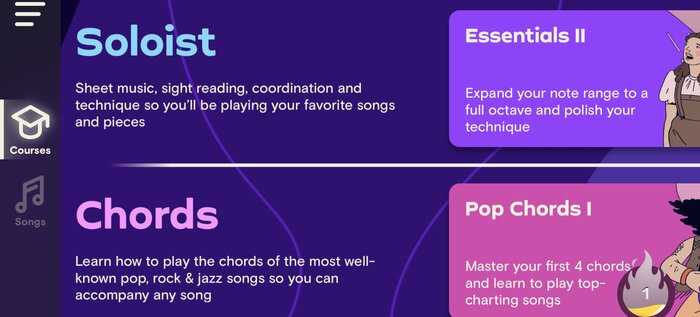 Great for beginners
For me, the biggest pro of Simply Piano is how accessible it is for beginners.
Which is exactly what the site was set up for. In terms of being the definitive beginner piano site, I think Simply Piano stands out. 
There are a few reasons for this, including the practical teaching method, the specific focus on genres, and the additional features, all of which I describe in more detail below.
But what I think is great for beginners with this site, in particular, is the content itself.
Piano Basics and Essentials I will give you a really clear understanding of the notes on the piano. And by providing the option to learn either Chords or Soloist pathways, beginners have the chance to really put together their own curriculum based on whatever they want to learn.
I'd also say that the general aesthetic of the site is very appealing. There are great visuals and the app has a distinctive design.
This matters because learning a new instrument can be quite daunting, so creating a positive learning environment is really important.
I've tried a lot of beginner piano sites before and I'd say, for an absolute introduction, Simply Piano knocks it out of the park. 
Practical lessons
Another key pro of Simply Piano is its lesson style.
Lessons consist primarily of a very short introductory video followed by a series of practice sessions where you're presented with piano sheet music and required to play what's written. The app recognises what you've played and lets you continue with the class once you've played it correctly.
Gradually the lessons get harder and they'll typically end with you playing a full song based on whatever you've been learning.
This can be a super helpful way for beginners to learn. Practicing is essential to learning any skill. By repeating notes and chords over and over again, you'll gradually learn how to play them correctly, and how the sheet music corresponds to the keys.
Just the muscle memory of repeatedly playing chords will be crucial for your musical development.
However, the lessons aren't tedious. You'll be able to play along to backing tracks as well.
This kind of note-recognition technology is used by a couple of sites, but I think it's put to its best use with Simply Piano.
This is partially because it is made for tablet and mobile, so it's really easy to set up your piano and just play. This way of teaching is focused on you progressing at your own pace and taking control of your learning.
Simply Piano also puts a lot of emphasis on rewarding you when you're correct by providing supportive visual and audio cues. 
Provides a wider musical context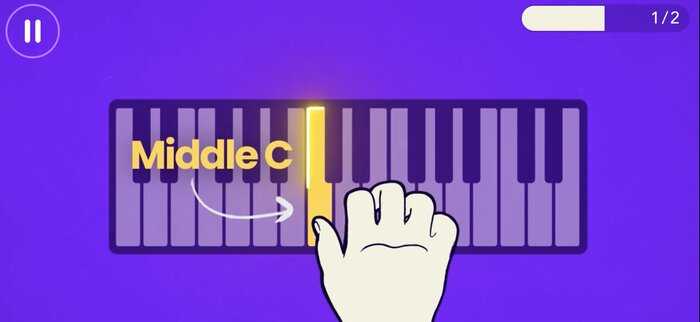 Another pro of Simply Piano is that they embed their lessons in a wider musical context.
This is specifically the case as you develop your playing and continue along the course.
Simply Piano's classes focus specifically on genres like rock, pop and jazz. This means that you'll develop the fundamental skills required to play these genres.
You'll also have the opportunity to learn a massive variety of songs in each genre you take classes in.
This is a very important point. A lot of people's interest in the piano is sparked by the desire to play their favorite music.
Simply Piano literally teaches you some of the most popular songs of all time. So before you know it, you'll be playing some of your favorite music.
This is also the case for absolute beginners, which is rare for both online piano courses and in-person teaching.
Right from the get-go, you'll be asked to choose from a selection of songs. This is the song that you will play at the end of Piano Basics (I chose Do You Want To Build A Snowman). 
Additional features
Finally, I'd just like to talk about some of the additional features on Simply Piano that I think are pros.
Firstly, there are the 5-Min workouts. These are where you spend five minutes practicing whatever you've been learning in the main course.
Personal practice is absolutely necessary to develop in piano, so having this feature on the app is a great encouragement for students to practice alongside their main classes.
There's also the chance to download the Sheet Music for songs you've learnt through your courses, which can be a useful tool if you ever want to perform for friends and family, and show off what you've learnt.
You can also unlock specific Song lessons on Simply Piano as you progress with the course.
And last, but not least, you have the chance to join a community of over 200,000 learners through Facebook where you can discuss what you've been learning, any challenges you've been facing and any tips for other learners. 
What could be improved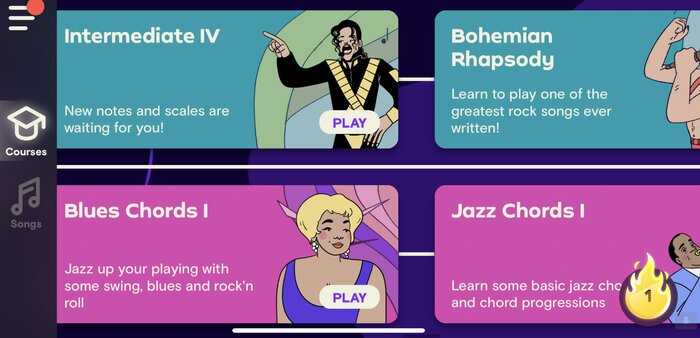 Not comprehensive
My biggest problem with Simply Piano is that it isn't comprehensive enough – some important aspects of piano playing are glossed over, or missed.
To Simply Piano's credit, they do include some focus on musical aspects beyond the notes and chords. For example, at the end of Piano Basics, there is a quick video on what your playing posture should be.
However, some teachers would spend a whole thirty minutes to an hour on this concept as it is really crucial to your playing and your sound.
By focusing specifically on getting students to play the right notes, Simply Piano misses out on teaching other elements that go into making you a well-rounded musician, such as rhythm, dynamics, tone, expression etc.
I tested this out when I was practicing 500 Miles in Pop Chords I. I played the right notes but deliberately played off-beat. The app still marked my playing as correct and I was allowed to move on.
This is a problem because if you're new to music entirely, you might not have a great sense of rhythm. So you'd be moving on to more complex ideas without having a strong sense of a key musical concept.
Ultimately, it's a matter of what you're looking for. If you are looking to learn a few songs and get a basic grounding in notes and chords, Simply Piano is  a solid introduction. 
But if you're serious about pursuing piano, you might want to look elsewhere for courses that foster your general musicianship.
Can feel a little disjointed
This is a much smaller point and links to what I've already said, but I feel it's worth mentioning.
Because of the way the classes are taught, I personally felt the lessons were a little bit disjointed. I didn't feel like there was much of a flow to the lessons.
Although I liked how what you practiced you would eventually use in a song, and gradually the lessons challenged you as more complex ideas were introduced, I felt like this could've been done with reference to a wider concept.
For example, Jazz Chords I teaches one of the most complex and diverse genres in the history of music, yet all of this was covered in a very short video before you got into playing.
Aside from these quick videos, there's no one there to guide you through the music. Just playing the notes can be a bit of a tedious experience, especially if you are becoming more advanced.
And as I've mentioned before, you can play completely out of time, with the wrong phrasing and even a few wrong notes, but so long as the technology recognises it as right, you can just move on.
This left the experience of learning from Simply Piano a little bit disjointed. It's my own opinion, but something worth considering if you're used to, and enjoy, the flow and interaction of in-person lessons.
Who Simply Piano is for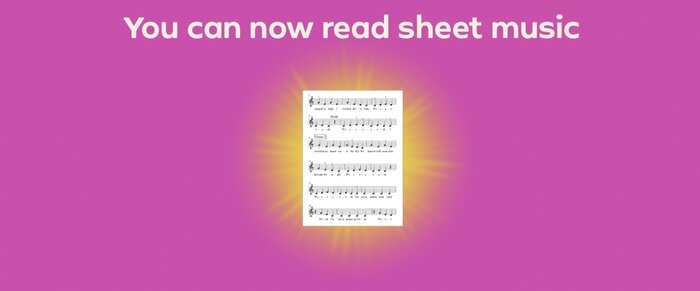 Absolute beginners interested in learning piano
Anyone who likes to learn practically and through actually doing things rather than having them explained
Anybody with a piano in the house that they've either never used or been put off of by over theoretical teaching
People who like to have a visual and aesthetic element to their learning
Anyone who wants to learn on the go, through either their tablet or their phone
Piano newbies interested in specific genres like rock, pop and jazz
Anybody who wants to learn their favorite song on the piano
How much does Simply Piano cost?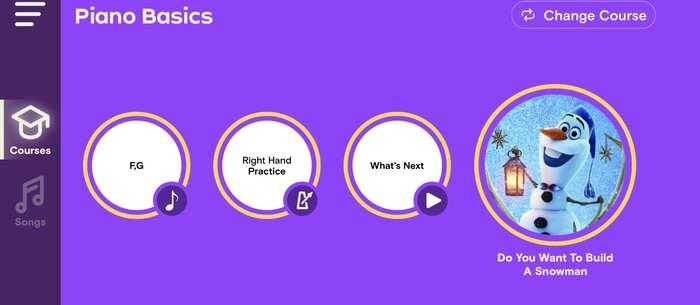 Simply Piano functions as a subscription service. For what you pay, you get monthly access to all of the materials.
A subscription option costs $149.99 per year. However, you can also purchase it for $89.99 for six months or $59.99 for three months.
Of course, the $59.99 seems the cheapest at face value. But the three different subscription types work out at $12.49, $14,99 and $19.99 per month respectively.
So the option you go for will depend on a few factors.
If you feel like you could get through all the content in three months, then the $59.99 option might be the best. 
However, if you're looking to take your time with it, then paying for a yearly subscription might actually work out as a cheaper option.
You might be wondering, "how will I know whether I'll be able to get through everything in three months without subscribing in the first place?"
Luckily for you…
Simply Piano free trial
Simply Piano does offer a free trial.
The trial lasts for 7-days and will grant you access to all the resources on the app.
This means that you'll have a good sense of whether the app is right for you in the first place.
You'll also be able to tell whether or not you'll be able to get through the content in three months, and, as a result, have a clearer idea of what pricing option to go for.
Simply Piano refund
Simply Piano does offer a refund, so if you don't like what you received there's a chance to get your money back within thirty days of purchase.
This might vary depending on how you paid.
To request a refund from Apple, go to Apple's problem reports page: http://reportaproblem.apple.com/
Log in with your Apple ID username (typically your email address) and password, tap or click "I'd like to" and choose "Request a refund."
Choose the reason why you want a refund, then choose Next. Choose Simply Piano, then choose Submit
You can also speak directly with Apple Customer Support. You can also request a refund directly by following the steps on Google Play Help Page.
Finally, if you'd like a refund for your credit/debit card purchase, please reach out to our team through the app by tapping Menu > Settings > Have a Question? and Simply Piano will look into it.
Tips to finding great courses on Simply Piano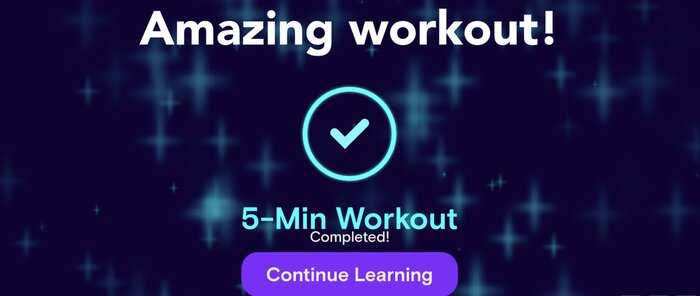 Finding great courses on Simply Piano is really simple because they do it for you!
The courses are structured in such a way that you build on what you've learnt in the previous chorus.
This means that you don't even really have to think about what course to pick out.
With that said, there is still some autonomy.
You can choose between Chords and Soloist Pathways, but these are not strict and you can always pick and choose between them.
You can also start anywhere you like, with courses later down the line. If a course sounds like it might interest you, just give it a go. Because you've bought all the content as a subscription, there's no consequence if it's the right course for you or not. 
Simply Piano Alternatives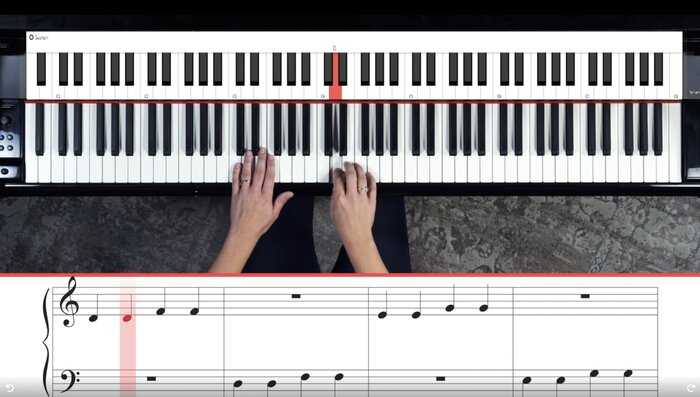 Simply Piano is not the only piano teaching course out there.
Because of the technology we have today, finding an online course that's right for you has never been easier.
This sheer size of the internet means that there is no limit to what you can learn. Given this, there is a wide range of options for learning a skill like the piano, all of which cater to different needs and preferences.
Here are some of our favorite alternatives:  
is one option you can go with. It gives you the option to either get to grips with the basics or just dive right in with learning songs. 
The site is focused on teaching you famous songs in a game-like fashion, so you can pick them up as quickly as possible.
If you're looking to learn piano on the go, this site might be a better fit for you. For more detail check our full Flowkey review.
is more similar to a traditional teaching style. Unlike a lot of their rivals, this platform prioritizes having an actual teacher walk you through each concept, with equal attention given to musical concepts and theory as there is to learning new songs. 
Pianote's main focus is on the Method, a 10-step program designed to help beginners rapidly improve their playing through methodically introducing musical concepts, applying these to popular songs and employing ear-training and theory techniques.
Pianote features #1 in our Best Online Piano lessons online review, and you can get more granular detail about the platform in our Pianote review.
Finally, you might want to check out websites that focus on e-learning generally, which offer piano courses as part of a wider selection of courses.
Udemy is one of the biggest names in e-learning and offers its own piano courses, among a wide range of other musical classes. 
Our top pick from Udemy is Pianoforall, which is Udemy's most popular and acclaimed piano course, with over 358,000 students and 42,000 positive ratings. You can read more about Pianoforall in our article, Best piano classes online.
Simply Piano: what others have said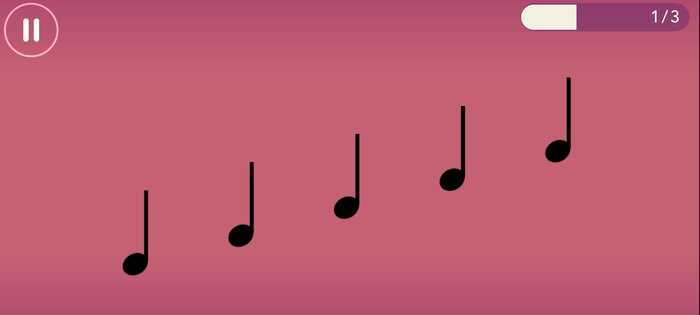 For balance, I've searched across the internet to see if there is general agreement on what the site is like. 
And there is. Most people say that Simply Piano is a great way of getting acquainted with piano, but less useful beyond that:
"Simply Piano is to the piano as Duolingo is to a language. It's a good tool for developing basic understanding of the piano and things like reading sheet music, but nothing can beat having a teacher who you can question and who helps you understand the instrument in a way that works well for you. Similarly the best way to learn a language is to surround yourself with people who speak that language fluently." - Reddit commenter 
I think the comparison with Duolingo is fair. Simply Piano does focus on getting you acquainted with notes/sheet music, but a more comprehensive approach might be required for progress beyond these skills. 
Others have agreed that it's a great site for the basics, but limited in the musical concepts it can explain. 
"It got me started in understanding some basics.... The app definitely has learning/skill gaps, such as no staccato, or sustain pedal use, accents, etc." - Reddit commenter 
Although I agree there is a lack of musical concepts explained, I don't think that's what the site's for. Its focus is on getting absolute beginners familiar with the basics. 
This comment sums up that sentiment nicely:
"Simply Piano gives you a tremendous amount of practice. In about 6 months I went through everything that felt worth doing with it, and I feel like I got my money's worth. For theory, it's not going to do much for you, but youtube is crawling with videos on those topics. When you're self-learning, you don't have to get every possible thing from just one source." - Reddit commenter 
Is Simply Piano worth it?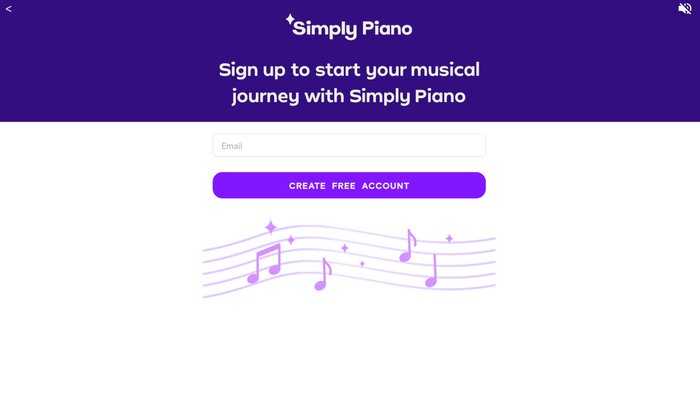 So, is Simply Piano worth it?
The answer depends on what you're looking for.
Simply Piano is for beginners and is meant to be an introduction to the instrument. So if you're already a fairly skilled player, it might not be the app for you.
And if you are a total beginner but you prefer detailed theoretical explanations to help you learn, I might not recommend Simply Piano.
However, if you're new to the piano and you want to dive straight in and actually be able play real songs fast – whilst gaining a solid grounding in the notes and key chords -Simply Piano is ideal.
The site uses note-recognition technology. So you just set up your phone or tablet at your piano and play what they ask you to. It's almost like a video game; you progress only once you've got it right.
This way you internalize the notes and chords, and you can go on to use them in popular songs through the site.
So if you've been looking for a way to play some of your favorite music fast, and you've never touched a piano before, Simply Piano is a great place to start.
And to be honest, even if you have wider musical ambitions, the 7-day free trial means you have nothing to lose when it comes to seeing whether or not Simply Piano is right for you. 
Simply Piano-Frequently asked questions
How much does Simply Piano cost?
A subscription option costs $149.99 per year. However, you can also purchase it for $89.99 for six months or $59.99 for three months. 
Does Simply Piano have a refund policy?
Simply Piano does offer a refund, typically thirty days after purchase. How you get your money back will vary depending on your chosen payment method. 
How many courses are there on Simply Piano?
There are over 33 courses. 
Does Simply Piano have a free trial?
Yes, there is a 7-day free trial.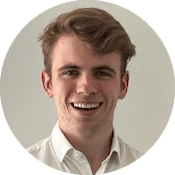 Charlie is a student reading politics at King's College London. He is also a passionate musician with over 14 years of experience. In his free time, he also enjoys cinema, long-distance running and learning new things.