The Pickup Music community has over 1 million users, and over 20,000 guitarists use Pickup membership to master their instruments. It's quickly becoming one of the most talked about music sites on the internet.
But is it the best way to learn guitar? I've spent the last few weeks taking in everything Pickupmusic has offered and have extensive experience reviewing the best online guitar courses. And I can truly say this is one of the best music platforms I've ever reviewed.
In this Pickup Music review, I'll be telling you everything you need to know about Pickupmusic; the cost, the courses, the pros, the cons, how it all works and, ultimately, whether it's right for you.
So, let's dive in.
.
Quick summary
Features
A massive range of courses
Different lesson styles, including learning pathways and bootcamps that last for months, to 5-minute lessons and quick masterclasses
An incredible range of genres, from neo-soul, gospel and jazz to rock, blues and metal
Over a hundred top-quality instructors
A combination of video lessons, text and colorful diagrams
A strong sense of community and interaction, with forums, Q&As and live events
Pros
Appeals to every audience; beginners, intermediate and advanced
Massive range of content, including different lessons styles, genres and instructors
Super easy to use
Strong focus on general musicianship and personal practice to make students well-rounded musicians
Combines videos, audio, visuals, text and sheet music to appeal to every kind of learner
Incredibly engaging, from the style of teaching to the sense of community
Cons
The forum is under maintenance (that's it, that's my only con, and it might even be fixed by the time you read this)
Best for: Anybody interested in guitar. The range of lesson styles, genres and levels means that there is truly something for everyone.
Overall: Pickup Music is one of the best places to learn guitar online, and probably one the best music platforms I've reviewed. Anybody with an interest in guitar will gain something from this site. There is a massive range of courses catering to different skills and interests, but each lesson is consistently informative, engaging and helpful. Pickup Music already has 20,000 members, but they're still relatively new. I can't wait to see where they go next. And with a 14 day free trial, why not give it a go?
In this detailed review of Pickup Music, we'll be covering the following:
What is Pickup Music
Who are the instructors
How much does Pickup Music cost
What is a lesson like?
The best Pickup Music classes
What I liked and what I thought could be improved
Who Pickup Music is for
Refunds and free trials
Alternatives to Pickup Music
What others have said
Is Pickup Music worth it?
And much, much more.
Let's get started!
What is Pickup Music?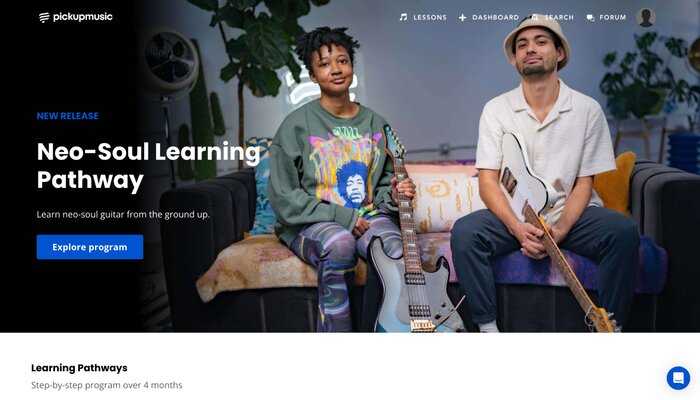 Pickup Music is an e-learning website devoted to all things guitar. It offers a huge range of lessons that encompass all the most important aspects of the instrument.
The site began as an Instagram page created by Sam Blakelock, a MA graduate and exquisitely talented guitarist from New Zealand, in 2015. Pickup Music grew from lessons Sam delivered on social media. Their social media presence has since grown to over 1 million followers.
Following this, Pickup Music expanded to have its own platform, where students could pay for membership in order to access a wider range of in-depth lessons. Pickup Music is unique in combining classic rock lessons, with a focus on more modern genres like Neo-Soul and R&B.
With such a big following and a focus on newer genres of guitar playing, Pickup Music has made itself into a very attractive option for any budding guitar player.
Who are the instructors?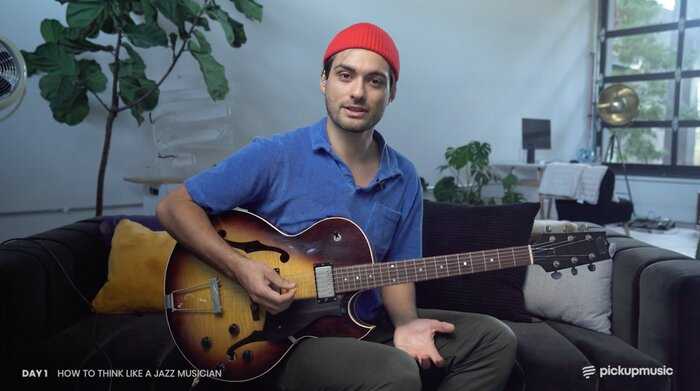 With Pickup Music, you're learning from the best.
Having an experienced teacher is important for any skill. Thankfully, Pickup Music has a range of experienced and talented instructors.
They all have very different backgrounds when it comes to genre. However, they are united by their years of experience in both playing and teaching the guitar.
A lot of Pickup Music teachers are highly qualified in their instrument.
For example, Sam Blakelock, the site's founder, received an MA in Jazz Guitar before creating Pickup Music. Others grew up with their instrument, like Lawrence Jones, a fourth-generation guitarist who is now incredibly regarded in the gospel world.
There are over 100 guitar instructors on the site and each one is not only a super-talented guitarist but also a direct, helpful and engaging instructor.
If you're in any doubt about your teacher, each course has a little Artist bio where you can learn more about their qualifications.
How does Pickup Music work?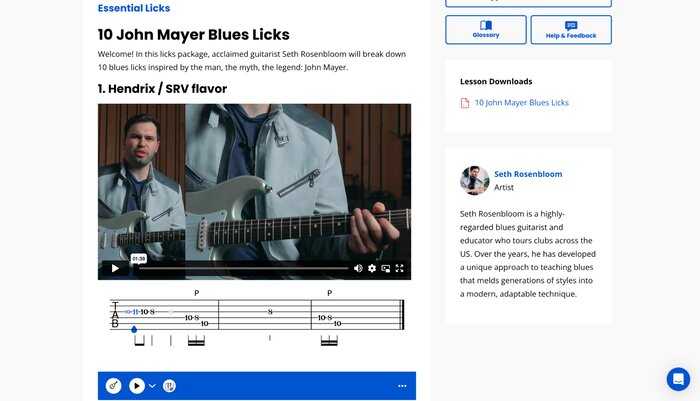 Pickup Music is one of the easiest e-learning sites I've ever navigated.
Step one is to create an account, using your email address and password. Then select your membership option and payment method. After that, Pickup Music does everything for you.
You'll be taken through to a series of videos where founder Sam Blakelock will introduce himself and the platform. He'll tell you first hand about all the features and where you can find them.
Then, Sam will ask you to select what level of player you feel you are from the following options:
Complete Beginner
Beginner
Intermediate
Advanced
Pickup Music will then recommend a learning pathway that caters to that level. Learning pathways are a collection of lessons designed to incrementally improve your guitar skills.
However, you don't have to stick to your recommended pathway. You're free to explore the rest of the site.
Some other types of lessons include:
Bootcamps – similar in structure to learning pathways, but focused on more advanced content
Masterclass – shorter groups of lessons that focus in-depth on a particular playing style or genre
Songsquad – where Pickup Music instructors perform their own songs and take you through them step by step
Essential Licks – short video lessons that cover all the elements of a specific lick
Artist Toolkit – longer form lessons and interviews that give insight into the life of a professional guitar player
5 Minute Lessons – self-explanatory, quick lessons that cover a specific aspect of the instrument in 5 minutes
Pickup Music also has a community corner, which includes:
Office hours – live Q and A's with the Pickup team
Video Archives – replays of live events
Community News – updates and announcements
There is typically also a forum but that is under maintenance at the time of writing.
How much does Pickup Music cost?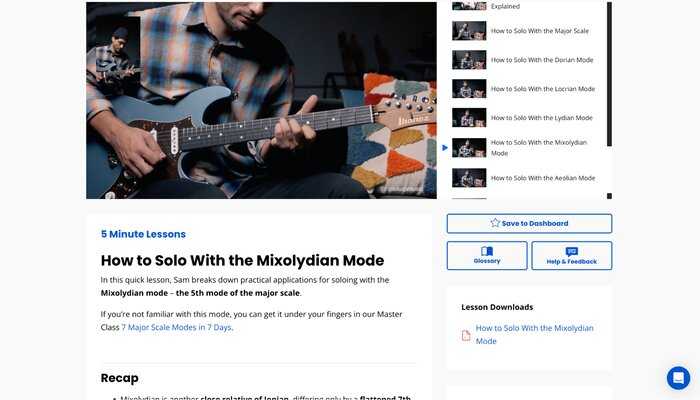 Pickup Music has two main pricing options.
You can pay for your subscription monthly, which will cost you $14.99 per month. This gets you access to everything on the site.
You can also pay for your subscription annually. This will cost $149.99 per year and also gets you access to all of the platform's features.
I should note that the Annual option does save you money relative to the monthly. It saves you $30.00, working out to $12.50 per month.
Pickup Music refund
Pickup Music does not have a refund once payments have gone through.
If you cancel your subscription, you'll be able to access the website until the date of your subscription renewal. However, you will not get any money back.
Don't forget, Pickup Music has a 14-day free trial. So you can access everything on the platform in two weeks. And if you decide it isn't for you, you can cancel without spending any money.
Pickup Music free trial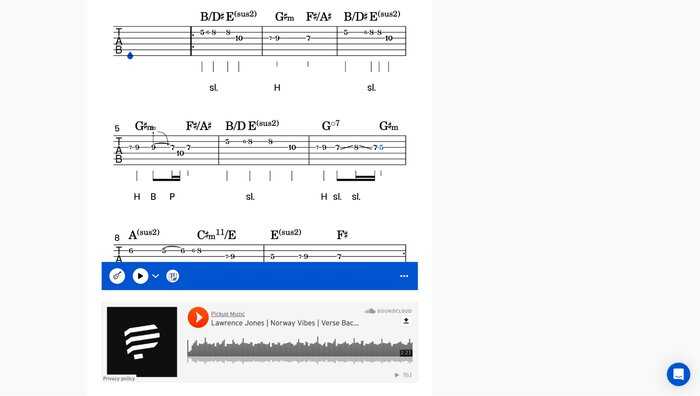 Pickup Music also comes with a free trial. This is a game changer because it means you can take in all the site has to offer without spending any money.
The free trial lasts for 14 days. After that, you automatically pay for membership unless you cancel.
Pickup Music has so much to offer, with a lot of its courses designed to last months. So you won't get through everything in these 14 days.
However, 2 weeks is plenty of time to get a real sense of the teaching, content, and lesson styles and, ultimately, decide whether or not the website is for you.
The fact that you can do all of this for free is a brilliant opportunity.
What a lesson is like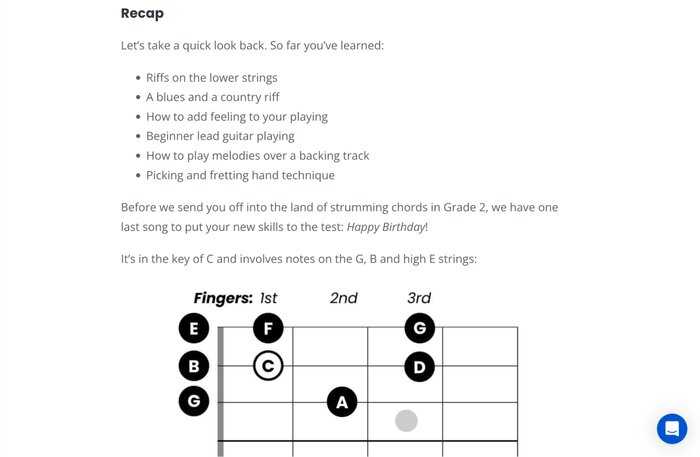 With the huge range of classes on Pickup Music, no one lesson is the same.
However, each course is consistently high quality, and, as a result, there are a couple of features that carry across.
Most lessons feature:
A video introduction explaining what you will learn, followed by a detailed but easy-to-follow explanation of each step.
An accompanying text and diagram that illuminates what's already been said on screen.
A performance from your instructor which you're invited to play along with, plus accompanying sheet music (you can choose between TAB or notation).
Pathways and bootcamps can also feature performances with a live backing band that you play along to, as well as quizzes where you select the correct answer from a series of options.
Best Pickup Music classes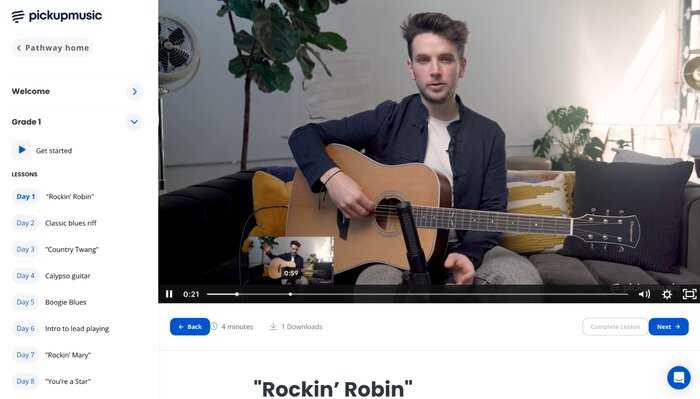 Pickup Music has an incredible range of different classes; perhaps the biggest range I've seen.
There are seven different lesson types, including seven learning pathways, seven bootcamps, over forty four masterclasses and hundreds of shorter lessons.
There are also over 18 different genres that Pickup Music teaches, including neo-soul, jazz, classic rock, blues and many more.
So students are spoiled for choice. Below are the top 5 most popular Pickup Music courses:
Beginner Learning Pathway
Neo-Soul Learning Pathway
Melodic CAGED Soloing Masterclass
7 Major Scale Modes in 7 Days Masterclass
10 John Mayer Blues Licks
However, not everyone has the same learning goals, so these might not appeal to you.
So here are our picks for the best Pickup Music course from each category.
Learning Pathway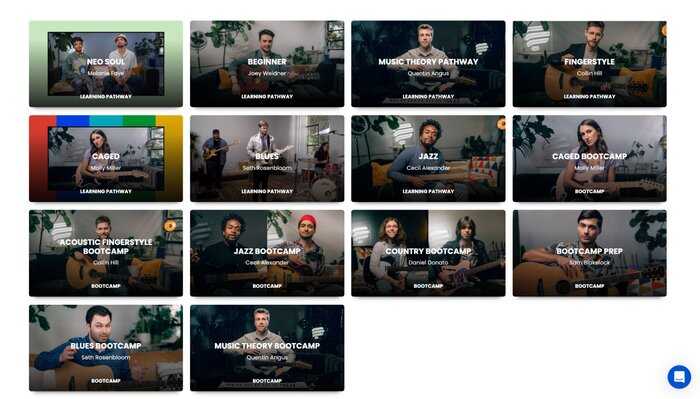 Beginner
As a beginner myself, this was the first course I was directed to. This course is led by Joey Weidner, who does a great job of slowly introducing the key components of the guitar. You'll learn all the fundamentals here, and by the end will be jamming with a live band!
Neo-Soul
This course is led by Sam Blakelock, which makes sense since Neo-Soul is a genre featured heavily on his Youtube channel. You'll learn the fundamental chords, scales and techniques of the genre, whilst studying its key guitarists. Neo-soul is one of my favorite styles of music, and there isn't a lot out there on its particular guitar style, so this course is truly unique.
Bootcamp
Caged
This course is all about learning how to solo using the CAGED system and the major pentatonic solo. There are a bunch of helpful visuals with this one. It's by Dr Molly Miller, who has a doctorate in guitar performance and leads the guitar department at the LA College of Music, so you're in safe hands.
Jazz
Jazz is a notoriously difficult genre to learn, but if you're interested in getting started, this Bootcamp is the place to do it. With both Cecil Alexander and founder Sam Blakelock You'll get an introduction to jazz soloing and scales required for it, as well as essential information on playing the blues and standards.
Masterclass
Gospel Guitar
Masterclasses are shorter lessons focused on a specific genre or style, with this most recent one teaching you everything you need to know. With Lawrence Jones, who is a 4th generation gospel musician, you'll learn all the different styles and forms within this widely popular genre.
10 Techniques in Ten Days
This masterclass does exactly as it says. With LA-based touring guitarist Nicholas Veinoglou how to add movement to your chord progressions, movement to your chords, and techniques like hybrid picking and tremolo.
5 Minute Lesson
How to solo with modes
This is another course led by founder Sam Blakelock and you'll need to be familiar with the pentatonic scale beforehand. This course will not only give you a quick rundown on all of the modes but also how to use them to enhance your guitar playing.
Melodic-minor double stops in Neo-Soul
As I said, Neo-Soul is quite a rare genre, so it's nice to see Pickup Music give a real focus. It's led by Nicklas Myhre, an Oslo-based neo-soul guitarist. He has a whole toolkit on the neo-soul genre, and this course breaks down playing double stops over altered dominant chords.
Essential Licks
Backbeat Jazz Licks One
A lick is a well-known and established pattern of music consisting of a series of notes. Guitarists use them all the time. Here, Sam Blakelock will take you through the key licks to use in the backbeat of a jazz standard.
Must-know chord progressions
Jamie Arent has worked with everyone from Frankie Valli to Netflix. In this series of lessons, he takes you through some key chord progressions (a series of chords) which are most commonly used by guitarists in popular songs.
Songsquad
Nostalgia
SongSquads are lessons where Pickup Music instructors perform songs for you, then take you through how to play them step-by-step, with sheet music provided. Nostalgia, by Ruben Chen, is a very unique song which will help you hone your bending skills.
Mononoke
This is the first ever SongSquad, written by Mia Garcia, a San Diego-based singer-songwriter. This is a grooved-based song, with funk and blues-inspired melodies closely interlocking with the bassline.
Artist Toolkit
Nicholas Veinoglou's advice for guitarists
Artist Toolkit lessons are all about the wider advice about being a musician that you don't often get in music lessons. This particular lesson is actually a segment from a live interview with Nicholas Veinoglou, all of which can be found on Pickup Music. It can be hard to get insider tips on the industry, so this is a must-watch for budding guitarists.
How to make it in the music industry
Ari Hertsand is not only a musician but also a marketer known for bringing independent musicians to wider audiences. So he is exactly the person who you would want to lead a lesson on making it in the new industry.
What I liked about Pickup Music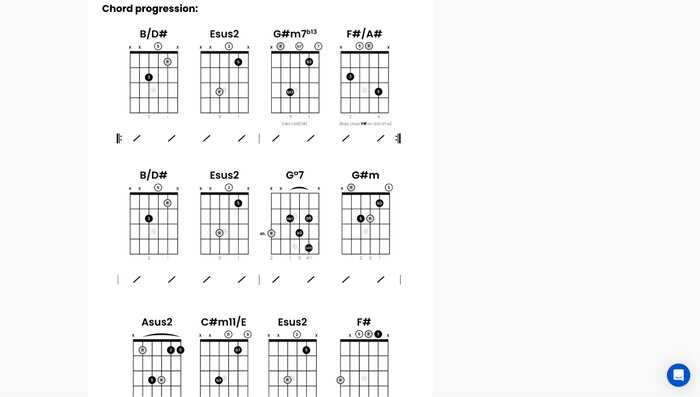 How I reviewed Pickup Music
In order to make this the best review of Pickup Music possible, I've dug into everything the site has to offer.
I've taken lessons from a range of instructors in a range of different genres. This included taking a look at each of the different lesson styles. Beyond that, I've also spent some time researching Pickup Music's history, why it was made and who it was created for.
Finally, I've checked out some of the platform's other features, such as the Community Corner and its social media accounts.
Ultimately, this has given me a really strong sense of what Pickup Music is all about and this is what I liked about the site:
Something for everyone
By far the best aspect of Pickup Music is that there is something for everyone.
Often, online music platforms focus specifically on beginners, because this is the group who are most likely to seek online lessons.
And don't get me wrong, Pickup Music is a perfect place to start learning the guitar. The Beginners Pathway will have you playing along to a live band in no time, which is crazy.
Pickup Music is also dedicated to honing the skills of intermediate and advanced guitar players.
These groups can be ignored by online sites because it is harder to cater lessons towards different skill sets. This is a shame because there is always something to learn.
Pickup Music has in-depth content for complete beginners, beginners, intermediate and advanced guitarists. No matter what your skill level is, there is something to be gained from Pickup Music.
Pickup Music is also THE PLACE to learn guitar if you're interested in different genres.
Whereas other websites focus mainly on classic rock, Pickup Music has over 18 different genres covered, which is much more than most guitar platforms out there.
This ranges from niche genres like neo-soul and progressive rock to broad musical concepts, like music theory and production.
Pickup Music's range of lesson types means that everyone with an interest in guitar should be able to gain something from the site.
If you're looking to really get stuck into the instrument, Bootcamps and Pathways are meant to last for a couple of months, whereas if you are tight for time and want something briefer, check out the 5-minute lessons.
In-depth lessons
The range of content is important, but Pickup Music backs it up with the content itself.
There are a couple of features that make Pickup Music courses uniquely brilliant.
Firstly, there are the instructors. Each lesson I checked out had an instructor who was a brilliant guitarist, an engaging teacher and, perhaps most importantly, had a love for the instrument that heightened my enjoyment of every lesson.
Then there is the structure of the courses themselves, specifically the pathways and bootcamps.
These are designed to develop your skills over time by gradually introducing new concepts, giving you the opportunity to play them yourself with a backing track or leave band, and test your new skills with quizzes and even personalized feedback!
Finally, there are additional resources. The quality of the videos alone would be enough, but each lesson is typically accompanied by text, diagrams, sheet music and downloadable resources.
This is fantastic because, like the first pro, it appeals to every kind of learner. If you struggle to focus on videos, the diagrams can really help. The sheet music will also make you a better all-round musician.
Overall, the instructors, lesson structure and additional materials all combine to create super in-depth and engaging lessons that will rapidly improve anybody's guitar playing.
Focuses on general musicianship
This is something I personally loved about the site. Pickup Music is a fantastic place to learn if you want to be a better all-round musician as well as guitarist.
Today there seems to be an emphasis on learning super quickly, with more and more platforms turning music lessons into video game-type levels that you complete.
Although some people enjoy this, to me music is so much more. There is always something new to learn and a different way of doing things.
To me, being the best guitarist you can be requires being the best musician you can be. Pickup Music embraces this philosophy.
On the Beginners learning pathway, the first thing Sam Blakelock says is practice is necessary, recommending users set themselves the goal of practicing for 30 minutes a few times a week.
Practice is so essential for learning any skill, so to see it emphasized like this really sets Pickup Music apart.
Longer lessons typically go into the details of why certain musical ideas work, rather than just instructing you what to play. Understanding this will make users much better musicians.
Pickup Music also has lessons dedicated to theory and production, which are concepts that so many professional guitarists rely on yet aren't taught very often.
Finally, there is the Artist's Toolkit, which are lessons and interviews about the life of a guitarist outside of the notes, focusing on the challenges of working as a musician, how to sell yourself as an artist and much more.
Easy to use
My final pro is that Pickup Music is super easy to use.
Often if you're a beginner, navigating a new website can feel daunting. You might not know where to start your learning journey.
Pickup Music understands this, and so the very first video you get with your subscription explains exactly how the platform works.
You're then asked what skill level you feel you are at, and Pickup Music recommends a learning pathway based on this.
This way, you get immediate access to a course that matches your learning goals without having to spend any time searching the site.
However, you are not obliged to stick to that Pathway. By clicking on the Search tab in the top right corner, you'll be able to see the whole catalog of lessons.
I was concerned that, given the range of lessons, it would be hard to find the right course. But you can search for lessons based on Lesson Type, Genre, Level (beginner etc.) and Instructor.
So not only will Pickup Music probably have the right course for you, but they'll also make it super easy for you to find that course.
What could be improved
A few technical hitches
As you can see, I am a very big fan of Pickup Music. But I want to make this a fair and balanced review, so I'll be honest about the flaws I found.
This mainly consisted of a few technical hitches.
For example, when I was using Pickup Music, the forum was under maintenance for the whole duration. Additionally, I had trouble downloading some of the lesson material.
This was a shame because the sense of community was something that was very emphasized and I was very excited about it.
Pickup Music is a relatively new and rapidly growing website, so we can expect some of these technical hitches as they expand.
Whilst I'd be lying if I said I wasn't a little bit disappointed by missing out on this aspect of the platform, it didn't detract from any of the pros I mentioned.
Who Pickup Music is for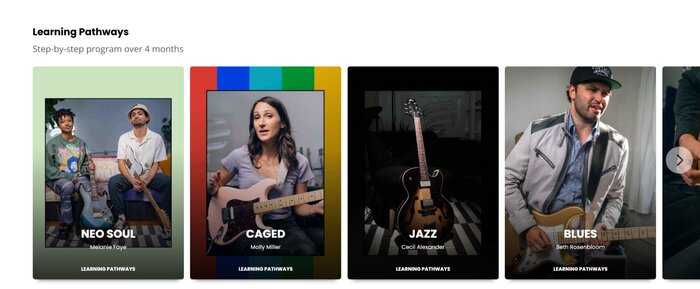 Pickup Music is really for everybody interested in guitar. If you're a beginner, the site is perfect to guide you along the first steps of your journey. But there is also plenty to learn if you're a more advanced guitarist.
Nevertheless, there are some specific groups that I feel could benefit from Pickup Music:
Complete novices looking to comprehensively develop their skills
Beginners and intermediates who are looking to branch out into new playing styles
Anyone interested in newer genres of guitar playing, such as contemporary jazz and neo-soul
Guitarists who want in-depth learning pathways that will gradually increase their skill level
Guitarists looking to dip into shorter lessons and masterclasses when they feel like it
People who enjoy having a sense of community when they learn, through forums and live Q and A's
Can I buy Pickup Music as a gift?
Pickup Music is available as a gift. In fact, it's a great gift idea for a friend or family member.
You are able to gift the Annual subscription to anyone you like.
Tips to find great courses on Pickup Music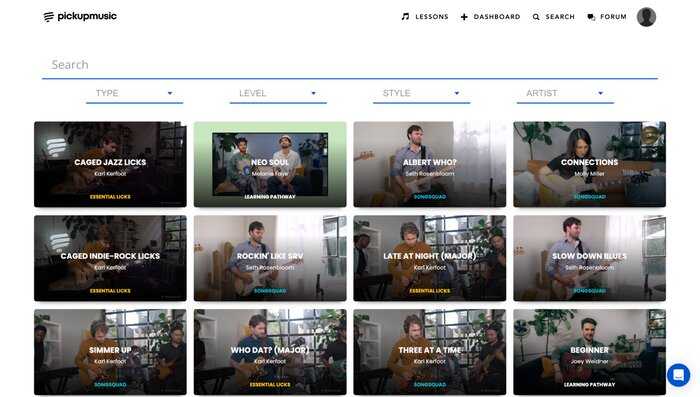 Pickup Music is full of great courses. But with so much on offer, finding the right class for you might feel a bit daunting.
Luckily, one of the key strengths of Pickup Music is how easy their website is to navigate.
Once you've signed up for an account, you'll be taken through to a series of videos featuring Sam Blakelock.
Sam will explain all the key details of the platform, and then ask you to choose whether you are a complete beginner, beginner, intermediate or advanced guitar player.
Based on this, Pickup Music will provide you with a learning pathway that best suits your description. So Pickup Music literally chooses a course catered to your ability.
However, you're not obliged to take this pathway. There are several other options for finding great courses on Pickup Music.
There are two main ways to find courses on Pickup Music:
Both are links that appear on the top right hand of the dashboard.
Lessons will show you all the different lesson types on offer, including:
Bootcamps
Masterclass
Songsquad
Essential Licks
Artist Toolkit
5 Minute Lessons
You can choose from any one of these as a starting place with Pickup Music. And you can pick and choose between different lesson types to build the curriculum that suits you best.
However, perhaps the best way to find courses on Pickup Music is through the search tab.
Here, you can find different courses according to their lesson type. However, you can also organize courses based on skill level, genre and instructor.
For example, if you're a beginner looking for a Masterclass on Jazz, or an intermediate who wants a 5-minute lesson on soloing with modes, the search tab is the place to go.
Is Pickup Music legit?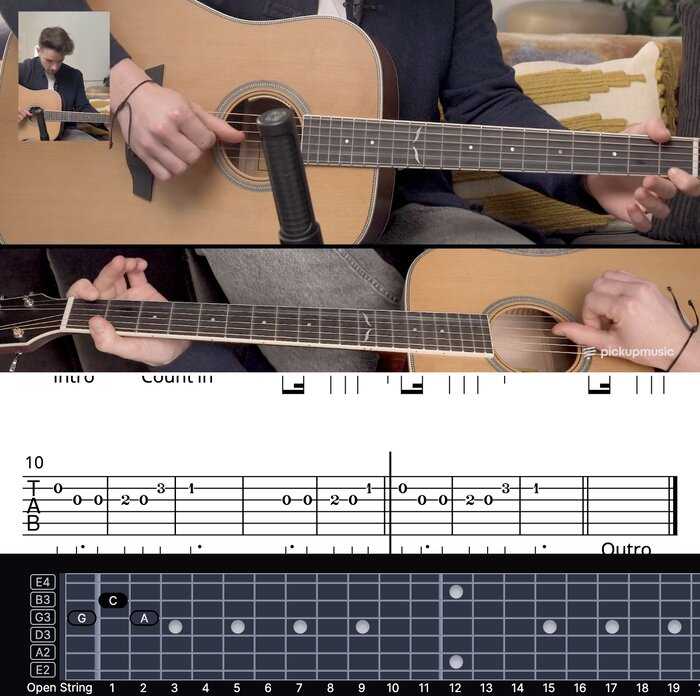 It's often the case that these online platforms feel too good to be true. But I can assure you that Pickup Music is a legit site.
Of course, this doesn't mean it's for everyone. However, with 20,000 users and a brand that has 1 million followers on Instagram, it's clear that Pickup Music has helped lots of people.
I've spent a long time using Pickup Music and can confirm that the site is completely valid as a music platform. There are no lies or misleading to be seen here.
If you don't believe me, check out the comments under the lessons. These confirm that lots of people have benefited from Pickup Music.
Pickup Music alternatives
I've sung the praises of Pickup Music so far. But that doesn't mean it's for everyone. Below are some other online options that focus on teaching the guitar.
People have very different objectives when it comes to learning instruments. So one of these options might be a better fit for you than Pickup Music.
As part of a music e-learning family that also includes Drumeo, Singeo and Pianote, Guitareo is a wonderful option to consider if you prefer the learning pathway style of teaching
Guiatreo has a Method based on goals, where you can start as a beginner. From here you can continuously progress with your guitar journey, delving into different styles, topics and techniques.
There are also 500+ songs available to learn on the site and a 5-day boot camp where the aim is to learn songs fast.
Guitareo posts regular content up on Youtube, so you can check those videos out if you're interested in purchasing a membership.
Other websites expand beyond one discipline to include courses for a range of different skills and trades.
Platforms like Udemy have been dominating the e-learning game, and their guitar courses certainly don't let them down.
With Udemy, you purchase courses individually. Disciplines offered on Udemy range from cooking to coding, design to dance and maths to, of course, music.
Udemy has a range of guitar options on offer. Some of the most popular include Henry Olsen's Ultimate Beginner Guitar Masterclass and Michael Palmisano's Professional Guitar MasterClass.
TrueFire was founded way back in the 1990s, so their instructors know a thing or two about teaching guitar online.
Among the guitar community, this site is known for offering courses that can go in-depth and technical with the concepts they approach. This is definitely a good option to consider if you're a more advanced guitar player.
Another cool thing about TrueFire is that you can purchase courses individually. So if you aren't sure about the whole platform, but like the look of a specific teacher or idea, that's another option.
You can also check out our article: Best online guitar lessons.
Pickup Music – What others have said
In order to make this the most balanced review possible, I scoured the internet, searching for what users of Pickup Music and those in the guitar community had to say about the platform.
I have to admit, I didn't find much. This is probably because Pickup Music is a relatively new and growing site.
Some guitarists didn't have much to say about Pickup Music, but were just generally cautious about learning online:
"It depends on level I would guess. Pickup music may be a good place to start as beginner. I say may be a good place because (1)not everyone can learn with online lessons (some need an actual teacher or could do well with a group lesson). (2) a teacher can watch and hear you play and give feedback that could be invaluable. I am old and started a long time ago but can't imagine trying to learn without exposure to an actual teacher. I used to jam with my teacher all the time." - Reddit commenter 
I am a little skeptical of this mindset. It seems to me, from both my own experience of online guitar websites, as well as comments from others that this mindset is a little outdated.
It is entirely possible to learn from an online teacher. Ultimately, it depends on what you're looking to learn.
With that said, online lessons indeed require a degree of self-motivation. One commenter suggested that if you can motivate yourself, Pickup Music is a good place to learn:
"I like them a lot! You have to be very self motivated to get value from it, they don't have a "magic method" or anything, but they do have a buffet sample pack from a huge number of incredibly talented artists. Their master classes were a little too short and unstructured for my tastes, but the last few months they've been making "boot camps" that are deep dives, and I really dig those." - Reddit commenter 
I would agree that any online teaching requires a degree of self-motivation. However, I would say that, for me, the shorter Masterclasses are an asset. It helps diversify what's on offer and makes Pickup Music accessible to a wider audience.
All the other comments I found shared my appreciation of Pickup Music's different lesson styles, and the overall quality of the site:
"I have it and it's worth every penny, I use it frequently and always find the lessons / instructors to be top of the line!" - Reddit commenter 
Evaluating Pickup Music
Features: Unlimited access to all courses including bootcamps, pathways and shorter lessons, downloadable resources, live Q&As and events.
Content quality: Extremely high with a range of resources and materials including sheet music and diagrams, as well as concise and engaging video lessons with a high production value.
Content breadth: 7 different types of lessons, covering 19 different styles of music, with lessons aimed at everyone from complete beginners to advanced guitarists.
Teachers: Over 100 top-quality teachers, all of whom have years of experience both teaching and playing the guitar.
Supporting materials: Downloadable guides to assist the lessons, which include sheet music and diagrams.
Payments & refunds: You can pay for your subscription monthly, which will cost you $14.99 per month. You can also pay for your subscription annually. This will cost $149.99 per year. There are no refunds available, however, there is a 14-day free trial.
Support: https://help.pickupmusic.com/en/
How to open a Pickup Music account
Opening a Pickup Music account is very straightforward.
Click here to go to Pickup Music (or on any of our links)
Enter your email address and a secure password.
Enter your payment details; you will be automatically eligible for the 14-day free trial.
Is Pickup Music worth it?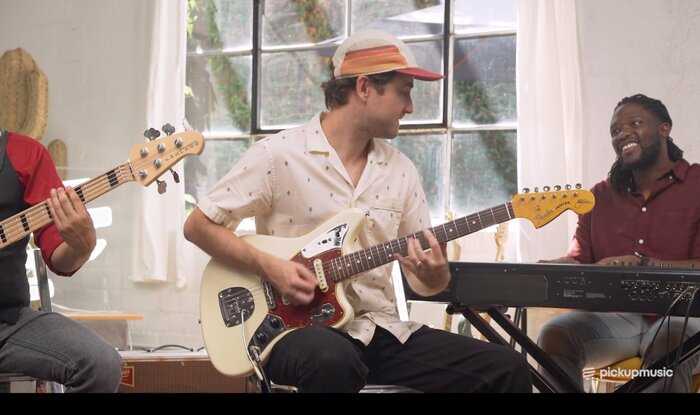 If you want to learn guitar, Pickup Music is definitely worth it. In my opinion, it is the best place to learn guitar online.
When looking for the ideal place to learn an instrument, what are you looking for? For me, its top quality instructors, a range of content and a chance to engage with the community
Pickup Music has all of this and more.
The range of lessons is absolutely massive, with different genres, skills and even advice on how to be a professional guitarist. The courses themselves are taught by expert instructors, with a range of materials to help you make the most of the site.
The cherry on the cake is that Pickup Music is incredibly engaging. From individual feedback, to live Q&As, there are so many ways for you to feel like you're part of a community.
Of course, this is all very subjective and you might not agree with me. But don't forget Pickup Music has a 14-day free trial.
So give it a go for yourself. I doubt you'll be disappointed. 
Related article: Guitar Zoom review
Pickup Music – Frequently asked questions
How much does Pickup Music cost?
You can pay for your subscription monthly, which will cost you $14.99 per month. You can also pay for your subscription annually. This will cost $149.99 per year 
Does Pickup Music have a refund policy?
Pickup Music does not offer a refund policy. If you cancel before the day your membership is set to renew, you'll have access to the membership until that day. 
How many courses are there on Pickup Music?
Pickup Music has over six learning pathways, over six bootcamps, over forty-four masterclasses and hundreds of shorter lessons.
Does Pickup Music have a free trial?
Yes, Pickup Music has a fourteen-day free trial. 
Does Pickup Music give certificates?
Pickup Music does not give out certificates. 
What languages is Pickup Music available in?
Pickup Music is available in English.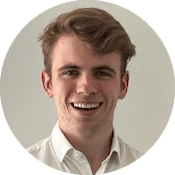 Charlie is a student reading politics at King's College London. He is also a passionate musician with over 14 years of experience. In his free time, he also enjoys cinema, long-distance running and learning new things.