The guitar has got to be one of the coolest instruments of all time.
A central part of modern music, it's no wonder everybody seems to want to learn it. And of the sites offering guitar lessons, TrueFire massively stands out.
TrueFire offers hundreds of courses, aimed at all genres and styles of learning, taught by leading instrumentalists from around the world. This is exciting, but the scope of the site makes it difficult to know whether or not this is the right learning tool for you.
That's why I'm here to help.
I've been fascinated by the guitar for ages but, aside from a few lessons in school, I've never found the time to truly learn it. So, I've spent some time properly exploring everything TrueFire has to offer.
In this TrueFire review, I'll be covering everything you need to know about TrueFire, including what you'll learn, my favorite bits, who it's for, how much it costs, any refunds or free trials and, of course…
Whether or not TrueFire is worth it.
Here's a little summary if you're short on time:
.
Quick summary
Pros
An incredible range of courses touching on everything you can think of
A breadth of tools to help you progress when playing along with your instructor
Helpful resources, such as sheet music and diagrams, which you can download
Classes led by the top instructors of the instrument, who are all engaging
Lesson styles vary to keep the courses exciting, with performance demonstrations
Something for everyone interested in guitar
Cons
The organization of the website and individual courses could have more focus
Could delve into certain topics with more depth, such as theory and rhythm
Best for: Anyone with an interest in guitar. With so many courses you are bound to find something for yourself.
Overall: I adored so many aspects of this site. Every lesson I took was well-paced, methodical and truly felt like I learnt something each time I logged on. I was also impressed with the resources provided beyond the lessons including sheet music, diagrams and tools to help practice. If one of my only criticisms is that this site has so many courses it doesn't quite know how to organize them, then TrueFire must be a pretty great place to get to grips with guitar.
In this review I'll be covering:
All about TrueFire
My review of three TrueFire Courses
What I liked about this platform and think could be improved
Who I think this platform is for
The cost and any potential alternatives and most importantly…
Is TrueFire worth it?
What is TrueFire?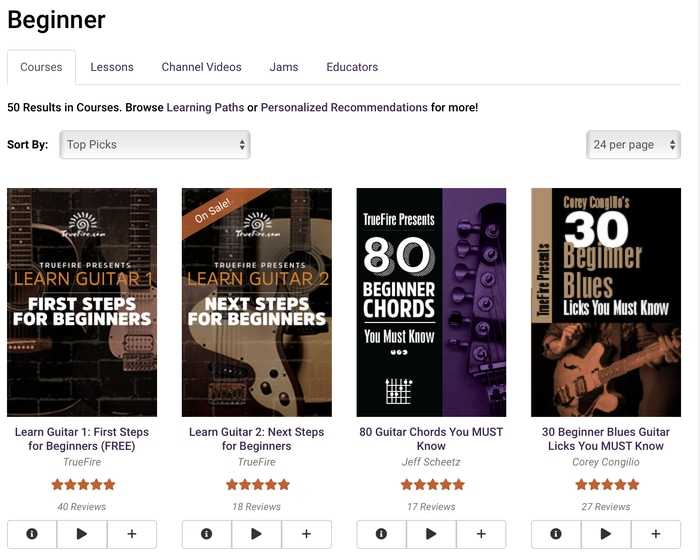 A little older than most online music learning platforms, TrueFire was founded back in 1991. Since then, it's been growing and growing, right up until today, and is now one of the largest online learning sites for music.
Over 600 educators have gone on to join TrueFire, passing on their information to some 2 million eager guitar learners. These instructors include some of the biggest names in the instrument: Grammy winners, session musicians, technical titans and all-round virtuosos.
The course library now includes over 50,000 video guitar lessons taught by these legends. These are aimed at teaching a range of genres, styles and techniques to students from beginner, intermediate and advanced backgrounds.
The success of TrueFire seems to speak for itself, but if you're not sure, just ask the company how many awards they've won (hint: it's over 70!)
How does TrueFire work?
There is a 14-day free trial with TrueFire that gives you access to every course. If you like what you see, you can continue to access all the content with a paid membership. Courses are also sold individually for a separate price.
Once you've purchased your membership, you have access to everything TrueFire has to offer. This includes specific learning paths which include:
Jazz
Acoustic
Blues
Country
Rock
Bass
These learning paths consist of core and supplementary courses, each divided into levels of ability, such as beginner, intermediate and advanced.
Alternatively, you can select a course yourself and build your programme, by searching for a keyword that interests you. You're spoiled for choice.
If you see something you like, you can select and enrol in the course. These are normally several video lessons led by an accomplished instructor.
You can go through each course at your own pace, and they'll typically be divided into different types of lessons. For example, one lesson might be breaking down a musical idea, and the following will be a performance of that idea by your instructor (which you're encouraged to play along to).
There is also TrueFire cash. This is where anytime you purchase a course you receive what is called TrueFire cash. This can then be used for up to 25% off any course and other items.
What is a lesson like?
Given the number of courses, there isn't really a typical lesson on TrueFire. However, there are some common themes among the classes.
Most classes will open with an introduction of a new concept related to the guitar. For example, a new chord progression, strumming pattern or improvisational tip.
The instructor will explain the concept, and normally the steps you can take to play it. This is usually followed by a demonstration lesson, where the instructor will play a quick song that incorporates what's been taught, usually with a backing track.
There are lots of tools to help you play along with these lessons, including the ability to loop a difficult part, slow down the tempo or add a metronome.
My review of 3 classes
As you can probably tell, TrueFire has an incredible library of lessons and courses. If I had taken them all, this review would be never-ending.
Instead, to keep the review short, sweet and snappy, I took classes from what I consider to be beginner, intermediate and advanced levels of playing.
This means, no matter which playing level you're at, you can get a sense of whether this is the right platform for you.
Again, I should stress that each course covers a different topic, and will be taught by a different instructor, so there is a very big variance. But in every course I took, there are some excellent points, and some points that could be improved.
Learn Guitar One: First Step For Beginners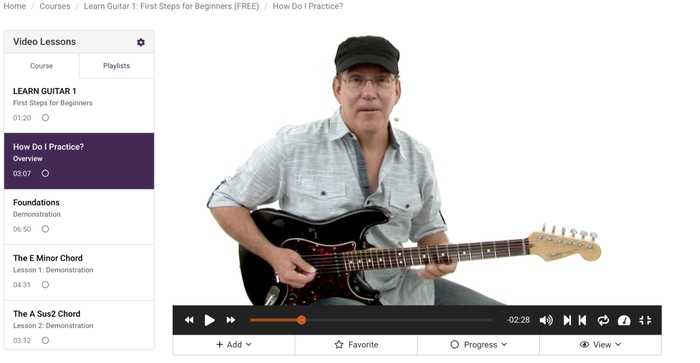 This is the course that TrueFire directs its beginners to start with, and that makes a lot of sense. Not only because of the name but because of the content as well.
I know a couple of chords on the guitar, but I would still consider myself a beginner, so this felt like a very comfortable start. And it did not disappoint.
This course touched on all the main points that I feel are essential to starting a new instrument.
Let's take a look at what's involved.
You will learn:
The essentials, like frets, strumming and numbering your strings
The E minor chord and the Asus2 chord
How to strum whole notes and quarter notes
How to practice fast, slow and with a band
The E, A and D major chords
Chord changes and switching between chords
How to approach learning songs, and a few tracks based on classic hits
Pros:
A very cool, warm and engaging teacher who walks you through everything
Excellent visual breakdown with the teacher explaining, his strumming patterns and the notes he's playing
Includes lots of resources, such as sheet music
Encouragement of practice and incorporation of tools to help, including looping, changing the tempo and adding a metronome
The opportunity for beginners to play new songs with a band backing track
Methodically builds in difficulty, so you will see progress
Cons:
Could delve into theory more
Little focus on getting the right rhythm in practice sessions
Length of Course: 34 video lessons, varying in time between 5-6 minute taught lessons and 1-2 minute practice sessions.
Best for: There seems to be a little bit of an impression that TrueFire is not exactly designed for novices. But based on this course I don't think that's true at all. I believe that if you've never touched a guitar before, but have an interest in learning, then this course is for you. There is no background knowledge required; you can just jump in and give it a go.
Overall: I was very impressed by this course. It can be hard to find the right balance between helping people feel comfortable and making sure they progress when they are learning something new, but TrueFire struck it just right. Not only will you get a strong foundation in the mechanics of the guitar, including chords, strumming patterns and chord changes but you also have the opportunity to apply these concepts to real musical situations, using all tools TrueFire have on offer to help you practice.
Chord Moves And Grooves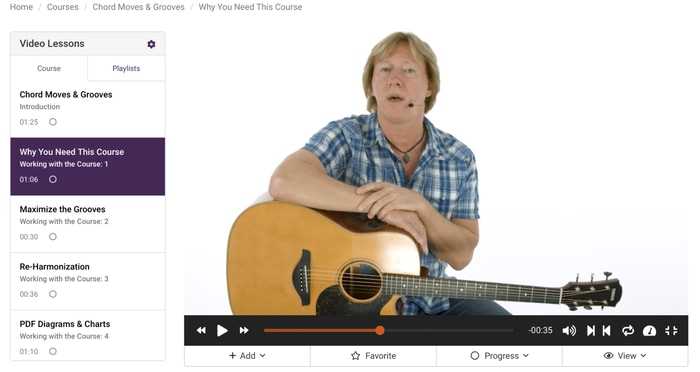 It was a little tricky to pick an intermediate course, simply because the category is so broad and TrueFire has so much to offer.
I chose this one because it seemed to be quite a natural follow-up on some of the more definitively beginner-orientated courses on the site.
This course, led by Robbie Calvo, is all about developing your ability with the rhythm guitar, teaching you specific chord progressions, patterns and grooves that you can go on to apply to your playing.
You will learn:
Specific major chord movements and grooves
Specific minor chord movements and grooves
How to build dexterity with your fingers when playing more challenging chords
How to apply what you've learnt to write your own melodies and songs
The appropriate use of the capo
How to employ specific techniques such as muting and fingerpicking
Pros:
Teaches you very specific grooves that you can instantly practice and apply to your playing
Provides you with a plethora of musical ideas and encourages you to experiment with them
Touches on the gear used, which all guitarists love to talk about
Directly and methodically breaks down the rhythm and progression of what's been taught
Touches on musical theory, which can be quite rare for guitar lessons, and encourages general musical ideas, like resolving your chords
Cons:
Very specific;some learners might prefer a broader overview of rhythm guitar
Length of Course: 59 video lessons including 1-minute demonstrations of a new groove and a 5-6 minute breakdown of how it is played
Best for: Late beginners. If you're getting familiar and comfortable with open chords and strumming from the beginner course, but feel like more challenging concepts like bar chords are a bit difficult, this is a great place to develop. Also excellent for composers and singer-songwriters looking for compositional ideas.
Overall: I learnt so much from this course. There was no beating around the bush. Robbie Calvo dived right into teaching each new groove so that by the end you have 20-30 solid chord moves and grooves within your repertoire. He then encourages you to experiment, play around with what you've learnt and make it your own. In a world where so much music feels identical, courses like this are essential for ensuring new learners have creative and new ideas to explore. Simple, but effective.
The Nature of Guitar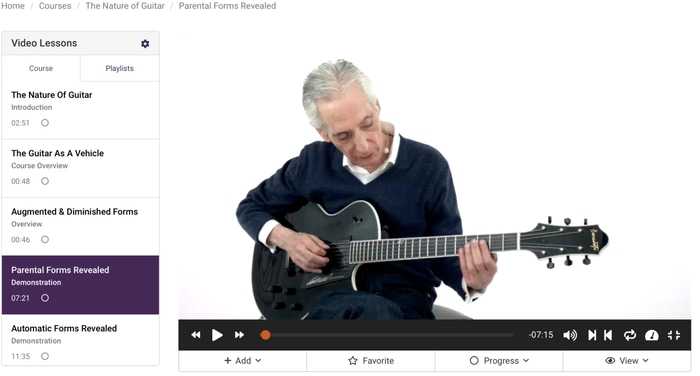 I am certainly not an advanced guitar player. But it only seemed fair that as I've covered intermediate and beginner reviews, that I let the advanced players know what's on offer for them.
This course is led by Pat Martino, a legend in jazz guitar. Unlike the preceding courses, there is no ambiguity about what category this course is. It was very hard!
But, with most online platforms marketing themselves to beginners, it was refreshing to see something go so in-depth around more advanced playing.
You will learn:
Parental and augmented forms of guitar
Pat Martino's philosophical insights into playing
Vertical structures within the guitar
Linear patterns
A geometric way of understanding scales and notation
Martino's approach to comping and composition
The way Pat Martino understands the blues and rhythm changes
Applying diatonic scales to the whole alphabet, and composing using words (this was cool!)
Pros:
Philosophical insight from one of the world's leading players
A combination of teaching styles including interviews, explanations and performances/demonstrations
Helpful resources including diagrams and sheet music
Very specific detail about unique musical concepts
The opportunity to see Martino play
Delves into the psychological, mathematical and theoretical components of music
Cons:
Martino uses quite a lot of jargon meaning the point can get lost
Organization could've been better e.g. short video lessons could've been combined (though some learners may prefer bite-sized classes)
Length of Course: 84 video lessons ranging between 1 and 24 minutes.
Best for: You'll probably need to be playing for a while to get anything out of the course, so it's ideal if you have a few years' experience with guitar. This is particularly useful for jazz guitarists who want to get really into music theory behind the playing, especially about composition and improvisation.
Overall: It would be a lie to say that quite a lot of this course didn't go over my head. My knowledge of jazz guitar is minimal, so I had to rely on my music theory memory to pull me through. Even so, this was one of the best music classes I've ever taken online. It approached rapidly new concepts with confidence, combining different methods of teaching to get the full effect, and truly grappled with the philosophical reasons for why music is performed most courses will choose to ignore.

What I liked about TrueFire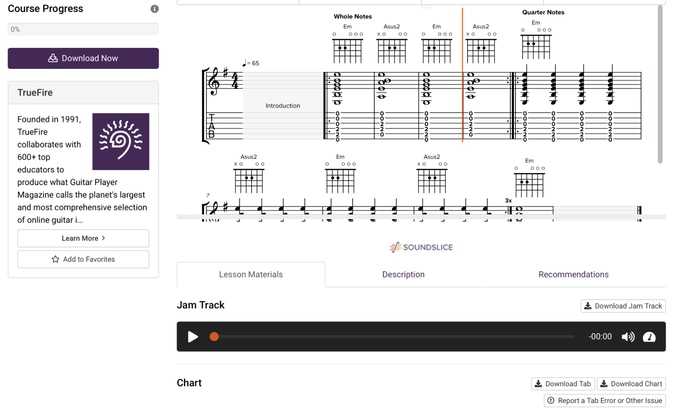 An Incredible Range of Courses
What immediately struck me about the site was the massive range of courses I saw when I first signed up.
This site has literally everything imaginable, and I honestly believe that given the extent of classes available, it genuinely can teach you everything you could want to know about the guitar.
This applies to different skill levels, which is quite rare when it comes to sites like this. Most sites tend to market themselves towards beginners because these are the consumers who are most likely to seek online ways of learning guitar. Given this, an intermediate or even an advanced player might feel like there isn't much out there for them.
TrueFire bucks this trend.
Whilst beginners are certainly welcome, and this is a great place to start, once you feel like you're a comfortable guitar player, there is no reason to cancel your membership. Music is a constantly improving skill where perfection doesn't really apply. And given the extent of topics covered on TrueFire, you are bound to find something new that will help your playing.
On top of this, the site tackles the main genres of guitar (blues/rock/acoustic) whilst also giving equal recognition and lesson time to more niche topics, such as jazz and classical guitar.
I suppose, considering TrueFires age, the amount of courses they have is hardly a surprise. But I was still shocked at just how much was on offer here. It's almost to the point where it feels like there is too much to organise succinctly, but we'll get to that.
And, as I said, a criticism which is more or less "you're teaching too much" just proves the quality of the site.
Great Teaching Styles and Content, Led by Top Instructors
Having a lot to offer in terms of teaching is important, but it isn't the be-all and end-all. I could offer double the number of courses TrueFire does, but they'd all be very useless when it comes to helping students.
You need to have the content to back it up.
Thankfully, TrueFire does that.
Through browsing the courses on offer, and taking a few classes myself, it's clear TrueFire takes the content of what they offer very seriously. This means that every course will give you an exact description of what you will learn.
This is important as most people use platforms like this as a faster means of learning an instrument on their own time, so you need to have specific content that will help players progress.
Not only does the range of topics mean that every course can focus on very specific and incremental details of the guitar, but the courses I took were all put together in a way that helped me methodically accumulate knowledge as I went through each lesson.
But content is only part of the picture. For it to be worth anything, TrueFire needs to be able to also communicate new concepts effectively.
Thankfully, they have a range of world-class instructors to help them do just that. The teachers leading TrueFire classes are not only excellent players, but they are great communicators.
A lot of platforms these days advocate for a self-led, video game-style of learning, which is a fascinating concept. But I think there is something to be said for having an actual instructor alk you through everything, especially if you are approaching a new concept or even a new instrument.
Even little things like splitting up the video screen to show the instructor's hand when strumming and their other hand on the fretboard, are important when it comes to making sure people get value for money with what they learn.
Useful Tools And Resources
When you are learning an instrument, you don't just rock up for a 30-minute lesson and then forget about it for the rest of the week.
Well, you can do that, but you probably won't get very far.
Learning an instrument is just as much about practice as it is anything else. But if you're a total novice or even an experienced player, this can be a hard thing to approach, especially when there are bound to be other priorities in your life.
So, if TrueFire wants their learners to truly develop as musicians, they must facilitate practice.
One way they do this is through the tools at their disposal from new technology. Courses will be broken up between explanation lessons and demonstration lessons, the latter consist of more playing and less speaking from the instructor.
You are encouraged to play along with these sessions, and TrueFire gives you various tools to help you out. This includes the ability to add a metronome, slow the tempo down, read the music either as sheet notation, chord symbols or notes on the piano, and looping difficult passages of music.
This means that whileyou're still practicing and developing at your own pace, you have a tonne of tricks at your disposal to help you out. This is also useful because we all develop abilities in different ways and at different times.
So, someone who struggles with time might add a metronome to their practice, whereas someone else might be alright with playing in time, but can use the loop function for a certain passage they find difficult.
On top of this, there are also downloadable resources with each course, which can include diagrams and sheet music of different kinds of notation.
But the best thing TrueFire does is encourage individual practice. This encouragement was included in the first class I took on the site and landed TrueFire straight into my good books.
Other Cool Features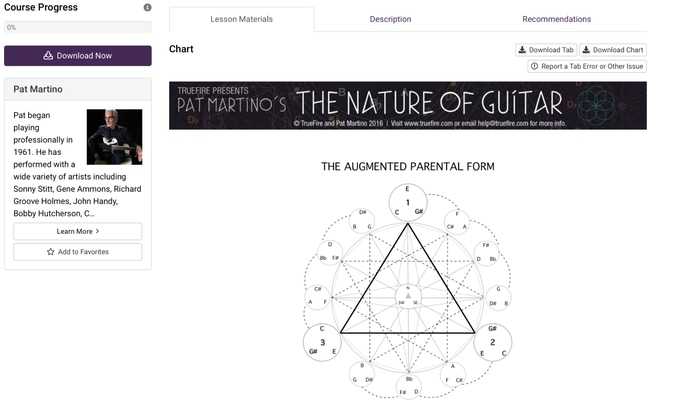 If you're reading this, it's most likely that you're interested in learning the specific courses TrueFire has to offer.
But it is worth mentioning the other items available on the site.
For example, TrueFire Jams allows you to get properly involved with playing and to jam along with the tracks TruFire has on offer.
There are also channels, led by a specific instructor, where you can get involved with the teacher and explore all of their content in one place, and a forum for discussion.
What could be improved?
Organisation And Structure
Although I was a big fan of the content and overall style of TrueFire, I do feel that it could've been better organised.
Quite a lot of other sites will have a specific method that they encourage their students to follow, especially if they are beginners, and from there you can branch out to learning specific songs or concepts. Whilst TrueFire does have the pathways I mentioned, these are more like compilations of other courses on the site that have been pulled together.
The content on TrueFire does feel disjointed. This is partly because the number of courses on there is so overwhelming. I didn't quite know where to look to find something that was directly geared to what I wanted to learn.
If you're a beginner, this would probably be quite overwhelming.
Part of the problem is just how the webpage is but together, and maybe this is quite subjective. Other people might not have a problem with how everything is structured.
But even within the courses themselves, I felt there were quite evident organisational problems.
Some lessons aree about 30 seconds long, and I'm not quite sure why these couldn't be put into longer videos, especially when they cover the same theme. It's a nitpick, but it just saves the time of clicking and loading the next video.
On top of that, some lessons felt very out of place. This was most evident in the Pat Martino course. So one topic might be covered at the start of a course, and then readdressed at the end, with a completely different topic in the middle.
As I say, this is quite a specific issue, and it might not bother you at all. But for me, learning an instrument is a comprehensive and methodical process. It's about building on what you know rather than jumping to different topics, and I just feel my experience would have been enhanced if that reflected in how TrueFire was put together.
Could Delve Into Certain Topics More
This is a very tiny, very specific point relating to the beginner and intermediate course I had a look at.
As I say, I'm a massive fan of the devotion TrueFire has to its content, and I'm sure that there are courses on the site I haven't checked out that delve into these topics in a lot more detail.
But as a point of introduction, I just believe there could've been more of an emphasis on rhythm and musical theory in the beginner and intermediate lessons. Having played music with guitarists of all abilities, these seem to be two topics they struggle with.
I suppose part of the problem is the guitar is a chord centred instrument. So rhythm and specific notation aren't given as much weight as learning specific chord patterns. However, this can mean that most guitarists have to go back and learn techniques like their scales, or getting comfortable playing in time.
It's not really fair to critique TrueFire on what they didn't teach, and I know I should focus on what was on offer. I just wanted to make the point that if you are gonna start your guitar journey with TrueFire, make sure you try and nip things like music theory in the bud by taking classes in them at the start.
You'll thank me later.
Who is TrueFire for?
Anybody who wants to learn more about the guitar. With so many courses on offer, there is something for everyone.
Some might say that TrueFire might not be the best place to start for beginners given that most of the courses are aimed at a more advanced audience, and have specific rather than general teaching criteria that won't be of as much interest to a novice.
But as something of a beginner with the guitar myself, I'd have to profoundly disagree. I loved my time with this site.
A list of more specific and niche groups who I'm sure would gain something from TrueFire might include:
Guitarists comfortable with the instrument who want to get into a specific style of playing, such as blues or classical
Experienced players looking to hone in on a weak point of their playing, for example, a technique like fingerpicking
Musicians who struggle to find helpful resources to practice with
Advanced players who want to immerse themselves in more challenging concepts
Musicians from other disciplines who want to understand more about the guitar
How much does TrueFire cost?
Unlike quite a few music sites, TrueFire does offer the opportunity to purchase courses one-off and individually. The prices of these can vary, typically based on the length of the course and the instructor. They can be anywhere between $10 and $60.
If you find that there are loads of courses that pique your interest (which will probably be the case), then you can consider a subscription.
There are a few options for this:
The monthly plan: This costs $29 per month and gets you access to all the content available
The yearly plan: To purchase annually would cost you $149, and gets you access to the same content as the monthly plan
The lifetime plan: You can purchase every course on TrueFire at once, for $1499
Free trial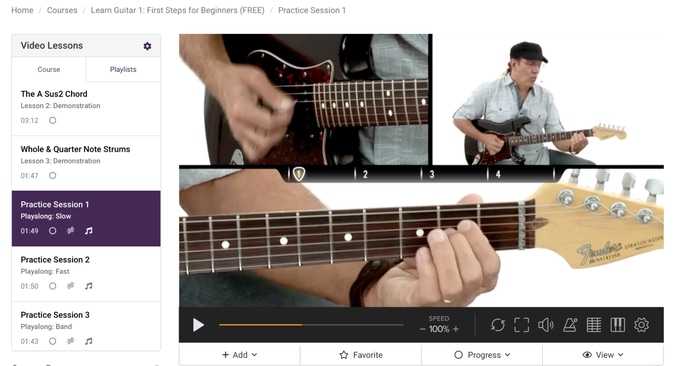 There is a free trial available.
For 14-days you have access to all the content on TrueFire.
You also get $10 TrueFire cash. This is where anytime you purchase a course you get some many back in TrueFire cash. This can then be used for up to 25% off any course and other items.
That's quite a lot of information, and cost can be a daunting aspect that affects what you think about a certain product.
My advice?
Take the free trial and see what you think.
If you like what you get and want more, between the monthly or yearly plan the latter definitely provides better money for value ($149/12=$12.41 vs the $29 per month plan).
Refund
TrueFire does operate a refund policy.
If you are unsatisfied with any purchase, you can contact TrueFire within 14 days of delivery and request an exchange, credit or refund at the purchase price.
TrueFire claims to be committed to their customers' satisfaction and as a result, operates this money-back guarantee.
Alternatives
The guitar has been integral to the development of modern music. Whether it's The Beatles conquering America, Jimmy Page rocking out with Led Zeppelin or Taylor Swift playing to a crowd of millions, it's no wonder more and more people are starting to pick up this instrument.
And with the dawn of the internet, that task is easier than ever. So if you see yourself up on stage with a six-string, but don't actually know how to play, now is a better time than ever to get started.
But which site do you choose?
You can check out our Best Online Guitar Lessons Review which rates the best 10 courses and classes of 2023.
But if you're short on time, here's a few other choices:
Pickup Music is a great place to learn guitar online, and probably one the best music platforms I've reviewed. Anybody with an interest in guitar will gain something from this site. There is a massive range of courses catering to different skills and interests, but each lesson is consistently informative, engaging and helpful.
As part of a music e-learning family that also includes Drumeo, Singeo and Pianote, Guitareo is a wonderful site to consider if you're into a very methodical way of learning.
The site has a method based on goals, where you can start as a beginner. From here you can continuously progress with your guitar journey, delving into different styles, topics and techniques.
There are also 500+ songs available to learn on the site, and a five-day boot camp where the aim is to learn songs fast.
Guitareo posts regular content up on YouTube, so you can check those videos out if you're interested in purchasing a membership.
FenderPlay is another site worth considering, especially if that name rings a bell to you. Fender is one of the world's most influential electric guitar manufacturers, so it was only a matter of time before they developed their take on online teaching.
There are thousands of songs available for you to learn, as well as over 3000 video lessons, weekly giveaways and a community of other learners you can join.
Preceding FenderPlay by about ten years is JamPlay. This much older site has over 7000 courses, with Rock Guitar For Beginners, The Art Of Versatility and Bluegrass Rhythm Survival Guide being among their most popular.
Whilst some sites devote all of their time and attention to guitar, others have to expand beyond one discipline to include courses for a range of different skills and trades.
Platforms like SkillShare and Udemy have been dominating the e-learning game, and their guitar courses certainly don't let them down.
Udemy has a range of guitar options on offer. Some of the most popular include Henry Olsen's Ultimate Beginner Guitar Masterclass and Michael Palmisano's Professional Guitar MasterClass.
Skillshare also has options for you, with Guitar Fundamentals: Learn Quick With Mike Boyd standing out.
If you're thinking "hmmm that's all cool, but I wanna be taught by a celebrity" then MasterClass has you covered. Music courses on MasterClass cover a range of topics, but when it comes to guitar, your best bet is Tom Morello's MasterClass.
And if you're looking to develop more than just your playing skills, you can also develop your writing, production and hustle skills on Soundfly.
What others have said
So, we've covered what's on offer, what it costs and how good it is. But it was all from my, admittedly narrow perspective.
When it comes to something as subjective and individualized as education, especially in terms of music, one opinion can only count for so much. So I've spent some time scouring the internet to see what others have said.
Now, guitarists are very passionate souls, who care very, very, very, deeply about their instrument and how it's taught. So, with such a big community of artists, you can never expect to have one reigning opinion.
Yet, from what I saw, the consensus around TrueFire was quite positive.
Some comments, although still generally praising what the platform offers, weren't overly enthusiastic.
"TrueFire has 40000 lessons available, from 600 instructors. With that many teachers, how can you not get conflicting advice? If you already know how to play, and can motivate yourself, it works well. But if you are a beginner, expect to be overwhelmed with the choices possible for lessons. It isn't a very friendly site for novice players, so it all depends on your current skill level." - Reddit commenter
I must say I don't entirely agree.
Conflicting advice doesn't seem like much of an issue to me. This is because learners will normally have an idea of what works for them, so it's kind of up to you who you listen to based on what has helped with your playing.
On top of that, I found the beginner courses to be entirely accommodating, and I don't think this is a bad place to start with the guitar at all.
However, I would say if beginners are going to struggle it is with being overwhelmed. I think this plays into my little critique of the site's structure, as it isn't massively intuitive if you don't know what to look for.
There was another comment that struck a chord with me (pun very much intended):
"TrueFire has great courses so I would start there. I personally wouldn't get all access though. It's an incredible value, but one cause can be extremely dense with material so I focus on one at a time. But maybe try all-access free trial so you can preview the courses before buying." - Reddit commenter
This is an interesting perspective. Although I agree that you should check out the free trial, I think that if you find any value in TrueFire courses it doesn't make much financial sense to not get a membership if you keep purchasing courses anyway, no matter how dense they are.
Finally, this comment I encountered genuinely shared my positive attitude to the site:
"Bought about 10 classes. Loved them so much, I later bought a 1-year subscription. This lets me watch (and download PDFs) every one of their classes whenever I want (I use their iPhone app). Don't know much about other sites but I'm in love with TrueFire. The teachers know their stuff and the tabs make it look very easy." - Reddit commenter 
This comment sums up all the positives of the site for me. The resources, the flexibility of the learning and the confidence of the teachers. So, it was nice to see my opinions affirmed.
I also think it goes to show that you can try a couple of courses and if you like what you get, consider a subscription. It's honestly quite hard to imagine someone taking one course and not wanting more.
An overall positive reception for TrueFire!
Is TrueFire worth it?
So, with all of the above considered, it's time to ask the big question:
Is TrueFire worth it?
The answer will always depend on what you're looking for, but if you are looking for a platform with a mass of courses, led by top-quality instructors with resources and tools to help you practice, the answer is a resounding yes.
I did have a bit of a problem with how the site and individual courses were organized, so if structure is an important aspect of how you learn this is an important thing to consider. Maybe browse around other sites before investing in a membership.
But in every other sense, I was beyond impressed by what was on offer from TrueFire. I felt like I progressed in what I knew about the guitar every time I took a class, which is honestly quite rare, even with in-person lessons.
This is probably because of all the site's assets. I felt like the instructors truly enjoyed their instrument and wanted to share that with me. The resources available definitely managed to enhance each lesson, and with so many courses, features and tools there is certainly something for every kind of learner.
So if you're interested in guitar, whether you have one or ten years of experience, why not check it out?
And with the free trial, you can do just that for 14 days without it costing a thing.
Frequently asked questions
How much does TrueFire cost?
A monthly plan with TrueFire will cost you $29 per month. Annual membership is $149 and it's $1499 for a lifetime membership.
Does TrueFire have a refund policy?
Yes, there is a refund policy. If you're dissatisfied with any aspect of your purchase you can contact TrueFire within 14 days of said purchase and they will fully refund you. 
How many courses are there on TrueFire?
There are over 600 courses in the TrueFire library. 
Does TrueFire have a free trial?
Yes, TrueFire operates a 14-day free trial.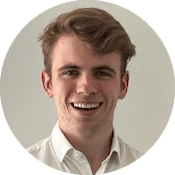 Charlie is a student reading politics at King's College London. He is also a passionate musician with over 14 years of experience. In his free time, he also enjoys cinema, long-distance running and learning new things.