Wondering what Guitar Tricks is, how it works, and if it's worth it? Then this Guitar Tricks review is for you.
Guitar Tricks boasts 11,000 video lessons, a song library with over 800 songs, tutorials for all types of guitarists led by some of the world's best guitar teachers and a range of additional resources (metronomes/tuners/chord finders and more).
But does Guitar Tricks live up to the hype? I'm a multi-instrumental musician with over a decade of experience and I've reviewed all major guitar learning platforms. In this Guitar Tricks review I'm going to tell you everything you need to know to help you decide if this is the right site for you.
I think Guitar Tricks deserves the recognition it has maintained for all these years. Despite a ton of new guitar learning platforms entering the scene, Guitar Tricks holds its own. But it's not necessarily for everyone.
In this review, I'll go into more detail on the pros and cons, how it works, what you can expect, the cost, alternatives, and more.
Before we dive in, here is the key info:
.
Quick summary
Features
Hundreds of lessons for beginner, intermediate and experienced guitarists
Song library with over 804 songs to choose from
Top quality instructors
Lessons feature in-depth descriptions and sheet and tab music alongside the main video tutorial
Toolbox including a chord finder, scale finder, tuner, metronome and more
A forum for sharing your progress with other guitarists
Free lessons
Pros
Huge range of content; the site can be used by guitarists of all stripes
Additional features which set the site apart and are perfect for personal practice
Easy to access and navigate for beginners
Vast song library; beginners can learn their favorite tunes from the get-go
High-quality content, with lessons including well-explained concepts from the best instructors
Contains free lessons for you to try before you buy
Cons
Interface could be updated
Video lessons are very brief, which can feel a bit jarring
Best for: One of the best things about Guitar Tricks is that it can be used by anyone! From people with absolutely no prior experience to guitarists wanting to hone their skills in a particular style or genre, everybody can find something on Guitar Tricks.
Overall: Although some newer competitors have come along to challenge its supremacy, Guitar Tricks is still worth checking out. It is set apart with its breadth of lessons that appeal to all types of guitarists, a toolbox of additional resources and leading instructors, each one a specialist in a particular style of playing. And with the free lessons on offer, you can check out Guitar Tricks without any cost and see if it's the right site for you.
In this detailed Guitar Tricks review, I'll be covering:
What Guitar Tricks is and who the instructors are
Costs, free trials and refunds
The best Guitar Tricks classes
The pros and cons of Guitar Tricks
Who Guitar Tricks is for
Gift certificates
Tips for finding great classes on Guitar Tricks
Guitar Tricks alternatives
What others have said about Guitar Tricks
How to open an account
Whether Guitar Tricks is worth it
And much more.
So let's get started!
What is Guitar Tricks?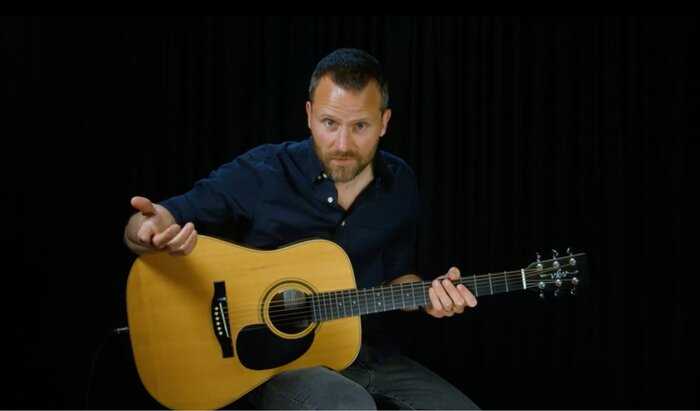 Guitar Tricks is an online subscription service and one of the oldest and most established guitar-learning sites on the internet.
Founded way back in 1998, Guitar Tricks has been growing ever since and has gone on to refine its teaching, recruiting some of the top instructors and expanding on its song and lesson library.
Currently, it's one of the biggest sites for online guitar lessons and still manages to make a name for itself after all these years despite some stiff competition.
Guitar Tricks combines guitar lessons from a range of styles and genres with a range of additional resources, including tutorials on how to play your favorite songs, forums to discuss your progress with other members and much more.
Who are the instructors?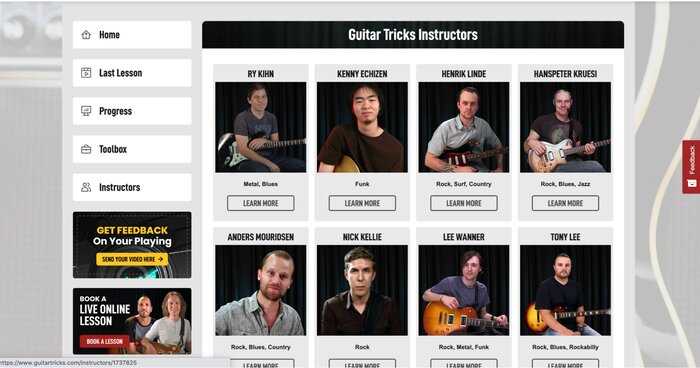 Guitar Tricks is very well established. Therefore, over the years, it has managed to hire some of the top guitar instructors out there.
You're really learning from the best with Guitar Tricks. Read some of the teacher's credentials below to see what I mean:
Tom Finch – A guitarist who has had ten years of studying at Mills College, Sonoma State University, and College of Marin. He has taught guitar for over two decades, specializing in blues and acoustic.
Ben Lindholm – Hailing from Sweden, Ben Lindolm was inspired to pick up the guitar when he was ten after watching Jimi Hendrix. He's the go-to guy if you want to learn how to shred.
Anders Mouridsen – Whilst Anders is Guitar Tricks' resident blues and country expert, he is also the teacher of the site's free beginner lessons. He has played with the likes of Taylor Swift and Pink.
Caren Armstrong – Caren has been teaching guitar ever since she was 13, and has been playing even longer. She teaches numerous styles but is especially renowned for her finger-picking and singer-songwriter lessons.
How does Guitar Tricks work?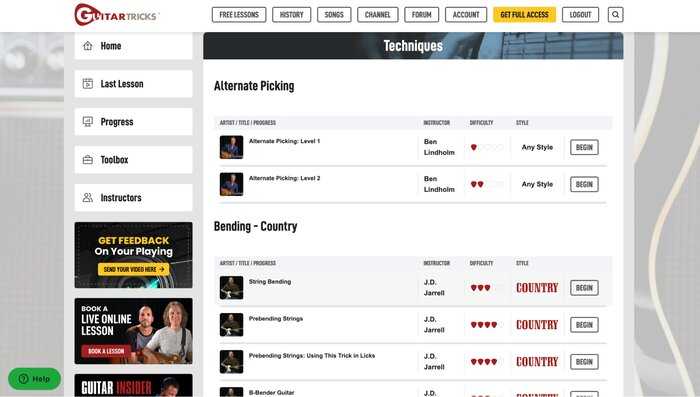 Guitar Tricks is designed to be used by total novices, so it's very easy to navigate.
The first thing you'll notice is that Guitar Tricks offers several Free Lessons. I recommend taking these, both to learn some fundamentals of the guitar as well as to see if you enjoy the Guitar Tricks teaching style.
Guitar Tricks also offers a Full Access subscription service where you can receive all of their lessons and resources for a monthly or yearly fee. Once you've signed up for Full Access, you're free to navigate the site.
Guitar Tricks lessons are divided into three main categories:
Beginner Lessons
Experienced Lessons
Song Library
Beginner Lessons focus on teaching you the absolute fundamentals of guitar, including tuning, simple chords, strumming and everything else you need to know.
Experienced Lessons focus more on different techniques, styles and genres as well as offering a variety of insider tips and tricks from professional guitarists.
Finally, there is the Song Library. Guitar Tricks offers tutorials of how to play over 800 songs from a massive range of artists and genres.
You are welcome to pick and choose courses from each of these categories. However, Guitar Tricks has devised a Core Method which it recommends for its beginners.
After taking the courses Guitar Fundamentals Level One and Guitar Fundamentals Level Two, you are invited to choose from a variety of courses including:
Blues Style Level One
Country Style Level One
Rock Style Level One
Acoustic Style Level One
After taking one of the above classes, the next course you're invited to take is Level Two of whatever style you chose. This allows beginners to get a core grounding in guitar before going deeper with the genre they're interested in.
Guitar Tricks also offers a variety of additional resources including a tuner, chord finder, sheet music notation and much more.
How much does Guitar Tricks cost?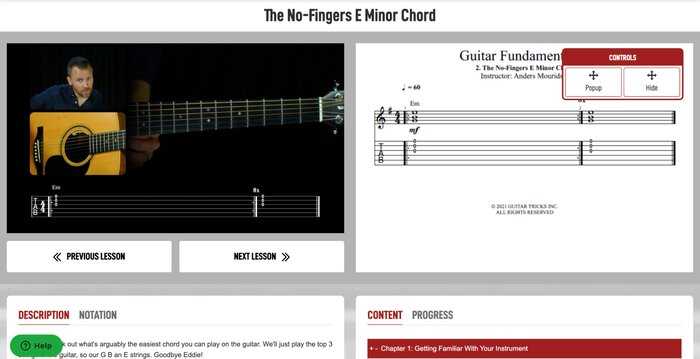 There are two main options when it comes to paying for Guitar Tricks.
The first is to pay month-to-month, costing you $19.95 per month. The second is paying for your membership annually, which will cost you $179.00 per year.
It should be noted that the annual option is not only 25% cheaper than the monthly option. It also includes 4 bonus courses that you won't be able to access with the monthly course.
You should also consider just how much content you'll be able to access with both of these options and that the skills you'll learn will stay with you for life.
Guitar Tricks free trial
Guitar Tricks does not have a free trial where you can access all of the content for a specific period for free.
However, it does offer a wide range of free lessons. These lessons cover both technical aspects of the guitar, like tuning and strumming, genres from blues to rock and more general lessons like practice routines and singing and playing.
With this range of subjects, taking the free lessons on offer will give you a good sense of whether or not Guitar Tricks is right for you.
What a lesson is like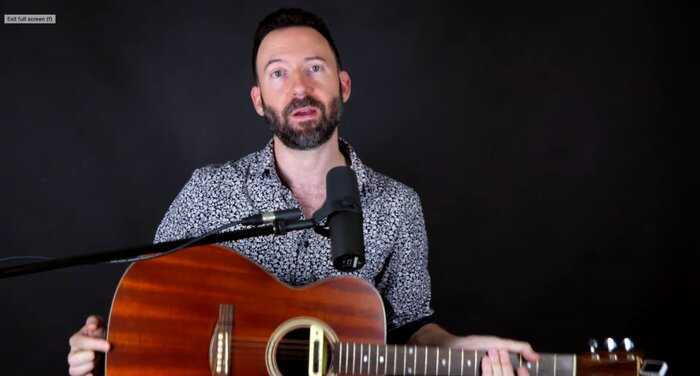 Because of the range of styles, genres and techniques covered on the site, no one lesson is the same. However, there are a few features common to Guitar Tricks classes:
Lessons are typically taught by a single instructor with an accompanying guitar
You'll be introduced to a new concept which will be demonstrated by your teacher
The demonstration will be shown with multiple camera angles
You'll be invited to try the concept for yourself and see how it applies to real examples i.e. in a song
The lesson will be accompanied by an in-depth written description of what it explores, as well as tab and notated sheet music
Best Guitar Tricks classes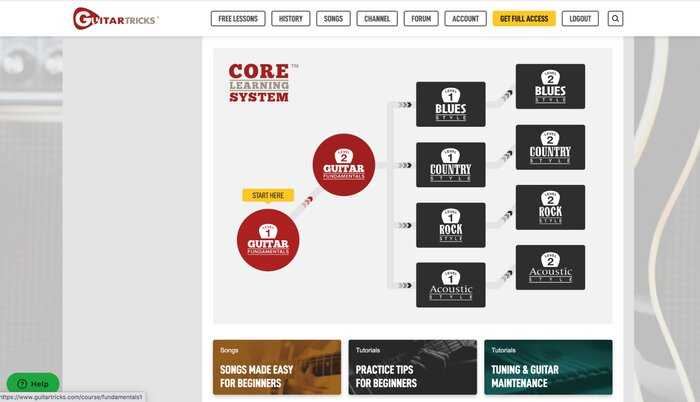 In order to give you some insight into what's on offer with Guitar Tricks, this section will break down some of the site's lessons and what you can expect from them.
Here are Guitar Tricks' headline courses:
Quick tuning and playing your first notes
Learn simple chord and play your first song
Acoustic fingerpicking step-by-step
Bending and vibrato
Perfect (Made Easy) – Ed Sheerhan
These lessons are very well advertised on the website. However, that doesn't mean they are right for everybody.
Below, I go into more detail on the best Guitar Tricks lesson in each category in order for you to get a sense of the range of classes on offer.
Beginner lessons
Quick tuning and playing your first notes
This is one of the most well-advertised courses on the site. It is the first lesson listed amongst the free lessons and is also the first course you'll take if you follow the Beginner learning pathway. The course is led by Anders Mouridsen, an extremely comforting teacher who breaks down each concept bit by bit, making everything really at ease.
Introducing power chords
Power chords are essential for opening up the amount of songs you're able to play. However, for me and many others, they can be a bit of a learning block and one of the most difficult concepts to grasp for a beginner guitarist. Luckily, Anders is on the case again. Here, he uses the musical alphabet to break down the fundamentals of a power chord.
Experienced lessons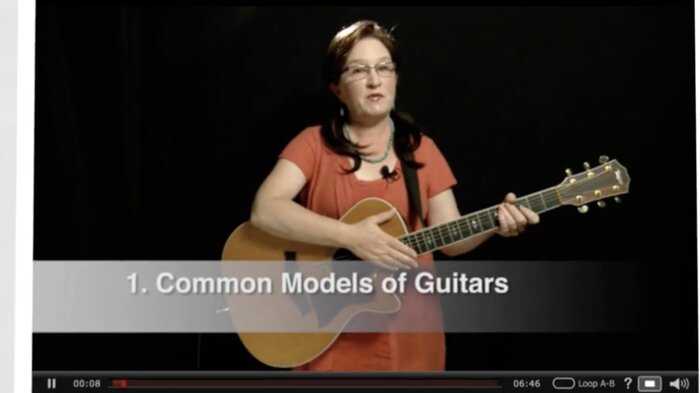 Playing rhythm like the masters: Classic rock
In another course led by Anders Mouridsen (as you can tell, he is like Guitar Tricks' secret weapon), you'll learn about both an essential technique that many guitarists struggle to master (rhythm) and how it applies to a genre where the guitar is indispensable (rock). Anders guides you through 7 lessons where you will learn how to sound like Keith Richards, Mark Knofler and other legends.
Chord tone soloing
Chord tone soloing is where you solo only using notes in the chords that you're playing over. This course is ideal for intermediate guitarists who want to approach soloing. Playing a solo can seem terrifying for a new guitarist but it is so rewarding! And these lessons, led by Douglas Showater (an expert in jazz, rock, funk and more) are an ideal place to start.
Song Library
Smoke on the water (Made Easy)
Many people just want to learn guitar in order to play their favorite songs. This is where Guitar Tricks' song library comes in handy. There are over 800 songs to choose from. And among them, the place to start would be Smoke on the water by Deep Purple. This tune is famous for being the go-to first song for any budding guitarist, partly because it's easy to learn and partly because it sounds awesome!
Back in black
Back in black has a claim to be one of the most iconic riffs in rock. The song actually contains two iconic riffs and you'll learn how to play both of them here. Rock expert Mike Olekshy will break down the chorus, solo and interlude section in explicit detail. But be warned, this is a famously difficult riff to nail. So even if you're an intermediate, patience and practice are key.
What I liked about Guitar Tricks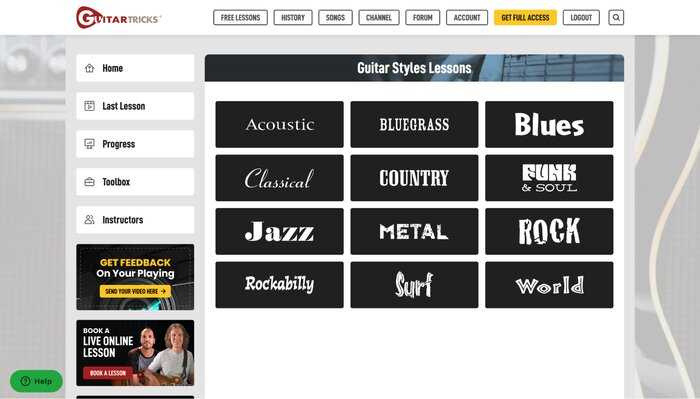 Massive depth
What truly sets Guitar Tricks apart is its depth.
This site has been around for years and years. Over that time it has been able to respond to user feedback as well as incorporate new musical styles and developments into its teaching.
The result is a website that contains everything you need to know to master the guitar.
Key to this is its division of Beginner Lessons and Experienced Lessons. Many take online guitar lessons because they haven't picked up the instrument before and this is the most accessible way to learn.
Guitar Tricks has a host of different classes dedicated to covering the fundamentals of guitar. So, whereas some sites or in-person teachers will cover fingerpicking or tuning in one lesson, Guitar Tricks offers several tutorials.
This is combined with in-depth descriptions of the lessons as well as accompanying sheet music.
Most sites focus on beginners, missing the point that when a novice completes every lesson, there'll be no reason to continue using the classes.
Comparatively, Guitar Tricks is set apart by its host of courses dedicated to experienced players. This means that anyone who has completed the Beginner Lessons or already has experience playing can really hone in on learning new styles and techniques.
Finally, there's the song library. Most people pick up the guitar with the fantasy of playing their favorite song. With their in-depth tutorials, Guitar Tricks makes this a reality for its students.
Additional features which distinguish the site
If you visit any guitar-player forum, a major complaint is that sites like Guitar Tricks don't do anything more for your playing than an in-person teacher, or even a YouTube tutorial.
I would argue that Guitar Tricks is much more accessible than and as in-depth as an in-person teacher, and certainly more in-depth than a YouTube tutorial.
But even if this wasn't the case, you might say Guitar Tricks is still worth investing in for its additional resources.
The site contains a Toolbox of resources including tuners, chord finders, sheet music, practice sheets and much more. These are designed to help students learn alongside their video tutorials in their own time.
Additionally, the site's forum is a place of discussion where you can share success stories with other budding guitarists, and ask more advanced players for advice.
Guitar Tricks also allows you to track your progress, which is essential for learning any new skill.
And if that doesn't make up for in-person teaching, there is an entire section of the site where you can get in contact with some of the top instructors from around the world and organize a personal lesson.
Well-organized and easily accessible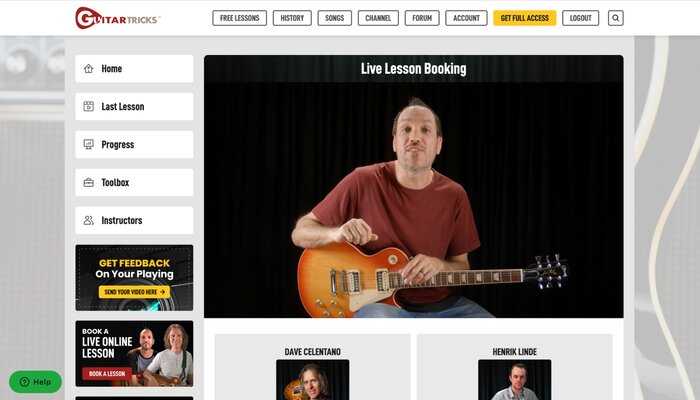 Another thing that sets Guitar Tricks apart from YouTube lessons and many of its competitors is just how accessible it is.
If you're a beginner who has picked up a guitar for the first time, it can be difficult and quite overwhelming to know where to start.
Guitar Tricks make things really easy.
By dividing its lessons into Beginner and Experienced categories, students are invited to explore lessons that fit their learning goals.
On top of that, each lesson is specifically designated by a difficulty score, so you are able to tell whether or not it's right for you.
If that's not enough, beginners are invited to take the CORE system, which will allow them to get a broad grounding in the fundamentals of guitar, before honing in on their preferred genre.
This means that you have lessons catered specifically for you.
Free lessons
As you can tell from what I've said already, Guitar Tricks is a fantastic place to start learning the guitar.
However, if you're a beginner, it can also be quite daunting. Many new users will have absolutely no experience in playing the guitar, so it can be difficult to know whether or not investing in the subscription is the right call to make.
This is what makes the free lessons so important.
Guitar Tricks offers a series of lessons absolutely free of charge, which cover the fundamentals of the instrument, from tuning to strumming to playing your first song.
These lessons are great in themselves in that they are very high quality and ideal for any rookie who wants to get into the instrument.
However, the real benefit of these free lessons is that it gives users the chance to experience Guitar Tricks first-hand and get a real sense of what the site is like.
From this, new students will be able to decide whether or not the site is right for them, without incurring any financial cost.
What could be improved
Lessons go quite quickly
As you can tell, I have a lot of good things to say about Guitar Tricks. I think there is a lot of content for users to dig into, the instructors are top quality and the site is well organized.
However, Guitar Tricks isn't the only online guitar site. So it's important to weigh up these pros alongside its competitors.
For me, Guitar Tricks stands out in terms of content, both how much there is and the quality, as well as its range of additional resources.
However, the one area I think could be improved is its interface. Compared to some of its competitors, Guitar Tricks can look a little outdated.
This is a very minor point and doesn't really affect the quality of the lessons. However, I would say that for new users, the look and feel of a site can make a difference in how much they enjoy the actual content.
Specifically, I wasn't a fan of how quickly some of the lessons went. For the classes I took, typically lessons would be very short videos on a concept.
There were points where I felt that some lessons could be grouped together. This would create a longer video which I felt would flow a little better.
But, again, these are very minor points that are very specific to me and my tastes.
Who is Guitar Tricks for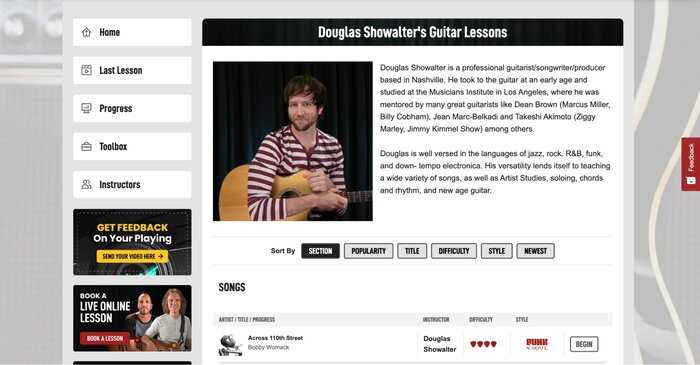 One of the best things about Guitar Tricks is that it can be used by anyone!
From people with absolutely no prior experience to guitarists wanting to hone their skills in a particular style or genre, everybody can find something on Guitar Tricks.
However, there are some groups that I think would particularly benefit from a Guitar Tricks subscription:
Complete beginners with an interest in guitar who aren't sure about subscribing to a website (check out the free lessons)
Rookies who are looking for a specific learning plan to help them improve
More experienced guitarists who aren't as well versed in a specific genre (e.g. blues/jazz)
Anybody who wants to learn how to play their favorite songs on guitar
People who feel additional resources (like the chord finder) would benefit their playing
Can I buy Guitar Tricks as a gift?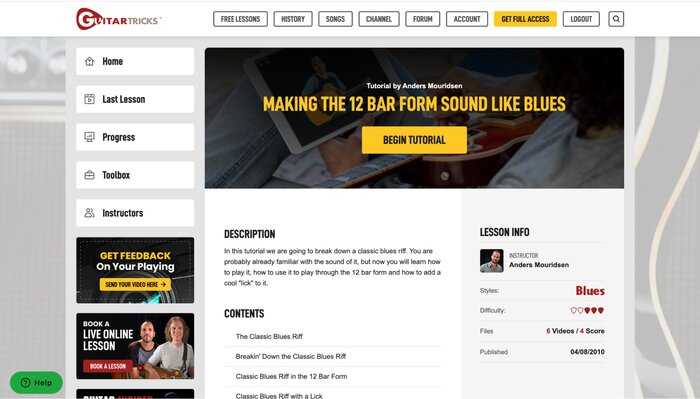 Yes, you can buy Guitar Tricks as a gift.
Guitar Tricks offers a gift certification, where the recipient can access all of the Guitar Tricks for a specific amount of time using their gift certificate. These certificates can be either emailed to the recipient or printed out and emailed in person.
There are three purchasing options for Guitar Tricks gift certification. Access for three months ($59.00), six months ($79.00) and twelve months ($179.00).
So, if there's someone in your life who is itching to learn the guitar, this could be the perfect present.
Finding great courses on Guitar Tricks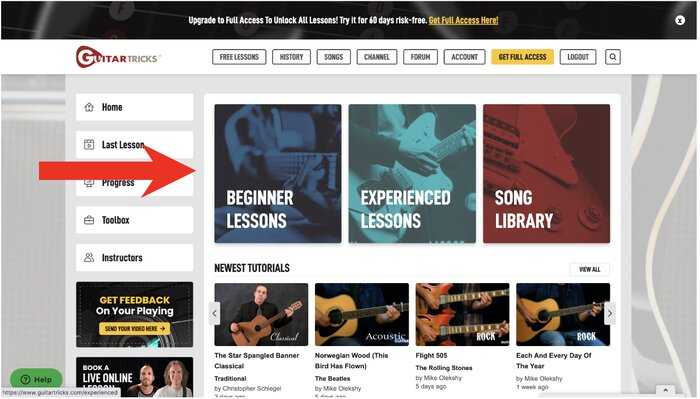 One of the highlights of Guitar Tricks is how easy it is to navigate. There are several ways to find the right course for you on the site.
On the homepage, there are three categories available to you:
Beginner lessons
Experienced lessons
Song library
These are very broad categories, so the best option is to click on whichever one you think is most applicable to your learning goals.
If you click on either Beginner lessons or Experienced lessons, you have the option of following the core system or choosing courses for yourself.
The Core System will provide you with a series of courses that will gradually see you improve your skills and focus on developing a specific style. You're welcome to follow this system and it's particularly helpful if you're not sure where to start.
Alternatively, you can ignore the Core system and choose from Subcategories.
For Beginner lessons, this includes:
Songs made easy for beginners
Practice tips for beginners
Tuning and guitar maintenance
For Experienced lessons, this includes:
Guitar styles lessons
Guitar techniques lessons
Artist studies lessons
Practice lessons
Chords and scales lessons
Gear and tone lessons
If you're just interested in learning songs, go straight to the Song Library. Here, again, can tailor your search to find the best course for you. You can filter the Song Library by:
Genre
Difficulty
Title A-Z or Z-A
Most or Least Progress
Newest
Popularity
Artist
Is Guitar Tricks legit?
Often a site like Guitar Tricks seems too good to be true.
'Hundreds of songs and lessons, all in one place and organized to help you learn a totally new instrument as rapidly as possible?'
When you say it like that, it does sound a bit unreal. But I'm here to tell you that Guitar Tricks is absolutely legitimate.
Not only is the site one of the oldest and most well-established guitar teaching courses out there. I've also spent a lot of time digging into the site and can assure you that it truly is as in-depth and high-quality as it claims to be.
But don't just take my word for it. Read on to find out what others have said about the site!
Guitar Tricks refund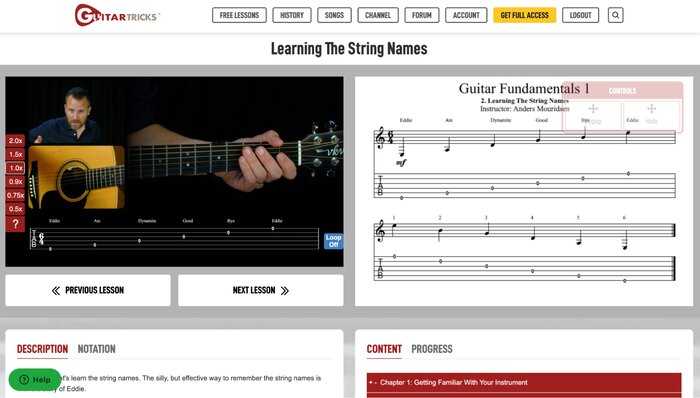 Guitar Tricks does have a refund policy. The site offers a 60-day money-back guarantee.
So, if for any reason you are unhappy with your Guitar Tricks purchase, you can get in contact with the site within the first 60 days and they will provide you with a refund.
To apply for a refund, follow this link: https://support.guitartricks.com/hc/en-us/requests/new. You'll be required to enter your account username or email address and a request for your refund.
Remember, this must be done within 60 days of your initial purchase.
Guitar Tricks alternatives
Guitar Tricks isn't the only site offering guitar lessons on the internet.
I've deeply researched and reviewed the very best guitar courses online already (you can read my top ten here). So I know a few things about what's out there.
Here are some top alternatives to Guitar Tricks.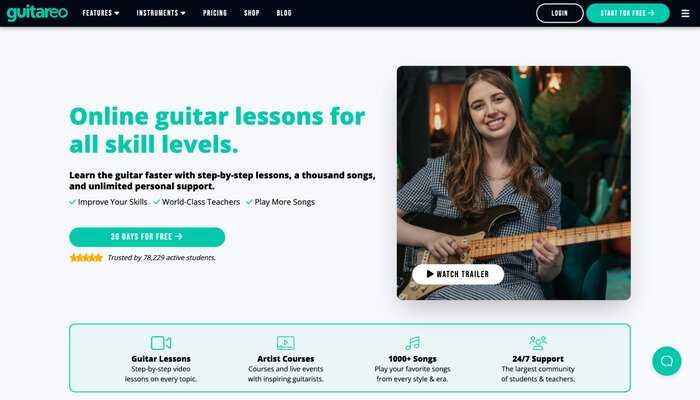 This platform is part of a wider music course family that also includes Singeo, Drumeo and Pianote.
What I like about this site is that it has a specific learning pathway for beginners that focuses on getting you to improve your guitar skills both rapidly and comprehensively.
They also have an extensive song library with their 500 Songs in 500 Days course. As many new guitarists are interested in learning their favorite songs on the instrument, this class is ideal for most newbies.
TrueFire has a guitar course for everybody. Founded all the way back in 1991, TrueFire has since been constantly growing its library to include lessons for everyone from beginners to guitar gods.
With this site, there is no overarching method. Rather, you take each course based on whether or not it matches your skill level and learning goals and, perhaps most importantly, how interested you are in what it teaches.
There are lessons in a remarkable range of genres, techniques, styles and aspects of guitar.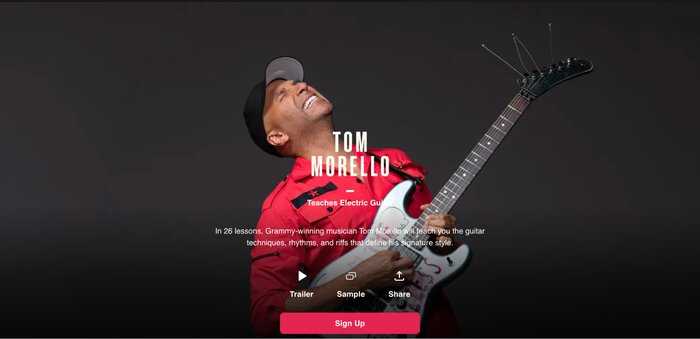 Finally, I want to show you the range of different guitar courses out there. The great thing about learning guitar online is that you can learn from anybody, including celebrities.
Tom Morello is one of the most celebrated guitarists of modern times, whose unique guitar playing style in his work with Rage Against The Machine helped to define the sound of the nineties.
In this MasterClass course, Tom Morello directly shares with you the techniques he uses to achieve his distinctive sound, as well as anecdotes and advice from his years as a performer at the highest level.
What others have said
In order to keep this a balanced review, I spent some time searching online guitar forums and websites to see what others have said about Guitar Tricks.
In my experience, whenever someone asks whether or not a site is worth it, the response tends to be that no online course is worth the money compared to in-person lessons.
Indeed, this response came up a lot when I was researching Guitar Tricks. However, financial and scheduling difficulties mean that this can't always be an option for many people.
Aside from this, the response to the site was generally positive. One person noted that it was difficult to navigate:
"I used guitar tricks for a year. It's a tad overwhelming. Stuck to the tracks they built to start. And then start to explore." - Reddit commenter
I can see where this user is coming from. If you're a beginner and you don't know where to start, Guitar Tricks seem overwhelming. But I honestly found it pretty easy to navigate where everything was.
Elsewhere, people were really happy with the teaching style, content and the progress they were seeing as a result:
"I picked up the guitar a couple of years ago and tried different methods; online and virtual. Guitar Tricks is by far better than any other platform out there. It's step by step, at your rate, and I've seen definite improvement. In the end, the time you invest practicing is critical for obvious reasons. Anders Mouridsen is fantastic. Great instructor." - TrustPilot reviewer 
"The step by step, one on one instruction is easy to understand and to follow. The variety of instructors is also nice. Some are faster and some a little slower in teaching styles. Being able to change what I want to practice at a click of a button keeps my progress interesting. I just love the site. It is simple easy and very fun. I really love Guitar Tricks. By the way I'm a 54 year old beginner." - TrustPilot commenter 
Evaluating Guitar Tricks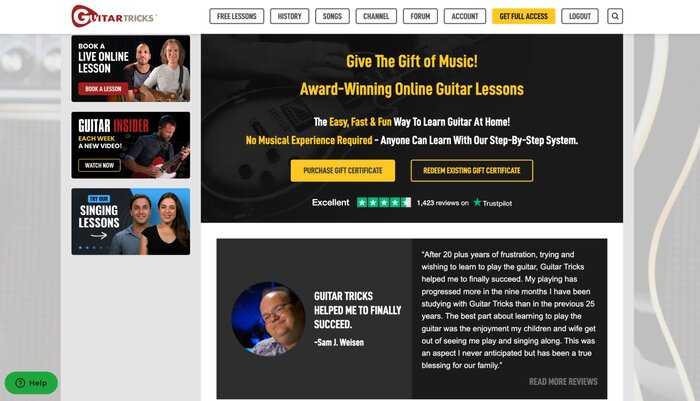 Features: Unlimited access to all courses, including beginner and experienced lessons and song lessons
Content quality: Top quality instructors and in-depth video lessons that break down the core aspects of guitar clearly and concisely
Content breadth: Beginner lessons, Experienced lessons and a Song Library, including a massive range of genres and techniques in each category
Teachers: A range of instructors, each with different specialities and backgrounds but all share years of experience both playing and teaching guitar
Supporting materials: Toolbox including a scale finder, chord finder, metronome, tuner and more; also a forum for chatting with other members and a YouTube channel with extra content
Payments & refunds: $19.95 per month or $179.00 per year. 60-day money-back guarantee.
Is Guitar Tricks worth it?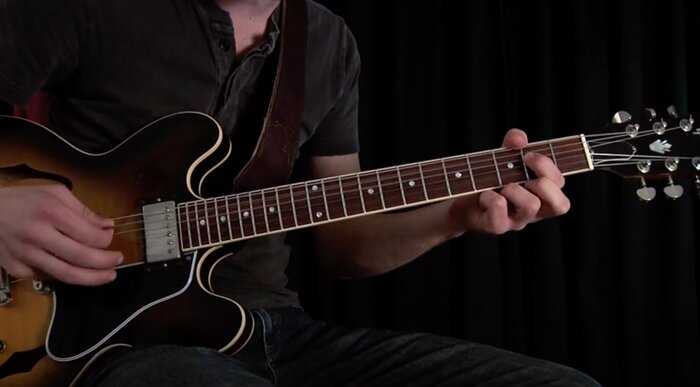 Overall, I would argue that Guitar Tricks is worth it.
Guitar Tricks is certainly not the only website teaching guitar online anymore. And its competitors have caught up in terms of hiring top instructors, offering the highest quality lessons and making their services easily accessible for beginners.
However, for me, Guitar Tricks still has many features that make it worth checking out. Most importantly, this site has a massive breadth of courses.
The extent to which you can find lessons on a wide array of genres and techniques keeps Guitar Tricks relevant to even more advanced guitarists who might think they're beyond online lessons.
Alongside this, Guitar Tricks has managed to maintain its leading instructors and easily accessible yet impactful lessons.
It also has a range of unique supporting materials, such as chord and scale finders, tuners and metronomes, all of which encourage the most important aspect of learning guitar: personal practice.
Finally, and most importantly, Guitar Tricks offers a selection of free lessons. You can check these out and see whether or not the site is for you without it costing you a thing. 
Related article: Guitar Zoom
Guitar Tricks – Frequently asked questions
How much does Guitar Tricks cost?
You can either pay month-to-month, costing you $19.95 per month or pay for your membership annually, which will cost you $179.00 per year. 
Does Guitar Tricks have a refund policy?
Yes, Guitar Tricks offers a 60-day money-back guarantee.
How many courses are there?
There are over 11,000 video lessons on Guitar Tricks.
Does Guitar Tricks have a free trial?
Guitar Tricks does not offer a free trial but does offer free lessons in a variety of subjects. 
Does Guitar Tricks give certificates?
Guitar Tricks does not offer certificates of completion on its courses. However, it does offer certificates as part of its gift option. 
What languages is Guitar Tricks available in?
Guitar Tricks is available in English.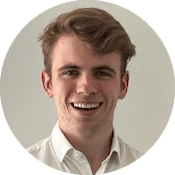 Charlie is a student reading politics at King's College London. He is also a passionate musician with over 14 years of experience. In his free time, he also enjoys cinema, long-distance running and learning new things.