As the first foreign language I learned, Italian holds a special place in my heart. But I've done a poor job at maintaining my fluency as I've gone on to master other languages. In fact, I tried to talk to an Italian friend the other day. And the result wasn't great.
I had heard that Rocket Italian was a solid online language course that promises to teach you Italian in an engaging and effective manner. So I decided to give it a try to brush up on my skills.
In this Rocket Italian review, I'll delve into its unique features, weigh the pros and cons of the platform, and compare various pricing plans. I'll also examine Rocket Italian alongside other language learning websites and reveal what past students have said about their experience.
.
Quick summary
Features
Balanced lessons designed to help students become well-rounded Italian speakers
Survival Kit Phrases for real-life conversations
Leaderboard rankings and learning statistics
Benchmark Test for personalized assessment
Alignment with CEFR and study tool
Easily save words, phrases, or sentences
Rocket Recommends for additional resources
Supportive community forum
Active learning study aids
6-day risk-free trial with generous refund policy
Pros
Dual emphasis on listening comprehension and grammatical mastery covers all aspects of the Italian language needed for speedy progress
Interactive lessons engage learners and put the student in the driver's seat
Speech recognition technology helps effectively refine your accent
Mobile app lets learners practice anytime, anywhere
Ability to personally indicate the difficulty of vocab or grammar structures helps identify your strengths and weaknesses
Lifetime access to all course materials
Community forum provides for students to collaborate
Seamlessly syncs progress across all devices
Cons
Light on engaging visual aids, which may be an obstacle for visual learners
Limited content for very advanced learners (C1/C2 levels)
Benchmark Test could provide more granular feedback
Voice recognition software sometimes struggles with Italian homophones and may not work with certain browser settings
Best for: Beginner-intermediate learners looking to boost their conversation skills and grammar. The self-paced and interactive design makes it great for those who prefer learning independently and for busy professionals needing flexibility. Plus, the course is tailored for students aiming for CEFR certification.
Cost: Rocket Italian has various pricing choices. You can pay a one-time fee for lifetime access for around $100-$250 based on how many levels you buy. Or, you can pay for a month-to-month package at about $50 per month.
Overall: Offers a well-rounded learning experience. You'll learn to master grammar, vocabulary, conversation skills, and benefit from features like survival phrases, personalized assessments and a supportive community forum. With a focus on both essential language components and practical conversation, Rocket Italian stands out among online courses. Considering the quality, features, and value for money, Rocket Italian is an exceptional choice in the language learning world. With a free trial and 60-day refund period, there's no reason not to give it a try.
What is Rocket Italian?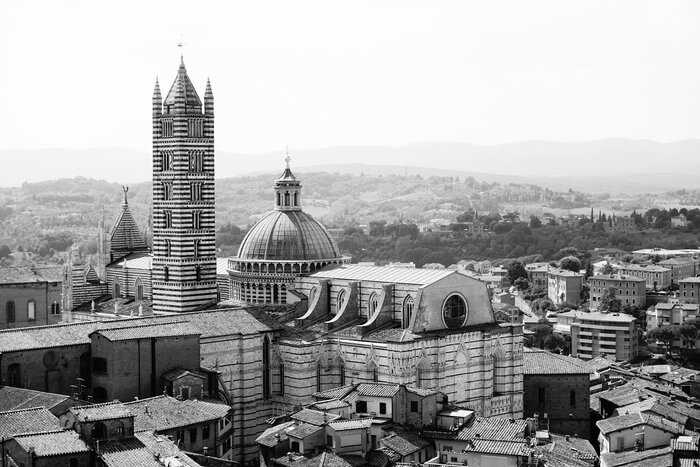 Author's own picture in Tuscany's Siena
Rocket Italian is a pioneering online course developed by Rocket Languages, a provider of language learning courses. The course has garnered a lot of popularity among learners and has helped establish Rocket Languages as a leading provider for language learning.
It's designed to be user-friendly and convenient, catering to both beginners and advanced learners. With comprehensive course material, including grammar, vocabulary, culture, and conversation skills, you can expect to gain a well-rounded understanding of the Italian language.
Rocket Italian has been successful in helping thousands of students achieve conversational fluency in Italian through its innovative language learning techniques, state-of-the-art technology, and interactive tools. Many past students have reported success. Testament to the platform's effectiveness and ability to make learning exciting and dynamic.
Students can access the platform via their web browser or the Rocket Languages mobile (iOS and Android) app. The app syncs progress to make it easy to switch between it and the browser.
How does Rocket Italian work?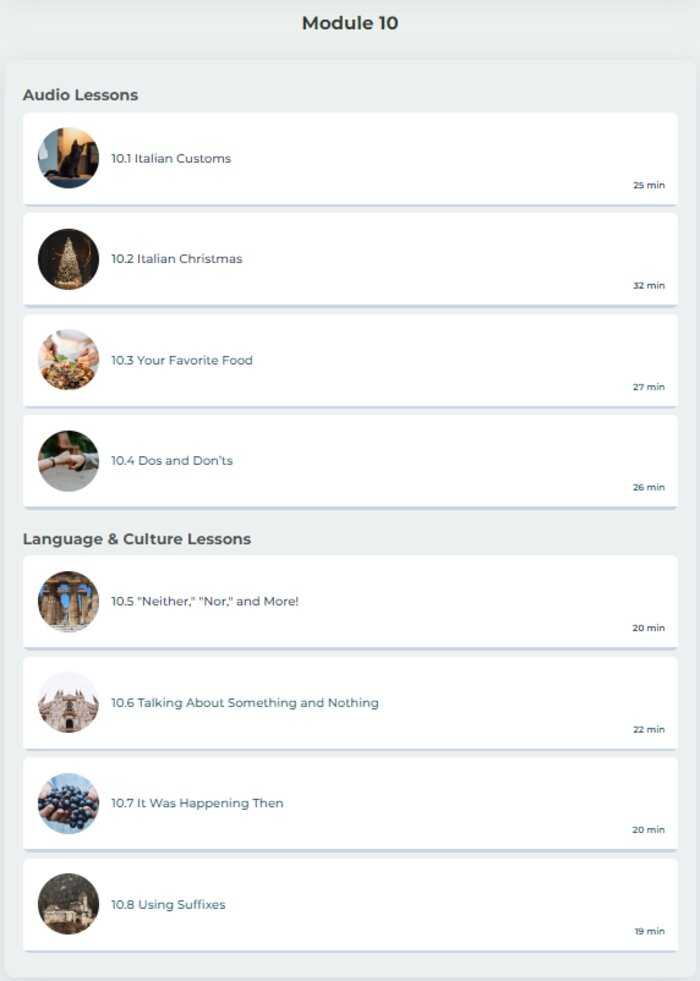 The two main types of lessons, Interactive Audio Lessons and Language & Culture Lessons
Rocket Italian's user-friendly interface provides several elements that make it an effective language learning tool. Here are some of the standout features:
Interactive Audio Lessons: At the heart of Rocket Italian are its interactive audio lessons. They allow you listen to native Italian speakers and repeat phrases, ensuring that you develop proper pronunciation and conversational skills.
Interactive Exercises: That help you master Italian grammar and vocabulary. These exercises encourage you to practice reading, writing, speaking, and listening in Italian, covering all aspects of language acquisition.
Language & Culture Lessons: Which teach you about the structure and mechanics of the Italian language and provide valuable insights into Italian culture. You'll gain knowledge of traditions, history, customs, and tourist sites, enriching your understanding of Italian culture.
Survival Kit Phrases: Incorporating these phrases throughout the learning journey will significantly enhance your vocabulary and practical language skills.
Extra Tools: including, leaderboard rankings, a benchmark test, Rocket CEFR certification, saved notes, saved vocabulary, Rocket Recommends, and a forum for discussion and collaboration.
Rocket Languages' Italian course proficiency levels:
| | | | | |
| --- | --- | --- | --- | --- |
| Level | CEFR Level* | Modules | Lesson Blocks | Length |
| Level 1 | A1 – A2 | 9 | 72 | 25h 36m |
| Level 2 | A2 – B1 | 8 | 65 | 25h 44m |
| Level 3 | B1 – B2 | 8 | 62 | 23h 42m |
| Italian Travelogues | N/A | 10 | 40 | 11h 36m |
*Common European Framework of Reference for Languages (CEFR)
"Italian Travelogues" packages are available for an additional cost. While I didn't end up buying it, I listened to its first two lessons of Chapter 1 through the trial.
They're designed to teach a language by using interactive audio stories which explore scenarios you might encounter while traveling.
In the Travelogues, you'll accompany the hosts as they dive into various exciting locations in Italy and tackle everyday situations. They help you practice your Italian by ordering food at a café, asking for directions, etc. They're designed to be engaging, entertaining, and, most importantly, super helpful in preparing you for your trip to Italy.
What a lesson is like on Rocket Italian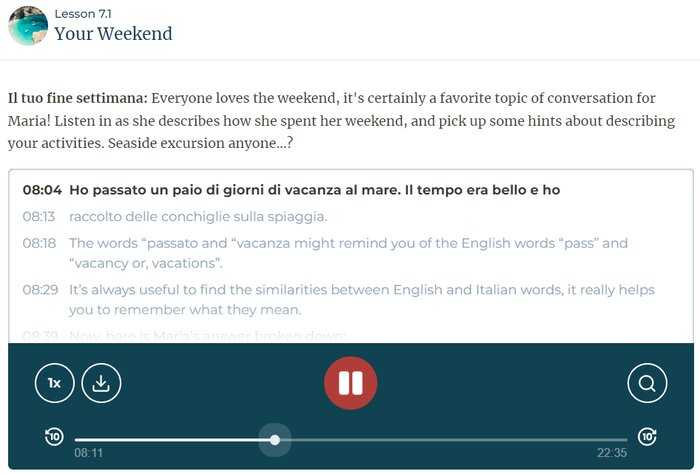 An Interactive Audio Lesson from the first Module of Level 2
A Rocket Italian lesson typically lasts for about 25m and includes audio lessons, quizzes, and games.
You start by listening to a conversation in Italian, followed by a slower version of the same dialogue. Then, the lesson provides vocabulary words and phrases to memorize. Finally, you get exercises on pronunciation, grammar, and usage. After completing a lesson, you can earn badges and points to track your progress.
Rocket Italian offers two main types of lessons: Interactive Audio Lessons and Language & Culture Lessons. Both incorporate various activities, quizzes, practical situations, and feedback to reinforce learning and self-assessment. Each Level is broken up into seven Modules broken into about four Interactive Audio and four Language & Culture lessons.
Interactive Audio Lessons: Help students fine-tune their listening skills in the Italian language with the help of native dialogue and friendly English-language hosts. Focusing on pronunciation, vocabulary, and useful phrases, they're perfect for on-the-go learning, allowing for flexibility and convenience.
Language & Culture Lessons: To teach the grammatical and syntax building blocks of the Italian language. Each lesson ends with a discussion of cultural and social background for vocabulary related to real-life situations.
Rocket Italian also includes a section of about ten themed lists of Survival Kit Phrases per level. They help students bulk up their vocabulary in topics, such as travel, dining, or meeting new people. You can easily add these new vocabulary words and phrases to your saved vocabulary list.
What is the method behind Rocket Italian?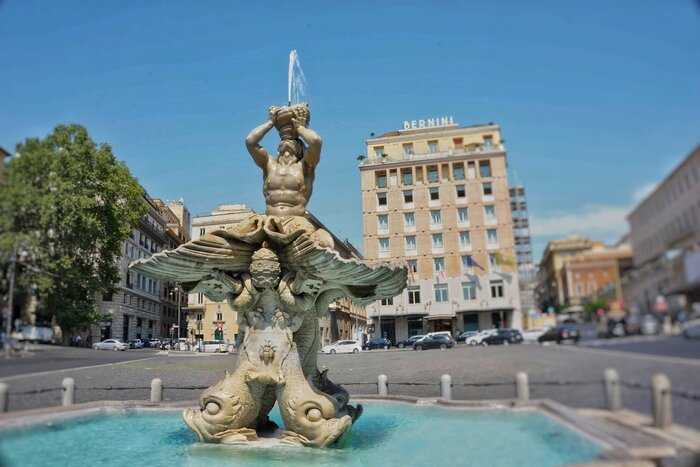 Author's own picture of a Bernini fountain in downtown Rome
Rocket Italian adopts a practical approach to teaching, focusing on essential vocabulary and grammar. It combines interactive audio lessons with grammar and language exercises, creating a comprehensive learning experience for both beginners and intermediates. This teaching methodology promotes active participation and is ideal for those wanting to practice and learn Italian at home.
Aiming to mimic an immersive learning environment, Rocket Italian builds up grammar skills to ensure learners use their conversational abilities correctly. The adaptive learning feature helps improve pronunciation by providing feedback and corrections.
Access to native Italian speakers and cutting-edge voice recognition software further assists learners in developing an authentic Italian accent. This friendly, informative, and conversational approach supports and engages learners throughout their language journey.
How I reviewed Rocket Italian
As an advanced Italian speaker who worked in the language in Italy, I was eager to see how this course could help me brush up and improve my skills. I started with the trial, but after seeing its potential, sprang for a subscription to test out the full capabilities of the course. I used it intensively for a few days, exploring various aspects of the program.
I began my review with the Benchmark test, which consists of 100 questions that get harder as you progress. After getting three answers wrong, the test stopped and gave me an overall score out of 100.
(I made it to 96/100, tantalizingly close to passing it completely! Glad to know I hadn't completely forgotten the language…)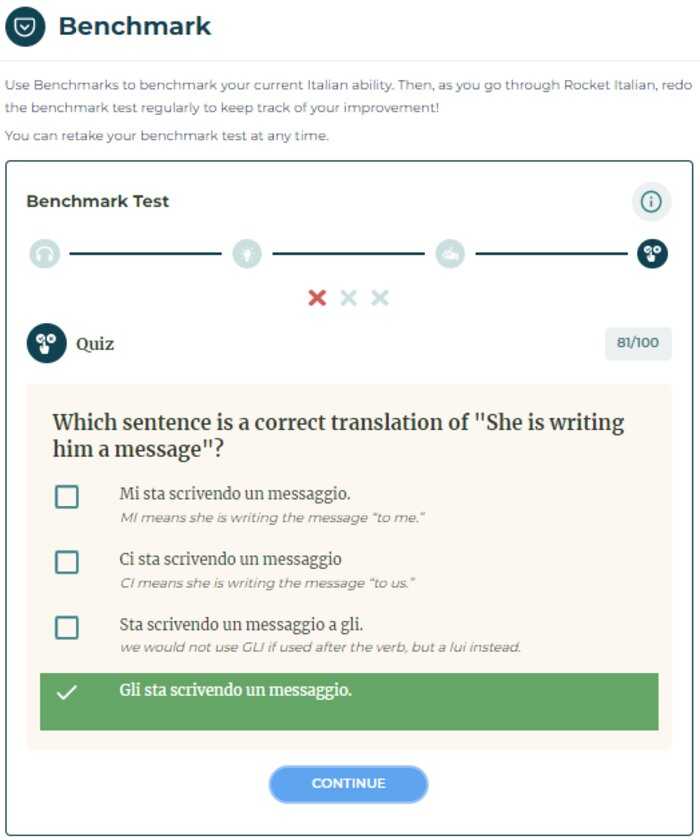 Screenshot of the Rocket Italian trial Benchmark test
After the Benchmark test, I wanted to get a feel for the content. I went through several lessons at each of the three Levels and tried all types of lessons available. This allowed me to experience the different teaching approaches and materials used in the course.
In addition to the lessons, I made sure to go through all the study resources. I'll detail what those looked like below in the "Features" section, if you're curious.
Remember that you can always study with Rocket Italian on the Rocket Languages mobile app. I tended to listen to the audio lessons with the app during my commute and while doing some chores around the house.
Rocket Italian Pros
What is it about Rocket Italian that students love so much? Here are some of its most attractive qualities:
Interactive Audio Lessons
One of the key strengths of Rocket Italian is its interactive audio lessons. While there's a strong emphasis on developing Italian listening comprehension, the "interactive" component ensures you stay engaged. Beyond the gaps in the approximately 25-minute audios to repeat phrases and words, the "Play it!" section connected to the audio lesson keeps you actively involved. The audio lessons are perfect for listening via the app while on-the-go, making language learning convenient and flexible.
A key aspect of the audio clips is that you can either slow them down or speed them up, from 0.5x speed to 1.5x speed!
Best of Both Worlds
Rocket Italian strikes an excellent balance between audio lessons and Language & Culture Lessons. The audio lessons are informative, engaging, and great for taking on-the-go. While the Language & Culture Lessons ensure you understand the mechanics of the language. This comprehensive approach helps you develop a well-rounded understanding of Italian, from pronunciation and vocabulary to grammar and cultural aspects.
Rocket Record
Rocket Record, Rocket Language's voice recognition software developed in partnership with Google Web Speech API, is pretty incredible. It's especially useful for an online language course, helping you develop your Italian accent—a notoriously difficult task given those rolled double Rs and the unfamiliar "gli" pronoun. I tested the language software by saying a completely different Italian phrase than asked, and it correctly understood me (and thus awarded me a low score), showcasing its accuracy.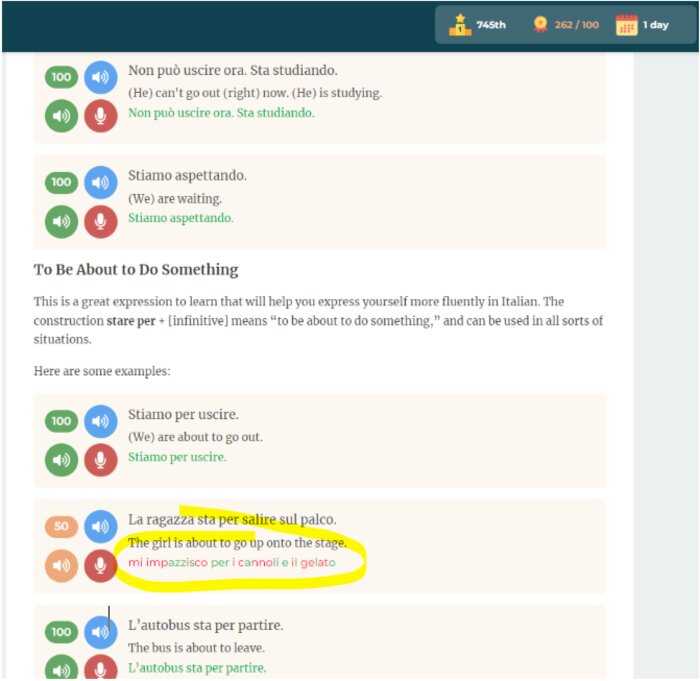 My attempt to test the accuracy of Rocket Record with a sentence about my obsession with Sicilian cannoli and gelato was rewarded with a low 50% accent score
Easy, Medium, or Hard?
A standout feature of Rocket Italian is the option to rate how easy, medium, or hard each Italian phrase or word is for you to remember. This personalized approach makes it easy to identify words and phrases you struggle with and those you don't need to focus on as much, ensuring efficient language learning.
The Community Forum
As Aristotle said, "Man [sic] is a social animal." Learning a language is inherently social, and Rocket Languages ensures you have access to fellow learners by providing a community forum. This platform allows you to ask and answer questions, exchange experiences, and connect with other students, creating a supportive and interactive learning environment.
Mobile App
The well-designed Rocket Languages app syncs your progress across all your devices, allowing for seamless language learning on-the-go. It's ideal for downloading audio lessons and listening to them while commuting or traveling, although repeating words and phrases in public might be a bit challenging. Nonetheless, the app's convenience and functionality make it an excellent resource for busy learners.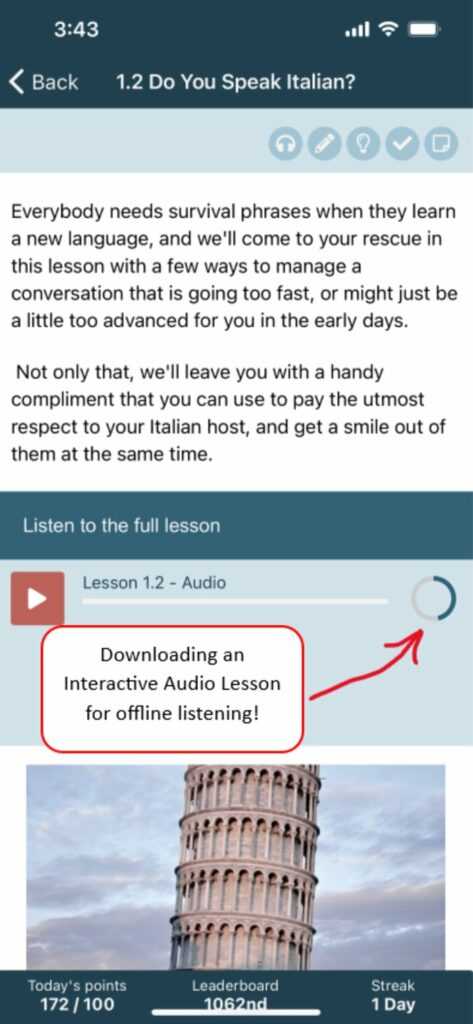 Rocket Italian Cons
After spending some time with Rocket Italian, I must admit it took me a while to think of the downsides of using this language learning software. However, there are a few cons worth mentioning:
Lacks an Engaging Visual Component
One potential drawback of Rocket Italian is the lack of engaging visuals. The course lessons contain no videos and almost no pictures. If you're a visual learner who needs images or video content to stay engaged, this may be an obstacle for you. While the audio lessons and written materials are comprehensive, adding more visuals could enhance the overall learning experience.
May Not Be Appropriate for Advanced Learners Beyond CEFR B2
Rocket Italian doesn't include content at the C1/2 level. While this is technically a limitation, it's important to remember that the technical definition of B2 is communicating easily and spontaneously with a native speaker, which is arguably the primary goal of any Italian student.
Also, I'd note that I am currently at the C1 level for Italian. Yet I was still unable to make it through the entire Benchmark test. After checking out a few Level 3 Language and Culture Lessons, I found that Rocket Italian could really help me fix some of the bad habits I've picked up. (And of course there's always room for me to work on my use of the subjunctive!)
Benchmark Test Has Room for Growth
While it was nice to have a test to check my level of Italian, I think there's room for improvement. Instead of giving you a set of questions taken from each audio lesson's attached "quiz" and assigning you a score based on how many of the 100 questions you got through, Rocket Languages should consider making it a more comprehensive assessment.
A test that rates you on the CEFR scale based on your knowledge of vocabulary and grammatical structures and tells you which Rocket Italian level and Module to start at would be really helpful. I imagine that most of you have taken some middle school or high school Italian and have some foundation of the language already.
Rocket Record
This might be confusing, because Rocket Record is included above as a pro. It's obviously an incredibly impressive as a piece of software, but it does have limitations. For one, the automatic recording sometimes stops too early if you're struggling to get the words out during "Know it!" exercises. I found this automatic "shut-off" a bit frustrating — until the automatic tool gets better, I'd prefer a manual off and on toggle.
Beyond these glitches, it sometimes just takes a few tries to catch your words correctly, even though you say the same exact thing three times. It performs much better with phrases and full sentences, but this is something to be aware of when using Rocket Record.
Finally, I found that it didn't work with my Microsoft Edge browser, but I was able to get it to work with Chrome.
Who is Rocket Italian for?
Rocket Italian is suitable for a variety of learners, including:
Beginners: Rocket Italian is ideal for those who are new to the language. The course introduces essential vocabulary, grammar, and pronunciation exercises to build a strong foundation.
Tourists: It's a great way to quickly learn some survival Italian (be sure to check out the Survival Phrases section).
Intermediate Learners: The course offers plenty of advanced content aimed at improving conversational skills and refining grammar knowledge, making it perfect for intermediate learners.
Self-Learners: The self-paced structure and interactive approach make it an excellent choice for independent learners who prefer studying at their own speed.
Busy Professionals: The mobile app and audio lessons allow for flexible learning on-the-go, catering to professionals with tight schedules.
CEFR Accreditation Study: Rocket Italian is designed to cater to the interests of students looking for CEFR certification. The course uses vocabulary, grammar, pronunciation exercises, and conversational drills to achieve the goals of different levels of the CEFR framework.
How much does Rocket Italian cost?
Rocket Italian offers a range of pricing plans to suit different budgets and learning needs. The platform's pricing plans range from buying a single level to buying all three levels plus Rocket Italian's "Travelogues."
The pricing options are a bit complicated, so I put together this table to give you a better idea of the pricing:
| | | |
| --- | --- | --- |
| | Lifetime Access | 6-Month Payment Plan* |
| Any Single Level of Rocket Italian | $99.95 | N/A |
| Rocket Italian 1 & 2 | $249.90 | N/A |
| Rocket Italian 1, 2 & 3 | $259.90 | $47 / month |
| Italian Travelogues Package | $99.95 | N/A |
Figures accurate at the time of publishing
When you check the prices for Rocket Italian, the coupon code "ROCKETDEAL" is automatically added. It gives you anywhere from 17% – 42% off on the various packages. For that reason, the prices above reflect the effective price of each package with the standard ROCKETDEAL coupon code already included.
The actual base price is much higher, but you would have to actively delete any coupon code that will already be in place, which just seems silly.
When you sign up for a trial, they also offer you a code that offers big savings. After a quick web search, though, I found a few other coupon codes that give even bigger savings (60% for every package, in one case!).
Is Rocket Italian free?
Rocket Italian provides a generous 6-day free trial, allowing you to get a taste of what the course has to offer before committing to a purchase. During this trial period, you'll have access to a selection of lessons from each level:
Level 1: You can explore 7 lessons, which include 2 hours and 38 minutes of audio content from both interactive audio lessons and Language & Culture lessons.
Level 2: The trial offers 2 lessons with 44 minutes of audio content, one Interactive Audio Lesson and one Language & Culture Lesson.
Level 3: Similar to Level 2, you'll have access to 2 lessons (one of each type) with 54 minutes of audio content.
While the free trial gives you a glimpse into the various levels and types of lessons available in Rocket Italian, there are some limitations. For instance, you won't have access to Rocket Certification or Rocket Recommends during the trial period. These features are exclusive to the full version of the course, providing additional tools and resources for learners.
Rocket Italian Refund
If you buy one of the Rocket Italian lifetime access packages, you are guaranteed a refund within 60 days of purchase — no questions asked!
Just email support@rocketlanguages.com that you want a refund, making sure to include your receipt number. They promise to process your refund within two working days, though it can take up to five days to see the refund on your statement.
If you choose the six-month subscription plan, you will not be able to get a refund. Instead, Rocket Italian allows you to cancel your next monthly payment in this case.
Features of Rocket Italian
First and foremost, Rocket Italian's primary feature is its dedication to providing comprehensive lessons. The combination lessons that focus on listening comprehension and on understanding the mechanics of Italian ensure that you develop as a well-rounded Italian speaker. Meanwhile, the Survival Kit Phrases are designed to help you quickly build your confidence in real-life conversations.
Rocket Italian also gamifies the learning experience through leaderboard rankings and learning statistics. This feature encourages healthy competition, motivates you to stay consistent, and helps track your progress throughout the course.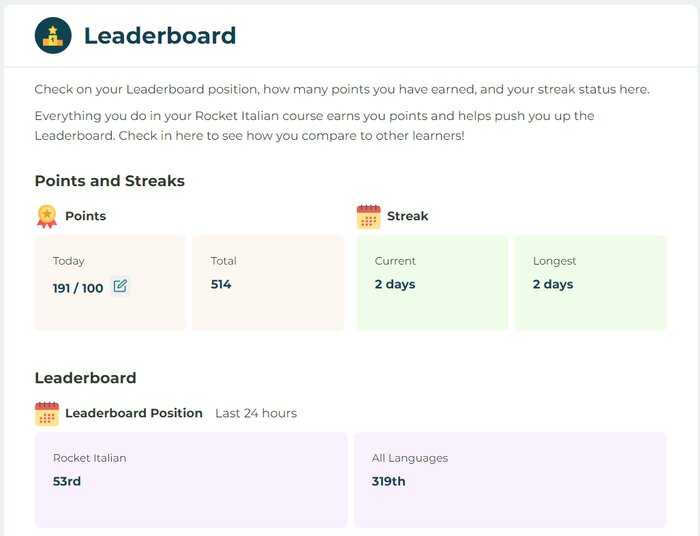 The Rocket Italian Leaderboard
The Benchmark Test is a personalized assessment tool that evaluates your current Italian proficiency.
Rocket Italian aligns its course content with the Common European Framework of Reference (CEFR) for languages. Plus, it has a CEFR study tool that allows you to assess your progress on the CEFR scale and helps you study for a potential future accreditation.
One of my favorite features was the ability to easily save almost any word, phrase, or sentence that I came across on Rocket Italian. This lets you save notes and vocabulary words for easy reference, which helps you review and reinforce your learning at any time.
Rocket Recommends provides personalized suggestions for additional resources and tools, such as articles, videos, and podcasts, to enhance your learning experience and complement the course content.
The community forum encourages discussion and collaboration among learners. It's a place where you can ask questions, share experiences, and connect with fellow Italian learners, fostering a supportive learning environment.
Rocket Italian active learning study aids include:
Play It: To review the dialogue central to the lesson by taking the place of one or both parts of the conversation. Uses Rocket Record voice recognition software to practice having a conversation in a pressure-free environment.
Lesson Vocabulary: Practice key phrases and words from the lesson.
Expert Tips: Reading through expert tips, such as accepting corrections from natives and asking for tips to speak better.
Flashcards: A tool to better review lesson vocabulary.
Hear it! Say it!: Recognize an Italian vocab word from the lesson spoken by a native, and repeat it using Rocket Record voice recognition software, aiming for a 100% score on your accent.
Write it!: Similar to "Hear it! Say it!," listen to an Italian vocab word from the lesson spoken by a native and write it down.
Know it!: Given the written Italian word or phrase, speak it into the mic. Rocket Record will assess whether you have said the correct word(s) with the correct accent.
Quiz: Multiple choice questions about vocab and/or grammar related to the lesson.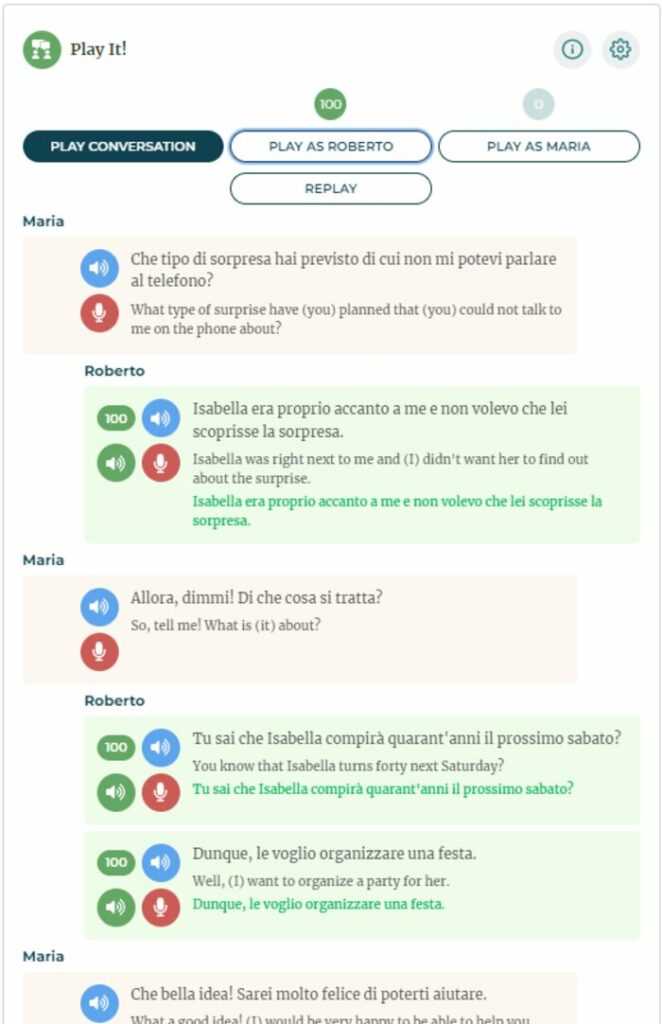 The Play it! feature lets you step into a native conversation and take on the lines from one of the participants
What languages can you learn with Rocket Italian?
As the name suggests, Italian is the only language you can learn with Rocket Italian. But Rocket Languages offer 11 additional language courses for an additional cost. The pricing is going to vary with the different languages, though, so heads up!
Alternatives to Rocket Italian
There are a number of online Italian learning websites available, and it can be difficult to know which one is the best fit for your needs. Here is a comparison of Rocket Italian to other popular online Italian learning websites:
Rosetta Stone Italian vs Rocket Italian
Rosetta Stone is well-known for its immersive approach to language learning, It focuses on context and images to teach vocabulary and grammar. While this method can be engaging, it might not suit learners who prefer explicit explanations and a structured curriculum.
On the other hand, Rocket Italian offers comprehensive lessons that combine interactive audio lessons with Language & Culture lessons, providing a more structured learning experience. It also includes a range of study aids and community support, which Rosetta Stone lacks.
If you prefer an immersive learning experience without explicit grammar explanations, Rosetta Stone might be a better fit. However, if you're looking for a more structured and comprehensive approach, Rocket Italian is an excellent choice.
Duolingo vs Rocket Italian
Duolingo is a popular and free language learning app that gamifies the learning process, making it fun and engaging. However, Duolingo primarily focuses on vocabulary and basic gramma. This might not be sufficient for learners seeking more in-depth knowledge and conversational practice.
Rocket Italian, while not free, offers a more comprehensive learning experience. It combines interactive audio lessons, Language & Culture lessons, and practical survival phrases, ensuring a well-rounded learning experience.
So while Duolingo is great if you're looking for a free and casual way to learn Italian, you may not learn at the quickest rate. For students that are serious about achieving fluency and want a more comprehensive learning experience, Rocket Italian is a better investment.
Babbel vs Rocket Italian
Babbel is a subscription-based language learning platform that offers a structured approach with lessons focused on real-life situations. While Babbel provides a solid foundation in vocabulary and grammar, its conversational practice opportunities are limited. This might hinder learners from developing strong speaking skills.
Rocket Italian also offers a structured approach but places a greater emphasis on conversational practice through its interactive audio lessons and "Play it!" feature. Additionally, Rocket Italian's voice recognition software, Rocket Record, helps learners fine-tune their pronunciation, an aspect that Babbel doesn't emphasize as much.
Essentially both Babbel and Rocket Italian provide structured learning experiences. However, if your primary goal is to develop strong conversational skills and improve your pronunciation, Rocket Italian has the edge.
By comparing Rocket Italian with Rosetta Stone, Duolingo, and Babbel, we can see that each platform offers a unique approach to language learning. Ultimately, the best choice depends on your learning preferences, goals, and budget. But Rocket Italian really stood out to me personally as a student looking to develop in a well-rounded form.
What others have said
To make this the best Rocket Italian review possible, I thought it would be helpful to include feedback from past students. I went to Reddit to see how some past students felt Rocket Italian impacted their learning experience.
"Rocket [Italian] is fine, just set yourself a small daily goal and you will learn Italian whether you are in the country or not. Once you got the basics with Rocket get a skype tutor/teacher on Italki once every 1-2 weeks while you keep working with Rocket." - Reddit user
Rocket Italian provides a solid foundation, but as this commenter suggests, incorporating additional resources like italki tutors can take your learning to the next level. Working with a tutor or teacher allows you to practice speaking and listening skills in real-time, which are essential components of language mastery. These sessions encourage you to create your own sentences and thoughts in Italian, building fluency and confidence in your abilities.
"I would advise you to write your own sample sentences during the [Language & Culture] lessons, either with the words they give you or with your own vocabulary. Don't feel obligated to learn all the vocab they give you. Pick and choose what is more relevant to you." - Comment from Reddit user
Creating your own sample sentences is an effective way to supercharge your learning experience. This approach not only helps you practice sentence construction but also reinforces the essential grammar rules and vocabulary you've learned from both the Interactive Audio Lessons and the Language & Culture Lessons.
Doing this allows you to apply the knowledge gained from Rocket Italian in a more personal and practical context. In the long run, it'll make it easier to retain and recall the information when needed. Writing these sentences also encourages you to think in Italian, which is crucial for developing fluency in the language.
When it comes to vocabulary, remember that Rocket Italian has themed Survival Kit vocabulary lists. To power up your learning, focus on the themed vocab lists most relevant to you, such as medical terms, holidays, business vocabulary, feelings, household items, etc.
By tailoring your learning to your specific needs, you'll find the journey more enjoyable and rewarding, ultimately leading to better progress and retention.
Conclusion: Is Rocket Italian worth it?
In my humble opinion, it's a resounding "Sì, certo!" This comprehensive course offers a balanced and engaging approach to learning Italian, with flexibility that lets you tailor your learning experience.
Rocket Italian truly shines in striking an excellent balance between immersive audio lessons and simple, textbook-like grammatical explainers. The audio lessons are perfect for taking on-the-go and keep you engaged while imparting valuable knowledge. Meanwhile, the Language & Culture Lessons ensure you grasp the mechanics of the language.
Rocket Record voice recognition software is nothing short of fantastico. This nifty feature helps you practice pronunciation and gain confidence in your speaking abilities.
Additionally, Rocket Italian offers a diverse array of study resources attached to each lesson, ensuring you never run out of ways to practice and reinforce your learning. The Benchmark and CEFR Certification tests further enhance the course by providing clear goals and measuring your progress.
If you're seeking an Italian course that strikes the ideal balance between quality content, effective teaching methods, and an engaging user experience, look no further than Rocket Italian.
It's an investment that will have you rolling your R's better and chatting up locals during a ~Roman Holiday~ in no time. With a free trial and a 60-day refund period making Rocket Italian virtually risk-free, there's no reason to hesitate.
With that said, I say to you "In bocca al lupo!" (to which you reply "Crepi il lupo!"). More simply, "buona fortuna" to you on your Italian language adventure! May it be filled with memorable experiences, new friendships, and, of course, plenty of mouth-watering pasta! Arrivederci, amici!
Related articles: Rocket French, Spanish, Japanese, Portuguese and Korean
Rocket Italian FAQs
How much does Rocket Italian cost?
Rocket Italian has a variety of pricing options. You'll end up paying either a one-time cost for lifetime access in the ballpark of $100 – $250, depending on how many levels you buy. If you choose to pay month-to-month, you're looking at about $50/month.
How does Rocket Italian work?
Rocket Languages' Italian course helps you achieve conversational fluency in Italian by teaching you grammar and vocab while developing your listening comprehension with interactive audio lessons. There are tons of study resources, including Google-enhanced voice recognition software and flashcards, that help you round out your knowledge of Italian.
What languages does Rocket Italian teach?
Just Italian! But Rocket Languages offers 11 other foreign language courses that you can buy at an additional cost.
Can I get a refund?
Yes. If you buy the lifetime access one-time cost packages, you can request a refund within 60 days of purchase. If you buy the month-to-month subscription, you can only cancel your next payment.

Wayne holds a Master's in Conflict Studies from the London School of Economics and Political Science. An American working in the world of international affairs, he has picked up French, Italian, and Spanish throughout his life as a perpetual expat. He likes to do crosswords while enjoying a pint of craft brew.