Rosetta Stone's award-winning language program aims to get you speaking intuitively in your chosen language. With millions of users worldwide, Rosetta Stone is a tried and tested platform that has worked with leading organizations like Vodafone and Uber to empower employees with practical language skills.
With this in mind, you can be assured that you're learning from one of the best language-learning solutions out there.
But is it the best platform for you?
I've taken several hours' worth of Rosetta Stone lessons to tell you what it's all about.
With lessons in 25 languages, Rosetta Stone's goal is to immerse you in core lessons, supplemented by additional materials, to get you speaking in (and understanding) your chosen language.
Because everyone's goals are different, Rosetta Stone lets you choose both your level and your reasons for pursuing a language (e.g. for work, travel, or family). This means Rosetta Stone can finetune their program to best suit your needs.
So, Rosetta Stone clearly has its users as its core – but just how good is Rosetta Stone? And can it really help you to pick up a language intuitively and without translations?
That's what this Rosetta Stone review is here to answer!
.
Quick summary
Features:
Desktop- or device-based to best suit your needs
Progress report
Out-of-lesson resources
Dynamic Immersion and Speech Recognition
Pros
Immersive content that features true-to-life scenarios
Combines advanced speech technology with proven teaching methods to fast-track learning
In-depth reports to help chart your progress and highlight areas for improvement
Varied out-of-lesson materials to cement vocabulary and give you a more complete learning experience
Tailored to business and personal needs so you get the most out of your program
Flexible learning with speech free and app versions available
Suitable and adaptable to all language levels
Trademarked technology to help fine-tune your accent
Several packages to suit your needs/budget
Cons
Lessons can occasionally time out
Some exercises are overly simple
Best for: Anyone looking to learn a new language or improve their fluency by listening to native speakers. Rosetta Stone focuses on grammar, pronunciation, and vocabulary to help you to understand and craft sentences in your chosen language.
Cost: A 3-month subscription will cost you $36, and a 6-month subscription $66. There are also lifetime subscription options starting at $475. Check latest prices here.
Overall: Rosetta Stone propels your language-learning forward by adapting programs to suit personal or business needs. Its aim is to immerse you in a new language straight away so you can learn instinctively and without relying on translations. This is Rosetta Stone's "Dynamic Immersion" method, which is more true-to-life than textbook learning. Rosetta Stone also stands out by offering out-of-lesson content like audio companions and live videos. I especially liked that the app version allowed me to learn languages on-the-go and without the need for microphone access.
So, in this Rosetta Stone review I'll cover:
What Rosetta Stone is and how it works
The languages you can learn
What a lesson is like
How I reviewed Rosetta Stone
Pros and Cons
Who it's for
How much it costs
Can you get a refund?
Features of Rosetta Stone
Alternative providers
What others have said about Rosetta Stone
Is it worth it?
FAQs
With that said, let's get started:
What is Rosetta Stone?

Rosetta Stone is an online language-learning platform that gets you listening and speaking in your chosen language.
At the time of writing, there are 25 languages available. Most users focus on one language at a time but it is possible to learn unlimited languages depending on your subscription plan.
With app and web versions, Rosetta Stone gets you diving into your chosen language straight away with core lesson plans ranging from between 10 and 30 minutes long.
When you sign up, you can choose your proficiency level as well as your goals on the platform. From this, Rosetta Stone tailors a learning plan best suited to what you want to get out of it.
Along with the lesson plans, there are also other learning resources like live videos, phrase books, and on-demand videos. This way, you get additional learning that's adaptable to different learning styles!
How does Rosetta Stone work?
Rosetta Stone prides itself on being "the best way to learn a foreign language." It combines advanced speech technology with proven teaching methods to fast-track your learning.
Most lessons vary between 10-30 minutes long and focus on a particular topic such as family, greetings, or shopping. Choosing your learning level (beginner/intermediate/proficient) also helps Rosetta Stone to design the best learning plan for you.
In its format, Rosetta Stone is visual, interactive, and easy to use. You also don't need to download any software as everything is included on the website/app.
With Rosetta Stone, you can take a 3-day trial to get a feel for the website and its content.
By choosing your skill level and learning needs you can ensure that you get exactly what you need out of Rosetta Stone's programs.
Because packages cover a range of commitments and prices, you can get the best value for money by choosing a plan that fits your lifestyle.
Each lesson is split into bite-size exercises. These help to keep up your engagement and challenge you in different ways.
Rosetta Stone also offers a range of out-of-lesson content, such as audiobooks, on-demand videos, and story read-throughs, so you can cement your learning wherever you are.
What's the method behind Rosetta Stone?

Rosetta Stone's method involves high-tech speech recognition to monitor and improve your pronunciation, as well as proven lesson styles that get you speaking in and learning your language intuitively.
Unlike other platforms (especially free ones), Rosetta Stone offers tailored packages for businesses and educators. This is an added bonus if you're keen to use Rosetta Stone in a professional setting.
So, compared to other resources that make you passively read and translate, Rosetta Stone takes an active approach to learning through a range of speaking and listening exercises.
What languages can you learn with Rosetta Stone?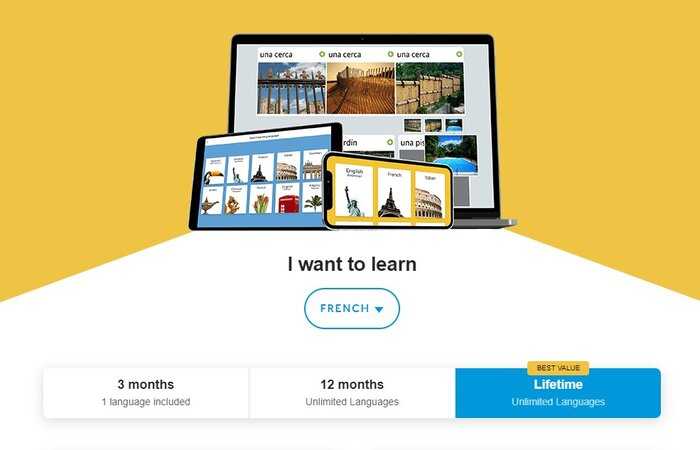 At the time of writing, Rosetta Stone offers 25 languages.
You can see all languages on offer on their website. To date, popular languages include Spanish, German, Russian, and Korean.
What a lesson is like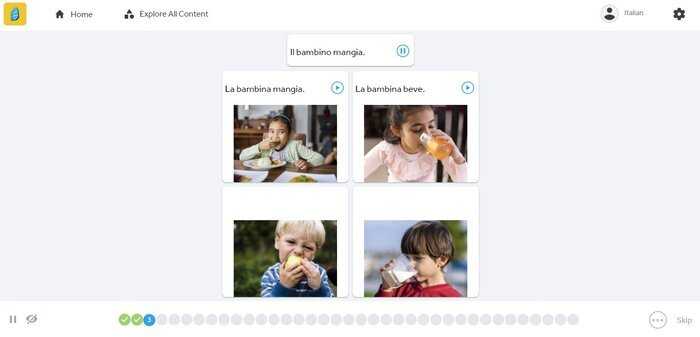 On Rosetta Stone, lessons are bite-sized and easy to access in your spare moments. However, there are also longer lessons at around 30 minutes to cover and reinforce new words.
After choosing your proficiency and goals, Rosetta Stone makes a program for you made up of core lessons. These cover sentences, grammar, and pronunciation, and become more detailed as your vocabulary increases.
Rosetta Stone's belief is that you can best learn a language without translations. So, instead of relying on "matching" your native language with your new, you use your intuition to pick up a new language from scratch.
Of course, Rosetta Stone also benefits from an interactive format that's heavily visual and designed to give you confidence in learning a language.
Although the early lessons are quite simple (they often involve picture-matching and repeating new words) they require a lot of active engagement. Also, Rosetta Stone breaks down a language to its building blocks, so you learn the foundations and build your way up.
After several hours of lessons on Rosetta Stone, I improved my Italian by:
Dissecting and repeating new vocabulary
Listening to and speaking in Italian right away
Trying a range of resources to improve my skills
Repeating words aloud to fine-tune my accent
During my time taking these lessons, I found that I was speaking aloud more frequently than I was on, say, DuoLingo, and also wasn't using translations to aid my learning.
In fact, I even think I spoke aloud more frequently than I did on sites like Preply, where teachers sometimes dominated the lesson and left me listening passively.
By starting with the basics and getting my pronunciation on track, I feel like Rosetta Stone has better equipped me for real-life Italian interaction than other resources.
How I reviewed Rosetta Stone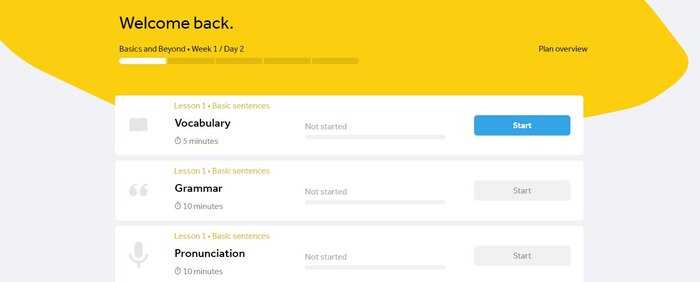 To review the site, I spent about 3 hours taking lessons, and about another hour trying out Rosetta Stone's out-of-lesson resources. And, because most people using Rosetta Stone are completely new to a language, this was the level I started from.
Compared to 1-1 learning platforms, or even larger group lessons held virtually, Rosetta Stone uses an automated program for its lessons. So, while it lacks the real-time and community-based learning other sites thrive on, it makes up for this with smart technology designed to teach you quickly and efficiently.
Although Rosetta Stone has no live teachers on its basic lesson plan, it does use vocal inserts from native speakers. This is designed to get you used to native sounds and also help you to understand the language in different voices.
Because of its interactive and visual format, I felt like my brain was constantly engaging with the material. As well as this, the range of audio, visual, and text was great for giving variety and catering to different learning styles.
Through Rosetta Stone, I feel more confident that my accent is on track. And, as its mission states, sound is one of the most important ways to communicate in another language. So, you can read all you want but if a native can't understand you, it renders your vocabulary pretty useless!
Pros of Rosetta Stone
Flexible to your needs with tailored options
One of Rosetta Stone's benefits over other platforms is how adaptable it is to your learning needs.
With Rosetta Stone, you choose your learning goals as well as your proficiency, and also get a great scope of content and resources. Offering a range of audio and visual content, there's also an app version as well as videos and stories to supplement your learning.
Rich and varied out-of-lesson content
As well as giving you immersive and refined lesson content, Rosetta Stone also offers out-of-lesson resources that aid your learning. These are all optional and give you freedom to explore a new language in a way that suits your interests. For instance, you can watch on-demand videos, listen to podcasts, or even follow stories narrated in your language of choice.
In-depth reports that chart your progress
For me, one standout of Rosetta Stone is the in-depth reports that chart your progress. These show you how you're getting on in your chosen language, as well as highlighting areas for improvement.
Compared to other resources like Preply or italki, that focus solely on your tutor hours and time spent speaking, Rosetta Stone lets you know exactly what you've covered and how well you're progressing in each topic.
Tailored to business and personal needs
With Rosetta Stone, you select your learning goals as well as your proficiency. This means Rosetta Stone can tailor lesson plans to your needs and wants from the website.
Whatsmore, Rosetta Stone offers business packages for if you're keen to use Rosetta Stone in a professional setting. Either way, you can be sure that Rosetta Stone puts your own learning needs at the forefront.
Cons of Rosetta Stone
Lessons can sometimes time out
Although Rosetta Stone prides itself on being more advanced than other learning systems, this doesn't mean it's perfect. In fact, Rosetta Stone sometimes timed out halfway through a lesson or made me retake a lesson by mistake.
As well as this, it can also be a little restrictive when it comes to navigating the lesson plans. For example, if you want to revisit a certain part of a lesson, you'll have to revisit the whole lesson. This can become a little tiring when you've revised a lesson multiple times but just want to go over a certain part!
That being said, Rosetta Stone is definitely one of the more developed language programs out there. It's designed with human learning in mind at a scientific level, and it clearly knows how to reinforce learning for long-term gain.
Some exercises can be overly simple
In a similar way, Rosetta Stone's exercises can seem overly simple at times. In particular, the picture-matching exercises are almost child-like and a bit too basic for adult learning. And, while it went over new words to reinforce learning, I did find myself getting bored of pairing words and pictures throughout lessons.
Of course, this could be a pro for some. It definitely makes the language more comprehensible and is probably the best way to make connections outside of translations.
That being said, if you're finding some of the exercises too simplistic, it might be a sign that your proficiency is better than you believe – especially if you've tried out other language-learning apps in the past.
Who is Rosetta Stone for?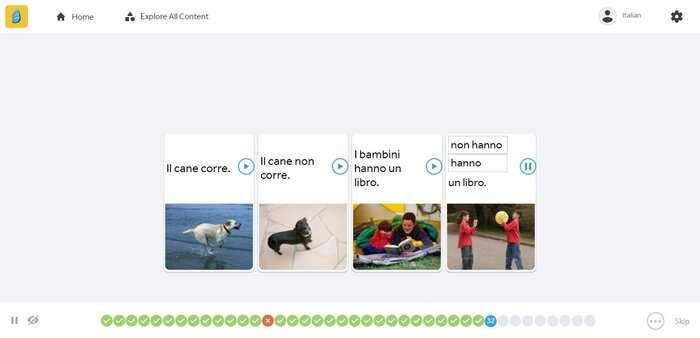 Rosetta Stone's learning style would suit anyone who's:
Keen to improve their pronunciation and accent in another language
Interested in applying language-learning to real-life scenarios
Easily bored by text-based or passive learning styles
Eager to take an active approach to long-term language learning
Compared to similar platforms like DuoLingo, Rosetta Stone is a lot more modern and varied in its lessons. Unlike DuoLingo, too, it dismisses learning by translating and instead wants you to learn intuitively through its Dynamic Immersion techniques.
With its progress reports, you can also track your language skills in a comprehensible way. Personally, I liked that the speech recognition was a staple feature in most lessons. This assured me that I was actually pronouncing words correctly rather than having to judge for myself!
How much does Rosetta Stone cost?
At the time of writing, Rosetta Stone offers three main subscription plans.
These are the 3-month plan for $11.99 a month, the 12-month plan for $7.99 a month, and a lifetime plan on offer for $199 in total.
One perk of Rosetta Stone is that they have a range of plans and offers to suit your budget. As well as this, Rosetta Stone offers a free trial for three days. This means you can try before you buy and get a feel for the lesson plans.
Can you get a refund if you're not happy?
At the time of writing, the below information is correct. For more detailed information about Rosetta Stone's policies, click here.
If you're dissatisfied with your subscription, Rosetta Stone has a 30-day money-back policy. But, because you can tailor your learning plan to suit your needs, Rosetta Stone will do its best to show you the most relevant plans for your goals.
Features of Rosetta Stone
There are lots of great features on Rosetta Stone, but here are some of the highlights:
Desktop- or device-based to best suit your needs — So you can access Rosetta Stone at home or on-the-go
Progress report — Track your learning and pinpoint areas for revision
Out-of-lesson resources — Watch videos and listen to audio companions to supplement your learning
Dynamic Immersion and Speech Recognition — Trademarked technology to fast-track your learning and reinforce vocabulary
Alternatives to Rosetta Stone
When it comes to learning a new language online, you're not short of choice. That being said, I'll keep this short and to-the-point by comparing Rosetta Stone with three other language-learning providers.
Rosetta Stone vs. Preply
Unlike Rosetta Stone, Preply is a platform that focuses on live 1-1 tutoring. It also has a broader scope of languages to choose from (currently boasting over 150 languages).
That being said, Preply's pay-as-you-go system can be a downfall if you're looking to subscribe and commit to a learning plan. With Preply, you choose how much or how little to invest.
So, if you're the type of person that needs to be held accountable, a solid subscription plan like you get with Rosetta Stone might be a better option for you.
Check out our Preply Review for more information.
Rosetta Stone vs Babbel
At any given time, Babbel has over a million active users. This makes it one of the most popular language apps out there. But how does it compare to Rosetta Stone?
Like Rosetta Stone, Babbel is also user-friendly and prompts learning through a range of audio/visual material. That being said, Babbel lacks the Dynamic Immersion feature that makes Rosetta Stone so successful, and it's easy to fall back on translations as a more passive learning method.
Babbel's design is user-friendly and prompts learning through a mixture of structured lessons, images, and games. If you're a visual learner, Babbel will likely be a good fit for you.
If you're a visual learner, Babbel does have its perks. But, if you want to learn intuitively and speak your language out loud from the offset, Rosetta Stone will give you a far better grasp of the spoken word.
Read our Babbel review here.
Rosetta Stone vs Duolingo
Since 2011, DuoLingo has stood out as Rosetta Stone's main competitor – especially as it has a free option.
Like Rosetta Stone, it also has an app-based version and encourages learning through a range of resources and interactive content.
In fact, one perk of DuoLingo over Rosetta Stone is that it has a community blog and comment sections for each lesson. This means you can get specific feedback and help from other users (including natives) if you're stuck.
That being said, DuoLingo is mostly focused on reading and writing, and encourages learning through translations. This is a great way to learn how to write in your language, but often falls short on the speaking side.
But, because it has a free version, there's no reason why Rosetta Stone and DuoLingo couldn't go hand in hand. As many users have pointed out, no one resource is perfect when used on its own. There definitely wouldn't be any harm in using DuoLingo as a supplement to other learning platforms.
Rosetta Stone: What others have said
My aim here is to write the best and most balanced Rosetta Stone review, so here's some feedback I found on the site and on forums such as Reddit:
"I highly recommend against using Rosetta Stone. Use the money you'd spend on that, and instead buy tutor lessons on italki or some platform with a native speaker. Everyone works differently, but to me Rosetta Stone was boring, dull, and I forgot almost everyone on it." -- Comment from Reddit
A main point of concern amongst Rosetta Stone critics is that it's a pre-set system that doesn't give you the same real-time feedback as a live tutor would. That being said, Rosetta Stone's features are highly advanced, and it's been proven to prompt language learning through speech recognition. It also boasts recordings from native speakers so you can begin to grasp correct sounds.
"After using Rosetta Stone, I felt that my vocabulary had grown a fair bit, but it did not help me at all with understanding the structure or the rules of language. I found that I couldn't put together sentences or communicate at all in a conversation setting." -- Comment from Reddit
It's true that Rosetta Stone focuses more on the "whats" of language rather than the "whys." But, if you're new to a language and want to start from the ground up, Rosetta Stone is probably a better resource than, say, textbook learning, which can seem almost totally removed from real-life scenarios.
"I happen to really like Rosetta Stone. [...] There's no English but it's still super comprehensible. You can understand the pictures very easily. [...] I like the 'speaking' feature. [...] It's good for training your mouth to produce the sounds anyhow. [...] I'm not expecting to be fluent in any sense by the time I'm done, but I do think it provides a good foundation if you value learning from immersion." -- Comment from Reddit
"I think Rosetta Stone is a good way to get started. Of course you're going to have to supplement it with other resources, but it's a good way to get a feel for the language. I never have any idea where to start, so I just do Rosetta Stone until I start feeling comfortable. Also, I have a friend who's been doing Rosetta Stone for an hour a day for like a month or maybe two, and he can actually speak to me in Spanish now." – Comment from Reddit
Overall, Rosetta Stone's feedback was mixed to seem to err on its being a good starting place for language-learning. As some users have mentioned, it's not a platform you can use alone (and that's probably true for all language-learning apps). But, it's a solid place to start and can be helpful when supplemented with other resources and real-life practice.
Personally, I found Rosetta Stone invaluable for getting me speaking in Italian. Because it doesn't rely on translations, I also found myself engaging more actively with the lesson content and felt more confident in my ability to pronounce words.
Conclusion: Is Rosetta Stone Worth It?
All in all, I'd say Rosetta Stone is a great starting place for speaking in a new language.
If you've relied on translations or traditional learning styles and found them unhelpful, Rosetta Stone is likely a great resource for you.
Also, if you're the kind of person that needs a subscription to commit, Rosetta Stone holds you accountable by getting you to invest in your own learning.
While I'm nowhere near confident in speaking Italian fluently, after a few hours on Rosetta Stone I was speaking more confidently and precisely than before. Also, the on-demand videos were a great way of immersing myself in the language outside of core lessons.
That being said, if you don't work well with automated systems and need real-time feedback, italki or Preply might be better platforms for you. On these, tutors work with you to create lesson plans and can also work on areas where you're lacking.
Overall, with a free trial option for three days, I think Rosetta Stone is worth trying out. After choosing your goals, you can get a feel for the site by taking a few lessons. As most users agree, it's a helpful place to start and gets you speaking actively in your new language.
So, why not try out a free trial today?
Related articles: Babbel review, Best Korean, Japanese and sign language classes, British Council LearnEnglish, Rocket French review
FAQs
How much does Rosetta Stone cost?
With Rosetta Stone, you can choose from a range of subscription plans starting at 3 months' commitment. Prices range from as little as $7.99 per month and around $200 for a lifetime subscription.
How does Rosetta Stone work?
Rosetta Stone assesses your language learning needs and develops a program with this in mind. It uses Dynamic Immersion technology to get you speaking and interacting with lesson content. It also favors intuitive learning, which means your brain learns by making active connections.
What languages does Rosetta Stone teach?
To date, Rosetta Stone has 25 languages available.
Can I get a refund from Rosetta Stone?
Rosetta Stone has a 30-day money-back guarantee for all its subscriptions. It also offers a free trial for three days so you can try before you buy.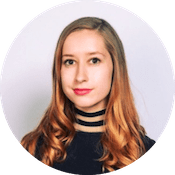 Rebecca graduated from King's College university with a first class honours in English Language, followed by a Masters' Degree in Eighteenth Century Studies.