In this Babbel review, I'll discuss my experience on the platform, what makes Babbel different from other language learning apps, and whether it's worth paying for when there are so many free resources for learning a language.
I'm a polyglot who has tried nearly every language learning platform out there in my quest to achieve fluency in three foreign languages. I spent nearly two weeks testing Babbel's software with several languages to mimic the experience of complete beginners, intermediate learners, and advanced learners.
So read on. Hopefully I can help you determine if Babbel is the right fit for your language learning journey.
.
Quick summary
Features
14 languages
Bite-sized lessons tailored to individual needs
Speech recognition technology for pronunciation practice
Themed courses targeting specific language skills
Review Manager for reinforcing learned content
Offline mode for learning on-the-go
Regularly updated content to ensure freshness
Babbel Live virtual group classes with certified teachers
Integrated podcast series for language immersion
Pros
Babbel Live is a revolutionary addition for a language learning platform
Focus on practical, real-life conversations
Comprehensive and digestible grammar explanations and exercises
Exploring themed courses keep learning fresh and fun
Culture Bites and Babbel Magazine equip you with cultural savviness
Option to choose the review format helps target weaknesses
Available on both web and mobile platforms
Cons
Pacing a little slow at times
Only one Asian language currently (Indonesian)
Placement test is less informative than it could be
Minor interface glitches with foreign language keyboards
Best for: Ideal for busy professionals, travelers, and students who prefer a structured approach to language learning. With its focus on practical communication skills and customizable learning paths, Babbel caters to learners who want to rapidly build their conversational abilities in real-life situations.
Cost: Single-language subscription plans from $7.45/month. If you want the option of taking virtual instructor-led classes through Babbel Live, prices start at $25/month.
Overall: Babbel is efficient and effective. Its well-designed lessons, practical approach, and customizable learning paths make it a valuable tool for gaining real-world language skills. Babbel Live, with ionline group classes led by certified teachers, provides a more immersive and interactive experience for anyone serious about language learning. Combine Babbel's curated courses with the Babbel Live classes and you'll be speaking your target language in no time.
What is Babbel?
Babbel is an online foreign language learning platform designed to help you achieve your language goals through an immersive and conversational approach. It's one of the largest online language learning providers, boasting 10 million+ active users across the globe.
Babbel stands out from other language learning programs due to its focus on individual needs. It offers customized experiences that adjust to your preferred way and speed of learning. It includes interactive lessons that cover every part of learning a language, making it a complete experience.
A key factor in Babbel's success is its variety of teaching methods and multimedia tools. The platform uses engaging activities, helpful grammar explanations, pronunciation coaching, and more to help users improve their reading, writing, and speaking abilities. Additionally, Babbel provides individualized tasks, feedback, and progress updates.
Babbel's teaching methods were studied by Yale University and found to be very effective. Over the 12 weeks of the study, 100% of participants improved their language proficiency by a statistically significant margin, and 75% of the study participants met their language goals.
What languages can you learn with Babbel?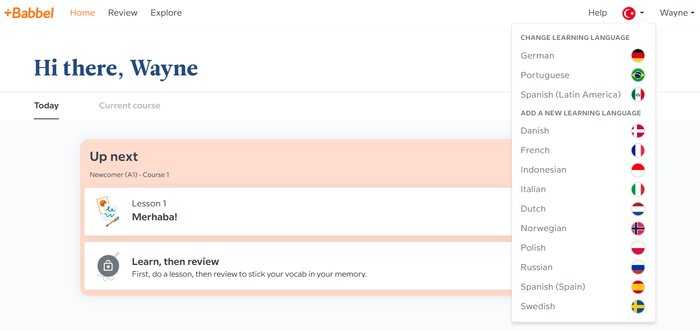 Babbel currently offers courses in 14 different languages, catering to a wide audience. Spanish, French, German, Italian, Portuguese, Russian, Dutch, Swedish, Turkish, Polish, Norwegian, Danish, Indonesian, and English for non-native speakers.
Notably, there are two types of Spanish courses. One for learners of Spain's version of Spanish, and one meant for the Latin American variety.
Keep in mind that each language course is not created equally. That is to say, some courses have more content than others. Below is a table that I've put together to show the CEFR levels that each course includes: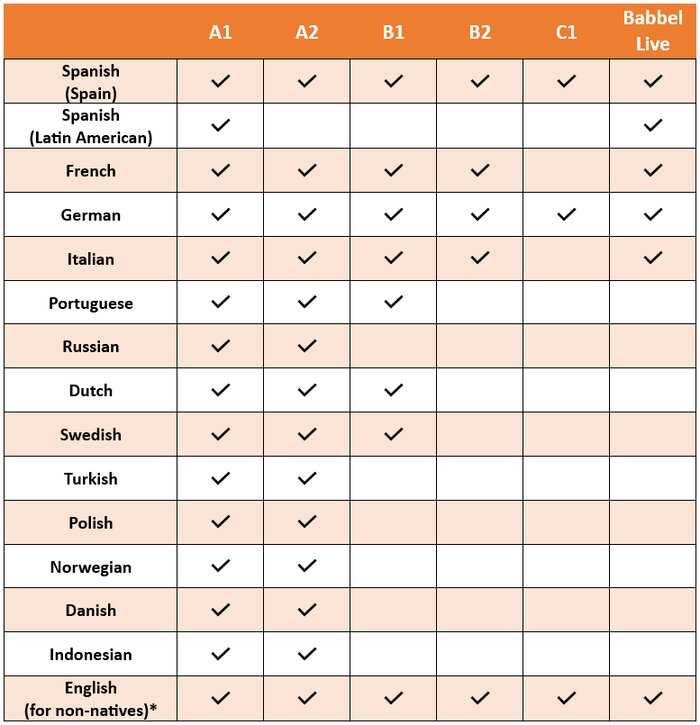 While the above is accurate at the date of publishing, keep in mind that the levels may have more or less content available depending on the language. For example, Babbel's Spanish A2 level includes 6 courses with a total of 68 lessons within those courses. Meanwhile, Russian A2 has 2 courses with 32 lessons total.
How does Babbel work?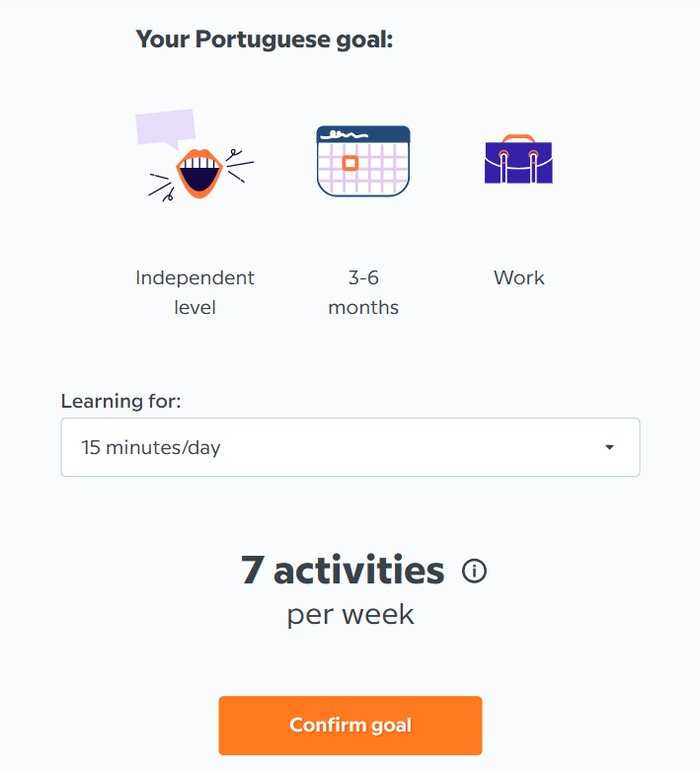 Babbel operates on a subscription basis, offering its services via both desktop browsers and mobile apps. The Yale study mentioned above found the mobile app to be more effective, making it the preferred choice for many. However, there's a time and a place for both — especially if you end up springing for Babbel Live.
Babbel's lessons are based on a self-paced learning style, providing flexibility and portability for users who are always on the go.
The core lessons are arranged by Common European Framework of Reference (CEFR) proficiency level. While other lessons are organized by language-specific skills and themes. This makes it easy for learners to curate their learning to focus on specific areas they wish to improve. The combination of structured and flexible approaches to language learning allows you to progress through the material in a logical but personalized manner.
An essential aspect of language learning is long-term memory retention. Babbel uses software that periodically prompts users to review content they've learned, reinforcing their knowledge and helping them commit the material to memory. The review feature ensures that learners don't just cram information but truly internalize it for long-lasting results.
Babbel tracks your progress and displays it on a leaderboard. This gamified approach encourages healthy competition among learners and makes language learning more enjoyable and motivating.
What a lesson is like on Babbel
Self-paced lessons that teach new material through context-based exercises
Easy-to-understand grammar instruction
Voice-recognition software to perfect your accent
Babbel Live virtual instructor-led classes
In a typical Babbel lesson, you can expect to experience a well-rounded learning process that covers various aspects of language learning. The time-tested and app-friendly software ensures that users have access to engaging and effective lessons anytime, anywhere.
Focusing on vocabulary acquisition, Babbel introduces learners to new words through context-based exercises, accompanied by images and native-speaker audio. This helps users not only memorize the vocabulary but also understand its proper usage in real-life situations.
Grammar lessons in Babbel are designed to be easily digestible, breaking down complex rules into simpler concepts. Interactive exercises reinforce understanding and provide ample opportunities for practice, ensuring that learners grasp the grammatical structures being taught.
Babbel's speaking lessons utilize voice recognition technology to help users hone their pronunciation skills. By mimicking native speakers' pronunciations and receiving immediate feedback, learners can work on perfecting their accents and speaking with confidence.
In addition to the self-paced lessons, Babbel also offers Babbel Live. This features live group classes led by certified language teachers. These interactive sessions allow learners to practice their newly acquired skills with fellow students, receive real-time feedback, and engage in conversation. Babbel Live lessons offer a more dynamic and collaborative learning experience, simulating real-life interactions for a well-rounded language learning journey.
Overall, users can expect a comprehensive and interactive learning experience with Babbel, combining self-paced lessons with the added benefit of Babbel Live for a truly engaging language learning journey.
What is the method behind Babbel?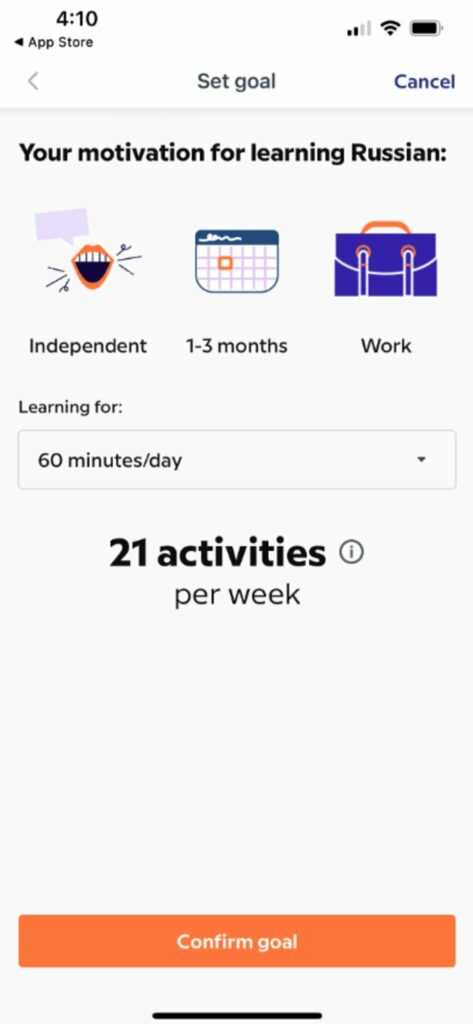 Babbel's method is founded on a science-based approach, combining proven cognitive and communicative teaching techniques. The method was developed through collaboration between 150 expert linguists and language teachers to provide an effective and engaging learning experience for users.
One of the key aspects of Babbel's teaching strategy is the spaced repetition system. This enhances long-term retention of new vocabulary and grammar concepts. It involves presenting information at specific intervals, allowing learners to review and solidify their knowledge over time.
In addition to spaced repetition, Babbel employs a communicative approach that focuses on practical, real-life situations to teach language skills. This ensures you acquire both theoretical knowledge and also develop the ability to confidently use the language in everyday contexts.
Babbel covers all essential elements of language learning, including vocabulary, speaking, listening, grammar, reading, and writing. By addressing these components through a variety of interactive exercises, Babbel provides a comprehensive and well-rounded learning experience.
The platform's emphasis on contextual learning further supports language acquisition, as users are exposed to vocabulary and grammar rules within meaningful and engaging contexts. This approach helps learners understand the practical applications of the language, making it easier to remember and apply in real-life situations.
How I reviewed Babbel
I wanted to thoroughly review Babbel by mimicking the experience of three types of learners: complete beginners, advanced beginners, and intermediate to advanced learners.
To do this, I spent one week using Babbel for a few hours a day, alternating between Russian, Portuguese, and Spanish — three languages in which I have varying levels of proficiency.
For Russian, I had no prior experience, and my main goal was to become semi-comfortable with reading Cyrillic. Though Babbel initially plunged me into the lessons without much explanation, it gradually introduced Cyrillic in a digestible manner. By the end of the week, I could sound out Cyrillic words with relative ease and learned some basic greetings and phrases.
In Portuguese, I had some experience, thanks to my fluency in French, Spanish, and Italian, and a crash course from a friend. Despite this background, the placement test put me at the A1 level. While the pace of the earlier lessons felt slow, I recognized the importance of mastering the basics. I also explored grammar courses by theme and practiced more advanced grammatical forms through the "Explore" tab.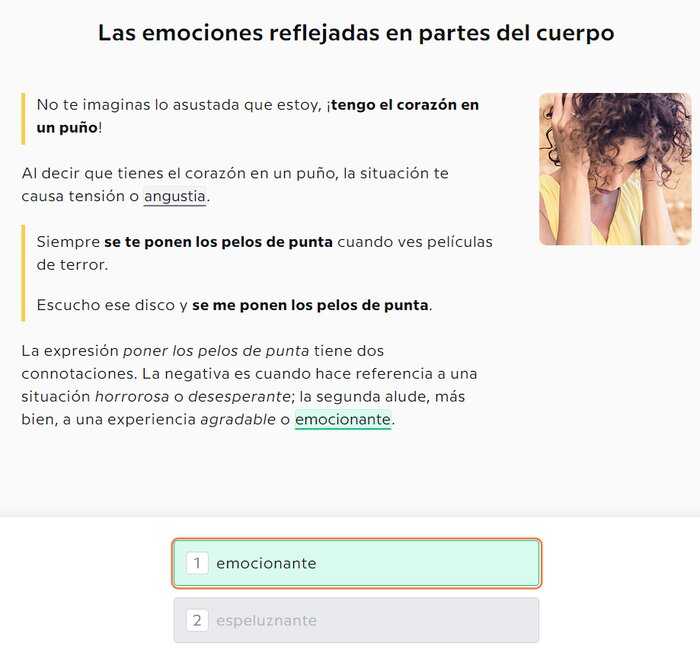 In Spanish, I tested into the C1 level courses, which mostly focused on the subjunctive and colloquial expressions. About half of the content was familiar, while the other half helped me sound more authentic. I also visited the "Explore" tab to try out advanced grammatical forms.
To fully review Babbel, I opted for the Babbel Live package, which allowed me to enroll in instructor-led classes. I joined a C1-level class on strengthening conversation skills to discuss travels and memories. Hosted on Zoom, the one hour class featured a lovely Costa Rican teacher who equipped us with advanced vocabulary terms to describe places and memories.
Continue on to the next section to read my thoughts on Babbel Live…
Babbel Pros
What is it about Babbel that students love so much? Here are some of its most attractive qualities:
Engaging Babbel Live Classes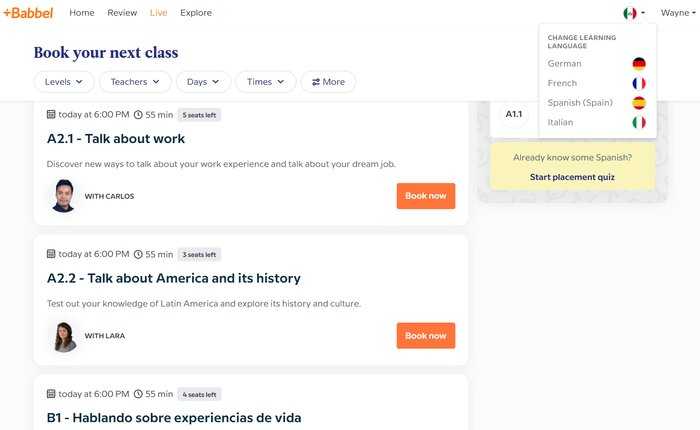 First and foremost, we need to talk about Babbel Live. Some of you may check out the price ($299 for a year as a first-time offer) and not even give it a second thought. But if you read any part of this review, please let this be it.
While online language apps have revolutionized self-study for foreign languages, they haven't quite replaced the effectiveness of instructor-led language classes. That's where Babbel Live comes in, addressing this teaching gap by offering virtual classes taught by native (or CEFR C2) language teachers.
As a polyglot and an American diplomat, I can attest to the fact that diplomats aren't left to learn languages on our own. Our rigorous language training schedule includes instructor-led classes, and they encourage us to supplement with apps and other online resources. That's why I'm truly impressed with Babbel's approach – they've managed to combine self-paced, flexible learning software with incredibly effective instructor-led classes, and I can't recommend this enough.
After completing a Spanish lesson, I checked out Babbel Live and found a C1-level class starting in just four minutes. With a cap of six students per class, there was only one seat remaining, and I quickly enrolled. The classes are hosted on Zoom and focus on specific themes. The convenience is almost too good to be true.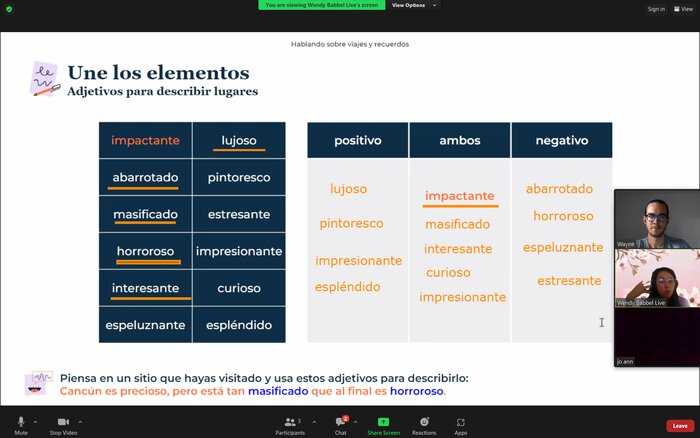 A Babbel Live C1-level class I took with my lovely Costa Rican instructor, Wendy
What's even more amazing is the unlimited number of small-group classes you can take. The cost of a year-long Babbel Live package is equivalent to what I paid for 20 hours of lessons in Bogota, where I learned Spanish. It's an incredibly good deal, and I highly recommend Babbel Live to anyone looking to improve their language skills. The investment is worth it.
Digestible Grammar Explainers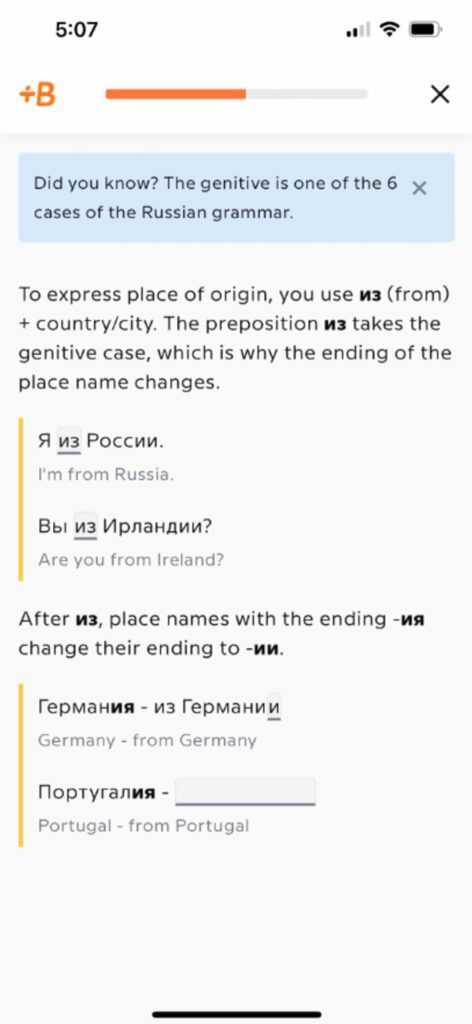 I also loved Babbel's approach to teaching grammar, especially to complete beginners. Early lessons will focus on getting you speaking the foreign language, with minimal grammatical distractions.
Brief grammar explainers for Russian were easy to understand
When you're learning a new language, you need to get comfortable with the foreign words in your mouth. But in each lesson, you'll notice little grammar explanations related to the phrases you're saying. These blurbs are especially helpful for tough languages like Russian or the Nordic languages.
So instead of getting whacked upside the head with lengthy and boring grammar rules, Babbel makes sure to get across the core concepts without getting overwhelmed. Before you know it, you'll be wielding the imperfect subjunctive like a native.
Targeted Learning with the Explore Tab
The Explore tab allows you to discover special courses tailored to your needs, such as tongue twisters, false friends, idioms, professional working language, and pronunciation help. This feature enabled me to focus on specific grammar rules for Portuguese and differentiate it from other Romance languages. The Explore tab is also great for advanced learners looking to improve specific language aspects.
Cultural Enrichment: Culture Bites and Babbel Magazine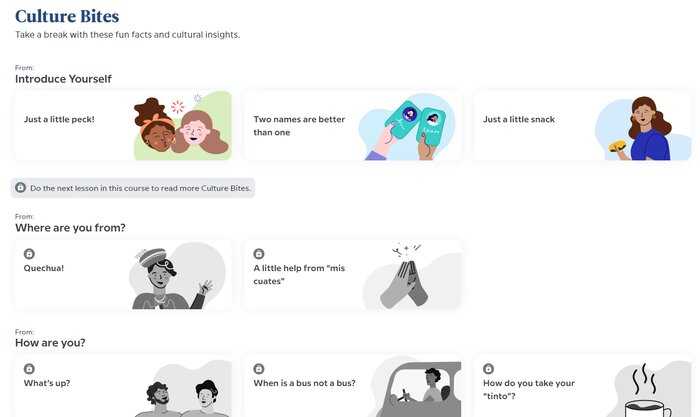 Mastering a language goes beyond vocabulary and grammar – understanding the culture connected to it is essential. Babbel offers Culture Bites and Babbel Magazine to provide cultural insights and context. Some of the Culture Bites lessons are locked until you reach higher levels. But when you unlock them they significantly enhance the language learning experience by adding depth and cultural understanding.
Customizable Review Options
This is a small one, but it struck me as a nice feature. During the review lessons, Babbel asks you how you want to review: through speaking, writing, or listening. This review function is based on spaced-repetition theory and ensures long-term memory retention. By customizing it, Babbel lets you customize your learning journey according to your learning style and preferences.
Babbel Cons
After spending some time with Babbel, I must admit it took me a while to think of the downsides of using this language learning software. However, there are a few cons worth mentioning:
Pacing and Lesson Structure
Babbel's lessons are designed as bite-sized chunks, making them easy to fit into your daily routine. However, I found that this approach caused the lessons to move slowly, especially when learning Portuguese. As someone fluent in three other Romance languages, I prefer longer classes of 10-30 minutes to maintain momentum. That said, Babbel Live offered a more engaging experience with longer sessions. Keep in mind that pacing and lesson structure preferences vary among learners – some may appreciate the shorter lessons to squeeze in during breaks or between classes.
Placement Test Feedback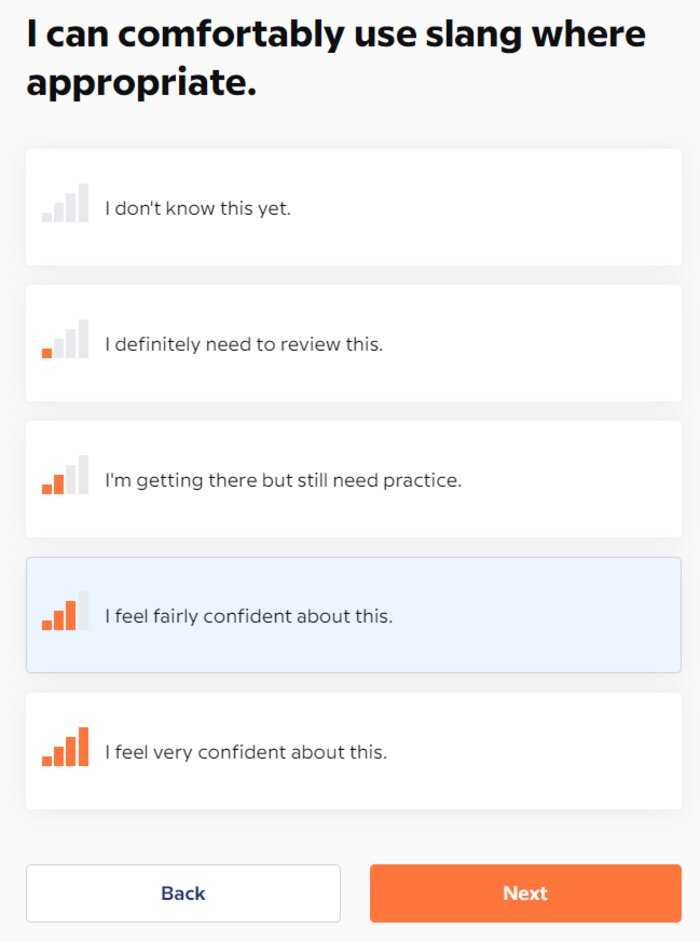 Babbel's placement test felt more like a survey than a comprehensive assessment. It can be challenging to subjectively describe your fluency level in various situations, as the survey questions are quite specific. I would recommend that Babbel incorporates questions from its courses, starting with basic concepts and progressing to advanced grammatical forms. This approach would help better gauge learners' proficiency levels according to their knowledge of the language, rather than relying on subjective self-assessment.
Limited Asian Languages Available
While Babbel offers a great platform for learning languages, it mostly focuses on Euro-centric and Romance languages. Currently, the only Asian language available is Indonesian. If you're interested in learning other Asian languages, you might need to look elsewhere. However, for those keen on learning European languages, Babbel has an extensive selection to choose from.
Interface Annoyances
While using Babbel on a desktop computer, I encountered some awkwardness with the interface. The software seems better suited for touch-screen tablets or smartphones. On the bright side, Babbel Live worked seamlessly on my desktop. Additionally, when using Babbel on a smartphone, there's no in-app keyboard for special characters. This minor annoyance forces you to download the language-specific keyboard on your phone. If using the desktop version, Babbel provides codes for typing special characters, like "a//" for "à" in Portuguese.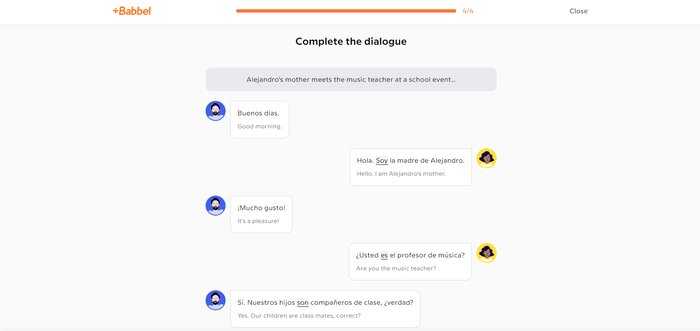 The interface seemed obviously geared towards the mobile app rather than the desktop (as seen here)
Who is Babbel for?
Babbel is an appealing and versatile language learning platform that is great for a wide range of learners. No matter your background or goals, Babbel's engaging content, flexible lesson structure, and supportive community will help you achieve language mastery and expand your horizons. That said, I'd say Babbel is best for the following learners:
Busy professionals: Babbel is perfect for on-the-go learners who want to squeeze in some language practice during their busy workdays. With its bite-sized lessons, you can easily complete a lesson during your morning coffee break or commute. Say goodbye to dull moments in your day – Babbel will keep you engaged and productive while learning a new language!
Travel enthusiasts: Are you always dreaming about your next adventure? Babbel helps you prepare for your trips by teaching practical vocabulary and phrases that will come in handy while exploring new countries. Plus, Babbel's Culture Bites and Babbel Magazine provide essential cultural context, so you'll be ready to navigate social situations, understand local customs, and make the most of your travels!
Language lovers: If you're passionate about languages and love the challenge of learning new ones, Babbel's extensive course selection will keep you entertained and motivated. With engaging lessons, grammar explainers, and the Explore tab for specialized courses, you'll never run out of exciting material to discover.
Expats and international students: Moving to a new country can be daunting, but Babbel's immersive approach to language learning will help you feel more confident communicating with locals and understanding everyday life. You'll develop a solid foundation in your chosen language, from essential vocabulary to advanced grammar, making your transition abroad smoother and more enjoyable.
Lifelong learners: Are you a curious soul who thrives on expanding your knowledge and skills? Babbel's comprehensive courses cater to learners of all levels, from beginners to advanced speakers. With the Babbel Live package, you can even attend instructor-led classes, ensuring that you continue to grow and improve your language abilities throughout your learning journey.
How much does Babbel cost?
Babbel offers a range of pricing plans to suit different budgets and learning needs. The platform's pricing plans range from buying a single language on a flexible month-to-month package to springing for the Babbel Live package that includes Babbel's entire catalogue of languages and courses.
The pricing options are a bit complicated, so I put together the below table to give you a better idea of the pricing. NB: Prices reflect the discount that is offered to new learners (which I'm assuming most of you here are).
| | | | | | |
| --- | --- | --- | --- | --- | --- |
| | 1-month | 3-month | 6-month | annual | Lifetime access |
| Babbel(single language) | $14.95pm | $12.65pm | $11.15pm | $7.45pm | $349 |
| Babbel Live(+ all languages) | $69pm | $49pm | $42pm | $25pm | N/A |
Figures accurate at the time of publishing
When creating an account on Babbel, you'll receive an extra discount on your chosen plan compared to the pricing options available before signing up. However, it's important to note that these discounts are a one-time offer for the duration you select.
For instance, if you opt for the most flexible month-to-month plan, you'll only receive the discount for the first month. If you choose the 6-month option, the discount will apply for that entire period before reverting to the full cost, etc etc.
Be sure to consider your long-term language goals when selecting a plan to maximize your savings.
Babbel also offers a variety of discounts to make it more affordable for a wider range of learners. Students, military personnel, healthcare workers, and educators can all benefit from these special discounts, making it even easier to invest in their language learning journey.
Is Babbel free?
While Babbel is not a free language learning platform, it does offer a free trial for each language. This allows you to get a feel for Babbel's learning software and its interface. The free trial will provide you with a couple free lessons in each of the courses available for a language.
For instance, in the Portuguese courses, the free trial includes 4 out of 49 total lessons at the A1 level, 7 out of 75 lessons at the A2 level, and 2 out of 22 lessons at the B1 level. Additionally, you'll have access to 1 refresher lesson, 5 grammar lessons, 3 culture classes, 5 "special lessons," and 31 free lessons for themed vocabulary.
Even though Babbel isn't entirely free, the free trial provides a fantastic opportunity to experience Babbel's teaching style and content before committing to a subscription. This way, you can make an informed decision about whether Babbel is the right language learning platform for you without any risk.
Babbel Refund
Babbel's refund policy is designed to ensure customer satisfaction while providing a convenient way for users to change their minds if they find the platform isn't the right fit for them.
According to Babbel, if you're not completely satisfied with your subscription, you can request a refund within 20 days of your initial purchase. This gives you enough time to dive into the courses and evaluate whether Babbel meets your language learning needs and expectations.
To request a refund, simply contact Babbel's customer support team via their website or email, and they will guide you through the process.
Keep in mind that this refund policy applies only to the initial subscription purchase and not to any subsequent renewals or additional purchases made within the platform. By offering a hassle-free refund policy, Babbel demonstrates its commitment to providing a positive and valuable learning experience for its users.
Features of Babbel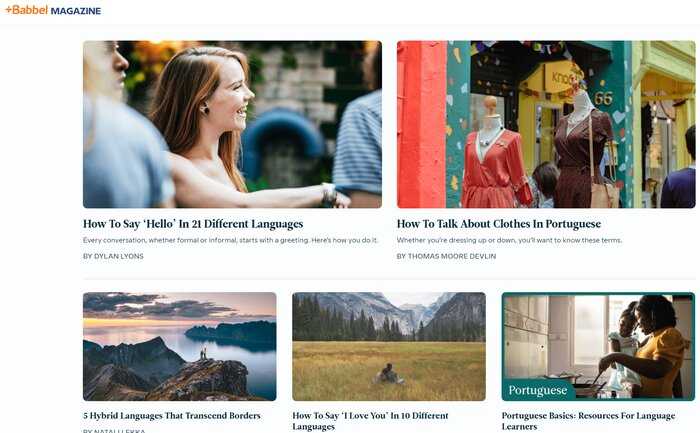 Bite-sized lessons tailored to individual needs
Integrated mobile app
Speech recognition technology for pronunciation practice
Themed courses targeting specific language skills
Review Manager for reinforcing learned content
Offline mode for learning on-the-go
Regularly updated content to ensure freshness
Babbel Live virtual group classes with certified teachers
Podcast series to aide language immersion
Bite-sized lessons tailored to individual needs
Babbel offers short, focused lessons that can easily fit into your daily schedule, allowing you to learn at your own pace and according to your unique learning style.
Moreover, the lessons cover real-life topics and situations, ensuring that the material you learn is practical and applicable in everyday conversations.
Integrated mobile app
With Babbel's mobile app, you can take your language learning with you wherever you go, making it easy to practice anytime and anywhere. The app is user-friendly and offers seamless synchronization across devices, so you can switch between your phone, tablet, and computer without losing progress.
This level of flexibility and convenience helps you make the most of any free time you have throughout the day, turning moments like waiting in line or commuting into opportunities for language practice.
Speech recognition technology for pronunciation practice
Babbel incorporates advanced speech recognition technology to help you fine-tune your pronunciation and speak more confidently in your target language. By providing immediate feedback on your pronunciation, Babbel enables you to correct mistakes and develop a more authentic accent.
This feature is particularly valuable for beginners who might be hesitant to speak out loud or practice their pronunciation with native speakers.
Themed courses targeting specific language skills
Babbel features specialized courses that focus on various language aspects, such as grammar, vocabulary, and conversation, enabling you to hone specific language skills. These themed courses allow you to dive deeper into areas that interest you or address specific weaknesses in your language abilities.
By offering targeted learning experiences, Babbel ensures that you can tailor your studies to meet your individual needs and goals effectively.
Review Manager for reinforcing learned content
Babbel's Review Manager helps you retain newly learned material by providing regular review sessions based on a spaced repetition system, ensuring that your knowledge stays fresh and accessible.
This scientifically proven method tracks your progress and schedules reviews at optimal intervals to reinforce your memory. As a result, you can confidently build upon your previous learning while minimizing the risk of forgetting essential information.
Offline mode for learning on-the-go
With Babbel's offline mode, you can download lessons and continue learning even when you're not connected to the internet, making it perfect for travel or commuting.
This feature ensures that you never miss an opportunity to practice, even in areas with limited connectivity.
Regularly updated content to ensure freshness
Babbel continuously updates its content to keep lessons engaging, relevant, and up-to-date, keeping your learning experience fresh and exciting.
This commitment to providing fresh material means you'll always have access to new challenges and insights, preventing your studies from becoming stale or repetitive.
Babbel Live virtual group classes with certified teachers
One of Babbel's standout features is Babbel Live, which offers virtual group classes led by certified language teachers. These live sessions provide an interactive and engaging learning experience, allowing you to practice speaking and listening skills in real-time with fellow learners.
Babbel Live also fosters a sense of community among students, creating a supportive environment where you can ask questions, receive feedback, and learn from each other's experiences.
Remember, by combining flexible, bite-sized lessons with instructor-led Babbel Live classes, you can supercharge your language learning experience. This blended approach is widely considered one of the most effective methods for mastering a new language. It combines the convenience of self-paced learning with the guidance and support of experienced teachers.
Podcast series to aide language immersion
Babbel also offers a podcast series that immerses you in authentic conversations and cultural insights, further enhancing your language learning journey.
These podcasts expose you to native speakers discussing various topics, helping you develop a better understanding of the language's natural rhythm, intonation, and colloquial expressions. Listening to podcasts can also improve your listening comprehension skills, making it easier for you to follow and participate in real-life conversations.
Alternatives to Babbel
By comparing Babbel to some other popular language learning platforms, I hope to provide you with a clearer picture of which platform might be the most suitable for your language learning journey.
Duolingo vs Babbel
When comparing Babbel and Duolingo, there are several key differences to consider. Babbel focuses on teaching practical conversational skills and grammar, while Duolingo emphasizes vocabulary acquisition through repetition and translation exercises. Babbel's lessons are designed to simulate real-life conversations, giving learners a more practical understanding of the language.
Babbel offers a more structured approach with lessons organized by skill level and topic. This allows learners to progress at a steady pace, building on previous knowledge. Duolingo's pace can be more sporadic, with users completing exercises and earning points to advance through levels, often jumping between various unrelated topics.
Overall, Babbel is probably better suited for learners seeking a comprehensive and structured approach to develop practical language skills, while Duolingo may be ideal for casual learners looking to build vocabulary and have fun in the process.
Rocket Languages vs Babbel
Both Babbel and Rocket Languages offer structured courses that focus on developing practical language skills. However, Rocket Languages' courses are more extensive, with each level covering a broader range of topics and skills, whereas Babbel's lessons are broken down into smaller, more focused units.
Babbel uses a conversational approach, emphasizing real-life situations and dialogues. Rocket Languages combines audio lessons led by native speakers with interactive exercises, providing a more immersive experience that incorporates listening, speaking, reading, and writing practice.
Both Babbel and Rocket Languages include cultural insights in their lessons, helping learners understand the context and customs of the language they are studying. However, Rocket Languages tends to delve deeper into cultural topics, providing more detailed information and background on various aspects of the target culture.
Babbel's courses focus on practical language skills, teaching grammar and vocabulary through real-life scenarios and conversations. Rosetta Stone takes a different approach, using its proprietary Dynamic Immersion method, which teaches language through pattern recognition and context without explicit grammar instruction.
Rosetta Stone is known for its full immersion technique, presenting all content in the target language without translations. Babbel, on the other hand, provides explanations and translations in the learner's native language, making it easier for beginners to grasp new concepts.
In conclusion, each of these language learning platforms has its own strengths and unique features. Ultimately, the best choice for you will depend on your learning style, goals, and preferences. Consider trying out the free trials or demos offered by these platforms before making a decision to find the one that best suits your needs.
What others have said
To make this the best Babbel review possible, I went to Reddit to see how some past students felt Babbel impacted their learning experience.
"French, Italian, and other "classical" languages to learn are pretty well organized and can hold you over till A2-B1 however the audio files do vary in quality sometimes, even within the same lesson. I don't think it's a great tool on its own, it's monotonous, repetitive, sometimes dull, but it does offer explanation on grammar choices, and offers a number of examples." - Comment from Reddit
This Reddit user found Babbel's course content to be excellent for beginners, as it helps them learn the basics of languages like French, Italian, and other "classical" languages quickly. However, they felt that their progress start to slow down when they reach intermediate levels as they dive deeper into more complex grammar.
I didn't share the same issue with the audio files, or if I did it didn't affect my learning experience at all. That said, if you're worried about it then be sure to go for a Babbel trial to make sure you don't have any issues with it.
Though I think the criticism that the platform can feel monotonous is valid, I feel like Babbel created the Explore tab to prevent this from happening. So if you start feeling this way, then I'd recommend spending some time in the Explore tab to find lessons that focus on specific, more engaging aspects of the language. This can help break up the monotony and make your language learning journey more enjoyable.
Don't forget that there are always Babbel Live virtual classes to help shake you out of the app-based learning mindset!
"I'm surprised not at my self, but at how effective the classes have been for me. I am conversational and satisfied with my level, and I have gotten more confident with each class. And I can say now that I speak another language, and at this point I get by just with these classes after finishing the app course as well." - Comment from Reddit user 
This user absolutely loved the option to take an unlimited number of virtual instructor-led classes. And emphasized how Babbel Live classes enhanced their conversational abilities and boosted their confidence in speaking a new language.
Speaking from experience, this is more than half the battle when learning a new language. It shows the platform's capability to offer practical, real-world language learning opportunities.
It's important to mention that this user also stated they were paying much less compared to other similar apps like italki. So Babbel Live not only provides an effective language learning experience, but is also a more budget-friendly option.
Conclusion: Is Babbel worth it?
Let's have a quick recap before I give you my final verdict.
I think the Babbel Live virtual classes are revolutionary for the language learning community. They're engaging, effective, and affordable. You'll probably end up spending less on a year's worth of unlimited group classes than you would on that fancy espresso machine you've been eyeing. And trust me, being bilingual is way cooler than making fancy coffee.
Babbel's grammar explainers are a gentle breeze on a hot summer day. They ease you into complex concepts without giving you a headache. And the Explore tab is always there in case you get a bit burnt out on the meat and potatoes of the primary lessons.
Languages are closely tied to the cultures they're associated with, and Babbel folds this concept into its lessons. I know it sounds strange, but learning how different cultures operate will help you learn the mechanics of the language. The Culture Bites and Babbel Magazine are great for filling out that knowledge.
The pacing and lesson structure might not be everyone's cup of tea (I'm more of a "long lesson" kind of guy). But it could be perfect for busy bees who need to squeeze in some learning between their daily hustle and bustle.
The placement test could use a little tweaking, but hey, nobody's perfect. And while Babbel may not cater to all the Asian language enthusiasts out there, it's a goldmine for Euro-language lovers.
So, drumroll please… Yes, Babbel is definitely worth it!
And with the free trial and generous refund policy, there's really no reason not to give it a shot.
So go on and give it a try and let your inner polyglot shine! But don't forget, the key to language learning success is consistency and practice.
Go forth, fellow language enthusiasts, and conquer the linguistic world with Babbel by your side!
Related articles: Rosetta Stone review, italki review, Preply review, FluentU, MosaLingua review, Busuu review, Mondly review
Babbel FAQs
How much does Babbel cost?
Babbel is available in a variety of packages. Prices are dependent on the length of subscription and whether Babbel Live is included. Costs range from $8 – 70 per month.
How does Babbel work?
Babbel offers flexible, self-paced language learning through desktop browsers and mobile apps. The lessons are structured by CEFR proficiency level and language-specific skills, allowing users to personalize their learning journey. Babbel's software reinforces long-term memory retention through periodic reviews and gamifies the experience with leaderboards for motivation and enjoyment.
What languages does Babbel teach?
Spanish (Latin American and Spain), French, German, Italian, Portuguese (Brazilian), Polish, Russian, Dutch, Turkish, Danish, Norwegian, Swedish, Indonesian, English
Can I get a refund?
Yes! Just contact Babbel's customer support within 20 days of your purchase.

Wayne holds a Master's in Conflict Studies from the London School of Economics and Political Science. An American working in the world of international affairs, he has picked up French, Italian, and Spanish throughout his life as a perpetual expat. He likes to do crosswords while enjoying a pint of craft brew.