With over 150 lessons and the promise of teaching you how to sing in just 30 days, 30 Day Singer is becoming one of the most popular ways to sing online.
But does that mean it's worth the money? I've been using 30 Day Singer, going through both a 30 Day Course and sampling other classes. I've also had experience reviewing some of the best singing courses across the internet.
For me, 30 Day Singer stands out as one of the most comprehensive and accessible ways to learn how to sing online.
In this 30 Day Singer review, I'll be telling you everything you need to know about 30 Day Singer, including how it works, how much it costs, what the alternatives are and more.
This will help you decide whether or not 30 Day Singer is right for you.
So, let's dive in!
But first, here is the key information you need to know: 
.
Quick summary
Features
Beginner courses designed to teach you how to sing in 30 days
Additional courses on ear training and harmony, vocal technique and style and performance
The chance to receive feedback on your singing
Live streams with top instructors
The opportunity to book private lessons
Recommended warm-ups
Access to a blog and a forum
Pros
A systematic approach to singing to help you improve quickly
Very accessible; it helped me improve my singing
Top-quality instructors with impressive professional experience
A technical approach to singing that breaks down the core concepts
Lessons provide users with a range of resources such as warm ups and exercises
Unique additional materials, including the chance for feedback
Cons
Lessons could include a little more detail
The site itself could benefit from even more materials
Best for: Anyone completely new to singing interested in a course that will provide a technical introduction to the skill.
Cost: Check 30 Day Singer for latest price.
Overall: 30 Day Singer is what you make it. Whether or not it will get you to sing in 30 days will depend on your engagement with the lessons and personal practice. However, with its breakdown of fundamental concepts, highly professional and experienced instructors and technical vocal exercises, 30 Day Singer provides any new vocalist with the fundamental tools for seeing an improvement in their singing. 
What is 30 Day Singer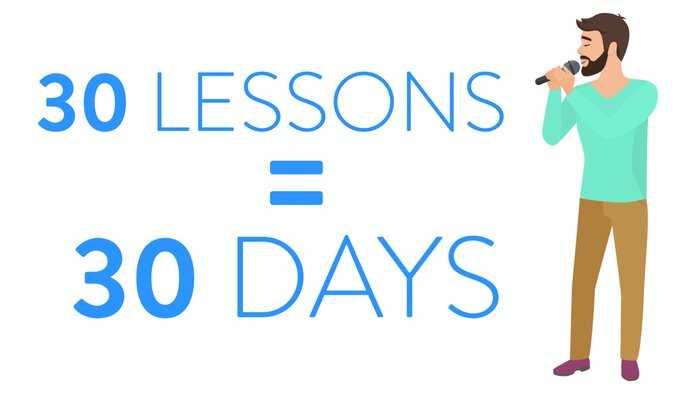 30 Day Singer is an online website dedicated to teaching its users how to sing. 
In keeping with its name, 30 Day Singer has a range of courses (two beginner and two intermediate) which each contain 30 classes designed to be taken across 30 days. By the end of this period, these courses aim to equip you with the fundamentals of singing. 
But the learning doesn't stop there. 30 Day Singer also contains shorter lessons and tutorials on a variety of different genres and singing techniques.
All of these lessons are taught by top singing instructors from around the world, each with a unique career pathway that means they have special insight to offer to their students.
30 Day Singer also has a range of options that are not traditional online tutorials, including live streams, private lessons and even the chance for feedback on your singing.
This makes 30 Day Singer truly unique. 
Who are the instructors?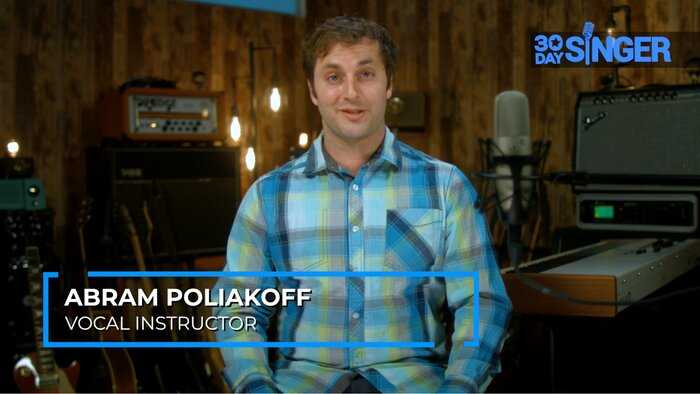 When it comes to 30 Day Singer you are truly learning from the best. But don't just take my word for it. Here, are the credentials of some of 30 Day Singer's top instructors:
Camille van Niekerk: A singer and vocal instructor from California, Camille graduated Summa cum laude with a BA in Music Education. She performs with the L.A. Choral Lab and Ensoma Creative.
Jonathan Esterbrooks: Jonathan is a Juilliard graduate who has been described as a 'robust baritone' by the New York Times. He has worked with Grammy award-winning producers, symphony orchestras and performed for the Prime Minister of his native Canada.
Jon Statham: From Rod Stewart albums to movie soundtracks, Jon has a wide range of experiences he can draw on for his lessons. He grew up around classic country and blues music and is currently an in-demand session singer in Nashville.
Reagan James: Influenced by the likes of Sia and John Legend, Reagan was a top 10 artist on the legendary NBC show The Voice.
Mark Mekailian: Mark has studied under Grammy award winning artists and performed with some of the best singers in the world, including Josh Groban. 
How does 30 Day Singer work?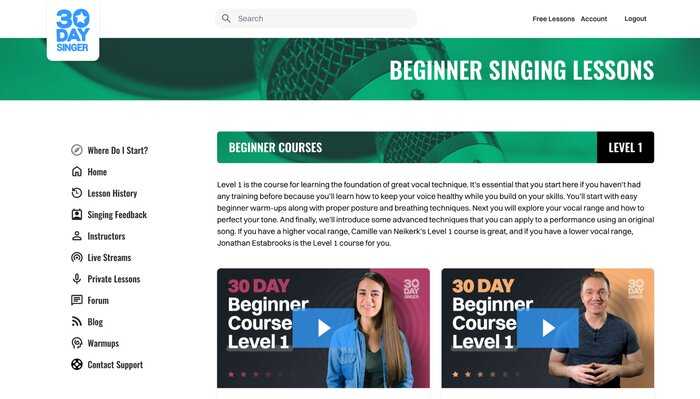 30 Day Singer is a subscription service, meaning you pay a monthly or annual fee in order to access the site.
By subscribing to 30 Day Singer you get access to all of the content that the site has to offer.
This includes not only the 30 Day courses but also shorter lessons focusing on performance, style and more advanced techniques.
30 Day Singer's flagship classes are their beginner courses. There are 4 beginner courses each lasting 30 Days:
30 Day Beginner Course Level 1 (higher vocal range)
30 Day Beginner Course Level 1 (lower vocal range)
30 Day Beginner Course Level 2 (higher vocal range)
30 Day Beginner Course Level 2 (lower vocal range)
Two of these courses are described as Level 1. One is intended for higher vocal ranges whereas the other is intended for lower vocal ranges. 
Both courses have a corresponding Level 2 course which will continue the content you learn in Level 1. The idea is that each day has a new lesson, which will introduce a new concept that builds on what you've learnt, allowing you to gradually develop your singing ability. 
Although the site is called 30 Day Singer, you can start wherever you like. It is not required that you take a 30 Day Course and you can start with a more technical tutorial.
So long as you renew your subscription, you will have constant access to all these lessons. You will also have access to additional resources, including live streams and even direct personalized feedback, in which an instructor will respond with advice to a video of you singing.
There is also the chance to book private lessons with certain instructors. However, this is not part of the membership package and will incur an additional cost. 
How much does 30 Day Singer cost?
30 Day Singer costs $10.75 a month, or $129.00 billed annually.
It's important to reflect on the fact that singing is something that, with practice and nurturing, can stay with you for life. So when it comes to making decisions like this, remember that you're investing in a lifelong skill. 
 30 Day Singer free trial
30 Day Singer does offer a 14-day free trial.
This means that you have two weeks to try out the whole site for free. This is a great opportunity to test out whether the site is right for you, without incurring any costs.
On top of this, 30 Day Singer has 13 free lessons. These lessons are a great way to get started with your singing journey. They are also a chance to see if you enjoy the teaching and style of 30 Day Singer. 
What a lesson is like
Each lesson (or day) on the 30 day beginner courses introduces a new concept, so no one lesson is exactly the same.
However, there are some common themes within these lessons, including:
A brief vocal warm-up to start the lesson
An understandable but detailed description of a new concept or technique, how it works and how you can use it
A demonstration of the technique or concept from the instructor
A vocal exercise that utilizes the new concept or technique, which you can practice in your own time
An example of how the concept or technique applies to a song or passage of music
A vocal warm-down or a recap of the vocal exercise from earlier 
An inside look into 30 Day Singer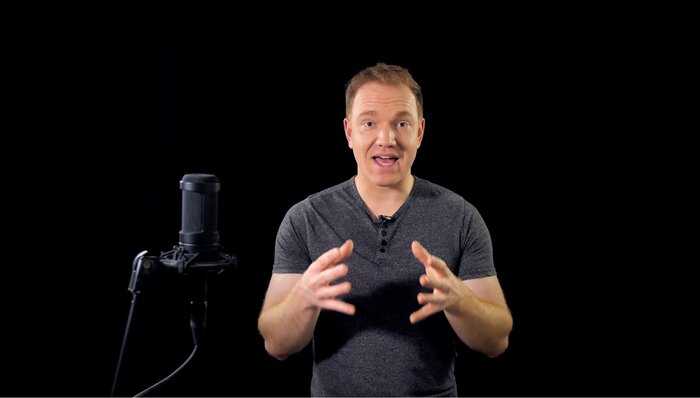 In order to provide a genuine insight into 30 Day Singer, I took the Level 1 30 Day Beginner course led by Jonathan Esterbrooks.
This course is made up of 30 video tutorials, each led by Jon Esterbrooks. Throughout the course, he introduces you to the key concepts of singing, along with a range of exercises and warm-ups.
Some of the things you'll learn include:
Posture and warm-ups
Using your chest voice, head voice and falsetto
Stretching your range
Belting and vocal fry
Mixed voice
Phrasing and style
How to grow as an artist
And much, much more.
Below, I give you a lesson-by-lesson breakdown of what you can expect from this course. Day One is just an introduction to the course, so I'll skip right to Day 2 to save time. 
Day 2: Warm up and routine
Day 2 plunges you right into the action with a warm-up exercise. This is a very simple thing that anybody can try.
It's not even immediately obvious what the warm-up has to do with singing and yet it is very important for breathing with a proper technique.
This lesson also introduces students to the keyboard and a few technical terms, explaining them very clearly. This means that right from the get-go, students are being exposed to a professional approach of singing. 
Day 3 and Day 4: Getting the most out of this course & Healthy vocal technique
I've included the first few lessons together as they are much briefer and cover similar themes.
Day 3 explains how to get the most out of the course, recommending that the best way for students to understand the key concepts is to practice the warm-ups in their own time. You'll also learn a new warm-up and why exercises are so important for singers.
Day 4 covers the essentials of a healthy vocal technique, including:
The muscles and skeletal system
Proper alignment
Breath management
How to sing with the body
Knowing the rules and when to break them
What this lesson demonstrates is how much singing utilizes the whole of the body, rather than just the mouth and the vocal cords. 
Day 5, 6 and 7: Posture for singing, Breathing for Singing and Anatomy of the Larynx
Days 5, 6 and 7 also cover very similar themes.
Day 5 builds on the lessons of healthy vocal technique by showing you the proper posture for singing. Again, you can see what a difference the whole body makes in shaping the sound of the vocals.
Day 6 takes the focus back to breathing, providing you with exercises that will help you with breathing as healthily as possible.
By this point, students will notice just how interlinked the course is. Each lesson relates to the last one by introducing a related concept and demonstrating it through introducing a new vocal exercise.
Day 7 is about the anatomy of the larynx, which is where the vocal folds are located. Alongside a technical explanation of how it works, you will learn just how useful yawning can be for your vocals.
This part of the course might seem very technical, but each concept is introduced in relation to how it helps the voice create sound and provides foundational info for newcomers to build on.   
Day 8: Applying warm-ups to songs
At this point in the course, you'll be introduced to your first song.
You'll keep coming back to this song throughout the 30 days, as you're introduced to new concepts and shown how they apply to music. This is a great way of developing a deep understanding of the content.
The song in question is Share My Voice by John Statham, chosen specifically because it's easy to learn. Get used to hearing this one a lot!
For Day 8, you'll be starting off easy with some warmup routines that are recommended for new music. 
Day 9: Rest day
Day 9 is your first rest day.
Rest days are essential for healthy singing and making sure you don't strain your voice.
However, that doesn't mean there isn't any learning to be done. The rest days in this course are designed to be recaps of what you've learnt already. You're encouraged to just sit back and listen as Jonathan goes over some of the core concepts.
Day 10: Healthy Cord Compression
Day 10 is another lesson that focuses on the bodily aspects of singing and how to do it healthily.
In this lesson, you'll get insight into how vocal sounds can be used to shape and create different sounds.
Doing this healthily is essential to singing properly. You'll learn how to do this through the 'Cord Compression on Guh' exercise
Day 11: Chest voice
Singing with chest voice is singing within your 'natural voice' where you aren't straining notes that are too high or low.
You can use a variety of methods to find your chest voice and exercise it:
Lean into your breath
Santa laugh
Warm and round sound
Release tongue and jaw
You'll also learn about some of the limitations of chest voice, including the risk of vocal fry and the use of more chest pressure the higher you sing. 
Day 12: All about head voice
Day 12 is all about head voice.
Head voice is the higher part of your range above chest voice. In this lesson, you'll learn about where it comes from, how to exercise it healthily and what exercises you can do that employ head voice.
This includes:
Yodeling
The Yah exercise
Day 13: Stretching your range
Having a wide range is important because it opens the number of songs available for you to sing.
For many people expanding their range might seem like a very daunting and perhaps impossible task. It's a very common experience to attempt to sing along to a favorite song and realize you can't quite hit the notes.
Day 13 shows you that it's possible to expand your range and introduces you to exercises and tips that will allow you to sing both higher and lower than you were previously comfortable with.
The Vee exercise is one way of doing this. Jonathan will introduce you to ways to do this healthily and without tightening up. 
Day 14: Vocal tone
This lesson will introduce you to various different vocal tones:
Nasal
Throaty
Straight vs vibrato
You'll be introduced to different exercises that will get you comfortable with these different tones, such as the plug nosed yah.
This lesson also introduces vibrato, a key element of professional singing. You'll be encouraged to listen to a wide array of artists and assess their tone in order to test how much you've learnt.
Day 15 and Day 16: Frequently asked questions and Recap/Rest day 2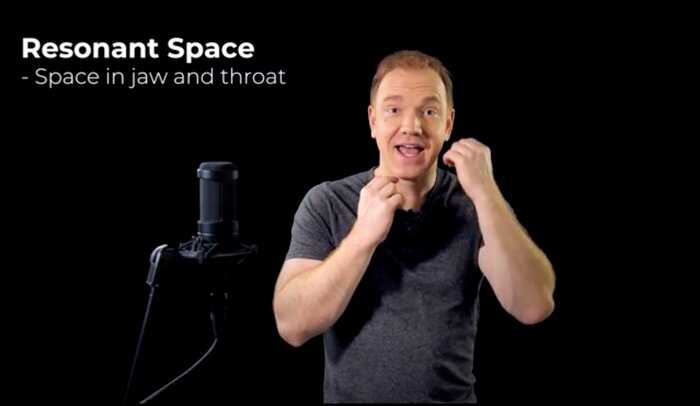 At the halfway point of the course, Jonathan will go over some frequently asked questions. Some of these include:
Causes of breathy tone
Weak sounds
Pitch and singing flat
These are all things that many singers struggle with so it's nice to get some direct perspective and advice on how to handle it.
Following this, there is another recap and rest day where you'll go over what you've learnt since the last rest day. 
Day 17: Dynamics
Dynamics is the technical, musical term for volume. Having a range of dynamics in singing is important for having an interesting and compelling vocal performance.
Day 17 will explain dynamics to you in a clear way, how they work with vocals as well as some exercises that will help you with controlling dynamics.
You'll get an insight into how the body works when you are controlling your dynamics, including how the spin of air and dropping your jaw can change your dynamics. Dynamics can also be altered by forcing air out.
You'll also learn what to look out for when it comes to changing your dynamics, such as song lyrics and melody changes.
Day 18: Belting
Are you into musical theater? Do you enjoy the big showstoppers? Most of these songs employ a vocal technique described as belting.
This is the topic for Day 18. It is a very advanced technique and you are told this before the lesson. However, if you want to test yourself or your feeling confident this is a great lesson to test just how far you've come.
Belting is described as a controlled shout, which you achieve by increasing glottal pressure. You are encouraged to use the belting technique sparingly in order to look after your voice and enhance your technique.
Jon will teach you a short belt exercise which will help you to get comfortable with this technique. You'll be advised to also pick a range that works well for you as it is on the transition between your head and chest voice.  
Day 19: Vocal fry
Day 19 covers vocal fry.
This is a low, crackly sound which you achieve with a flutter of the vocal cords. Think Britney Spears.
As well as being its own technique, vocal fry can also be used as a warm-up exercise and is great for relaxing the vocal cords.
However, Jon emphasizes not overusing it. Although vocal fry is not a bad habit, the trick is to use it sparingly so that you can really make something of the effect.
As always, you'll be provided with an exercise that you can use to master this technique.
Day 20: Falsetto
Falsetto basically means singing really high. Ok, there's a little more to it than that and this lesson will provide some technical insight into this technique.
Fasetto is one of the most widely used tricks employed by singers in pop music. You can probably think of many examples where singers with a lower register have used a higher register in their songs.
This can be to signify an emotional turning point in the song or just to keep things varied. On Day 20, you'll learn how to use this technique for yourself.
This is done through two main exercises:
The Siren exercise
The Hoot exercise
Practicing both of these will give you a really good command of the falsetto.
As with vocal fry, you are encouraged to use this technique sparingly.   
Day 21 and Day 22: Runs, turns and falls and Vibrato
Day 21 covers how you should approach difficult runs, turns and falls in any new song that you are learning.
The four key approaches are:
Start slow
Break it down
Focus on the consonants
Gradually increase the speed
By taking this approach, as well as practicing over and over, you'll find it much easier to command difficult music.
Vibrato is what most people think when they think of singing. Day 22 will give you an insight into some exercises you can use to master your vibrato.
The trick is to be quick and keep it moving forward when pushing the air out.
Day 23: Mixed voice
Mixed voice is a very advanced technique, so don't worry if you struggle with Day 23 on your first try.
Mixed voice is essentially a mixture between head and chest voice. It can be very useful if you want to try a different tone.
To get you comfortable with using mixed voice. Jon introduces you to the light holler exercise, which you can use to warm up and add more strength to your singing.
Day 24 and Day 25: Recap/Rest day 3 and Putting it all together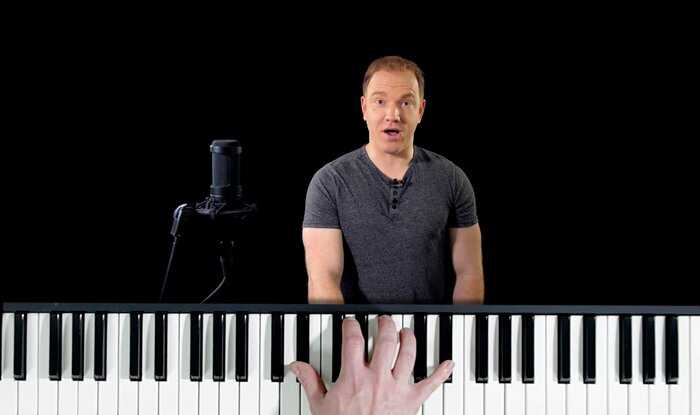 Day 24 is the final rest and recap day, where you will go over what you've learnt since Day 16. This includes a lot of the more advanced singing techniques, so paying attention to Day 24 is a good idea.
This includes:
Straight tone/vibrato
Vocal fry
Breaking down riffs and runs
Day 25 is all about putting it all together and preparing to perform 'Share My Voice', which has been used as a reference in a few of the lessons.
For both this song and any new song, Jon advises you to:
Go for a key that positions you in middle part of your chest voice
Look at most notes and see if it pushes your range
Look at the lyrics
Assess the tricky parts of the melody
Day 26: Phrasing and style
This is the last lesson in the course that focuses on the specifically musical aspects of singing.
Having a command of phrasing and style is really important for distinguishing yourself as a singer. It is also very unique to have an insight into something as technical and professional as this in a beginner course.
Jon gives you some details on how phrasing and style can make all the difference before going over some tips to master phrasing:
Find where to breathe by looking at the lyrics and melody
Aiming for a natural sound, as if you are speaking
Sing note for note, with a robotic voice, to figure it out
Aim for a bit of connection between each note
Day 27 and Day 28: Confidence and nerves and Performing
As the 30 Day Singer Beginner course draws to a close, the final lessons focus more on performance rather than the technicalities of singing.
Day 27 is all about managing your nerves, which Jon says is a particular problem for singers. This is because singing is all to do with the body, which is a key thing that this course will teach you.
Stage fright is something even non-singers deal with, so the tips Jon has for managing it are super useful:
Confidence effects singing because singing is about the body
Remember to breathe
Trust the technique
Acknowledge what your feel
Go section by section
Confident posture and appearance
Look to the text and story of the song
Day 28 goes over the key aspects of putting on a good performance, which is what you will be building up to through learning 'Share My Voice' throughout this course.
Jon covers some of the important logistics of performance. He tells you why it is essential that you understand the equipment you're using, including microphones, mic stands and monitors. He also demonstrates the basics of using a microphone.
This lesson also recommends some places where you can try to gain performing experience:
Bars
Churches
Restaurants
Cafes
Open mic nights
You are also encouraged to ask around for opportunities, and if you feel they're limited, start your own! Social media and live streaming are also wonderful ways to share your voice (excuse the pun). 
Day 29: Growing as an artist
For many this course will be their first introduction to singing. Some may want to just see whether or not it's for them, whilst others might be considering taking their singing to a serious and professional level.
You might even find that you started 30 Day Singer in the former camp, but have been inspired to pursue singing as a fully-fledged artist after taking the course.
The penultimate lesson is all about what you can do to grow as an artist. It is the case with every lesson, but this lesson in particular benefits from being led by a Julliard-educated, professional opera singer.
Based on his own experiences, Jon recommends that you:
Write down goals (similar to the exercises, this is the 'homework' for the lesson)
Find out what's special about your sound
Find a mentor/influences/peers
Identify strengths and weaknesses
Collaborate
Explore writing and recording
Day 30: The End
And just like that, the 30 Day Singer Beginner course Level 1 is over.
The final lesson encourages you to warm up with Jon one last time before tackling 'Share My Voice' in full, utilizing everything you have learnt.
After that, Jon bids you farewell. But 30 Day Singer still has more to offer. You are free to explore the 30 Day Singer Beginner course Level 2, browse some of their more technical courses or even book a private lesson. 
How I reviewed 30 Day Singer
To review 30 Day Singer, I took the lower register Level 1 30 Day Course, as this is the beginner course recommended for my vocal register.
I watched each lesson on the course, making notes about the specific tutorials as well as general observations about the site.
I also sampled classes from outside of this course, including more technical classes and lessons on advanced performance.
Overall, I've spent a long time using the website in order to make this article as in-depth and accurate as possible.
What I liked about 30 Day Singer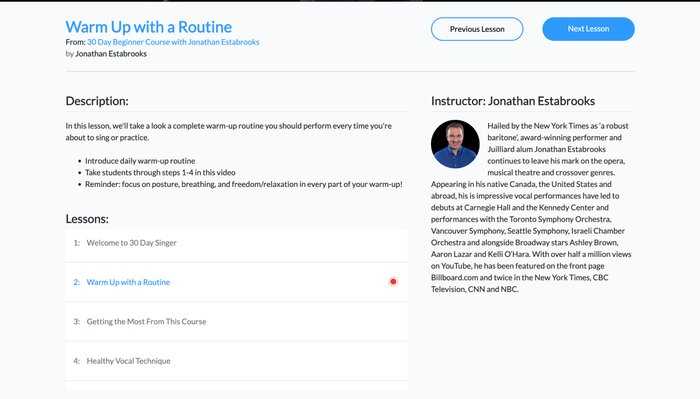 A comprehensive and systematic way of teaching
30 Day Singer's greatest asset is the method it uses to teach you how to sing.
Living up to its name, 30 Day Singer employs a systematic way of teaching which is sure to help any beginner understand the fundamental concepts.
This is done primarily through the use of warm-ups and exercises. Each lesson will contain at least one or two exercises for you to practice on your own.
Not only does this provide you with an idea of what you should be practicing in order to improve, but it also provides you with a frame of reference for what something should sound like.
For example, teaching rookie singers about the importance of breathing can be a difficult thing, as there can be a disconnect between the act of breathing and the sound produced.
However, 30 Day Singer's method overcomes this by demonstrating to students how abstract concepts work.
This is a good systematic method of teaching because each lesson introduces you to a new exercise that explains a new concept. As a result, students can incrementally, yet rapidly expand their knowledge.
It is also comprehensive, as 30 Day Singer makes sure to cover all of the fundamental aspects of singing that many beginners may overlook, from breathing to posture to phrasing and more.
By going over all the fundamentals in detail, and illuminating them with exercises that users are encouraged to practice, 30 Day Singer ensures its students are well-equipped to begin their singing journey. 
Technical yet accessible
Another key aspect of 30 Day Singer is the fact that it approaches singing in a technical and professional way, yet in a way that is accessible for beginners.
From the get-go, the lessons introduce you to fundamental concepts in singing, explaining key terminologies and ideas.
Instructors describe in detail the key aspects that go into a good singing performance, including how your body, breath and brain shape your singing voice.
Students will be introduced to technical terminology to do with dynamics, melody, technique and more. In this way, 30 Day Singer can also improve your general musicianship.
If all of this technical terminology sounds intimidating, don't worry!
The instructors clearly explain all of the above in a way that non-musicians can make sense of. Each new concept is explained bit by bit, with reference to examples.
Additionally, any new terminology is described clearly and succinctly. In this way, new singers are able to quickly master the fundamentals in a way that they can understand.
As a result, 30 Day Singer is a wonderful option for new singers.
Professional, top-quality instructors
Part of the reason why the above point holds true is because of the 30 Day Singers roster of quality instructors.
Each one of 30 Day Singer's teachers has a range of professional experience in the singing world. These guys have performed in some of the best locations and with some of the most highly regarded artists in the world.
You can really tell the effect of these experiences in their lessons. By being involved in the singing world for so long, the instructors have a real sense of the best practices when it comes to the vocals.
They can also offer top insight when it comes to aspects of singing outside of the technical. For example, the last couple of lessons in the 30 Day Beginner course focus on how to find performance opportunities and grow as an artist.
Additionally, many of the tutors have years of experience teaching. This gives them first-hand experience with knowing what works and what doesn't when it comes to explaining a particular concept.
The main course I took had Jonathan Esterbrook. His classical training and performance exposure really showed as he demonstrated a spectacular understanding of the vocals and how they work.
However, he also explained everything in a clear, detailed and engaging way that made me feel excited to try out the exercises he recommended.
And don't forget, one of the unique features of 30 Day Singer is that you can book many of its instructors for private lessons.  
Unique additional resources
The final key positive I'd like to touch on is 30 Day Singer's unique additional resources.
I've already mentioned the private lessons, but there is also an innovative feature where you are able to receive feedback on your progress by sending in a recording of your singing.
Some have complained that online music education pales in comparison to in-person lessons as the lack of one-on-one interaction makes feedback and recommendations difficult.
Bypassing this really makes 30 Day Singer stand out. And the best part is that you don't need to pay extra for this service as it's included in the membership.
Most people may turn to 30 Day Singer due to the allure of the site's name. However, 30 Day Singer also includes lessons on ear training, technique and performance.
This is very important because those who finish the beginner courses will be able to continue their singing journey by going more in-depth with areas they want to learn about. Additionally, more advanced singers can use these lessons if they want to learn a new skill.
After all, there is always room for improvement.
Finally, there are also forums, blogs, live streams and warm-ups available as part of the membership. All of this allows new singers to continue to develop and nurture their singing ability in a variety of ways.
Yet perhaps the most important feature is the 14-day free trial, which allows you to try out all of the above without incurring any cost.
What could be improved
Could go a little further
My general complaint with 30 Day Singer is that, although what I did see was impressive, I felt the site could be doing a little more for its users. This holds for both the course and the site as a whole.
For example, there were some lessons (or days) where I felt like we could've gone into a little more depth. Although I liked how everything was explained and felt this was accessible for beginners, I feel like with some concepts they could've been described with a little more detail.
One way to do this could be to include more than just the video lessons. Each lesson included bullet points of the key themes, a few notations and visuals that showed students the exercise and a brief description of the lesson content besides the video.
I feel like this could be expanded to include even more diagrams and written descriptions to illuminate each concept fully. The lack of color in each lesson did make them slightly boring.
The Beginner courses could also include more resources for its users, such as a workbook or pdf containing descriptions of musical terminology and visuals to help with the vocal exercises.
This problem did also slightly extend to the rest of the site.
Whilst I was impressed with the uniqueness of 30 Day Singer's additional lessons, I feel like they could expand in terms of their range. The site's library of lessons is significantly smaller than some of its competitors.
However, it's worth noting that the site is constantly expanding and I enjoyed the content I received, which is the main measure of a course's success rather than the things it doesn't have.
Who 30 Day Singer is for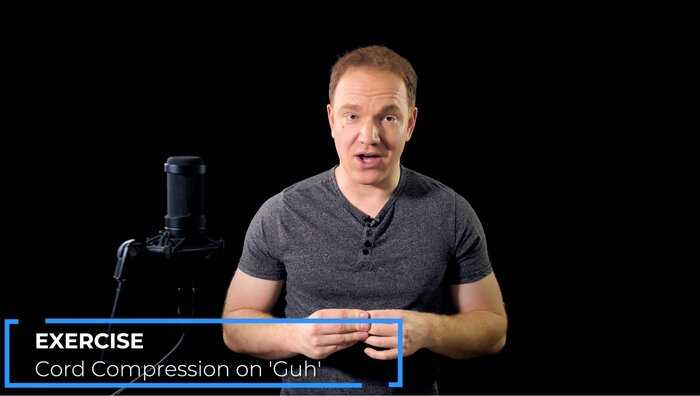 Anybody interested in singing can use 30 Day Singer.
Although the site is definitely aimed at beginners, the inclusion of more complex lessons means intermediate and advanced singers can also gain something from the site.
However, there are some groups who I feel could really benefit from 30 Day Singer:
Anybody totally new to singing who has no idea where to start
Students looking for a technical introduction to vocals
People who will struggle to get in-person lessons, but are still looking for feedback
Those who want to learn how to sing but have busy schedules and want to do it in their own time, pace and place
Casual singers who want more formal training in singing
Singers looking for a comprehensive resource on singing and performance techniques 
Tips to finding great courses on 30 Day Singer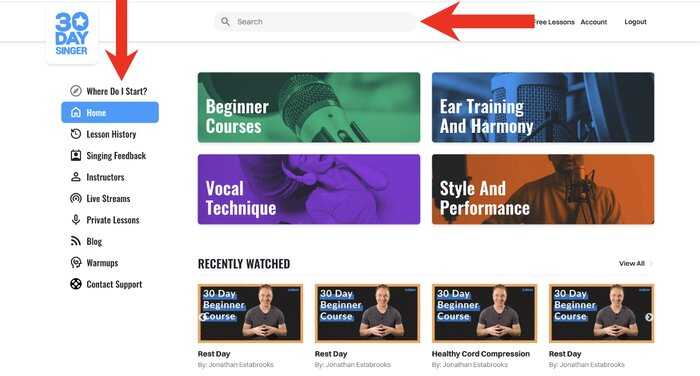 Most people will use 30 Day Singer because of the 30 Day Courses. After all, learning how to sing in 30 days is quite a feat, as is teaching someone how to sing.
Clicking on the Where Do I Start tab on the left-hand menu of the homepage will take you through to the 30 Day Singer Beginners courses.
However, if you are interested in 30 Day Singer's other courses or you have completed the beginner courses and are looking for something else, these classes are very clearly advertised.
On the home page, you can see the four main types of courses 30 Day Singer has to offer. These include:
Beginner courses
Ear training and harmony
Vocal technique
Style and performance
Clicking on one of these categories will take you to its home page, where you will see every class 30 Day Singer has to offer in this category. You can filter these according to your vocal register.
You can also browse courses according to who teaches them by clicking the instructor option on the left-hand menu and then clicking view lessons under the instructor's page.
If you're looking for something specific, you can type the keywords for what you're looking for into the search bar, which you can find at the top of the home page.
Finally, you can use the menu on the left-hand side to browse 30 Day Singer's additional features, which include:
Singing feedback
Private lessons
Live Streams
Forum
Blogs
Warmups 
Is 30 Day Singer legit?
You might be thinking that learning how to sing in 30 days is too good to be true. However, 30 Day Singer is a very legitimate site.
Of course, 'learning how to sing' is quite a subjective concept. However, it is clear that this site provides a plethora of resources designed to help beginners understand how their voices work and how to perform with them.
30 Day Singer refund
30 Day Singer does offer a refund option. You receive a refund up to 30 days after your purchase.
If you are unhappy with 30 Day Singer, you can cancel your subscription by contacting support@30daysinger.com and providing your account username and email address. If you do this within 30 days you will be fully refunded.
30 Day Singer alternatives
30 Day Singer is looking like a pretty good option for anyone who wants to get into singing. But there are other options out there.
I've reviewed some of the very best singing sites on the internet and below I've included some alternatives to 30 Day Singer.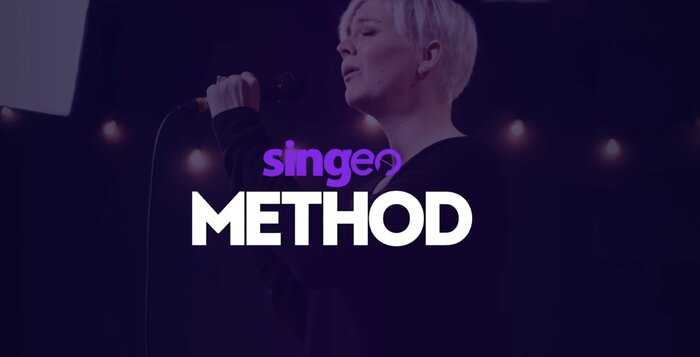 Singeo is one of my favorite platforms when it comes to learning how to sing. 
Similar to 30 Day Singer, Singeo has a 10 Level system that they recommend for beginners, as well as a range of additional classes and materials. There's a very incremental approach to singing, with technical exercise, practice routine tips and examples from your favorite songs.
All of this is united with the aim of taking you from someone with no experience to someone who can confidently sing.
If Singeo and 30 Day Singer seem like big commitments and you're looking for a smaller course, why not check out Udemy, whose course Elite Singing Techniques is perfect for any beginner (#2 on our best singing course review). 
Udemy is not a subscription service, but instead sells its courses separately, meaning you pay for each course individually. If you aren't a fan of subscription services and are looking for a one-off course this is a great alternative:
Finally, MasterClass is one of the most popular e-learning sites right now, specializing in providing lessons with top-quality, world-renowned, often celebrity instructors. 
Singing is one of the many disciplines taught by MasterClass, and they have courses curated and led by some of the most famous and acclaimed singers in the world:
Usher Teaches The Art of Performance
Reba McEntire Teaches Country Music
Although not all of these are specifically about singing techniques in the same way Singeo is, there is still so much to learn from these top instructors.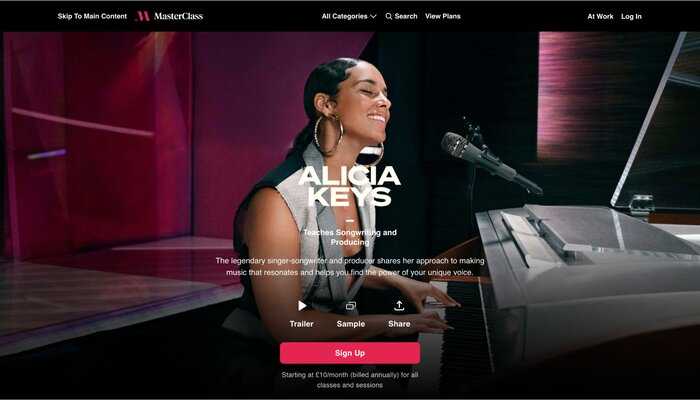 30 Day Singer reviews: What others have said
In order to make this a balanced review, I have searched the internet to see what others have made of 30 Day Singer.
I started out by seeing what people had to say in the reviews section of 30 Day Singer itself. Needless to say, the reception to the site here was overwhelmingly positive.
One reviewer said:
"The course is great, straight to the point, and very easy to follow course. At first, I had my doubts about it, but the the second week, and after doing all the vocals exercises on a daily basis as instructed, I started to feel a difference. My voice is very clear now, and I can easily hit high notes I wasn't able to do so before. And most importantly, I'm confidently now a lead vocal in my band, thanks to 30DaySinger.com!" - 30 Day Singer reviewer 
This taps into what I think works about this site. By introducing technical exercises to its users gradually and clearly, 30 Day Singer is able to produce students who radically progress by following their program.
However, I wanted to get an opinion on 30 Day Singer that wasn't from the site itself, so I visited singing forums and communities in order to view other people's opinions.
Here, the consensus was a little more mixed. However, this seemed to have more to do with whether or not learning how to sing online is a good choice rather than the actual merits of 30 Day Singer:
'It does help you learn how to warm up. I listen to one episode in the car each morning on the way to work. It does help you be more conscious of technique but it doesn't replace an actual coach.' - Reddit commenter 
Although I understand the value of having an in-person coach, this isn't accessible to everyone. Besides, 30 Day Siger offers one-on-one tutorials and personalized feedback, setting it apart from other sites.
Rather, 30 Day Singer does provide people who can't access singing lessons in-person with the resources they need to gain performance confidence and understanding:
"30 day singer is pretty cheap. I like that it kept me motivated trying to get through all the lessons even if improvement was only marginal." - Reddit commenter 
Evaluating 30 Day Singer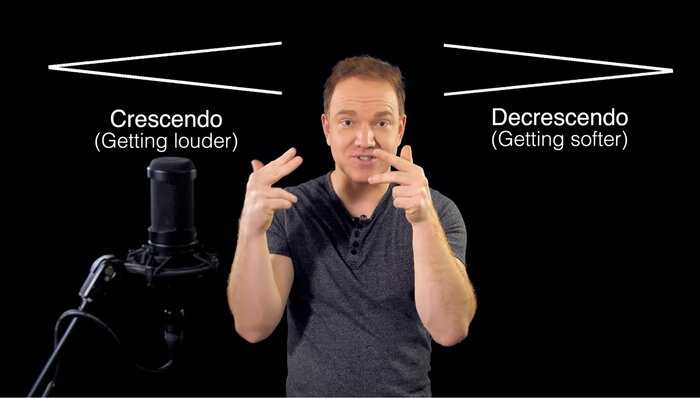 Features: Access to all courses (included 30 day beginners courses), the chance for personalized feedback, warmups, live streams and private lessons
Content quality: Easily accessible content designed for beginners to improve rapidly, with a real technical focus ad helpful diagrams
Content breadth: Alongside beginners courses, there are lessons on ear training and harmony, vocal technique and performance and style
Teachers: Instructors are all professional singers with years of professional experience in both teaching and performing and numerous accolades between them
Supporting materials: Live streams, blogs and forums
Payments & refunds: $10.75 a month, or $129.00 billed annually. Refundable within 30 days of purchase
Support: Contact support@30daysinger.com for additional queries
Is 30 Day Singer worth it?
Overall, whether or not 30 Day Singer is worth it will depend on what you're looking for.
I personally felt that the site could include a little more content in its courses as well as expand on its additional resources to include more niche lessons and tutorials that makes it accessible to an audience of intermediate and advanced students.
They could include a few more lessons on specific styles of singing, such as neo-soul or different types of singing from around the world.
However, for beginners, there is a lot to love about 30 Day Singer.
Its biggest selling point is its teaching method. Each lesson will introduce you to an essential concept and illuminate it with an exercise for you to try on your own.
This allows students to grow their knowledge of vocals rapidly and provides them with a bank of helpful warm-ups and exercises that will improve their singing.
This, combined with the professional, experienced instructors, the chance for private lessons and feedback and additional tutorials makes it a great resource for anyone new to singing.
And don't forget, there is a 14-day free trial to test whether or not 30 Day Singer is the right place to start your singing journey. So, why wait? 
Related articles: Best online singing courses
Frequently asked questions
How much does 30 Day Singer cost?
30 Day Singer costs $10.75 a month, or $129.00 billed annually. 
Does 30 Day Singer have a refund policy?
Yes. 30 Day Singer has a 30 day money back guarantee. 
How many courses are there?
There are 4 beginners courses (each lasting 30 days), 35 lessons on ear training and harmony, 73 courses on vocal technique and 62 classes on style and performance. 
Does 30 Day Singer have a free trial?
Yes. There is a 14 day free trial and 30 Day Singer has 13 free lessons. 
Does 30 Day Singer give certificates?
Yes, 30 Day Singer does offer a gift certificate.
What languages is 30 Day Singer available in?
30 Day Singer is available in English.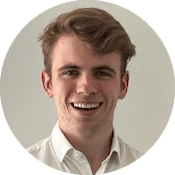 Charlie is a student reading politics at King's College London. He is also a passionate musician with over 14 years of experience. In his free time, he also enjoys cinema, long-distance running and learning new things.