If you're looking for the best online singing classes in 2023, this article is here for you.
With so many online singing courses available it can be hard to know which one is the best for your goals and aims.
Plus, the right class should focus not only on vocals but also skills and techniques that will truly make you a better all-around musician.
That's why we've pulled together this list of the best online singing lessons.
We've considered different aspects of singing (from warm-ups to vocal technique, to breathing exercises), different skill levels, as well as price, value for money, and many other factors.
So, let's get started!
What is the best online singing course?
These are our top singing course recommendations:
Our top choice by far is Singeo. This is because it offers the most comprehensive and methodical teaching style, covering both the technical basics and performance aspects of singing. There is also a 90-day money-back guarantee if its not for you.
Platforms like MasterClass, Udemy and SkillShare are also interesting options.
Udemy offers individual courses in a range of skills, singing included, with Elite Singing Techniques being my personal favorite. This would be a great option if you're looking for something shorter.
With MasterClass and Skillshare, the subscription style means you can learn a variety of disciplines and skills beyond singing.
MasterClass is particularly unique as its courses are led by world-class celebrities and virtuosos. Where else can you be taught how to sing like Usher by Usher himself?
But, overall, these are our picks for the ten best online singing courses, and you can't go wrong with any of them.
Best free singing course
Incredibly, the technology we have today means that some singing classes are absolutely free.
This includes free trials and offers for courses on this site:
Best singing course reviews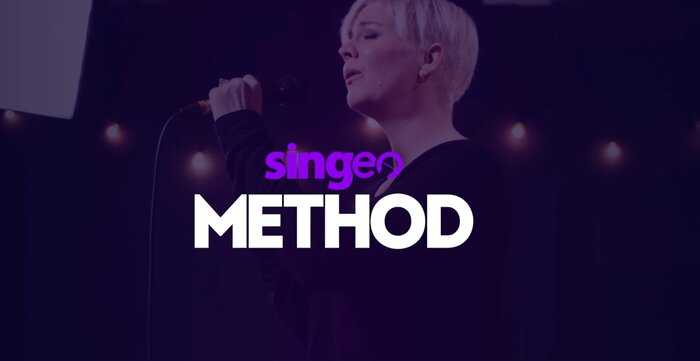 Platform: Singeo | Teachers: Lisa Witt (And Others) | Course length: The Method consists of 7 Levels, each with 6-10 video lessons that take between 3-30 minutes to complete.
Singeo is the newest member of the wider Musora family that also includes Pianote, Drumeo and Guitareo.
Like those other sites, Singeo's main offering is a comprehensive Method aimed at total beginners.
The Method is designed to learn at your own pace, gradually building on what you've learnt. There's lots of emphasis on personal practice and tools to help with this.
What makes Singeo stand out is its emphasis on the wider aspects of musicianship.
By focusing on the technical aspects of the voice, delving into music theory and making sure you feel comfortable with your sound, Singeo has proven itself as our go-to site to learn how to sing.
Pros:
Methodically designed lessons that will see you rapidly improve
Helpful resources and visuals
Engaging instructors
Practical exercises
An active and positive learning community
Aimed at making beginners feel comfortable
Emphasizes personal practice
Delves into the anatomy of singing
Cons:
Would benefit from even more content (but there is more to come, and what is there is pretty excellent)
Best for: Anybody who has always wanted to learn how to sing but hasn't had the chance or has been too afraid to try. Also helpful for more experienced singers looking to develop music theory skills and a comprehensive approach to practice.
Overall: Singeo is bound to help anyone who wants to learn more about their own voice. There is a real emphasis on personal practice and helpful exercises for you to improve. By following the Method, you'll see a rapid improvement in your vocal ability. There are also loads of helpful additional features and a super vibrant, friendly community to learn with. Everything on Singeo not only comes together to make you a better singer but a better musician. And that's why it's our number one!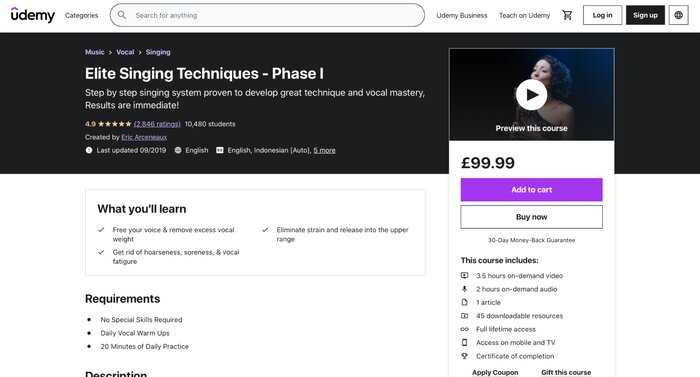 Platform: Udemy | Teachers: Eric Arceneaux | Course length: 3.5 hours of on-demand video and 2 hours of audio.
Udemy is a site that offers lessons in virtually everything, and this is one of their highest-rated and most popular singing courses.
Led by Eric Arceneaux, a professional vocal coach with his own Arceneaux Approach that has taught over 100,000+ singers, Elite Singing Techniques requires no prior experience or speciality, only a commitment to daily warm-ups and practice.
In return, you'll learn about how to remove excess vocal weight, get rid of soreness, and eliminate strain that lets you sing in the upper range.
Pros:
Very technical
Encourages that you warm up in your own time
A well-regarded instructor
A combination of lesson styles and additional materials
Helpful for intermediates, a group often ignored by e-learning sites
Detailed, practical lessons
Cons:
A little short; this topic isn't exhaustive
Sometimes over explains
Best for: Anyone who really wants to get into the technicalities of improving their voice. Particularly helpful for intermediates comfortable with their voice but need help with warming up and reducing strain.
Overall: Eric Arceneaux truly has the credentials to teach you about your own voice. And this course gives you the practical methods and details in order to reduce those pesky aspects of our voice, like hoarseness and strain, that prevent us from sounding the best we can. In a world where everyone is trying to teach the same thing, it's super refreshing to see someone focus on techniques and warm-ups, which every singer will tell you is essential.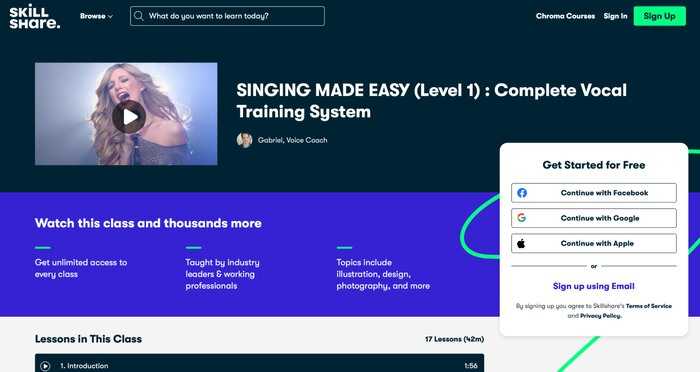 Platform: SkillShare | Teachers: Gabriel Burrafato | Course length: 17 lessons totalling 42 minutes.
Who's the best person to teach you how to sing?
Someone who's won awards for appearing on Broadway and Las Vegas is probably quite a good choice, right?
Just watching the trailer for Singing Made Easy with Gabriel Burrafato will show you that he's not only accomplished all this but also is super warm, engaging and friendly.
In this course, you'll learn all the fundamentals of singing, including using vowels, the fundamentals of breathing and more.
This is all supported by activities and exercises that will give you direct insight into how to employ the concepts you've just learnt.
Pros:
A very qualified teacher
Practical exercise for you to try
Perfect for beginners
Easily digestible and quick lessons
Covers all the fundamentals
Encourages you to move to Level 2
Gives you a strong foundation to build on
Cons:
Very brief
A lot of this content exists in more depth elsewhere
Best for: Absolute beginners who not only want to improve their sound on specific songs but would like practical exercise and activities to make them better general vocalists.
Overall: Just watching one video of Gabriel's performances should tell you that you're in safe hands. Who better than an award-winning singer to cover all the bases of getting started with this skill? You'll learn practical activities and exercises relating to breathing, vocal placement and finding your range. The content isn't exactly unique but remember, with SkillShare you can learn a range of different disciplines with one lesson. So check it out.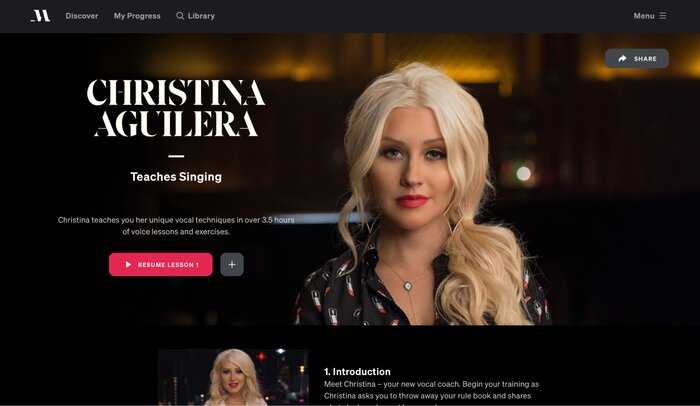 Platform: MasterClass | Teachers: Christina Aguilera | Course length: 23 lessons totalling 3 hours and 43 minutes.
We've spoken about the credentials of your instructor, well how about a teacher who has sold out stadiums, won multiple awards including 5 Grammys and has helped to define modern pop music.
Christina Aguilera's reputation precedes herself. Even if you don't know her music, you'll know her name.
Those familiar with her work understand that lessons on the voice with this literal pop goddess are pretty invaluable.
Pros:
A world-renowned instructor who has experienced the absolute highs and lows of a singing career
Very personalized, including influences and anecdotes
Goes over warm-ups used by Christina Aguilera
Teaches different styles, textures and tones
Goes into the technicals of performing, including using stage and studio microphones
Explores other aspects of being a singer, like performance anxiety and self-expression
High production quality
Cons:
Very specific to pop vocals and Christina Aguilera's career
More anecdotal, so not for people who want direct, traditional teaching
Limited to teaching proper techniques and support
Best for: Anyone interested in pop vocals as the style they want to learn about, particularly if you enjoy learning through stories, experiences and anecdotes. And, of course, Christina Aguilera fans.
Overall: There are very few people who have had the experience with singing that Christina Aguilera has. Her voice has defined a generation. So the opportunity to learn from her experiences and what she values in terms of performance is quite an amazing one. This course is less focused on the technicalities than the ones above, instead giving you direct insight into what it's like being a superstar, and what you can learn from Christina as both a vocalist and an artist.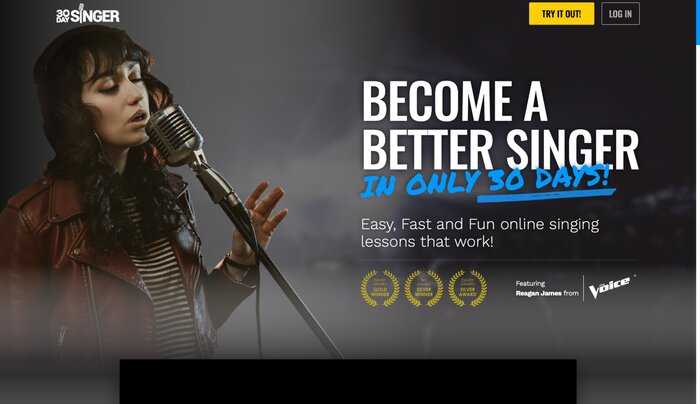 Platform: 30 Day Singer | Teachers: 30 Day Singer | Course length: Clues in the name. There is a range of courses, so you can complete everything in your own time.
Another singing specific platform, like Singeo, 30 Day Singer is one of the most popular sites for singing lessons across the internet.
It's quite a bold claim that they are making. It's difficult to decide what it means to have learnt what to sing and how long this should take.
With that said, 30 Day Singer does offer lessons on all the basics including vocal warm-ups, techniques, mimicking your favorite artists and introducing more difficult concepts as you progress, such as falsetto and vibrato.
How long it takes you to improve will depend on your own goals and how much work you put into personal practice.
Pros:
With over 150 lessons, there is loads of content; check out their YouTube for more
Focus on performance and building confidence
Strong foundation in basic techniques
Lets you develop in a style you're interested in
Trains you to sound like the artists you love
Lots of choice in terms of instructors and courses
Opportunity to book additional, personal lessons
Cons:
The name may mislead beginners
Lots of their content is on YouTube for free
Very broad; some beginners would benefit from more focused lessons
Best for: Beginners who want to see rapid improvements. Particularly if you want to sound like a particular artist or develop in a specific style.
Overall: 30 Day Singer is one of the most popular and well-regarded online singing courses. With the free trial and the content on YouTube, you can see if their style of teaching is your kind of thing without any risk. There is a real focus on performance and style with this site, which is an essential element of singing to master if you want to get more comfortable with performing. 
Read our full 30 Day Singer review here.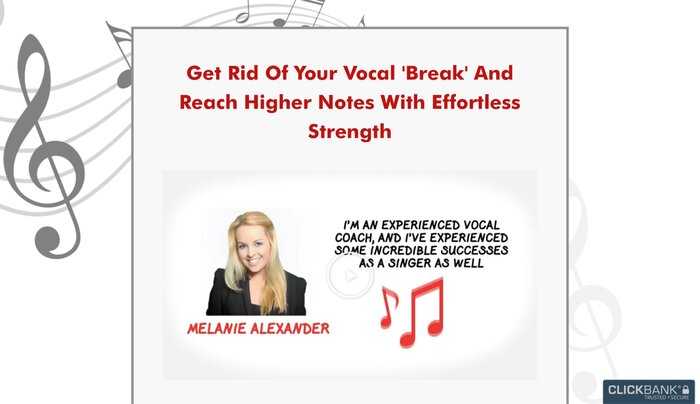 Platform: Singorama | Teachers: Melanie Alexander | Course length: 28 Audio lessons.
Another popular platform dedicated entirely to singing, Singorama operates in a slightly different way in the sense that you buy the course itself, rather than subscribing for a period of time.
Your one-time purchase will include lessons on autotune technique, interval training, tonality conditioning and more.
You'll also get access to an app, a mini recording studio and a handbook that guides you through the process of reading music.
Pros:
Learn all in one place
Quite technical, with content for intermediate and advanced students
Lots of additional resources
Very comprehensive with lots to explore
120 tracks in the app
Lots of sales, so you can get it for less than the original price
Cons:
A little out of date
One course, so new lessons and styles aren't constantly being added
Best for: People who want one place to learn, especially if you're looking to develop specific techniques and intonation.
Overall: Singorama is an all in one, downloadable course that you can go and purchase right now. You'll learn about loads of very practical, technical aspects of the voice and connect that to your own performance. On top of that, you'll receive additional materials like an app with 130+ songs, a mini recording studio to help practice and a handbook that will guide you through sight-reading.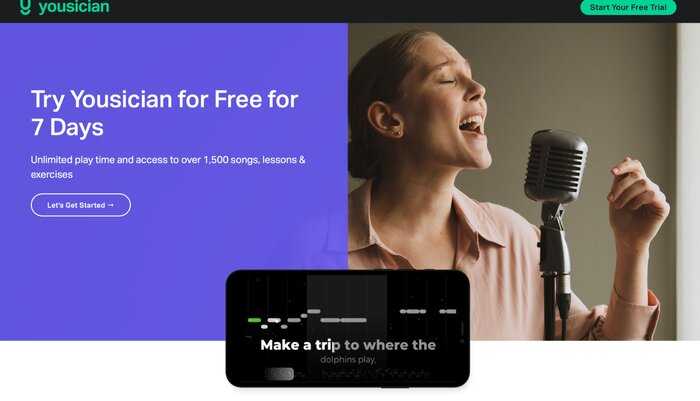 Platform: Yousician | Teachers: Self-taught | Course length: 5 levels of singing and knowledge themes, plus over 1,500 songs.
Unlike the other sites on this list, which have tended to replicate the traditional teacher-student method of teaching, Yousician is doing things a little differently.
Technology is used here so that you can complete your singing journey in your own time, learning as you go through tools like Note Catcher and Check The Note.
This means that you can fit singing lessons around your schedule, learning whenever and wherever you like.
This is particularly useful for us because singing doesn't even require an instrument, so no pianos, guitars, cables or wires are needed.
Pros:
Functions like a video game, which will keep you motivated with your learning
You collect points, which further incentives getting notes right
Tools like Chase The Note gets you to listen back to your improvements
An activity report is sent to you to track your progress
Simple and straightforward to use, especially if you're a beginner
An interactive style of teaching, innovative and popular among new learners
Widely popular, so has been proven to work for people
Cons:
Misses out on creating a teacher-student relationship, which can be helpful for beginners
Not too much content for advanced players
Singing is very individual, which is hard to grasp through this method
Best for: Beginner singers whose main aim is getting in tune and getting comfortable with singing the right notes. Particularly helpful if you're interested in self-paced learning that includes using new technologies.
Overall: Yousician shows us how technology can be used to bring new skills and abilities into our lives where it wasn't possible before. And this is true for singing as well. Here, you will learn in your own time, so it is ideal if you have a busy schedule. There's a little less depth than other sites, so this one is perfect for learners who just want to focus on getting comfortable with hitting the right notes in the right order.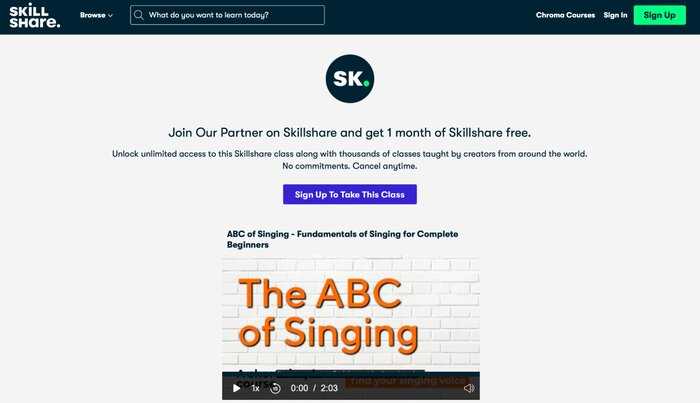 Platform: Udemy | Teachers: Jayne Carmichael Norrie | Course length: 4 lessons totalling 24 minutes.
If you've read words like falsetto and vibrato in this review and it completely throws you off getting lessons because you're not quite sure what they mean…
Don't panic!
Most teachers know how intimidating and daunting those first singing lessons can be, so many of these courses are designed to be entry-level.
However, the Fundamentals of Singing, in particular, is designed to be a whistle-stop tour of all the absolute fundamentals of singing, so if you are a total, total beginner, this one's for you.
Jayne Carmichael Norrie has been a vocal course for over a decade, and in that time has transferred from teaching in her bedroom to reaching out to students across the world, so she knows what she's talking about.
This is the shortest course on our list, and it is made for people who just want to take that first step.
Pros:
Helpfully breaks down exercises
Perfect for first-time singers
Actual practical techniques
Draws beginners into the world of vocal technique
Gets right to the point
Not only teaches you exercises but also why they're helpful
Very quick and easily digestible
Cons:
You may find it too brief
Audio isn't of a great quality
Some have said they've found it too basic!
Best for: Absolute beginners looking to get some basic techniques and understanding about the voice under their belt, especially if you have a busy schedule and want a quick tour through everything.
Overall: This is a great course for absolute beginners. It is super quick, so in just 4 sessions you'll have a basic understanding of how your voice works and why people place so much emphasis on techniques that seem not to make much sense if you're not familiar with singing. It gets straight to the point, and everything is broken down very helpful and concisely. If you've been umming and erring so far, this is your sign to get started.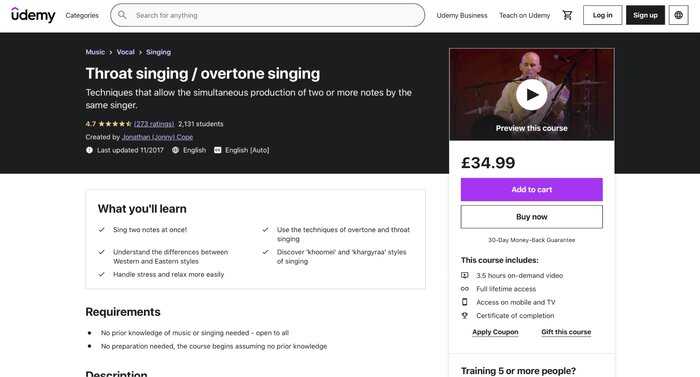 Platform: Udemy | Teachers: Jonathan Cope | Course length: 3.5 hours of on-demand video.
So we've got the beginners covered, but what about anyone a little more advanced and comfortable with their voice.
Most advanced, and even intermediate singers often feel like there is nothing for them online. This is because it is often beginners who seek out online lessons as they're the ones who can gain the most.
This means that most e-learning sites are aimed at new learners as they make up the largest market share. This means that intermediate and advanced students are often sidelined.
But there is always more to learn, and no musical education is ever complete.
Throat/Overtone Singing is for those who already have a little experience with singing, and want to focus on a more specific and unique technique.
Overtone singing fulfills that criteria very easily. YouTube it and see if it's for you.
Pros:
Clear instruction and step-by-step teaching
You don't need any prior knowledge at all, even with singing generally
The chance for pop and classical singers to try something new
Gets you to sing two notes at once!
Moves away from strictly Western styles of music
Teaches you how to handle stress and tension in your voice
Discover new types of singing, like Khoomei and Khargyrra
Cons:
Difficult to know whether or not you're "getting it"
Best for: You don't need to know anything about singing, so this course is ideal for anyone who has never heard of overtone singing before and who wants to expand their horizons beyond typical western harmony.
Overall: It might seem impossible to sing two notes at once. But if there is one thing we can learn from the courses on this list, it's that there are far more possibilities beyond what you might think with your voice. This course is a fantastic opportunity to delve into a different way of thinking about harmony and the voice, helping you to relax tension and discover new things about your singing.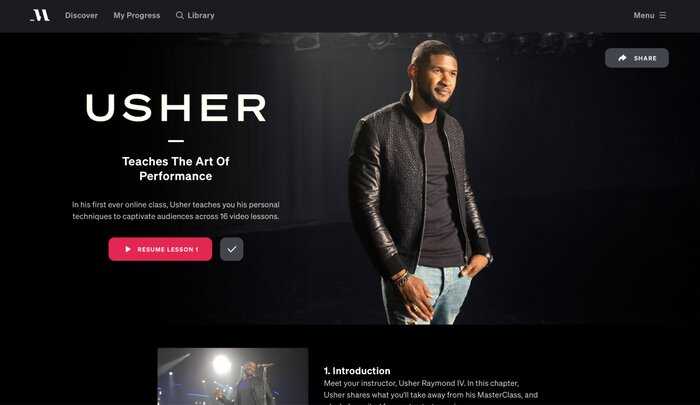 Platform: MasterClass | Teachers: Usher | Course length: 16 lessons, totalling 2 hours and 29 minutes.
To round off our list, we have a course that isn't specifically aimed at singing. The reason I've decided to include it is because singing isn't just about your voice.
Instead, it engages your entire body and mind, and developing confidence, showmanship and comfortability on the stage is essential for your singing success.
And who better to teach this than Usher.
Another MasterClass lesson, this course is led by another God of the modern pop world. Usher has a reasonable claim of being the biggest name in RnB and the most recognisable artist of the 2000s.
He is particularly celebrated for his voice and charisma, so any new singer should be jumping at the chance to learn from him.
Pros:
Goes through Usher's inspirations and career journey
Behind the scenes in the life of a pop-star
Specific guidance on singing and performance
Teaches you how to captivate an audience
Shows you Usher's preparation before going on stage
Delves behind the scenes of the music industry
Emphasizes collaboration
Cons:
Could be longer
Not focused on singing entirely (and doesn't set out to be)
Best for: Any singer, beginner, intermediate or advanced, who struggles with live performing and putting on a show. You'll find your inspiration here.
Overall: MasterClass is offering a new, cinematic type of learning, and that suits Usher down to the ground. This course is all about performing, which all professional singers should feel comfortable doing. You'll gain insight into the experiences of one of the biggest names in pop and RnB, and draw inspiration from a behind the scenes look at where singing can take you.
What are the advantages of taking an online singing course?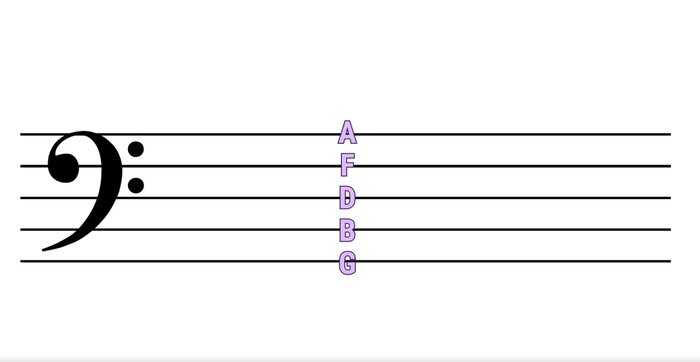 For a long time, in-person teaching was the only way to go about learning anything, including how to sing.
But with the dawn of the internet, you can now become an excellent vocalist in your own time and from your own home.
Although some in the community are sceptical about online learning, there are many proven benefits.
These include:
Access to top instructors from all around the world
You can learn when you like and fit everything around your schedule
You can combine different platforms with in-person teaching to achieve your personal goals
There's access to endless additional materials
The skill will stay with you for life
Your general musicianship will improve
Learning a new skill is great for engaging the brain and, with singing in particular, the body
A development of technique; specifically, you won't be damaging your voice anymore
Buyers guide: what to look out for
With so many choices, it can be hard to know what to look out for when selecting the best singing course for you.
So here's a helpful buyers guide to look out for:
Positive reviews and feedback from both users and sites like Learnopoly
The credentials of the instructor
How long the course is and what each lesson will teach you
Any additional materials like sheet music and practice tools
What kind of style does the course focus on
How many people are enrolled
Is there any free trial or refund available?
How much does it cost?
The subscription courses on this list range from $14.99 to $29.95 per month.
Comparatively, individual courses cost anywhere from $34.99 to $99.99.
Keep in mind that these prices are very cheap relative to the cost of both in-person teaching or paying an instructor by the hour.
It's also good to remember that if you want to try the subscription platforms like MasterClass and SkillShare, you'll get the most value for your money by taking as many courses as possible.
How long does it take to learn how to sing?
It's hard to tell at what stage you've fully learnt how to sing.
Music is a subject, so there are always new things to improve on. The best singers in the world are still practicing and learning. So it depends on your goals.
On subscription sites like MasterClass, SkillShare and Udemy, the courses on this list range from 24 minutes to 3.5 hours.
However, singing specific sites have a massive range of courses all dedicated to singing, so the learning never really stops.
Singeo's Method contains 7 levels at the moment, each with around 6-10 video lessons that take between 3-30 minutes to complete. Whereas you can probably guess how long it takes to complete 30 Day Singer.
What's important to remember is that all this can be done in your own time.
You can burn through all the lessons of a course in one sitting or set aside 5 minutes a day and go through each lesson gradually.
However, one thing you need to account for is personal practice. Every instructor from every course mentioned here will tell you that personal practice is important.
So, no matter how long the course actually is, you'll need to add on some personal practice time to see some real improvements.
Conclusion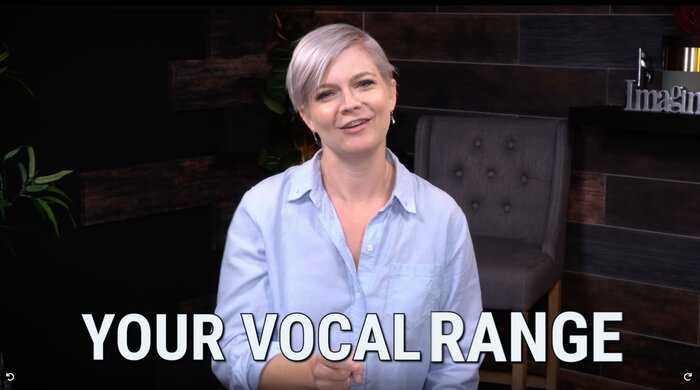 So there you have it, our picks for the top ten online singing courses.
Singeo is our number one.
This site is designed for you to comprehensively learn and improve through their 7 level Method. And there are additional courses, 130+ song lessons and a vibrant community to help along the way.
The teaching here delves into the theory behind singing, breaks down helpful exercises and is designed to make you feel comfortable with your own voice.
Sites like Udemy and SkillShare are great options if you want to not only learn singing, but any other music-related skill, or any new ability generally.
The more lessons you take on these sites, the more value you'll get for your money.
I'd particularly recommend Elite Singing Techniques on Udemy for practical tips, before moving on to Overtone Singing if you want to try something new.
Finally, you might want to consider MasterClass if you're more interested in cinematic and anecdotal teaching, or you just want to spend some time with the likes of Usher and Christina Aguilera.
But either way, you can't go wrong with any of our top ten.
So get your singing journey started!
Frequently asked questions
What is the best online singing course?
Singeo is our top pick, as it has the most methodological teaching and the content helps you to become a better musician. 
How much does a singing course cost?
The subscription courses on this list range from $14.99 to $29.95 per month. Comparatively, individual courses cost anywhere from $34.99 to £99.99. This is cheaper than most in-person lessons. 
How long do singing courses take?
These classes typically range from 30 minutes to a couple of hours, but your improvement will depend on how much time you invest in personal practice.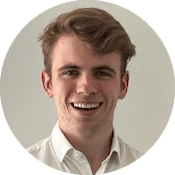 Charlie is a student reading politics at King's College London. He is also a passionate musician with over 14 years of experience. In his free time, he also enjoys cinema, long-distance running and learning new things.