With 40,000+ courses, many taught by industry experts, Skillshare is the world's largest online learning community for creatives. Even at full price, the platform's an amazing way to learn new skills, grow and reach your goals.
In this article you'll find the latest and best Skillshare discount codes.
Note: You won't find better Skillshare offers elsewhere. We get the best, latest and exclusive discounts so we recommend you use our links.
Current Skillshare promo codes
How to claim the Skillshare discount code
Claiming your Skillshare discount is simple. Just follow the steps below. Note: You need only enter a discount code if our table shows that one is needed.
Step 1: Visit Skillshare using the correct link
Use one of our exclusive links in the table above to click on the offer you wish to take advantage of and head on over to Skillshare.
Step 2: Sign up to Skillshare
Continue with Facebook, Google or Apple or provide all the necessary details manually. Then just choose a password and click on Sign Up.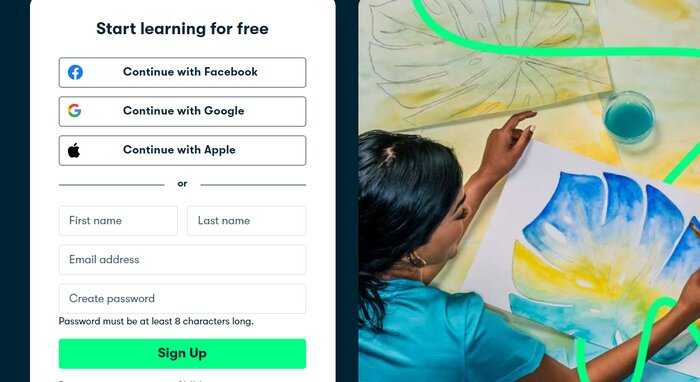 Step 3: Enter payment details and a discount code (if needed)
Enter your preferred payment details. If you have selected an offer requiring a discount code don't forget to enter it at this stage!

Step 4: Enjoy your learning!
Hey presto! You have now taken advantage of the most value for money way to join the Skillshare community.

Skillshare discount code eligibility criteria
Eligibility criteria can vary between deals, but generally you must:
Not have a current active annual pass membership
Provide Skillshare with valid payment details
Apply within the time frame (if there is one)
About Skillshare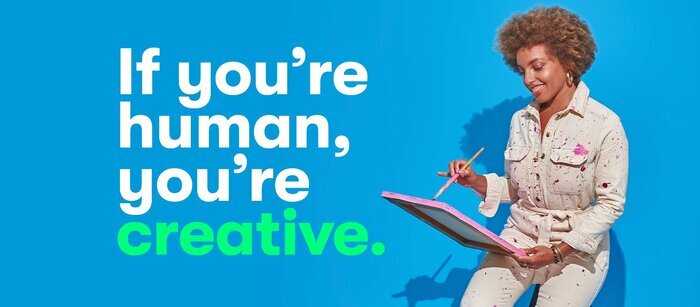 Skillshare is the world's largest online learning community for creatives. It has over 12 million registered users and offers 40,000+ classes in just about any topic you can think of.
Though it is renowned for its classes in creative disciplines such as photography and sketching, Skillshare also offers courses in fields such as AI, business and productivity.
Many of its courses are taught by industry experts. However, Skillshare is also an open platform where everyday people who have harnessed creative expertise can upload classes, become teachers themselves and earn an income.
For more information check out our Skillshare review, Skillshare costs and Skillshare statistics articles.
What does a Skillshare membership include?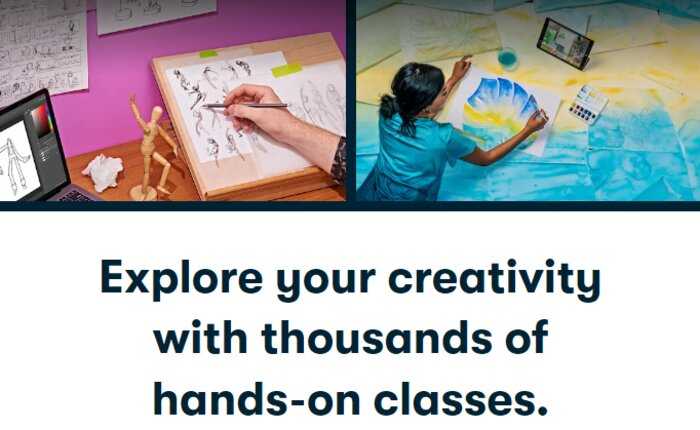 Unlimited access to 40,000+ courses across a huge range of categories
Teaching from specialists in their field
High quality audio and visuals
A curated learning experience, with suggestions on popular courses that might be relevant to you
Offline viewing features for learning on the go
The ability to join Live Sessions with Skillshare teachers and fellow creatives
Exclusive Skillshare perks including: up to 25% off Adobe software, discounts for Squarespace, Canva Pro and much more!
Pros of Skillshare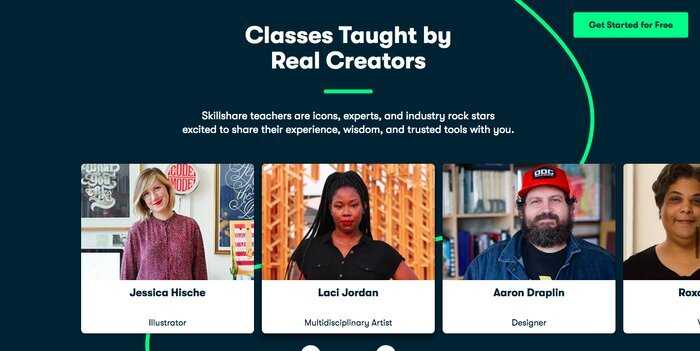 40,000+ Courses – There's pretty much something for everyone and also means that, even at full price, the subscription fee is great value for money.
High quality teachers – Many Skillshare teachers have years of experience in their field and are able to articulate their steps to get there. That caliber of tuition is exactly what's needed when you want to upskill quickly.
Active community which can help to motivate and engage learners: You're encouraged to share your projects with the Skillshare community. This is a really fun way to give and receive feedback and be inspired by others.
Classes are typically a great mix of theory and practical: The majority of classes on Skillshare are tutorial-style classes with an objective and a chance to create something. If you want to learn how to do something, Skillshare is a great platform for honing your skills.
Curated learning: makes it easy to continue your learning journey without too much thought into where to go next
Skillshare Perks: these include discounts for Adobe, Canva, Freshbooks, and more
Cons of Skillshare
Teaching quality can vary – With such a massive volume of courses, it's inevitable that the quality of instructors varies. That said, Skillshare prioritizes courses that are popular. Students are also encouraged to leave feedback in the form of questionnaires, reviews and ratings so that the algorithm can sift out the best.
Some content can be found for free on YouTube – You can learn so much from YouTube.But there are definitely advantages of Skillshare which make the subscription fee worthwhile.

Curated learning all in one place, easy to find, less time wasted searching
Peer reviewed courses
A dedicated learning space (Browsing YouTube often turns into watching something entirely unrelated!)
A community of like-minded learners
Portfolio of projects to share
Best Skillshare courses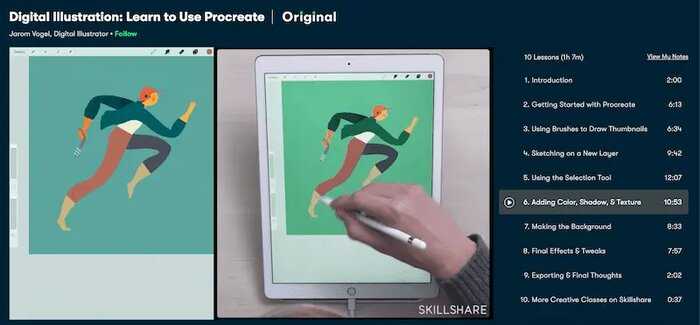 This is our selection of the top classes across Skillshare's categories to give you a flavor of what's on offer:
Digital Illustration: Learn to Use Procreate by Jarom Vogel Taught by a freelance Digital Illustrator this is an in depth class suitable for beginners which will give you a thorough grounding in Procreate skills.
Portrait Photography: Shoot and Edit Instagram-Worthy Shots by Jessica Kobeissi A thorough tutorial covering everything from planning for photo shoots through to the techniques used in shooting and the editing process.
Productivity for Creatives: Build a System that Brings Out Your Best by Thomas Frank Thomas An in-depth course looking at cultivating a creative mindset, how to set up your workspaces to work for (not against) you, and how to practice your creativity like a muscle.
Cultivating Color: Vary Palettes in Original Art and Grow Your Portfolio by Cat Coquillette Seasoned Skillshare teacher, Cat, delivers an information-packed class that's suitable for most levels and is full of actionable tips and tricks to explore color.
Revolutionary Self-Care: Embrace, Nurture, and Grow Your Authentic Self by Chidera Eggerue This course has been completed by almost 12,000 students with a whopping 96% of students feeling that their expectations were met and exceeded.
Now, while all these classes are incredible, if they're not in a topic you're interested in, they may not excite you!
There are also many new classes that haven't had the chance to rack up the numbers. For example, a class on Instagram reels made in 2023 could be hyper-relevant to you right now, but by nature won't have huge enrollment stats.
For more information on other Skillshare courses (as well as the platform itself) you can check out our Skillshare review and Best Skillshare courses.
Skillshare Cost
Currently, the full cost for a Skillshare Premium account is $14 per month (billed annually at $168), or $32 per month on a monthly payment plan.
$14 per month is similar to a Netflix plan, or only a handful of coffees per month. Individual business courses outside of the Skillshare platform can easily set you back hundreds, if not thousands, of dollars, so the cost does represent great value for money.
This is especially true if you plan to implement your newly learned skills into your business. I took Attabeira German's course on Instagram Reels, implemented a new strategy based off her course, and won a client that covered my Skillshare cost in multiples. How did they find me? Reels.
Other eLearning discounts
Learnopoly's discount promise
Oftentimes, you find a discount promise online that is no longer available (or sometimes never was).
Here at Learnopoly:
We offer genuine discount codes only
Our deals are kept up to date
We include a mix of always available and limited time only deals.
When the deal is only available for a limited time, we transparently show the expiry date
Skillshare discount – Final thoughts
Skillshare is a great platform for you to learn new skills, grow and meet your goals.
The sheer quantity and quality of Skillshare classes available already represent incredible value at full cost. And, if you're already planning to purchase any software included within Skillshare Perks, you can make some really significant savings.
On top of that, our exclusive discount links and codes will help you get even more bang for your buck from Skillshare.
Plus with a 14 day refund policy, you really have nothing to lose by giving Skillshare a go.
So what are you waiting for? Enjoy your learning!
Skillshare discount FAQs
What is the best Skillshare discount code?
Skillshare deals vary from time to time – always check Learnopoly for the best and most current deal available.
Can I use more than one discount code?
Generally only one discount applies
Am I eligible for a Skillshare discount? 
You are usually eligible for a discount if you don't have a current membership.
Does Skillshare have a refund policy?
Yes, As long as you purchased directly from Skillshare, you are able to get a refund on your subscription fee within the first 7 days of purchase.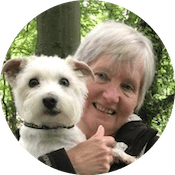 Liz Hurley has 30+ years of high school teaching experience and is one of our senior writers here at Learnopoly.