If you're wondering what the best Skillshare courses are, you've come to the right place.
In this article, I'll be providing you with details of the best Skillshare classes across every category available.
This means you'll be able to learn all about the top classes from the world's largest online community for creativity – with over 12 million registered users and 40,000+ classes.
And as Skillshare regularly brings new instructors to the platform, we'll update this article to make sure it has the latest classes included.
So, let's get to it.
First, if you're short on time, here's a quick round up:
Quick Summary
Our top 4 Skillshare classes overall are:
I handpicked these as top Skillshare courses overall because they're led by quality instructors, have been taken by at least 100,000 students and have received exceptionally positive feedback.
And having sampled or completed every one of them, I agree with that feedback.
But whilst these classes are incredible, if they're not in a topic you're interested in, they won't be the best for you.
And there are new classes being added all the time that haven't yet had the chance to rack up the numbers.
So, I've listed some other great courses by category below. Some of these won't have the GOAT numbers but they've been voted as some of the best courses to be taking in 2023.
Best Skillshare course by category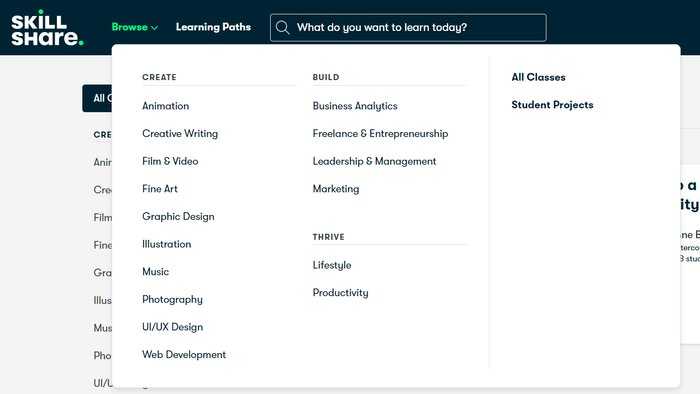 Skillshare has three overarching categories: Create, Build and Thrive. Each is broken down into sub categories totalling 16 in all.
Our top picks for each category give you a flavor of what's available on the platform.
Each one has extremely favorable reviews, is highly regarded for outstanding teaching, and comes with a wealth of resources to support learning such as projects and assignments and/or downloadable workbooks or information sheets.
They are as follows:
Best Skillshare course reviews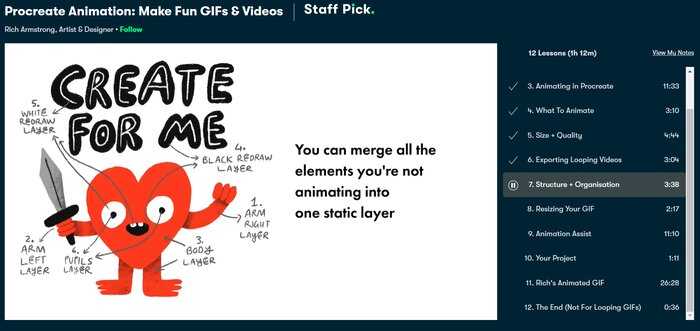 Category: Animation, Instructor: Rich Armstrong, Length: [1 hour and 12 minutes], Number of reviews: [444, 99 discussions]
Rich Armstrong runs his own design studio in Amsterdam and is author of the book The Perfect 100 Day Project. He's been teaching on Skillshare since 2015. In this class he teaches the fundamentals of animating in Procreate. His approachable manner, gift for explaining and crystal clear demonstrations make this course perfect for those new to the world of animation.
You will learn how to:
Get to grips with animation basics
Create and export looping animations
Bring life and movement to existing artwork
Export GIFs and videos, all on your iPad
Master lots of Procreate tips and tricks
What makes it great? Rich's class is highly rated for the clarity of his explanations and his hugely engaging approach. And I agree. It's also highly actionable – I created my first animation within 20 minutes of starting the class with zero prior experience. If you want to have fun with animation, this is a great place not only to start your journey, but to gain the confidence to continue it.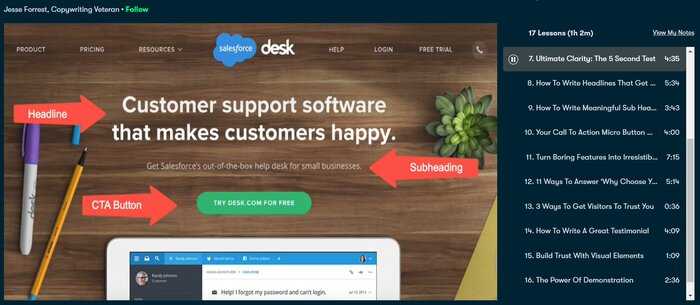 Category: Creative Writing, Instructor: Jesse Forest, Length: [1 hour and 2 minutes], Number of reviews: [1033, 74 discussions]
Jesse Forrest is one of Australia's leading copywriters. He's worked with hundreds of satisfied clients including Chanel, Disney and Sony. Jesse's course helps you write copy that stands out from the competition and converts visitors to your website into clients. Even if you're a total beginner.
You will learn how to
Appreciate the difference between copy and content
Research, understand and speak to your target audience
Write headline and call to action copy that commands attention and generates action
Turn boring features into irresistible benefits
Use three different ways to build trust
Overcome writers block with three easy exercises
What makes it great? This course is packed with practical tips that can be easily implemented to make the benefits of your products stand out from the crowd. Students love Jesse's careful selection of examples to support and illustrate key learning points. If you want to drive more traffic to your website and turn browsers into customers, Jesse's course has everything you need to get started.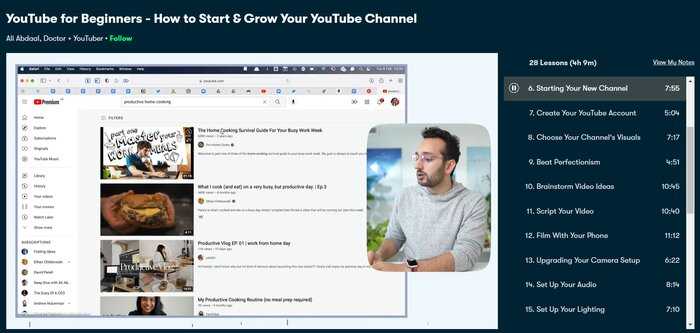 Category: Film & Video, Instructor: Ali Abadaal, Length: [4 hours and 9 minutes], Number of reviews: [261, 136 discussions]
AIi Abadaal is a YouTuber with 3.39m subscribers, podcaster, entrepreneur, and online teacher. He now earns 50x more from YouTube than he did in his former career as a doctor. In his course he shares everything you need to script, shoot and edit your first video. With nothing more than a phone, a computer and some free editing software.
You will learn how to:
Land on ideas for your video
Create a YouTube account and set up an awesome-looking channel
Script, light and shoot professional videos
Talk confidently to the camera and achieve clean sound
Use B-Roll to enhance your story
Get to grips with editing basics
Grow your audience
Make YouTube fun and upgrade your setup when you need to
What makes it great? Well, in the words of one reviewer, which I agree with wholeheartedly, "It far exceeded my expectations, it helped me feel comfortable, gave me step-by-step instructions on how to get started and inspired me to play the long game (in a fun and creative way). I cannot recommend this class enough. Anyone who wants the absolute fundamentals to get started, build and grow a YouTube channel = This is the course for YOU"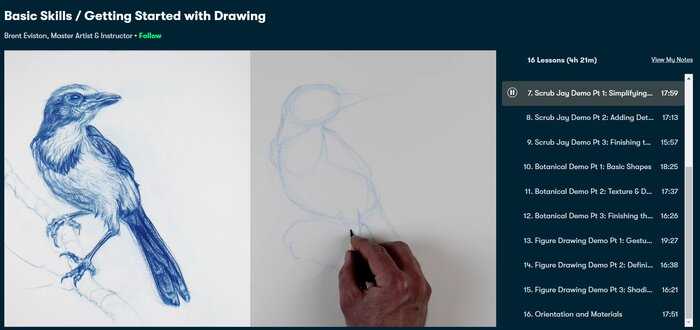 Category: Fine Art, Instructor: Brent Eviston, Length: [4 hours and 20 minutes], Number of reviews: [1,460, 634 discussions]
Brent Eviston has been teaching drawing for over 20 years. Here, he brings all his experience to bear to teach you to draw, one day at a time. His course is packed with insights into the drawing process and offers some of the clearest drawing instruction available. It is a practical course, meaning you take a lesson and complete a task before moving on.
You will learn how to:
Appreciate that drawing is a teachable skill
Hold the pencil so you can lightly 'sculpt' your drawing into the form you're looking for
Draw circles, ovals, lines and curves
Analyze and draw any subject by simplifying it into basic shapes
Draw birds, plants and figures
Why is it great? Students commented that the structured practice element of this course enabled them to see drawing as something that truly could be learned. Though it's aimed at beginners, Brent talks 'up' to his students, delves into the intricacies and nuances of learning to draw and employs powerful tools and teaching techniques that are usually only seen in private art academies.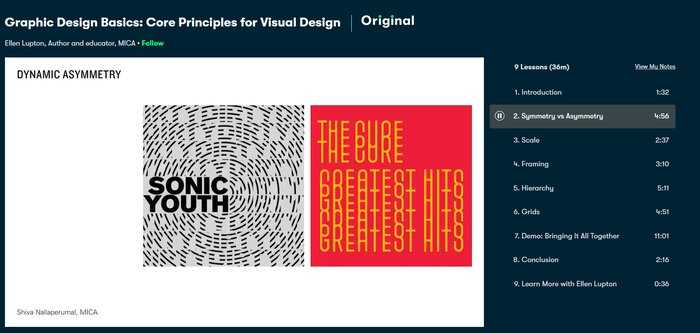 Category: Graphic Design, Instructor: Ellen Lupton & Jennifer Cole Phillips, Length: [36 minutes], Number of reviews: [5,46, 277 discussions]
Ellen and Jennifer are co-directors of the Graphic Design MFA Program at the Maryland Institute College of Art (MICA). In this short, digestible course they teach the five basic principles of graphic design.
You'll learn how to:
Identify and define 5 basic design principles – symmetry, scale, framing, hierarchy, and grids
Employ balance and dynamism when using symmetry or asymmetry
Create tension, energy and surprise using scale
Master three types of framing
Order information and direct readers across a text using hierarchy
Make a basic grid in Adobe InDesign and understand the difference between web and print grids.
Combine all the principles and critique your work for effectiveness and balance
Apply each concept in future projects
Why is it great? This short course is packed with practical examples and clear demonstrations. It's quick to take and provides beginners with an excellent starting point for their graphic design journey as well as being a helpful refresher for more experienced designers.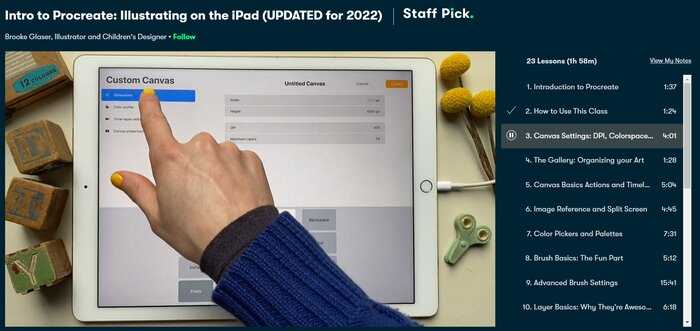 Category: Illustration, Instructor: Brooke Glaser, Length: [1 hour and 58 minutes], Number of reviews: [4,878, 796 discussions]
Brooke Glaser is an illustrator whose art is used in children's products, greeting cards, stationery, and editorials. In this class she covers all the tools and techniques you need on Procreate to make creating digital illustrations easy, fun and as natural as drawing on paper.
You will learn to:
Feel comfortable and confident using Procreate
Understand and use canvas settings
Master three ways to use reference images while you draw
Use color pickers and palettes, brushes, layers and selections
Edit and recolor
Add text
Organise, export and share your work
Make and share a time lapse video of your art
Why is it great? Procreate looks simple, but it has huge capabilities. Students comment on how engaging Brooke is as a teacher. But more than that they appreciate her clear, but in depth, instructions and the wealth of practical examples. Every feature is covered in an accessible way. And even more experienced users learned new, or better ways to do, things.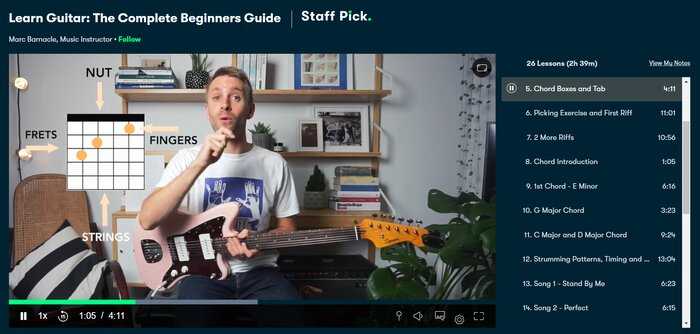 Category: Music, Instructor: Marc Barnacle, Length: [2 hours and 39 minutes], Number of reviews: [88, 51 discussions]
Marc is a full time musician with 15 years' teaching experience. His class covers everything you need to get going on your guitar, whether it's electric or acoustic. More than that, he aims to build confidence in a way that inspires you to keep going and continue your learning journey.
You will learn how to:
Understand the anatomy of, tune, and restring your guitar
Read chord boxes and other common guides and symbols
Play riffs, chords and scales
Master strumming patterns
Play songs in different styles
Begin to write your own music
Why is it great? Learners love this course for the way in which it helps you to get something back from your learning quickly, thus inspiring them to continue their guitar journey. As one reviewer put it: This is the most informative beginners course I have ever come across and I've been trying to learn the guitar for years through video tutorials. Marc's lessons are extremely engaging and after completing this course I am already more skilled and can not wait to do the next course.
Category: Photography, Instructor: Dale McManus, Length: [55 minutes], Number of reviews: [8,862, 537 discussions]
In this course, professional photographer, Youtuber, and co-creator of WANDR travel film company Dale, encapsulates a decade of experience in the industry to help you become a better digital photographer. Using nothing more than an iPhone (or similar), natural light and free software, Dale equips you with everything you need to make your photos stand out from the rest.
You will learn how to:
Optimize your camera settings
Take stunning photos by utilizing shot composition and creating depth
Tell visual stories
Use surrounding light to enhance your subjects
Edit using Lightroom (free software)
Master many professional tips and tricks
What makes it great? The clarity of explanations, the dozens of graphics to illustrate course material and the handy recap slides at the end of each lesson are just some of the things reviewers loved about Dale's course. His straight to the point approach plus the volume of actionable tips Dale delivers make this course well worth your time and money if you want to take stunning photos or pursue a career in digital photography.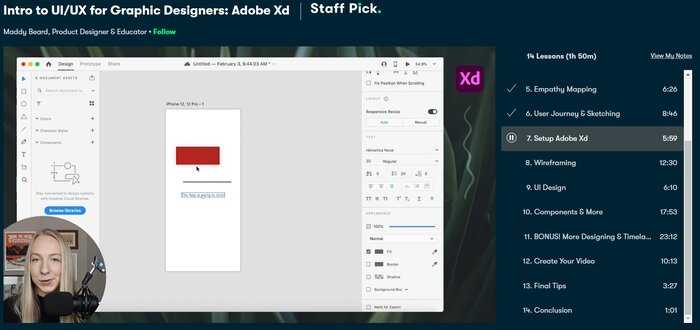 Category: UI/UX Design, Instructor: Maddy Beard, Length: [1 hour and 50 minutes], Number of reviews: [95, 81 discussions]
Maddy Beard is an experienced digital and strategic designer with experience in branding, web and UI/UX design. Her goal in this course is to destroy the myth that you have to spend thousands of dollars studying UI/UX design. In just under two hours, she takes you step by step using a hands on approach that helps you practice the whole UI/UX process from start to finish.
You'll learn how to:
Define a problem
Use affinity mapping and sketching
Set up an adobe XD file and turn sketches into digital wireframes
Design and prototype your solutions
Turn prototypes into a video that showcases what you've learned
Why is it great? The practical nature of the course enables you to take an active part in your learning. It's explained clearly and in careful incremental steps so is suitable for beginners. But also has enough tips and tricks to be perfect for creatives who have the basics of design down, but are eager to expand their skill-set.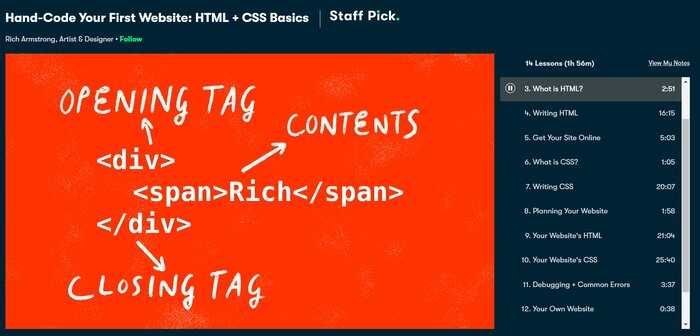 Category: Web Development, Instructor: Rich Armstrong, Length: [1 hour and 56 minutes], Number of reviews: [863, 256 discussions]
Rich Armstrong has been designing and building websites since 2007. During the class you'll be creating a simple website using his tips and best practices. Rich covers everything from the tools you need to get started (many of them free) right through to publishing your results.
You'll learn how to:
Select the right tools (many of them free) to download to make your life easier
Write and structure content with HTML
Style your site with CSS
Back-up your code
Upload it for the world to see
Why is it great? This class is a remake of another of Rich's popular classes to reflect some software changes and improve production values. It's always a good sign when a teacher updates content as it shows a commitment to achieving the best teaching quality possible. Reviewers loved Rich's fun and engaging teaching style and the way the course is carefully broken down into manageable chunks.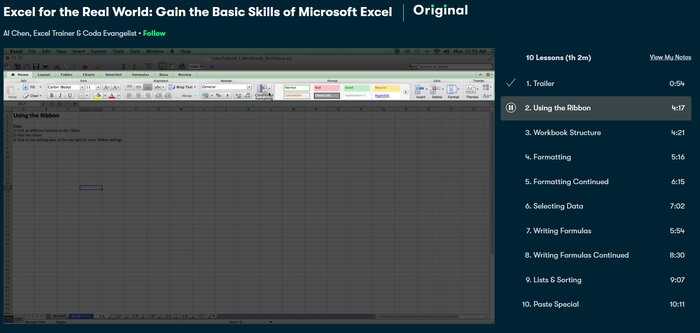 Category: Business Analytics, Instructor: Al Chen, Length: [1 hour and 2 minutes], Number of reviews: [1,115, 69 discussions]
Al Chen, former financial analyst at Google, describes himself as addicted to Excel. 50,000+ students have taken his online classes and 5,000+ MBA students have attended his in-person workshops. He is founder of KeyCuts, an Excel training and consulting company to Fortune 500 companies. So it's fair to say he knows a thing or two about Excel and how to teach it.
You will learn how to:
Understand the myriad of practical applications there are for Excel
Use and customize the Ribbon to fit your needs
Structure your Workbook and format your data so that it is as easy to read and analyse as possible
Enter, autofill and select data
Write formula and functions.
List, filter and sort data
Use Paste Special to see how this allows you to go way beyond simple copy and paste
Why is it great? Data drives all decisions made in business. So if you're in business, knowing how to organise data so it can be easily analysed is critical. If you want to learn how to use this powerful tool in a way that, right from the get go, is the most efficient, practical and meaningful way, this course is for you.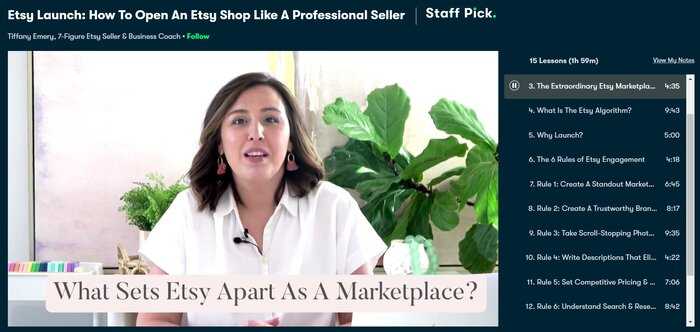 Category: Freelance & Entrepreneurship, Instructor: Tiffany Emery, Length: [1 hour and 59 minutes], Number of reviews: [125, 70 discussions]
Tiffany started an Etsy shop six years ago from her guest bedroom-whilst working full time. It is now worth a 7-figure sum. Selling on Etsy, and teaching others to do the same, is now her passion and her new full time job.
You will learn how to:
Create, brand and price a marketable product
Understand the Etsy Algorithm – the process that brings customers to your door
Appreciate the benefits of a launch vs a gradual opening
Understand the six rules of Etsy Engagement
Create the most optimized listing for your shoppers
Set up your first listing
Why is it Great? The stunning Pre-Launch Workbook is an amazing class companion. It cuts down on notetaking and provides a clear route map for building a successful online business. There are highly actionable tips right from get go of this course on how – and how not – to launch your shop. It's suitable for nubes, but the level of nitty gritty detail provides something for more experienced online sellers looking to up their game.
Category: Leadership & Management, Instructor: Alex Lyon, Length: [53 minutes], Number of reviews: [434, 54 discussions]
Communication is Alex's area of expertise. He teaches it at college, and consults and carries out workshops on how leaders can build their communication skills. And he's been doing so for over 15 years. He's a published author and has a growing YouTube channel. In under an hour this practical class will help you develop clear, concise and confident communication skills.
You will learn to:
Recognize what can make communication ineffective
Tips for turning ineffective communication into something that has impact
Compress your message and make it tight
Use pauses effectively to add emphasis to your ideas
Avoid fillers such as right, kind of, like, you know, um etc.
Achieve a crisp, confident sound
Use positive body language
What makes it great? Unsurprisingly, Alex is a great model for what he is teaching! This course is highly rated for the clarity of instruction. But also, the careful structure in which each lesson both builds incrementally on what's gone before, and also provides tools for self reflection and actionable tips for improvement. A short course that encourages self reflection and leads to real improvement.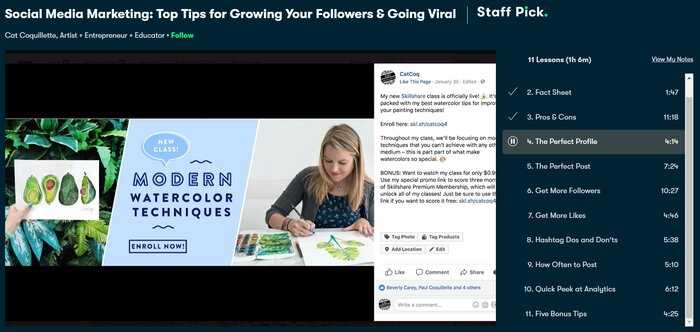 Category: Marketing, Instructor: Cat Coquilette, Length: [1 hours and 6 minutes], Number of reviews: [1,655, 246 discussions]
Cat runs her own location-independent creative brand, CatCoq. Her designs are licenced globally in stores including Urban Outfitters, Target, Barnes & Noble, Modcloth and Nordstrom. Her writing, interviews and design work have been featured by Forbes, CNN, US Weekly, Teen Vogue, Buzzfeed, and The New York Post. And if that's not enough, she is also a top Skillshare teacher. So she's in a great position to be delivering this class.
You will learn how to:
Strengthen your brand
Craft the perfect bio and profile
Find the best platform for you
Boost your engagement and reach new followers
Write perfect posts
Hashtag Dos and Don'ts
Drive sales and traffic to your website, blog or online shop
Decode your analytics
Select the best apps for editing images
Why is it Great? This class has great pace and reviewers commented that it felt like no time was wasted and that delivery was efficient and carefully structured. The course provides tips and tools that you can deploy within minutes of starting the class, and the motivational boost to keep moving forwards.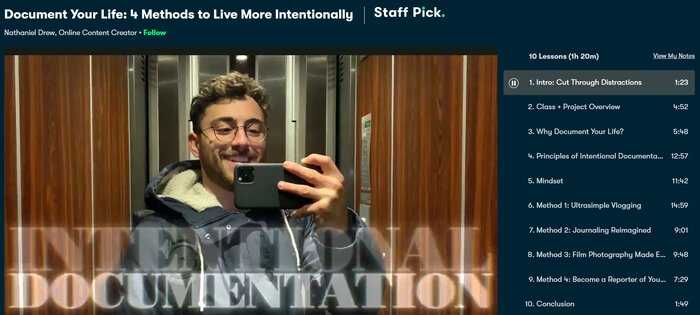 Category: Lifestyle, Instructor: Nathaniel Drew, Length: [1 hour and 20 minutes], Number of reviews: [558 and 106 discussions]
Nathaniel is a top Skillshare teacher. He's a writer, filmmaker and a 'slow traveller'. He moves about, but not in a rush. Finding the most low cost, sustainable ways of spending time abroad and learning the language and culture of the places he visits. He funds his lifestyle with his online presence and has over 1.6m followers on YouTube.
You will learn to:
Document your life in a way that brings meaning and depth to everything you do
Find an alternative to auto piloting your way through life
Understand and select the right tools for you to log your journey and experiences
Choose the right one, or the right mix, of method for you vlogging, journaling, photography or reporting
Why is it great? We all probably have phones full of photos and videos that we shot aimlessly and didn't end up doing anything with. In this class, you'll learn how to mindfully document your life as well as how to form those snaps into something worth treasuring.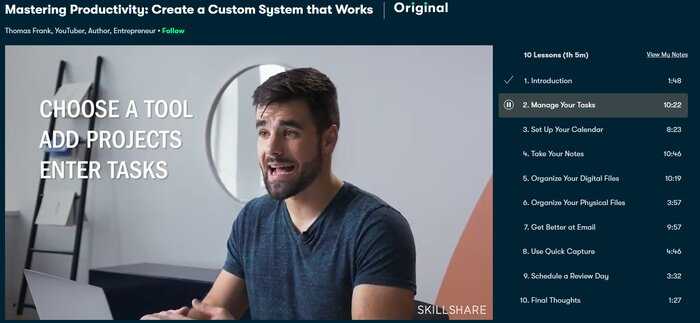 Category: Productivity, Instructor: Thomas Frank, Length: [One hour and five minutes], Number of reviews: [4,566 and 300 discussions]
Thomas Frank is a productivity expert, published author, YouTuber, and speaker who is passionate about helping students succeed. His website, College Info Geek, is one of the world's largest and best-loved resources for students, and includes a blog, podcast, and a YouTube channel with over 1 million subscribers. In this class he shares his discoveries about the relationship between productivity and creativity."
You will learn how to:
Manage tasks
Take and keep notes
Manage files both digitally and physically
Task management essentials
Email tips and tricks
Get efficient at getting information into – and out of – your system
Stay organized for the long haul
Why is it great? Thomas Frank's class enables you to organize and improve your workflow with simple, straightforward techniques. His step by step route to a personalized productivity system works no matter how much you have going on in your life. He teaches you how to practice your creativity like a muscle and shares tangible tips that will help you in so many aspects of your day to day life.
How to find the best courses on Skillshare
With over 40,000 courses available on Skillshare, it can feel difficult to know where to start.
But don't worry — Skillshare is set up really well to help navigate this. There are a couple of different ways to get started.
Visit your curated home page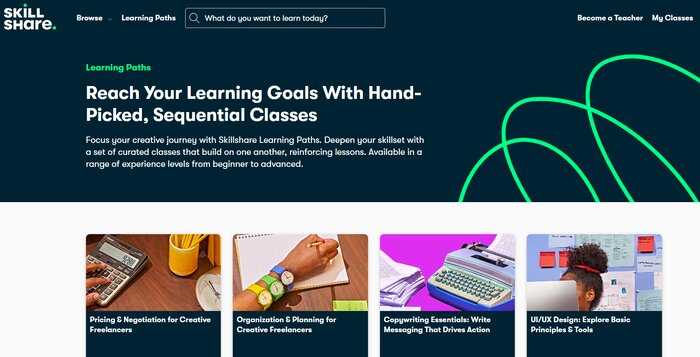 When you sign up, you will complete a short quiz telling Skillshare what topics you are interested in. This enables the platform to load a home screen packed full of suggestions for you.
As you start learning, you'll get even more relevant course suggestions, making learning the next thing a breeze. From my home page, I can see classes separated into:
Continue watching
My saved classes
Recommended for me
Staff picks
"Because you follow…."
"More like…"
Inspiration based on my interests
Featured on Skillshare
Trending now
I've never spent more than 2 or 3 minutes wondering what to learn next and everything I've been suggested has been right on the mark.
Browse and filter
The main Skillshare disciplines are listed in the home menu and can be navigated to with ease. From there, you will be shown a curated list of classes — Top Picks, Popular and Trending — and also have the option to view all classes within a category.
You can also toggle the filter options to search within a category, prioritizing:
Course length
Most popular
Time frame of popularity (ie. most popular of all time or most popular in the last month)
Follow along with the Skillshare blog and email suggestions
The Skillshare blog is full of info on the top-performing classes at any moment as well as supplementary information to go alongside courses.
You can also opt in to Skillshare emails so that you receive news on what's new and trending right into your inbox.
How much does Skillshare cost?
Skillshare is a subscription platform with two membership options, monthly or annual:
| | |
| --- | --- |
| | Skillshare costs |
| Per course | Not available |
| Subscription | Monthly $32 pm Annual $14 pm billed annually |
| Free trial | Usually 7 days30 day free trial of annual membership available here |
| Refunds | Within 7 days |
| Free courses | Short tasters of select courses |
The annual Skillshare Premium account at $168 (USD) works out at only $14 per month. That's similar to a Netflix plan, or only a handful of coffees per month.
Individual business courses outside of the Skillshare platform can easily run you back hundreds, if not thousands, of dollars, so the cost does represent great value for money.
There are also pricing plans for business teams, depending on your requirements. Standard business pricing starts at $159 per year but custom pricing is available for larger business purchases.
For more information check out our article Skillshare cost. Interested in a discount? Visit our Skillshare discount code page.
How to get the best value from Skillshare?
Ultimately, the Skillshare plan with the best value is the Skillshare plan that is used.
To get the most value for money, take as many courses as you can and make a practice of learning. Think about which topics would enhance your life the most and create a wishlist of courses you would like to take.
While the upfront price of an annual Skillshare subscription can sound daunting, a more effective way to consider the cost in terms of cost per class or cost per day or week.
Number of classes
| | |
| --- | --- |
| Number of Skillshare classes taken | Effective cost per class |
| 1 | $168 |
| 2 | 168/2 = $84 |
| 3 | 168/3 = $56 |
| 4 | 168/4 = $42 |
| 5 | 168/5 = $34 |
| 10 | 168/10 = $17 |
Considering cost per day, $168 annually works out approximately equal to:
$14 per month (similar to a Netflix Premium subscription)
$3 per week (a cup of coffee)
$0.50 per day (an amount you probably spend without thinking!)
Find out more in our Skillshare review.
Our methodology
I am an avid e-learner and have taken and reviewed dozens of courses across many different platforms. I'm also a former teacher with over 30 years experience so I know good teaching when I see it.
So when it came to reviewing Skillshare, I knew I had to commit and do it properly, writing up the most comprehensive Skillshare review out there.
I signed up with a free trial (here) and spent a little time perusing through available courses and topics to decide where to start. Then I got to taking courses. I watched as many as I could, trying out contrasting classes. Including classes I knew something about, and others I was a total beginner in.
It's impossible for me to take every single class on the platform but I also delved into the FAQs, the comments, the views of others on forums like Reddit and Quora for insights from others who had taken different Skillshare classes to me.
Conclusion
Our top picks for the best courses on Skillshare are Graphic Design Basics: Core principals for visual design with Ellen Lupton and Intro to Procreate: Illustrating on the iPad (UPDATED for 2023) with Brooke Glaser.
That said, Skillshare has tens of thousands of courses in categories designed to boost your creativity, learn and develop new skills and increase your productivity.
So with many courses on offer, finding the best courses for you might seem daunting.
But one of Skillshare's many strengths is that it is so easy to navigate.
Aside from the browse, filter and search options, when you sign up you complete a short quiz. This enables Skillshare to pack your home screen with relevant suggestions which will be updated as you use the platform.
This, plus the comprehensiveness of the feedback and review system, make finding a course incredibly easy.
So if you're a serious creative looking to enhance or develop new skills, or streamline your business operation, then Skillshare is worth the investment.
And with a 30 day free trial, you will have plenty of time to explore and assess the platform for yourself with minimal risk.
Related articles: Best magic, soap making, online embroidery and public speaking classes.
FAQ
What is the best course on Skillshare?
Our top picks are Procreate Animation: make fun GIFs & videos and Introduction to Procreate: illustrating on the iPad
How much is a Skillshare subscription?
An annual Skillshare subscription is $14 per month (billed annually at $168)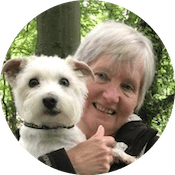 Liz Hurley has 30+ years of high school teaching experience and is one of our senior writers here at Learnopoly.