If you're a creative person or entrepreneur, it's likely you've heard of Skillshare. As one of the most popular online learning platforms for creatives, Skillshare has 35,000+ classes and over 12 million registered users.
But you might be wondering:
"How much does Skillshare cost? Can I try Skillshare for free? Is Skillshare really worth it? How can I get the most value out of my Skillshare membership? Can I cancel and get a refund if I don't like it?"
In this article, we'll cover all the questions you have about purchasing a Skillshare membership, and more.
How much is Skillshare?
Skillshare pricing plans
Is Skillshare free? – Skillshare free trial and discount codes
Skillshare Premium membership subscription
Is Skillshare's price good value? – and how to get the most value out of your Skillshare membership
How do I purchase a Skillshare membership?
Skillshare pricing in different countries
Skillshare purchasing options and Financial aid
Skillshare Teams
How to cancel Skillshare
Skillshare refunds
And the big question: Skillshare — is it really worth the price?
How much is Skillshare?
There are three Skillshare subscription options.
The most popular is the Premium annual plan. In 2023, a Premium plan costs $168 per year (billed annually), which works out at $13.99 per month. This is a saving of nearly 60% on the Premium monthly plan.
Premium monthly plan at $32 per month. This works out at $384 per annum if you remain a member for a full 12 months.
Finally, if you are looking to upskill your team you can purchase a Standard Teams business plan from $159 per person per year. For businesses that require large volumes of memberships, custom pricing is provided upon enquiry.
->Check out our full Skillshare review here
Skillshare pricing plans
Premium (annual)
Premium (monthly)
For Teams
(annual)
Annual price
$168
$384
From $159/pp
Monthly effective cost
$14
$32
$13
Unlimited class access
Yes
Yes
Yes
Transferrable to another person
No
No
Yes
Billing cycle
Annual
Monthly
Annual
Cancellation policy
Cancelling ends membership at end of billing period
Cancelling ends membership at end of billing period
Cancelling ends membership at end of billing period
Refund
Within 7 days
No
Within 7 days
Free trial available
Yes
No
No
Option to pause
No
Yes (up to 3 months)
No
Whatever your requirements, it's likely that you can find a Skillshare plan that's right for you. Our recommendation is to go for a Skillshare annual membership with a free trial. It's the best value for money for individuals while being low-risk due to the trial period.
Is Skillshare free?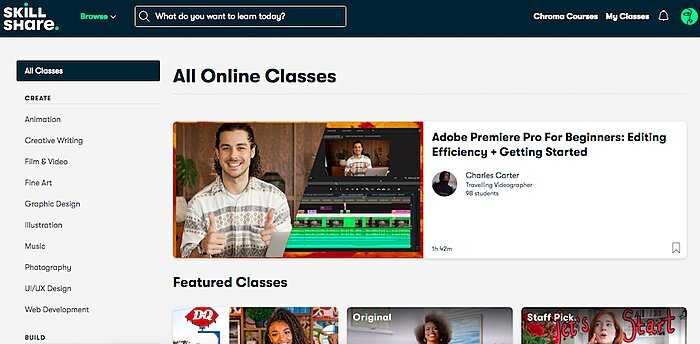 You might have heard that you can get a Skillshare membership for free. Historically, this has been the case, but towards the end of 2021, this changed.*
Skillshare announced:
"As part of Skillshare's ongoing efforts to build a more predictable royalty pool for our teachers and create a streamlined experience for students, we will be transitioning away from offering a free class experience.
From September 15th onward, all students on Skillshare will need to have an active free trial or paid membership to login and explore classes, including classes that were previously available for free. "
There are still a few courses that have sample lessons available. You can watch these without creating a login in order to get a flavor of Skillshare's offering. That said, you'll only be able to watch a couple of minutes and will need a membership in order to complete the course.
If you would like to experience Skillshare without having to pay upfront, getting a month-long free trial ahead of your membership is the best way to go.
And honestly, you're much more likely to get a true sense of the Premium Skillshare experience this way compared to the previous limited Free plan. You'll get to experience the very best that Skillshare has to offer — completely free of charge — and feel confident of your purchase of a membership.
*If you are a member of a California State Library, you may be able to get 3 months of Skillshare for free. More details here.
Skillshare free trial & discount codes
Skillshare free trials typically range from 7 days to 1 month. With the trial, you can sign up and get started straight away. You'll have access to the full Skillshare library of 35,000+ classes, and be able to take as many as you like.
During your trial period, you can cancel any time you like. This will terminate your Skillshare access at the end of your trial.
If you choose to continue with your Premium plan after your trial elapses, your payment method will be charged for the amount of a full annual Premium subscription (currently $168). For your convenience, Skillshare subscriptions auto-renew every year so if you decide to cancel your subscription, you'll have to do it manually.
To ensure that you get the 1 month trial, use our link below to complete the sign up process. You'll need:
An email address
A valid payment method (see full list of accepted payment methods below)
Skillshare discount code
Discount and promo codes for Skillshare are rare and, as such, if you stumble across one, it's likely to be invalid.
That said, Skillshare does occasionally run a Buy One Get One Free deal and you can check the Skillshare Help Center to determine if your BOGOF code could be valid.
Skillshare does have a scholarship programme for discounted memberships but you must apply to be accepted and these scholarships are often limited to a small number of recipients. (We'll go into this in more detail later in the article.)

The best way to experience Skillshare is with the free trial and annual membership. By purchasing a Skillshare membership this way, you can benefit from savings of $236 compared to pay monthly.
Free trial + 1 annual membership = $168
13 x monthly $32 membership = $416
Skillshare Premium membership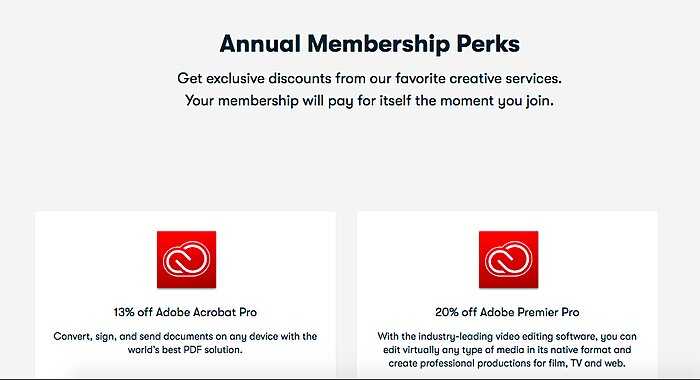 So what exactly is included in a Skillshare Premium membership? And why is it worth having?
Unlimited access to 35,000+ courses spanning all categories from videography to cooking to painting
In-depth courses created by specialists in their field
High quality audio and visual
A curated learning experience, with suggestions on popular courses that might be relevant to you
Offline viewing features for learning on the go
Supports teachers financially
Exclusive Skillshare perks including: up to 25% off Adobe software, discounts for Squarespace, Canva Pro and much more!
The sheer quantity and quality of Skillshare classes available to you with a Premium membership is already great value. And, if you're already planning to purchase any software included within Skillshare Perks, you can make some really significant savings.
Here's what a few Skillshare users had to say about it:
"Yes [Skillshare is worth it]! I've been a premium member for over 3 years. Honestly, I could be learning more. Sometimes I go months without taking a class, but I still feel I get plenty of value. It's nice to know I can dive into any skill I want in just a second, and not worry about paying anything extra to get all the content I can digest." ~ comment from Reddit
"Totally. I am using Skillshare for the last one year and I can say this by confidence. Skillshare is surely worth of money." ~ comment from Reddit
Is Skillshare's price good value?
For the price you pay, the value you get from Skillshare Premium is very high.
Quality online courses easily can push into the thousands of dollars for a standalone course. With this in mind, having over 35,000 courses at your fingertips for one flat fee of $168 offers an incredible opportunity.
Skillshare is also competitively priced among other online learning platforms.
| | |
| --- | --- |
| Platform | Annual cost |
| Skillshare | $168 |
| Masterclass | from $180 |
| Udemy | $360 |
| Coursera Plus | $399 |
That said, the amount of value that you get from a Skillshare membership is more down to you than the pricing of the annual membership.
So:
How to get the most value out of Skillshare
Ultimately, the Skillshare plan with the best value is the Skillshare plan that is used.
To get the most value for money, take as many courses as you can and make a practice of learning. Think about which topics would enhance your life the most and create a wishlist of courses you would like to take.
While the upfront price of Skillshare can sound daunting, a more effective way to consider the cost in terms of cost per class or cost per day or week.
Number of classes
| | |
| --- | --- |
| Number of Skillshare classes taken | Effective cost per class |
| 1 | $168 |
| 2 | 168/2 = $84 |
| 3 | 168/3 = $56 |
| 4 | 168/4 = $42 |
| 5 | 168/5 = $34 |
| 10 | 168/10 = $17 |
Considering cost per day, $168 annually works out approximately equal to:
$14 per month (similar to a Netflix Premium subscription)
$3 per week (a cup of coffee)
$0.50 per day (an amount you probably spend without thinking!)
How do I purchase a Skillshare Membership?
Purchasing a Skillshare membership is fairly straightforward but I'll go through the process step-by-step in case you need any help.
You will be required to provide:
Your name
Email address or existing Facebook, Google or Apple details
Valid payment method
Step 1
Visit Skillshare here (or by clicking on any of our links) and select your preferred sign up method. This can be an email address or you can opt to create an account using your existing Facebook, Google or Apple details.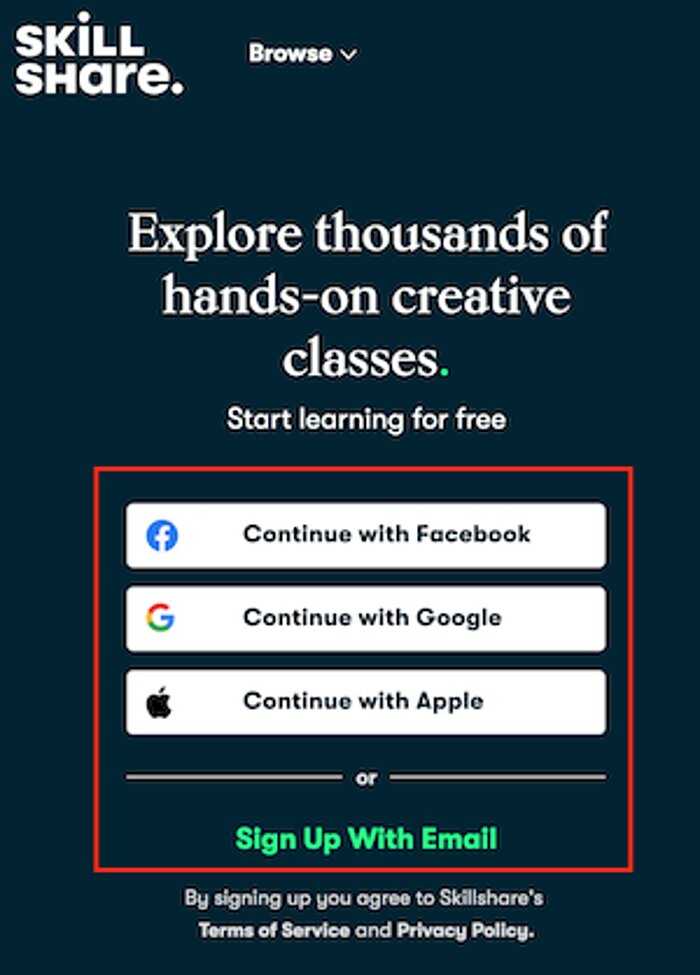 Step 2
Create your Skillshare login by entering your name and email address before creating a password.
If you are using existing third-party details, you will need to authorize connection between your accounts.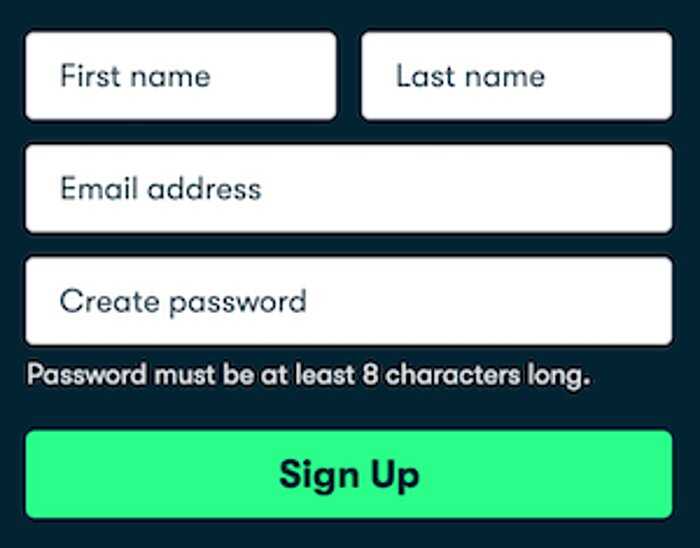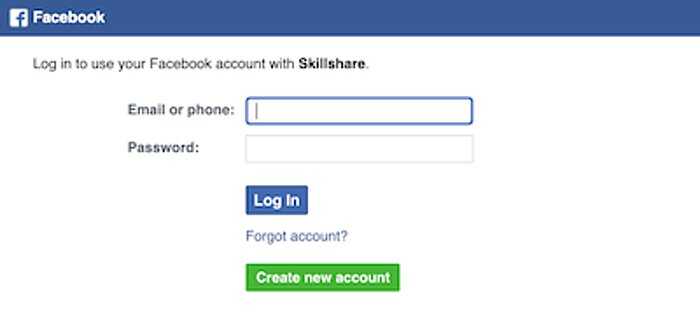 Step 3
Click Sign Up to proceed to the payment page. Select your preferred payment method and complete all required fields.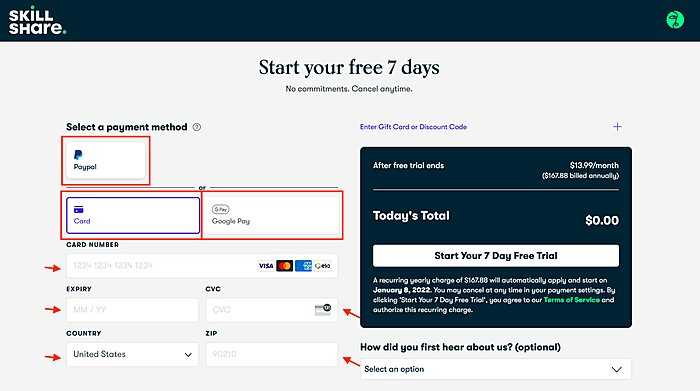 Step 4
Click the white button under Today's Total to start your membership. If you have benefitted from a free trial, this will display within the blue box and notify you of any subsequent payments.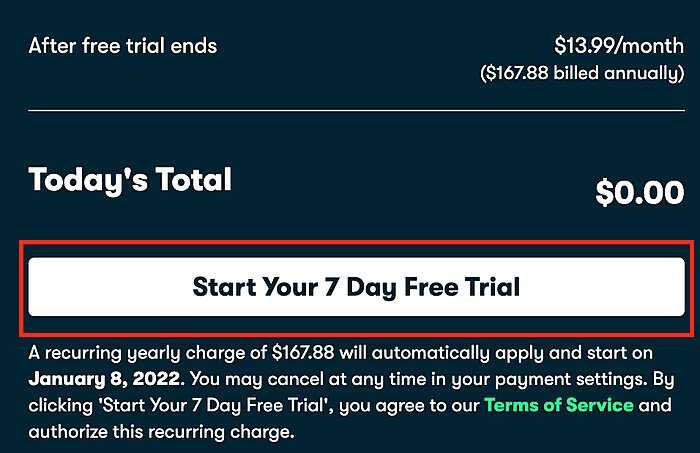 Skillshare pricing in different countries
| | |
| --- | --- |
| Country | Skillshare Price (annual membership) |
| United States (USD) | $168 |
| United Kingdom (GBP) | £123 |
| Canada (CAD) | $141 |
Skillshare has dynamic pricing so it's best to create a free Skillshare account to find the most up-to-date and accurate pricing for your region.
How do I purchase a Skillshare gift card?
Skillshare gift cards are currently only available in batches for business. In 2023, it is not possible for individuals to give Skillshare as a gift.
That said, if you absolutely want to give the gift of Skillshare, you could create an account with your email address and change the email address at a later date.
Skillshare purchasing options
Skillshare offers a range of purchasing options. The most straightforward way to purchase a membership is via the Skillshare website and with a credit or debit card.
You are also able to make payments using PayPal, Google Pay and Apple Pay.
Skillshare is also available to purchase on the Google Play store and the App Store. This may be a good option for you if you frequently make purchase via these platforms. However, be aware that return and cancellation policies may differ from Skillshare's own.
Financial aid

Skillshare does offer a variety of Scholarships and Financial Aid programmes. These vary from time to time so it's always worth checking what's available by visiting the Scholarship page here.
There are a few scholarships that are currently live, including:
50% discount for college and university students
One year free membership (awarded to 10 people every month)
Past Scholarship programmes have included the VCSO Scholarship for Aspiring Photographers and the MailChimp Scholarship for Small Businesses. In the UK, they also offered Scholarships for those who had been furloughed during the COVID-19 pandemic.
One point to note is that Scholarships are awarded at the discretion of Skillshare. Most scholarships have a quota and your application does not guarantee receipt of financial aid.
Skillshare team plans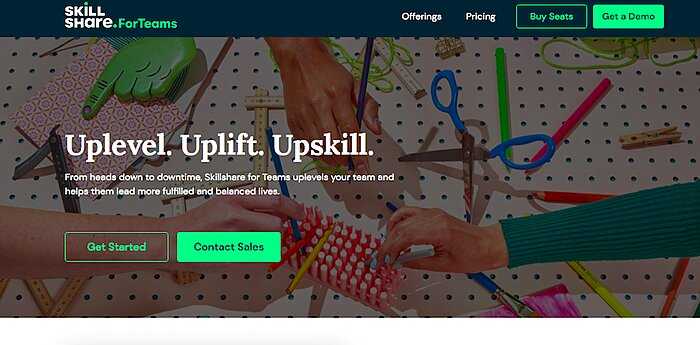 Skillshare Teams is designed with businesses in mind. If you want your employees (or colleagues) to keep inspired and keep learning, a Skillshare Teams plan is a great option.
Skillshare Teams is available at 3 different levels — Starter (2-19 members), Enterprise (20+ members) and Revive (5+ members) — and starts at $159 per person for the Starter package. Enterprise and Revive have custom pricing depending on your requirements
There are a few fundamental differences between a Skillshare Premium and any of the Teams plans:
It's cheaper
Skillshare Teams plans start from $159 per person (for between 2-19 people) with subsequent discounts available for teams over 20 people. Discounts are also available with volume discounts on the Enterprise and Revive plans.
More flexibility
With Teams, you pay for a certain number of people, but you can reassign an account to another person if someone leaves your team. You can also add more team members into the plan and manage them all in one place
Additional features
The Enterprise plan is geared towards learning development with a Customer Success Manager and analytics for the team administrator. The Revive plan focuses on providing perks for team members and also has curated wellness offerings
How to cancel Skillshare
While Skillshare is a great option for many people, there may come a time when you need to cancel your membership.
The steps required depending on your payment method and the purchasing platform you initially used.
If you purchased via Skillshare using Credit Card, PayPal, Paytm, or UPI:
Log into your Skillshare account and visit Account Settings (located in the drop-down menu at the top right)
Click Payments at the bottom of the left-hand navigation menu
Select Cancel Membership
You will be asked to confirm your action of cancelling membership. Follow through remaining steps to completed cancellation
If you purchased via a third-party platform such as the Google Play Store or the Apple App Store:
It's important to note that Skillshare cannot manage any subscriptions bought through third party platforms. These subscriptions are subject to each platform's cancellation policies.
Once you have successfully cancelled your subscription, membership will stay live until the last date of the billing cycle.
For example, if you purchased an annual membership on January 1, 2023, your billing cycle will end on December 31, 2023. No matter when you cancel within that period, your membership will end on December 31.
In a very small number of cases, you may also be eligible for a refund.
Skillshare refund
As long as you purchased directly from Skillshare, you are able to get a refund on your subscription fee within the first 7 days of purchase.
To request a refund, you need to contact Skillshare and start your refund request.
After the initial 7 day period, refunds are no longer applicable — you can cancel your subscription but it will run until the end of the billing cycle (ie. for a year if you purchased an Annual membership).
Conclusion: is Skillshare cost worth it?
If you're looking for a platform to help level up your skills, Skillshare is absolutely worth it. The subscription platform keeps you learning throughout the year and helps to hold you more accountable to your learning goals.
And, at a cost of less than 50 cents a day, the price is hard to beat!
Related Articles: Skillshare review, Best Skillshare Classes, Skillshare Statistics, CreativeLive review, Domestika review, Udemy Alternatives, Coursera Alternatives, How Much Does Coursera Cost?, edX review, edX Cost-Is edX Free? Coursera review
FAQs:
How much does a Skillshare membership cost?
In 2023, an annual Skillshare membership costs $168 while monthly subscriptions are priced at $32 per month.
How much does Skillshare cost per month? 
Skillshare monthly membership is $32 per month. However, if you choose to pay the annual subscription fee upfront, the effective monthly cost is $13.99.
How much is Skillshare after free trial?
Once your free trial elapses, you will be charged $168 for an annual Skillshare membership.
Can I purchase individual Skillshare classes?
Skillshare classes are not available for individual purchase. If you are sure you're only interested in one class, you could purchase a monthly subscription and cancel upon completion of the class.
However, it's worth checking out other classes to get best value for money,
Does Skillshare cost money?
You can only access classes on Skillshare with a paid membership or limited time free trial. As of the end of 2021, there are no longer free offerings on Skillshare. 
What accepted payment methods can I use for Skillshare?
You can sign up to Skillshare using: VISA, MasterCard, American Express, Discover, PayPal, Apple Pay, Google Pay, SEPA, Paytm and UPI. You can also purchase through the Google Play store or Apple store, although these purchases will be subject to T&Cs of the relevant platforms. Skillshare does not accept iDEAL MAESTRO or pre-paid cards.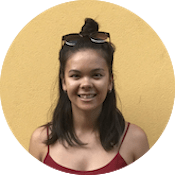 Glenda is an award winning full time professional harpist. Alongside harp she also plays the piano and violin. Besides music, her passions are cooking, writing and learning.