Udemy is one of the biggest online learning platforms out there.
With over 46 million students, 183,000+ courses and teaching in over 75 languages, this site is truly international and incredibly well renowned.
Who wouldn't want to sign up with those stats?
So, how does Udemy's pricing work and how much does Udemy cost? Can I try Udemy courses for free? Can I get a refund if I don't like it?
All these questions and more will be answered in this article.
I'll be covering everything you need to know about Udemy's cost, so let's get started.
How much is Udemy?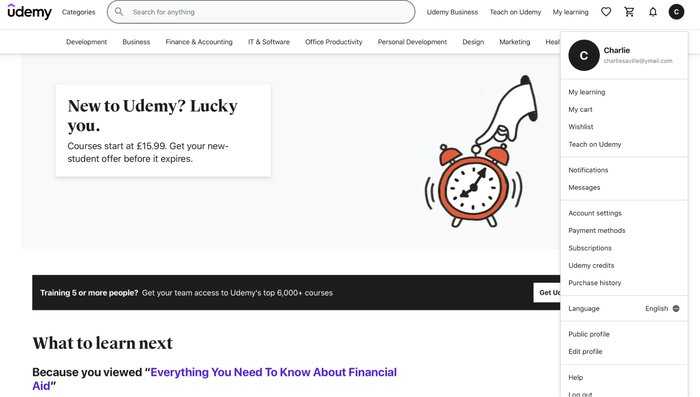 Udemy courses can cost anything between $12.99 and $199.99.
However, there is the chance to get major discounts on the majority of their courses. For more information see our article, how often does Udemy have sales? And there are a select few that are completely free of charge.
You usually buy courses individually. There are a few larger plans, including Udemy for Business Team Plan, which will cost you $360 per year, per-user or the Enterprise Plan. You'll have to get in touch with Udemy for costs of the latter and you'll need a minimum of 21 members.
Udemy is also trialling a Personal Plan subscription, where you get access to thousands of courses in a range of disciplines through paying a monthly subscription fee. As this is very new, fees may vary and this option is only available to some students.
Here's a table to make everything clear:
| | | | | |
| --- | --- | --- | --- | --- |
| What do I get? | Free Courses | Paid Courses | For Business | Personal Plan |
| Assignments | Yes* | Yes* | Yes* | Yes* |
| Videos | Yes* | Yes* | Yes* | Yes* |
| Readings | Yes* | Yes* | Yes* | Yes* |
| Discussion forums | Yes* | Yes* | Yes* | Yes* |
| How many courses? | 500+ | 183,000+ | 6,500+ | 1,000+ |
| Available on Udemy app | No | Yes | Yes | Yes, for eligible students |
| Free Trial | N/A | Yes | No | Yes |
| Price | N/A | $12.99 and $199.99 | $360 pp for Team, contact Udemy for Enterprise prices | Dependent on the student; price listed on Subscriptions page |
| Refund | N/A | Yes, within 30-days | Yes, within 30-days | No |
| Topics | 25 | 150+ | 150+ | 150+ |
*Dependent on the course
Is Udemy free? Free Udemy courses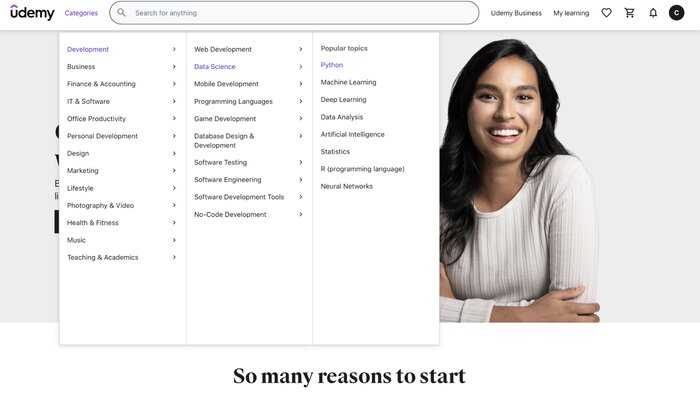 There are over 500 free courses that you can find on Udemy, covering around 25 topics.
To find these courses, it is as simple as Googling Free Udemy courses. Alternatively, you can find the Udemy Free Courses on their homepage.
Udemy's free courses cover a range of topics but tend to have a more superficial coverage. The teaching is often of the same quality as the paid courses.
Paid Udemy courses
The price range for paid courses ranges between $12.99 and $199.99.
However, there are often major discounts on the majority of courses, so make sure you check the page of any course you're interested in.
Udemy sets course prices on a range of factors. These typically include the length of the course, what it focuses on and the credentials of the instructor.
Paid courses tend to go a lot more in-depth than free courses. With Udemy, everything is about the individual course so make sure you check out whichever one you're interested in to see what you get.
Most courses will typically include a range of video, audio and textual lessons and resources, as well as the chance to complete assignments, Q & A's with your teachers and forums to discuss topics with your fellow course members.
Udemy is also piloting a Personal Plan subscription service, which will get you access to thousands of courses on a multitude of topics. This is a very new feature so fees may vary and it isn't accessible to all students.
You can check the Udemy subscriptions page to see how much you would be charged for a Personal Plan subscription.
Udemy for Business cost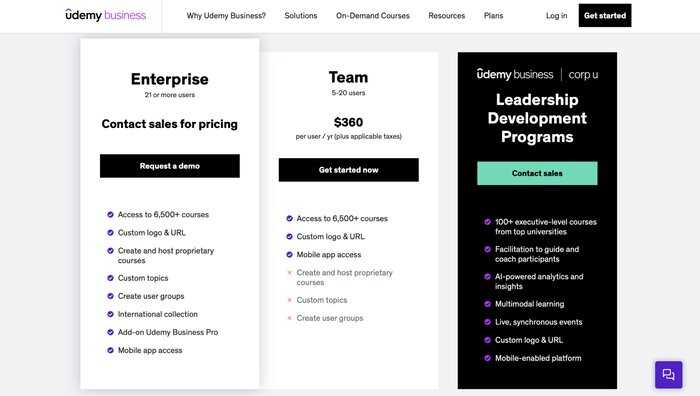 Udemy does offer subscription services for teams and businesses. There are a couple of options available. You can check out our Udemy for Business review, but we have summed things up here:
If you have a team of 5-20, Udemy's Team Plan is the plan to go for. This will cost you $360 per user, per year. In return, you will receive access to 6,500+ courses, available online and with the mobile app.
For larger groups, with 21+ members, Udemy's Enterprise is the choice for you. There is no set price for this plan. To get a price, contact Udemy Sales.
Enterprise gets you access to everything you get with Teams, plus some other features including custom topics, custom URLs and the chance to create and host proprietary courses.
Udemy Business has also partnered with Corp U to create the Udemy Leadership Development Program. Again, there is no set price, so contact Udemy to see how much it would cost you.
Here, you receive over 100 executive-level courses from leading universities and institutions, as well as the opportunity to join live events and receive AI power analytics and insights.
Udemy discount code
Student discounts, discount codes and promo codes are quite rare to find, and they often don't work.
However, keep in mind that Udemy have sales all the time, and you can get access to courses at a massively discounted price if you order them at the right time.
Keep checking the pages on any of the courses that you're interested in. Chances are that there will be a discount.
How often does Udemy have sales?
Udemy has sales all the time, on the majority of courses they offer.
Often the biggest sales and discounts coincide with major events and holidays.
So check the prices at times like Christmas, Valentines and other holidays to see what kind of sales are happening.
Is Udemy's price good value?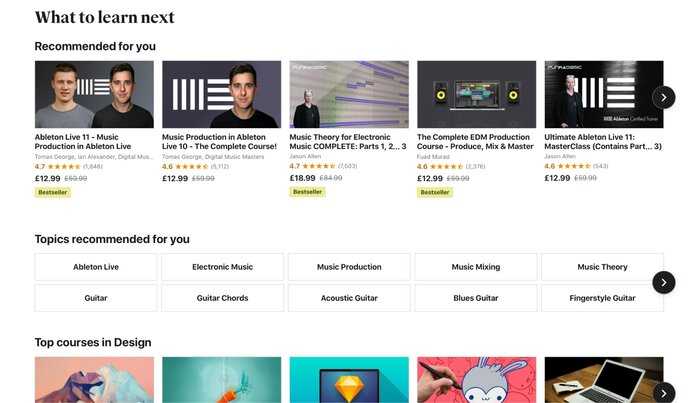 For the price you pay, Udemy is great value.
The prices of individual courses may vary, but you can be assured that you will get a massive range of teaching materials and resources, including audio, visual and text-based tools.
This is even more the case when you take into account how many discounts and sales Udemy has.
Considering the quality of these courses, the value is amazing when you think about it.
Of course, value is very subjective, and the extent to which you get value for money will depend on how much you use the site…
How to get the most value out of Udemy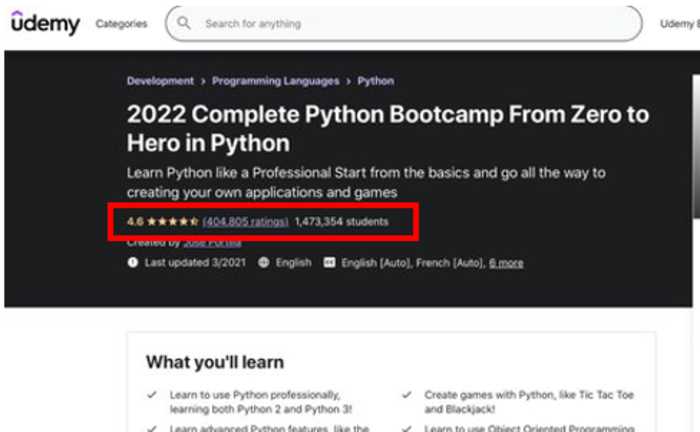 Udemy offers such a lot of courses it might seem daunting to know where to start.
However, there are a variety of ways to get the most value you can from Udemy.
First, to find good courses, check out how many students are involved and what comments they've left. Look at the credentials of the instructor to see how qualified they are and dive deep into the syllabus and any available trailers to double-check that the course is right for you.
Secondly, you can make sure you're getting the best out of your subscription by reading reviews of whatever course you're interested in.
These can be from forums and websites focused on your discipline, or reviewers, like us here at Learnopoly, who will tell you everything you need to know about your prospective course.
It's also good to remember that the only person who can truly help you to improve is yourself. You will see real progress and get a lot of value from your course if you devote a good amount of time to practicing what you've learnt, whatever the discipline.
Some courses also offer certificates, so you can also get a lot out of a concrete representation of the work you've put into learning a new skill. 
For mini reviews of popular courses check out our article, Best Courses on Udemy.
How do I purchase a Udemy Membership?
Most of Udemy is based around individual courses, but they are increasingly offering Personal Plan membership schemes to eligible students.
Here's a step by step guide to purchasing your Udemy membership. Remember, this is all very new, so fees may vary and some students may not be eligible (although the scheme is rapidly expanding).
Go on to the Subscriptions page to see what's eligible to you; this can be found on the top-right of your Account page.
Click on the Subscription you would like to choose (there may also be an option for a free trial).
Enter your payment information and complete the checkout process.
If a course is available with the subscription, you will also see the option to sign up in the same way on the course landing page.
The free trial for a Udemy subscription is only available to students who are eligible for the Personal Plan.
If you are eligible, you can find the duration of your free trial, when it ends and how much you will be billed after on the Subscriptions page. You can cancel your free trial, during the time-period, at any point without being charged.
Once your free trial ends you will be charged automatically.
Udemy pricing in different countries and currencies
Here's a breakdown of edX prices for the Paid Certificate across the world*.
| | |
| --- | --- |
| Country and Currency | Udemy Pricing |
| US Dollar USD ($) | $12.99 to $199.99 |
| UK Pound GBP (£) | £9.57 to £147.32 |
| Canadian Dollar CAD ($) | $16.49 to $253.80 |
| EU Euro EUR (€) | €11.36 to €174.90 |
| Australian Dollar AUD ($) | $18.09 to $278.52 |
* Based on the current exchange rate
Udemy purchasing options
Udemy has multiple methods of payment dependent on your preferences and where your account is registered.
You can purchase through the Apple and Google Play store(s). If you want to purchase through these, your payments will be through whatever is used by the platforms you purchase with.
They also accept the majority of international card payments including Visa, MasterCard, PayPal and American Express.
Cash payments and bank transfers may be available in European, South American and Asian countries. Also, if you're Brazilian, you can use Boleto Bancario and Pix.
If you have any questions about payments, or something doesn't seem to be working, contact Udemy support.
Udemy refund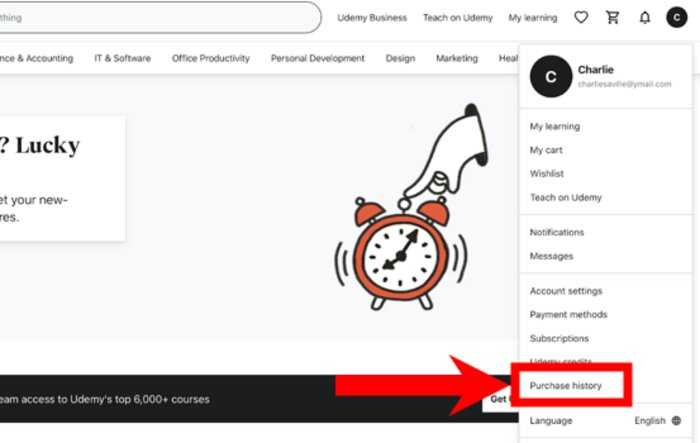 Udemy courses can be refunded within 30-days, providing your request meets the eligibility criteria.
Payments are sent to instructors within 30 days, so your request will not be accepted after the window period.
Udemy reserves the right to reject refund requests. This can happen when a significant portion of the course has already been taken, excessive refunds have been requested or your account has been reported for abuse.
For courses purchased through iOS or Boleto Bancário and Pix, as well as certain bank or cash transfers, your refund will be credit only. Refund requests can only be made through desktops or laptops, not on the mobile app.
Here's how to request a refund:
Click on Purchase History and find the course you want to get refunded.
Click the Request Refund icon below the course
Select a Refund Method, which can either be through your original payment method or Udemy Credits
Select a reason for why you requested a refund
Click submit
You should receive an email confirmation acknowledging your refund request. You can check the status of your request on your Purchase History page.
For detailed information about refunds you can read our Udemy Refund article.
Conclusion: Is Udemy's cost worth it?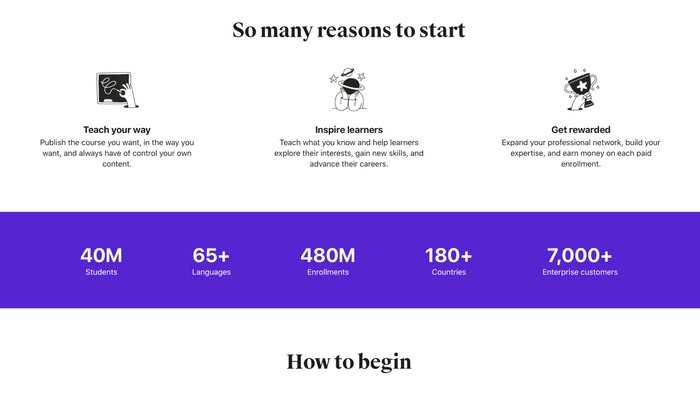 Overall, the cost of Udemy seems very much worth it.
Because there are quite so many courses out there, such a sweeping statement may not seem appropriate. However, most Udemy courses I've checked out offer an incredible range of learning materials for their students that is well worth the price.
On top of that, Udemy puts a lot of effort into advertising its best courses. So, you can see how many people are enrolled, what others have said and the exact learning tools you'll get in return for your cash.
I think you'll find, in most cases, it's well worth the money.
It's also important to consider that Udemy will often offer massive sales and discounts on their courses, with some even being free. It is always important to check the price and see how much you might be saving.
If you don't like what you get, don't forget there is a 30-day refund eligibility period that is always available for you to use.
And if you want even more detailed information about Udemy, check out our Udemy Review.
Related articles: Udemy Statistics, Udemy for Business, Udemy Review
FAQs:
How much is Udemy?
Udemy courses typically vary from $12.99 to $199.99. There are often very big discounts and sales. 
Can I get Udemy for free?
Udemy offers around 600+ courses for free. There is also a free trial available for the Personal Plan subscription for eligible students. 
How does Udemy's pricing work?
Courses are priced individually and in line with the instructor's preferences, credentials and the length of the course.
Can I get a Udemy refund?
Udemy does offer refunds within a 30-day period after your purchase.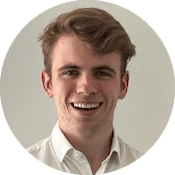 Charlie is a student reading politics at King's College London. He is also a passionate musician with over 14 years of experience. In his free time, he also enjoys cinema, long-distance running and learning new things.