Wondering whether Udemy courses are accredited? Then this short article is here to help.
We'll be going over what accreditation is, whether or not accredited courses are provided by Udemy, the value of Udemy certificates and how to find certified courses. 
The short answer is that Udemy certificates themselves are not accredited. Because Udemy is not an accredited institution, so any qualifications will not be recognised as formal. 
However, there are Udemy courses that are accredited by independent bodies. Furthermore, although Udemy certificates aren't formally recognised, they are still valuable in their own right.
Keep reading to find out more.
What is accreditation?
Accreditation is when an external body recognises that you can perform a task or have gained knowledge that meets a certain standard.
For example, a university degree is accredited as the university has independently recognised that you have met the requirements (through taking classes, completing assessments etc.) needed to obtain a qualification.
Accreditation is important when it comes to education. It shows you've acquired and demonstrated knowledge that an independent institution recognises. And it's even more important if that institution is recognised to be of a certain quality. 
An accredited course in computer science will hold a lot more value if it's from an institution like MIT, revered for its leading technological research and teaching, than if it was awarded by a site set up by someone with no qualifications. 
Increasingly, accreditation has been available through taking courses online. There are learning platforms across the internet offering courses certified by educational institutions like schools and universities. 
This means it's now possible to achieve recognised and valued qualifications in your own time, anywhere in the world, without the need to even leave your house. 
Is Udemy accredited?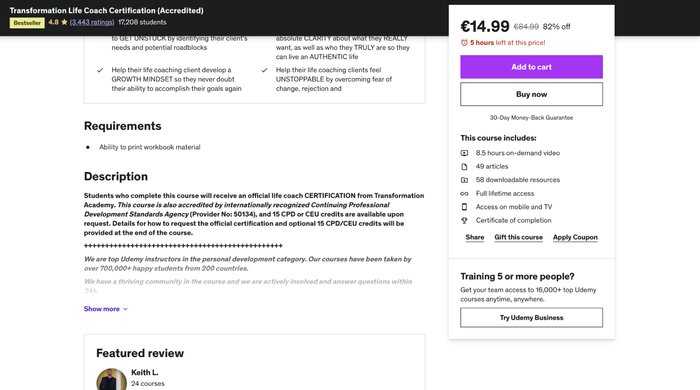 Most certificates offered by Udemy are not accredited.
This means that they cannot be presented as a formal qualification.
Udemy's business model is based on providing a platform for teachers and learners to come together independently.
The benefits of this include having a massive range of courses that cater to all kinds of learning needs. However, this makes it difficult to have courses assessed by an independent regulator. This means that most of the certificates Udemy offers will not be formally accredited.
With that said, there are some courses offered by Udemy that are accredited. This will often be highlighted in the title, with the accrediting body outlined in the course description.
Also, most Udemy courses still offer certification, and just because this isn't a formal qualification doesn't mean it isn't valuable.
Udemy courses have helped millions across the world gain new skills in their own time and space, and its popularity means it is still widely recognised.
Also, even though Udemy courses aren't accredited, their instructors often have leading qualifications and are leaders in their field. So a Udemy certification, even if it isn't formal, is worth a lot.
What courses on Udemy are accredited?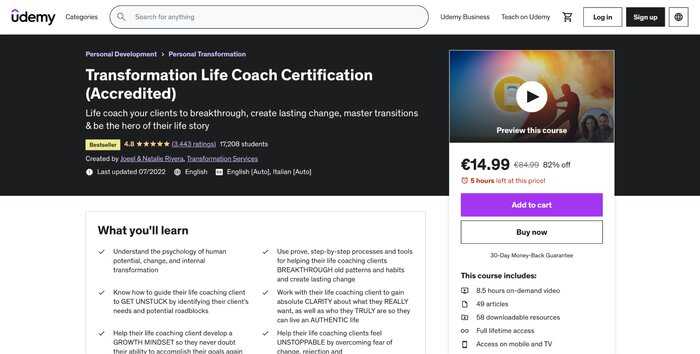 There are a select number of Udemy courses that are accredited.
Some of the most popular include:
The Transformation Life Coach Certification (Accredited by Continuing Developing Professional Standards Agency)
Internationally Accredited Diploma Certificate in Nutrition (Accredited by The CPD Standards Association)
CBT Cognitive Behaviour Coaching Certification (Accredited by Continuing Developing Professional Standards Agency)
REBT Practitioner Certification (Accredited by Complementary Therapists Accredited Association)
And many more!
To find accredited courses on Udemy, first find a course you're interested in, either through the categories section on the homepage or using the search function.
You could even use 'accredited' as your keyword.
Accredited courses will often have the word Accredited in their title. To find out more about what you'll learn and who the course is accredited by, scroll down to the description section on the course homepage. You can also check out our article Best Udemy Courses.
Are Udemy certificates useful? What's their value?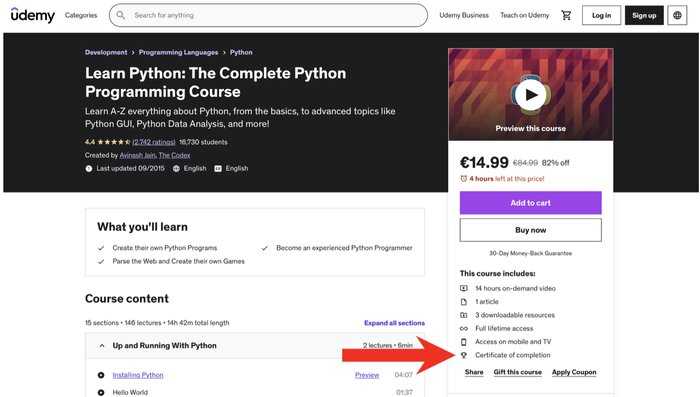 Although they aren't accredited in and of themselves, Udemy certificates are incredibly useful.
There are a couple of reasons for this. Firstly, relating to the above, Udemy instructors are often top quality.
Udemy instructors often have high-quality educational backgrounds and qualifications, loads of teaching experience and, in many cases, many years of putting their skills to work in the real world.
Udemy teachers are often award-winning and acclaimed, so proof that you've taken their course is worth a lot.
However, Udemy is also becoming acclaimed, popular and widely recognised in its own right for providing top-quality education in a range of disciplines.
With millions of students across the world, a certificate from Udemy is increasingly becoming evidence of many hours of learning, assessments and generally developing new skills.
How to find courses that come with certificates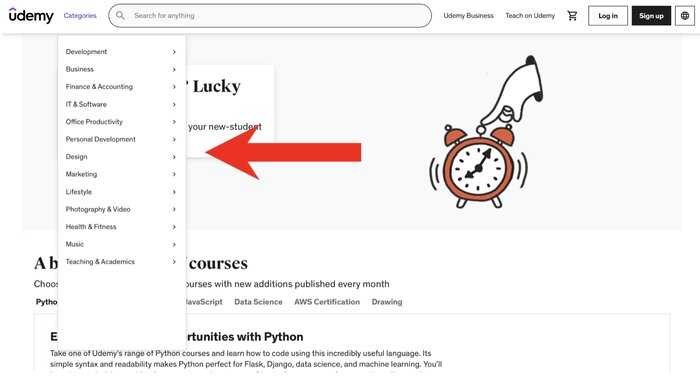 To check whether or not a Udemy course has a certificate, first select the course you're interested in and visit the course home page.
On the right-hand side, there'll be a box of the course's key information, such as the price, length and additional materials.
Courses that have certificates will include a trophy icon at the bottom of this page alongside 'Certificate of completion.'
Most Udemy courses have some kind of certification available.
How to put a Udemy certificate on your resume/LinkedIn
It's clear that Udemy certification is valuable in its own right, so it's a good idea to add a certificate to your resume or LinkedIn to make you stand out.
You will receive your certificate when all the elements of the course have been marked off as complete. At this stage, the trophy symbol above the course player will change color to purple, notifying you that your certificate is ready.
Click on the trophy symbol to view your certificate. This will take you through to a page that will give you the option of downloading the certificate, which you can save as a pdf. Or jpeg. file.
You can either attach a certificate separately for any job application or include it in an Awards and Achievements section on your resume.
To add your certificate to your Linkedin, go on to your personal account page.
Scroll down to the honors and awards section and click on the plus icon at the top of the section.
You'll be invited to add your certificate. This will include the title (name of course's certificate of completion), the provider (Udemy) and the date and month the certificate was issued.
Conclusion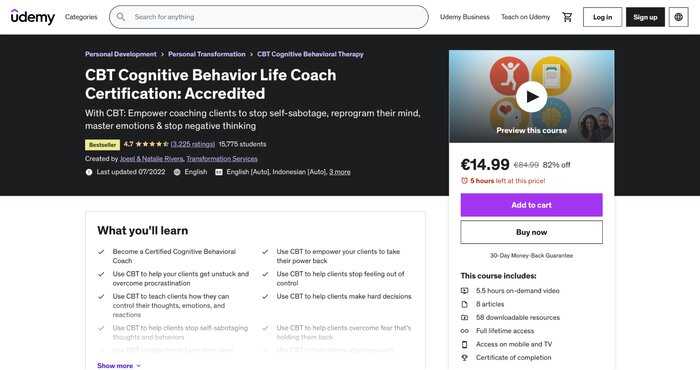 Overall, Udemy certificates are not accredited in and of themselves.
However, some specific courses are accredited, meaning the course is standardized and regulated by an independent body.
Accredited courses will often be advertised as such in the title, and you can find out more in the description on the course home page.
Furthermore, most paid Udemy courses will have some kind of certificate of completion, which you can download and add to your LinkedIn or CV.
Although these are not accredited, the popularity and reputation of Udemy, combined with the experience of the instructors and the resulting quality of their courses means these certifications are still very valuable.
Related articles: Udemy review, How often does Udemy have sales?, Udemy cost, Udemy refund, Udemy Alternatives and Udemy for business.
FAQ
Does Udemy give certificates?
Yes, most paid courses on Udemy will offer a certificate of completion. 
Are Udemy courses accredited? 
Unless specified, most Udemy courses are not accredited. You can find out more in the Description section of the course home page. 
Should I put Udemy courses on my resume?
Yes. A Udemy certification will add a lot to your workplace profile.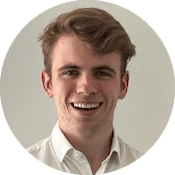 Charlie is a student reading politics at King's College London. He is also a passionate musician with over 14 years of experience. In his free time, he also enjoys cinema, long-distance running and learning new things.