Want to develop your problem solving, critical thinking, logical reasoning or STEM skills?
Then Brilliant.org could be the platform you're looking for.
But if you're here, you might be asking yourself, What is Brilliant.org? How does it work? How much is Brilliant.org and can I get a refund if I don't like it?
Well I've completed some of their the most popular courses on the platform and in this Brilliant.org review I'll be answering these questions and sharing everything you need to know to help you decide if Brilliant.org is right for you.
But first, here are the highlights:
.
Quick summary
Features
10 million users
Active learning through one-of-a-kind interactive visualizations and problem solving
Provides instant feedback
Promotes mastery over memorizing
60+ courses in Math, Science and Computer Science
Pros
Helps you think laterally and solve problems creatively
Provides a frameworks for seeing the world differently
Key takeaways highlighted and revisited in an array of real life contexts
Helps you excel in math, logic and science
Builds skills incrementally and provides stretch and challenge
Clear hints and explanations that make it easy to learn
Fun and engaging user experience
Cons
Could do with some downloadable crib sheets of key terms, etc. to save on note taking 
One or two typos or omissions in the three courses I took
Could be more predictive in terms of suggesting alternative pathways if users are making fast progress or struggling with new ideas
Best for: Brilliant's target audience is broad: ambitious learners aged from 10 to 110! To be a little more specific it's fantastic for anyone wanting to develop their critical thinking and problem solving skills and those who enjoy puzzles, challenges and quizzes. Also great for anyone who has struggled to learn STEM subjects using more traditional methods.
Cost: Click here to check latest price.
Overall: Brilliant.org is great fun and cunningly put together with tons of visuals, animations and games to make abstract ideas accessible and fascinating. The short, sharp interactive lessons build skills incrementally in a range of contexts making STEM topics come to life before your eyes in an exciting new way.
Now for the detail, this review will cover:
What Brilliant.org is and how it works
Reviews of three Brilliant classes
What I liked about Brilliant and what I thought could be improved
Who Brilliant is for
How much Brilliant costs and alternatives to Brilliant
What others have said
And…. Is Brilliant worth it?
So, let's get started.
What is Brilliant.org?

"Brilliant seeks to change the way people feel about STEM subjects — from scary, abstract, or frustrating, to inspiring and fun."
The ability to evaluate, problem solve and be forward thinking in today's changing world has never been more important.
Yet these skills rely on a grasp of STEM subjects – science, technology, engineering and math – that many people feel are dry, difficult and even scary.
Brilliant.org is an online learning platform which aims to revolutionize that perception by making learning those subjects fun, inspiring and effective for everyone. There are no passive videos, the platform is 100% about active learning.
It was founded by Sue Khim in 2012 and its radical approach to education led to Khim being named in Forbes' 30 under 30 in Education listing.
How does Brilliant work?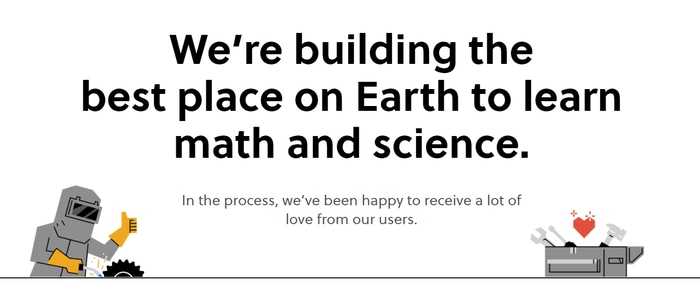 Brilliant works by gamifying the learning of complex ideas and abstract concepts. Short interactive lessons, quizzes and challenges keep students engaged and progressing.
Courses are designed to tap into your intuition, pique curiosity, keep you constantly 'doing' and encourage you to be open to failure.
There are 60+ courses across a wide range of topics that basically teach STEM concepts for students aged from 10-110 of any ability.
To sample Brilliant you can enjoy a free 7 day trial. After that, Brilliant is a subscription platform. Membership gives you access to all 60+ courses, provides you with daily challenges and enables you to learn on the go with the IOS or Android apps.
When you log in for the first time you answer a few short questions and Brilliant uses these to suggest a learning pathway that provides a good fit for your needs. You are also free to browse all 60+ courses and make your own choices.
Courses are available in:
Algebra
Mathematical Thinking
Geometry
Statistics and Probability
Contest Math
Calculus
Advanced Mathematics
Scientific Thinking
Classical Physics
Quantum Mechanics
Applied Science
Foundational Computer Science
Applied Computer Science
A typical format for a course is as follows:
Start with simple questions and stories that tap into your intuition and build foundational skills and insights
Use these skills and insights to solve more complex problems and quizzes
Play with different ways to approach problems that may seem out of your grasp.
My review of 3 Brilliant classes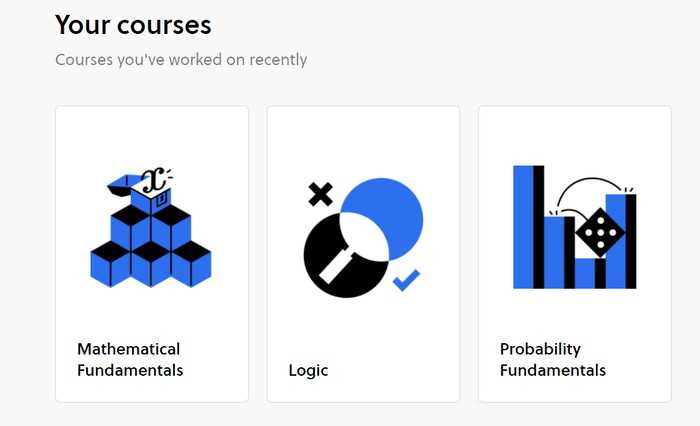 To give you a good overview of the range of courses on Brilliant, I chose three of their most popular courses that provide a solid foundation for learning to think and problem solve creatively:
Probability Foundations
Logic
Mathematical Fundamentals
I completed each course in full over a number of days, usually spending around an hour a day working through the problems and challenges.
After completing Mathematical Fundamentals my conclusion was – if this method of learning was compulsory in schools, all children would LOVE math!
Probability Foundations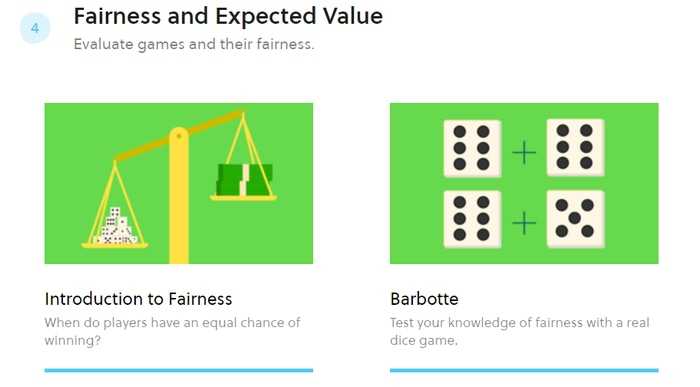 You will learn how to:
Compare your intuition to reality and avoid common intuitive errors!
Understand the connection between counting problems and probability problems
Optimize your chances of winning probabilistic games
Recognize when a game is fair
Master the basic math rules behind probability
Pros:
Fun quizzes with clear graphics
Games such as craps, roulette and shut the box are used to demonstrate concepts
Clear explanations if you slip up (which I did, quite often)
Positive messaging to keep you engaged
Builds skills incrementally but makes your brain work hard
Revisits concepts to illuminate them in different contexts
Shows % of people who answer correctly (which is encouraging as it's never 100%)
Gave me a real sense of achievement
Cons:
No downloadable 'crib sheets' so you have to make copious notes
Some unfamiliar terms used that I did not know which was frustrating
No approximate indication of how long the whole class might be so it's hard to know how long to set aside
Length of Course: There are 22 quizzes/problems and each one took me between 5-12 minutes to finish, depending on difficulty. In all I spent just under four hours completing the course over three sessions.
Best for: Anyone with basic math skills who wants to put their decision making on a more secure footing. Young or inexperienced mathematicians would also benefit from learning the fundamentals of probability in a wide variety of fun contexts.
Overall: A compelling course that was manageable but also challenging. Though I took a lot of mis-steps, I didn't feel discouraged or foolish. The explanations, graphics and examples helped me learn from my errors and I finished the course with a massive sense of achievement.
Logic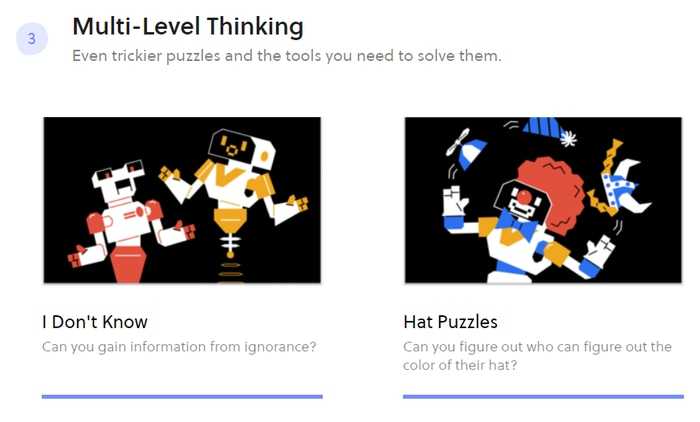 You will learn how to:
Tone your critical thinking skills
Solve problems by visualizing relationships
Use worst case analysis to arrive at a logical strategy
Use a range of techniques to eliminate the impossible to arrive at the truth
Pros:
Fun visual and kinaesthetic games and puzzles to aid learning
Visual solutions and explanations help to understand errors
Hints to help you see the clearest way to a solution
Key takeaways and concepts highlighted for review and reflection
Cons:
Again, a downloadable crib sheet would be useful
Instructions could have been clearer in one or two places – it is possible to comment on this with every exercise
Length of Course: There are 18 games and puzzles and each one took me between 5-10 minutes to finish, depending on difficulty. In all I spent around three hours completing the course across two sessions.
Best for: Anyone wanting to sharpen their ability to analyse information and solve problems. Also great for developing your powers of persuasion and composing rational arguments.
Overall: A course that was fun and cleverly constructed with lots of visuals, animations and games to make abstract ideas accessible. Again, I did not find it easy and, as the challenges grew harder, made many errors. However I felt motivated to persevere and now feel better equipped to filter out fallacies in a modern world that's full of them!
Mathematical Fundamentals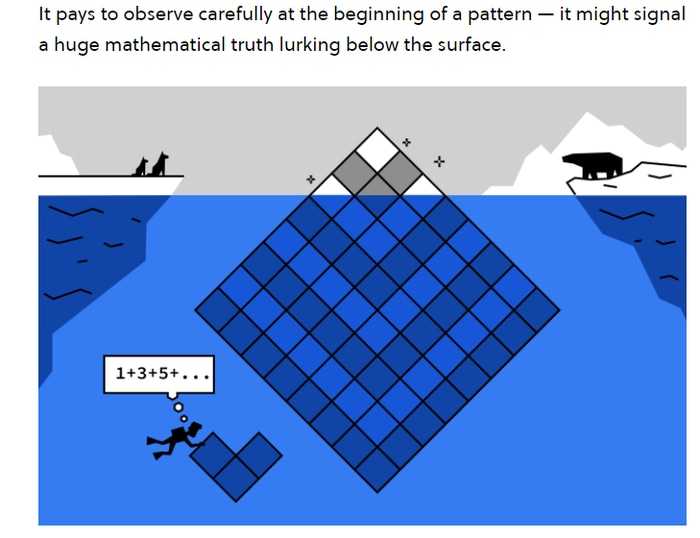 You will learn how to:
Think like a mathematician
Understand numbers differently and get comfortable with them
See patterns and identify general insights from specific problems to solve new problems faster
Reframe information to make solutions clearer
Unpick math rules so you understand why they are true
See algebra as a powerful tool and nothing to be afraid of
Pros:
Uses clever visual techniques and animations to develop understanding
Helps you recognize and deploy patterns and rules
Allows you to visualize solutions before choosing one
Variety of opportunities and additional examples to strengthen new concepts
Additional challenges to stretch
Shines a new light on math and helps change your perspective
Cons:
Once again, a downloadable supporting resource with key concepts, diagrams, etc would have been helpful
Length of Course: There are 28 games and puzzles and each one took me between 5-10 minutes to finish, depending on difficulty. In all I spent just under five hours completing the course over several sessions.
Best for: Anyone wanting to get the most out of this platform who is not already confident in math – this course is a great place to start your journey. Also excellent for those who have struggled to get to grips with basic math concepts through traditional methods of teaching.
Overall: A super, superfun course that really did shift my perspective on math. Made fantastic use of visual and kinaesthetic learning styles to teach, practice and strengthen mathematical concepts. If it was compulsory in schools, all kids might love math.
What I liked about Brilliant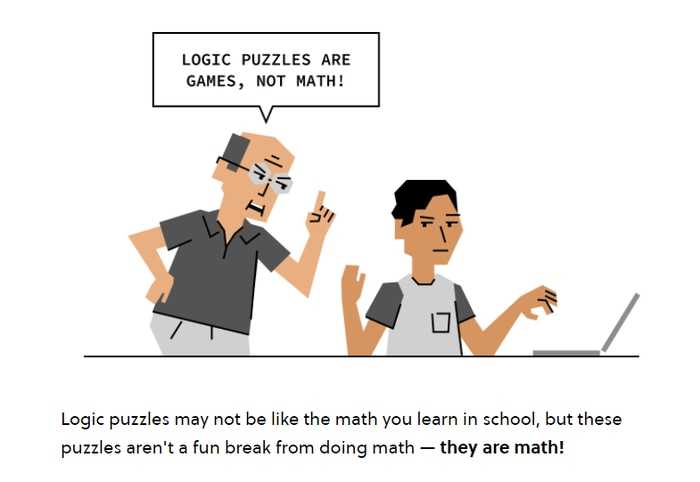 "Brilliant allows students to actually think, and not simply rely on a memorized algorithm. The visual component helps so much and the choices allow students who can't solve the problem practice doing test-taking strategies and logic to pick their answer. You cannot lose with this site. It has saved me so much this year and gotten my students so highly engaged. They actually ask for this! Jessica Gentry, Brilliant User
I don't normally start this section with a review from elsewhere. But this comment from an educator who uses the platform sums things up well.
That said, Brilliant isn't perfect and I think there are one or two things that could be improved or added to the site. But let's start with the positives – of which there are many.
Targets different learning styles to boost positive outcomes
The creators of Brilliant clearly understand that we all learn in different ways and have preferred learning styles.
Brilliant makes fantastic use of visuals and interactive animations to help those who learn visually or kinaesthetically to recognize and deploy patterns and rules.
As one educator said of the platform:
"As a teacher, it's fantastic to see an app take such an approach to learning. The style of teaching through solving problems goes against traditional strategies but is firmly in line with research on how people learn. I look forward to incorporating some of these examples into my classes!" Kevin Fitzell - Google Play
Builds skills incrementally and provides stretch and challenge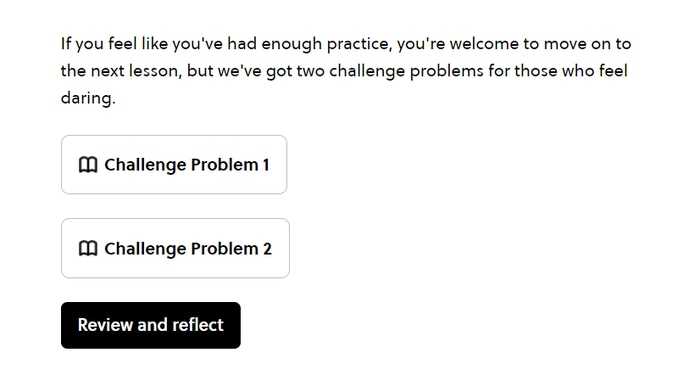 Another key element of good teaching is the structuring of tasks to incrementally build skills or the understanding of key concepts.
Brilliant does this extremely well, providing the opportunity to practice new ideas in a variety of different and increasingly challenging contexts.
With all courses, if you feel you are already comfortable with the concepts being taught, you can skip to later lessons which offer the greatest (but still just about achievable) levels of challenge.
There are also, with some lessons, optional additional challenge problems.
Key takeaways highlighted and revisited in real life contexts
Throughout all the courses I took, key concepts were highlighted and practiced through a variety of real life scenarios.
These scenarios both helped me intuitively understand abstract concepts and deepened my understanding of them.
Clear hints, explanations and positive encouragement
For most problems there are helpful hints to help you identify the most direct way to a solution. And for every problem you can choose to view explanations, often animated in stages.
If you do take a mis-step, positive messaging advocating the benefits of learning from mistakes keep you actively engaged in the learning process.
Brilliant provides you with everything you need to succeed, but makes it clear that some struggle is required and that mis-steps are a key part of the learning journey.
New challenges provided daily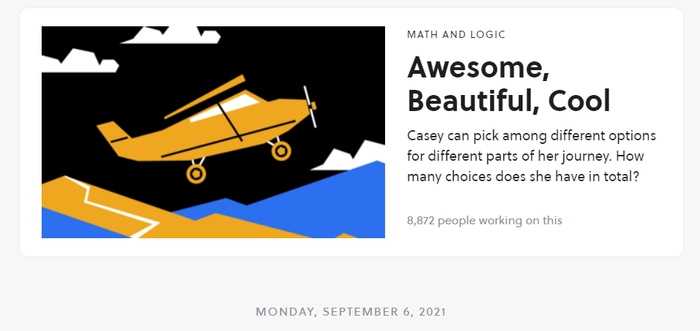 Brilliant provides a new problem to solve every day. Not only does this mean there is always something new to try, but shows a continuous commitment to engage with, and develop, the platform.
And you can work on the daily problems or get help or advice from the extremely engaged Brilliant Facebook community of nearly 2m followers
What could be improved
Lacks supporting downloadable resources
It would be helpful to have a downloadable crib sheet with key terms, concepts, diagrams, tables etc on for each course.
That said, if you're a very tidy and organized note taker this may not be a problem for you. But if you're messy, like me, this would provide a good way of organizing your working out so you can refer back to it as needed!
One or two typos/omissions in the three courses I took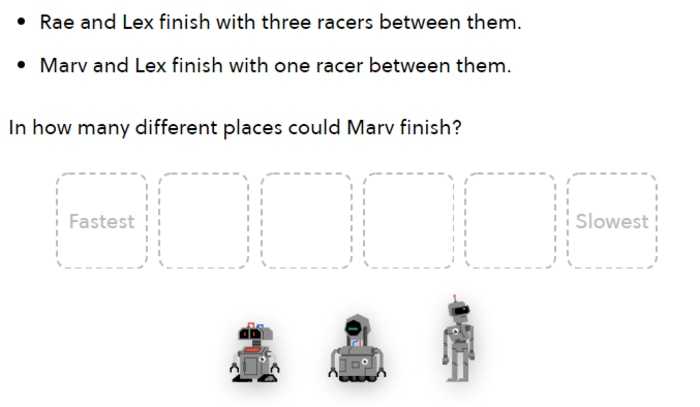 In two of the problems I was tackling, the name labels for the robots were missing and I couldn't remember which was which. Of course, it is possible to go back and make a note, but once you're on a roll you want to keep going.
There were also a couple of typos – it's the teacher in me. I can't help noticing such things!
These are nitpicking criticisms – the platform is so well made you do have to look quite hard for things to criticize! In addition, you have the opportunity to let Brilliant know about any problems you find on every screen.
Would benefit from being able to hear problems read out loud
The platform targets visual and kinesthetic learners well – it would be an added bonus if it catered for those who learn by listening with an option to have text read aloud.
This is an "even better if" suggestion, as is my next point.
Could be more predictive and provide alternative pathways in the light of user responses
It's easy to get sucked in by Brilliant and keep going when maybe you should be taking a break!
It's clear the platform already provides some alternative responses to your efforts, especially in the Maths Fundamentals Course. However, there is room to build on this using AI and algorithms to analyse responses further and take users along different pathways or even suggest a break.
Who is Brilliant for?
"For all people like me, who love solving problems, this app is heaven.... If you like bending your mind over interesting problems or want to explore a rich world full of beautiful mysteries, this app will be a sure thing for you." Brilliant User
The target audience for Brilliant is a wide one! According to its designers, it's for:
Ambitious learners aged from 10 to 110
But here's a few more specific examples of who I think Brilliant would suit:
Anyone who:
Wants to develop their critical thinking and problem solving skills
Is keen to build intellectual muscle
Loves quizzes and challenges
Wants to keep their brain toned
Is seeking to learn STEM subjects in a intuitive, fun way and without fear of failure
Wants to foster a love of learning in their children
How much does Brilliant.org cost?
Brilliant provides a daily challenge that is free to complete. If you enjoy these you can take the 7 day free trial of Brilliant Premium. After that, if you want to continue to use the Platform you need to subscribe.
At the time of writing you could do this on a monthly basis at $24.99 per month.
Or you can take out an annual subscription at $149.88 which works out at $12.49 per month (saving just over 50%). This works out at just 40c a day, far less than the price of a cup of coffee. And remember, new content is added every single day to keep you engaged and learning.
Group membership is also available for groups of 3 and over at $299.88 per year.
Brilliant Refund Policy
Brilliant does not have a refund policy but will consider requests on an individual basis if you email them on support@brilliant.org. And as there is a free trial you can sample the product risk free.
Alternatives To Brilliant
"I bet you'll never find such great courses on the internet." Brilliant User 
Brilliant vs YouTube
"I recently got the urge to advance through math faster than what my school is teaching me right now, and yes I found free YouTube courses online explaining the concepts really well, but after finding Brilliant everything just improved by 100%." Brilliant User
As this user says, there are Youtube videos that will help you learn math concepts for free. But you could spend a long time looking for the one that explains things in a way that works for you.
And when you do, it won't be interactive. The beauty of Brilliant, compared to Youtube, is that everything is curated in one place and designed to keep you immersed 100% in your own learning.
Brilliant vs Khan Academy
Khan Academy was developed primarily for K12 students with a big focus on Math, though this has expanded now to include other topics like coding and English Language courses.
For Math, Khan is a good resource but it does require dedication to complete lessons and if you make errors you lose your 'mastery' status. Khan also makes use of video content.
Brilliant is designed for a wider audience and has a focus on involving you 100% in your learning through interactive problem solving methods rather than more passive video content. You can dip in and out of courses more easily and failure is seen as something positive and an essential route for learning.
Of course another difference is that Khan Academy is free. I would suggest trying Khan Academy alongside the 7 day free trial of Brilliant. For me, Brilliant made more sense, gave me a greater sense of responsibility for my own learning and provided a route through a variety of topics using the same logical, problem solving approach.
Brilliant vs GoSkills
GoSkills is an online learning platform teaching a range of subjects, most of which center around practical business skills.
Its science based courses include experimental design and testing hypothesis. Alongside these it has a wide range of classes on general business subjects such as project management, leadership training, managing finances.
Other relevant courses that we have reviewed include Jim Kwik's Superbrain Course, Jim Kwik's Super Reading Course and Lifebook. All on the MindValley Platform. Together with Bill Nye, Neil de Grasse Tyson and Chris Hadfield MasterClasses.
And if you are more interested in developing your creative, rather than STEM capabilities, you could try CreativeLive.
Finally, if you're looking for platforms dedicated to data science skills Then Pluralsight, Datacamp or Udacity might be for you. Datacamp offers over 350 courses including coding with Python and R, skills and career tracks where you can hone in on your learning priorities and workspace areas where you can practice writing code. Pluralsight has over 7,000 courses for software developers, IT administrators and other professionals. Udacity offers 170,000 nano degree certificates in skills that equip you for the jobs of the future.
Brilliant: What Others Have Said

No review is complete without looking at what those who have used Brilliant have to say about it. As you can see from reviews I've already quoted, users are enthusiastic about Brilliant.
Reactions on Reddit were a little more muted. A number of commenters felt it was better as a supplement to learning, rather than a primary resource:
"I have used Brilliant, and I would not recommend it as a first resource for learning something new. Brilliant can be used to help develop your intuition on why something works. If you like doing math puzzles for fun then Brilliant is worth it. Brilliant functions well as a supplementary resource." (Reddit)
It's a cool site to supplement your learning and have fun with math. Obviously one should not be using this as a textbook for school or serious work, but Brilliant helps just to get down to the fun and intuition in math that is sometimes hard to gain in a classroom setting, where work is rigorous and mandatory. (Reddit)
Given that we all have our own learning preferences I do have some sympathy for these two views. However, I also think that anyone who loves quizzes, solving puzzles and who learns visually will get enormous value out of Brilliant. This Reddit commenter has some good advice:
"If you're a very visual learner and you like puzzles, go for it. Try their free daily challenges for a while before subscribing. If you love them, then there's more to come with a subscription." (Reddit)
These following users feel that they've not only benefited personally, but have been able to use Brilliant to open up new channels of communication with their teenage children or grandchildren!
"This app is really keeping my brain sharp and helps me learn new things so I can keep up and teach my teens! It's fun and you don't even realize you're learning! I love it!" - Amber Ward, Google Play
"I'm 65 and retired from 40 years in IT. Using this app is a great way for me to try to stay sharp. I've also introduced it to my 14 year old granddaughter. That has opened a whole new opportunity for her and I to communicate. That is priceless!" Paul Koegler-Brilliant User
But it's not just older users who have gained from Brilliant – professionals claim it has benefited them in their careers:
"Through its engaging and well-structured courses, Brilliant has taught me mathematical concepts that I previously struggled to understand. I now feel confident approaching both technical job interviews and real world problem solving situations." Jacob Snider - Brilliant User
And even pure Math graduates found value in the platform:
"Amazing. I graduated with a pure Math degree 3 years ago, and I occasionally worried that (between life and teaching 9th graders) I would never use my Abstract Math skills again. Now I get a chance to flex my math muscles a little more!" Brilliant User - Google Play
Is Brilliant Worth It?
In my view, Yes.
Brilliant offers carefully curated, short, sharp interactive lessons that build skills in a variety of real world contexts.
The range of topics covered is broad and the teaching methodology is fun, interactive and incrementally challenging.
STEM topics that can be dry and abstract come to life before your eyes in a compelling and exciting way. And mistakes are valued as part of the learning journey, helping to boost confidence and staying power.
You do have to put in the work and you can feel your mental muscles stretching, but after all, aren't you looking to learn and grow?
Try the free daily challenges – if you like them you can take advantage of the 7 day free trial. And if you learn to love Brilliant.org you can subscribe for less than 40c a day – what have you got to lose?
Related articles: Best online math courses
Frequently asked questions
How much does Brilliant cost?
A monthly membership for Brilliant costs $24.99 per month, while an annual membership costs $149.88 ($12.49 per month saving just over 50%).
Does Brilliant have a refund policy?
No, Brilliant does not have a refund policy but will consider requests on an individual basis if you email support@brilliant.org 
How many courses are there on Brilliant?
There are over 60 courses available on Brilliant, and new problems are added daily.
Does Brilliant have a free trial?
Yes, Brilliant offers a free 7 day trial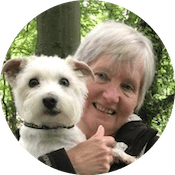 Liz Hurley has 30+ years of high school teaching experience and is one of our senior writers here at Learnopoly.