If you want access to thousands of courses on the latest technologies and the chance to learn all about web development, Pluralsight might just be the place for you.
For almost 20 years this company has been dedicated to providing video training courses and other tools for software developers, IT administrators and other professionals.
But is Pluralsight worth it? To answer this question, I spent a bit of time using Pluralsight and I'm here to share my experience.
In this Pluralsight review I'll be covering the how it works, the pros, the cons, the best classes, refunds, alternatives and more. In fact everything you need to know to help you decide whether or not Pluralsight is right for you.
If you're short on time, here is a quick summary.
.
Quick summary
Features
7,000+ courses
1,400 subject matter experts
Courses for programmers, software engineers, creatives and business professionals
Skills Pathways to develop particular abilities
Skill IQ and Role IQ tests the gaps in your knowledge
The chance for certification
Labs, where you can practice what you've learnt
Pros
A massive range of courses
Partnered with Fortune 500 companies, so very credible
Highly qualified instructors
Something for every demographic
Equips you for the changing world and job market
Additional learning support including Lab and Pathways
Cons
A little complicated in set-up and where to get started
Quality can be inconsistent, but that depends largely on your preferences
Best for: Anyone looking to learn a new skill, but particularly those who want to add to their knowledge in the fields of software development, IT and business analysis, and would like to make their skills more marketable.
Overall: Pluralsight is the place to go if you want to add new expertise and proficiencies to your CV. Each course is led by a top-quality instructor who is both passionate and extremely knowledgeable about what they teach. There is such a wide range of courses that you are bound to something that enlightens you. Pluralsight truly equips you for the modern world.
Now for the detail. We'll be covering:
What Pluralsight is and how it works
Cost and any free trials
The best courses on offer
Pros and cons of Pluralsight
Pluralsight for business
Who it's for
Is Pluralsight legitimate and can it be refunded
What others have said
Alternatives
And ultimately … Is Pluralsight worth it?
So let's get started!
What is Pluralsight?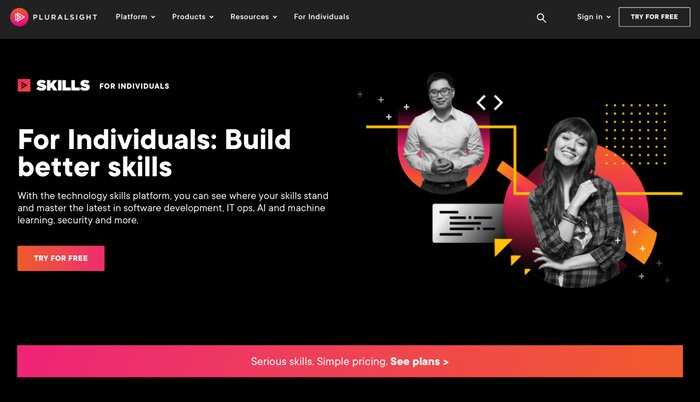 Pluralsight is one of the largest and most popular providers of online teaching for a range of professionals.
Founded back in 2004 by Aaron Skonnard and a range of other tech professionals, the company has over 1,400 subject matter experts, with over 7,000 courses in their library.
The company is aimed at providing training in a range of disciplines to both individuals and businesses, with course instructors compiling their own content and teaching.
Pluralsight is growing super fast. It went from working with roughly 40% of Fortune 500 companies in 2017 to 70% by 2019.
These include Adobe, VMWare and Nasdaq.
Who are the instructors?
Given the range of courses and disciplines on offer, Pluralsight has a massive range of instructors. 1,400+ in fact. And each one is a subject matter expert in their own right.
Whether or not an individual course is right for you is largely dependent on the instructor. Because each instructor moulds and leads their course under their own discretion. However, you can read more about your instructor's credentials on the course page.
Here's some info about the course leaders from some of Pluralsight's most highly rated courses:
Greg Shields – Author Evangelist and Full Time Author at Pluralsight
Kevin Henry – Lecturer in Information Security and Audit
Ross Bagurdes – Pluralsight Author and IT Lecturer at the University of Madison
Andrew Mallet – Linux Professional
Dale Meredith – Certified Ethical Hacker and Instructor EC-Council
How does Pluralsight work?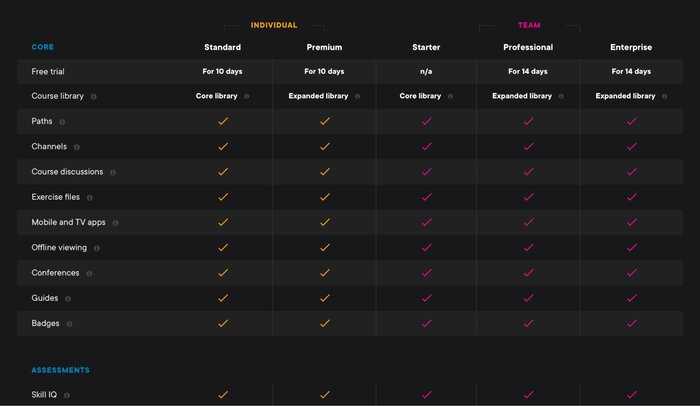 The first step to getting started with Pluralsight is to create an account using your email and providing a password.
You'll also be asked for your payment details. This doesn't mean you'll be paying immediately; the first ten days are still free.
It just means there will be a more seamless transition into continuing your subscription if you choose to do so.
Once you've signed up, you'll be able to access everything on Pluralsight skills.
There is a wide range of places to get started. Probably the best thing to do is to set a target for how many minutes a week you want to learn.
This means that you can have a steady target to reach at your own pace.
You can look at courses on the browse page. Categories include:
Business Professional
Cloud
Data & Machine Learning
IT Ops
Security
Software Development
Other features of Pluralsight Skills include:
Labs: Master skills with hands on-practice
Your Profile: View your own learning streak and goals
Skill IQ: Where you can access your own skills
Paths: Develop a new skill with expert-curated lessons
Role IQ: Learn the skills important to a particular skill you want
How much does Pluralsight cost?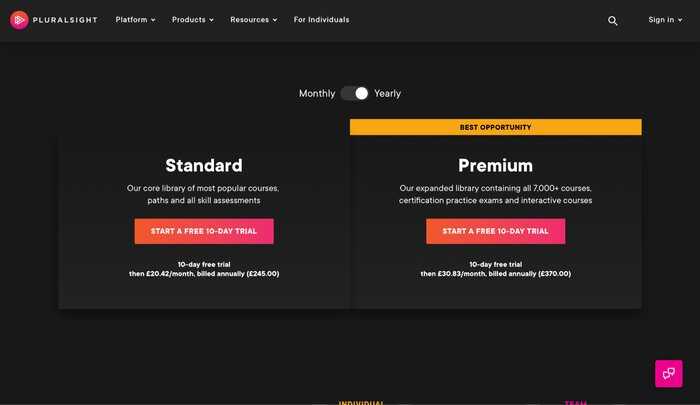 There are two main options for purchasing a Pluralsight subscription.
The first is Standard. This gives you access to the Core Library as well as all skills' assessments.
Alongside a 10-day free trial, this will cost you $29.00 a month with the monthly option, or $299.00 a year with the yearly option. Paying up front for the year works out at $24.92 a month.
Alternatively, you could go for the Premium subscription. In return, you'll receive a 10-day free trial, an expanded library of content containing 7,000+ courses as well as certification practice exams and interaction courses.
This will cost you $45.00 a month or $499.00 for the year (which is $41.5 per month).
There are also several options for teams.
The Starter option gives you access to the core library for $399 per user per year.
Alternatively, you could go for the Professional option for $579 per user per year, aimed at groups of 2-10. On top of the core library, this will give you access to basic reporting and user analytics.
There is also a TEAM trial option.
Finally, for larger teams, there is the option to go for the Enterprise payment option. This is $779 per user per year, granting access to advanced analytics.
You can check our more detailed explanation of Pluralsight's pricing options here.
Pluralsight free trial
Pluralsight Skills does offer a free trial.
This lasts for 10 days and is available for both the Standard and Premium subscription.
You'll get access to everything you have access to with the regular subscription, so you'll really get a chance to feel out whether or not Pluralsight is right for you.
As you're putting your card details, once your free trial is over you'll be able to transition seamlessly to the paid subscription if that's what you want.
If you are going for an option with your business, there is also a Team trial for the Professional subscription. This lasts 14 days.
Similarly, there is a 14 day Pilot for the Enterprise purchase option.
What a lesson is like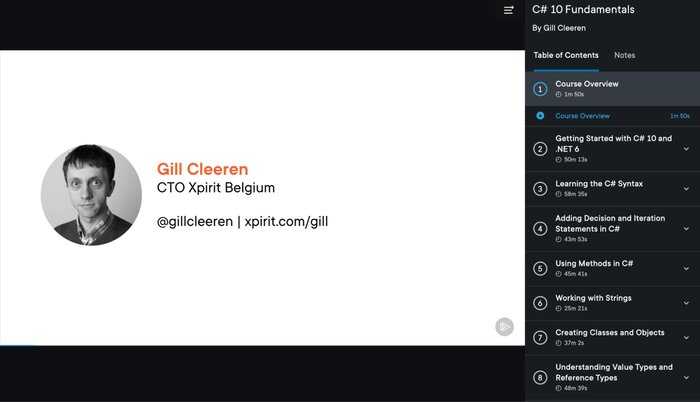 Pluralsight courses are led by individual experts.
Because each teacher has their own priorities and experiences, no one lesson is the same.
This is especially the case as there are 7000 courses in a range of different subjects. So you can expect every lesson to be unique.
With that said, there are some common elements of Pluralsight courses that keeps everything consistent:
A Table of Contents showing you the length of each lesson
Shorter 3-5 minute lessons put together in longer 30-40 minute Modules
Largely audio taught
Helpful visuals and concise onscreen text
An introductory and summary video for each module
Best Pluralsight classes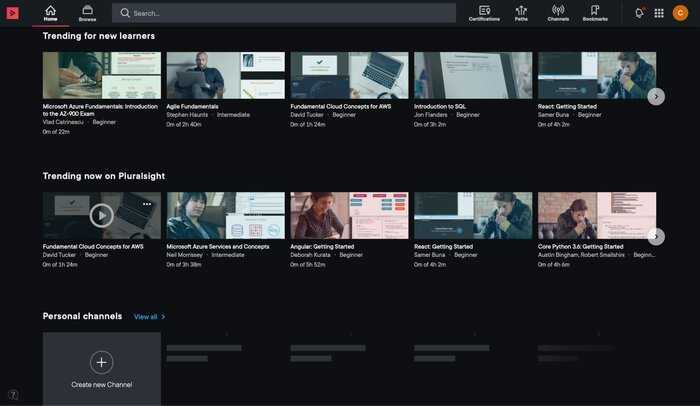 Pluralsight has an incredible range of courses, but which one is the best?
For more granular detail on this, check out our article best Pluralsight courses. But in summary, here's our top 5 of the most popular and highest rated courses on Pluralsight.
Python: The Big Picture
JavaScript: Getting Started
Understanding Machine Learning
Penetration Testing and Ethical Hacking with Kali Linux
Data Science With R
But there is so much more on offer.
Below, I've cherry-picked some of the best courses from every category in the Pluralsight browse section. So you're bound to find something you like.
Business Professional
Introduction To The BABOK® Guide And Business Analysis Key Terms
Jamie Champagne will teach you all about the BABOK guide and how it relates to business analysis. You'll learn all the key concepts and how to use the guide as a resource for your analysis.
Business Analysis: Addressing And Improving Solutions
This course is all about ensuring that your changes are actually achieving the goals that you have set. You'll learn how to calibrate assessment criteria to ensure you're meeting performance standards and how to recommend actions to increase performance.
Cloud
Cloud Security: Introduction To Certified Cloud Security Professional (CCSP®)
Dr Lyron H. Andrews is an educator whose career spans three decades. And he is here to teach you all about cloud security. You'll learn how to identify which cloud architecture best meets your business requirements and how to use that to develop a cloud consumption strategy.
Introduction To Microsoft Cloud Services
This beginner course offers a more general definition of what cloud computing is and how Microsoft fits into each type of cloud offering. You'll explore the services offered by Microsoft 365 with the help of Vlad Catrinescu, an office 365 consultant.
Data & Machine Learning
Data Science With R
This is ideal for beginners looking for a new programming language to learn. Matthew Renze is a data science consultant with over 400000 software developers who have had him as a teacher. You'll join that group as you learn about the practice of data science and the R programming language, and how they fit together.
Google Analytics For Creative Professionals
Pluralsight also has courses aimed at creatives. David LaFontaine is a journalist, professor and digital media consultant, so he's more than qualified to show you how to analyze web traffic and understand all the numbers in order to grow your audience.
IT Ops
Getting Started With Linux
David Clinton has years of experience with Linux and has been teaching for even longer. Here, he takes you through the fundamentals of Linux, including the basics of downloading and working with open source software, and then controlling Linux runtime environment. This is ideal for beginners interested in open-source software.
Deploying A Linux Web Server For Windows Admins
If this course title leaves you scratching your head, it probably isn't for you. Ryan Schultz, an 18+ year IT veteran, is here to help a windows administrator struggling with a new and unknown system. This course is also great for any troubleshooting issues.
Security
Penetration Testing And Ethical Hacking With Kali Linux
This course is all about using ethical hacking techniques, which learners should have some background in already, to conduct professional penetration testing using Kali Linux. If you followed all that and it sounds interesting, this course is for you.
Risk Assessment And Management
Kevin Henry is a respected lecturer and auditor with over 30 years of experience. This course is all about the theories and modeling of risk assessment and management, in which you compare various methods and examine the options for risk monitoring.
Software Development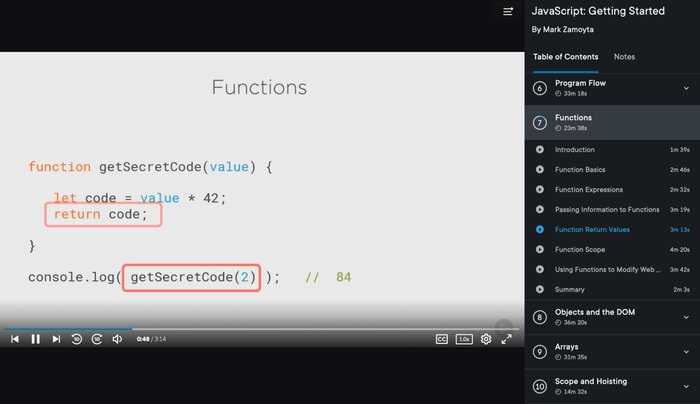 Javascript: Getting Started
This is a beginner course led by Mark Zamoyta, who started his software development journey 25 years ago. This gives you the absolute basics of Javascript, including the applications and platforms it runs on, and the fundamentals of the language. You also get to test your knowledge by building a responsive website.
Python 3.3: Beyond The Basics
This is a more advanced course, led by Austin Bingham and Robert Smallshire, and you'll need to have taken Python Fundamentals. Upon completion, you'll be familiar with most of the techniques used in Python, and understand when – and when not – to use them.
Pluralsight for business
Pluralsight is available for businesses.
This means that you have the chance, as a team leader, to upskill your workforce with any of the tools and skills listed in this article.
This is particularly useful if you are looking to expand to the areas of software, programming, machine learning and security, which is helpful as these are rapidly growing areas.
There are two main options for your team, and whichever one is right for you will depend on how many members you want to buy for.
Alternatively, you could go for the Professional option for $579 per user per year, aimed at groups of 2-10. On top of the core library, this will give you access to basic reporting and user analytics.
There is also a TEAM trial option. This will give you a free trial for 10-days with the team plan.
If you have a larger team, and want more advanced analytics, try the Enterprise option for $779 per user per year.
How I reviewed Pluralsight
In order to take a deep look at everything Pluralsight had to offer, I signed up for an account with the Premium Skills subscription.
This allowed me to get access to all the courses in the content library, as well as the chance to try our various tools like the Skills Path.
I kept notes on various elements of the site including the length and depth of content, the quality of courses and the overall brand.
I tried several courses from a variety of disciplines and had a look at other alternatives, as well as what other users made of the site.
What I liked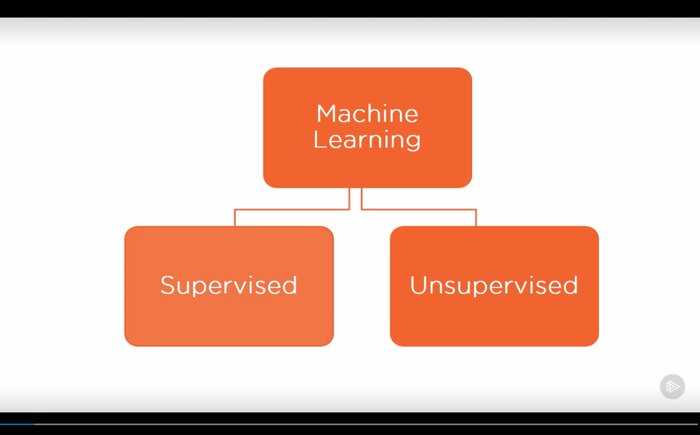 Massive range of courses
The first thing you will notice about Pluralsight is just how much is on offer.
Over 7,000 courses is simply an incredible amount; I cannot stress this enough.
However, the best thing is that no one course is the same. Instead, you get the chance to learn and develop in a range of disciplines, whatever you're interested in.
As the world becomes more and more reliant on technology, the skills Pluralsight is able to teach you will become indispensable.
However, where most sites will only go into depth about one specific type of coding or language, Pluralsight offers education in as many facets as you can think of when it comes to online education.
This means that there is truly something for everyone.
For beginners, Pluralsight is able to get started with some of the world's most used programming languages and software tools.
You'll know whether a not a course is right for you based on the criteria of prior knowledge you need to have that the instructor specifies. And if everything is going over your head, you're free to just switch courses.
But where Pluralsight really stands out is the fact that it doesn't just make content for beginners.
That might seem like a strange thing to say, but so many e-learning platforms dedicate themselves to rookies, mainly because that is the biggest market and the people most willing to pay.
Pluralsight isn't a specifically advanced site by any means. But the range of courses means that there is always something to learn.
And their video editing course, Adobe Video and Audio Production, features in our Best Video Editing Course review.
Lots of choice with instructors
Another thing I really liked about Pluralsight was how instructor-led everything was.
There is no overarching theme or teacher with Pluralsight, instead, everything is very decentralized.
To me, this has to be the future of learning, as there are so many benefits.
The main one is that every instructor is a master of their craft.
Sometimes learning online feels like the equivalent of a supply teacher covering a very hard topic in school. They don't quite feel confident about it but plow ahead anyway because they have to.
This is definitely not the case with Pluralsight.
Here, each instructor has chosen to teach this subject for a reason, and in every case, I tried instructors will choose a topic they're very interested in.
So, rather than be led by someone who doesn't quite know what they're doing, you can rest assured that every individual on Pluralsight is passionate about whatever it is that they're teaching.
Another benefit is that every instructor is of super high quality. You can check the credentials page to get a sense of just how 'expert' these subject-matter experts truly are.
You'll be taught by lecturers, professors, software engineers, technicians, authors, entrepreneurs and innovators with years of experience in both teaching and their topic.
However, each lesson is still taught with the same backdrop, the same style and very similar visuals.
This way the learning isn't all over the place.
Additional learning materials
Sitting and listening to a video certainly isn't the be-all and end-all when it comes to learning.
Don't get me wrong, the Pluralsight lessons are great in and of themselves.
But Pluralsight also understands that you need more than this to truly get people acquainted with a new skill.
This means that there is a range of additional learning activities that you can engage with when using Pluralsight.
This includes the paths.
On Pluralsight skills, there are several paths you can take. This includes the Skills Path in which you can have expert-curated lessons directed at attaining a particular skill.
Alternatively, you could go for the Certifications, which will reward you with certificates for completing a certain task or acquiring a certain skill.
There's also Skill IQ and Role IQ, where you can test gaps in your knowledge. For Skill IQ, this relates to a particular skill, whereas Role IQ assesses how ready you are for a certain occupation you might be interested in.
You can see that Pluralsight is giving more than just lessons when it comes to upskilling its students.
Finally, there are Labs.
Pluralsight knows that the topics they lead can be very hands-on. You can't just sit and listen and get the whole understanding of a new language or IT topic.
So, Pluralsight also gives you the chance to practice what you've learnt in labs, certifying the fact that they understand how diverse a process learning truly is.
Prepares you for the world
This is a much smaller point, but one I feel worth making.
One thing I noticed and enjoyed about Pluralsight is that it prepares you for the world.
All the content is designed for you to practically go out and use. On top of that, they ensure that you are able to actively employ your skills by testing your knowledge and giving you the chance to practice.
The skills you can acquire here are also highly in-demand and super important for the working world.
Furthermore, Pluralsight works with a wide range of businesses and Fortune 500 companies, so any certification, or even just taking the lessons themselves, will be highly regarded.
And don't forget, there are options for businesses and enterprises to try out what Pluralsight has to offer as well.
What could be improved
Can be convoluted
So, I've sung the praises of Pluralsight, but there is always room for improvement.
One thing I did notice that detracted from my experience a little bit was that the site is a little complicated.
You're kind of thrown in the deep end as to where to get started.
There are a range of places to begin your learning journey, but it isn't clear which one is the best for you depending on your experience or priorities.
For more advanced learners, this isn't much of a problem, especially if you're experienced in one of the discipline's Pluralsight teaches, like programming.
You should be able to find a topic that is a gap in knowledge quite quickly.
But for beginners, or even intermediates, who are coming to Pluralsight to learn something truly new, it can be a little complicated.
It's difficult to know where to begin, and there isn't exactly a great mechanism for getting started. You'll find something eventually, but I still think more could be done.
When it comes to learning a new skill, the process can be very daunting. So every aspect of the site really counts for those first few times that you use it.
I found the website to be a little all over the place, with no direct showing of what it had to offer.
There were also a couple of pages where the site just didn't work, which was quite a consistent aspect of my experience.
However, you can contact Pluralsight support if this happens to you.
A little inconsistent
This is a much smaller point, especially as this element of the site was one of the pros I identified.
But one thing you might find is that the teaching is a little inconsistent.
This is hardly a surprise.
Pluralsight's whole thing is having instructors lead courses that are specific to them. So no one course will be the same.
And Pluralsight does put effort into having a standardized and professional presentation and format for every course.
But you can't expect every instructor to go into the exact same amount of detail or have the same style.
You might find that something will work for you, whereas something else doesn't. Which, to be fair, pretty much shows how we all learn.
So the difference in teaching styles isn't so much a criticism as it is something to look out for, especially if you want really standardized and consistent lessons.
Who Pluralsight is for
Pluralsight is designed for a variety of professionals who want access to learning new materials and skills.
So, Pluralsight is effectively open to anyone.
However, three are some people who I think would particularly benefit from a Pluralsight subscription.
These include:
Professionals looking to add a new programming language to their belt
Anyone looking for an educational insight into machine learning, software and security
People who enjoy a combination of practical, visual and audio learning
Anyone who feels that most teaching sights don't go into enough depth
Team leaders who want to upskill their group
Can I buy Pluralsight as a gift?
There are a couple of options to give someone a gift subscription with Pluralsight.
The options include one year, one month, one year Standard or one year Premium.
This is a one time purchase and it cannot be refunded.
You'll need to select whether you prefer an e-mail or a pdf receipt that you can give in person.
Enter your payment details and confirm your order. You'll receive a confirmatory email soon after.
Finding great courses on Pluralsight
Pluralsight can feel like an overwhelming place to start learning.
However, there are some very straightforward ways that you can find great courses on Pluralsight.
The most obvious one is Browse.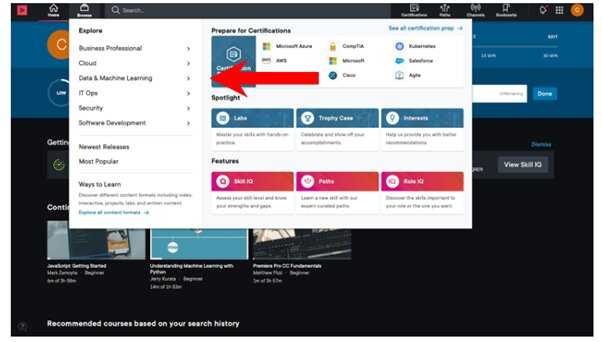 This is on the top left hand of the homepage. Clicking on this will show you the main categories of Pluralsight, including:
Business Professional
Cloud
Data & Machine Learning
IT Ops
Security
Software Development
You can also choose the Paths option, which will show you expert-curated learning pathways that include courses that lead to the development of particular skills and are related to specific roles.
Pluralsight can also recommend several courses based on:
Search History
What you've watched
Newest Courses
Highest Rated Courses
You can also look for your own courses by checking the Search bar at the top.
Is Pluralsight legit?
Things can sometimes seem too good to be true.
However, Pluralsight certainly has the receipts.
Not only has the site been around for ages, but they are also partnered with 70% of Fortune 500 companies.
There are thousands of people who are satisfied customers of Pluralsight, and they can't all be lying.
I've also spent a lot of time using Pluralsight, so I know firsthand that the site is legitimate in what it has to offer.
Pluralsight refund
Pluralsight doesn't offer refunds on their accounts and subscriptions.
You can cancel your subscription at any time.
After canceling your subscription, you will still have access to the refund until the end of the term.
Don't forget, there is a 10-day free trial with Skills accounts, so there isn't much need to cancel your subscription anyway.
Pluralsight alternatives
Pluralsight isn't the only player in the e-learning game.
Several sites offer similar content, but with various methods, instructors and specific focuses. So, if you're looking for a new skill, especially in software or IT, you're spoiled for choice.
One of the best options is Datacamp.
This is ideal for anyone looking for experience and teaching with new programming languages, especially if you are a complete beginner.
I would say that there is less content than Pluralsight, but there is a real focus on data science and data engineering, so check this one out if that interests you.
Codecademy is an online interactive platform that offers 12 different programming languages, as well as the opportunity to delve into their Skill and Career paths.
There is also a massive range of resources here, including challenges, blogs, articles and videos.
If you want scope, this one's for you.
But if you want to focus on Java, and love interactive and gamified learning then you could try CodeGym.
However, some of the best data and computing courses come from sites that offer education more broadly.
Among these, edX and Coursera stand out. Both offer a massive range of courses in an incredible amount of disciplines, typically purchased individually and many which can be taken for free. And paid certificates are accredited by some of the world's leading colleges, including Harvard, MIT and Yale.
Check out our detailed comparison, Pluralsight vs edX.
Finally, there are a number of technology courses on Udemy and LinkedIn Learning. You can find out more about these platforms and read summaries of many of their best courses on our Pluralsight vs Udemy, edX, Coursera, LinkedIn and Udacity reviews.
What others have said
In order to keep this review as fair and balanced as possible, I tried to find out what other people made of Pluralsight.
The reception was interesting. As Pluralsight has been around for a while, you can expect a lot of people to have some kind of opinion on them.
For some, Pluralsight wasn't all that great.
"I have it free from work and I barely use it. I find the courses to be very very variable in quality and use. Personally I wouldn't pay for it, but if work are willing to I'll take it. I'd rather a Udemy sub based on experience with courses there." - Reddit commenter
I disagree with this comment, but I do understand the sentiment.
Because of the range of instructors, there can be a variance in consistency. Obviously, how this affects your learning experience depends on you and what you're looking for.
But if you want something very consistent and direct, this may not be the best site for you.
On the other hand, lots of people were very fond of Pluralsight, based on my research.
Some were enthusiastic about the content in its own right:
"Pluralsight is really good. I get a free subscription from work and I started using it in june 2019. At this point, learning through that platform has become a lifestyle with my profile indicating that I have watched over 2,400 hours of content. I can safely say it has taught me pretty much everything I know." - Reddit commenter 
Whereas for others, Pluralsight worked much better in comparison to everybody else because of what they had on offer.
"Pluralsight is good, really good, I've tried most out there linkedIn, frontend masters, O'Reilly and I really like pluralsight, especially its paths for guiding your learning, and its skill iqs for testing and interview practice, it had the most up to date microsoft bot framework course I could find." - Reddit commenter  
This I can get behind.
One of the key aspects of Pluralsight that makes it work so well is the range of tools on offer to help with your learning.
This makes them really stand out and will help you develop much more rapidly as a learner than you would be using a site without all these tools and features.
Evaluating Pluralsight
Features: Access to a library with 7,000 courses, 1,400 subject-matter experts, labs to master your skills, Skill and Role Paths.
Content quality: Very in-depth content, with modules divided into shorter videos that contain examples and practical exercises.
Content breadth: A wide range of teaching categories including Data & Machine Learning, IT Ops, Security.
Teachers: Instructors have a range of qualifications, and you'll be led by university lecturers, tech experts and software engineers with years of experience.
Supporting materials: Resources available include practice labs, the chance to win awards and follow skill paths to fulfill particular career goals.
Payments & refunds: $29.00 a month with the monthly option, or $299.00 a year
for Standard, or $45.00 a month/$499.00 for the year for Premium. No refunds are available.
Support: Contact support with Pluralsight here – https://help.pluralsight.com/help
How to open a Pluralsight account
Opening a Pluralsight account is very straightforward.
The steps include:
Go to the Pluralsight webpage
Select which option you want to sign up with – Premium or Standard
Enter your e-mail address and password
Enter your payment details (you won't be charged for the first 10 days)
Confirm your details
You should receive a confirmation email moments after.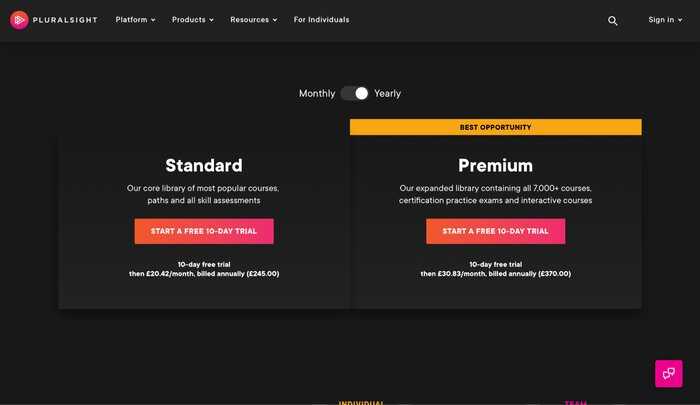 Is Pluralsight worth it?
In my opinion, whether or not you gain something from Pluralsight will depend on a couple of things.
Personally, I think the site could have been easier to navigate and, although there were pros to having so many independent instructors, this did mean a bit of inconsistency in quality.
But where Pluralsight really succeeds is in teaching anyone with a bit more experience in whatever discipline they study and are hungry to learn more.
This is the case because there are so many courses on offer, so you can go into a lot of depth, and the range of instructors allows for this as well.
Additionally, there are so many learning materials, like Labs, Pathways and Skills IQ where you can really hone your abilities.
So, if you're looking to add some lines to your CV, Pluralsight is perfect, especially if you're interested in the fields of business analysis, software development and security.
And don't forget, the first ten days are free!
Related articles: Learning Tree review, Springboard review
Pluralsight – Frequently asked questions
How much does Pluralsight cost?
A Standard subscription is $ 29.00 a month with the monthly option, or $299.00 a year. A Premium subscription is $45.00 a month or $499.00 for the year. 
Does Pluralsight have a refund policy?
There is no refund policy, but you can cancel your subscription anytime. 
How many courses are there on Pluralsight?
Over 7,000 courses, plus additional learning materials.
Does Pluralsight have a free trial?
There is a 10-day free trial with Pluralsight Skills.
Does Pluralsight give certificates?
Yes, certificates are available with certain courses. 
What languages is Pluralsight available in?
Pluralsight is available in over 50 languages.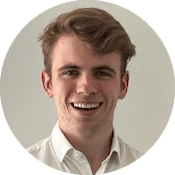 Charlie is a student reading politics at King's College London. He is also a passionate musician with over 14 years of experience. In his free time, he also enjoys cinema, long-distance running and learning new things.