If you want to future-proof your career in tech, you probably already know by now that mastering hard and valuable skills is your first step. Technology is always evolving, the job market is competitive, and companies have to adapt to rapid changes.
The only way to thrive is to keep learning.
That's where Learning Tree aims to step in. Through high-quality training in IT, business, and management, you can stay on the cutting edge of your field and have the skills you need to succeed.
But just how good is Learning Tree? How do you know if it's the right investment to make when there are so many online learning platforms out there?
In this Learning Tree review, I'll walk you through everything you need to know about the platform. How it works, what the best courses are, how it stands against competitors, and whether it's the right fit for you.
Let's dive in!
.
Quick summary
Features
Hundreds of fully-accredited courses on IT, business, and management topics, from cyber security to leadership in an IT environment
Opportunity to increase your earning potential through career-building certifications
Practical virtual classes and access to a virtual machine to experiment with new skills
Personalized coaching support to help you apply your knowledge to real-world situations
Pros
Partnerships with industry leaders such as Microsoft, Cisco, Project Management Institute, and the Scrum Alliance
Professional teaching from experts with years of experience in IT, business, and management
Extra resources on the latest trends in IT and business
Cons
More expensive than other online learning platforms but offers a more extensive selection of IT courses with one-on-one coaching support
Limited options for self-paced courses
Best for: Highly driven IT professionals who want to level up their careers. Also perfect for organizations that want to increase team performance and learn the latest technologies and apply it in business.
Cost: Check latest prices for Learning Tree.
Overall: Learning Tree will help you build career-defining credentials in no time and strengthen your company's IT professionals. Learning Tree offers top-tier learning experiences that combine virtual and hands-on, practical learning. All led by industry experts with real-world experience.
This in-depth review will cover everything you need to know about the platform, including:
What is Learning Tree and who are the instructors?
How does Learning Tree work?
How much does Learning Tree cost?
What a lesson is like
Best Learning Tree classes
Learning Tree for business
How I reviewed Learning Tree
What I liked about Learning Tree and what could be improved
Who Learning Tree is for
Can I buy Learning Tree as a gift?
Tips for finding great courses on Learning Tree
Is Learning Tree legit?
Learning Tree refund
Learning Tree alternatives and reviews
Evaluating Learning Tree
How to open a Learning Tree account
Is Learning Tree worth it?
FAQs
What is Learning Tree?

Learning Tree is one of the top providers of IT and management training out there.
The platform houses hundreds of fully-accredited online courses on a wide range of IT topics, from cybersecurity to programming, software development, business intelligence, and more.
They work with leading companies and top certification bodies such as Microsoft, Cisco, Scrum Alliance, and more to train more than 2.5 million tech professionals in 65,000 organizations worldwide.
How does Learning Tree work?
One of Learning Tree's unique selling points is the nitty-gritty of how the online classes work.
Most Learning Tree classes help you work towards achieving certifications so you can build your career. You can access Learning Tree courses in two ways: by purchasing a single course or by subscribing to a yearly plan.
With a plan, you'll get access to an all-inclusive selection of online courses and certification training in a wide range of IT fields, including:
Agile & Scrum Development
Business Application
Cloud Networking
Cyber Security
AI and Data Analytics
IT Infrastructure
IT Service Management
Leadership Development
Project Management
Software Development
The virtual classes are led by an instructor who is a subject matter expert in your chosen field of study. You'll attend a live training where you also get to apply your skills in real time.
Since you're in the process of honing your abilities, you'll get access to the Sandbox, a virtual machine that allows you to do and re-do your exercises, develop and test new code, and experiment with the skills you're learning.
This way, you won't have to risk messing your actual systems up by experimenting with them.
And then for 90 days after the class, you can still reach out to your teacher who can help you apply your new knowledge, overcome any hurdles you encounter, and navigate tricky, real-world applications of your skill.
How much does Learning Tree cost?
The prices for individual courses vary, ranging from $295 to $6000. It all depends on the skill level and course length.
Learning Tree also allows you to take a class with your coworkers as a team, but you'll have to reach out to them to see how much it'll cost.
When it comes to subscription plans, there are options for individuals or organizations. At the time of this writing:
An Individual Plan costs $3, 695 and is available only for individuals from companies with 10 or more employees
An Enterprise Plan costs $3,695 per individual per year. It's only available if you're enrolling at least 5 people
A plan gives you access to hundreds of Learning Tree courses that can help you take your skills to the next level or earn certifications from leading institutions.
You can also take courses according to a learning path depending on what you want to learn.
If you're taking a course to pass a certification exam, you can take advantage of Exam Vouchers. This lets you take your exam at an accredited center for free or at a discount. Plus, Learning Tree lets you track credits through the platform.
The cost is higher than other online training providers out there, but it's only a fraction of your earning potential if you level up in your tech career. So purchasing a course or a subscription may as well be an investment in your growth.
Learning Tree Free Trial
Learning Tree does not offer a free demo of their courses, but you can preview the outline of each course so you can get a good feel of what each class will cover.
Some classes also come with a video lesson preview and an introduction by an instructor.
Learning Tree refund
Learning Tree does not offer refunds for purchases on online courses.
Can I buy Learning Tree as a gift?
As of this writing, Learning Tree does not offer the option to purchase courses as gifts.
What a lesson is like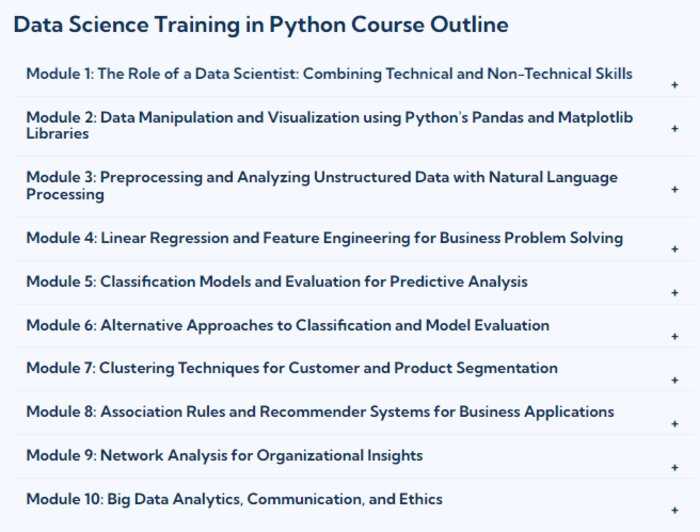 Most courses last between one to five days, while some can go for many weeks.
Classes follow a curriculum based on your skill level. And each class is live, interactive, and led by an expert in your chosen course.
You'll also be able to apply your skill in real time. Plus there are practice exams, prep questions, and extra resources.
You can expect to learn the basics of your chosen field if you take Foundational courses. If you already have a background in your area of study, you can take Intermediate or Advanced classes where you'll tackle harder topics.
Best Learning Tree classes
The most popular courses are:
Certified Cloud Security Professional (CCSP) Training and Certification
CompTIA Security+® Training
CISSP® Training and Certification Prep Course
CISM Certified Information Security Manager
Project Management Professional® (PMP) Certification Training
But of course, the best courses still depend on what you want to achieve. Learning Tree has so many options for every IT professional who wants to upskill, so you can be sure that there's a class for whatever you're trying to learn.
I've handpicked some of the best courses for each category so you can get started on your journey.
Agile & Scrum Development
Certified ScrumMaster® (CSM) Training
Led by Certified Scrum Trainers, this is an interactive course on Agile project management basics. You'll learn an efficient way to lead teams, how to refine product backlogs, and foster your organization's buy-in to Scrum. Perfect for software developers, product owners, team leads, and anyone interested in Agile methodologies.
Agile Project Management Training
This is a 2-day class that will show you how to use the Agile approach to plan and track projects. You'll also learn how to structure teams and prepare for real-world challenges. This course is for you if you already have an understanding of project management and basic Agile principles.
Business Application
Microsoft 365 Fundamentals
This program will give you an overview of different cloud service models, cloud computing and its benefits, and how to use Microsoft cloud services. Perfect for business decision-makers and IT Professionals who want to adopt cloud services in their organization or want to get foundational knowledge on cloud.
Power BI Data Analyst Training Course
In this course, you'll learn how to model data, design, and create reports. All by using an advanced SQL Server with PowerBI. This course is perfect for data and business intelligence experts who want to learn how to use Power BI for data analysis.
Cloud Networking
Data Engineering on Microsoft Azure
In this intermediate 4-day class, you'll focus on common data engineering tasks using Microsoft Azure. It's perfect for data analysts, data scientists, data architects, and business intelligence professionals who want to learn data engineering.
Certified Cloud Security Professional (CCSP) Training and Certification
This 5-day course will help you gain insights on how to secure data centers, cloud environments, and cloud-based data access. Only for IT professionals who already have 5 years of full-time experience with 3 years in information security.
Cyber Security
Certified Ethical Hacker (CEH) Training
In this program, you'll get into the mindset of a hacker so you can protect your systems. You'll get to spot weaknesses in your network, test security measures, and apply countermeasures. Ideal for IT professionals who already have two years of cybersecurity-related experience.
Disaster Recovery and Business Continuity Training
You'll walk away from this training with the ability to shield your organization from disruptions. You'll learn to identify continuity needs, assess risks, build response teams, and implement a Business Continuity Management System (BCMS). If you're an executive or an IT professional in charge of systems recovery, this course is for you.
AI and Data Analytics
Introduction to AI, Data Science & Machine Learning with Python
This course will teach you how to use Python to analyze, visualize data, and build AI and Machine Learning models. You'll get to work on hands-on exercises, practice your skills, and build your portfolio. If you want a solid foundation in AI and Machine Learning, this course is a great fit.
Tableau Visual Analytics Training
In this class, you'll learn how to transform data into visually impactful narratives. You'll explore all features of Tableau, merge large volumes of data, create maps, and present your insights before an audience. Ideal for data analysts who want to master the art of data visualization.
IT Infrastructure
Preparing for a Digital Transformation Initiative Training
This course will help you be more confident in leading your organization through change, especially when it comes to technology. Perfect for you if you are a manager (with or without expertise in IT).
DevOps Engineering Foundation® (DOEF) Certification Training
This class covers essential DevOps concepts, with a focus on people, processes, and technology from an engineering perspective. You'll master DevOps principles and work on hands-on assignments. This course is a great fit for IT professionals who want to grasp DevOps concepts or want to adopt a DevOps culture.
IT Service Management (ITSM)
FitSM® Foundation Certification Training
If you want to be able to quickly build effective ITSM processes and be recognized for it, this program is for you. You'll learn to establish ITSM processes using Fits – a lightweight and achievable ITSM standard. Perfect for IT professionals who don't want to go into the intense detail of other ITSM frameworks.
ITIL® 4 Foundation Training
In this course, you'll learn to develop IT practices using ITIL guidelines. You'll also learn to model to create, deliver, and improve tech-enabled products using ITIL 4. This course is best for all sorts of IT professionals who want to control IT costs and improve IT service quality.
Leadership Development
IT Management Skills Training
This course will help you hone your leadership skills. You'll be able to improve your emotional awareness, engage your staff, improve how you delegate tasks, and be a better communicator. Ideal for IT Managers in charge of an organization's tech infrastructure and support teams.
Business Relationship Management (BRM) Training: Aligning IT & the Business
This program aims to empower you to solve challenges in business within an IT environment. You'll learn best practices on how to tailor IT solutions to business needs. Perfect for anyone who aspires to be a trusted IT advisor and already has some experience in the field.
Project Management
Software Project Management Training
This class will teach you the foundations of managing software projects. You'll also get one-on-one coaching to help you work through new challenges. Great fit for project managers and team leaders.
Project Manager Leadership Training: Building and Leading High-Performance Teams
In this immersive course, you'll learn how to inspire your team, improve your team's productivity, and manage conflicts. Comes with personalized coaching and an exam to test your skills—a great fit for any project leader.
Software Development
User Experience (UX) Design Training for Successful Software Development
This program will teach you how to create a good UX design for both desktop and mobile. You'll learn how to leverage interaction scripts, information architecture, wireframes, and interactive prototypes. This course is best for developers, designers, project leads, and anyone involved in making User Interfaces for web-based apps.
Advanced Python: Best Practices and Design Patterns
This fast-paced Python course will show you how to build applications that are faster, more reliable, and easier to maintain. You'll get to unit test, debug, and install Python programs. You'll also make sure that your code works as designed using testing tools. Suited for anyone who has already nailed Python basic programming skills.
Learning Tree for business

Learning Tree is great for businesses or government organizations who work with IT professionals and want to support upskilling needs.
You won't just get access to Learning Tree's hundreds of courses on technical and soft skills, but you also get to show your commitment to your workforce by investing in their career growth.
The platform offers an option to enroll a minimum of five employees for $3,695 per person per year. This fixed rate will help organizations more easily factor this into the yearly budget and avoid overspending.
Learning Tree also offers custom solutions especially if your company has specific requirements and processes. For example, you can build and budget a training program for your employees with specific learning paths or courses that align with your goals.
Who are the instructors?
Learning Tree's instructors are subject matter experts with years upon years of experience in IT and business leadership.
For example, Jason Tanner is a Certified Scrum Trainer who has led Agile transformations at Fortune 500 companies. He is the CEO of Applied Frameworks, a management consulting firm, and he has coached thousands of Agile practitioners around the world.
Another is Greg Adams, an instructor with over 25 years of experience in software development, cybersecurity, Agile, and DevOps.
All instructors have a solid track record in your field of study.
How I reviewed Learning Tree
I made sure to take a good look at everything that Learning Tree offers: Browsing the course catalogs, reading detailed course descriptions, and researching Learning Tree's subscription plans and everything that they include.
I also compared Learning Tree to other platforms out there that also offer similar learning experiences for different price points. Then I carefully assessed who Learning Tree might be good for (and honestly, who might be better off skipping Learning Tree).
What I liked about Learning Tree
Additional resources to help you stay ahead of the curve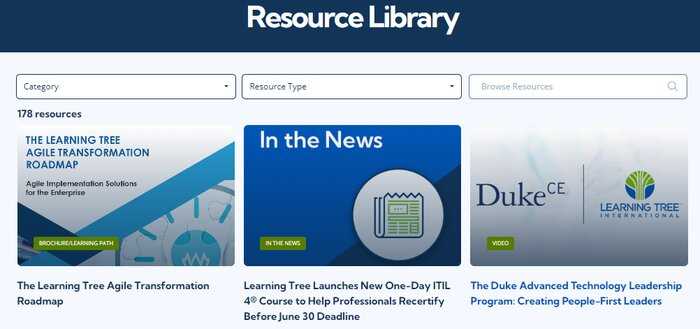 It's hard to ignore Learning Tree's resources such as articles and webinars on the latest trends in the intersection of IT and business. This lets you stay at the cutting edge of your field and learn the best uses of the latest technologies. All while mastering hard skills with the online courses.
The webinars are open to the public, too, so you can get a glimpse of Learning Tree instructors' teaching styles.
Accredited and reputable
There are so many online learning platforms, so I really appreciate that Learning Tree partners with leading tech companies and is fully accredited by reputable organizations.
You can be sure that the courses are top-tier. And by the end of every course you take, you'll have credentials to show for it.
A wide range of courses to choose from
Learning Tree has some of the most comprehensive selections of courses I've seen from an online learning platform.
You can find the perfect course in whatever specialization you're already in or want to learn. Plus, the courses are tailored according to different skill levels.
You can take your skills to the next level in whatever IT field you're in right now. And if you ever want to make a switch and learn another specialization altogether, you can easily find a course on Learning Tree.
That way, you're not limiting yourself to your current field, and you don't have to look for a different platform to learn another special skill.
What could be improved
Limited options for on-demand courses
Learning Tree offers on-demand courses that you can take at your own pace. But when I looked at the catalog, the choices weren't as many. I think expanding options for on-demand courses is room for improvement, especially since there are a lot of learners who prefer self-paced learning.
Rather expensive
There are Learning Tree courses for different skill levels, but even courses for beginners can be pricey starting at $295+, with most being between $600 and above. This can be a barrier for learners on a tight budget.
But if you're the type of learner who really wants to invest in learning from live instruction and earn certifications, Learning Tree is great for that. Especially since tech jobs can be competitive, investing in your skills can give you a leg up.
Who Learning Tree is for
IT professionals, developers, engineers, or anyone who wants to stack credentials and keep pushing skills to the next level
Team leaders who want to excel in leading in an IT environment
Companies, government agencies, or any organization that rely on digital systems and the people who operate them
Finding great courses on Learning Tree
Whatever IT skill or software you want to learn or already specialize in, you can be sure that there are Learning Tree courses for it.
Simply write a keyword in the search bar for what you want to learn or browse through Learning Tree's catalog on the website. You can easily look through the courses available for each category.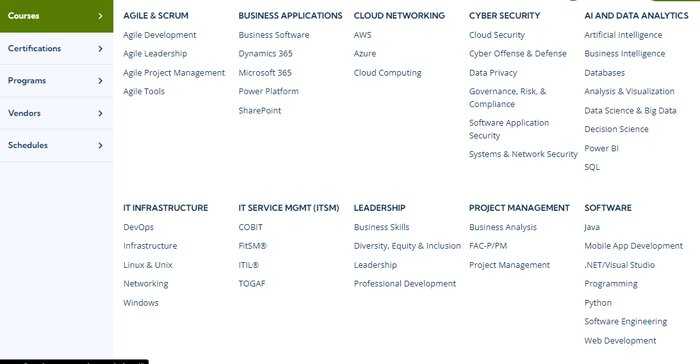 Another thing you can do is click "Course Catalog" on the landing page. Then, filter the courses based on a specific area you want to focus on or specific technology you want to learn.
You can also filter how long you want class lengths to be, or if you're looking only for courses for a specific skill level.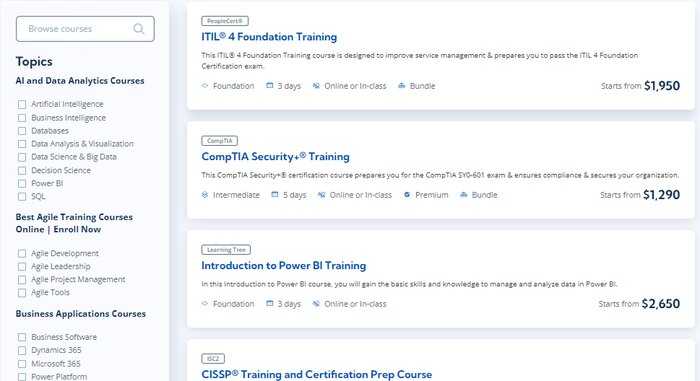 Make sure to read the course descriptions, so you can be sure that a class is what you're looking for.
Is Learning Tree legit?
Absolutely. Learning Tree is the US Department of Defense's training partner on cyber security.

Learning Tree has also been in business since 1974. They're an authorized training partner of some of the world's most influential certification bodies and leading companies such as the Project Management Institute, CertNexus, ISACA, and Microsoft.
Learning Tree alternatives
Learning Tree is fantastic for people who want to learn from live instructors and apply new skills in real time. But it's not the only player in the e-learning game out there.
If you're the type of person who prefers self-paced training, Udacity is a great option. It offers on-demand lectures in IT that you can take at your own pace.
Udacity is known for Nanodegree certificates, which are credentials recognized in the industry and can help you advance your career. The courses are also taught by experts from top tech companies.
Another option is Pluralsight, a subscription-based e-learning platform for IT courses for individuals and businesses. Individuals can sign up for a subscription for $299 a year, and teams can enroll for $399 – $779 per user per year, depending on the team size.
Pluralsight is more affordable than Learning Tree. I would say, though, that Learning Tree has a wider range of courses and categories of programs for every IT professional out there.
Learning Tree reviews: what others have said
Learning Tree has successful customer case studies on Featured Customers, which you can read to see how Learning Tree helped organizations meet their training needs and the feedback that they got from them.
But I also wanted to get a general sense of what other people thought, so I scoured the web for reviews.
A learner complained about technical glitches with Learning Tree's digital tools, and some suggested exploring other more affordable e-learning platforms. A past learner from G2 wrote that Learning Tree was:
"Difficult to navigate… the live lesson in [Learning Tree] is Zoom…[and we] had to go outside and use other options."
This experience seems out of the ordinary though, since I didn't see another review talking about the same experience.
From what I've seen, there are more positive feedback and the praises for Learning Tree courses were consistent. Reviews praise the steady pace of the classes as they progress.
There's also a lot of appreciation for the depth of expertise of Learning Tree's instructors and how they can break down complex topics into sizable chunks.
A learner wrote, "The instructor was absolutely excellent. He…brought real world, enterprise examples. Couldn't have been better."
Here are some of the reviews on Featured Customers:
"I've attended several cybersecurity courses with Learning Tree, and they've all been excellent. The instructors always did a great job of conveying complex material in a clear and understandable way."
"I have been able to apply my Tableau expertise to multiple reporting projects... I have also been able to share some of my new knowledge and skills with my coworkers and teammates" 
Overall, Learning Tree courses are praised for their content, instructors, and hands-on practice. That should dispel any worries you might have about the quality of the courses.
Evaluating Learning Tree
Features: Learning Tree provides live and hands-on virtual training that allows learners to test skills in real time. Features include personalized coaching support after your classes. Plus extra resources on the latest trends and insights in your field.
Content quality: Each class follows a well-structured plan and is led only by an instructor who is an expert in your field of study.
Content breadth: There are hundreds of courses on Learning Tree, covering topics such as software development, data and analytics, and cyber security. There are also options for varying skill levels.
Teachers: All instructors are real-world practitioners and subject matter experts in your chosen field with years of experience. They'll also coach you after the course to help you apply your newly gained knowledge and overcome hurdles.
Supporting materials: Courses come with access to Learning Tree's learning platform, a virtual machine where you can test new code and do your exercises, practice exams, and prep questions to help you work towards the certifications you want to learn.
Payments & refunds: Prices range for individual courses from $295 to $6000, depending on the topic, skill level, and length of the course. You can also opt for a subscription plan for $3,695 per year.
Support: Real-time technical support is available during a live class as well as on the Learning Tree platform.
How to open a Learning Tree account
Opening an account is easy. Simply click 'Login' on the top right-hand corner of the landing page and click 'Sign Up'.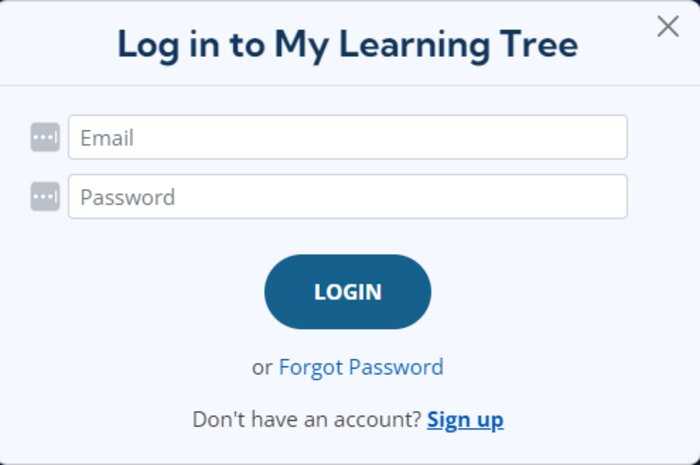 Then you'll be redirected to a page where you can fill in your details to create an account.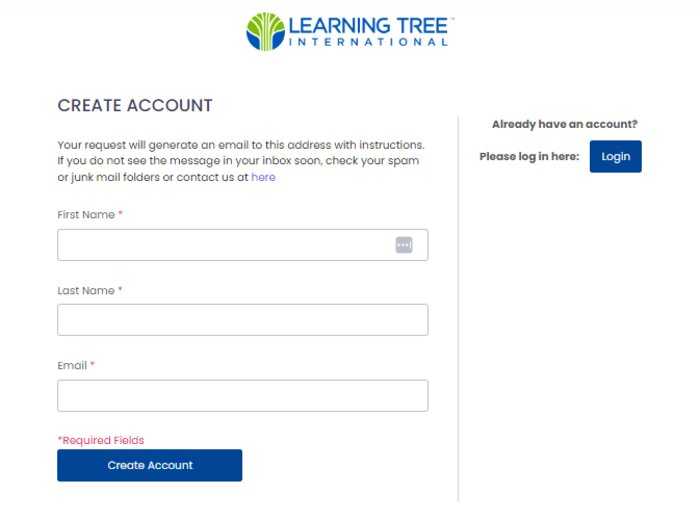 Is Learning Tree worth it?
In my opinion, Learning Tree is worth it if your company requires a strong IT department.
Learning Tree has a strong hands-on environment plus access to the latest technologies and the course materials are always up-to-date. You'll be supported in every way, from one-on-one coaching to real-time support from top-tier instructors in the industry.
If your company has a sophisticated IT infrastructure, then you'll have the resources you need and apply the skills you learn from Learning Tree courses.
But if you are a small company on a tight budget, then alternatives like Pluralsight are still a good option. You'll have access to IT courses at a more affordable price which can be more flexible for small businesses.
Learning Tree is also perfect if you are looking to get certified in a particular technology. But if you are just looking to learn the basics, then platforms like Udacity offer self-paced training and the ability to learn on the go.
In the end, the best way to decide if Learning Tree is suitable for you is to consider your learning style, budget, and career goals.
Related articles: FutureLearn review, Springboard review
Learning Tree – Frequently asked questions
How much does the Learning Tree cost?
Prices differ from course to course. Subscription plans are $3, 965 per person per year. Make sure to check the website for the latest updates on pricing.
Does the Learning Tree have a refund policy?
Once purchased, Learning Tree does not refund online courses. 
How many courses are there on Learning Tree?
There are hundreds of courses on Learning Tree.
Does Learning Tree have a free trial?
Learning Tree does not have a free trial but you can preview detailed course outlines for each lesson.
Does Learning Tree give certificates?
Yes, Learning Tree gives course completion certificates. You'll also be closer to earning your professional certifications for courses accredited by Learning Tree's partners.
What languages is the Learning Tree available in?
Learning Tree classes are available in English.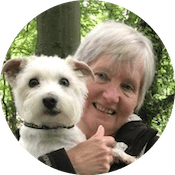 Liz Hurley has 30+ years of high school teaching experience and is one of our senior writers here at Learnopoly.