FutureLearn was founded in 2012 with the aim to empower individuals through lifelong learning. Its courses are 100% online, meaning you can learn wherever and whenever you want.
Plus, the platform has partnered with 250+ universities and organizations to deliver world-class education in a range of subjects. To date, they boast over 18 million learners and even offer specialist learning for businesses and schools.
But is FutureLearn worth the hype? What are the best FutureLearn courses? Can I learn for free? And can I use FutureLearn to upskill my employees?
In this FutureLearn review, I'll answer these questions and more. To do this, I've taken the time to try the platform for myself, taking a selection of courses, and finding out what others think of the platform.
So, to start, here's some basic info:
.
Quick summary
Features
2,000+ courses in categories like computer science, business, and engineering
250+ partners including University of California and Accenture, with courses taught by experts at these institutions
4+ course types, including accreditations and online degrees from prestigious colleges
FutureLearn for businesses and schools (including custom course creation)
Pros
Learn from prestigious institutions such as The Career Academy and Digital Marketing Institute
Free access to short courses (for the course duration)
Printed and digital certificates
Option to buy lifetime access
Great mixture of video learning and assessments
Comment sections to encourage open discussions
Cons
Limited selection of free courses
Certificate only available with upgrade
Best for: Anyone looking to progress in their jobs or even find a new career path. With career resources and accredited courses, FutureLearn teaches transferable skills and offers flexible learning from top colleges.
Overall: As it advertises, FutureLearn offers the chance to learn new skills online from world-class universities and experts. While you can learn for leisure, the site prioritizes upskilling through specialist 'ExpertTracks' and boosting your CV through anything from short courses to degrees.
In this FutureLearn review, I'll cover:
What is FutureLearn and who are its instructors?
How does FutureLearn work and how much does it cost?
FutureLearn free trial
What a FutureLearn lesson is like
Best FutureLearn courses
What I liked and thought could be improved
Who FutureLearn is for and whether you can buy it as a gift
How to find the best courses on FutureLearn
Is FutureLearn worth it?
FAQs
So, let's get started.
What is FutureLearn?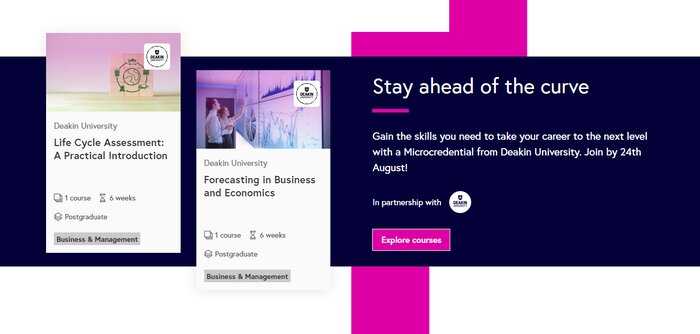 Giving you the chance to learn from top colleges at a fraction of the price, FutureLearn is an online learning platform hosting 2,000+ courses.
With free limited access, FutureLearn offers courses ranging from bite-sized to full online degrees. Through the site, you can upskill, pursue a passion, or even pave a new career.
It also partners with leading organizations, such as the University of Adelaide and Trinity College Dublin, to help you to master new skills and gain specialized knowledge.
Offering ExpertTrack and microcredentials, FutureLearn aims to transform learning through wider access to education. Currently boasting 18+ million users from over 140 countries, FutureLearn shows no signs of slowing down.
How does FutureLearn work?
There are several ways you can take courses with FutureLearn. Namely, you can:
Register for a free account, browse, and enroll to any of the 2,000+ courses
Take courses for free with limited access (no certificates included)
Subscribe to Unlimited (annual or monthly) for access to all courses
The first thing to do is sign up, which is free and easy to do. Click the 'Register' button in the top right hand corner of the landing page. Then, enter your name, email address, and set a password. After that, you're all set!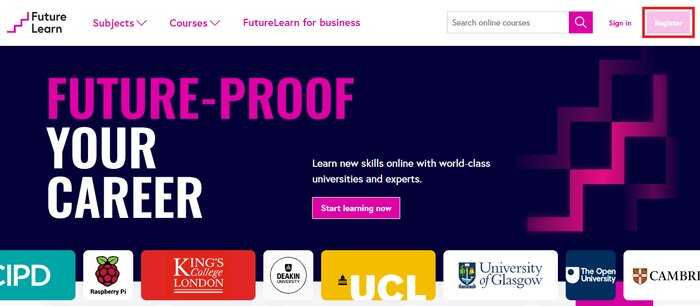 From here, you can explore the platform and sign up to any course that takes your fancy. There are usually different free/payment options for these, and costs vary according to the course type. I've summarized these options below:
| | | | | |
| --- | --- | --- | --- | --- |
| Option | Goal | Length | Billing | Includes |
| Short courses | Learn new skills | c 4 weeks -1hr pw | Free limited access, single course payment, or subscription | Certificate with purchase, 4+ hrs learning, assessments |
| ExpertTracks | Master skills in a specialist area | c 14 weeks – 2 hrs pw | Free 7-day trial, then monthly payment | Certificate, 28+ hrs learning, assessments |
| Micro- credentials | Expand knowledge in a specialized field | c 10 weeks | Single course payment | University credits, 100+ hrs learning, assessment |
| Online degrees | University-led learning from under to post grad | C 1-3 years | Single course payment | Internationally-recognized qualification after passing degree, full access to university resources |
FutureLearn's subjects include:
Business & Management
Creative Arts & Media
Healthcare & Medicine
History
IT & Computer Science
Language
Law
Literature
Nature & Environment
Politics & Society
Psychology & Mental Health
Science, Engineering & Maths
Study Skills
Teaching
Each FutureLearn course gives you an overview of what you'll learn, as well as a weekly breakdown of the syllabus. You can also sample some of the course for free.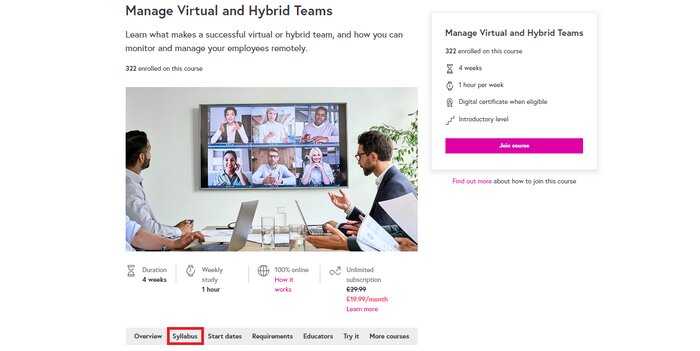 Generally, most courses on FutureLearn hold a positive rating, with the platform as a whole rated 4.5 on Trustpilot.
How much does FutureLearn cost?
Because FutureLearn features so many course types, prices can vary.
For most shorter courses, there's a free limited access option. This means you can access the course for a short period of time but cannot gain a certificate.
I've gone into more detail about the following course types below:
Short courses
ExpertTracks
Microcredentials
Online degrees
Short courses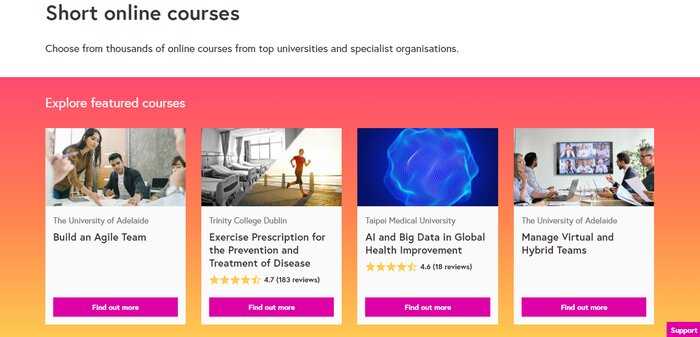 As the name implies, FutureLearn's short courses are the shortest courses on the platform. These span around four weeks, with about an hour's study time per week.
To get short courses for free, you can sample the course material with the free limited access option. This means you can access all of the course content for the course's run. However, you can't take tests or earn a certificate.
If you want to take the whole course at your own pace and receive an end-of-course certificate, you can buy the course for a one-off payment (average $125) or subscribe to FutureLearn's Unlimited. For a one-off course subscription, you also earn a digital and printed certificate.
With Unlimited, you gain only digital certificates but also get access to FutureLearn's 2,000+ courses. With the annual subscription, you're looking at around $321/year (or $26/month). This is the most cost-effective option, with the monthly subscription coming to $38/month.
ExpertTracks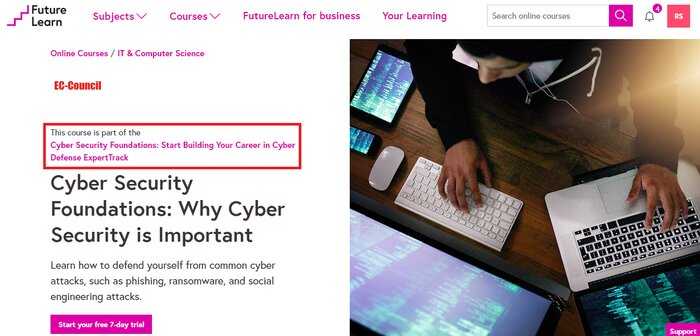 Unlike short courses, ExpertTracks allows you to subscribe to a series of courses (usually 3-4), which specialize in a particular pathway.
To access these for free, you can take a 7-day free trial, after which you're looking at around $46/month. As per FutureLearn's T&Cs, you may claim one free trial period per ExpertTrack. You can also cancel at any time during the trial period without being charged.
It's worth noting that ExpertTracks are not included in FutureLearn's Unlimited. Any course that's part of an ExpertTrack will be listed as such on the landing page.
Microcredentials

Another course type for specialized learning, microcredentials are usually accredited by leading universities, and can even be used as academic credit toward a degree. With this in mind, they tend to be longer than other courses – at around 10 weeks in length.
Costs vary depending on how many credits the course is worth, and whether these credits can be used toward a degree, but you're looking at around $963 for a 10-credit course. Like with ExpertTracks, microcredentials are specialist courses and are pay-per-course.
That being said, if you're in the UK, they do have a pay-in-3 PayPal option to spread the costs. But, this is only available for microcredential courses and does not apply to other FutureLearn course options.
While there is no free trial available, you do have 14 days to apply for a refund if you find that the course isn't for you.
Online degrees

Finally, FutureLearn offers undergraduate and postgraduate degrees. As with some of the microcredentials, you should check that you meet the requirements before starting one of these courses.
With many degrees, you can choose to study part-time or full-time, and all of these are internationally accredited. For non-UK/EU students, there are also tuition fees to bear in mind.
Costs vary depending on the course, degree type, and partner institution, but, to give you an idea, you're looking at around $20,000 for a 1-year Master of Business course. You also have the option to move to a different degree within the same discipline if one is available.
Unfortunately, FutureLearn does not currently offer financial aid, and payment plans vary across each degree. For some degrees, you have to pay upfront in one go. With others, you pay per program and work toward the degree that way.
Because FutureLearn takes payment through its partner universities, the institution decides how payment is made. For each course, you can also request information from the university, who will be in touch regarding your queries.
FutureLearn free trial
Unlike with other e-learning sites, there is no blanket 'free trial' for FutureLearn as a whole. Rather, each course type usually has its own way you can sample the course, or be eligible for your money back.
Specifically, a 7-day free trial is available with FutureLearn's ExpertTrack courses. During this time, you gain access to the full course content (but can't earn certificates) and you can cancel at any time during this period without being charged.
While microcredentials and degrees don't offer free trials, you're eligible for a refund within 14 days of signing up if the course isn't for you. With degrees, you can also move to another program within the same discipline if one is available.
For FutureLearn's shorter courses, there's usually a free limited access option. This means you can access any short course for its duration and you won't be charged until this period ends.
As with the ExpertTracks, you can cancel during the first 14 days without being charged.
FutureLearn refund
FutureLearn has an in-depth cancellation and refund policy that can be found here. In short, you're able to request a refund for a paid-for course/subscription within 14 days of purchase.
Can I buy FutureLearn as a gift?
At the moment, you cannot buy FutureLearn as a gift for someone else. However, as the platform is growing, they are keen to look into this in the future!
FutureLearn for businesses

FutureLearn also caters to businesses looking to upskill their employees. Prices and plans vary according to business size and goals, but, in short, FutureLearn's aim is to support lifelong learning through personal and professional development.
You're required to get in touch so FutureLearn can assess your learning needs and create a plan, but there are a number of services FutureLearn offers for a range of businesses.
For example, they can create course content for implementing new strategies, help with data analytics, and even offer bespoke learning for training needs.
What a FutureLearn lesson is like
Because FutureLearn has a huge volume of courses (and four main course types), it can be hard to generalize what a course is like.
However, the general structure offers a course breakdown, along with the lesson aims. Then, in a typical lesson, you can expect:
High quality video lessons (with subtitles/transcripts available)
24/7 access to discussion forums with students and teachers
Quizzes, homework, and assessments to work toward course completion
Readily available support services
Certificate upon passing (paid-for only)
Best FutureLearn classes
Some of the most popular and highly rated courses on FutureLearn are:
Short courses: Teaching English Online | Cambridge University Press
ExpertTracks: Addiction Medicine: An Introduction | American Society of Addiction Medicine
Microcredentials: Climate Solutions for a Net Zero Future | Nottingham Business School
Online degrees: Contemporary Education | academyEX
But, of course, the best FutureLearn course for you will depend on your own interests and goals.
To give you a clearer idea of what FutureLearn has to offer, see my mini reviews of the top courses in each category below.
Top short courses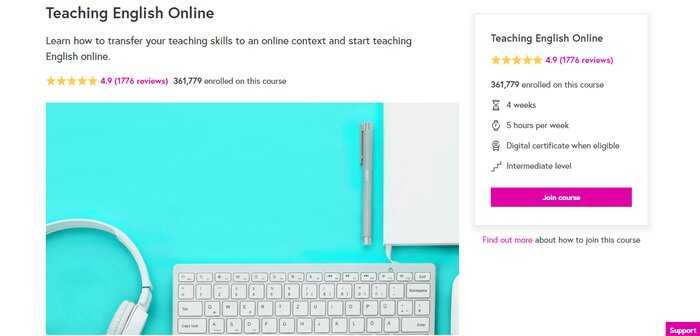 Teaching English Online | Short Course | 361,799 learners
Instructor: Marie Therese Swabey and Lindsay Warwick lead this 5-week course, in development with Cambridge University Press and Assessment. With 5 hours' study per week, and a digital certificate when eligible, this course teaches you how to transfer your English skills into an online context – so you can start teaching others.
Learn: How to adapt your face-to-face teaching skills into an online environment, prepare for teaching online, and give your learners flexibility. You'll also learn the differences in teaching listening and reading online, compared to in person.
Includes: 4 weeks' online learning with 5 hours' study per week, digital certificate of completion when eligible, comment-section discussions, tests to check learning (with subscription/course purchase).
Best for: Students who have recently become qualified as English language teachers and are looking to transfer their skills into a live online context.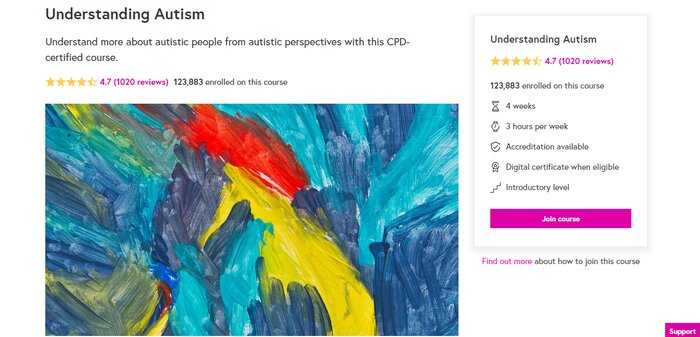 Understanding Autism | Short Course | 123,883 learners
Instructor: Dr Jill Bradshaw of the University of Kent and Fiona Gullon-Scott at Newcastle University head this course, along with George Watt at University of Stirling. With certificates and accreditation available, this ranks as one of the top courses in the Psychology & Mental Health subjects.
Learn: To gain a well-rounded insight into autism, especially from autistic perspectives, and better understand differences in sensory experiences and communication. You'll also learn about other co-occurring conditions, how autism is even recognized, and the strengths/challenges autistic people face in daily life.
Includes: CPD certification, 4 weeks' learning with 3 hours' study per week, tests and certificate (when eligible with subscription/purchase), comment-sections discussions, learn at your own pace (with paid-for options).
Best for: While no prerequisites are needed, this course best appeals to those in the healthcare environment, those with autism themselves, or those with autistic people close to them. This can be for personal motivations or for those looking to go into further study.
Top ExpertTrack courses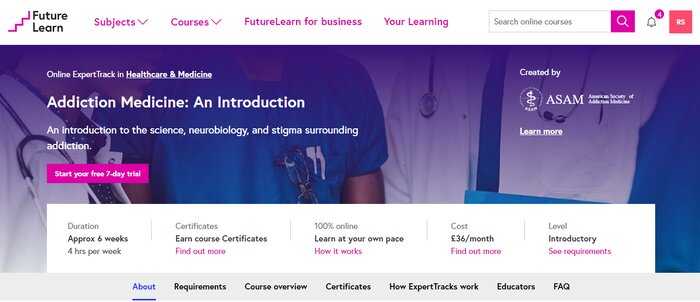 Addiction Medicine: An Introduction | ExpertTrack Course | 410 enrolments
Instructor: Created by the American Society of Addiction Medicine, this ExpertTrack course is taught largely by Dr. Angela Colistra, PhD and Dr. Cara Anne Poland, MD. Both are experts in Addiction and Family Medicine, and bring this course as an introduction to the science.
Learn: How to understand and treat patients with substance use disorder. By the end of the course, you'll have gained insight into some of the misconceptions surrounding addiction, and how you can overcome common treatment barriers.
Includes: 6 weeks' learning with 4 hours' study per week, options for certificate and own-pace learning, discussion forums, and pathways to further learning.
Best for: Providers, patients (or families of patients), this course is designed for anyone interested in building their knowledge of addiction medicine.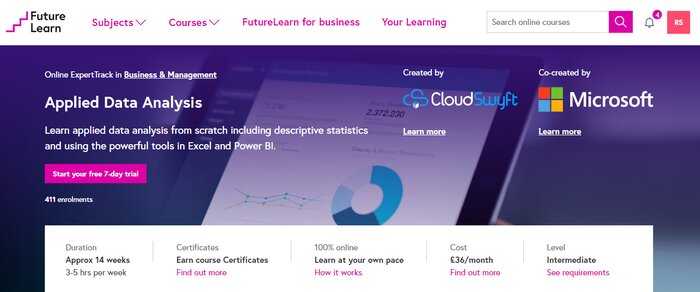 Applied Data Analysis | ExpertTrack Course | 411 enrolments
Instructor: This ExpertTrack is led by various educators from CloudSwyft and Microsoft, who partnered with FutureLearn to create this course. Both companies deliver cutting edge digital learning to global companies.
Learn: How to become an effective data analyst. By the end of the course, you'll have a better understanding of descriptive statistics, Power BI, data visualizations, and query reports.
Includes: 14 weeks' learning with 3-5 study hours per week, course certificate upon completion, self-paced learning, and final assessment.
Best for: This course is suited to learners who are new to data analysis but have some knowledge of Excel. Labeled as 'Intermediate', this course assumes a basic understanding of Excel formulas and cell references, and is targeted to those looking to advance their careers in data analysis.
Top Microcredential courses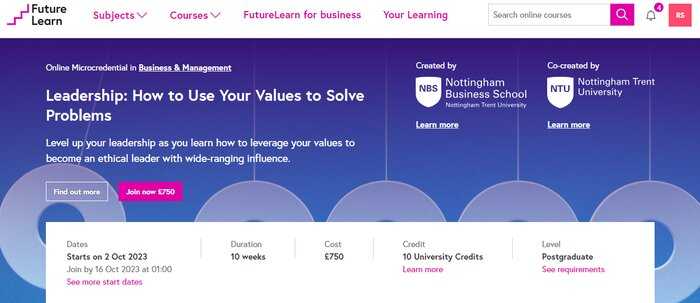 Leadership: How to Use Your Values to Solve Problems | Microcredential Course
Instructor: This microcredential course is led by leadership experts Elmé Vivier, Chris Bradshaw, and Mollie Painter. With academic backgrounds in business ethics and philosophy, they bring a refreshing take on what ethical leadership means.
Learn: How to solve ethical and organizational issues without compromising your values. You'll gain a fuller understanding of how to analyze and solve ethical risks and build a collaborative organizational culture.
Includes: 10 weeks' learning, 10 university credits (which can go toward an online degree), project-based assessments, and a professional credential.
Best for: Graduate students or anyone with a minimum five years' leadership experience. Understandably, this course requires a strong interest in the course subject and, preferably, proficiency in the English language (IELTS 6.5 or equivalent).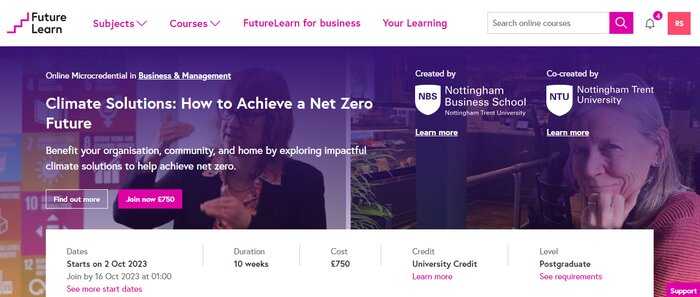 Climate Solutions for a Net Zero Future | Microcredential Course
Instructor: This Climate Solutions course is delivered by Chris Bradshaw, Petra Molthan-Hill, and Fiona Winfield. Dr. Molthan-Hill is an award-winning expert for Climate Change Mitigation Tools, and Winfield is co-author of 'The Handbook of Carbon Management'.
Learn: To develop your climate literacy and gain key skills in climate leadership. By the end of the course, you'll have sufficient knowledge to make a positive impact in your own organization and to even apply to one of many green jobs.
Includes: 10 weeks' learning, 10 Level 7 university credits, project-based assessments, professional credential.
Best for: The only requirement for this course is to have an interest in climate solutions. Many of the solutions in this course are also transferable from professional to personal life.
Top online degree courses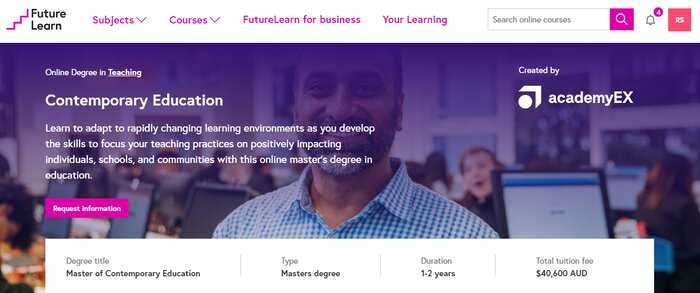 Contemporary Education | Online degree
Instructor: Various instructors at academyEX, which is dedicated to delivering world-class education to tackle real-world challenges.
Learn: How to adapt to rapidly-changing learning environments to deliver the best learning possible to a range of students. You'll learn to advance your digital fluency and leave a lasting impression on future students.
Includes: 1-2 years' learning, Masters degree upon completion, fully online learning, virtual study groups, library access, and feedback from educators.
Best for: Students who have completed an undergraduate degree (or a Diploma in Education). This course is fully in English, so an IELTS band score of 6.5 or equivalent is desirable. All prospective students will also go through the standard interview process.

The Global MBA | Online degree
Instructor: Various expert academics from Ducere Global Business School. Ducere partners with major universities across four continents to deliver impactful real-world learning.
Learn: To develop your skills in international business management. You'll gain exclusive insights from business innovators and partake in project-focused learning.
Includes: 12 months' learning, Global MBA (Masters degree), fully online learning, assignments, educator feedback, library access, and online discussions.
Best for: Those with 3+ years' management experience or a Bachelor's degree from an accredited university. This course is also fully in English, so if this is not your first language, you may have to provide an IELTS.
Who are FutureLearn's instructors?
FutureLearn courses are designed in partnership with some of the world's top universities and organizations. As such, its educators are experts in their fields.
These include:
Published authors and professional researchers
Academics from high-ranking colleges and institutions
Senior professionals with a passion for teaching
Experts who want to extend their business outreach
How I reviewed FutureLearn
To write this review, I've spent a lot of time exploring FutureLearn and taking various types of courses. Along with this, I've also looked into other people's opinions of the site to gain a better idea of what works (and what doesn't).
To get a more rounded picture, I chose a range of subjects from those I was familiar with, to those I was unfamiliar with. I also considered the production values, overall course quality, and how well 'beginner-friendly' courses held up.
What I liked about FutureLearn
Learn from prestigious institutions
With FutureLearn, you have the opportunity to learn from the likes of UCL, University of California, and Deakin University.
Not to mention, FutureLearn also partners with specialist organizations as well as colleges, including Bloomsbury Publishing, Cambridge University Press, and The Excel Club.
So, the chance to learn from top universities and global organizations is a sure-fire way to accelerate your career and take steps toward making a real-world impact.
Free limited course access
Many of FutureLearn's short courses (and even some of their online degrees) offer free taster classes in a given subject. For most short courses, you can access the entire course for a limited time.
The catch? Unfortunately, with this option, you can't receive an accreditation or end-of-course certificate. But, you can still try out a range of subjects.
And, if you find that a particular course has been worth your while, you can also upgrade at any time for unlimited course access and an end-of-course certificate upon passing.
Physical and digital certificates
Depending on which payment option you go for, you'll receive a physical/digital end-of-course certificate.
Some of these are accredited (the course landing page will confirm this) and you can showcase these to employers.
Unlimited upgrade available
With the option to upgrade to unlimited learning, you gain lifetime access to a particular course. So, unlike the limited option which stays active only for the course duration, unlimited means you can learn at your own pace and visit the course content as many times as you want.
Mixed media learning
While online learning can seem restrictive to some, FutureLearn recognizes its online potential and does its best to cater to a range of learning styles.
With this in mind, any given course will offer a mixture of videos, reading, quizzes, project-based learning, discussions, and assessments. This means that you engage actively with the course material rather than reading/listening passively through the screen.
Open discussion with teachers and learners
Online discussion forums are a great way to cement learning and to clarify anything you're uncertain about.
While online learning lacks the 1-1 tuition that benefits in-person learning, FutureLearn's discussion forums do their best to bridge this gap and ensure 24/7 live support throughout your course.
What could be improved
Limited selection of free courses
While there's a generous amount of free courses on FutureLearn, these tend to be restricted to shorter courses. For example, with ExpertTracks, there is no free limited option.
So, if you're looking to take a shorter course without a certificate, or want to give a few longer courses a 'sample viewing', FutureLearn is a great option. However, you won't be able to gain free certifications or take longer pathway courses.
Certificate only available with upgrade
As above, there is no way to gain a free certification on FutureLearn. To receive a physical or digital certificate, you must either purchase the course or subscribe to FutureLearn.
Test layouts can be confusing
With assessments fully online, FutureLearn sometimes struggles to lay out its tests in the clearest way for students.
While the negative reviews were few and far between, some negative comments I found usually regarded confusing test layouts, with some questions being unclear or without an easy answer.
Who FutureLearn is for
With the kinds of courses on offer, FutureLearn targets a range of students across all disciplines. But, to give you an idea, here are the kinds of people who would best benefit from the platform:
Anyone looking to take an online degree to pursue their career (especially those who are unable to afford expensive college courses)
Those looking to try out a new hobby or language
Employers wanting to upskill their workforce through carefully curated courses
Anyone with an interested in the subjects FutureLearn offers (particularly those wanting to gain a certificate)
Finding great courses on FutureLearn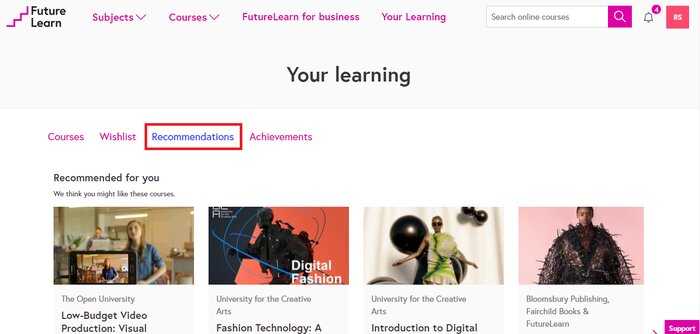 Because FutureLearn is such a modern platform, searching for courses is really easy and accessible. There's even a dedicated 'Your Learning' page, which stores your current courses, wishlist, and achievements.
Here are some ways you can find the best courses for you:
Search using the search bar in the top right corner or by subject
Choose a course type (i.e. online degree/short course) to see all available courses
Check out your course recommendations as you engage with the platform
View the top rated courses on FutureLearn's homepage
Is FutureLearn legit?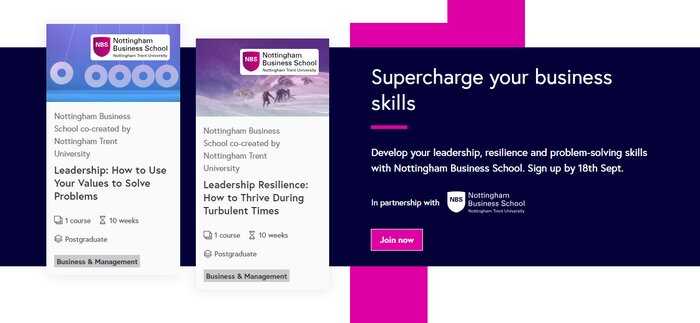 Having used FutureLearn for many years myself, and knowing others who have benefited from it, I can safely say that FutureLearn is legit.
With FutureLearn working in conjunction with the Open University, and providing college-accredited courses taught by expert educators, the platform has quickly become one of the leading online learning platforms out there.
FutureLearn also boasts largely positive reviews from over 18 million students in 140+ countries, and has plans to develop its educational programs even further. In 2019, it also won an EdTechXGlobal Scale-Up award in recognition of its global outreach.
FutureLearn alternatives
While FutureLearn is an ever-growing platform with an impressive array of subjects and partnerships, it's far from being alone in the world of e-learning.
One of FutureLearn's closest competitors is Coursera. This platform also partners with top institutions like Yale and Stanford, and boasts an impressive 92 million learners. It also offers more courses, with its current count at over 7,000 programs.
That being said, Coursera's pricing can sometimes be confusing, and it tends to work out a lot more expensive than FutureLearn – even for its short courses. It also only offers a 7-day free trial period. In contrast, FutureLearn offers limited access for its short courses for the duration of its run.
If you are looking for a more wallet-friendly option, Udemy also allows for individual course purchases – some of which work out cheaper than FutureLearn. The main downside is that courses vary in quality, and these aren't college-accredited.
So, before committing to a particular course or platform, it's worth looking into what you want to get out of your commitment. For example, if you're looking for a college accreditation, a platform like FutureLearn is more suitable than, say, Udemy.
Likewise, if you're on a budget, a platform like Coursera might not be the most accessible.
FutureLearn: what others have said
My aim here is to present the most unbiased review of FutureLearn out there, so I've considered differing students' opinions, as well as my own.
To find these out, I searched not only FutureLearn itself, but other forums such as Reddit, to get a feel for what people really thought about the site.
Generally, people felt positively about FutureLearn. Because of the free limited option, and even free taster samples for longer courses/degrees, I think this minimizes the risk of dissatisfaction as you can try before you buy.
That being said, not everyone had a shining review of FutureLearn. But, a lot of the complaints seemed to be geared toward customer service rather than the course providers themselves:
'I am disappointed by the poor customer service I have experienced after reaching out to support twice regarding an issue I am facing with a course on their website. Despite my attempts to communicate, I have not received any response from them, which is quite frustrating' – Comment from TrustPilot
While I didn't come across too many comments like this, it does look like the customer service aspect of FutureLearn could be improved – especially when students are paying considerable money for their courses.
And, for others, the concept of 'free courses' seemed misleading given you have to pay for certificates:
'Incredibly misleading website with so-called "free courses." Just reached the end of the Effective Fundraising course to be told if I want to take the rest and earn a certificate I have to "buy" a course which is advertised as being "free"' – Comment from TrustPilot
Personally, I can't say I agree with this statement. This is because FutureLearn clearly advertises on its website which features come with which subscription. For instance, the 'free limited access' option clearly states that there is no end-of-course certificate included, and that you must upgrade for this.
So, I think there has to be some degree of research before committing to a FutureLearn course. And, hopefully, if you've been through this review, you have a clearer idea of what is and isn't included with the free option!
That being said, students were largely satisfied with their FutureLearn experiences, and have even taken their learning beyond single-course purchases:
'I'm a big fan of FutureLearn. I must have done over ten courses since signing up a few years ago. Many different and highly diverse topics too. I do them for pleasure. There's an occasional career boost but pleasure is key' – Comment from TrustPilot
'I was on an employment related course through my workplace, and couldn't grasp a basic part of it, but looking at a course from FutureLearn explained it in a different way, and made it clearer' – Comment from Reddit
'I've done a wide variety of courses on it and found it brilliant. Some I've paid for to get unlimited access and a certificate, others I've just done free. Would definitely recommend it' – Comment from Reddit
Evaluating FutureLearn
Features: 2,000+ courses in 10+ categories, partnering with 250+ colleges and institutions worldwide. Short courses offer free limited access with an upgrade option, and you also have the chance to earn full degrees or university credits.
Content quality: FutureLearn's courses are made in partnership with leading industry professionals and tend to feature multimedia content such as videos, reading, quizzes, project-based assessments, and more. You can also partake in discussion forums with other students and your instructors.
Content breadth: Subjects range from arts & humanities, languages, and technology, from short hobbyist courses through to postgraduate degrees. Disciplines vary from vocational to academic but there tends to be a strong academic slant to most courses.
Teachers: FutureLearn's instructors are expert educators from leading colleges or global organizations. Many have PhDs and/or are published researchers and writers in their fields.
Supporting materials: Most courses will offer additional resources such as articles and documents to study outside of class time.
Payments and refunds: Shorter courses offer free limited access, with a one-course-upgrade averaging $125 (includes test and certificate). A subscription is around $321/year ($26/month) for the annual option, and ExpertTracks/degrees are individually priced. You can request a refund within 14 days of purchase.
Support: You can access all-round support through FutureLearn's Help Center here.
How to open a FutureLearn account
Opening a FutureLearn account couldn't be simpler. All you need to do is click the 'Register' button in the top right corner of the page and enter your details to create a free profile.
You can also register using Facebook or Google to speed up the registration process.

Is FutureLearn worth it?
To answer that question, you need to consider what you want to get out of FutureLearn.
If you're looking to gain a career boost, obtain a new academic qualification, or pursue a hobby, these are all pathways that FutureLearn can help with.
So, if you're testing the waters and want to make sure a course is right for you before paying, FutureLearn's free limited option is a fantastic way to access most of the course material without long-term commitment.
At the same time, many of FutureLearn's longer courses are accredited, so as long as you're willing to put in the work, you will come out of it with a course certificate and valid university credits (and, of course, there's the option to obtain online degrees).
While there are a range of vocational subjects on offer (I personally enjoyed the arts and animation courses for fun), the majority of FutureLearn's work goes into making the best academic courses for real-world learning.
So, if this sounds like something you're interested in, FutureLearn is definitely for you. And, as many students concede, it's a great way to invest in yourself even if you're hesitant about more expensive course options that you might find on, say, Coursera.
Either way, with plenty of free sample material and even entirely free courses, there's little to lose and a whole lot to gain by checking out FutureLearn.
Related article: Learning Tree Review, Springboard review, best Tableau courses
FutureLearn frequently asked questions
How much does FutureLearn cost?
FutureLearn ranges from free limited access to $20,000+ for its online degrees! It all depends on the course type on offer.
Does FutureLearn have a refund policy?
Yes, FutureLearn has a 14-day refund policy for its purchases and subscriptions.
How many courses are there on FutureLearn?
Currently, just over 2,000.
Does FutureLearn have a free trial?
With FutureLearn's ExpertTrack courses, you get a 7-day free trial period and can cancel at any time. For shorter courses, you can take the course free of charge (with limited access) but there's no end-of-course certificate. Microcredentials and online degrees are paid-only, but you can sample some course content before you buy.
Does FutureLearn give certificates?
Yes, FutureLearn awards certificates to anyone who passes their course (paid options only). Some of these are also university-accredited, and the course landing page will clarify this.
What languages is FutureLearn available in?
Currently, FutureLearn is only available in English and requires an IELTS band score of 6.5 or equivalent.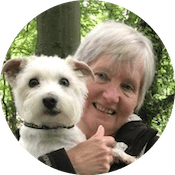 Liz Hurley has 30+ years of high school teaching experience and is one of our senior writers here at Learnopoly.