Getting your skills and mindset future-ready is one of the best ways you can get ahead at work. And we all know the future is tech. But how can you refine your toolset and upskill in the areas that would help you most? Great Learning (or MyGreatLearning) is an online learning platform that can help you with doing just that. 
Great Learning provides a variety of opportunities from some of the best universities in the US, covering all things tech. Individuals and businesses alike can benefit from these flexible, competitively priced, certified courses to get up-to-date and in-demand tech skills.
Sounds good, right? But what makes Great Learning a good option for you? And can it deliver what it promises?
I've put together this review of Great Learning to answer these questions and more, giving you everything you need to know if you're considering upskilling through this platform. Read on to see what I found out.
.
Quick summary
Features
Great Learning has more than 1000 courses for you to choose from, covering nine essential data and technology subjects
This platform provides teaching from some of the best learning institutions in the world, including MIT Professional Education, Stanford Business, Texas McCombs, Microsoft Azure and more
Every course taken on Great Learning comes with a certificate to add to your resume and help you drive your career forward
Students on this platform benefit from live and pre-recorded webinars from professors and 1:1 mentorship from industry experts
Courses are really flexible, self-paced, and designed to fit into your life
You can join more than nine million Great Learning alumni who make up a world-wide community of learners, and provide great networking opportunities
Pros
Incredibly diverse courses are available on Great Learning, catering to a variety of needs, from beginner learners to IT professionals, those looking for a quick bootcamp and those after an intense degree-level course
This platform has an enormous global reach, to learners in 170+ countries, with an impressive alumni network of more than nine million learners
Great Learning has partnerships with a wide range of academic institutions and learning programs, so you know you'll receive a great quality education
Cons
Rigorous courses can be hard to complete within the suggested time commitment – although you'll get out as much as you put in
Some users have found the sales and admin tactics of the platform a little pushy
Best for: This platform would be best for working professionals who want to become tech-proficient, and future-proof their role. But because what the platform offers is so broad, I think that anyone looking for a new tech toolkit would benefit from learning with Great Learning.
Cost: Check here for latest prices
Overall: Great Learning is an exciting way to gain essential technology and data knowledge. Through this platform, you can upskill your way into a career transition, or simply future-proof your role by keeping up with this fast-moving industry. Anyone can find something exciting to learn on Great Learning, choosing from the massive range of skills and opportunities it has to offer.
My detailed review of Great Learning will cover:
What is Great Learning?
How does Great Learning work?
Great Learning costs and free trials
What a Great Learning lesson is like, and its best courses
Great Learning for business
Who are Great Learning's instructors?
How I reviewed Great Learning, what I liked, and what could be better
Who is Great Learning for?
Is Great Learning legit?
Great Learning's refund policy
Great Learning alternatives, and what others have said
Is Great Learning worth it?
FAQs
So with that, let's get started!
What is Great Learning?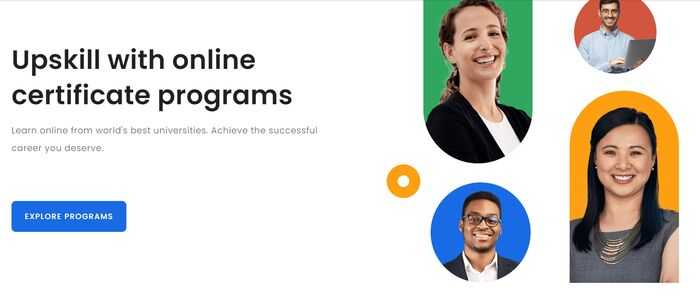 Great Learning is one of the top edtech platforms in the world, offering an impressive range of courses, qualifications, and subjects.
Based in India and founded in 2013, it quickly became the country's leading provider for online professional and higher education. Still thriving now in 2023, it has expanded across the globe. Great Learning has supported over nine million learners across 170+ countries.
The platform's partnerships with big-name universities in the US, including Stanford Business, MIT Professional Education, Texas McCombs and the University of Arizona, is testament to its global reach and prestigious learning opportunities.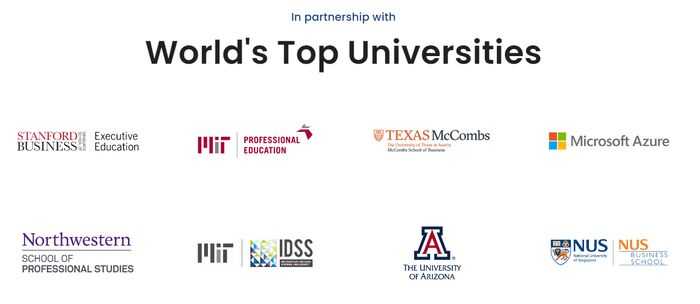 Great Learning's mission is to future-proof your skill set by providing essential tech and data knowledge, keeping up to date with the latest developments in the field. Supported by the course's meticulously designed curriculum, expert tutors, and career support advisors, Great Learning is designed to help you to develop personally and professionally. 
How does Great Learning work?
Great Learning is a middle-man site, linking you to fantastic opportunities with international universities and providing support and guidance along the way, at competitive prices and with flexible learning structures.
Each course is priced individually based on its duration, content, and provider. But with every course, you gain access to Great Learning's enormous alumni community (of more than nine million learners), networking opportunities, and the site's career coaching programs.
Great Learning focuses exclusively on getting you tech-proficient, but within that umbrella category, has detailed programs covering a wide range of topics. This includes:
Data science and Business analytics
AI and Machine Learning
Management
Cloud Computing
Cyber Security
Software Development
Digital Marketing
Design Thinking
Courses are put together by the university or institute provider, which also craft specific curriculums and deliver live and pre-recorded webinars from its faculty members. Additionally, Great Learning has a large range of tutors, mostly working professionals and some from such well-known tech companies as Apple, Meta, and Amazon, who support your learning journey. Lessons are optimized to provide you with practical experience to get you industry-ready. 
How much does Great Learning cost?
Because of the varied selection of courses that Great Learning has on offer, and their diverse duration, delivery structure, and intensity, the cost is disclosed on the basis of each individual program.
One of the biggest factors affecting a program's cost on Great Learning is the accreditation it provides. For every subject, available courses include topic introductions, short programs, bootcamps, and even master's degree qualifications and MBAs (Masters of Business Administration). These last between four months and two years, and prices vary accordingly.
The cost of the different courses is also determined by whether lessons are delivered online with live webinars, in person on campus, or as a hybrid course, with elements of both.
To give you an idea, one of the most popular topics Great Learning covers is data science, which includes regular programs of three to nine months duration priced between $2200-$3900, and masters courses lasting one or two years, costing $7500-$13,000.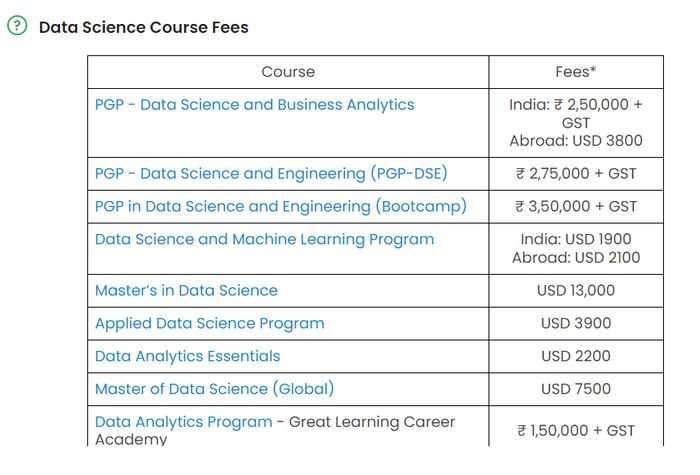 While this may seem pricey, this is a highly competitive price range compared with other tech courses out there, and great value for money considering the life-long skills and accreditation the courses provide.
Great Learning also offers discounts for early or upfront payments, and for course referrals. Check the details of the course you're interested in to find out more. 
Great Learning Free Trial
One massive benefit of learning on this platform is the free content it has on offer. Through the Great Learning Academy initiative, 1000+ courses are available to be taken by anyone, completely for free.
More than five million users have already benefited from studying a free course with Great Learning Academy. This is a fantastic way to get a taster of this platform's teaching style, identify which topics interest you, and find out what will help you reach your career goals.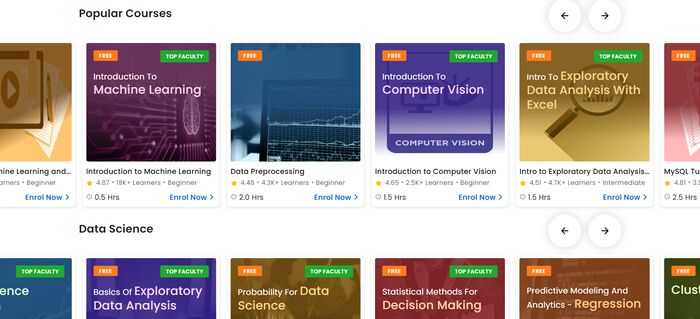 What a lesson is like
As each course is uniquely designed by the academic institution which provides it, lesson structures can vary. However, Great Learning ensures that every course includes videos and live virtual sessions with members of the course faculty, and working experts in the field.
Undertaking the course with a cohort of like-minded learners means you'll always have peer discussions and class forums available to help. Plus, you'll work in teams and individually to gain practical experience through industry-standard projects.
Throughout your learning program, you'll have one-on-one mentoring sessions, support from a coordination manager, and career support services included in your course. Career support comes in the form of 1:1 mentoring sessions, a CV and Linkedin profile review, networking opportunities, and hackathons and projects which contribute to your industry-ready portfolio.
A massive plus of Great Learning's teaching structure is that every course is self-paced, and highly flexible, designed to perfectly fit into your already busy working life while enabling you to upskill and future-proof your role.  
Best Great Learning Classes
Some of the most popular courses on Great Learning include:
PostGraduate Program in AI and Machine Learning (Texas MCCombs)
Applied Data Science Program (MIT Professional Education)
No Code AI and Machine Learning: Building Data Science Solutions (MIT Professional Education)
PostGraduate Program in Data Science and Business Analytics (Texas McCombs)
MIT Data Science and Machine Learning Program (MIT Massachusetts Institute of Technology)
But the best Great Learning class for you will depend entirely on what you're interested in, and which skill you're looking to develop.
To help you discover what's out there, I've highlighted each of the platform's top classes by category.
All of the courses are taught by the faculty of the program provider, and by a highly experienced team of industry practitioners who work at companies like Apple, Meta, and Amazon. 
Data Science and Business Analytics
Applied Data Science Program: Leveraging AI for Effective Decision-Making (MIT Professional Education). In this course, you'll learn everything from Python and statistical data analysis to finding practical business solutions using recommendation engines. This option would be great for working professionals looking to upskill into tech.
Post Graduate Program in Data Science and Business Analytics (Texas McCombs). This course will take you from totally clueless about data science to familiar and comfortable with the tech. You'll go through the foundations, learn techniques, get to grips with Python and Tableau, learn through domain exposure, and get career coaching. A great class for total beginners.
AI & Machine Learning

No Code AI and Machine Learning: Building Data Science Solutions (MIT Professional Education). Provides a fantastic introduction to data science without any requirement to code, by teaching you tools like Rapid Miner, Ikigai, Dataiku and KNIME. This is a fantastic course for those who don't want to learn coding languages or use a ton of math, but still want to learn about AI and Machine Learning.
Generative AI for Business with Microsoft Azure OpenAI. This Microsoft Azure course will teach you all about Generative AI, how to use it for business applications, and some of its technical details. This is great for the more scientifically-minded learners who want to apply their knowledge to achieve best business practices.
Management
NUS Business School Future Leaders Programme. Teaching you all of the hard and soft skills that make for a great leader, this program aims to make you the best manager you can be. From self awareness and motivation, to decision making and managing stakeholders, this is a great course for anyone who wants to figure out how to take on their dream leadership position.
Executive Post Graduate Program in Management (Great Lakes Executive Learning). This course covers all of the basics of management, plus allows you to specialize in marketing, data science, operations, finance, and human resources, depending on your interest. This is a broad-ranging and in-depth management course perfect for working professionals.
Cloud Computing
Build Your Career Skill Set with Cloud Computing (Texas McCombs). This valuable program will give you a comprehensive understanding of the 'Cloud Ecosystem', encompassing Amazon Web Services, Windows Azure, and Google Cloud Platform. It will also cover languages and tools like Python, Docker, Cassandra, and Terraform. This course is best suited to those with an understanding of IT Services Management and its operating systems.
AZ-900 Certification Microsoft Azure Fundamentals Training Program. Through this course from Microsoft Azure, you'll learn to describe cloud concepts, service models, storage and access management services, and gain a full understanding of Azure. This is a higher level program best suited to technology professionals who want a deeper understanding of cloud concepts.
Cyber Security
Post Graduate Program in CyberSecurity (Texas McCombs). Through this program, you'll have the opportunity to learn all about cyber attacks, security, information storage and more, and develop a skill set which is highly sought-after in the growing tech industry. This course is great for those looking to build a career in cybersecurity, or grow as a leader in strategic roles.
CompTIA Security and Bootcamp. The modules on this course teach you everything you need to know about cybersecurity, covering: attacks, threats and vulnerabilities; architecture and design; implementation; operations and incident response; and governance risk and compliance. This is perfect for young professionals looking to work in the field, IT professionals who want to build their credibility, and cyber security professionals looking for cutting-edge information.

Software Development
Full Stack Software Development: Building Scalable Cloud Applications (Texas McCombs). This course promises to make you proficient in software development and building fully-functioning software solutions. You'll learn about front-end development and coding languages, databases, back-end development, and cloud deployment. This is a complex program designed to make you tech-savvy, and requires some prior knowledge of coding languages and IT.
Digital Marketing
Advanced Digital Marketing and Growth Strategies (Wharton University of Pennsylvania). This class focuses on the needs of a digital business and the strategies that enable effective growth. Taking you through the fundamentals of digital marketing and e-commerce, the customer-centric success model, marketing analytics, and applications of technology, this course is well suited to any working professionals or managers looking to transition into digital marketing.
Post Graduate Program in Strategic Digital Marketing (Great Lakes Executive Learning). Here you'll learn cutting-edge digital marketing skills and strategies to help you develop business solutions. Covering digital footprints, performance marketing, integrated digital marketing, and web analytics, this course is well suited to anyone who wants to become a knowledgeable digital marketer.
Design Thinking
Design Thinking: From Insights to Viability (Stanford Business). This comprehensive design thinking course takes you through every step of building a customer-oriented, market-viable project, and how to structure for innovation. It's recommended for all customer-centric roles, as well as entrepreneurs, product owners and designers, and business or strategy consultants.
Post Graduate Program in User Experience Design (Texas McCombs). Learn everything there is to know about user experience design, from fundamentals to testing, and add news tools to your kit, including Figma, Invision and Marvel, through this course. Great for someone looking to understand the details of user design and how they can apply it to their business practices.
Great Learning for business
This platform has a fantastic range of courses curated for businesses to build teams with digital skill sets through Great Learning Enterprise Solutions. These bespoke programs have options for all business training needs.
With custom training solutions covering topics within data, tech and management, and upskilling programs available for all job levels, from entry-level roles to management, there's something for everyone's business on Great Learning.
Contact the site to see how your business can collaborate with Great Learning to find training solutions. 
Who are the instructors?
Every course on Great Learning is designed in collaboration with a university or institution which provides a faculty. These are a group of highly experienced tutors and professors who are on call to guide you through your learning program.
On top of this, a dedicated team of industry experts from an impressive array of companies will give you 1:1 mentoring. And if that wasn't enough, Great Learning provides career advisors to get you to level-up your role or begin your career transition.
How I reviewed Great Learning
I did a deep-dive through Great Learning's website, checked out its thousands of reviews, looked at course brochures and descriptions, and researched tutor profiles. Then I gathered my thoughts on the platform into this review.
What I liked about Great Learning
Diverse courses on offer
Finding the course that's right for you has never been easier, as there is simply so much to choose from. Great Learning has options for every career goal, aspirational skill set, learning structure, budget, and starting point – from beginner to professional. This makes it a super accessible site.
Global reach with a massive alumni network
With more than nine million alumni around the world, and networking opportunities available for registered users, joining the Great Learning community will put you in touch with tons of like-minded learners.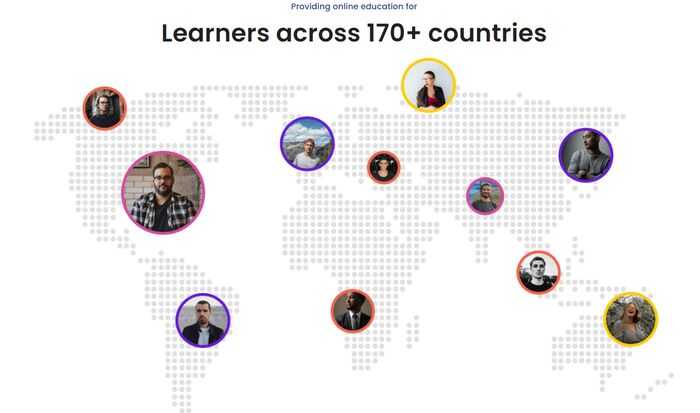 Course delivery partnerships with big-name institutions
With courses crafted and delivered by the likes of MIT Professional Education, Stanford Business, Texas McCombs, and Microsoft Azure, you know you'll be in good hands receiving guidance from renowned universities and educational institutions.
What could be improved
A lot of content covered in a short time
Within three to nine month courses, learners have to cover a lot of material. Some may find they need to spend longer than the eight to ten hours which the courses require on average. However, these programs are self-paced and flexible, meaning the commitment that you put in is equal to what you get out.
Trying to sell you the courses
There have been some issues reported with the course's administration and marketing techniques. Some users have found sales calls from the platform's representatives to be too pushy. However, others have had great experiences.
Who Great Learning is for
The fantastic thing about Great Learning is that it has courses for nearly everyone looking to upskill in tech. I think it would be especially great for:
Working professionals in diverse sectors who want to develop their tech skills and future-proof their roles
Businesses looking to build future-driven teams equipped in essential skills
Experienced tech industry professionals who want extra accreditations in other fields, such as cybersecurity or cloud computing
Young professionals who want to acquire fundamental knowledge when beginning a career in tech
Anyone who wants to gain valuable tech skills in diverse areas
Can I buy Great Learning as a gift?
Great Learning isn't currently available to be purchased as a gift.
Tips for finding great courses on Great Learning
Great Learning's user-friendly website will help you find the course you're looking for. You can choose to browse courses by domain – the category of tech skills you want to learn – or by degree – the course's accreditation level. And helpfully, if you're not sure what exactly you want to learn, you can explore 'popular programs', to find some of the best the platform has to offer.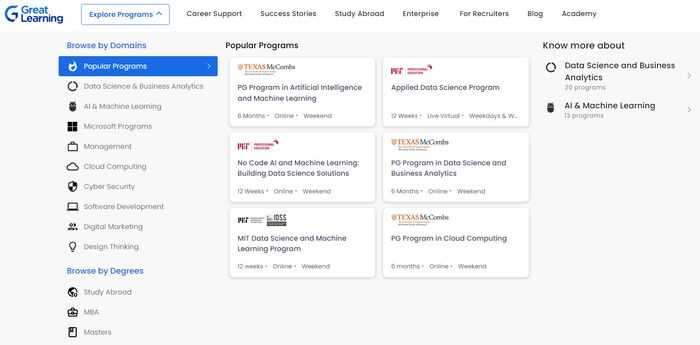 To find free tasters, head straight to the bottom of the home page to select 'All Free Courses' for short learning programs or 'Free Live Sessions' for access to free webinars on all things tech.
Is Great Learning legit?
With the number of alumni, learner testimonials, high-profile partnerships, and internet-wide reviews, Great Learning seems like a legit learning platform. Operating since 2013, the company has had some major media spotlight moments and received some of the highest learning company awards in its country of origin, India.

If that doesn't convince you, I can safely say that having explored the platform and what it has to offer, I think it's a great opportunity for anyone aspiring to learn new technology skills.
Great Learning refund
Great Learning offers a full refund of course and admission fees within 48 hours of enrollment. After that period, the admissions fee will no longer be refunded, but all course fees will be refunded if you cancel more than 4 weeks before the course's start date.

Following that, a percentage of the course fee can be refunded up to 24 hours before the course starts. Refunds are not available after the course has started.
Great Learning alternatives
If you're not sure that Great Learning is for you, there are other sites out there which provide similar learning opportunities.
edX is a fantastic platform which offers a massive range of tech courses, in partnership with big name universities like Oxford and Yale, on a similar basis to Great Learning. The big plus here is the enormous variety of programs available.
If you're a real beginner, a site like Udemy might have more accessible courses. Here, you can pay less to learn more basic elements of wider tech skills, like the coding language Python, before you begin down a longer or more expensive pathway. This is also a great option if you're looking to try out some new and different skills, without wanting to commit. 
Finally, Pluralsight is a great tech skills learning platform. It has short courses on highly specific elements of digital toolkits, and has great options for businesses looking to upskill their employees or teams. 
Great Learning reviews: what others have said
I wanted to give you a fair and balanced review of Great Learning, so I've searched online for what others have to say about their experiences of the platform.
Across the major education platform review sites, including TrustPilot, G2, Career Karma, and SwitchUp, Great Learning has received rave reviews, averaging 4.8/5 stars.
However, when I searched 'Great Learning reddit', I found some less favorable reviews of the site. For example, this user found their marketing tactics too aggressive as 'the sales person was too hard selling', and felt that the platform was money-grabbing.
Similarly, this person found Great Learning's customer services lacking, stating 'struggling to tolerate the GL [Great Learning] administration practices'. However, they went ahead with the course, and found things to praise, too, like the MIT professors that taught them.
Another reddit user found the topics too advanced for a beginner to comfortably learn, saying 'introductory is not the way I would describe it as it covers very advanced topics'. However, they were pleased that the module options meant they could choose simpler topics to study.
This final example had a really positive experience on Great Learning. They felt that they were getting good value for money with the multiple topics covered in one course, although they were surprised at the amount of work required. However, they were overall pleased with the pace and motivation of the course, which met their needs.
Overall, then, there are some mixed reviews of Great Learning out there, especially regarding their admin practices. But, those who took a course are generally pleased with their learning experience.
Evaluating Great Learning
Features: It's safe to say Great Learning has a lot on offer. In every course which is purchased, you'll get: recorded video lectures from renowned professors, live mentoring sessions with industry experts, practical modules, hands-on projects, a network of fellow students and alumni, career support, and a certificate of completion.
Content quality: Every program has a crafted curriculum and high-quality content from renowned academic institutions from around the world. You'll learn the basics of your topic and get some real insight into the tech industry and its key subjects.
Content breadth: Great Learning has more than one thousand courses available on its site, from free, short courses to multiple-year long masters degree programs. The categories are just as diverse, from digital marketing and management to software development and cloud computing.
Teachers: Every course provider has a faculty of professors which support students through their learning program, as well as expert industry mentors.
Supporting materials: All the resources required to complete the course are provided online, and all materials will be available for a further three years after graduation, for you to refer back to.
Payments and refunds: Prices vary depending on course qualifications and duration, but generally cost between $1,800 and $3,900. Full refunds are available for a limited time after purchase, and then a percentage of the course and admission fees are available depending on when it is requested.
Support: You can contact a member of the Great Learning team simply by going on their website and requesting a call. 
How to open a Great Learning account
Opening an account is straightforward when you purchase a course. If you're unsure, or want help deciding on which pathway is for you, you can contact the Great Learning team through their website, send them an email, or call.
Simply choose your course, arrange a call with an adviser, fill out the admissions sheet, and enroll in your program.
Is Great Learning worth it?
Great Learning is a great option if you want to start down a new tech skills path and get great benefits. The number of courses available and the impressive partnerships the site has with top universities and academic institutions in the US is a great plus.
If you're unsure about learning brand new digital and data-driven skills, you might want to explore other learning opportunities that are less intensive and more beginner-friendly. Especially as Great Learning has a stricter refund policy than some other platforms.
However, Great Learning is a really good option if you want to take an intensive course to upskill into different fields of tech. And it has fantastic opportunities to create bespoke business solutions for upskilling working teams. 
Great Learning is dedicated to providing working professionals with future-minded skills like tech proficiency. And every course gets you a certificate to add to your resume. This platform provides exciting opportunities for forward-thinking individuals to upskill into new digital toolkits. 
Great Learning frequently asked questions 
How much does Great Learning cost? 
Each course varies depending on its level and duration. Generally, courses cost between $1,800 and $3,900. 
Does Great Learning have a refund policy?
Yes, full refunds are available for a limited time after purchase, and then a percentage of the course and admission fees are available depending on when it is requested.
How many courses are there?
There are more than 1000 courses available on Great Learning. 
Does Great Learning have a free trial?
This platform has a fantastic selection of short, free courses, available through the Great Learning Academy initiative.
Does Great Learning give certificates?
Yes, a certificate is provided for every program completed on Great Learning, including free courses.  
What languages is Great Learning available in?
Great Learning is available in English.
Maddy is a current King's College London student, going into her final year reading Spanish with English BA Hons. She loves to write, learn, and share knowledge.