With 64+ million students and 210,000+ courses in 75+ languages, Udemy is one of the most popular and well-regarded learning sites out there. The platform is renowned both for its great value as well as its generous sales and promos.
And the great news is, that for a limited time only, Udemy is having its BIGGEST EVER ever Black Friday and Cyber Monday sale.
So, let me outline what's on offer so you can take advantage of this Udemy discount before it expires.
What is the Udemy Black Friday & Cyber Monday discount deal?
The Udemy Black Friday & Cyber Monday deal is:
Until midnight (EST) on November 27th get 80% OFF Udemy courses
How to get the Udemy Black Friday & Cyber Monday Deal
Redeeming your Udemy Black Friday discount code is easy. Just follow these steps:
STEP 1: Head on over to Udemy using any of our links
STEP 2: Click on Sign up in the top right corner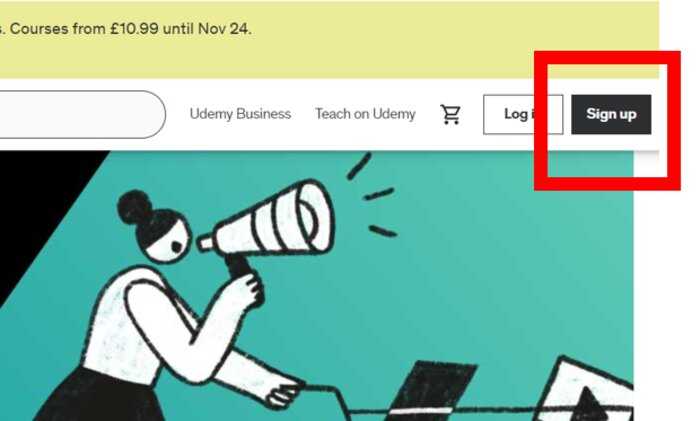 STEP 3: Provide your details and a password, then click Sign Up to confirm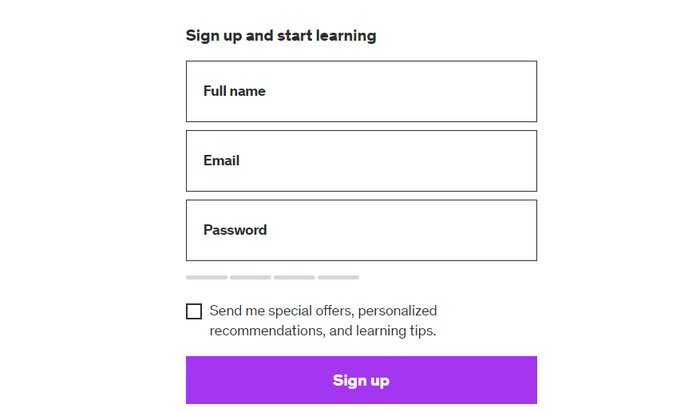 STEP 4: Provide payment details and enter code BFCP23 at check out
Udemy Black Friday discount eligibility
Eligibility criteria can vary between deals, but generally you must:
Apply within the time frame if there is an expiry date
Provide valid payment details
Is the Udemy Black Friday & Cyber Monday discount a good deal?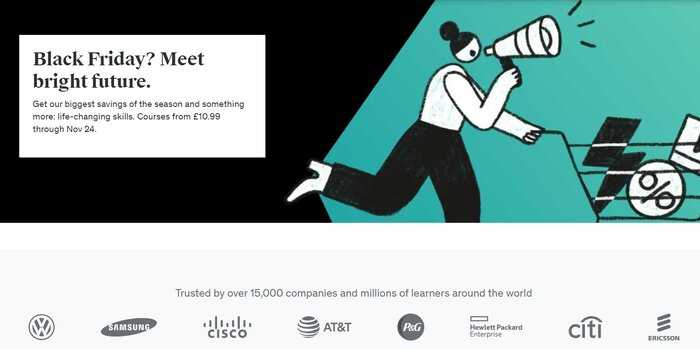 Often prices are hiked ahead of time so you think you are getting a good deal when you're not.
This is not the case with Udemy. Though it frequently offers discounts, this site wide Black Friday 80% offer is the most generous one ever.
About Udemy
Udemy was launched in 2009 with a mission to improve life through learning.
It gives everyone the opportunity to create and offer quality online courses on its platform.
It now has over 64 million registered users and offers 210,000+ courses across 13 categories. Udemy is an all round provider and offers courses in both professional and personal development.
It is the largest Ed Tech company of its kind and 80% of Fortune 100 companies trust Udemy for employee upskilling including Apple, Unicef, PayPal, Accenture, Samsung and Unilever.
You can buy courses singly on Udemy or purchase a subscription called the Personal Plan. This gives you unlimited access to a curated collection of 10,500+ top courses for as long as your subscription is active.
For a more in-depth look at Udemy you can check out our aritcles Udemy review, Udemy Cost and Udemy Sales
Udemy advantages
Comprehensive range of courses – Perhaps the most striking pro of Udemy is its range. So, whilst there are many platforms offering piano lessons, because of the sheer number of courses on Udemy you are much more likely to find one that caters specifically to what you're interested in. Plus the range of courses allows for an equally great range of teaching styles. So, if you prefer to learn practically with tasks or by video and text; if you like getting into the specific theory of a topic, or if you're just looking for a crash course, the choice is there.
Reasonably priced with constant sales, deals and promotions
Passionate instructors with many high profile contributors One of the first things the site asks you on the homepage is whether you are there to learn or to teach. So, that option of sharing knowledge is clearly open to anyone with a passion for a particular skill. However, this doesn't mean that Udemy teachers are lacking in accreditations or experience. In fact, there are many high-achieving Udemy instructors, including Rob Percival, Jose Portilla and Phil Ebiner. In most instructors are highly qualified individuals with years of experience both practicing and teaching whatever skill they want to share with you.
Teaches skills that equip you for the changing nature of work as well as offering many creative and fun courses too. Though the majority of Udemy's courses are work or industry related – there are thousands of creative and fun courses so it can act as a one stop shop for all your learning needs.
Most popular Udemy courses
Udemy is one of the most subscribed to and recognised e-learning sites out there, so loads of their courses are regarded as top in their field.
Here's my list of the most popular Udemy courses:
Complete Python Bootcamp: From Zero To Hero In Python (1,800,000+ students) – features #2 in our best Python courses review
Microsoft Excel – Excel From Beginner To Advanced (1,377,000+ students) – #1 in our best Excel course review
Machine Learning A-Z – AI, Python and R, + ChatGPT Bonus [2023] (987,000+ students)
The Web Developer Bootcamp (833,000+ students)
The Complete Digital Marketing Course: 12 Courses In 1 (766,000+ students)
For more details and mini reviews of these popular Udemy courses check out our best Udemy Courses article.
Other offers/Black Friday deals/Cyber Monday deals
You can see our general round up of all Black Friday Deals here.
Or check them out individually:
Conclusion
The Udemy Black Friday discount offer is a great deal because:
Udemy offers a huge range of courses in just about anything you can imagine. From coding to performing magic tricks and everything in between
Though Udemy often has sales, this sitewide deal is its mos generous ever
The offer is rare and easy to redeem
The platform delivers on its promises to a high standard and is worth it at full cost, yet, this offer gives you massive savings
So what are you waiting for?
Udemy Black Friday and Cyber Monday Discount – FAQ
What is the Udemy Black Friday discount deal offer?
The Udemy Black Friday and Cyber Monday discount offer is 80% off its courses, sitewide
When does Udemy's Black Friday and Cyber Monday deal end?
The deal ends at midnight on November 27th (EST)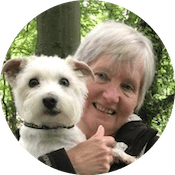 Liz Hurley has 30+ years of high school teaching experience and is one of our senior writers here at Learnopoly.