Excel is one of the most popular and widely used tools in companies and workplaces. Both across disciplines and across the world.
Being able to master Excel is a key skill in any 21st-century environment. As a result, there are thousands of online courses dedicated to helping you become an Excel pro.
But how do you know which course is right for you?
To help, we've put together this article on the top ten best Microsoft Excel courses online.
This list includes Microsoft Excel courses aimed at all skill levels and interests, and we'll be discussing their pros, the costs, how long it takes and so much more.
So, let's get started.
What is the best Microsoft Excel Course?
These are our top Microsoft Office Course recommendations:
Microsoft Excel – Excel From Beginner to Advanced is our number one choice.
This is because it includes a massive range of content that covers all things Excel and is structured in such a way that you'll rapidly but comprehensively increase your skill level.
With over a million students it's one of the most popular and acclaimed courses out there, and using Udemy means you purchase individual courses, which are almost always on sale so you can purchase them for a much cheaper price.
The reception for this course has been overwhelmingly positive, with an average rating of 4.7 out of a possible 5 stars from over 300,000 reviews.
If you're looking for something shorter and more foundational, we recommend LinkedIn Learning's Excel Essential Training.
This is a much briefer course focused on getting you familiar with the basic ins and outs of Excel.
LinkedIn is also renowned for being the Facebook of the business world, so you'll be getting an education that will increase your skills and look glowing on your CV.
Finally, if cost is a concern for you, Analyzing Data With Excel, offered by EdX in partnership with IBM is a course on this list that you can take without paying a thing.
However, we've chosen all of these courses because they have some kind of unique strength and appeal to different types of learners and different abilities when it comes to using Excel.
Keep reading to find out which course is right for you.
Best free Microsoft Excel Course
As I mentioned above, EdX's Analyzing Data With Excel is a course that you can take without paying a dime.
All you need to do is sign up with edX and you get access to all the course content.
This is especially amazing as edX works in partnership with a range of business and educational institutions, including Harvard, MIT and, in this case, IBM.
However, there are a couple of things to consider.
First, edX courses are only available for free for so long. Courses will be archived after a specified period, so you need to make you check the expiry date on the course.
Also, part of the appeal of edX is the certificate you get which is often accredited by their partner institutions. However, you will have to pay for this. The Paid track will also include other features like assessments and additional materials.
Best Microsoft Excel reviews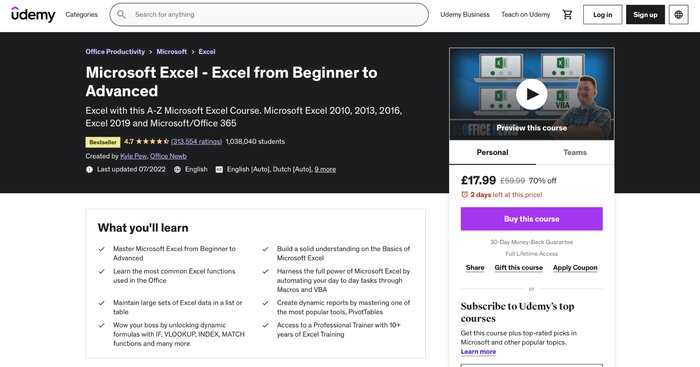 Platform: Udemy | Teacher(s): Kyle Pew | Length: 21 hours of on-demand video.
Our number one course is one of the most acclaimed, renowned and popular Excel courses online. It occupies the top spot because it ticks all the boxes of a top online course.
Hours and hours of step-by-step content are included here, all taught by a Microsoft Certified instructor. You'll be using functions in Excel like an absolute pro by the end of this course.
What you will learn:
Creating effective spreadsheets
How to manage large sets of data
Excel's most popular and useful functions
Making reports with Excel pivot tables
PowerPivot
Ensuring clean formulas
Automating excel tasks with Macros and VBA
Pros:
A widely acclaimed and certified instructor
Carefully designed and curated lesson content
Aimed to help you comprehensively improve
Gives you foundational knowledge
A range of additional materials
Certificate of completion
Cons:
You might need some prior knowledge when it comes to tackling the VBA sections
Who it's for: The name beginner to advanced indicates that no prior knowledge is required for this course, so it's for absolute beginners. However, you are free to jump to whatever section you want, so more intermediate and advanced users may also gain something.
Overall: This course has everything you could want from an Excel course. The instructor is well qualified and has a strong command of the software, but he also explains everything in-depth and step-by-step. You'll progress rapidly from using Excel casually (or not really knowing about it at all), to mastering its functions and making your data organization and management easier.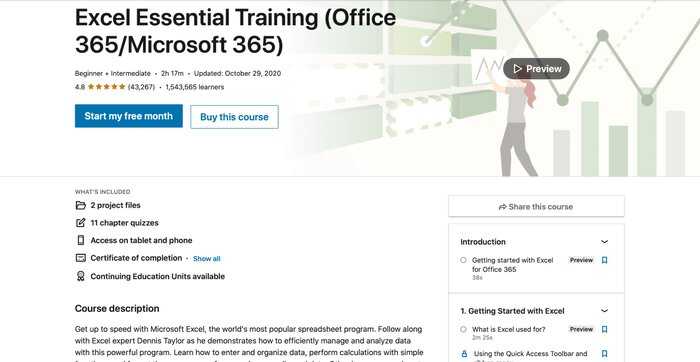 Platform: LinkedIn Learning | Teacher(s): Dennis Taylor | Length: 2 hours and 17 minutes.
From a course with over 21 hours of teaching to one with 2 hours and 17 minutes, our second course is for anyone looking for a quick, but a descriptive and foundational introduction to Excel.
LinkedIn Learning is a platform associated with the Facebook of business and perhaps the go-to site of networking in the 21st century. So you can expect its educational wing to focus on developing essential workplace skills.
As Excel is one of the most popular software for data management and analysis, it makes sense for this to be covered by LinkedIn Learning.
What you will learn:
Using the quick access toolbar
Using the ribbon menu
Shortcut menus
The mini toolbar
Entering data
Formulas and functions
Formatting
Adjusting worksheet layout
Printing
Charts
Adjusting worksheet views
Workbook
Data management features
Pros:
Well explained and taught
Gets you familiar with the Excel interface
Platform is focused on upskilling
Short length, easily accessible for beginners
Practical teaching
Designed for beginners
Cons:
Who it's for: Ideal for those without much experience with Excel, especially if you're looking for a quick crash course to get you to grips with the essential tools and functions.
Overall: Our second-ranked course is for anyone who wants to get to grips with using Excel, without much prior experience, in an easy-to-digest and accessible course designed specifically for beginners. LinkedIn Learning is focused on teaching for the 21st Century business world, so you can't go wrong with what they have identified as essential Excel skills.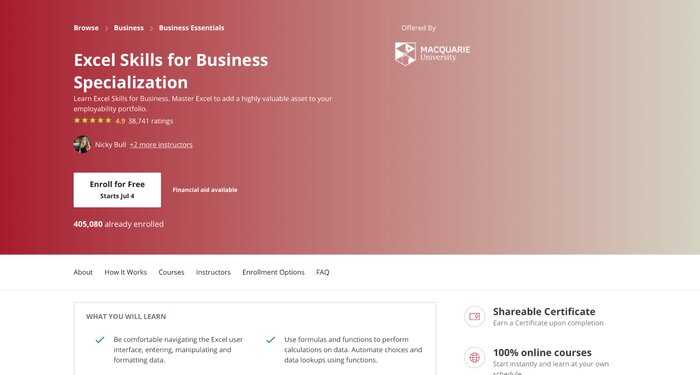 Platform: Coursera | Teacher(s): Nicky Bull and others | Length: 4 courses; each takes 25 to 29 hours to complete.
The first course on our list from Coursera, this is also the first course focused specifically on using Excel for business purposes.
Excel was created for efficient data management and analysis, so a course that focuses specifically on how this can be applied in a business setting is invaluable, especially when you consider how data shapes the modern economy.
This course also comes with a certification, in partnership with Macquarie University, so it will look glowing on your CV.
What you will learn:
Navigating the Excel interface
Entering, manipulating and formatting data
Using formulas to perform calculations on data
Presenting results in a clear and precise way
Creating charts and tables to summarize raw data
Finding and correcting errors
Navigation aids for large workbooks
Pros:
Focused on how Excel can be used in a business setting
Led by qualified senior lecturers
In partnership with a university
Certification shareable on LinkedIn
Hours of content to be consumed at your own pace
Comprehensively develops your skillset
Cons:
Takes a long time to complete
Who it's for: Anyone who cares about using Excel for business purposes. Available for beginner to advanced learners, and particularly useful if you want to be taught by academics.
Overall: This is the first course on our list that focuses specifically on using Excel in a business setting, so check this one out if you are specifically interested in using Excel either in your workplace or even to grow your own business. There is an incredible range of content here and it's taught by lecturers in partnership with a research university.
See also: best Coursera courses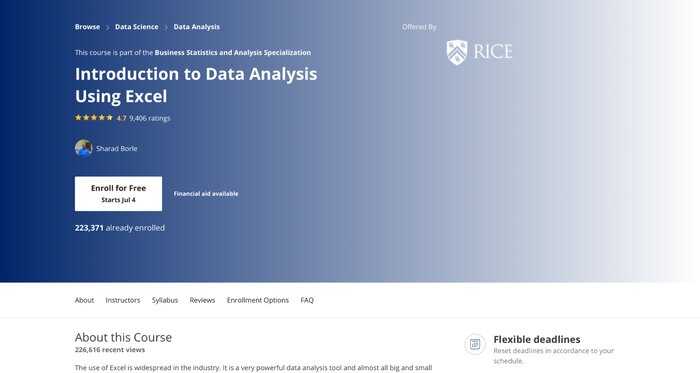 Platform: Coursera | Teacher(s): Sharad Borle | Length: Takes approx. 20 hours to complete.
This is the second Coursera course on our list, with this one focusing specifically on data analysis, one of Excel's key functions and part of the reason why it's so popular across the world today.
This one is also in partnership with an institution of higher education; Rice University is a renowned Houston-based university, focused on undergraduate teaching but, like many similar institutions, branching out to e-learning.
What you will learn:
The basics of spreadsheets
Spreadsheet functions to organize data
Filtering
Pivot tables and charts
Advanced graphing and charting
Using formulas in Excel
Using categorical and numerical data
Scatter plots and histograms
Pros:
Taught by an associate professor of business management
Aimed at beginners
Made by a leading research university
Can be completed in your own time
Certification
Progressively takes you through the functions
Cons:
Might be slow for more advanced users
Not entirely clear who it's for
Who it's for: Aimed at both absolute beginners as well as anyone who wants to pick up some more knowledge about how to use Excel.
Overall: This course is aimed at data analysis and how you can manipulate Excel into making your analysis of data much easier and simpler. You learn about the key ways to analyze data in Excel, taught by a professor from a leading university.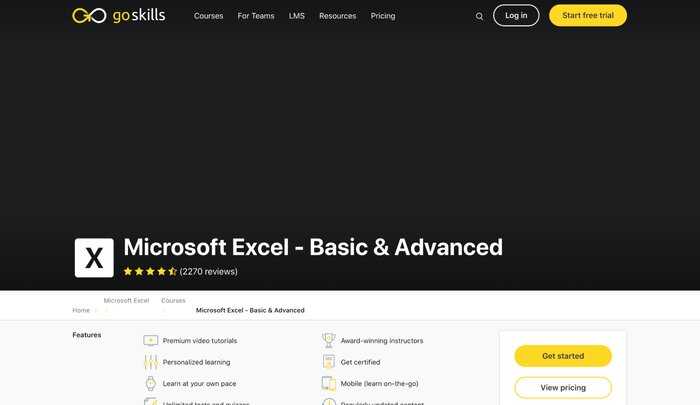 Platform: GoSkills | Teacher(s): Ken Puls | Length: 5 hours and 21 minutes.
This is another course on the list that is aimed at beginners, with the focus on getting rookies with Excel to the stage where they can master the software.
GoSkills is a site with the sole aim of improving the skills of its users in various disciplines. Ken Puls is a certified management accountant with 13 Microsoft MVP awards. So you'll be in safe hands!
What you will learn:
Getting to know the Excel interface
Essential and more advanced formula knowledge
Data analysis and how to optimize data
Getting and transforming data
Presenting and reporting
Validating and updating
Advanced formulas
Preparing to deploy
Pros:
Contains a lot of information
Easy to follow
Well-structured and organized
Helpful additional materials and worksheets
Available on mobile
Information applies to a lot of people (beginners and advanced)
Certification available
Cons:
Who it's for: As the title suggests, this class is appropriate for both beginners and advanced. It is also ideal for anyone who wants to learn on the move, as the classes are available on mobile.
Overall: This class is a wonderful tour of everything Excel has to offer and how you can master it all. By the end of the course, you'll receive a certification and have access to a range of helpful worksheets and additional materials. There is a lot of information contained in each lesson and everything is very well organized, which you'll realize as you progressively increase your Excel knowledge.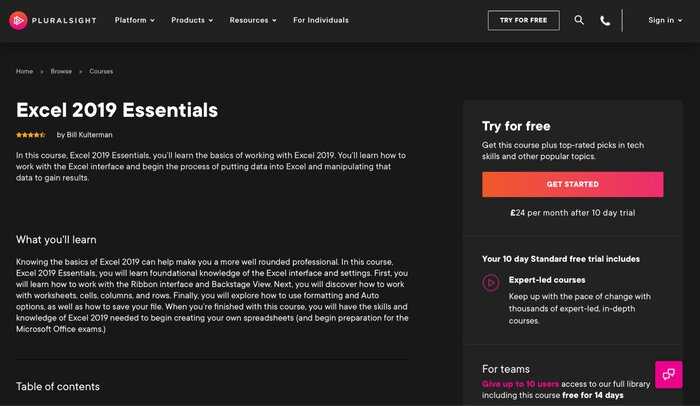 Platform: Pluralsight | Teacher(s): Bill Kulterman | Length: 2 hours and 7 minutes.
Pluralsight is known for being the place to go if you want to master all things computer science and tech.
With its focus on data collecting and analysis, you can expect some pretty good Excel courses.
This is one of the shorter ones on the list, and the last one with a real focus on getting beginners to grips with the software and how it works.
What you will learn:
Getting to know Excel 2019
Backstage view
Worksheets and data
Rows and columns
Formatting
Totalling values
Saving a file
Pros:
Gets you to grips with all the essentials
Updated
Well structured and easy to follow
Led by a Microsoft Certified Trainer
Goes over accessible data analysis and manipulation
14-day free trial
Cons:
Who it's for: An absolute beginner looking for a quick introduction to both Excel and data manipulation more generally.
Overall: This is a great course for beginners. You will learn everything you need to know about using Excel for the first time. It's led by a Microsoft Certified Instructor, so you can trust all the knowledge you're about to receive. Pluralsight is also known for being a great place to go when it comes to learning about data science and data management, so this is a fantastic place to start if you're new to those things.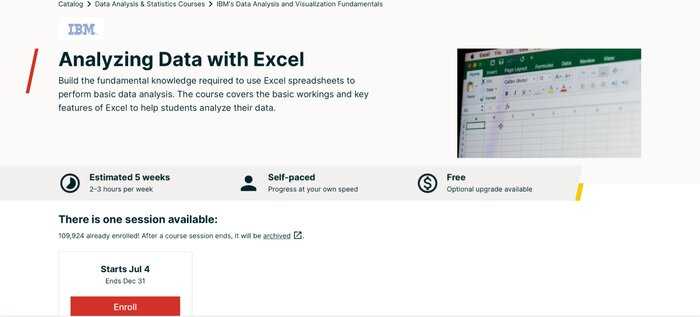 Platform: edX | Teacher(s): Sandip Saha Joy & Steve Ryan | Length: Assuming you put in 2 to 3 hours a week, the course should take 5 weeks.
At the lower end of the list, we come to courses that are by no means worse but are focused on teaching more specific and targeted content.
Excel is primarily associated with spreadsheets and numbers, but the technical term for what it deals with is data. So, these final courses will focus more specifically on analyzing and manipulating data in Excel in a more advanced way.
edX is a site with two major perks. Firstly, it's associated with major educational institutions, like Harvard, MIT and Yale. This is made all the more impressive when you find out many of its courses are available for free.
This includes Analyzing data with Excel.
What you will learn:
Spreadsheet fundamentals and basic tasks
Data quality
Importing files into Excel
Analyzing data using a spreadsheet
Cleaning, preparing, filtering and sorting data
Pros:
Taught in association with IBM
Led by qualified data scientists
Specific focus on data analysis
Content is available for free
Certification, affiliated with IBM, is available
Paid track also includes unlimited access to course materials and assignments
Cons:
Free version does not include certification or unlimited access
Need to sign up before it expires
Who it's for: Anyone familiar with Excel's basic functions who want to focus specifically on data analysis, even just to make their resume glow.
Overall: This course is a great introduction to data analysis with Excel. This is down to its clear structure, plentiful content and certified teachers. However, those aren't the only pros. This course is also available for free, providing you sign up for edX, which is very easy to do. Alternatively, the paid version includes unlimited access to the course and a certificate verified by IBM, which will look great on your CV.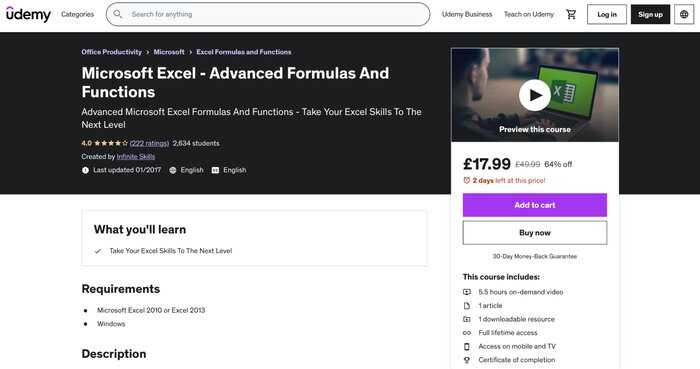 Platform: Udemy | Teacher(s): Various – Created by Infinite Skills | Length: 5.5 hours of on-demand video lessons.
This is another Udemy course, only with a much more advanced focus.
A key thing about Udemy is that courses are purchased individually. So, if you're comfortable with what you learned on the first course of this list, you can move on to this one when you feel ready.
Keep in mind that Udemy courses are almost always on sale, so you will almost certainly pay less than what's advertised for the course content. Make sure you check the course webpage and refresh the page to view the latest price.
What you will learn:
Revising the basics
Extending formula usage
If and if type functions
Lookup and reference type functions
Mathematical functions and statistics
Text, data and time functions
Information and referencing functions
Array formulas and functions
Pros:
Step-by-step overview of functions and commands
Clear and concise communication and teaching
Can act as a refresher for frequent users
Unique content; rarely specific to intermediate and advanced users
Helps to automate tedious tasks, improving productivity
Clearly laid out, with intensity increasing each lesson
Cons:
Not all the functions are that useful
Who it's for: Intermediate users of Excel looking to increase their productivity and speed with the software. Also great for advanced users looking for a refresher on Excel's key functions.
Overall: It's mainly beginners who spend the most on e-learning courses, especially when it comes to software like Excel. However, there is always more to learn for intermediate and even advanced users. This course is great as it provides specific and targeted teaching that will make your life using Excel so much easier. It's also great for anyone who has had experience with Excel looking for a refresher of their knowledge.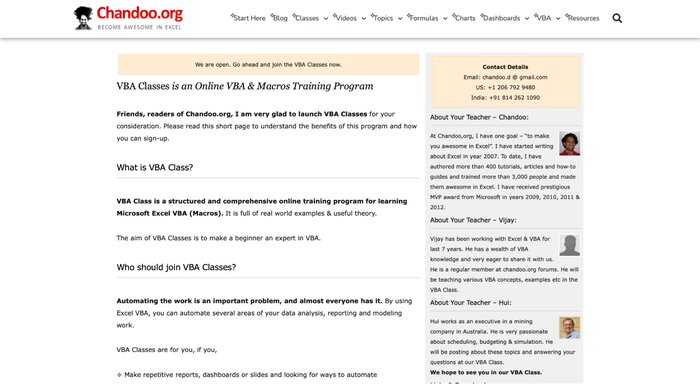 Platform: Chandoo.org | Teacher(s): Purna Duggirala (Chandoo) | Length: 21 hours of video material.
"At Chandoo.org, my goal is simple. I want you to become awesome at Excel and Power BI."
This is the first thing you'll read on Chandoo.org's site, so you know you're in a good place to be learning about Excel.
Chandoo's birth name is Purna Duggirala, a former IT business analyst who has been running the website full time since 2010.
VBA stands for Visual Basic for Applications, Microsoft's computer programming language functioning within Microsoft Office applications. Here, Chandoo.org will make you familiar with what VBA has to offer.
What you will learn:
Introduction to VBA
Understanding conditions and writing VBA code
Working with cells and ranges
Worksheets, workbooks and databases
Charts and drawing shapes
Pivot tables
User forms and databases
Integration with the rest of Office
Additional techniques
Pros:
Technical content which takes a deep dive into Excel
Bonus courses and class projects
Real-world application of concepts
Provided by a site and teacher focused on Excel
Clear and practical lessons
A wealth of easy-to-follow content
Cons:
Who it's for: Anyone familiar with Excel looking to automate their tasks or use the software to make more powerful and demanding tasks.
Overall: The penultimate course on our list is all about making you an expert in VBA with Excel. This means that by the end of this course you'll be able to automate difficult tasks to make your life with Excel much, much easier. The entire site is devoted to Excel, but considering Chandoo's IT background, he is well-positioned to focus on these more technical concepts.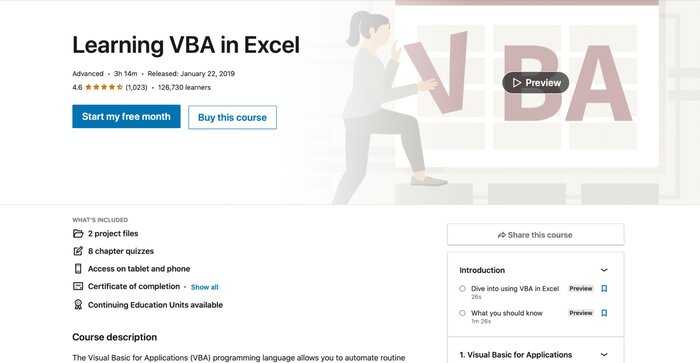 Platform: LinkedIn Learning | Teacher(s): Curt Frye | Length: 3 hours and 13 minutes.
Our final course is provided by LinkedIn Learning and it is also focused on VBA.
It's a cheaper, shorter and more introductory course than the one above, and is also provided by a world-renowned business platform, rather than a website with a specific focus on Excel.
There's no right answer as to which is better, it merely depends on which of the two suits your learning style and priorities more.
What you will learn:
Introduction to VBA
Defining variables
Defining constants and calculations
Adding logic
Debugging code
Managing workbook elements and data
Advanced elements
Using Excel events
Pros:
Easy to understand guide to how VBA works
Each chapter ends with a quiz
Very detailed
Certificate of completion from LinkedIn
Clear explanations
Will help your productivity if you work with data
Cons:
Limited exercises and visual aids
May not be specific enough to help you
Who it's for: Anyone familiar with Excel and its basic functions but looking for an introductory primer on VBA.
Overall: This is a wonderful, brief and very clear introduction to using VBA. If you have a bit of experience with Excel and are looking to automate your tasks and increase your productivity with a more advanced, technical tool, this course is ideal. It also comes with a certificate of completion from LinkedIn, which will look great on your CV and prepare you well for the workplace.
What are the advantages of taking a Microsoft Excel Course?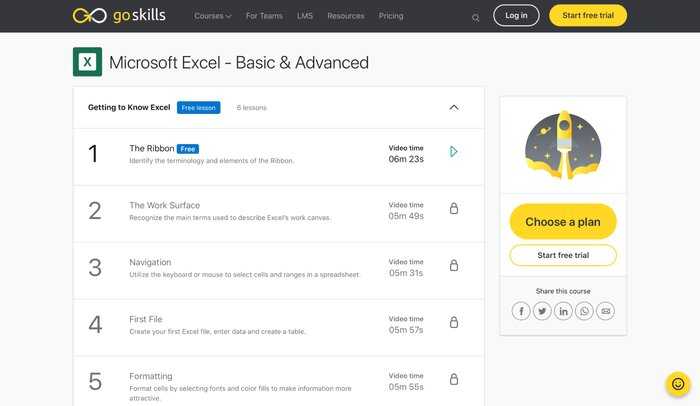 Excel is an incredibly powerful tool when it comes to organizing and managing data and information, both of which are essential for how the world functions today.
So, the benefits of taking an Excel course are vast.
However, here are some of the most important and noteworthy advantages of taking an Excel course.
You'll be familiar with the software that is essential for the functioning of most workplaces.
You'll develop transferable skills when it comes to data management and analysis.
You can also grasp a general intuition about working with technology, spreadsheets and software.
You'll be able to find uses for what you learn in multiple facets of your professional and personal life.
Microsoft is constantly updating Excel, so having a strong foundational knowledge and diverse skill set is important.
Most of the skills you'll use with Excel are not unlike what you'll use with similar software, so you can apply whatever you learn elsewhere.
Buyers guide: what to look out for
As you can see, you're spoilt for choice with the ten courses on this list. And there are thousands more!
With all those choices, it can be difficult to know exactly what to look out for, especially when it comes to investing your money.
So, below, we've put together a brief buyers guide so you know exactly what you should be getting in return for your money.
This includes:
Top-quality teaching, with the credentials and experiences of your instructor published.
A mixture of teaching content, with video lessons and additional, downloadable resources.
A direct list of the Excel skills you'll develop when taking the course, such as data analysis, data management and more.
Reviews of the courses from its users, typically in the form of a 5-star rating system.
Positive reviews of the course from sites like Learnopoly, which give comprehensive and balanced overviews of the classes.
How much does it cost?
The price of an Excel course will be determined by numerous factors.
The cost of individual courses on this list range from $29.99 to $347. These are almost always accompanied by additional learning materials and lifetime access.
However, there are a couple of things to keep in mind.
For example, Chandoo.org's VBA Courses only cost as much as $347 when you purchase every downloadable resource. Online viewing of the course costs $97.
Udemy's courses are also often a lot cheaper than their original price, as the company constantly has sales and promotional deals.
Make sure to check the updated course homepage and refresh the page to get the best deal.
Other courses on this list are offered by platforms that don't sell courses individually but instead require a monthly or yearly subscription. This includes LinkedIn Learning, Pluralsight and GoSkills.
The price of these subscriptions ranges from $12.00 per month to $26.99 per month.
However, there are other factors to consider here as well.
For example, purchasing an annual subscription (and making a monthly payment) will often be a lot cheaper than choosing just a monthly subscription.
GoSkills is $12.00 per month with an annual subscription and $25.00 per month with a monthly subscription.
Similarly, LinkedIn Learning is $19.99 a month with an annual subscription and $29.99 a month with a monthly subscription.
How long does it take to learn Microsoft Excel?
The amount of time it takes to learn any new skill will vary from person to person.
The range of teaching time with the courses selected here is from 2 hours and 7 minutes to up to 29 hours.
But that doesn't necessarily mean that taking either of these courses will lead you to be an expert in Excel immediately after.
Firstly, lots of these courses come with additional resources that will take even more individual time to complete and go over, but will be really helpful for your learning.
However, the most important consideration is personal practice.
If you actually want to develop a new skill, you'll have to take individual time away from your lesson to go over what you've been taught.
We all learn at different speeds, so there is no rule of thumb for how much additional individual practice you should be doing.
However, anything from 5 to 30 minutes a day will see you make an improvement.
Properly learning how to use Excel will last for however long the course specifies, as well as the time it takes to complete any additional materials and practice in your time until you fully understand a new concept.
Conclusion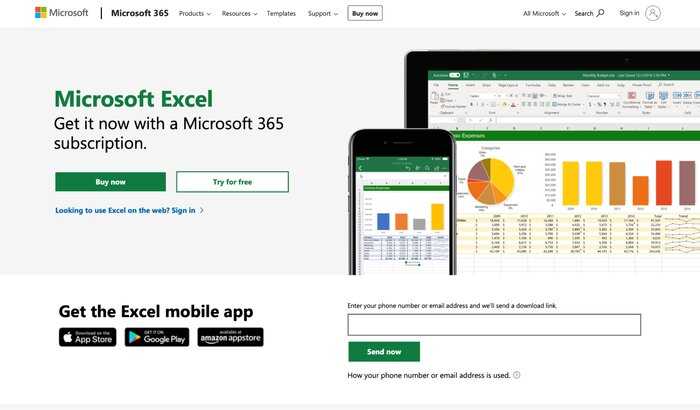 To conclude, our pick for the best online Microsoft Excel course is Udemy's Microsoft Excel – Excel From Beginner to Advanced.
This is because it covers everything Excel, and you'll be able to acquire new skills and techniques for using the software, whether you're a beginner there to learn new things, or a more advanced user hoping to hone their craft.
The content is in-depth but well taught, and Udemy is also constantly offering sales and deals, so you're bound to get it for cheaper than the original price.
If you're looking for something that's more akin to a crash course in Excel, look no further than Excel Essential Training, offered by LinkedIn Learning. This course will get you to grips with all the key elements of Excel, so that you will find using it straightforward and productive.
More advanced or technical learners might want to check out LinkedIn Learning's Learning VBA in Excel or Chandoo.org's VBA Classes.
Finally, if cost is a big factor for you, why not check out EdX's Analyzing Data With Excel, which is not only taught in collaboration with IBM, but can be viewed without costing you anything.
Overall, every course in this list has a variety of strengths and each one appeals to a different type of learner. Hopefully this has helped you to identify which Excel course is right for you.
Related articles: Best QuickBooks Courses, Best Microsoft Office courses, Best Executive Assistant courses, Best Accountancy Courses, Best virtual assistant course, Best WordPress courses, Best SharePoint Online courses, Best receptionist courses, Best online HR courses
Frequently asked questions
What is the best Microsoft Excel Course?
Our top pick is Udemy's Microsoft Excel – Excel From Beginner to Advanced. This is down to its incredible amount of content, the range of audiences it appeals to and the quality of teaching.
How much does a Microsoft Excel Course cost?
The individually priced courses on this list cost anything from $29.99 to $347. Sites that require a subscription can range from $12.00 per month to $26.99 per month.
How long do Microsoft Excel Courses take to complete?
Courses on this list take from 2 hours and 7 minutes to up to 29 hours to complete. However, you must also factor in some degree of personal practice if you want to see an improvement.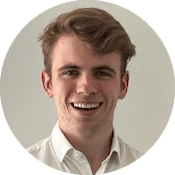 Charlie is a student reading politics at King's College London. He is also a passionate musician with over 14 years of experience. In his free time, he also enjoys cinema, long-distance running and learning new things.