If you're looking for a course to help you get your ideas online, or you want to optimize an existing WordPress website, you're in the right place.
When it comes to getting the most of your WordPress experience, there are tons of courses available. But there's a challenge too. Because WordPress regularly updates, courses can become out of date and less helpful.
So I've spent the last two weeks sifting through what's available out there to find the most up to date and best WordPress Courses online.
Whether you're looking for something to get you started, or are a seasoned user wanting to hone your skills as a developer, we've got you covered.
Our selection of the ten best WordPress courses are sure to provide you with the insights you need to take your skills to the next level.
So let's get started!
What is the best WordPress course?
In sum, our top picks are as follows:
Skillshare's WordPress Academy is our number one choice. 
This is because it's comprehensive and carefully structured to rapidly increase your skill level. The instructor is well qualified, has a strong command of the software and explains everything clearly. You'll not only master both basic and advanced functions but gain some PHP coding knowledge too. 
However, Udemy's WordPress 2023 is a very close second. It too is a great round up of what WordPress has to offer and how to master it. It's up to date and well organized into modular format. The only reason it got pushed into second place is that it doesn't cover coding – which may be a plus from your perspective.
If coding is something you would like to know more about, then Become a WordPress Developer: Unlocking Power With Code is the course for you.
Alternatively, if you're a complete beginner and looking to grasp just the essentials of WordPress there are several courses on here that will fit your needs. Our top choice being WordPress For Beginners (Udemy)
Whatever your focus, we've chosen all of these courses because they have some kind of unique strength and appeal to different types of learners and different abilities when it comes to using WordPress.
Best free WordPress Course
Strictly speaking, none of the courses here are free. However, you can get a month free trial of Skillshare and LinkedIn Learning through our links. This is ample time to complete one or more of the following courses:
Keep reading to find out which course is right for you.
Best WordPress Course Reviews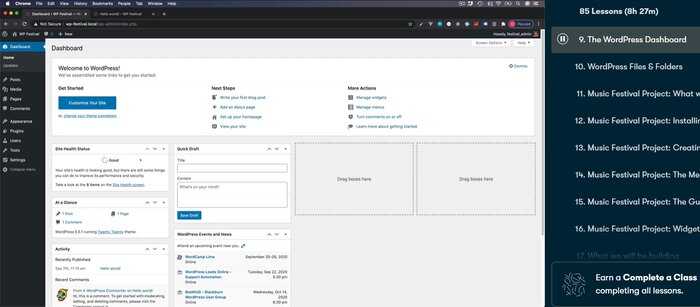 Platform: Skillshare | Teacher: Chris Dixon | Course length: 8.5 hours of video content | Level: Beginner-Intermediate
Chris Dixon is a top teacher on SkillShare with two decades' experience in building websites and delivering training and online courses. His aim is to make learning fun and practical – and this course does indeed take a hands-on approach.
Though designed for the beginner, WordPress Academy covers many more advanced WordPress techniques. So even an intermediate user would get great value from it. It really is a complete course working from the ground up.
By creating both a personal blog site and an eCommerce site, you'll become confident with all that WordPress has to offer. This includes a working understanding of PHP (the language WordPress is written in) which means you will not only learn how to use WordPress, but gain an understanding of how it works.
You will learn to:
Install and navigate around WordPress
Get to grips with the new block editor and media library
Understand essentials such as blog posts, pages, navigation menus, themes, templates and plugins
Customize using sliders, widgets, header images
Optimize a website for search
Use eCommerce features
Code in PHP
Develop themes
Create a network of websites
Pros:
Very comprehensive – from beginner through to advanced techniques
Clear and concise instruction
All the images and files needed are available for download
No extra software, subscriptions or purchase are needed to complete the course
Cons:
Audio slightly fuzzy in places
Would benefit from the teacher setting out learning outcomes at the beginning of each section
Who it's for: Anyone, including beginners, who has an idea that requires a website. Those looking to pursue a career building WordPress websites. WordPress users looking to increase their understanding of how WordPress works and to take their skills to the next level.
Overall: Has everything you could want from a WordPress course. The instructor is well qualified, has a strong command of the software and explains everything clearly. You'll progress rapidly from WordPress essentials to mastering its more advanced capabilities and gain some coding knowledge in the process.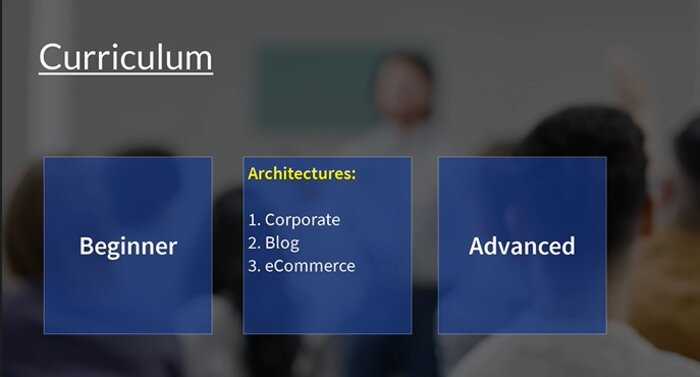 Platform: Udemy | Teacher: Tanzeel Ur Rehman | Course length: 27 hours of on demand video | Level: Beginner, Intermediate & Advanced modules
Tanzeel Ur Rehman is a WordPress developer, Web designer, SEO expert and experienced online teacher. In his course he teaches the knowledge, tips and tricks he's learned and mastered over a decade of building, managing, migrating, and hosting WordPress websites. 
WordPress 2023 is a close second on our list. It is in a modular format which starts with the basics before moving on to intermediate and advanced topics. It truly is complete in that sense. On top of that, it has a rating of 4.8/5 out of 3k+ reviews. 
By the end you should have all the tools you need to create a wide range of professional websites, either for yourself or clients, without the need for coding. So, if you're looking for a course that is broad and deep, this one's for you.
You'll learn to:
Appreciate how WordPress works
Understand domains and hosting
Install and configure WordPress for optimum results
Choose and use WordPress themes
Design a variety of WordPress Websites including personal, business and eCommerce
Set up your site to accept PayPal and/or credit card payments
Customize your website in a variety of ways without coding
Optimize for SEO
Pros:
Comprehensive course with beginner, intermediate and advanced content
Clearly explained
Enthusiastic and engaging teaching
Hands on projects to build a varied range of website types
Certificate of completion
Cons:
Would benefit from more downloadable resources to avoid notetaking
No coding – though this may be a plus from your point of view
The instructor speaks quickly – though you can alter the playback speed
Who it's for: Complete beginners who have an idea which involves making a website. Plus those with more experience who want to take their skills to the next level or even start their own web design business. Basically anyone looking for a broad, but detailed, course on WordPress. Will not suit those looking to customize WordPress through coding.
Overall: This class is a great tour of what WordPress has to offer and to master it. It's up to date, a good mix of theory and practice and everything is very well organized, which you'll realize as you progressively increase your knowledge.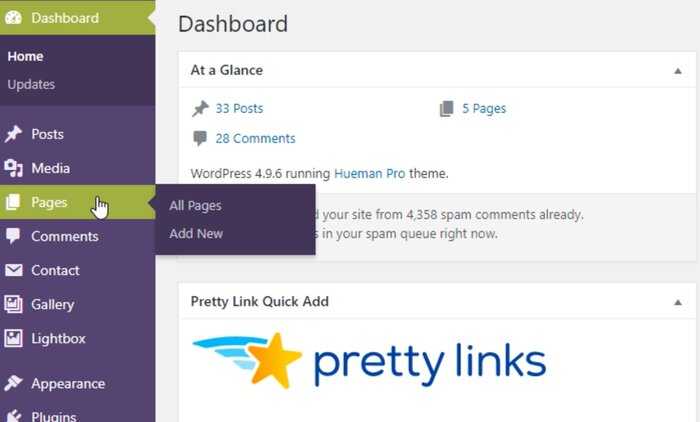 Platform: Udemy | Teacher: Andrew Williams | Course length: 9.5 hours of on demand video | Level: Beginner
Andrew Williams is a WordPress author, teacher and SEO expert. As a former high school teacher he claims to understand how to make complex tasks accessible and fun. And it would seem his students agree, giving this course a 4.6/5 rating out of 26,000 reviews.
WordPress for Beginners aims to teach anyone to build a professional and responsive website without the jargon. It takes you from installation right through to having a fully functioning website.
Though it is targeted at beginners, this course is so comprehensive that more experienced students commented that they learned many new things and had their long standing questions and queries answered by it.
You'll learn to:
Install WordPress without having to pay hosting or domain fees
Configure settings for best results
Navigate the WordPress dashboard
Enter and manage content using the editor and media library
Use themes and plugins
Appreciate the difference between posts and pages and how and when to use each
Use categories and tags to maximize search engine ranking
Set up a Home page, an About page and a contact form
Customize the navigation of your website
Set up affiliate links
Keep your site safe from hackers
Pros:
Carefully structured with very clear explanations and visuals
Modules broken down into easily digestible chunks
Lots of tips and shortcuts based on years of experience
Questions posted via the course are answered
Continuously updated to cover the latest version of WordPress
14 downloadable resources
Certificate of completion
Cons:
Rather repetitive in places – though you could see this as a bonus as it aids learning
Blog, rather than business, oriented
Who it's for: Anyone who wants to build a professional looking website but is unsure where to start. It assumes no prior knowledge or technical expertise. However, will also suit those with some WordPress experience who want to optimize their existing website.
Overall: A comprehensive course which is thoughtfully structured and well taught with clear explanations and bite sized segments. It transforms the complete beginner into a confident WordPress user who can set up, install, configure and manage their own WordPress website.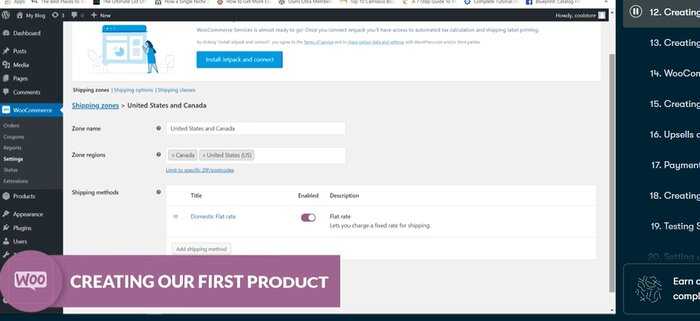 Platform: Skillshare | Teacher: Alexander Oni | Course length: 3.5 hours of on demand video | Level: Beginner – Intermediate
Alexander Oni is a web developer and cybersecurity expert with several years of delivering online training, including on his own platform The Web Monkey Academy.
If you are looking specifically to sell products via an online store and need to learn how to create such a store, this is the course for you.
Alex walks you through building an e-commerce store using one of WordPress's most powerful plugins, WooCommerce.
You'll learn to:
Install WordPress, create domains and subdomains and add SSL security
Create a webmail account and install WooCommerce
Set up shipping zones and classes
Create a variety of products (simple, grouped, varied and affiliate)
Add pricing
Manage customer accounts and refunds
Work with coupons
Install and configure payment gateways such as PayPal and Stripe
Connect your store to Facebook and add social media share functionality
Create and publish store wide notices advertising sales
Add live chat customer support
Optimize your images to improve site speed and performance
Pros:
Everything you need to know to set up an eCommerce site
Concise and clearly explained
Engaging and friendly teaching style
Explains how WooCommerce works as well as how to use it
Met or exceeded the expectations of all students
Contains a zipped file with all the images needed to create the sample store
Cons:
Very specific focus – though that is a plus if using WooCommerce is what you are looking for
It would be an advantage to have a basic familiarity with WordPress
Who it's for: Specifically for those looking to create an eCommerce store using WooCommerce. Though it is aimed at all levels it is an advantage to have some basic knowledge of WordPress.
Overall: A great overview of everything you need to build an attractive, responsive and secure eCommerce store using WordPress and WooCommerce. Delivered clearly and succinctly by a well qualified professional.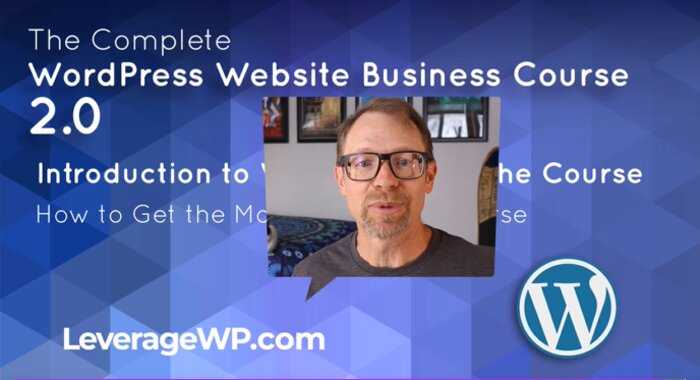 Platform: Udemy | Teacher: Rob Percival & Gregg Davies | Course length: 22 hours of on demand video | Level: Beginner – Intermediate
Rob and Gregg are highly experienced web developers and teachers with decades of experience under their belts. And this includes nearly 20 years working exclusively with WordPress.
Their experience shows in the thoughtful organisation of topics in this course, which aims to build knowledge incrementally at each stage. Explanations are straightforward and clear and it covers enough ground to give the beginner a complete understanding whilst having plenty to offer the more experienced user.
You'll learn to:
Install WordPress so you can learn without having paying fees
Configure settings for best results
Set up and manage different types of email system
Add contact forms and other dynamic sections into WordPress
Understand themes and and block based editing
Get to grips with the high performance design system available for WordPress
Work with and update plugins
Set up site wide templates to manage content throughout a site
Use WooCommerce to support your business and receive online payments
Find clients and build client proposals.
Create multiple backup and restore systems
Pros:
Carefully organised to build knowledge logically and incrementally
Updated links to all plugins, tools, etc that are referred to in the course
Extremely comprehensive
Free sandbox environment for hands on practice
5 downloadable resources
Certificate of completion
Cons:
One or two of the more advanced topics needed clearer explanation
Would benefit from more downloadable resources to avoid notetaking
Who it's for: Those new to WordPress looking for a thoroughly comprehensive course. Also anyone with some experience of WordPress who is looking for a deeper understanding of how it all fits together. Particularly suitable for those who want to leverage WordPress to create business websites.
Overall: Check this course out if you're specifically interested in using WordPress in the workplace or looking to start your own web development business. It's a broad yet in depth course delivered by experienced professionals. Well taught and structured to build up knowledge incrementally, it provides everything needed to go from building a site, taking it live and maintaining it once it's up. By the end of the course you'll be ready to build various types of websites either for yourself, or for clients.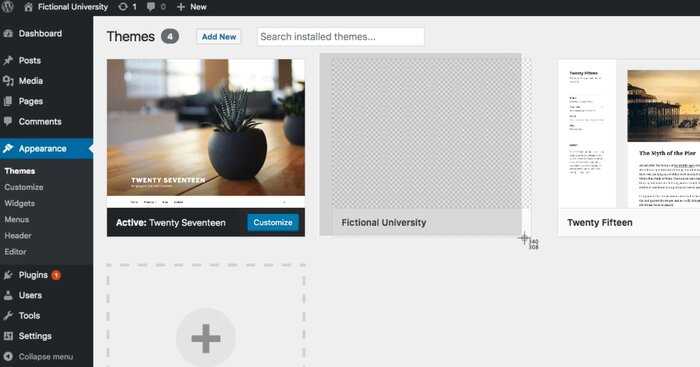 Platform: Udemy | Teacher: Brad Shiff | Course length: 41+ hours of on demand video lessons | Level: Intermediate-Advanced 
Brad Shiff is a web developer and designer with over a decade's experience of building user interfaces for the world's largest brands.
Brad is also a seasoned educator and has developed training sessions for fortune 500 companies. So it's safe to say he's well qualified to deliver this course. Which might be why it's rated 4.7/5 out of 20k+ reviews.
In this course he'll teach you to unlock the full power of WordPress to code a completely custom, fully interactive site. You'll get to grips with all the skills, knowledge and vocabulary to work professionally as a web developer.
You'll learn to:
Install WordPress
Use PHP basics
Code a brand new theme
Create and link custom post types
Use JavaScript to add interactive features to your site
Code your own new custom block types for the "Gutenberg" Block Editor
Leverage the WP REST API for real time interactivity
Pros:
Fully and carefully explained
Lively teaching style
Comprehensive and extensive content
Lots of hands on tasks
161 downloadable resources
Certificate of completion
Cons:
Does assume a basic understanding of WordPress and HTML
Some lessons are quite lengthy
Who it's for: Anyone with a basic knowledge of WordPress and HTML who is interested in learning to code a fully interactive site. Also developers who want to use WordPress as a true content management system and not "just a blog platform", or those considering a career as a developer.
Overall: A great course for existing WordPress users and developers. The instructor is well qualified, has a strong command of the software and explains everything clearly. Become A WordPress Developer will give you the coding skills you need to fully customize websites and work professionally as a web developer.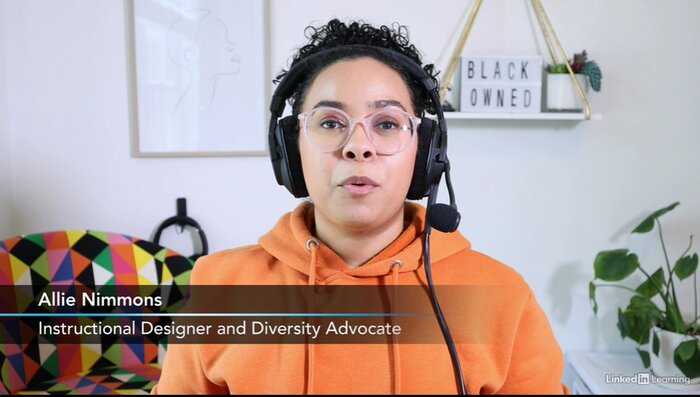 Platform: LinkedIn Learning | Teacher: Allie Nimmons | Course length: 1 hour and 57 minutes of on demand video | Level: Beginner
Allie is a WordPress content creator and instructor. She has been coding and designing websites since 2014 and formerly ran Pixel Glow Web Design.
In her course she teaches everything you need to get a site up and running. The course is short and sweet but well paced and clearly organized and explained. And it covers a lot of ground including widgets, menus, posts, pages, themes and plugins, and more.
You'll learn to:
Set up WordPress and choose a host
Navigate the WordPress admin area
Choose and manage themes, colors and fonts
Understand and use menus and widgets
Create and manage pages and posts
Add tags and categories for SEO
Create and edit content using blocks and the Gutenberg editor
Add and manage media files
Find, install and manage plugins
Troubleshoot and manage security
Pros:
Clear explanations and supporting visuals
Great pace
Very comprehensive for a beginner course
Well organized into sections so you can skip what you already know or don't need
Engaging teaching
Certificate that you can share to your LinkedIn Profile
Cons:
Very short – though this may be a plus from your perspective
Does only cover the basics
Who it's for: Those who are brand new to website creation using WordPress who want enough essential knowledge to build an online presence on the web.
Overall: an easy-to-digest and accessible course designed specifically for beginners. LinkedIn Learning is focused on teaching for the 21st Century business world, so you can't go wrong with what they have identified as Essential WordPress skills.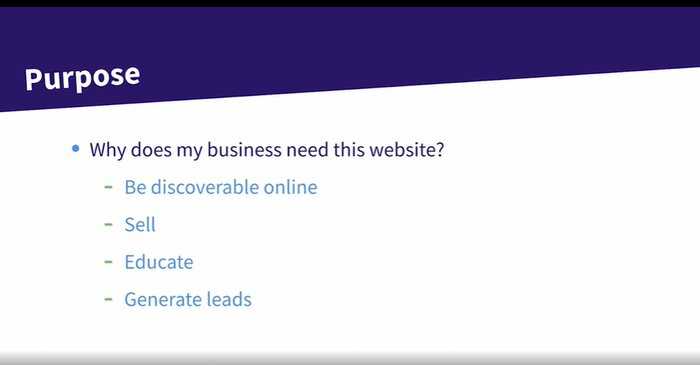 Platform: LinkedIn Learning | Teacher: | Course length: 1 hour 43m of on demand video | Level: Beginner
Carrie Dils is a freelance developer and blogger who has been helping businesses get online since 1998. Her aim is to create sites that look great on the outside and work well on the inside.
This course covers not just all the basics you need to build a WordPress site from the ground up, but also the process of thinking through what needs to go into a small business site.
Once you finish the course you should have the confidence to take the first steps in getting your small business online. Plus you will be rewarded with a certificate of completion that you can add to your LinkedIn profile or print the PDF to showcase your skills.
You'll learn to:
Plan a small business site
Install and configure WordPress
Use WordPress themes
Basic customizing
Find the right plugins for your site
Understand the difference between posts and pages and when to use each
Appreciate basic SEO
Add social sharing buttons and contact forms
Test and secure your site
Pros:
Short and easy to complete
Covers the basics in a clear way
Ideal for small business owners
Certificate of completion that can be shared to your LinkedIn profile
Cons:
Very basic (which may be a pro if you are just starting out)
Who it's for: Anyone with a small business, or a small business idea, who needs to take the first steps in creating an online presence.
Overall: By the end, you'll have the complete process to follow for getting your site off of the ground. Plus, completing the course provides you with a certification that you can use to validate yourself as a WordPress expert. This course provides a quick and effective way to learn how to use WordPress for your business.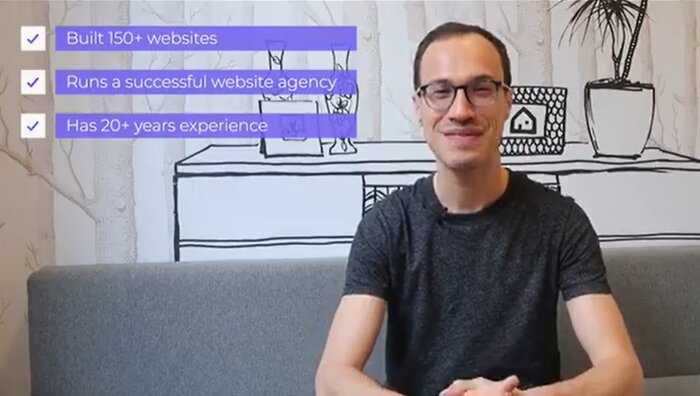 Platform: Skillshare | Teacher: Pim | Course length: 3 hours and 4 minutes of on demand video | Level: Beginner
Your tutor, Pim, runs a successful web development and web hosting company in the Netherlands and has over 20 years experience of building websites.
In this practical, step by step course, he shares how to build an engaging business WordPress website using Divi (a popular WordPress theme). Though it is especially useful for building a business website, this course provides a solid foundation for building any website you choose.
You'll learn to:
Appreciate the different kinds of website that can be built, and why WordPress is so popular
Understand what theme builders are and why we love using Divi
Choose a domain name and web hosting provider
Install WordPress and Divi
Select settings, plugins and email
Design your web pages
Optimize your site's speed and visibility on Google
Make your website work on mobile devices
Pros:
Practical and project based
Comprehensive in coverage
Includes all necessary resources
No coding needed
Cons:
Is focussed on the Divi theme
Who it's for: Suitable for complete beginners, especially those looking to build a business website.
Overall: A concise but through course that will give you a great foundation in WordPress along with everything you need to build a business website using the Divi theme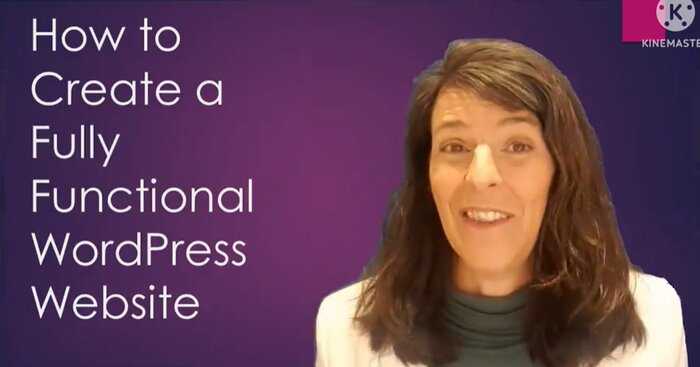 Platform: Skillshare | Teacher: Karen Cherry | Course length: 36 minutes of on demand video | Level: Beginner
Karen Cherry is a small business owner who teaches others how to start and succeed in businesses of their own.
We've included her course here because her down-to-earth teaching style will help newbies get their entrepreneurial ideas online without all the intimidating jargon.
If you are someone who is cautiously trying to create an online presence and don't want to be overwhelmed with too much information up front, this course is for you.
You'll learn to:
Understand domain names and what web-hosting really is
Choose a domain name and web host for your site
Log in and out of WordPress
Set up a website and create a Post
Change the look of your site
Appreciate what plugins are
Launch your site
Pros:
Covers key essentials
Quick and easy to complete
Upbeat and cheerful delivery
Accessible and simply explained
Cons:
Extremely short and basic – though this may be a benefit from your perspective
Who it's for: Absolute beginners – especially those who maybe a little tech phobic and have been resisting having an online presence.
Overall: A very user friendly, basic and accessible introduction to WordPress. Gives you just enough to get started but not so much that you will feel overwhelmed. By the end of this easy introduction you will know just how easy it is to create a fully-functional WordPress website from scratch.
Buyers guide: what to look out for in a WordPress Course
Choosing the WordPress course that's right for you can be confusing. So, we recommend you consider the following points before choosing:
Date of course – if the course is old then the version of WordPress being used is not going to be the same as the one you are using – making it harder to learn.
Instructor experience – if you're going to be spending time and money following a course, you want to ensure your instructor has valued and proven knowledge that's worth listening to
Develops skills – an online class shouldn't just bombard you with information. It should equip you with the skills needed to make real progress.
Practical learning – are the skills covered relevant to real-world situations? Do the instructors teach you real-life techniques that help you to address difficult but crucial WordPress techniques. Are there hands-on opportunities for you to embed these skills?
Syllabus and skill level – make sure what's on offer is right for your skill level and your specialty. If you're looking to progress to an WordPress Manager role, you don't need a course that introduces you to the basics of WordPress concepts
Price – of course, you want something that's within your budget. But, it's also important to look at the value you could get out of a course. For example, if a class is twice the price but features an instructor with ten times the experience, the investment could pay off in the long run
Downloadable resources – to help you quickly review and apply what you've learned.
Certification – Courses that award certifications can help you further your career if you are a web designer or other professional that works in WordPress.
How much does it cost?
The answer here depends on whether you buy courses singly or go for a subscription option.
The Udemy courses we have listed typically come in at around $75. That said, if you have never used Udemy before you are likely to be offered a discount price and Udemy has frequent sales.
LinkedIn Learning offers the opportunity to buy courses singly for around $35-45. You can also subscribe to the platform giving you unlimited access to all its courses for $24.99 a month (billed annually).
Skillshare is a subscription only platform. A SkillShare membership is $14 a month, billed annually. This gives you access to over 40k classes. So you could take all the classes we have listed here, starting with Make A WordPress Website for Complete Beginners, working your way up to building an eCommerce shop using WooCommerce.
It's worth saying that with a subscription, the value for money increases with the more courses you take. And, in the long run, a subscription service can save you serious money. Not to mention, more subscription-based courses are being taught by industry leaders, so there's a lot to gain from dedicating yourself to a platform.
How long does it take to learn WordPress?
That depends on whether you are taking a very basic or extremely comprehensive course.
The range of teaching time with the courses selected here ranges from 36 minutes to 47 hours.
However, many of these courses are hands-on with projects or other tasks to complete, so you need to build time in for these. And on top of this, you will need to take time out from the actual lessons to practice and go over what you have learned.
And, of course, we all learn at different speeds, so there is no rule of thumb for how much additional individual practice you should be doing.
So the answer is, learning how to use WordPress will last for however long the course specifies, as well as the time it takes to complete any additional materials and practice in your time until you fully understand a new concept.
How do we rank our results?
In short, we rank our results based on which courses we believe to be the best.
Undoubtedly, this is subjective. But we do consider:
Teacher experience
Provides transferable skills
Has a strong and varied syllabus
Is well taught and explained
Student feedback
Production quality
Overall impressions
Where we can, we take the courses in order to review them. But, where we can't, we do extensive research on the course, its syllabus, and student feedback.
Conclusion
If you're looking to broaden your WordPress knowledge, you have plenty of options.
To conclude, our top two choices are either WordPress Academy, or WordPress 2023. Both courses cover all things WordPress and enable you to master both essential as well as more advanced skills. The main difference is that WordPress Academy also introduces PHP, helping you learn how WordPress works as well as how to use it. Thus providing a slightly deeper understanding.
For those wanting to get deeper into coding and customizing WordPress, Udemy's Become a WordPress Developer: Unlocking Power With Code is the course for you.
There are several courses here for complete beginners wanting to get to grips with only the basics of WordPress of which WordPress For Beginners is our top choice. As well as courses specializing in the creation of business or eCommerce websites.
Overall, every course in this list caters for a range of needs and abilities. Hopefully this has helped you to identify which WordPress course is right for you.
Related articles: Best Excel Courses Online, Best Microsoft Office 365 Course, Best Pluralsight Courses, Best Udacity Courses
WordPress Courses: Frequently asked questions
What is the best online WordPress course?
In our opinion, the top two WordPress courses are WordPress Academy, or WordPress 2023. This is because they are so comprehensive and well structured and taught.
How much does a WordPress class cost?
The WordPress courses available to buy singly on this list vary between $35-$75. Skillshare is a subscription platform costing $14 per month (billed annually) giving you access to 40k courses.
How long do WordPress courses take?
Here, the courses range from 30 minutes to 47 hours of viewing content.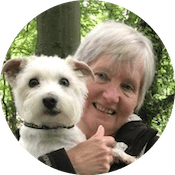 Liz Hurley has 30+ years of high school teaching experience and is one of our senior writers here at Learnopoly.