Skillshare currently have a 50% off membership Black Friday offer. Find out more here. 
Skillshare is the world's largest online community for creativity. It has over 13 million registered users and offers 40,000+ classes in just about any topic you can think of.
If you're reading this Skillshare review, you may be wondering:
Is Skillshare worth it? How much is Skillshare? Can I get a Skillshare free trial? What are the best courses on Skillshare?
I'll be covering that and more. But if you're short on time, here's the lowdown.
.
Quick summary
Features
Over 13 million registered users
40,000+ available courses in almost any topic you could wish for
Great quality lessons with transcripts and subtitles available for each class
Curated learning with Skillshare picks and suggestions to help guide your learning
Unlimited access to every single course with a Skillshare membership plan
Pros
Most lessons are bite-sized (around 10 minutes) which makes it easier to fit learning in
Classes typically have a great mix of practical and theory
Curated learning makes it easy to continue your learning journey without having to put too much thought into where to go next
Skillshare has a great class review system which helps the algorithm to match you with the best classes possible
Tangible, real-life results (I implemented one of my Skillshare classes and won 5x back my Skillshare fee in 2 days!)
Skillshare Perks: discounts for Adobe, Canva, Freshbooks, and more
Cons
Skillshare courses are not audited which means there are some really bad ones out there
While short lessons can sometimes be a pro, it also means that a lot of courses only cover surface topics, not going into the deeper details
Best for: creatives and entrepreneurs looking to quickly learn skills that will help them grow and thrive.
Overall: One of the (if not the) best learning platforms out there for creatives. There's tons of really valuable content with instructors who focus on getting tangible results. It really helped me upskill in areas related to my business, and also as an individual. Plus, with a one month free trial, you can sample it without losing out.
And now, for the detailed Skillshare review:
Table of Contents
What is Skillshare, who are the instructors and how does Skillshare work?
How much is Skillshare and is there a free trial
What a lesson is like
Best Skillshare classes in 2023
Skillshare for business
How I reviewed Skillshare, what I liked, and thought could be improved
Who Skillshare is for
Skillshare gift options
Tips on finding great Skillshare courses
Is Skillshare legit?
Skillshare refunds
Alternatives to Skillshare
What others have said – Skillshare Reddit reviews
How to open a Skillshare account
Is Skillshare worth it?
Frequently Asked Questions
What is Skillshare?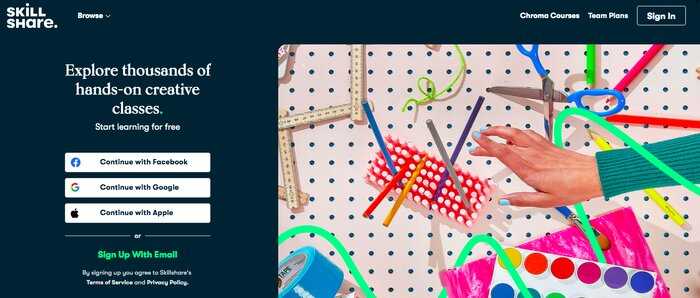 The core philosophy of Skillshare is simple:
"Anyone can learn anything, at any age, at an affordable cost, anywhere in the world"
And to prove the point, Skillshare has become an education giant, offering over 40,000 courses to its 12+ million users. Skillshare's stats are impressive.
Skillshare is renowned for its classes in creative disciplines such as Photography and Sketching, but also offers courses in fields such as Business and Productivity. It's been featured in Forbes, the NYT and Business Insider.
Most courses are incredibly digestible: averaging around 60 minutes of content spread across 5 or 6 videos. In a world that runs at full-speed, being able to equip yourself with new skills in one hour flat is a great opportunity!
Who are the instructors?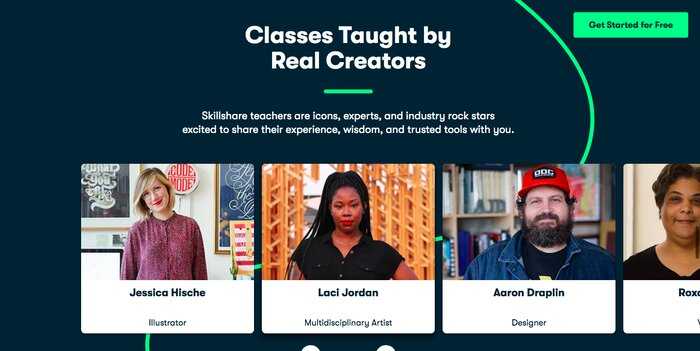 Skillshare instructors come from all walks of life and as such, you can find an expert instructor for pretty much every niche.
Some of the top instructors on the platform include:
Anne Ditmeyer, designer and creative coach: Anne is a Paris-based American designer and one of the original Skillshare teachers Over 26,000 students have taken her courses which cover Basic InDesign, Map Making, and Redesigning Your Resume, among others
Dominic Flask, designer and illustrator : An independent designer and illustrator, Dominic specializes in icon and badge design, motion graphics, and more. His Intro To Graphic Design series has helped over 40,000 students on their journey with design
Brad Woodard, illustrator and graphic designer: Brad Woodard is the creator of the most popular course on Skillshare: "Learn the Ins and Outs of Illustrator". His other courses cover both specific skills for illustrators and designers, and others cover more general creative topics such as the art of self-promotion. With almost 100,000 students taking his classes, he is one of the top instructors on Skillshare
You might also come across some of your favorite creatives. Two of my YouTube icons — Jessica Kobeissi and Bradon Woelfel — both have courses that you can take and already being a fan makes it extra special.
How does Skillshare work?
Skillshare works on a subscription basis -annual or monthly- which allows you unlimited access to any classes while your subscription is active.
Once you have purchased a subscription, you don't need to worry about any extra costs to participate in courses. You can take as many as you like!
When you join, you'll get access to:
40,000+ high quality courses
Curated learning suggestions personalized to you
An online community to share and comment on projects with
Offline viewing options with the Skillshare iOS and Android apps
Skillshare Perks (annual subscription only): exclusive discounts for products such as Adobe Lightroom, SquareSpace, FreshBooks and Canva
While the focus is often on Skillshare's creative offerings, there are courses available in pretty much every field. These courses might be less obvious from the home menu, but a quick search reveals classes covering Visual Arts, Music, Cooking, Business, Finance, Animation and Lifestyle.
Anyone can become a Skillshare instructor, but Skillshare's algorithm favors popular courses by ranking in order of most watched to least watched classes. This means that classes are effectively reviewed and audited by other learners.
How much does Skillshare cost?
There are several different pricing options for Skillshare and its costs are also location dependent. If you live in a country where the cost of living is very low, you're likely to pay less than someone in a country where the cost of living is high. 
Currently, a Skillshare Premium account costs $168 (USD) if you purchase an annual subscription, or $32 per month on a monthly payment plan.
$168 works out at only $14 per month. That's similar to a Netflix plan, or only a handful of coffees per month.
Individual business courses outside of the Skillshare platform can easily set you back hundreds, if not thousands, of dollars, so the cost does represent great value for money. 
This is especially true if you plan to implement your newly learned skills into your business. I took Attabeira German's course on Instagram Reels, implemented a new strategy based off her course, and won a client that covered my Skillshare cost in multiples. How did they find me? Reels.
Not all Skillshare courses will work magic, and of course, there's no guarantee of immediate success, $14 per month isn't a huge amount to help set yourself up for success.
There are also pricing plans for business teams, depending on your requirements. Standard business pricing starts at $159 per year but custom pricing is available for larger business purchases.
You can also see the latest and best Skillshare discounts here.
Skillshare free trial and discounts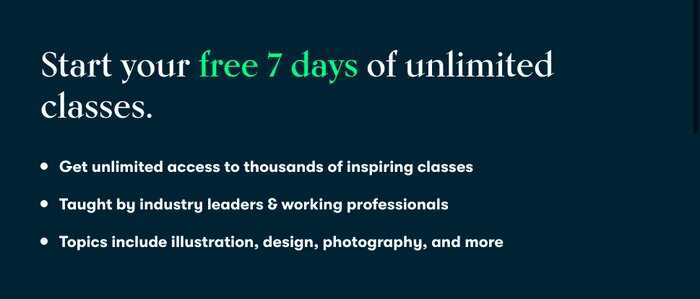 Skillshare regularly offers free trials which automatically roll over to an annual subscription. These trials typically range from 7 days through to 30 days, so it's worth checking the Skillshare website to see what's on offer.
Our links will always get you 30 days free.
The Skillshare free trial offers the exact same features and content as a fully paid Skillshare Premium membership, but for a limited time.
This is a great option as you get to fully immerse yourself in the Skillshare experience, risk-free, before having to commit to a year's subscription.
You can also preview a couple of minutes of some classes without signing up at all to get a flavor of whether Skillshare could be a good option for you.
For the latest and best Skillshare deals check here.
What a lesson is like
Due to the range of instructors, classes can vary quite a bit. Some are more practical, others more theoretical. Some require no prior knowledge and others focus on building advanced skills. That said, you can expect the following from the average Skillshare course:
Concise, digestible lessons
Courses are typically 1-2 hours long with bite-sized lessons of around 10 minutes or so
Over-the-shoulder tutorials
For disciplines such as illustrating, you can expect to see over the shoulder of your instructor as they take you through techniques. Many instructors utilize screen record so that you can watch and learn in real time
Some classes will be more "talking head" style. ie. Your instructor, center screen, walking you through ideas. I found this to be more the case with topics such as Social Media and Business rather that specific hands on skills such as Graphic Design
Each class will have a full transcript as well as subtitles in a variety of languages. All the courses that I took offered subtitles in English, Spanish, French, German and Portuguese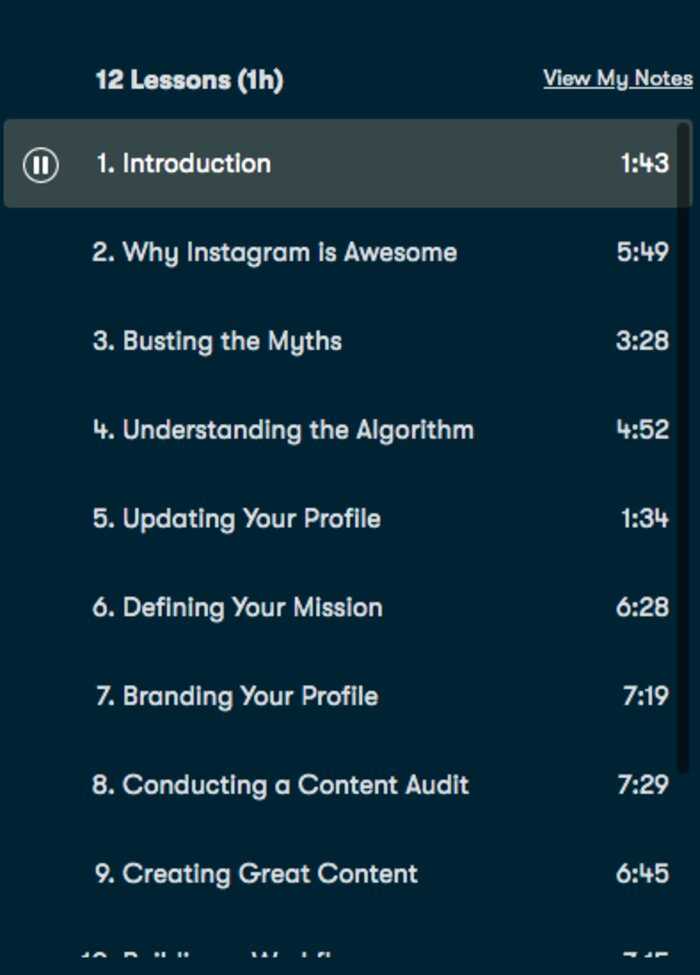 There are also Skillshare Original classes. These are courses made in partnership with Skillshare and typically are much higher budget. I tried Taylor Loren's Instagram course and was really impressed with the video quality — the videography and B-roll kept me really engaged and it ultimately felt a little more polished than several others that I'd encountered.
Best Skillshare classes in 2023
With so many courses available, it's hard to know where to start. Here are the top 5 greatest of all time Skillshare classes:
Digital Illustration: Learn to Use Procreate by Jarom Vogel (159,000+ students)
Graphic Design Basics: Core Principles for Visual Design by Ellen Lupton and Jennifer Cole Phillips (143,000+ students)
iPhone Photography: How to Take Pro Photos On Your iPhone by Dale McManus (135,000+ students)
Mastering Productivity: Create a Custom System that Works by Thomas Frank (122,000+ students)
Fundamentals of DSLR Photography by Justin Bridges (110,000+ students)
Now, while all these classes are incredible, if they're not in a topic you're interested in, they won't be the best for you.
There are also classes that are more recent and relevant but that haven't had the chance to rack up the numbers. For example, a class on Instagram reels in 2023 could be hyper-relevant to you right now, but by nature won't have huge enrollment stats.
So, I've listed some other great courses by topic below. Some of these won't have the GOAT numbers but they've been voted as some of the best courses to be taking in 2023. You can find out more from our Best Skillshare classes review.
Photography, Video and Animation
Portrait Photography: Shoot and Edit Instagram-Worthy Shots by Jessica Kobeissi
"Join photographer and YouTuber star Jessica Kobeissi for an in-depth look at creating gorgeous portraits that will stop the scroll on any platform!"
Highly rated for:
Engaging teacher
Helpful examples
Clarity of instruction
What makes it great? A thorough tutorial covering everything from planning for photo shoots through to the techniques used in shooting and the editing process. Plus, if you're already a Jessica Kobeissi fan, you'll be sure to love this one.
Mastering TikTok: Stop Scrolling and Post Your 1st TikTok by Taylor Loren
"In this class you will learn how to shoot, edit, and optimize your TikTok for more views, and how to navigate the TikTok ecosystem so you can stop scrolling and start posting."
HIghly rated for:
Engaging teacher
Helpful examples
Clarity of instruction
What makes it great? Taylor has a track record of putting companies on the map with the social media approach. She's a really clear teacher and provides a great introduction to creating TikToks, exploring all the need-to-knows about the platform.
Easy Animation: Make Fun, Cute GIFs for Your Instagram by Scott Martin
"Join artist and animator Scott Martin of Burnt Toast Creative to create a unique, fun sticker pack of gifs that you can use — and so can everyone else!"
Highly rated for:
Helpful examples
Clarity of instruction
Audio and video quality
What makes it great? Scott Marin offers a well-taught and thorough course that it's easy to follow and really practical. Past students rave about their new sticker collections!
Creativity
Productivity for Creatives: Build a System that Brings Out Your Best by Thomas Frank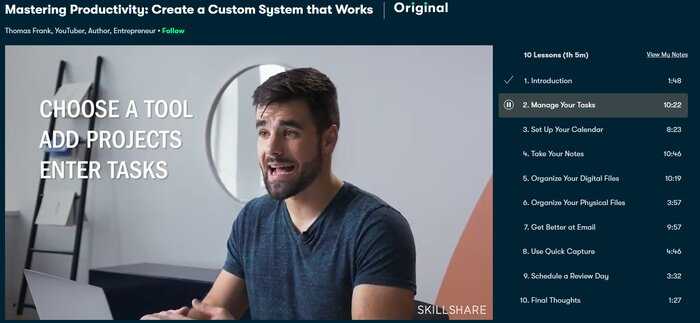 "Thomas Frank isn't just a productivity expert; he's also an artist - infusing his video projects with cinematic shots and creating his own music on the side. Now, Thomas is sharing his discoveries in his newest (and weirdest?) Skillshare class all about the relationship between productivity and creativity."
Highly rated for:
Engaging teacher
Audio and video quality
Organization of lessons
Why it's great? Thomas Frank's class is an in-depth course looking at cultivating a creative mindset, how to set up your workspaces to work for (and not against) you, and how to practice your creativity like a muscle. It has tangible tips that will help you in so many aspects of your day to day life.
Confidence for Creatives: 5 Exercises to Grow Your Confidence and Self Care by Eugena Washington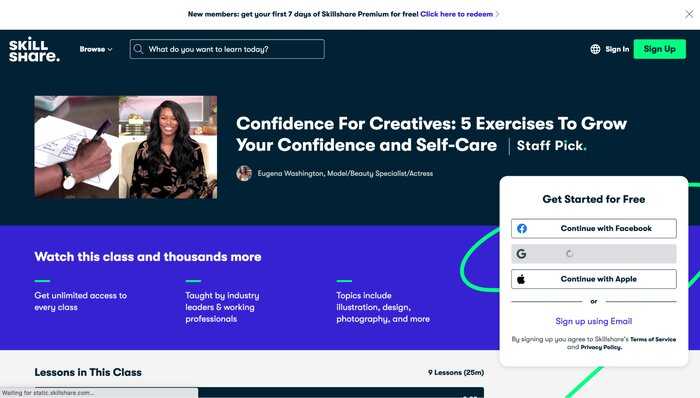 "This class is designed for creatives of all disciplines to help uncover your unique confidence. Do you battle with imposter syndrome? Are you looking for a burst of inspiration? If you answered "Yes" to either of these questions, this class is for you!"
Highly rated for:
Engaging teacher
Actionable steps
Clarity of instruction
Why it's great? Eugena Washington embodies her messages in a class that's full of contagious positivity. It's a confidence-building journey into self worth and belief that's sure to get you out of your slump and into success.
Art, Illustration and Graphic Design
Cultivating Color: Vary Palettes in Original Art and Grow Your Portfolio by Cat Coquillette
"You'll learn step-by-step how to transform your artwork into a flourishing collection of color variations using a few simple tools in Adobe Photoshop."
Highly rated for:
Clarity of instruction
Actionable steps
Engaging teacher
Why it's great? Seasoned Skillshare teacher, Cat, delivers an information-packed class that's suitable for most levels and is full of actionable tips and tricks to explore color.
Simple Words to Stunning Art: Combining Hand Lettering and Illustration by Gia Graham
"In this class, we're going to explore how to level up your lettering compositions by incorporating illustration in three effective ways."
Highly rated for:
Clarity of instruction
Organization of lessons
Engaging teacher
Why it's great? Gina gives you thorough instruction on the "how-to" aspect of lettering, leaving room for you to be your own artist and develop a signature style.
The Style Class: Work Out Your Illustration Style in a Daily Project by Tom Froese
"This class is all about understanding the deeper issues around style, how it relates to you and your identity, and how to use style to solve visual problems, reliably and expressively, in your commercial illustration. It's not about the individual components of style, or how to use specific tools and techniques. It's about empowering you to boldly explore your own potential as an illustrator."
Highly rated for:
Clarity of instruction
Actionable steps
Helpful examples
Why it's great? This course does exactly what it claims to: help you to work out your signature style. Many students who have taken it credit this class with helping them drill down and discover what makes their art unique to them.
Self Care
Revolutionary Self-Care: Embrace, Nurture, and Grow Your Authentic Self by Chidera Eggerue
"Join best-selling author and activist Chidera Eggerue, aka The Slumflower, on a beautiful and passionate journey through your own heart. In a class that is both funny and moving, Chidera brings her wisdom and warmth to help you build your belief in your own strengths and worthiness. "
Highly rated for:
Engaging teacher
Actionable steps
Helpful examples
Why it's great? This course has been completed by almost 12,000 students with a whopping 96% of students feeling that their expectations were met and exceeded. Chidera exudes all that she teaches within the class, leading by example and offering space for self-reflection and nurture.
 Document Your Life: 4 Methods to Live More Intentionally by Nathaniel Drew
"There is something beautiful about capturing pieces of your life in a thoughtful way, and having these moments to look back on. Their value is immeasurable. They can create a sort of loose outline of your past. They will become portals to see where you've come from and what you've been through. This class is all about the cultivation of those moments."
Highly rated for:
Engaging teacher
Clarity of instruction
Audio and video quality
Why it's great? We all probably have phones full of photos and videos that we shot aimlessly and didn't end up doing anything with. In this class, you'll learn how to mindfully document your life as well as how to form those snaps into something worth treasuring.
Skillshare for business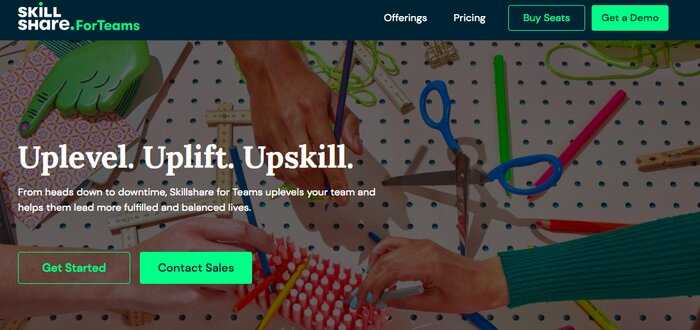 As well as individual Skillshare memberships, there are several business options available. These fall under Skillshare teams — learning options for within the company — and corporate gifts which is a bulk purchase of individual Skillshare memberships.
If you're a part of a business looking to reward your employees then Skillshare Corporate Gift Cards could be a great option for you. It's currently the only gift option for purchasing Skillshare memberships and can be ordered in batches of 25 memberships or more.
Skillshare Teams is an option if you want employees to be learning alongside each other, helping your team to upskill and uplift one another.
The upside of a Teams membership is that an administrator can oversee the whole team and if one person leaves, you can trade their place for another person. Essentially you pay a price per head for the whole year but can alter who has access when needed.
There are three different Skillshare Teams plans: Starter, Enterprise and Revive.
| | | | |
| --- | --- | --- | --- |
| | Starter | Enterprise | Revive |
| Price | $159 per person, per year | Custom | Custom |
| Best for | 2-19 people | Teams of 20+ | Teams of 51+ |
| Focus | Full Skillshare learning experience at a discounted rate | Full Skillshare experience as well as detailed reports and a dedicated Customer Success Manager | Great perks for employees and a focus on wellness |
How I reviewed Skillshare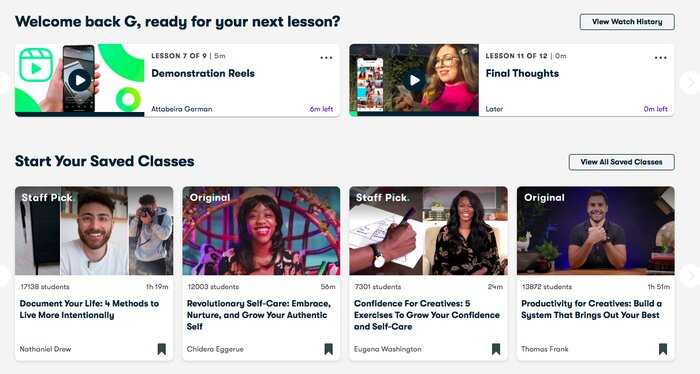 I am an avid e-learner. I can often be found glued to a MasterClass video or YouTube Tutorial. I'm also a teacher. Having spent 14 years teaching classes both in person and online, I know how to separate the good from the bad and the downright ugly.
So when it came to reviewing Skillshare, I knew I had to commit and do it properly, writing up the most comprehensive Skillshare review out there.
I signed up with a free trial (here) and spent a little time perusing through available courses and topics to decide where to start. Then I got to taking courses. I watched as many as I could, trying out contrasting classes.
What I wanted to know was how does a Skillshare Original class compare to a standard class? Are there some really terrible classes out there? Does a low amount of views mean the course is no good?
And so I took a Skillshare Original class. And a class with over 30,000 students, and one with only a handful of students.
It's impossible for me to take every single class on the platform but I also delved into the FAQs, the comments, the views of others on forums like Reddit and Quora for insights from others who had taken different Skillshare classes to me.
What I liked about Skillshare
Huge number of lessons available (40,000+)
With over 40,000 different courses available on Skillshare, there is something for pretty much everyone. I tried to think of some obscure topics that I thought might not be covered, but everything had multiple results.
Paper airplane making? Check. Tarot? Check. Shoe making? Check.
I always was able to find something that was hyper-relevant to what I wanted to learn.
It really feels exciting to have literally a world of learning at your fingertips! It also makes the subscription fee great value for money.
High quality teachers
Skillshare boasts some really top quality teachers. The most successful ones have years of experience in their field and are able to articulate their steps to get there.
When I searched through the top rated courses, a huge number of reviews had highlighted that the teacher was engaging and the instruction was really clear.
That caliber of tuition is exactly what's needed when you want to upskill quickly so it's great that so many Skillshare teachers tick this box.
Tangible results
With so many classes on the platform, some are more abstract than others. That said, the majority of classes on Skillshare are tutorial-style classes with an objective and a chance to create something.
This differs from other platforms like MasterClass where the courses are more interview-style than step-by-step instructional.
If you want to learn how to do something, Skillshare is a great platform for honing your skills.
Several of the classes I took ended lessons out with a call to action. "I challenge you to…." or "now go and implement…"
This really helped to get tangible results as I would jump straight into implementing what I had learned.
I took what I had learned in an Instagram Reels class (60 mins long), applied it to my freelance social media account, and won a new client from my very first reel. For me, you can't get better results than that!
Bite-sized lessons
I was a little skeptical when I learned that most Skillshare lessons don't run much past 10 minutes. Can you really learn anything worth knowing in less than 10 minutes?
It turns out, yes you can.
And in fact, the length of the lessons really helped me to continually learn and keep upskilling. We're all busy and the thought of having to clear an hour in my schedule to learn is a big barrier to sitting down to do something.
But 10 minutes? It's so easy just to log on and complete a lesson or two each day in digestible chunks that don't take lots of commitment.
Curated learning suggestions
If you dive into the Skillshare Reddit thread, you'll find some people remarking that Skillshare is just as good as YouTube.
However, the curated learning suggestions from Skillshare are an absolute essential part of the Skillshare experience. And although I've learned many a thing on YouTube, my learning journey on Skillshare had so much more clarity and curation.
You'll get class suggestions based on your interests, most popular courses, what's trending, and more. And whenever I logged into my Skillshare account, I always found relevant suggestions which were backed by huge numbers of enrolled students.
Plus, it's really helpful to have a dedicated space for learning. Because, who can hand-on-heart say that they've not been totally taken off track by their "next up" YouTube suggestions?
Community vibe
As a Skillshare member, you are encouraged to share your projects with the Skillshare community and this is a really fun way to get feedback on your own projects and be inspired by others.
Most teachers also have their ongoing projects highlighted on their page so you can check out what they've been up to.
You can also curate your own profile and follow others to keep you motivated on your learning journey.
Skillshare Perks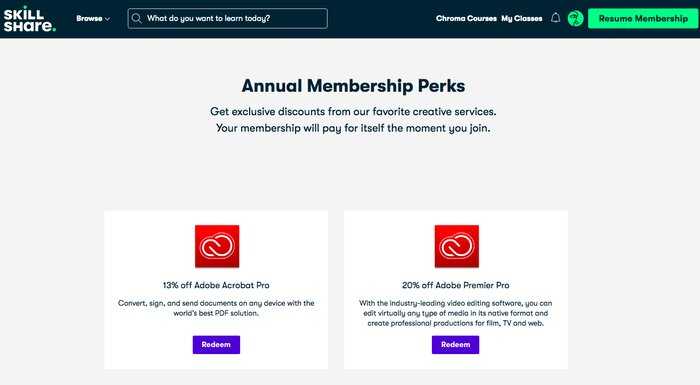 As an annual Skillshare Premium member, you have access to Skillshare Perks. These include discounts for:
Adobe Acrobat Pro, Premier Pro and Creative Cloud
Squarespace
Todoist
Society 6
Benchtax
Invision
Moo
Canva
Freshbooks
If you were to make use of all the discounts available, they could save your more than the cost of a Skillshare membership itself.
What could be improved
The quality of instructors really varies
With such a massive volume of courses, it's inevitable that the quality of instructors varies a lot. Skillshare doesn't audit its instructors — anyone can create a course — and so, unfortunately, some of the courses are just downright bad.
I was lucky to experience mostly great courses, but some instructors can be unclear or lack fundamental knowledge and they don't get called up on it.
That said, Skillshare prioritizes and suggests courses that are popular. Students are also encouraged to leave feedback in the form of questionnaires, reviews and ratings so that the algorithm can sort the good from the bad.
So to avoid disappointment, watch class trailers and opt for tried and tested courses.
Courses typically aren't long enough to explore a topic in depth
The average Skillshare course is only around an hour long, divided into 5 or 6 sections. Because of this, courses mainly have time for the surface details and don't go into great depth.
Depending on what you're looking for, this could be great or it could be terrible.
However, some instructors, such as Brad Woodard, have created a series of courses, breaking down topics into subtopics each with their own course. So if you are looking to go into detail, check out which instructors offer more.
Some similar content can be found for free on YouTube
With Skillshare one of the most common criticisms is that you are charged for a product which you could get for free elsewhere.
And you can, admittedly, find some similar content on YouTube. Sometimes.
Honestly, if you're on a non-existent budget, you can dig deep and learn so much from YouTube.
But there are definitely advantages of Skillshare vs. YouTube which make the subscription fee worthwhile.
Curated learning all in one place
Peer reviewed courses
A dedicated learning space (I don't know about you, but looking up anything on YouTube always turns into watching something entirely unrelated!)
A community of like-minded learners
Portfolio of projects to share with
Who is Skillshare for?
No single platform is suited to absolutely everyone but Skillshare is especially great for:
Freelancers looking to upskill on a budget
Hobby artists who want to spend more time learning their craft
Small businesses hoping to improve their business streamline
Anyone looking to learn new skills, whether you have experience in that area or not
Time poor hustlers who need to learn things fast
Graphic designers, illustrators, and visual artists who can benefit from the Skillshare Perks the most (big Adobe discounts!)
Ultimately, Skillshare is a really good place to upskill and learn quickly and cost effectively. You'll have a wealth of courses at your fingertips and be able to pick up actionable tips through bite-sized lessons.
Whether you're a beginner or a pro in your field, there's undoubtedly something there for you.
Can I buy Skillshare as a gift?
It is technically not possible to buy Skillshare as a gift for an individual. The only official gift option is intended for businesses and requires a bulk purchase of 20 or more gift cards.
However, there is a slight hack to get around this.
You are able to change the email address of a Skillshare account. So if a Skillshare membership is the perfect gift for your loved one, you could:
Create a Skillshare account for them, but using your email address
Make your own gift card to let them know of your purchase
Give them the login details to switch out your email address for theirs
Tips to finding great courses on Skillshare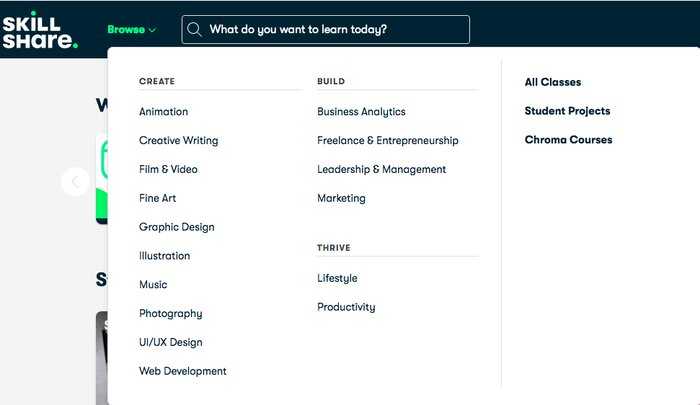 With over 40,000 courses available on Skillshare, it can feel difficult to know where to start. But don't worry — Skillshare is set up really well to help navigate this and there are a couple of different ways to get started.
Visit your curated home page
When you sign up, you will complete a short quiz telling Skillshare what topics you are interested in. This enables the platform to load a home screen packed full of suggestions for you.
As you start learning, you'll get even more relevant course suggestions, making learning the next thing a breeze. From my home page, I can see classes separated into:
Continue watching
My saved classes
Recommended for me
Staff picks
"Because you follow…."
"More like…"
Inspiration based on my interests
Featured on Skillshare
Trending now
I've never spent more than 2 or 3 minutes wondering what to learn next and everything I've been suggested has been right on the mark.
Browse and filter
The main Skillshare disciplines are listed in the home menu and can be navigated to with ease. From there, you will be shown a curated list of classes — Top Picks, Popular and Trending — and also have the option to view all classes within a category.
You can also toggle the filter options to search within a category, prioritizing:
Course length
Most popular
Time frame of popularity (ie. most popular of all time or most popular in the last month)
Follow along with the Skillshare blog and email suggestions
The Skillshare blog is full of info on the top-performing classes at any moment as well as supplementary information to go alongside courses.
You can also opt in to Skillshare emails so that you receive news on what's new and trending right into your inbox.
Is Skillshare legit?
Tech companies pop up all the time promising the world, charging you and then never delivering. So what makes Skillshare a legit company?
It was founded in 2010 — that's over a decade in the business
Skillshare has a global community with over 13 million users 
It has robust purchase and refund options
I've tried and tested it myself (signing up, learning and cancelling) and have found it to be entirely reliable
While it may not be the learning platform for everyone, Skillshare has established a history of being a reputable company.
That said, you don't have to look far for people to complain that Skillshare stole their money. So where do these accusations come from?
While Skillshare isn't in the business of stealing people's money, it does strictly operate by its terms and conditions so make sure you read them carefully to avoid disappointment.
The most common ways people have been caught out are:
Forgetting to cancel their subscription before the free trial ends
Assuming that free trials can roll over to monthly subscriptions (They can't. If you use the trial you're opting for an annual subscription)
Hoping that you can get a partial refund on any unused time
TLDR: Skillshare won't steal your money but you must read the T&Cs so that you don't lose out by accident.
Skillshare refund
As long as you purchased directly from Skillshare, you are able to get a refund on your subscription fee within the first 7 days of purchase.
To request a refund, you need to contact Skillshare and start your refund request.
After the initial 7 day period, refunds are no longer applicable — you can cancel your subscription but it will run until the end of the billing cycle (ie. for a year if you purchased an Annual membership).
In the period between cancellation and the end of your billing cycle, you will be able to use your Skillshare account completely as normal with access to all classes and all your notes and favorites still being saved.
> If you need further details on how to complete a Skillshare refund request, check out our Skillshare Refund Guide here.
Skillshare alternatives
There are a couple of other big names that you'll hear thrown up alongside Skillshare: MasterClass, Udemy, Coursera and EdX.
Each has a slightly different approach and if you're not sure that Skillshare is for you, one of these might be a more suitable option.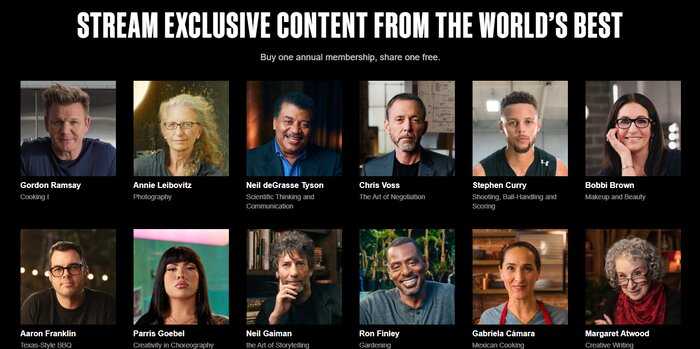 Focus: enabling everyday people to learn from the best
Pros:
Celebrity instructors (Gordan Ramsay, Penn and Teller, Helen Mirren, Tan France)
Amazing production value with class that keep your intention
Infotainment-style classes that are easy and fun to watch
Great range of topics covered, from cooking to tennis, acting to producing
Cons:
Some variation in how practical classes are (ie. Gordon Ramsay's is very hands on, Alicia Keys' very abstract)
Limited number of courses (~150) compared to Skillshare's 40,000+
Cost: $180per year
> Check out our MasterClass review or our article Skillshare vs MasterClass – which is better?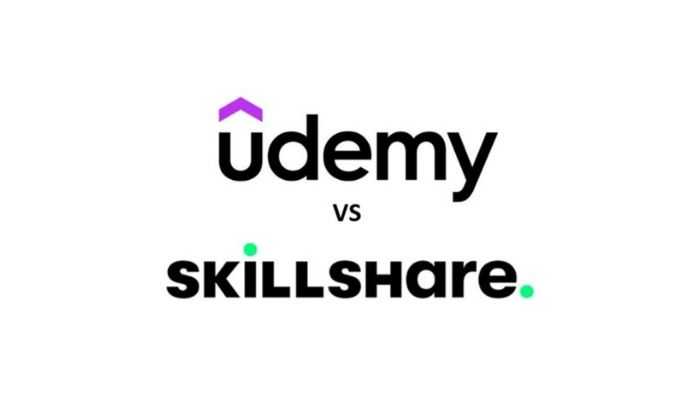 Focus: to create new possibilities for people everywhere by connecting them to the knowledge and skills they need to succeed in a changing world
Pros:
Even more courses available than on Skillshare (183,000+)
Teaches skills that equip you for the changing nature of work
Courses go into very specific and intricate detail
Passionate, successful and professional instructors
Cons:
Not all courses are of equal quality
Course certificates aren't accredited by any university or institution
Cost: ranges from $12.99 per course to upwards of $200 for some courses
> Check out our Udemy review and our comparison article Udemy vs Skillshare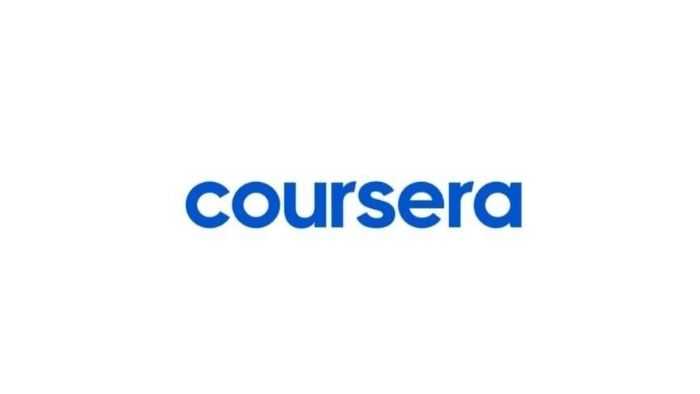 Focus: partnering with the best institutions in the world so that anyone, anywhere has the power to transform their life through learning
Pros:
The chance to earn a certificate from the world's top organizations such as Harvard, Yale and Berklee
Well structured and resourced courses and excellent teaching
Prestigious education at affordable prices
Huge catalog of courses with 7,000+ available courses and degrees
Cons:
Confusing pricing structure with some free aspects and lots of add-ons
Courses vary in quality
Cost: audit some courses for free; Guided Projects from $9.99; Specializations and Professional Certificates from $39.99; Coursera Plus subscription is $399 per year; and Full degrees start at $9,000.
> Check out our Coursera review here
edX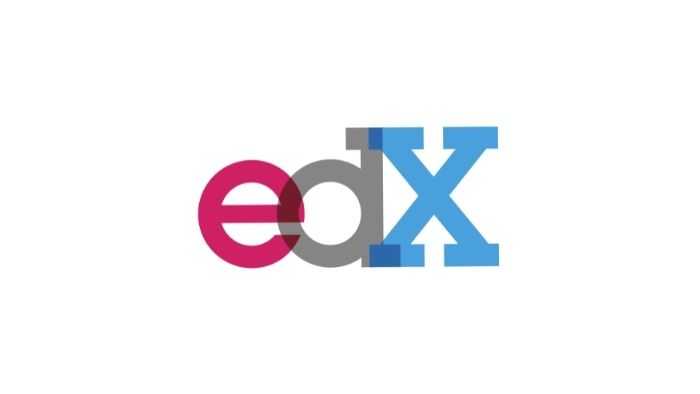 Focus: to increase access to high-quality education for everyone, everywhere
Pros:
Thousands of free classes
The chance for certification from leading institutions
Classes are extremely comprehensive and taught with an impressive mix of audio, visual and textual teaching styles
Wide range of topics and resources
In depth tuition available
Cons:
Courses vary in quality
Not the only platform of its kind
Cost: lots of content is available for free on edX but to upgrade to the Verified Track typically costs between $50-$300 with some options costing much more
> Check out our edX review here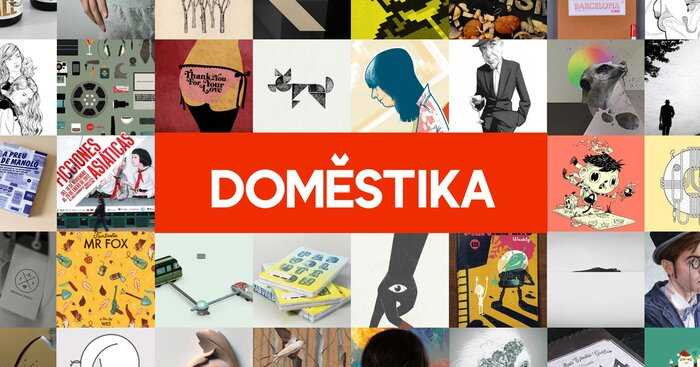 Focus: An online platform for creatives
Pros
An incredible versatile platform with classes for all tastes and interests
Some of the most professional and experienced tutors in the world
Four purchase options to give users flexibility
Loads of downloadable content
Cons
Many classes not taught in English – though every course offers subtitles in a variety of languages
Cost: Domestika has different purchase options to suit your needs. If you would like to explore many courses at once you can get an annual subscription for around $100 or a monthly subscription for around $12. For individual classes, bundles, or business plans make sure to check Domestika's pricing information.
>Read our full Domestika review
Skillshare reviews: what others have said
In order to write the best Skillshare review possible, it was important to convey not just my own experience, but also glean insight from other Skillshare users. And so I Googled "Is Skillshare worth it reddit" to find out!
The general feeling is that Skillshare is right for some and not others. It suits creatives who want to upskill quickly and with ease but perhaps a bit hit and miss in some niche topics. Several commenters drew similarities between Skillshare classes and YouTube as I've previously mentioned.
Those who felt that Skillshare wouldn't for them shared thoughts like this:
Now, it's important to note that while I had a great experience on Skillshare, not everyone loves it. Here are some insights from those who had a less positive experience:
"I found it lacking. A lot of it was lesser quality than what you can find for free on Youtube and the UI was a mess. If there's a specific artist that you like that is offering courses it might be worth it, but I paid for a year, and ended up regretting it." -- comment on Reddit
"i dont recommend it. Resources like Proko, modernday james etc. on youtube is more than enough. Sometimes classes on skillshare don't even compare in terms of quality."  -- comment on Reddit
"It really depends on the course and what you want to learn. I had it for couple of months, and I'd say it's better for learning specific skills (botanical drawings, acrylic pouring, character design, etc) than becoming a better artist in general, because it is basically just loads of people teaching individual courses on things that they're good at than a pedagogically sound curriculum." -- comment on Reddit
But, like me, a lot of people have really benefited from their time on Skillshare:
"If you're a creative, it's just sooooo much valuable info that translates into better art, more clients/sales etc. So I think it pays itself many times over. Youtube is great! And you can def get by for certain skills on Youtube. The difference on Skillshare is the many little "niches" you can find, which are all very well explained. Plus, skillshare is project-based, so you should get experience building something in every single class." -- comment on Reddit
"For what you pay you got a BIG amount of stuff you can watch and actually learn. It depends by your interests, though. You may have interests that are not covered enough on Skillshare. If you aim to learn photography or drawing, though, it's a very good platform." -- comment on Quora
"It's good, if you want the most out of it, make a list of skills you want to get better at, mediums, programs, subjects, fundamentals etc. Then go down your list through classes on skillshare." -- comment on Reddit
Overall, you seem to either love or hate Skillshare and the best way to find out whether it's for you is probably by taking a free trial and sampling some content that you're interested in.
Evaluating Skillshare.
Features: unlimited access to 40,000+ courses, community project sharing, and bite sized lessons to keep you learning. You'll also get Skillshare Perks discounts for software such as Adobe tools and Freshbooks
Content quality: lesson quality can really vary but popular courses typically are 1-2 hours with an average lesson length of around 10 minutes. Lessons are broken down into digestible chunks and you'll usually get to watch over the shoulder of your instructor as they walk you through the lessons
Content breadth: Skillshare lists 16 main categories on the home menu with countless more topics available via search. These topics include: Animation, Creative Writing, Photography, Music, Freelance & Entrepreneurship, Lifestyle, and Productivity, amongst others
Teachers: in all the lessons I took, I found the teachers to be excellent, but the quality can vary. Sticking to highly rated classes is a great way of ensuring that you're learning from the best
Supporting materials: each lesson is fully equipped with a transcript as well as subtitles available in English, Spanish, French and Portuguese. You'll find a "Projects & Resources" tab with each lesson which breaks down any other information that you need
Payments & refunds: an annual Skillshare Premium membership costs $168 (USD) per year or $32 per month if you opt to pay monthly. Refunds are applicable in the first 7 days after purchase with a cancellation policy kicking in after that.
Support: you can reach Skillshare support via the Support page or via email help@skillshare.com
How to open a Skillshare account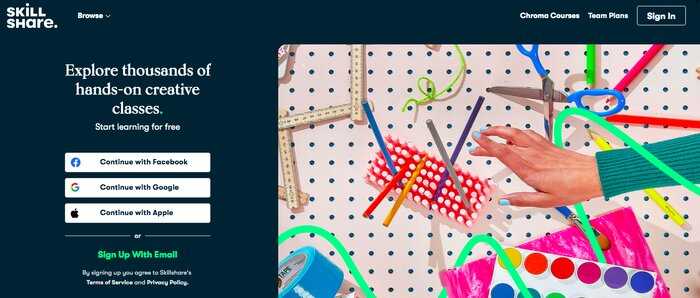 Opening a Skillshare account is very straightforward but I'll go through the three easy steps to help you along your way.
Visit Skillshare.com and click "Sign Up"
Enter your name and email address where prompted and choose a password for your Skillshare account
Enter your payment method as prompted. If you have a free trial, you will see this being applied but you will still need to provide a valid payment method for any future charges
That's it! You're all done!
Is Skillshare worth it?
In my personal opinion, Skillshare was very worth it. I'm a freelance creative and managed to implement lessons learned on Skillshare to increase my earnings and reach new clients. For me, it paid back in multiples instantly, but even if it hadn't, I think my answer would still be the same.
Is there similar content on YouTube? Probably. Are some courses better than others? Most definitely! Is it the wrong platform for some people? For sure.
But here are the worth its for me:
The content is curated specifically for you without being diluted by your other interests that don't go hand in hand with learning (cat videos on YouTube, I'm looking at you)
Lessons are bite-sized and easy to consume which makes learning stress-free and upskilling a habit
For creatives, there are real tangible benefits to be had from learning and applying your lessons
It's really fun!
Ultimately, the best way to find out whether Skillshare is good for you is to get on board with a free trial and see how it goes. If you don't like it, don't forget to cancel within the T&Cs so that your risk of losing out is minimized.
And if you do like it (which hopefully you will), give yourself a pat on the back for upskilling your life for a price that's probably less than your coffee habit.
Related articles: Best – soap making, watercolour, embroidery and drawing classes and our Domestika and CXL reviews.
Skillshare Review – Frequently asked questions
How much does Skillshare cost?
The most popular Skillshare membership is the Annual Premium membership. It costs $168 (USD) per year. You can also purchase a monthly membership priced at $32 per month. 
Does Skillshare have a refund policy?
Skillshare will refund any purchase within the first 7 days of purchase. After this period, you can still cancel your Skillshare subscription but will not receive any money back. Your access to Skillshare will continue until the end of your billing cycle. 
How many courses are there on Skillshare?
There are over 40,000 courses available on Skillshare.
Does Skillshare have a free trial?
Skillshare offers a free trial ahead of an annual membership only. (Free trial not available for monthly Skillshare subscription) Trials vary but are typically 7 days (30 with our links).
Does Skillshare give certificates?
Skillshare does not issue certificates. Students are encouraged to post and share their completed class projects as proof of completion.
What languages is Skillshare available in?
The Skillshare community is predominantly English-speaking and the courses typically reflect this. However, Skillshare accepts courses taught in any language and offers multilingual captions in English, Spanish, French, Portuguese and German.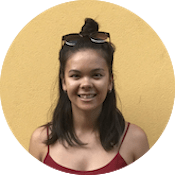 Glenda is an award winning full time professional harpist. Alongside harp she also plays the piano and violin. Besides music, her passions are cooking, writing and learning.