Skillshare and MasterClass are both globally respected eLearning platforms.
But which is better, Skillshare or MasterClass?
With this Skillshare vs MasterClass comparison, I'll give you a thorough understanding of which of the two is a better fit for your needs.
I compare their differences in terms of teacher and course quality, costs, platform features and more
The review is detailed. But if you're pressed for time the headlines are:
MasterClass: MasterClass' rationale is simple: everyone deserves access to genius. Its instructors are the world's best in their fields-eg Gordon Ramsay, James Cameron and Margaret Atwood. With its outstanding production values and rigor when it comes to quality of content, MasterClass provides a unique learning experience.
Skillshare: provides a platform for practising creatives to both learn, and share, skills. Its courses tend to focus closely on how to get to grips with individual, discrete skills. It has some high profile instructors but most are every day creatives who want to share what they know.
Summary: Skillshare provides a platform that anyone can share their creative knowledge on. MasterClass only ever extends invitations to offer a course on its platform to the world's best. Both are subscription platforms with similar costs.
Quick Summary
This side by side comparison table provides an overview of the key differences between Skillshare and MasterClass.
Skillshare
MasterClass
# of users
12 million
1.5 million
# of Courses
40,000+ across 3 categories
150 across 11 categories
Teachers
Anyone can design and offer a course
The world's best in their field
Pricing
$32 pm (monthly subscription)
$14 pm billed annually
$15 pm (billed annually)
Multi user options available
Free content
Short samples of some courses
Short samples of each course
Features
-Video content with transcripts and subtitles.
-Massive choice of courses focussed on creatives
-Curated learning with Skillshare picks to help guide your learning journey
-Teachers who are celebrated and revered for their global success
-Cinematic production values
-3 subscription options to reduce costs
-Sessions taken with a community of fellow learners
-Downloadable workbooks to support & extend learning
Specialization
Enables practising creatives to share skills online
Teaching from the world's best
Pros
-Passionate instructors with some high profile contributors
-Very practical classes
-Curated learning to help match you with the best classes
-Skillshare Perks: discounts for Adobe, Canva, Freshbooks, etc
-Active community of fellow learners
– Lots of courses to choose from
-Learn from the best with passionate and revered teachers
-Affordable + multi user options
-High production values and immersive content
-Downloadable materials to support learning
-Broad range of categories
-Access to sessions you join with a cohort of fellow students
Cons
-Course quality varies
-No course certificates
– No course certificates
Best for:
-Freelance creatives/hobbyists looking to upskill
-Creative businesses hoping to expand
-Anyone looking to learn new creative skills regardless of experience
-Those who can benefit from Skillshare Perks
-Anyone who's intellectually curious
-Those wanting to benefit from the wisdom of top performers
-Anyone seeking a high quality, immersive learning experience
-Those looking to up their game in the categories available

More information
Visit Skillshare
Visit MasterClass
About Skillshare and MasterClass
Now let's take a closer look at Skillshare and MasterClass to find out what they're all about
About Skillshare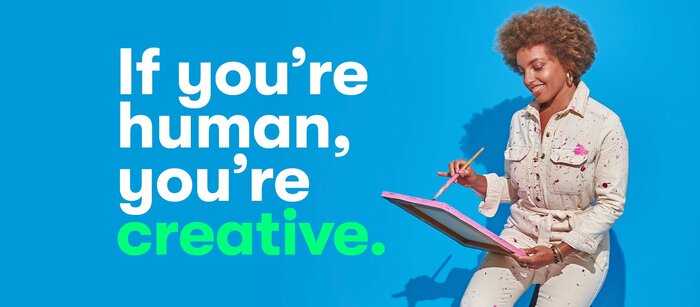 The core philosophy of Skillshare is simple: "Anyone can learn anything, at any age, at an affordable cost, anywhere in the world"
And to prove the point, since being founded in 2011, Skillshare has become the world's largest online learning community for creatives. It has more than 40,000 courses and 12+ million users.
Skillshare is renowned for its classes in creative disciplines such as photography and sketching, but also offers courses in fields such as business and productivity.
Many of its courses are taught by industry experts. However, Skillshare is also an open platform where everyday people who have harnessed creative expertise can upload classes, become teachers themselves and earn an income.
For more details check out our Skillshare review, Skillshare costs, Skillshare discounts, and Skillshare statistics articles.
About MasterClass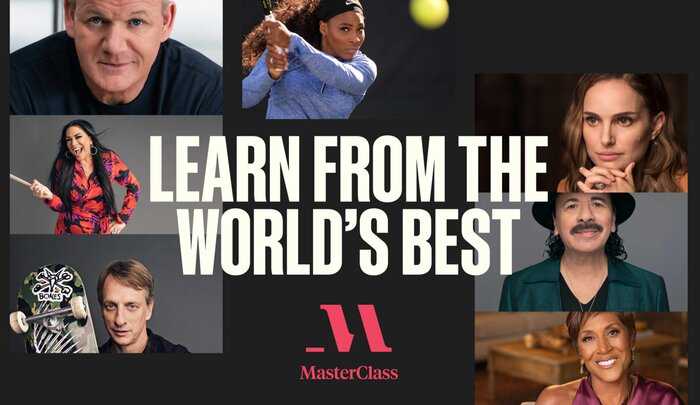 MasterClass was founded in 2015 with the ambition of giveing everyone, everywhere access to genius.
Its aim is to create the most significant online library of wisdom in the world – to rival that of the ancient Library of Alexandria.
Its 150+ MasterClasses are available in 11 categories and are taught by globally acclaimed icons in their fields of expertise.
Besides the calibre and track records of its instructors, MasterClass is known for its cinematic production values and the way it uses storytelling to create an intimate connection between the instructor and you, the audience.
Like Skillshare, MasterClass is a subscription platform but in contrast to Skillshare, it allows you to share membership costs with friends and family.
And judging by the stats, the MasterClass formula seems to work.
For example, MasterClass has received almost half a billion dollars worth of investor funding since its launch in 2015. And it's predicted to go public in 2023.
If you want more details on MasterClass and some of its most popular classes, check out our Masterclass review and best MasterClass article.
Summary: Skillshare is the older of the two platforms with more users and courses. However, it is focused on creative disciplines and is an open platform allowing everyday people to upload classes online. In contrast, MasterClass offers classes across a broader range of disciplines and its instructors are globally respected in their fields of expertise.
Skillshare vs MasterClass courses
This side by side comparison of Skillshare vs MasterClass sums up the course offering of each platform:
Skillshare
MasterClass
# of courses
40,000 across 3 categories
150+ across 11 categories
Categories
Create
Build
Thrive
(Each broken down into subcategories)
Food
Arts and entertainment
Filmmaking and Acting
Photography and Art
General entertainment)
Music
Writing
Sports and gaming
Design and style
Science and Technology
Community and Government
Free content
Snippets of some courses
Short samples of every course
Now let's take a deeper look.
Skillshare courses
Skillshare has three overarching categories:
Each of these is broken down into sub categories and courses themselves are labelled as being suitable for beginners, advanced practitioners or all levels.
Due to the range of instructors, classes can vary quite a bit. That said, you can expect the following from the average Skillshare course:
Courses are typically 1-2 hours long with bite-sized lessons of around 10 minutes
A mix of talking head style lessons and/or over -the-shoulder tutorials
Accessible format with transcripts in a variety of languages
You can find courses by:
Visiting your curated home page – after completing a short quiz on sign up the platform loads a home screen of suggestions for you which is updated as you learn
Using Browse: the main Skillshare disciplines are listed in the home menu and can be navigated to with ease.
Filtering options by course length and popularity
Following along with the Skillshare blog and email suggestions
Best Skillshare courses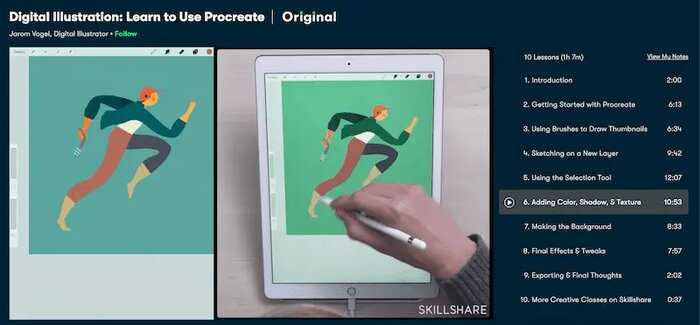 This is our selection of the top classes across the categories to give you a flavor of what's on offer:
Digital Illustration: Learn to Use Procreate by Jarom Vogel Taught by a freelance Digital Illustrator this is an in depth class suitable for beginners which will give you a thorough grounding in Procreate skills.
Portrait Photography: Shoot and Edit Instagram-Worthy Shots by Jessica Kobeissi A thorough tutorial covering everything from planning for photo shoots through to the techniques used in shooting and the editing process.
Productivity for Creatives: Build a System that Brings Out Your Best by Thomas Frank Thomas An in-depth course looking at cultivating a creative mindset, how to set up your workspaces to work for (not against) you, and how to practice your creativity like a muscle.
Cultivating Color: Vary Palettes in Original Art and Grow Your Portfolio by Cat Coquillette Seasoned Skillshare teacher, Cat, delivers an information-packed class that's suitable for most levels and is full of actionable tips and tricks to explore color.
Revolutionary Self-Care: Embrace, Nurture, and Grow Your Authentic Self by Chidera Eggerue This course has been completed by almost 12,000 students with a whopping 96% of students feeling that their expectations were met and exceeded.
Find out more in our article best Skillshare classes.
MasterClass courses
With over 150 classes across 11 subject areas there is variety between classes. That said, there are a number of things you can expect from every MasterClass Lesson:
Each class is broken down into roughly 20 video lessons of around 10 minutes
An introduction to the content of the lesson as a jumping off point
A mix of storytelling, theory and practical tasks or over the shoulder tutorials
Supporting subtitles, graphics, footage, case studies, examples and key takeaways
An in depth downloadable workbook with recipes, projects, assignments, supporting information, additional resources, etc.
MasterClass has recently introduced MasterClass Sessions. These are time bound practical courses that you take with a cohort of fellow students who provide support and share feedback with you.
MasterClass offers several ways for you to explore the platform. You can:
Browse its library by category and sample lessons for free
Scroll down the Welcome Screen to find what's new and trending
Search for instructors, classes or topics
Watch the YouTube trailers which give a great feel for each class
Or Read our Best MasterClass Review
Best MasterClass courses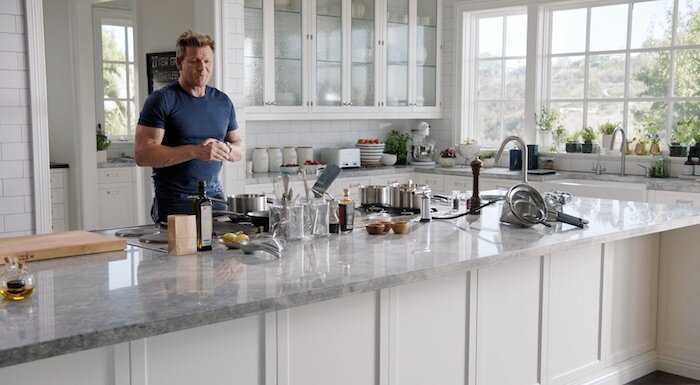 Five of the most popular MasterClasses are:
Summary: Comparing Skillshare to MasterClass, Skillshare does have more courses. However, the categories are not as broad as the focus is narrower. Another key difference is that Skillshare classes tend to hone in on the 'how tos' of discrete skills. Whereas MasterClasses are far more holistic and overarching.
Skillshare vs MasterClass teachers & course quality
No class is better than the quality of its teacher so this is an important consideration when choosing a learning platform.
Skillshare teachers and quality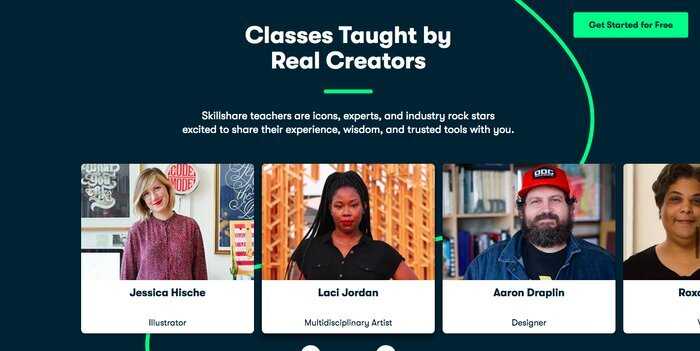 Many Skillshare classes are taught by industry experts including Jonathan Van Ness, Aaron Draplin, Emily Henderson, Thomas Frank, Rebecca Minkoff, Jeff Staple and more.
However, as well as being a publisher of original content, Skillshare is an open platform where any everyday creative can upload and share their course.
This means the quality of teaching can, and does, vary on Skillshare.
That said, Skillshare does require courses to meet certain standards and guidelines and its review system ensures that the best courses will always filter to the top.
MasterClass teachers and quality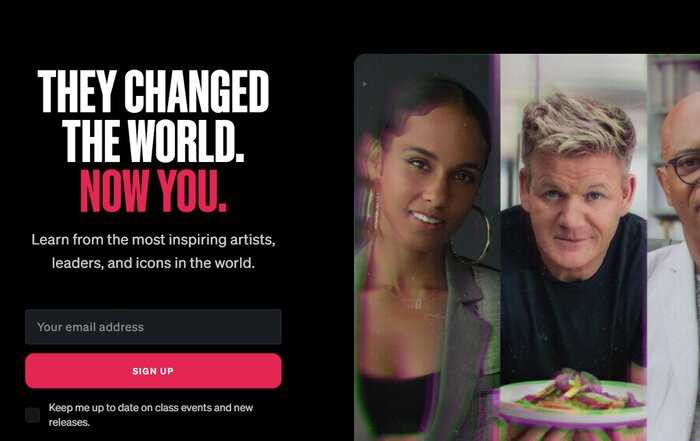 MasterClass instructors are an invitation-only list of Nobel Prize winners, Emmy and Academy Award holders, musical virtuosos, multiple Michelin star chefs, holders of the Presidential Medal of Freedom – and more.
As a taster, some of its teachers (besides those mentioned above) include:
Ringo Starr – Grammy, Academy and Bafta winner
St Vincent – Grammy Award winner and guitar icon
Tom Morello – 2x Grammy Award winner and "The greatest guitarist of all time" (Rolling Stone)
Margaret Atwood – endowed with over 100 awards and honorary degrees
Paul Krugman – Nobel Prize winning economist
Disney's Bog Iger – One of the world's most successful CEOs
Yo-Yo Ma – Renowned cellist and holder of the Presidential Medal of Freedom
So MasterClass really does provide an opportunity to learn from the world's best.
Summary: Compared to Skillshare, MasterClass consistently has only the best performers teaching its classes. Whilst some Skillshare teachers are industry experts, being an open platform where any creative can upload a course means the quality of teaching is more variable.
Skillshare vs MasterClass pricing
Skillshare costs
MasterClass costs
Per course
Not available
Not available
Subscription
Monthly $32 pm
Annual $14 pm billed annually
Individual: $15 pm
Two users: $20 pm
Up to six users: $23 pm
All billed annually
Free trial
Usually 7 days
30 day annual membership free trial available here
None, but a no quibble refund is available within 30 days
Refunds
Within 7 days
Within 30 days
Free courses
Short tasters of select courses
Short tasters of every course
Summary: In contrast to MasterClass, Skillshare offers the opportunity to subscribe on a monthly as well as annual basis. On the other hand, MasterClass offers the opportunity to share the cost of membership with up to five other users. The cost of an individual annual subscription to both platforms is broadly similar.
Skillshare vs MasterClass features
Let's take a closer look at what features each platform offers
Skillshare features
40,000+ courses in almost any creative topic you could wish for
Over 12 million registered users
Video lessons with transcripts and subtitles available for each class
Curated learning with Skillshare picks and suggestions to help guide your learning
Access to a community forum of fellow learners to collaborate, ask questions and share successes
Monthly and annual subscription options
MasterClass features
150+ MasterClasses
11 Categories from Arts and Entertainment to Food and Filmmaking
Teachers who are respected and revered for their global success
Cinematic production values
3 subscription options including the option to share membership costs with friends and family
Top quality downloadable resources to support learning
Access to a community forum of fellow learners to collaborate, ask questions and share successes with for MasterClass Sessions
Skillshare vs MasterClass – which is best for Businesses?
This side by side comparison of Skillshare and MasterClass for business sets out the differences and similarities between them.
Skillshare
MasterClass
Individuals
Corporate gift cards available in batches of 25
Gift cards available singly
Small teams
Starter Plan (up to 19 users)$159 per person, per yearFull Skillshare experience at discounted rate
Custom pricing
Provides an admin panel to monitor engagement and support a consistent perks/benefits strategy
Medium teams
Enterprise Plan (20-50 users)- Custom pricing- As above + reporting facilities and an account manager
As above
Skillshare vs MasterClass alternatives
Online Learning is big business and there's lots of competition in the space so you're spoilt for choice.
Udemy
The main reason for choosing Udemy as an alternative to Skillshare or MasterClass is its huge course library.
Udemy's 204,000+ courses offer both professional and personal development and include a wealth of courses that are creative and fun. So it could be your one stop shop for online learning.
You can buy courses individually from just a few dollars, or subscribe to a personal plan. Udemy's frequent sales and offers make it great value for money.
CreativeLive
CreativeLive offers a wide range of courses from cake decorating to social media management. All under the guidance of world-class creatives, cultural icons, and even Pulitzer Prize winners. CreativeLive has fewer classes (1,500+) than Skillshare.
Its membership is cheaper for individuals. Though MasterClass is far less expensive if you are joining with others. You can read our full CreativeLive review here.
Coursera or edX
If you're looking for accredited, certified courses then you could try Cousera or edX.
They have world class learning partners on board such as Harvard, Stanford and Oxford. Their offerings are broadly similar to each other but the course library for Cousera is much larger with over 7,000 courses.
You can buy courses individually on both platforms. Costs vary from a few dollars to thousands of dollars depending on the type of course you choose. But there is lots of content you can try for free.
Specialist platforms
Then of course, there are specialist platforms out there for particular interests. For example, YesChef is a little like MasterClass but just for food, Brilliant is great for developing math, science, logic and thinking skills and MindValley is fantastic for personal development through courses like Lifebook.
Skillshare vs MasterClass pros, cons, and best for
Skillshare
Pros:
Classes typically have a great mix of practical and theory
Active community which can help to motivate learners
Curated learning makes it easy to continue your learning journey without having to put too much thought into where to go next
Identifies courses as beginner, intermediate or advanced level
Skillshare Perks: discounts for Adobe, Canva, Freshbooks, and more
Free trial for you to explore the Skillshare catalogue
Cons:
No certification
Quality of teaching is variable
Best for:
Freelancers looking to upskill
Hobby artists who want to spend more time learning their craft
Small creative businesses hoping to streamline their operation
Graphic designers, illustrators, and visual artists who can benefit from the Skillshare Perks the most (big Adobe discounts!)
MasterClass
Pros
Learn from the world's best with passionate, revered and accomplished teachers
Wide range of choice from a large library of classes
Affordable and with multi user options
Access to sessions you join with a cohort of fellow students
High production values and immersive content that's engaging and fun
30 day no quibble refund policy
Cons
No free classes – though you can sample every class for free
No certificates of completion
Best for
People who are keen to learn from those at the very top of their game
Those who admire the teachers on the platform
Anyone who is intellectually curious and wants to up their game in the many learning categories available
Those Inspired by a cinematic style of learning that uses storytelling to create a connection between instructor and audience
Conclusion: Skillshare vs MasterClass which is best?
In summary, comparing Skillshare to MasterClass:
MasterClass's 150+courses are more varied, Skillshare's 40,000+ courses focus on creative disciplines
Teaching quality is far more consistent on MasterClass
Skillshare's classes are designed to teach discrete skills. MasterClasses are more holistic, immersive and overarching
The cost of an individual subscription is broadly the same for both platforms, but MasterClass allows you to share costs with friends and family.
That said, the answer to the question "Which is better, Skillshare or MasterClass?" depends on what you are looking for.
If you want a consistently high quality learning experience, delivered to you by the world's best as in a visually compelling storytelling, cinematic format, then MasterClass is for you.
If you are a serious creative looking to enhance or develop new skills then Skillshare is your best bet.
The good news is that both platforms offer free trials and/or refunds so you can explore them both before committing yourself.
Comparing Skillshare and MasterClass: our methodology
I navigated every corner of each platform to gather relevant information on costs, refunds and the range and quality of what's on offer.
I also sampled several specific courses from each. This included courses in topics I felt confident in which helped me gauge the quality of the teaching. And courses I knew little or nothing about to see if claims that no prior experience was necessary were backed up by good introductory content and incremental teaching that kept me engaged and learning.
Finally, I looked elsewhere across the internet to gather other people's opinions on each platform, and to explore potential alternatives.
Related articles: Udemy vs Coursera – which is better?
FAQ:
Which is better, Skillshare or MasterClass?
Skillshare is a better class for creatives who want to learn from other practicing creatives and professionals. MasterClass is more suited to those who enjoy a cinematic, immersive experience and the chance to learn from experts with celebrity status.
Which is cheaper, Skillshare or MasterClass?
An individual annual membership with Skillshare is slightly cheaper at $168 compared to $180 with MasterClass. However, you can reduce costs on MasterClass by joining with friends or family.
Which has more courses, Skillshare or MasterClass?
Skillshare has by far more courses (40,000+) than MasterClass (150+) though MasterClass has a broader range of categories.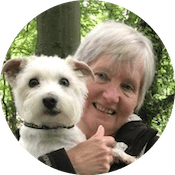 Liz Hurley has 30+ years of high school teaching experience and is one of our senior writers here at Learnopoly.