It's rare for Coursera to offer deals. And when they do, they only run for a short time.
But in September 2022, Coursera is offering $100 off a Coursera Plus subscription, giving you unlimited certified access to 7000+ courses.
In this article I'll be telling you all you need to know about the Coursera Plus promo offer, how it works, and whether it really is a good deal.
Here's what I'll be covering:
What is the Coursera Plus discount promotion and is it a good deal?
How the deal works
Coursera discount promotion eligibility
What does Coursera Plus include?
Example classes available on Coursera
Advantages of Coursera
Final thoughts
Frequently Asked Questions
What is the Coursera discount promotion?
The Coursera Plus discount promotion gives you $100 off a Coursera Plus annual subscription.
It ends on September 29th 2022.
Is the Coursera discount promo a good deal?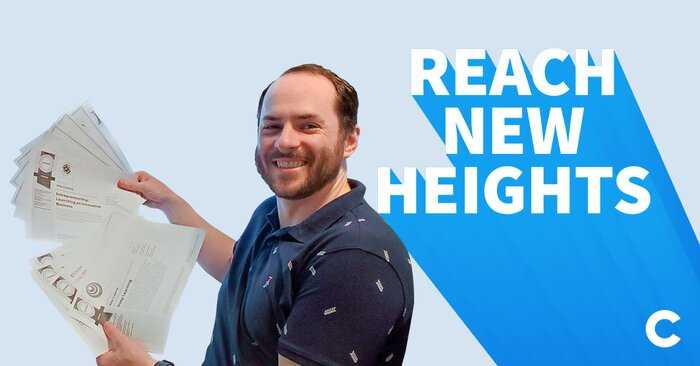 All that glisters is not gold as they say. And sometimes deals that look great aren't.
Often prices are hiked ahead of time so you think you are getting a good deal when you're not.
This is not the case with Coursera. A 12 month Coursera membership has been priced at $399 for a very long time.
In effect, this deal gives you 25% off a full Coursera Plus annual subscription and unlimited access to 90% of the Coursera Catalog.
This includes Courses, Guided Projects, Specializations and Professional Certificates, as well as the ability to move between them and earn certificates for every one you complete
In the interests of transparency, a Coursera Plus subscription does not include access to Degrees or Master Track programs.
For more granular detail on Coursera check out our Coursera review, Coursera pricing and Coursera certificate.
Rare Coursera deal
Aside from being good value for money, Coursera deals are incredibly rare.
If you're looking for a better one to come along, you may not find one. And you'll also likely be waiting a really long time!
How the Coursera Offer works
There are 3 simple steps to getting your Coursera Plus discount offer.
Step 1: Visit Coursera
Click here to head to Coursera, then click on Start Today:

Step 2:Sign Up
Then sign up using a Facebook account, Google account, or email address: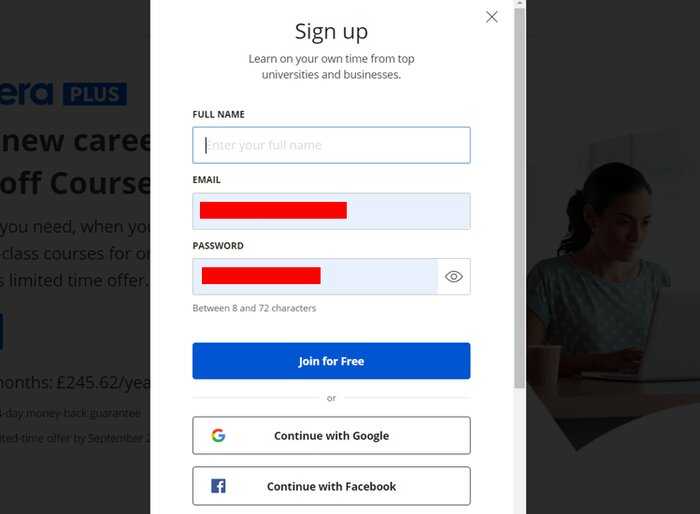 Step 3: Provide payment details
You will then need to provide payment details. You get a 14 day free trial so if you change your mind and cancel within that period, payment will not be taken.
Coursera Plus discount offer eligibility
To be eligible for the Coursera deal you must:
Be a new Coursera Plus subscriber (though you can have taken individual Coursera classes in the past)
Provide Coursera with valid payment details
What does a Coursera Plus membership include?
Coursera Plus membership includes unlimited certified access to 7,000+ classes (90% of the Coursera catalog).
These include:
| | | | |
| --- | --- | --- | --- |
| Option | Goal | Length | Includes |
| Courses | Gain knowledge | 4-12 hours | High quality video content, transcripts and additional supporting resources. Certificate. |
| Guided Projects | Learn a practical skill | 1-2 hours | A split screen workspace in which you complete a project with step-by-step video guidance. Certificate. |
| Special-izations | Master a Skill | 1-3 months | A series of course units, hands-on projects, gradable assignments. Certificate. |
| Professional Certificates | Get job ready for an in demand career | 4-7 months | A series of course units, hands on projects/assignments. Professional certificate that's recognised by a range of hiring consortiums & access to job search resources. |
While your membership is active, you can take as many Coursera classes as you like, as many times as you like. And you get to keep the resources that accompany them.
Example classes that are available on Coursera
There are countless great options on Coursera and they're adding new classes all the time.
For example, as a result of their partnership with Google and Meta, there are a number of beginner level Professional Certificates that will prepare you to fill in-demand roles. These include:
Google Data Analytics Professional Certificate
Google UX Design Professional Certificate
Google IT Support Professional Certificate
Google Project Management: Professional Certificate
Google Digital Marketing & E-commerce Professional Certificate
Meta Front-End Developer Professional Certificate
Meta Back-End Developer Professional Certificate
Meta Database Engineer Professional Certificate
Meta Android Developer Professional Certificate
Meta iOS Developer Professional Certificate
Meta Social Media Marketing Professional Certificate
Meta Marketing Analytics Professional Certificate
To receive your discount and take any (or all) of these Professional Certificates click here.
Of course, the best course for you depends on what you're interested in!
So to give you a clearer idea of what to expect from Coursera's different learning paths, I've reviewed the top options in each category below:
Course: Machine Learning – Stanford University
Guided Project: Google Ads for Beginners – Paid Media
Specialization: Excel Skills for Business – MacQuarie University
Professional Certificate: IBM Cyber Security Analyst – IBM
Top Coursera Course

Machine Learning | Stanford University | Rating: 4.9/5
Instructor: Andrew Ng. Ng's many achievements include founding DeepLearning.AI, and the Google BrainTeam. Given this, and the fact he's an adjunct professor at Stanford and author of 100+ papers on machine learning, he's more than qualified to deliver this course.
Learn: What learning is, how machines do it without explicit programming, the most effective machine learning techniques, how to implement them for yourself and how to practically apply the techniques to new problems.
Includes: 45 Video lessons divided into 4 sections (totalling 7 hours), 40+ readings, 9 quizzes and a certificate if the course is purchased.
Best for: Anyone who is curious about how a car can drive itself and what the future looks will find this course fascinating and will be made to feel comfortable with the technical language thanks to plenty of examples and case studies.
Top Coursera Guided Project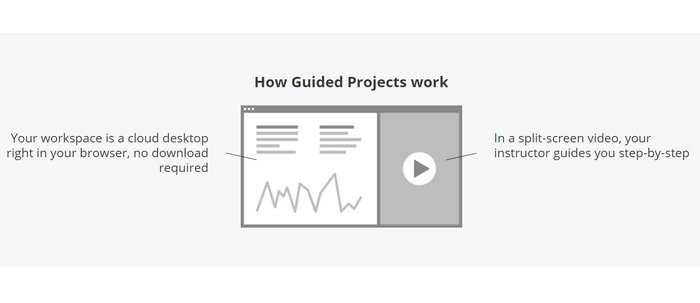 Google Ads for Beginners | Coursera | Rating:4.5/5
Instructor: Ishita Sinha is Marketing Manager for paid media at Coursera. She has many years of experience of paid media campaigns, growth and product marketing, consumer research, brand strategy, positioning/messaging, and lifecycle marketing.
Learn: Everything you need to know to create a Google Ads account, do effective keyword research, navigate the Google Ad dashboard and create a successful, tracked and optimized campaign.
Includes: A split screen workspace and step-by-step video guidance for doing everything from setting up a Google Ad account to campaign optimization. A certificate
Best for: A complete Google Ad Novice will get everything they need to get up and running. And many students with more experience felt it explained a few tricky things they had been wrestling with.
Top Coursera Specialization

Excel Skills for Business | from MacQuarie University | Rating: 4.9/5
Instructor: Four tutors led by Nicky Bull, a corporate trainer, consultant and lecturer with over a decade of experience designing and delivering educational programs. She has also received the Coursera Outstanding Educator Award for Student Transformation in 2018.
Learn: How to apply Excel skills and techniques to solve a range of business problems, design sophisticated spreadsheets, perform complex calculations and operations, and use advanced Excel features and techniques confidently.
Includes: Four courses that start with the essentials and incrementally build in stretch and challenge. A hands-on project that needs to be successfully completed to earn the certificate.
Best for: Students with a working understanding of Excel will get the best value as although the course begins with Excel essentials, three of the course units focus on developing advanced Excel Skills. Features in our best Online Excel courses review.
Top Coursera Professional Certificate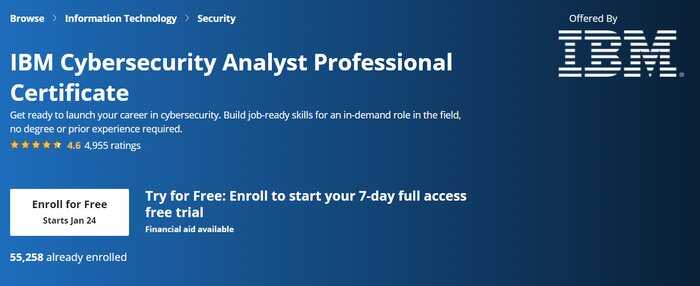 IBM Cyber Security Analyst | IBM | Rating 4.6/5
Instructors: Tutors at IBM Security Learning Services
Learn: All the content you need to get job ready for a role in the Cybersecurity industry. Including basic Cybersecurity concepts and terms, key processes and frameworks, basic network security, vulnerabilities, incident response protocol and defence tactics.
Includes: 7 course units, assessments, a real-world security breach hands-on collaborative project, access to virtual labs, sites and industry tools. Completion also means you are eligible to earn the Introduction to Cybersecurity Tools & Cyber Attacks IBM digital badge.
Best for: Anyone considering a role in Cybersecurity who is comfortable working with computers and willing to learn new technical skills. Also those who want to understand Cybersecurity from the bottom up and enjoy collaborative problem solving.
Advantages of Coursera
Coursera has made its name as a powerhouse in online learning, and for good reason.
Here are just some of the advantages of learning with Coursera.
The chance to earn a certificate from the world's top organisations
Coursera is partnered with 250+ of the world's most prestigious institutions and universities such as Google, Meta, IBM, Princeton and Yale.
To have the chance to receive a certificate from one of these organisations could really make you stand out from the crowd if you're in the market for a promotion, a new job or a career change.
Well structured and resourced courses and excellent teaching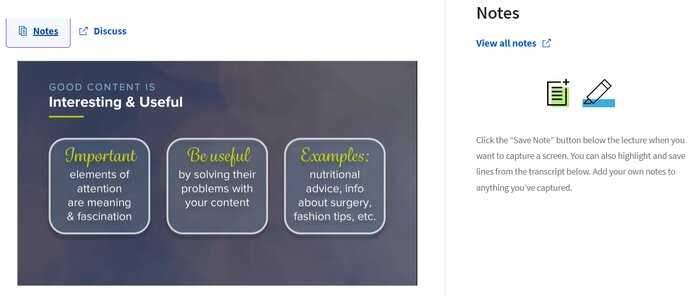 A key element of good teaching is the structuring of tasks to incrementally build skills or the understanding of key concepts.
Coursera does this well and provides opportunities to apply new skills and ideas practically with assignments, projects and challenges.
Learning is supported with a variety of resources including podcasts, YouTube videos (such as TED talks), graphics and animations, e-books, etc. Key takeaways are emphasized and there is an easy option for capturing screens and making notes.
And instructors are high calibre and include renowned experts in their fields, academics from universities such as Princeton and Yale and C-suite executives from the world's leading companies.
Huge catalogue of courses
Coursera has a huge catalog of courses and, though there is a strong emphasis on career relevant topics and skills, there are courses in every subject imaginable.
The choice within each subject is wide ranging, from introductions, overviews and very specific deep dives. There is also a wide range of learning paths, from short 2 hour guided projects through to Professional Certificates.
The keyword here is choice.
Learn offline
You can download materials to learn offline using the Coursera App. This gives you real control over when and where you learn and allows you to slot sessions into your schedule wherever you are.
Final thoughts
The Coursera Plus discount promo is a great deal.
Coursera's stable pricing means that it's a real deal, not an inflated scam
It provides a discounted opportunity to gain certification from some of the world's most prestigious universities and businesses
Coursera has a huge library of courses that will both enhance your career prospects and allow you to satisfy your intellectual curiosity, wherever your interests lie
Of course, the way to get the most out of this deal is to sign up and take as many courses as possible – the more you take, the more you save.
So what are you waiting for?
Frequently Asked Questions
What is the Coursera Plus discount offer?
Until September 29th 2022 you can get $100 off a Coursera annual membership
How much does the Coursera Plus discount offer cost?
With this offer you can purchase an annual Coursera Plus membership for $299 (effectively a 25% discount) 
Can I get the Coursera Plus discount offer on platforms like the App Store, Roku, Amazon and Google Play?
No. The Coursera promo deal is only available through Coursera directly and via our links.
I used to have a Coursera subscription but don't anymore. Am I eligible for the deal?
Sadly no, you must be a new subscriber.
Will I receive the discounted rate for future renewals?
No, the discount is only applied during the promotion period.
When does the Coursera Plus discount coupon end?
The 2022 Coursera Plus discount offer ends on September 29, 2022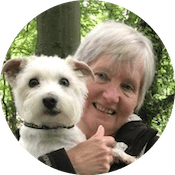 Liz Hurley has 30+ years of high school teaching experience and is one of our senior writers here at Learnopoly.