GetSmarter offers hundreds of short courses from globally revered institutions including Yale, Harvard and Oxford. Their high-impact programs, designed to ensure you stay abreast of the fast changing professional landscape, are great value – even at full price.
And in this article you'll find the latest and best GetSmarter discount codes to help you get an even better deal.
Note: You won't find better GetSmarter offers elsewhere. We get the best, latest and exclusive discounts so we recommend you use our links.
GetSmarter promo codes
| | | |
| --- | --- | --- |
| GetSmarteroffer | Offer expiry | Get offer |
| 15% off GetSmarter | 31st December | Use this link and coupon code GS-AF-LEARN15 |
| Access to hundreds of courses from globally revered institutions | Always available | Use this link |
How to claim your GetSmarter discount
Claiming your GetSmarter discount is simple. Just follow the steps below. Note: You need only enter a discount code if our table shows that one is needed.
Step 1: Visit GetSmarter using the correct link
Use one of our exclusive links in the table above to click on the offer you wish to take advantage of and head on over to GetSmarter.
Step 2: Choose your course
GetSmarter courses are purchased singly. Just use the search facility or browse by course category or institution to find the best course for you.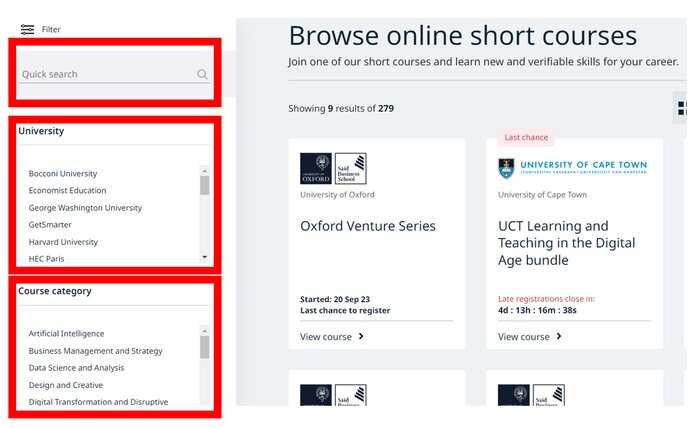 Step 3: Register on the course you have selected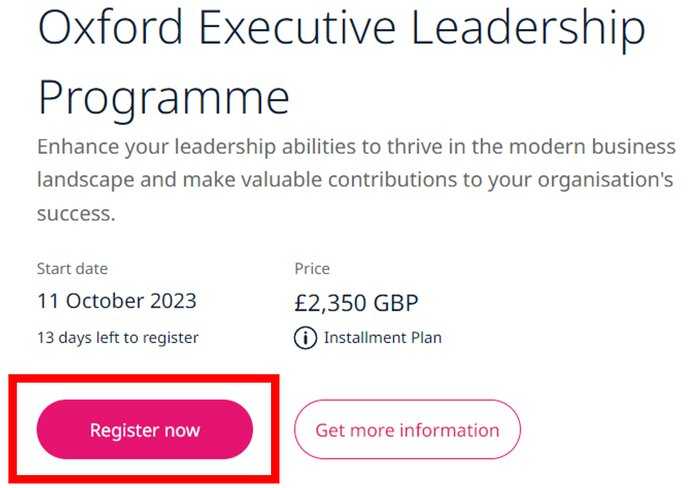 Step 3: Enter payment details and a discount code (if needed)
Enter your preferred payment details. If you have selected an offer requiring a discount code don't forget to enter it at this stage!
Step 4: Enjoy your learning!
And there you are! You have now taken advantage of the most value for money way to join the GetSmarter community.
GetSmarter discount code eligibility criteria
Eligibility criteria can vary between deals, but generally you must:
Apply within the time frame if there is an expiry date
Provide valid payment details
About GetSmarter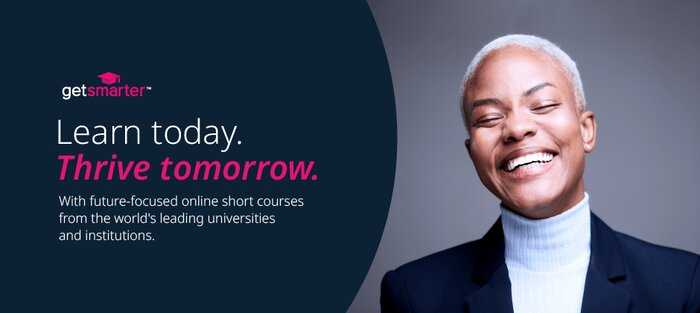 GetSmarter is an online learning platform with over a decade's experience in delivering career-focused short courses from elite institutions such as:
Harvard University
Stanford University Centre for Health Education
Oxford University
London School of Economics and Political Science
Courses are purchased individually and last 6-8 weeks, with the student spending 6-8 hours studying each week. They're designed to fit into professional busy schedules with incremental deadlines for assignments.
GetSmarter's data-driven approach analyzes future skills requirements to ensure their courses are highly relevant and applicable to tomorrow's world of work.
Each course is led by experts, with students supported by instructors and their learning community. Topics include everything from Disruptive Technologies to AI to Health and Well Being.
Pros of GetSmarter
Quality certification – accredited by globally revered institutions
Wide variety of guest lecturers on many courses to broaden your perspective and bring additional expertise
Highly relevant, data-driven courses designed to tap into the future of professional development
Access to a success adviser, who is always on hand to answer any technical or administrative queries, and to help you manage your time
Access to 2U's Career Engagement Network, which is packed full of great resources to help you reach your professional goals.
Discussion forums to interact with the teaching team and other students, creating a great community aspect to the learning experience
Cons of GetSmarter
Courses are relatively long for 'short' courses
Best courses on GetSmarter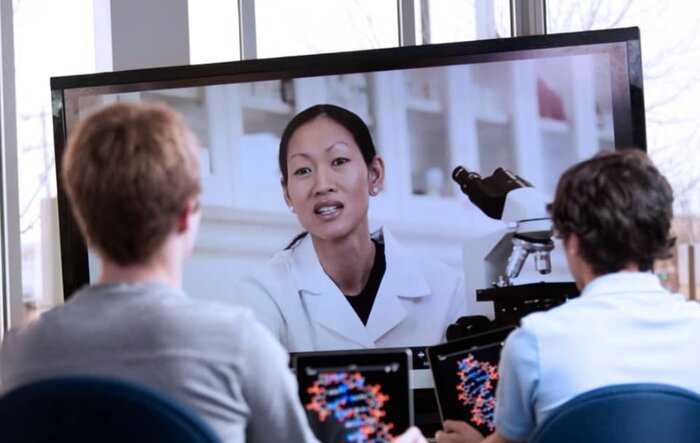 GetSmarter has a huge range of high-level classes available, with almost 300 courses spanning disruptive technology, finance, sustainability, business management and much more. Here are some of the most popular classes on the platform:
MIT Media Lab Cryptocurrency
LSE Real Estate Economics and Finance
Oxford Executive Leadership Programme
Harvard VPAL Cybersecurity
LSE MBA Essentials
Of course, the best GetSmarter class will depend on your specific interests and professional goals. I've highlighted the best classes by category below, so you can get a feel for what's on offer.
For more detail about these courses, check out our full GetSmarter review.
Digital Transformation and Disruptive Technology – MIT Media Lab Cryptocurrency
Real Estate – LSE Real Estate Economics and Finance
Leadership – Oxford Executive Leadership Programme
Information Technology and Cybersecurity – Harvard VPAL Cybersecurity: Managing Risks in the Information Age
Business Management and Strategy – LSE MBA Essentials
Sustainability – Cambridge Business Sustainability Management
Design and Creative – University of Cambridge Sustainable Marketing, Media and Creative
Data Science and Analysis – University of Cape Town Business Analytics
GetSmarter cost
GetSmarter charges per course. Prices range from around $550 to around $3,800.
This may seem pricey. But bear in mind that gaining an in person qualification from any of GetSmarter's partner institutions would set you back tens of thousands of dollars. Yet you're being taught by the very same tutors who teach in person, with a huge range of resources and plenty of support. Viewed that way, these prices are great value for money.
To make things easier, GetSmarter allows you to pay in installments. Currently, 37% of students have received assistance from their employer, and GetSmarter has put together a handy guide on their website to help you do the same.
These are extremely high-quality courses from top academic institutions offering invaluable skills to equip you for the future of work and supercharge your professional development. They are an investment in yourself, providing lifelong skills and opportunities to progress in your career.
Other eLearning discounts
Learnopoly's discount promise
Oftentimes, you find a discount promise online that is no longer available (or sometimes never was).
Here at Learnopoly:
We offer genuine discount codes only
Our deals are kept up to date
We include a mix of always available and limited time only deals.
When the deal is only available for a limited time, we transparently show the expiry date
Other eLearning discounts
Final thoughts
GetSmarter is a great way to gain accredited certification from elite institutions in the skills you need to keep abreast of the rapidly changing world of work.
The quality of these high impact courses, along with the resources available (including access to a success adviser, 2U's Career Engagement Network and discussion forums that allow you to interact with the teaching team and other students) make it great value, even at full cost.
And our exclusive discount links and codes will help you get even more bang for your buck from GetSmarter.
GetSmarter discount FAQs
What is the best GetSmarter discount code?
GetSmarter deals vary from time to time – always check Learnopoly for the best and most current deal available.
Can I use more than one discount code?
Generally only one discount applies.
Am I eligible for a GetSmarter discount? 
Yes, as long as you apply within the deadline and provide valid payment details.
Does GetSmarter have a refund policy?
Many courses have the option of postponing your course (depending on its duration) or to cancel and request a full refund if you're not satisfied or have not accessed the course content.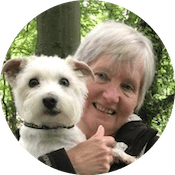 Liz Hurley has 30+ years of high school teaching experience and is one of our senior writers here at Learnopoly.