MasterClass deals are rare and this one has expired. That said, a full subscription still represents great value as you're getting world leaders in their fields to teach you what they know. Check latest prices here.
MasterClass provides a unique and compelling learning experience. So, you may be asking, can I get a discount on MasterClass?
The good news is, though MasterClass doesn't exactly offer discounts, during the Black Friday and Christmas periods MasterClass does have a two-for-one offer.
AND there are also other ways to save $100s on MasterClass membership.
So, read on to find out how to get the greatest value for money out of this platform:
Here's what's in store:
What is the MasterClass discount offer and how does it work?
Is the MasterClass discount offer really a good deal?
MasterClass discount eligibility
Other ways to save on a MasterClass membership
About MasterClass
Best MasterClasses
Advantages of MasterClass
Frequently Asked Questions
What is the MasterClass discount promo deal and how do I get it?
The MasterClass offer is: Buy one annual membership, give one free.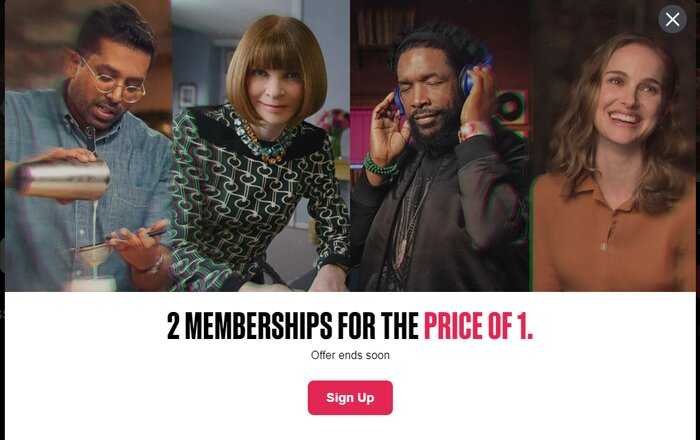 There are 4 simple steps to getting your MasterClass deal.
Click here to visit MasterClass and then click on Sign up.
Sign Up using a Facebook account, Google account, or email address
Share your second gift membership or schedule this for later
Provide payment details – you don't need a coupon, coupon code or discount code
MasterClass Discount offer eligibility
To be eligible for the MasterClass deal you must:
Not have a current active membership
Provide MasterClass with valid payment details
Sign up to MasterClass directly (not through a 3rd party provider like Amazon/Roku/App Store)
What's included in the MasterClass Discount deal?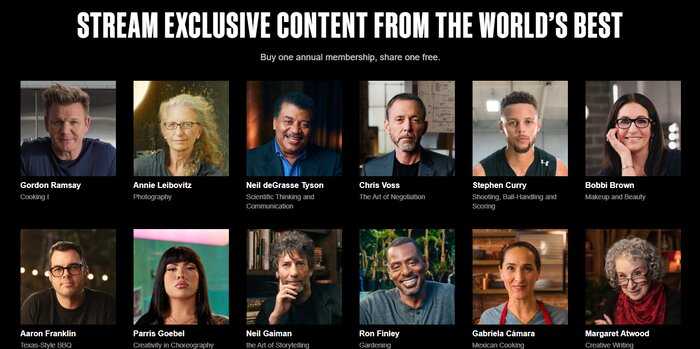 Each individual membership provides unlimited access to all 150+ courses available on MasterClass.
MasterClass also offers a number of project and community based Sessions – for more detail read our MasterClass Sessions review.
While your membership is active, you can take as many MasterClasses and MasterClass Sessions as you like. Revisit them as often as you like. And you get to keep the workbooks that accompany them forever.
Is the MasterClass Discount offer a good deal?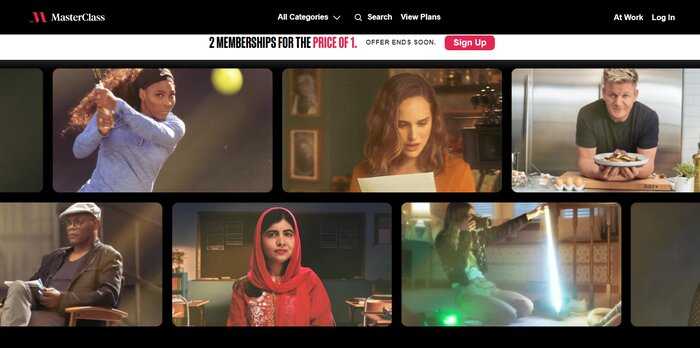 It's easy to be cynical about deals that look good.
We all know that prices get increased ahead of time so you think you're getting a good discount when you're not.
Not so with MasterClass.
An individual 12 month MasterClass membership has been priced at $180 for a long time. So this offer literally doubles your bang for your buck.
To purchase 2 All-Access Passes, it would typically cost you $360 (2 x $180).
With this deal, it will only cost you $180.
And if $180 dollars still sounds like a lot, don't worry. There are two scenarios for making use of the discount deal:
Buy a pass for you at $180 and gift the free one to someone else
This is the most obvious way and screams "amazing discounted Christmas present!". You'll likely be needing to spend money on gifts soon anyway so if you can tie it in with the discount deal, that's definitely a winner.
Team up with a friend and split the cost
If you're looking to pay less money upfront, you could team up with a friend and contribute $90 each to the upfront cost.
Rare MasterClass deal
Aside from being good value for money, MasterClass deals are incredibly rare.
If you're looking for a better one to come along, you may not find one. And you'll also likely be waiting a really long time!
That said, there are other ways of saving money on MasterClass subscriptions.
Other ways to save on a MasterClass Membership
MasterClass is unique in that it offers a family membership for up to six users.
So if you have four or more friends interested in a MasterClass membership, here's how purchasing a family membership could save you even more money:
Family Membership Cost = $276 per annum. Divide this by the number of users and you get:
4= $69 per member
5= $55 per member
6= $46 per member
Considering the quality of what's on offer, you can get incredible value out of this platform.
About MasterClass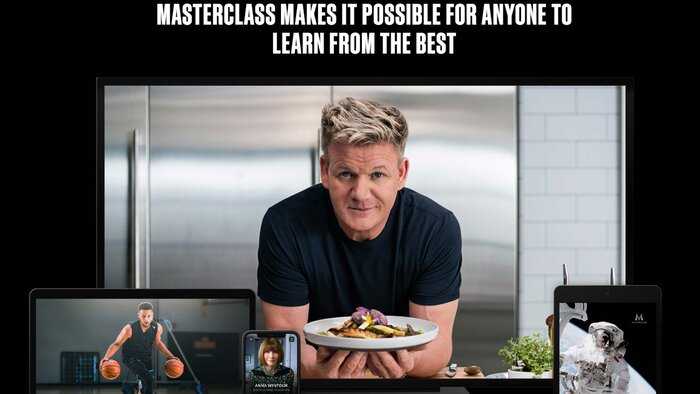 MasterClass is a leading learning platform which offers access to the expertise of a range of instructors at the pinnacle of their fields of expertise.
Whether you want to learn wilderness survival, bread baking, or poker, you are taught by incredible figures like Neil Gaiman, Gordon Ramsey, and Bill Clinton.
The best part about MasterClass? One subscription gets you access to it all. More than 150 high-quality, meticulously designed courses are yours to choose from, and the learning possibilities are endless.
You can find more information on MasterClass in our MasterClass and MasterClass Sessions reviews. And you can read mini reviews of our top recommendations of classes across categories for inspiration.
Example classes that are available on MasterClass
There are countless great options on MasterClass and they're adding new classes all the time.
You can check out our Best MasterClass Review here.
But our current top 10 are (by category):
To browse the full catalogue, visit MasterClass here.
Advantages of MasterClass
MasterClass has made its name as a powerhouse in online learning, and for good reason.
Here are just some of the advantages of learning with MasterClass.
Passionate, revered instructors at the pinnacle of their respective fields
Huge range of choice from a large library of classes
Access to project based sessions where you learn with a community of peers
Gives you freedom as a learner
High production values and immersive educational content
High quality downloadable materials that cement and support learning
Other Online Learning Deals
Final thoughts
The MasterClass offer is a great deal.
MasterClass' stable pricing means that it's a real deal not a scam
It is a thoughtful, educational gift – just in time for Christmas!
MasterClass is an e-learning amazing platform that's fun and world-class
In fact, I actually first signed up to MasterClass with a rare buy one, gift one deal and I have no regrets. Definitely one of the best purchases I've made!
And with a 30 day refund policy you can try the platform at minimum risk. So what are you waiting for?
Frequently Asked Questions
Can I get a discount on MasterClass?
Yes, you can buy one membership and gift a second membership for free.
How much does the MasterClass discount deal cost?
With this offer you can purchase two individual memberships for the price of one – $180.
How can I get a discount on MasterClass?
Just head over to MasterClass here and click on sign up.  
Can I get the discount offer on platforms like the App Store, Roku, Amazon and Google Play?
No. The discount deal is only eligible through MasterClass directly.
I used to have a MasterClass subscription but don't anymore. Am I eligible for the deal?
Yes. As long as you don't have a current MasterClass subscription
Do I need a coupon or discount code for the MasterClass discount offer?
No, you don't need a coupon code or any discount code to redeem this offer.
Does the gifted membership expire?
Yes. If not redeemed, the gift membership will expire 365 days after you make your purchase.
Can I save the MasterClass gift for later?
You can choose to send the MasterClass gift on a later date. For example, you could buy it today and set the gift delivery date for your recipient's birthday. However, the gift will expire if not redeemed within 365 days of your purchase.
How will my gift recipient redeem the free membership? 
You provide MasterClass with the name, email and date of the recipient you wish to send the membership to and they will receive an email with a redemption link to access their free annual membership.
What if my gift recipient already has an annual membership?
Their annual membership will be extended by one year continuing on the same plan they're currently on.
Will I receive the discounted rate for future renewals?
No, the discount is only applied during the promotion period.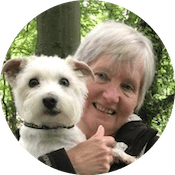 Liz Hurley has 30+ years of high school teaching experience and is one of our senior writers here at Learnopoly.