I have a lot to say about the Tom Morello MasterClass.
In short: this is easily one of the best online courses I've ever taken.
I'm a professional, classically trained harpist. This MasterClass got me completely out of my comfort zone and attempting Tom Morello riffs on an electric harp (yes they do exist and video below).
However:
When I finished the class I read other reviews and was shocked to find there were a few negative ones out there.
So in this Tom Morello MasterClass review I'll be telling you everything you need to know about this class to help you decide whether it's worth it and if it's right for you.
The good, the bad, and the ugly. It's all here.
So let's get started!
.
Quick summary
You will learn:
The secrets behind Morello's signature sounds
How to develop your creativity
Practical tips for improving your guitar proficiency through practice, developing speed and unlocking the fretboard
Tips for becoming confident and free with improvisation
How to write a killer rock riff and build it into a rock song
Morello's real-world advice for sustaining a career, being true to yourself, and not killing your bandmates(!)
Pros
Actionable tips and assignments
Tom Morello is an awesome teacher
Great balance of practical and theory
Really thorough workbook complete with tabs and traditional notation
I actually became a better player
Cons
Not for everyone — it's not for complete beginners or for those who aren't a fan of Morello's style
Some backing tracks missing
Content not completely unique
Length of course: 26 videos totaling 5 hours and 34 minutes
Best for: Tom Morello / RATM / Audioslave / Prophets of Rage fans, as well as electric guitarists and instrumentalists who want to create innovative riffs and sounds in their music.
Overall: A truly incredible class. For what it is — Tom Morello teaching you his style of electric guitar — it is truly hard to find fault. If you're a fan of his music and you want to emulate his style, there's a strong chance you're going to love this class. I certainly did!
Now that you've got the short of it, here comes the long version!
In this review, I'll be covering:
About Tom Morello and MasterClass
An inside look into Tom Morello's MasterClass (lesson-by-lesson breakdown)
What I liked about Morello's MasterClass and thought could be improved
Who this course is best for
How much the Tom Morello MasterClass costs
Alternatives to the Tom Morello MasterClass
What others thought of the MasterClass
How long the entire course took to complete
Whether the content is truly unique
What you will need
And, of course: is the Tom Morello MasterClass really worth it?
About Tom Morello
Now if you're here, you probably already know who Tom Morello is. Here are some crazy things about him that you might not know:
Tom Morello has received two Grammy Awards, a Harry Chapin Humanitarian Award for his fight against global famine, and ranks at #26 on Rolling Stone's 100 top guitarists of all-time
He's such an electric guitar icon that Bruce Springsteen invited Morello to feature on his limited edition album, performing on The Ghost of Tom Joad
On top of being an amazing guitarist, Morello has a degree in Social Sciences from Harvard University
And he's had cameo appearances in Star Trek and Iron Man 2
If you haven't seen the trailer yet, it's well worth checking out to get a sense of Morello and his teaching style.
About Masterclass
Founded in 2015, MasterClass is a learning platform with one simple mission:
To enable everyday people to learn from the very best.
The platform has over 150 courses taught by A-list instructors such as Gordon Ramsay, Hans Zimmer, Deadmau5, and Neil deGrasse Tyson — and more courses are being added each month.
To date, I've taken more than 10 MasterClass courses and in general, I love them. That said, some are better than others, and the learning style isn't for everyone so it's really helpful to check out some reviews and find out if it's right for you.
If you want more details on MasterClass and some of its most popular classes, check out our Masterclass review and best MasterClass article.
Inside Tom Morello's MasterClass
The Tom Morello MasterClass breaks down into:
Videos: 26 video lesson totaling 5 hours and 34 minutes (average lesson length ~13 minutes)
Workbook: you'll get a 187-page workbook filled with extra reading, as well as tabs and notation for each demonstration Morello gives
In this lesson by lesson breakdown, I'll give you the lowdown on each lesson so you can understand what you might learn from the MasterClass.
Lesson 1 is an introduction from Morello and we really get going from Lesson 2. Some topics are two-parters so where this happens, I'll group lessons together.
Lesson 2: Developing Your Creative Voice
Tom Morello kicks off the MasterClass by centering on what he considers to be the most important aspect of music-making:
Developing your own unique, creative voice.
Morello has a really unique and innovative way of playing, so I was really keen to see what insights he had here.
You'll hear about the origins of Morello's own creative path from his college dorm room to getting his sound rejected by producers.
In this lesson, he focuses on:
The importance of thinking beyond your influences
Why you should think of yourself as an artist first and foremost
How to cultivate your ideas and use mistakes to find your own sound.
You'll be able to follow along with his playing in the workbook as each riff is notated really thoroughly: in tabs and musical notation.
It also makes it really easy to have a go at Morello's riffs yourself once the class is over.
Lesson 3: Riffs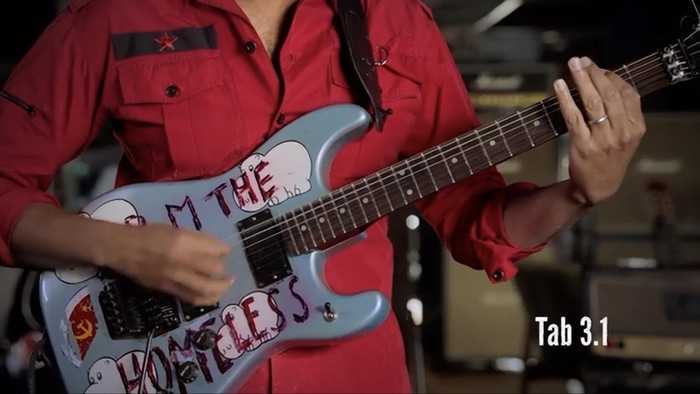 In Lesson 3, Morello breaks down the art of creating a riff: from instrument choice all the way through to making a riff library.
This lesson is like watching magic unfold, with Morello playing spontaneous off-the-cuff riffs to demonstrate his points and guide you through the class.
Tom actually has real-life teaching experience (imagine getting one on one lesson from him!) and it really shows as he goes through a step-by-step process to find riffs you love.
In this class, you'll learn:
How you should listen to the tone of your instrument to help guide your riff sound
The different schools of thought on how to craft your riff
Ways to mix up your playing using alternative tunings
Really practical steps to tinker with your riff and give it a different life
The assignment gives you a really great way to start creating, even if you feel like you don't know what to do. It's super simple but really inspired. And also really helpful!
Tom spent time being an actual guitar teacher and it really, really shows, even this early on in the course.
Lesson 4: Gear: Pedals and Effects
In Lesson 4, Morello takes you through his personal pedalboard. Given all the insane effects you'll hear him play, it's incredible that his pedalboard is really slimmed down.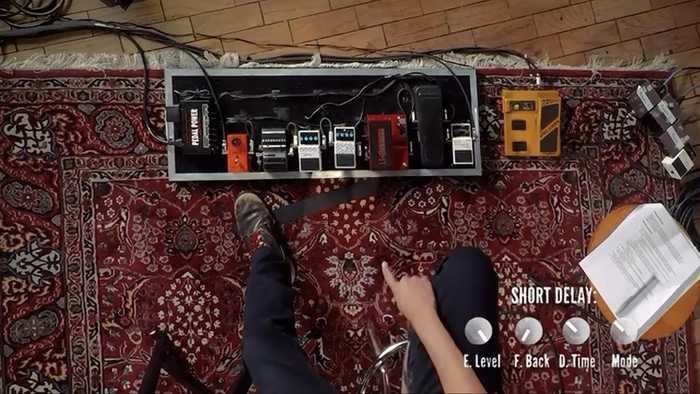 And in this class that focuses on gear, he stresses one thing:
"I'm telling you that what is going to make you a compelling guitar player has nothing to do with the shades of variation between different kinds of strings. It's who you are and how you express yourself with whatever instrument you have."
Above all, conviction matters most.
Before getting into the nitty-gritty of the individual pedals, Morello shares an anecdote of the defining moment in his career where he stopped pursuing the perfect sound, and let his limitations guide his writing.
In this class, you'll learn about:
The 5 essential pedals that make up Morello's pedalboard
Why Morello has a "just in case" pedal
What each pedal does and different ways you can utilize it
Practical tips for using pedals on stage and navigating all the settings
As ever, Morello is an amazing teacher in this class. With every pedal, he'll run through:
What it is — make and model
What it sounds like
Show how a riff sounds without it, and then play again with it
Explain if the effect is responsible for a signature sound (this sounds like Clapton, this sounds like Van Halen)
And also identify parts of his songs that utilize that specific effect
Lesson 5: Tones and Sounds
Following on from Lesson 4, Morello reveals his creative process for discovering what sounds he can get from his pedals. And he gives you some tips for how to create your own.
It's incredible to watch him break down sounds that are familiar from his records, and see exactly how he creates those sounds.
In this lesson, you will learn:
How keeping his sound gear small has benefited Morello, and how it can benefit you too
The importance of maintaining naïveté when working with pedals
The everyday sounds that inspired moments of Audioslave's song, Cochise
How to deconstruct your instrument to get even more sounds from it
Skills for transferring studio versions of songs to a live stage scenario
In the final portion of the class, Morello focuses on how to re-create post-production studio magic on stage using Unf**k the World as a case study.
This was an unbelievable segment to watch.
You get a close-up of his feet and pedalboard while he plays the Unf**k the World solo, which is something you almost never get to see.
Morello breaks down each change of effect, demonstrating how to seamlessly navigate from one pedal to the next so that you get an incredible final result.
Lesson 6: Tom's Noise Chart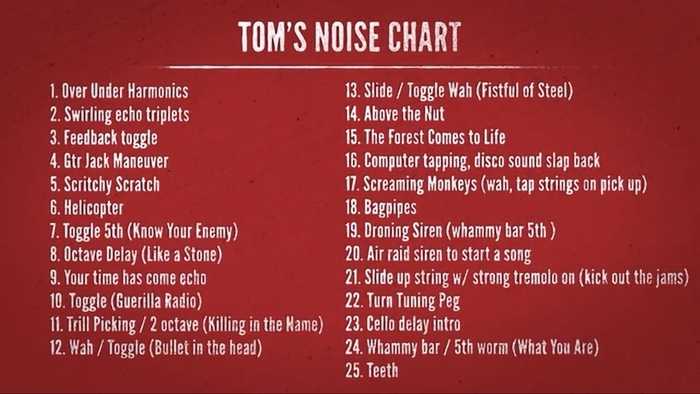 Over the years, Tom has curated a huge library of sounds which he calls his "noise chart". In this lesson, he'll take you through 13 different sounds, breaking down the exact pedal settings, playing technique, and also top tips. ("It also helps orthopedically if you have some sort of floor softening device.")
The official Tom Morello sounds that you will learn are:
Swirling echo triplets
Toggle wah-wah
Scottish bagpipes
Cello delay
Octave delay (as heard in Audioslave "Like a Stone")
"Your Time Has Come" echo
Harmonica sound "Guerilla Radio" toggle
Above the nut (as heard in "Take Back the Power")
Tuning ("As musically arousing as a mosquito alone in a dark room")
The forest comes to life
Feedback toggle
Air raid siren feedback swirl
Playing with teeth
There were so many times in this class where I exclaimed out loud. So many of these sounds are really innovative and really blew my mind. Cello delay in particular!
Lesson 7 & 8: Tom's Musical Influences
Morello's musicianship has come about through so many different influences and he really believes that looking beyond the music you naturally gravitate towards is key to becoming an amazing player.
In Lessons 7 and 8, he unpacks his big influences and gives you an exploratory assignment for each different genre.
For each genre, Morello unpacks exactly what elements influenced him the most, and how he utilized them in his own playing.
Rock
Jazz
Classical
Folk
EDM
The Blues
You'll also be given a practical assignment alongside each genre to encourage your own further exploration.
Lesson 9: Practice
In Lesson 9, Morello starts off by stressing the importance of practice. It comes as a precursor for the next few lessons which give you a really granular approach to Tom's practice regimen.
By his own avocation, Tom had no natural ability on the guitar but put in the hours and grafted to become the world-renowned guitar player he is today.
You'll hear anecdotes about how Morello amassed his 30,000+ hours of practice and get a quick overview of the building blocks of his practice day:
Technique
Theory
Songwriting and experimentation
Improvisation
This lesson is really humbling because of the crazy amounts of practice Morello has put in, but also incredibly inspiring because he stresses that actually, with really hard work, you have unlimited potential.
Lesson 10: Technique: Developing Speed
In Lesson 10, Morello shares his own personal technical drills that he's used to get where he is today. He walks you through how to navigate them, but you'll also find them notated in your workbook for future reference.
As a professional musician and music teacher, I was so pleased to see this in-depth class.
The techniques you'll learn here are the very same ones I learned from my world-famous instrumental teacher.
They aren't sensational, inspiring tips, but hard, tried and tested techniques that are used by instrumentalists at the top of their game. (Or in Tom's words: "mind-numbingly boring exercises!")
Lesson 11: Beginner Theory: Pentatonic and Blues Scales
Lesson 11 is a beginner's intro to theory using the pentatonic and blues scale. If you're a pro musician, this is going to be really basic for you but still worth doing.
Morello says he played that guitar for a really long time before drawing the dots between the sounds and the theory, but that it really helped him take his playing to new levels.
The lesson kicks off with an exercise that Tom has used in the first lesson of so many of his guitar students, so whether you've been playing guitar for a while or are a complete beginner, you can get value from this lesson.
In this lesson, you'll learn:
Pentatonic scale on both A and G
Blues scale on A
The fundamental theory behind improvising
Morello guides you through each scale step-by-step, from learning the scale through to improvising based on that scale.
You'll see and hear Morello improvising himself over backing tracks and there's a chance to have a go for yourself too.
Lesson 12: Theory: Unlocking the Fretboard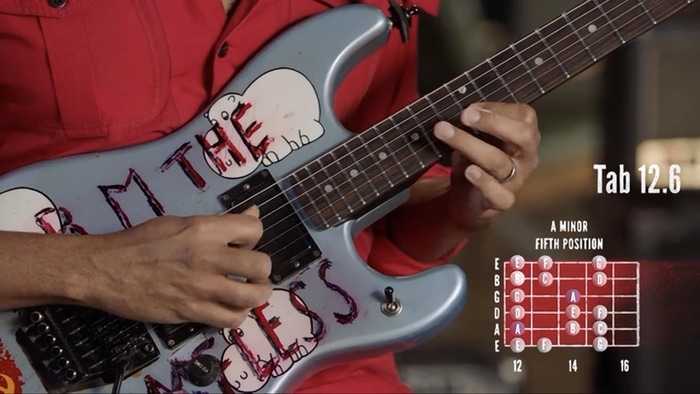 "Every solo that has incorporated notes on every record I've ever made and every show I've ever played, is based on what I've just showed you here."
Lesson 12 is a must-watch for any guitarists who have played by trial and error but don't really understand why some things sound good and others don't.
In this lesson, Morello breaks down some really complex theory into a very simple formula that is bound to help your soloing grow.
Here, you will learn:
How to play minor, major, and Phrygian mode
Tom's simple formula to unlocking as many different modes as possible, without having to memorize each one individually
How to combine personality, technique, and theory to make your own unique sound
Lesson 13: Improvisation
In Lesson 13, Morello talks about the world of improvisation. This lesson is largely anecdotal but ends with a practical challenge to help your improvisation confidence grow.
Here, you will learn:
How Morello has utilized improvisation to craft a significant number of his records
The mindset to adopt when it comes to improvisation
A great attitude to have when improvising with others
How feeling limited harmonically can be an instigator for melodic growth
Lesson 14: Solos
In Lesson 14, Morello shares his philosophy on that rock centerpiece: the guitar solo.
Throughout the class, he'll talk through guitar solos that are in a particular style, from his own solos with RATM, Audioslave, and Atlas Underground, through to records from Jimmy Page and Vernon Reid.
Here, you will:
Hear about 14 guitar solos that are worth checking out (with Morello playing samples of several)
Learn top tips from examples by Randy Rhoads and Eddie Van Halen
Get practical tips for how to start crafting a solo
Learn about making your solos political and giving them a point of view
Overall, Lesson 14 is more of an anecdotal, explorative class than a nitty-gritty lesson like the last 5 lessons. I really loved that it broke up the intense lessons and would fully recommend making a playlist of all the music mentioned.
Lesson 15: Solo Case Study: "The Ghost of Tom Joad"
Lesson 15 brings our first case study: the chance to dissect a piece of work and study it in depth.
For this lesson, Morello focuses on the guitar solo from "The Ghost of Tom Joad" which he performed alongside Bruce Springsteen and the E Street Band.
Here, you will get to learn:
How the collab between Morello and Springsteen transpired
The high-pressure circumstances that led to the unique guitar solo
Which guitar players influenced this specific solo
A step-by-step break down of settings and techniques that Morello uses to play the Tom Joad guitar solo
Lesson 16: Rock Songwriting Fundamentals
From Lesson 16, Morello shines a spotlight on songwriting. He teaches you how to demystify the art of songwriting and break down any barriers that might stop you from writing your own songs.
Throughout the songwriting classes, Morello will introduce ideas and tips for songwriters ranging from basic through to pro.
Here, Morello focuses on the absolute beginner aspects of composing. (He even just refers to the low E string as "the fat string" and calls notes by the dot number on the frets!)
You will learn:
The absolute core of songwriting and how knowing it can empower you to approach songwriting with confidence
How Morello allows his songwriting to take time
Where you can draw inspiration from to start your song
Lesson 17 & 18: Riff Rock Writing: Multiverse and Tracking & Chorus, Solo and Arrangement
In Lessons 17 and 18, Morello takes us through his process of building up a song from just a riff.
Tom is really keen to stress that you don't need tonnes of equipment to begin creating. In fact, he has always just used a Radioshack cassette recorder to record his ideas.
Throughout the lesson, Morello takes you through each part — from the inception of a riff on his wife's acoustic guitar — through to a full version with bass, electric guitar, and drums.
Here, you will learn:
How to record your initial ideas
Writing music for electric guitar on an acoustic
Adding a "musical flare" to your writing
How to add parts with purpose
Adding chorus and structure to your music
Case study: the Bulls on Parade solo
At the end of the riff rock writing section, Morello suggests a really simple way of deciding how a piece might be structured.
Tangible tips like this really help to take out some of the ambiguity in writing and enable you to feel more confident in creating something from nothing.
Lesson 19: Lyrics and Melody
Tom is renowned for writing incredibly political music and that's because it comes straight from the heart.
In Lesson 18, you'll learn how to unleash your inner poet to write honest lyrics that come from your soul — then find the melody to fit them.
Here, he teaches you how to:
Unleash your inner poet
Give the world insight into who you are
Fit your lyrics to a chord progression
Start with a melody and then add words
Lesson 20: Studio Recording
In Lesson 20, Morello talks about the art of studio recording. He's not always had positive experiences in the studio. In fact, to quote him:
"My recording history is one that was originally fraught with peril."
Don't come into this class expecting technical information — there is none. However, it's a goldmine of knowledge in how to capture your unique sound in the studio.
Here, you will learn:
How to capture your essence in the studio
Why the biggest, best studio is not always the best for you
Creative ways to record that break the norms
How to experiment with multitracking, and how Morello personally uses it in his records
The importance of treating your team with respect
Different approaches to recording
Lesson 21: Case Study: "Killing in the Name"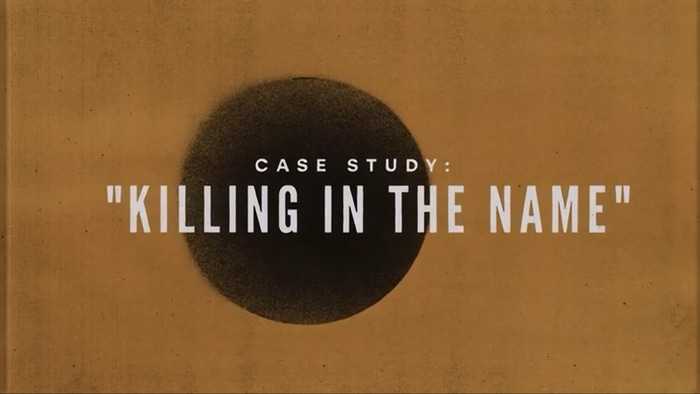 One of the awesome things about MasterClass is that you get to have a behind-the-scenes look into iconic works.
Lesson 21 is just that. Morello takes you through RATM's signature song, "Killing In The Name".
He'll walk you through the song from inception through recording and performing live, expanding on key elements.
You'll get to hear:
How Morello first came up with the iconic Killing In The Name riff
Which members of the band contributed which parts of the song
How the song went through several rejections before becoming a hit
The story behind the song becoming the UK's 2009 Christmas Number 1
Which guitars Morello recorded to give the riffs a power boost
The song in its final recorded version, having learned all about it!
Lesson 22: Live Shows: Philosophy and Nerves
As the course begins to wind down, you get some classes that focus on wise words from Tom.
These are mainly anecdotal classes with Morello speaking on his personal experiences and learnings which he holds onto.
In a world of ultra-stardom, it's so refreshing to hear Morello's thoughts on coping with performance nerves, staying true to yourself and honouring your audience.
Typically, anecdotal MasterClass lessons receive the most criticism, but I really felt that Lesson 22 was both fitting and welcome.
The Tom Morello MasterClass is jam-packed full of actionable tips and assignments, so as we near the end, it's great to just hear words of wisdom from Morello himself.
Lesson 23: Live Shows: Practicalities and Performance
In Lesson 23, you'll get countless nuggets of wisdom for coping with performing live.
Anyone who has ever set foot on stage will know that it never goes exactly like it did in rehearsal. And learning to adapt and prepare for that is a gamechanger.
Here, Tom takes you through everything from tiny practical tips (always use fresh batteries) to advice on how to deal with a bad show.
You will also learn:
How to take risks and stay present
Why you should mind the small things
Morello's approach of treating every show like a battle of the bands
How to curate a killer set list
Tips for translating multitracked records to the stage
Morello's warm up tips
Lesson 24: Bands and Collaboration
Next up, Morello talks through all things bands. As a musician who has been in bands for most of his working life, Tom has a wealth of experience to share.
Here, Morello acknowledges something that almost nobody ever talks about: being in a band can be hard.
Working with other people in such an intense environment doesn't always come easy. So how do you know if it's something to work through or if that band just isn't the right one for you?
Morello goes into:
Should you be in a band?
Why it's important to attract collaborators to your authentic self, and how to do it
How to handle the 5 big problems every band gets
Being humble and keeping your ears open to other people's creativity
Finding the courage to let go
Lesson 25: Tom's Guitars and Amps
In Lesson 25, Morello takes you through his 10 signature guitars, revealing the stories and records behind each. You'll also get to hear about the two amplifiers that are near and dear to him — and why they're a bit unconventional!
Throughout the MasterClass, Morello stresses that gear really does not matter as much as conviction and dedication, and so it's fitting that he only touches on his gear in the penultimate lesson.
Despite having some incredible guitars in his arsenal, Morello enthusiastically showcases some of his slightly less conventional instruments (or "misfit toys with 6 strings" as he refers to them!). These include a guitar he bought in a pawn shop for $40 Canadian and his very first guitar which is a knockoff Gibson.
Lesson 26: Conclusion
"You can stand on the sideline with your art and your politics or you can envision something that goes beyond what anybody's imagined before — as an artist or in creating a better world. It's entirely, 100% up to you."
What I liked about Tom Morello's MasterClass
Great balance of practical and anecdotal
Within this MasterClass, there are tons of practical lessons and tips, and also a good amount of wise words from Morello.
I found the balance spot on. After some lessons, I would go away and practice or complete assignments, tangibly improving my playing in the process.
This type of lesson is my favorite, but the anecdotal lessons are the ones that make the course truly unique.
It's awesome to hear about Morello's experiences with his multiple bands — Rage Against The Machine, Audioslave, and Prophets of Rage — and hear exactly how he became such an icon.
Morello is an awesome teacher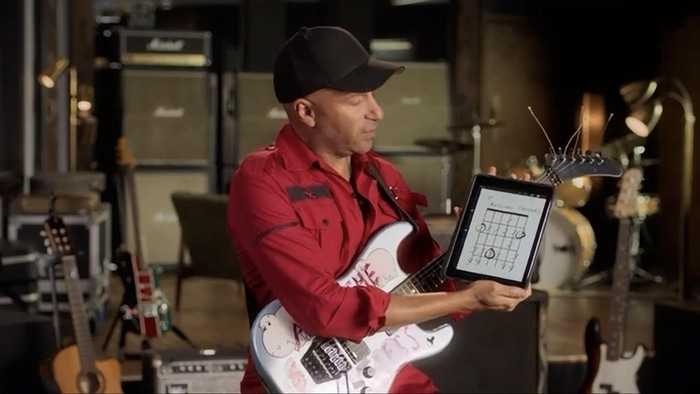 Sometimes, the problem with a celebrity instructor is that they know their stuff but they have absolutely no idea how to teach.
Morello has many years of experience teaching guitar one-on-one to actual students — and it shows.
He understands how to break things down for a beginner (I felt able to explore riffs on the guitar despite being a non-guitarist) and how to dig a little deeper with more advanced concepts.
As an artist, he's clearly put a lot of thought into his work. He didn't arrive to where he is by accident, and for that reason can really communicate the steps to take to improve your playing.
I've graduated from 2 world-renowned music schools, studied with the best teachers in the world, and in this MasterClass, Morello shares some of those very same world-class tips.
Well-thought through content
Unusually for a MasterClass course, the content errs on the practical side with really actionable tips and tricks to improve your guitar playing.
The classes progress, unpacking different ideas at a time, and then end on some more anecdotal words of wisdom from Morello at the end.
I have sometimes found the anecdotal classes a little slow-paced but having had such an action-packed course, I welcomed the last few talking head style classes.
Thorough workbook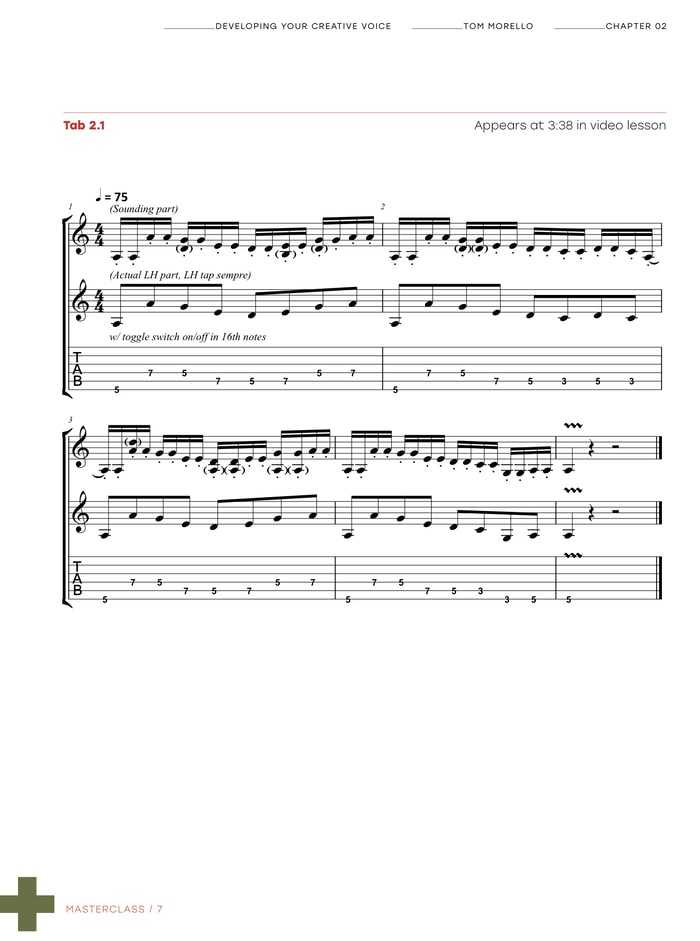 Nearly every single riff that Morello demonstrates in the class — whether a famous riff like the Cochise riff, or an off-the-cuff improv — is notated in tabs and traditional musical notation.
And for riffs with effects layered, you'll see notation for what your fingers play as well as what you will hear written out alongside.
It enables you to follow along with Morello's playing, try things out for yourself, and really understand exactly what he's doing.
This level of detail likely took hours to put together and I really appreciated having it to work with.
It even enabled me to play the Cochise riff right away on electric harp!
What could be improved
Backing tracks missing
In some of the lessons, Morello mentions that there's a backing track to play along with. I searched high and low and couldn't find where they were linked.
A couple of people posted links to the tracks in the community forum but lots of the links were broken so perhaps MasterClass has removed this feature.
That said, you'll hear Tom play along with the track first and he often tells you what chords they are so you could either record one yourself or use software like iReal Pro to make your own. (Most of the backing tracks are really simple and I made one in iReal in about 30 seconds!)
Not for everyone
Now, if you're looking to learn a general approach to learning electric guitar, this course is probably not for you.
The point of MasterClass is for individuals to share their insights and as a result, the course has a strong "Tom Morello" feel to it. You'll learn RATM riffs, and he'll give you pointers to create your own riffs.

Some critics have touted this as a huge drawback of the course, but I didn't find it to be a negative for me.
If you implement Morello's tips on learning from other genres and musicians, many of the tips are almost universally applicable, no matter the style you play.
That said, I would caution against purchasing this MasterClass as your sole guitar education — it's really not geared towards that at likely you'll miss a lot of the essential foundations.
Ultimately, the course isn't for everyone, but for the right person, it's amazing!
Who is this course for?
So exactly who is this course for?
In my opinion, this course would suit a couple of different people:
Massive Tom Morello / RATM / Audioslave / Prophets of Rage fans
Competent electric guitar players who want to explore the Tom Morello sound world
Other instrumentalists who are interested in incorporating effects and solid riffs into their playing
I completed the course on electric harp and couldn't resist transferring the iconic Cochise riff over.
Parts of it are also great for beginners who might be feeling daunted to start creating their own music.
That said, to get full value from the course, I think it's helpful to be able to read tab and/or traditional musical notation so that you can easily recognize and understand what Morello is playing at any given time.
So in terms of ability, I would say it's pretty accessible but is best for musicians with a skill level between 3 and 10 (1 being complete beginner, 10 being expert).
But even if you're a beginner, if you're a Morello fan, you'll likely love this course.
How much does the course cost?
At the time of writing MasterClass had three subscription offers. The cost of these (per month) is:
Individual (1 user) $15
Duo (2 users) $20
Family (6 users) $23
All are billed annually, which at first glance may seem pricey.
However, you can considerably reduce your costs by taking as many courses as possible.
With over 150 courses on the platform you're likely to find quite a few to interest you. Even if you buy an individual membership and find only 10% of the courses of interest this still works out to only $12 a course:
$180 (annual individual membership fee) / 15 courses = $12.
And if you join with friends or family then the cost of each course is drastically reduced. Check out our MasterClass review or MasterClass cost articles to see how.
Bearing in mind that these classes are taught by global leaders in their fields the value is unbeatable. You can pay over $100 for an online course taught by someone you've never even heard of, never mind the caliber of teachers on MasterClass.
What's more, MasterClass also offers a 30 day refund if you're unhappy with your purchase.
You can also purchase MasterClass as a gift.
Alternatives to Tom Morello's MasterClass
Alternatives on MasterClass
If you're not sure that the Tom Morello MasterClass is the best fit for you, there are some others available on MasterClass that might be a better fit.
These include:
Carlos Santana teaches the Art and Soul of Guitar
And don't forget — you can try out and take all of them with one All-Access Pass!
Guitar courses
For more general "how-to" courses, it's worth checking out some electric guitar-specific platforms.
There are many out there, including:
You can check out our Best Online Guitar Lessons Review which rates the best 10 courses and classes.
And if you want to also master a different instrument, like piano, we can recommend Pianote, Skoove, Playground Sessions or Flowkey.
Tom Morello MasterClass: what others have said
I wouldn't be painting a complete picture if I didn't factor some opinions of others, and of course, the best place to search for them is Reddit.
I searched "Tom Morello MasterClass Reddit" to see what I could find: the good, the bad and the ugly.
And honestly:
I found a real mixed bag of opinions.
Lots of people hadn't even tried the course but were avidly against taking it because of Morello's political opinions.
"I would stay away from anything morello says… he's a self-proclaimed communist."
(If you're worried about this MasterClass being too political, it's not. At all. Near the end, Morello briefly mentions how he writes about things he passionate about, and that's about it.)
One review I stumbled across slated the class, saying that it doesn't really teach you how to play the guitar. And that's true, but also not a negative as long as you're approaching with the right expectations.
That said, I saw very few negative comments from people who had actually taken the course.
"Well worth the 90 bucks if your [sic] even moderately good, and its a good watch for a fan." -- comment from Reddit
"I have been about half way through and Tom goes through a lot. One part in particular highlights about 15 of his memorable noises he creates on guitar and which songs they belong to. You get to see the petals, petal settings [sic], techniques, and it's all slowed down. I found this to be an eye opener since I couldn't imagine how he got the sounds he did." -- comment from Reddit
"Would definitely recommend it if you're a Morello fan, especially if you're more of a beginner and a Morello fan." -- comment from Reddit
How long it took to complete the course
I watched all the Tom Morello videos over the course of about a month, although you could definitely complete it in a shorter amount of time.
The reason I took so long was that I was putting in a couple of hours to practice and refine things I had learned in the lessons and I was super committed to completing all the assignments too.
The great thing about MasterClass is that is completely self-paced so, as long as you complete the class within the year, you can take it as fast or slow as you like.
Is the course content unique?
There is one big thing to know: Tom Morello gave a lengthy Guitar World interview circa 2006 where he walks you through many of his riffs and ideas.
A significant amount of what's touched on there is covered in the MasterClass.
However, there are several clear advantages of the MasterClass vs the Guitar World interview.
Readily available
The original Guitar World interview has been removed from YouTube and all that remains is a 23-minute compilation of the original video. The condensed version is less thorough and the full-length version is near-impossible to find
Amazing quality
MasterClass has a really high standard of video, and that's really important when it comes to learning. If you can't make out what's going on, no matter how good the teaching is, it's going to be hard to follow along!
On-screen graphics and workbook
There are some really great on-screen graphics that help to cement what is being taught. You'll often get animated tabs on screen so that you can understand what Morello is playing, even if you can't make it out from his fingers.
Similarly, the workbook is a great resource for consolidating the information from the video lessons.
So, is the MasterClass content unique? In truth, not really. Much of the content has been seen before.
But, in my opinion, it is unique in its presentation of the information which makes it a whole lot more digestible and straightforward to learn from than the Guitar World interview.
What you will need
Morello has a strong "ideas first, gear second" approach, advocating for using what you have and letting that guide your creativity.
That's good news for anyone taking the MasterClass — even if all you've got is a 10th-hand $20 guitar, you're all set.
Of course, to directly replicate the sounds Morello makes, it's helpful to have the same or similar effects pedals. That said, as I'm pretty new to effects, I hooked my electric harp up to my laptop to try out virtual effects before deciding which pedals to invest in.
(Sorry to any pedal-purists who are cringing at this — I know they're incomparable but personally think it's a great way to get a sense of an effect before shelling out a ton of cash on hardware!)
Is Tom Morello's MasterClass worth it?
So, the big question: Is Tom Morello's MasterClass worth it?
In a word: yes.
But it also depends.
If you're a complete beginner looking for your first step into guitar playing, this class probably isn't for you. Tom isn't going to teach you the technicalities of how to play the guitar.
If you're not a fan of his music, then this course isn't for you (although I have to ask why you made it so far in this review if that was the case!).
But for what this class is, it truly is hard to find fault.
Morello is a phenomenal teacher and this class is really well put together.
For me, as an already established professional musician, I found this MasterClass pretty life-changing and worth every penny.
I learned how to overcome some limitations and fears I'd had regarding improvisation and songwriting, I spent some time applying Morello's techniques and philosophy to my electric harp playing (which I'm pretty sure has never been done before!) and I committed to practicing with Morello-style zeal which given my playing an additional boost from where I was.
And don't forget, with an All-Access Pass, you can combine it with other MasterClasses from the likes of Carlos Santana, Deadmau5 and Hans Zimmer. And if you decide it's really not for you, you're covered by MasterClass' 30-day money back guarantee.
Sound like it's for you? Check out the Tom Morello MasterClass here.
Frequently asked questions
How much does Tom Morello's MasterClass cost?
An individual MasterClass all-access pass costs $180 a year ($15 a month). This gives you access to Tom Morello's MasterClass, alongside 150+ other courses.
How long is the Tom Morello MasterClass?
Tom Morello's MasterClass is 5 hours and 34 minutes long and consists of 26 videos covering both practical tips and anecdotal advice.
Can you get Tom Morello's MasterClass for free?
Unfortunately, you cannot get the Tom Morello MasterClass for free. But MasterClass has a range of purchasing options and offers refunds if you're not happy.
Can I get a refund if I don't like the Tom Morello MasterClass?
Yes, MasterClass operates a 30-day refund policy if you purchase directly through them. If you purchase through other providers, their returns policy may apply.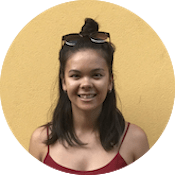 Glenda is an award winning full time professional harpist. Alongside harp she also plays the piano and violin. Besides music, her passions are cooking, writing and learning.