Hans Zimmer. If you don't know the name, you know the soundtrack: The Dark Knight, Pirates of the Caribbean, Interstellar, Gladiator, Sherlock Holmes, Lion King. The list goes on!
I love Hans Zimmer and really wanted to love the Hans Zimmer MasterClass and I did… but not always.
My own background is that I'm a full time professional musician who has lived and breathed music since the age of 6. I arrange music, compose from time to time, and have been involved in creating the soundtracks of a handful of short films.
Now, I know that not everyone interested in this MasterClass will have that kind of background, so I cajoled some non-musicians into watching the classes with me in the hope of getting a really well-rounded view of this MasterClass.
In this Hans Zimmer MasterClass review, I'll go over both the strengths and weaknesses of this course to help you decide if it's the right one for you.
But first, the highlights:
.
Quick summary
You will learn how:
Hans created unique sound palettes for epic movies — so you can do the same
Iconic scenes from Sherlock and the Dark Knight were conceived and how the music fits in
To use a music diary to overcome writer's block and create a film score
Hans works with directors like Christopher Nolan and Terrence Malick in his "method-composing" process
To get the most out of your musicians
The Dark Knight score came together
Hans deals with anxiety, writers' block, and achieves a work-life balance
Pros
A rare chance to glimpse inside the working mind of one of the best film composers of all time
Get to see behind the scenes on some of the most iconic film scores and learn exactly how they were crafted
One of the most inspirational MasterClasses out there
Amazing cinematography and watching experience
Cons
Not a "how to" class (or maybe this is a pro for you!)
Can be hard to follow
Difficult to know who the intended audience is
Length of course: 31 videos totalling 5 hours and 41 minutes
Best for: someone with some musical knowledge who wants to unlock creativity but feels uninspired; a film enthusiast who wants to see behind the scenes of the composition process; someone with music production experience who wants to broaden their musical range. Plus fans of Hans Zimmer!
Overall: if you have the right expectations, this is a great course. Don't expect to come away with a how-to guide for writing like Hans Zimmer, but instead, use it as guided exploration for creating your own musical story. This course is about hearing Hans Zimmer verbalize his thought process, and how you can apply those lessons to your own music.
Here's what's in store for you in this Hans Zimmer MasterClass review:
About Hans Zimmer & MasterClass
A sneak peak of what's included
Pros and cons
Who is it for?
How much is the Hans Zimmer MasterClass?
Is there anything better?
Other people's thoughts
Is the content unique?
Is it actually worth the money?
So let's get started.
About Hans Zimmer
Anyone with a remote interest in film music knows the name, Hans Zimmer. He's a film composer icon and has an incredible versatility which captures the essence of every film he works on.
At the time of writing, he has scored 150+ movies and has received a whopping 122 award wins and 243 nominations. These include wins at the Academy Awards and the Golden Globes for the Lion King, and a Golden Globe for the Gladiator soundtrack.
I never in a million years thought that I could have the opportunity to learn from such an icon so as soon as I saw the Hans Zimmer MasterClass trailer, I couldn't wait to sign up.
About MasterClass
MasterClass launched in 2014 but really started to creep onto the scene in the past few years. They have classes by celebrity instructors from Gordon Ramsay, to Deadmau5, to Serena Williams, to Samuel L Jackson, and of course, Hans Zimmer.
Famed for its outstanding production values, MasterClass is also rigorous when it comes to quality of content and learning materials. This combination provides a unique and compelling learning experience.
Having taken lots of MasterClasses myself, I can report that many are fantastic and insightful. However, some are definitely better than others. And it's important to do your research first to make sure the course you're thinking about is the right one for you.
If you want more details on MasterClass and some of its most popular classes, check out our Masterclass review and best MasterClass article.
Inside Hans Zimmer's MasterClass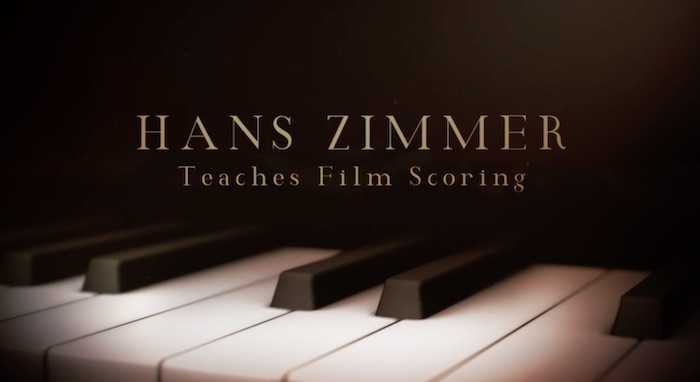 This film scoring MasterClass is one of the longest courses currently available on MasterClass, clocking in at well over 5 hours of watch time.
Alongside the video classes, you'll get access to a 55 page PDF work booking with extra reading and assignments
I've broken the course down into 7 key sections:
Meeting Your Instructor
Scoring to Story
Creating the Score
Creating the Character Theme
Case Studies
Working With Musicians
The Life of a Composer
To go through every single lesson would take hours, so to give you a good overview of this course, I'll zone in on the key takeaways from each lesson.
So let's get started:
Section 1/7: Introduction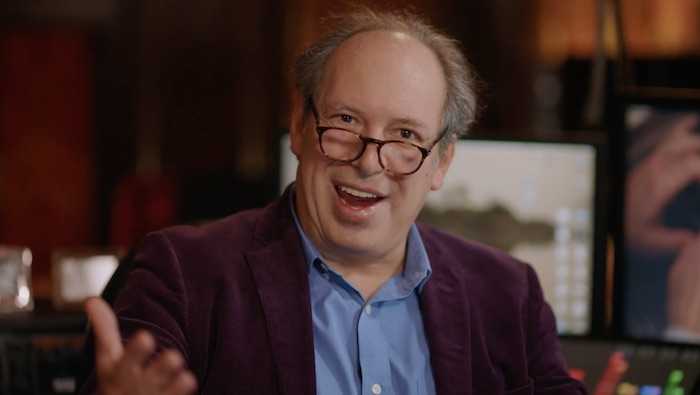 "I'm doing [this MasterClass] to show you what I've done and encourage you not to do it — to do your versions of it."
From the cinematic music to the red velvet chair, we're immersed in the world of movies right from the start.
In lesson one, we meet an endearingly hesitant Hans who warns that music, not speech, is his language.
"I'm going to try to put as much into words as I possibly can."
We get the sense that this MasterClass isn't going to be a straight line to composing the next Batman score but rather a journey to finding your voice in musical storytelling.
Section 2/7: Scoring to story: Themes, Story and Directors
Themes
"Find the simplest tune that carries your story."
The first lesson opens with the iconic and unmistakable Sherlock theme.
Unpacking the importance of story, Hans guides us through tips to help breathe life into the director's vision.
Throughout, Hans recounts personal anecdotes from how some of my favorite films were made. Hearing about behind-the-scenes conversations between Hans and directors like Christopher Nolan felt like an incredible opportunity.
In the Themes section, you will get many tips that point you in the right direction but leave you to make your own path there.
For example, Hans talks about using questions and answers in music and how you can drive momentum forward by using predominantly questions. However, he doesn't give you a formula for crafting a musical question; that is left up to you.
You'll also learn:
What a tune needs to have to be successful
Why Hans chooses certain keys over others (he loves to write in D)
How he will begin writing in a way that leaves scope to continually expand outwards
The talking is interjected with samples of Zimmer playing themes on his keyboard and showing recorded clips and explaining the process behind them.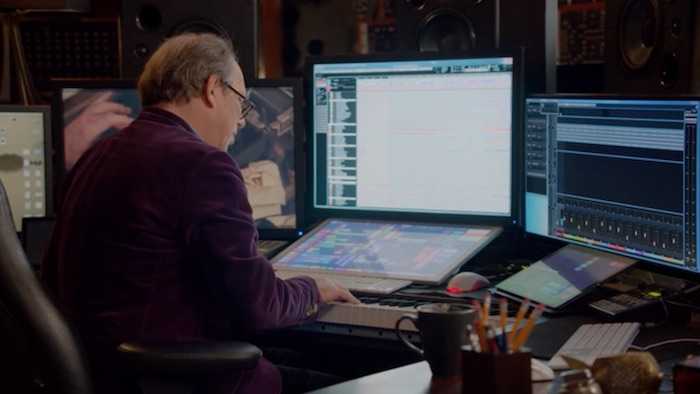 Be prepared: even from the very start, a little musical knowledge is beneficial.
Technical words such as "octave", "vibrato" and "temp music" are thrown around without explanation and you might not understand some of the points made.
Story
"At the end of the day I can tell you everything you need to know in one word: story."
Hans dispels commonly held beliefs on how to get to grips with the story and shares his own personal approach.
You'll learn:
The benefits of speaking to the director about the story vs. reading the script
The importance of learning the rules within the story and applying them to your musical choices
Zimmer uses a great example of speaking to Christopher Nolan about Interstellar. If you ask anyone about Interstellar, they will tell you that it's a movie about space.
However, Nolan framed the movie as being a story about being a father without even mentioning the setting of space and that's what guided Hans to create the iconic score.
Directors
The final section of "Scoring to Story" focuses on directors and the roles of other members of the production team.
Hans touches on:
How you should navigate conflicts of vision between director, producers and editors (spoiler: your allegiance is always with the director!)
Who you should to talk about more practical aspects such as budget
How you can help to recenter the director throughout the filming and production process
In this section you also learn a pretty cool fun fact: the MasterClass was shot in the Gladiator cutting room!
Section 3/7: Creating the Score
I started the Creating the Score section still unsure of whether this Hans Zimmer MasterClass was actually for me.
I had found the first sections absolutely fascinating and beautifully produced (had it been a Netflix documentary, it would have 10/10) but how much had I actually learned?
Sound Palettes
"I hear the world maybe more than I see the world."
Film scoring is all about the music, right? Wrong.
Hans encourages you to explore how music can dissolve into sound effects and the dissolve into the imagery of a movie.
Topics you'll explore in this section include:
Creating unique sound palettes for different story atmospheres
Studying light and color for inspiration
The benefits of creating your own samples alongside musicians that you love
Reasons why you should create a new palette for each project
Creating a whole new world through sound
This section is largely about the thought process — how to find inspiration — and what you should do.
The next section focuses more on the "how".
Creating with Synths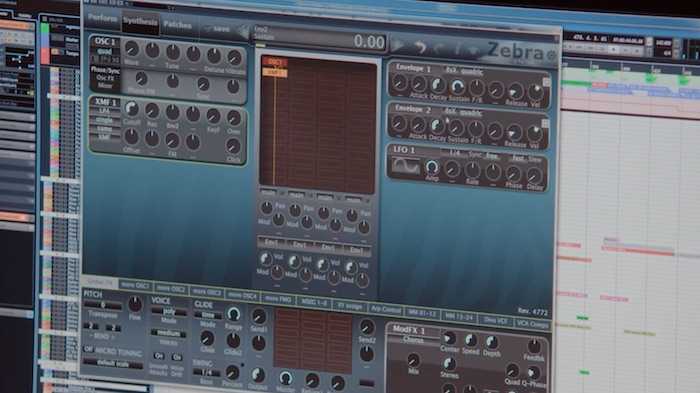 "Break through the myth that unless it's a Steinway, you can't make music on it. If it's a laptop, you can make music on it."
I am an acoustic instrumentalist by profession but this section made me want to dive into the world of synthesizers.
Although I didn't come away from this section feeling like I could immediately create my own synths, I did come away feeling like I knew their strengths and how I could really enhance my writing by using one (after a few YouTube tutorials!).
In my opinion, this is far more valuable than a basic instructional class.
Hans touches on:
How to approach synths as a tool like a violin and don't let it control you
Non-elitist attitude to choosing and using Digital Audio Workstations (DAW)
Why you should never use presets for your movie
Talking to developers
Using real instruments as a base but then manipulating them in ways that the real instrument cannot be played
Creating abstract sound which exist outside of the symphony orchestra
It's worth noting that this is not a "how to sample" class but more of a conversation around the approach.
Throughout, Hans uses completely un-technical language with phrases like: "wobbly thing", "this guy, he's the clock".
You know exactly what he means and it helps to unlock your creativity but if you're new to synths, you'll definitely want to do additional research into the more technical side of things.
Scoring to picture
The tips here help to distinguish between obvious in-your-face composing and more clever and subtle writing that complements the story best.
For example, the best scoring choice for a scene might be to have no music at all — you don't have to write every single minute.
Throughout the "scoring to picture" lesson, Hans teaches you to:
Consider the whole story first
Recognize when music isn't needed
Acknowledge when you should write to fit the cutting of camera angles and learn when it's best to let the music take a different course
Leave room for the audience to complete the emotion
Scoring under dialogue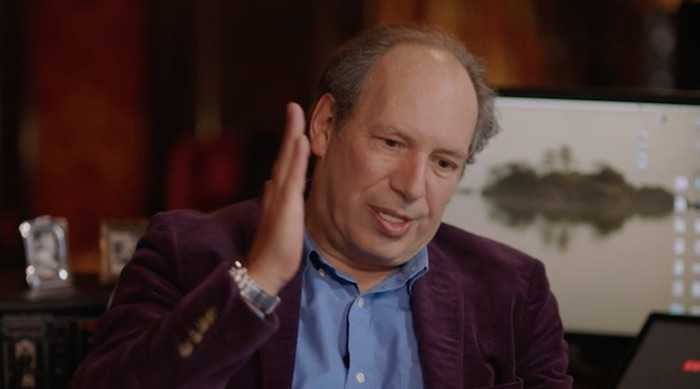 "It doesn't matter that you've just written the nicest and most beautiful music of your career. If it interferes with the story, bin it, chuck it, throw it in the trash."
This class was both revolutionary and simple. There are only 3 points:
Valuing perspective over volume
Think of your music being played on the best sound system ever
Don't ruin the dialogue!!
If I put a piece of music to dialogue and the music was overpowering, my natural instinct would be to turn the music down and boost the dialogue.
However, Zimmer reveals that volume isn't the only thing that matters. He unpacks how you can use a variety of microphone placements to your advantage so that the audio has a depth of sound that allows dialogue to come through at the forefront. Magic!
Tempo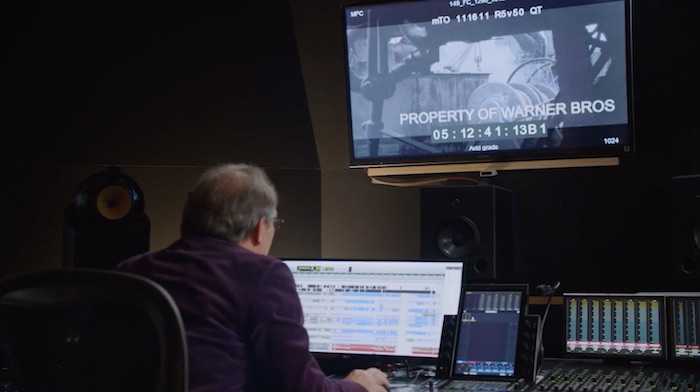 Knowing your tempos and knowing your editor's preferred tempos is a critical part to a really cohesive listening experience.
Hans uses an action scene from Sherlock Holmes to explore how fast music isn't always necessarily the best fit for action.
Throughout this class, we take a look at:
How to take your tempo cues from the editor's cutting
The benefits of working with a click track
Finding your tempo considering everything: how are the actors moving, what tempo might suit a variety of scenarios?
I personally found this section really interesting as I had never considered that editors might have their own tempo. Hans ponders on whether the change from analogue shooting to digital shooting will change the tempos of movie music over time.
Music diary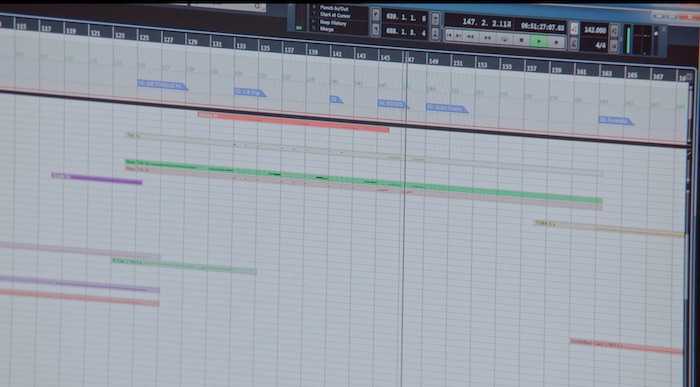 "You just have to doggedly move forward – that's the secret."
Now we get to the nitty gritty: writing.
This was the section that really won me over.
Throughout the course, I'd still been a little annoyed that the classes were mainly a conversation with Hans and that I hadn't been given clear practical tips for writing a movie score.
But here I realised that's because he doesn't have a cookie cutter way of writing for a movie.
You would half expect that the great Hans Zimmer sits down and writes out a blockbuster soundtrack in a day but that's really not the case. We discover that each movie is hard for him, sometimes inducing panic, sleepless nights, and self doubt, but that the best way to write a score is to persevere.
Each day, Hans writes an idea in his musical diary and sometimes it's a few notes, sometimes it's more. He labels them as "the loud bit" or "the clarinet bit", "clock" and "tune".
We get to look over his shoulder as we hear snippets that he has written in and see how it builds up over time.
Section 4/7: Creating the Character Theme
The Character section of the MasterClass is a sneak peek into the genius of Hans Zimmer. A bit like going to an art gallery and finding out how the painting was constructed instead of just looking at it.
He first begins by coming back to the director, explaining that they are always the best person to talk to in getting to know a character. What's hidden about a character which makes them act in a certain way?
Zimmer talks about how to empathise with a character even if you haven't experienced the exact same things as them. He reveals some intimate experiences which he drew on to understand the emotions in the Lion King and it clearly worked!
Character case studies
It's really amazing to hear Zimmer talk through his thought processes for creating iconic character themes. We know them so well as music but there's so much of an intellectual process that's gone on behind the scenes to make that tune fully believable.
In Batman we learn:
When to realise you don't need a tune
How to play with geography within the orchestra
Why it's important to create your own backstory if you're not given one
The Joker theme shows us:
The baddie doesn't always have to be so one dimensional as being purely evil
How to get the audience to lean in vs. hitting them with an obvious tune
Lessons on tension and release
Jack Sparrow teaches:
How a tune can encompass lots of different ideas
Breaking down the Jack Sparrow theme into romance, darkness, wickedness, light, seductiveness.
Section 5/7: Case Studies: Frost/Nixon and The Dark Knight
"The movie is set up for the composer to pour sugary, treacly empathy over it. When that happens, the game is lost."
During the case studies, you get to watch over Hans' shoulder as he talks through his processes for two very different movies: Frost/Nixon and The Dark Knight.
The budget for Frost/Nixon was very small compared to other movies and the movie score of Frost/Nixon was created with only Hans on synthesizer and a single cellist.
(Fun fact: Hans reveals that Frost's office in the movie was the actual production office because of the limited budget!)
He shows that you can still create an incredibly effective movie score virtually by yourself.
The case studies are really helpful as we get to watch and listen to different samples which show us:
The benefits of using objective movie scoring looking down on action vs. internal movie scoring which feels broken and fragile
How to lead your audience to the character but never tell them how to feel
Where you can push the boundaries of silence
How to work contrasting music into action scenes
How to not let the fear of failure cloud your judgement
Section 6/7: Working With Musicians: Musicians and the Orchestra
"Get one player who is just going to play his ass off."
As a professional musician, I was curious to see what Hans had to say on the subject. I loved it and can say from the musician side of things that he was spot on.
He first explores working with individual players:
"Casting" your solo musicians as you would actors in a play
How to get the most out
Thinking of specific players as you create, not just instruments
Building relationships
Performance first over notes
Push the boundaries of an instrument
Then we go onto orchestral tips. Zimmer was never classically trained and never went to music school so he's likely to have been in the same boat as most of his MasterClass students.
If you have been to music school, you'll likely know much of what he has to say, but it's all worthy information that can't be repeated too much.
Some of the helpful tips Hans goes into are:
Know the subtleties in sound: he explains the difference between a french horn in London vs. LA (yes they sound completely different!) and the sound of an orchestra in mainland Europe vs. the States.
The importance of earning the orchestra's respect
How to maximize efficiency to get what you need in the recording
What language to use to communicate with the musicians
Realising the difference between live theatre and studio recordings
The danger of geographically being distant from others
Section 7/7: The Life of a Composer
Feedback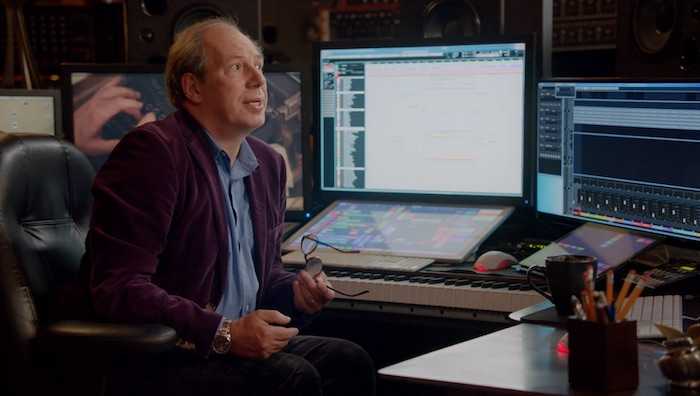 "Is it sh*t or is it not sh*t?"
Feedback is one of the most important aspects of the writing process. And it's also one of the most difficult.
Hans recounts a time when fellow film composer, Harry Gregson-Williams, listened to his work before replying "Oh Hans, that is so not worthy of you!".
But Zimmer models how to receive criticism without ego, teaching us:
Who to include in your revisions and when to start making them
How to stay audience-focused throughout revisions (Hans uses a fictitious character from Northern England called Doris!)
What to pay attention to during audience test screenings
The right mix of people to attend at test screening
Writing tips
"You only need passion to start writing."
We've taken a rambling route through Hans' writing processes thus far but this section is the most practical and easy to follow.
Zimmer addresses:
How to prevent yourself from panicking about a blank slate and get started
The best forms to write in to help creativity flow
How to stay organized (and the importance of it with an anecdote of a missing masterpiece that turned up in a "Making Of" movie)
How to break rules elegantly
His ingenious reason for sitting on his hands before he starts to write
How to beat writer's block
How to cope on a small budget
Hans' Journey
"Get involved. Be part of it. There's no such thing as a stupid question because none of us know what we are doing. We are just making it all up."
This section of Hans' MasterClass is so relatable. I've taken a few MasterClasses and mostly the instructors have this legendary superstar aura. Zimmer is clearly an icon but in his story of his journey, he could easily be you or I.
You hear how his journey started because Stanley Myers didn't know how to use his espresso machine and that gave him the chance to interject with an idea that got his foot in the door.
Learning by Listening
As we wind down the course, there are some last words of wisdom that Hans imparts:
Learn how to listen and how to dissect music
Learn who Hans Zimmer's musical inspirations are
Revolutionary movie scores
Hans also recommends that you pick a certain letter of the alphabet and listen to composers beginning with that name for a well-rounded musical education!
Life as a Composer
Hans talks through the difficulties of balancing a composing life and family life and how you might not always get it right.
He answers the most asked questions – "How do you get into film music?" – and encourages you to have the courage to struggle.
His closing words are the most strong closing words I've ever encountered in a MasterClass:
"I hope you're no longer watching this…"
Hans then goes on to say that his real hope in doing the MasterClass is that he can inspire you to dive wholeheartedly into your musical journey without waiting.
My experience of Hans Zimmer's MasterClass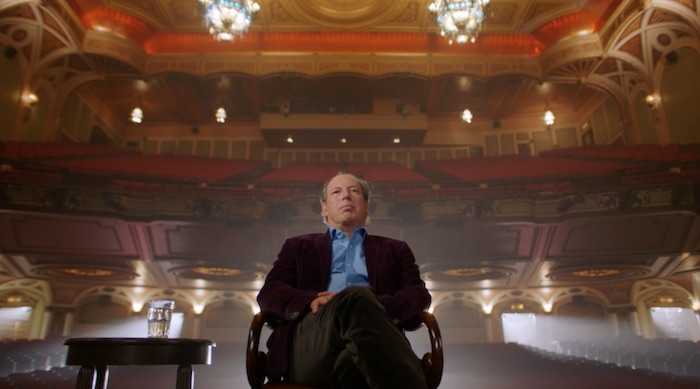 If you got past the first paragraph of this Hans Zimmer MasterClass review, you'll know that my feelings throughout the duration of this course weren't all positive.
Here's what I didn't like vs. what I liked.
What I didn't like
Very little "how-to" advice
It's important to know that Hans Zimmer's MasterClass isn't a step by step guide on how to create a film score.
He's not going to get a piece of paper out and write a song from start to finish giving you clear direction at each step.
He's not going to teach you how to use Logic or synthesizers to manipulate one sound into another.
Rather — this is Hans sharing his personal philosophy on Music and Film Scoring. He'll give you guiding principles that you can then take away and apply to your own music.
Think about what you want from this course and whether this is aligned with what's on offer.
Hard to know who it's designed for
There were often sections that I felt were too simplistic for an advanced musician and composer and too complex for a beginner to fully follow.
For example: the section on Questions and Answers.
For someone with limited musical knowledge they'll be amazed at listening to questions being asked through music. Hans literally turns music into speech during this class and this provides clear inspiration for how you can create a film score.
However:
There's no guidance on how to actually create a Question or Answer. Hans doesn't explain the theory behind it.
For someone with a lot of musical knowledge, this section will be very basic and you'll likely not walk away with anything new.
A little hard to follow
Hans has an energetic personality and cares deeply about his craft.
Because of this, he can occasionally get carried away in his explanations and end up on tangents.
This did make the course hard to follow at some points.
That being said — I guess this is what we're here for — hearing Hans verbalize his thought process!
The title of the class
All in all, the aspects of the course that I didn't like could be fixed by one thing: a different title.
Had the title been "Hans Zimmer Teaches Creativity in Music", I would have started the class with an expectation weighted on creativity rather than theory.
The actual title — "Hans Zimmer Teaches Film Scoring — seemed to set the expectation of concrete steps to achieving a very specific goal.
This isn't a course where you exit with an instructional manual but rather 6 hours of learning how a legendary composer creates the movie scores you love.
Worth it? Absolutely!
So let's get into what I really loved about this course.
What I liked
Learning from a legend
Hans is a world-class composer.
If you ask just about anyone to name their top 10 movie scores, I'm sure at least half would be Hans Zimmer's work.
He really understands stories and how to tell them through music and his input on anything to do with film music is invaluable.
Throughout the course, you're not just unpacking any film scores, but the film scores. Gladiator. Inception. The Dark Knight. Lion King. Pirates of the Caribbean.
It's a unique glimpse into how some of the most beloved film scores in the world were made.
See inside Hans' music diary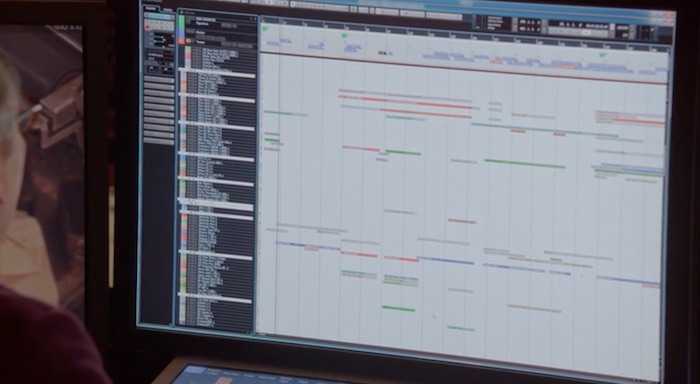 In some of the classes, you get to look over Hans' shoulder and get a peek at his music diary — the place where all of his iconic work has been birthed. Incredible.
And also very helpful.
Hans plays samples and shows how one idea can morph into another later down the line, and shows how he crafts bits and pieces here and there to form a full movie score.
Being able to see inside the music diary of someone like Hans Zimmer is a massive privilege that I never expected to have.
Hans Zimmer is a relatable teacher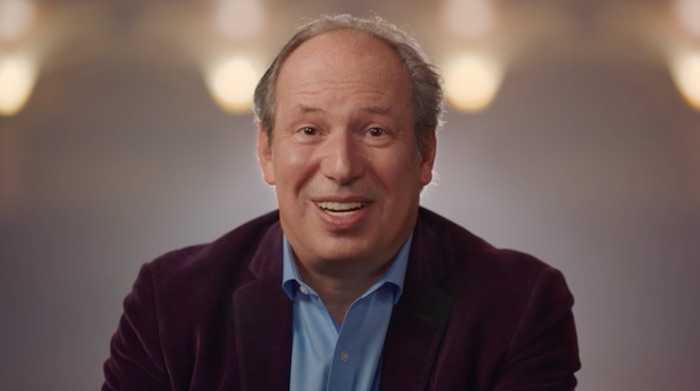 Sometimes, seeing greatness can just make you despair that you're so far away from that level. You won't get that feeling watching Hans Zimmer's class.
Despite being a legend, Hans is very approachable. He recounts stories of being an intern making coffee and others of feeling not good enough to write for a movie.
It comes through as so genuine and sincere and makes you realise that you can achieve great things by continuously chipping away and exploring.
Production quality incredible
Every MasterClass that I've ever taken is immaculately produced. Filmed between Hans' studio and a theatre setting, there's a sense of grandeur and excitement that Hollywood brings.
The fact that he works in the old Gladiator cutting room makes it even more exciting to watch.
You could happily sit down with a cup of coffee and watch the entire thing coming away with not only great insights, but also feeling like you've watched a great documentary.
Great community
The downside to taking an online course can often be the lack of community. You're sitting in your room, working away by yourself, not being able to bounce ideas back and forth with classmates.
That's not the case here. For every MasterClass, there is a community forum where classmates can discuss and share samples of their work.
There are also MasterClass staff who encourage further learning and exploration from the workbook and beyond.
It's a difficult thing to share your creative projects but the feedback and discussion in the Hans Zimmer threads have a wonderful community vibe.
Some students have even shared the final products of their films!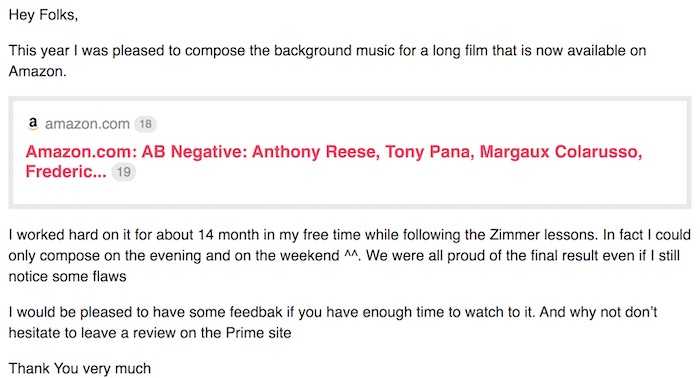 Come away inspired
Ultimately, creating is hard. Burnout. Writer's block. You get low self-esteem and crippling doubt.
I mentioned that I previously used to compose but stopped composing not long after going to music school because I felt like I wasn't technically up to the job.
Upon completing Hans' course, I came away inspired, fired up and desperate to start composing freely again after years of feeling not good enough.
Who is Hans Zimmer's MasterClass for?
This course would suit:
Someone looking to get into film composition
Anyone feeling stuck and limited in their composition
A film enthusiast who wants to understand how music can bring different dimensions to a watching experience
Anyone familiar with electronic music production who wants to branch out into different genres
And of course… Hans Zimmer fans!
If you have an all access pass it's well worth a watch even if you're not musical and have no interest in composing. It's really cool to hear about amazing film scores and peek behind the curtain on the magic of Hollywood.
How much does the course cost?
At the time of writing MasterClass had three subscription offers. The cost of these (per month) is:
Individual (1 user) $15
Duo (2 users) $20
Family (6 users) $23
All are billed annually, which at first glance may seem pricey.
However, you can considerably reduce your costs by taking as many courses as possible.
With over 150 courses on the platform you're likely to find quite a few to interest you. Even if you buy an individual membership and find only 10% of the courses of interest this still works out to only $12 a course:
$180 (annual individual membership fee) / 15 courses = $12.
And if you join with friends or family then the cost of each course is drastically reduced. Check out our MasterClass review or MasterClass cost articles to see how.
Bearing in mind that these classes are taught by global leaders in their fields the value is unbeatable. You can pay over $100 for an online course taught by someone you've never even heard of, never mind the caliber of teachers on MasterClass.
What's more, MasterClass also offers a 30 day refund if you're unhappy with your purchase.
You can also purchase MasterClass as a gift.
Alternatives to Hans Zimmer's MasterClass
There are two fairly close MasterClasses that could be alternatives to taking the Hans Zimmer one:
Danny Elfman Teaches Music for Film
Deadmau5 Teaches Electronic Music Production
Danny Elfman's is perhaps most similar but more classically focused. Elfman talks about templates, instrumentation and playing instruments and works less with synthesizers.
Deadmau5's MasterClass is a completely different genre of music but his approach is more similar to Hans', with heavy use of a DAW and samples in his creative process.
Besides those, MasterClass also features classes with Herbie Hancock, St Vincent, and Itzhak Perlman, and Yo-Yo Ma
There are a range of film scoring courses available on platforms like Udemy and SkillShare and these are great for all round generic tips and likely better if you're looking for really practical advice that's founded on music theory.
However, in my opinion, there are just no substitutes for the experience that Hans Zimmer can bring to the table.
Hans Zimmer MasterClass: what others say
In writing this review, I hope to give you the most comprehensive snapshot of the course as possible. With that in mind, it's worth taking a look at what other people have to say.
I googled "Hans Zimmer MasterClass Reddit" and having read through several forums, the main thoughts are:
It is amazing if you start with the right expectations
It's not well suited to someone who needs a step-by-step guide
Some found it enjoyable, but not practical enough to warrant the price tag:
"I enjoyed it but ... if you're looking for a somewhat philosophical approach to movie scoring then it isn't too bad but if you're looking to actually learn techniques for composing your own scores then I'd say you're better off finding something else."
- Comment from the community
And others were also keen to set expectations:
"Don't expect a [sic] exact tutorial. It's more like him talking about other things and sometimes showing things."
- Comment from the community
While others couldn't praise it enough:
"Regardless of what style you produce, or even if its [sic] not music. This masterclass is the most eye opening, life teaching program I've ever seen.

Full of incredible analogies and words of wisdom, truths and processes that will truly push you to think outside the box.

You really get a sense of how his brain works, and what he has been through/ done to get him where he needs to be creatively."
- Comment from the community
Ultimately, nearly all the negative comments did acknowledge it to be an inspiring watch, they had just bought the class with different expectations.
How long it took to complete the course
I watched the videos of a period of about 6 weeks and would suggest completing assignments before moving onto the next video.
It'll keep you more engaged and help to apply Hans' knowledge in a more practical way.
If you want to just watch the videos with little participation, it will take just under 6 hours to complete start to finish.
Is the course content unique?
Yes.
If you type Hans Zimmer into YouTube, it's 99% music. There are interviews, of course, which explore his music making in varying depths.
That said, unless you spend a lot of time reviewing and putting together individual interviews, you're not going to be able to watch ~6 hours of curated musings that cover the whole spectrum of conception to execution of an idea.
I've not yet found an interview that goes into the details of how you can use distance from the microphone to achieve different balances between music and dialogue.
The biggest plus for me is that you get all the videos arranged into a curriculum and easily accessible in one place.
And the fact that it's Hans Zimmer? That's unique.
What you will need
"Get a copper box with a rubber band and mic it with your cell phone…"
Throughout the course, Zimmer stresses that you really shouldn't feel bound by equipment and that really, you can create interesting music with just about anything.
That said, there are a few things that Hans uses and that could help you in your journey:
A Digital Audio Workstation (DAW) – Hans uses both ProTools and Cubase but there are many other options out there ranging from software like Ableton Live and Logic to even GarageBand which come free on Apple devices.
Synthesizer – Hans first samples sounds, then inputs them into his synthesizer to allow him to play his tunes keyboard style.
Ultimately, he advocates using what you've got, be it your phone, a laptop or an instrument:
"If it's a laptop, you can make music on it."
Is it worth it?
3 videos into this course, I was prepared to write a firm "no" to this.
However:
Having completed the course, I have done a complete U-turn and would recommend this to just about anybody.
If you have an all-access pass, then definitely spend a few hours and watch this.
But if you're looking for a "how to make a sample" or "what chord progressions sound dark" course then of course, it's not worth your money.
This course offers the unique opportunity to learn from a living legend and you'll come away feeling inspired and empowered to create your own musical journey.
It's not a step by step guide, but rather his guiding philosophies and principles that you can easily apply to your own music making.
For me, that's worth every cent.
Why not check out a sample of the course?
Frequently Asked Questions
How much does Hans Zimmer's MasterClass cost?
A MasterClass all-access-pass costs $180 a year ($15 a month). This gives you access to Hans Zimmer's class, alongside 150+ other courses.
How long is Hans Zimmer's MasterClass course?
Hans Zimmer's MasterClass consists of 31 videos totalling 5 hours and 41 minutes of watch time.
Can you get Hans Zimmer's MasterClass course for free?
Unfortunately you cannot get the Hans Zimmer MasterClass for free. But MasterClass has a range of purchasing options and offers refunds if you're not happy.
Can I get a refund if I am not happy?
Yes, MasterClass operates a 30 day refund policy if you purchase directly through them. If you purchase through other providers, their returns policy may apply.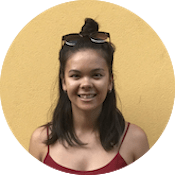 Glenda is an award winning full time professional harpist. Alongside harp she also plays the piano and violin. Besides music, her passions are cooking, writing and learning.