Steve Martin is one of America's most widely revered comedians as well as a talented actor and musician. Martin has made a name for himself in both standup and film.
But what is the Steve Martin MasterClass like? Is it right for you and is it worth your time and investment?
In this balanced Steve Martin MasterClass review, I'll answer these questions and more.
My review is pretty detailed, so if you're pushed for time here's an overview:
.
Quick Summary
You'll learn how to:
Write original and creative jokes
Gather useful material and inspiration for material
Develop a compelling comedic persona
Master delivery through timing and tempo
Perform comedy in front of a live audience vs. on screen
Find your place in the ever-changing comedy world
Pros
Unique opportunity to learn from Steve Martin himself
Highly informative with plenty of resources
Practical tips to increase your comedic potential
Engaging workshop that allows you to "sit in" on a class
Cons
Somewhat biased (Martin's style is not for everyone)
Less relevant to today's audience (standup from the 60s and 70s)
Sometimes hard-to-follow advice
Length of course: 25 videos, 4.6 hours long.
Best for: Someone with a love for old comedy and an interest in developing a clean and "classic" comedy act. Less suited to those interested in political or 'vulgar' comedy.
Overall: A rare opportunity to learn from one of the world's best-loved comedians and hear his insights into how comedy has evolved. The course is carefully structured and teaches you how to build your own comedic persona. Particularly strong focus on physical comedy and live performance. Great value considering this is celebrity-led teaching.
Here's what this Steve Martin review will cover:
About Steve Martin
About MasterClass
A sneak peek of what's included
Pros and cons
Who it's for
How much it costs
Is there anything better?
What others thought of this course
How unique the content is
The final verdict: is it worth the money?
So, let's get started:
About Steve Martin
If you're reading this Steve Martin MasterClass review, you likely have some idea of who Steve Martin is and what he's known for. With that in mind, I'll spare you the biography and sum up some key career highlights:
Martin established himself as a standup comedian and writer during the 1960s, winning the 1969 Emmy Award for his writing in The Smothers Brothers Comedy Hour
Martin achieved the Lifetime Achievement Award in Comedy in 2000, along with an Academy Honorary Award in 2013
A talented actor and musician, Martin has made a name for himself in both standup and film, winning a Writers Guild of America Award for Best Adapted Screenplay (Roxanne)
And if you haven't seen the trailer for Steve Martin's MasterClass, I highly recommend you watch it
About MasterClass
Founded in 2015, MasterClass is an e-learning platform that offers online courses taught by celebrity experts.
There are over 150 video lessons all taught by major names in their fields.
For example, you can learn Filmmaking with James Cameron, Magic from Penn & Teller, Writing from Neil Gaiman, and Cooking from Gordon Ramsay.
MasterClass has slowly risen to the top of online learning. Some are calling it the "Netflix of education." It's no wonder considering their high profile teachers and production values.
That being said, and having taken many MasterClasses so far, I can safely say that MasterClass isn't for everyone.
So, in this Steve Martin MasterClass review, I'll weigh up the pros and cons to help you decide whether this course is for you.
An Inside Look Into Steve Martin's MasterClass
Steve Martin's MasterClass is 4.6 hours long and is made up of 25 lessons. Alongside the video content, you also get:
A 74-page WorkBook
Meteor Shower's script (excerpt)
Roxanne's full script
The WorkBook is a great addition to the video content, especially if you like to take notes as you go. The PDF can be printed and you can go over each section as often as you'd like.
Martin's MasterClass is split into 5 sections:
Meet Your Instructor
Writing Jokes
Performing Comedy
Writing Comedy for the Stage and Screen
Finding Your Place in Comedy
To give you a better idea of whether this course is for you, I'll cover the highlights of each lesson:
Section 1/5: Meet Your Instructor
Introduction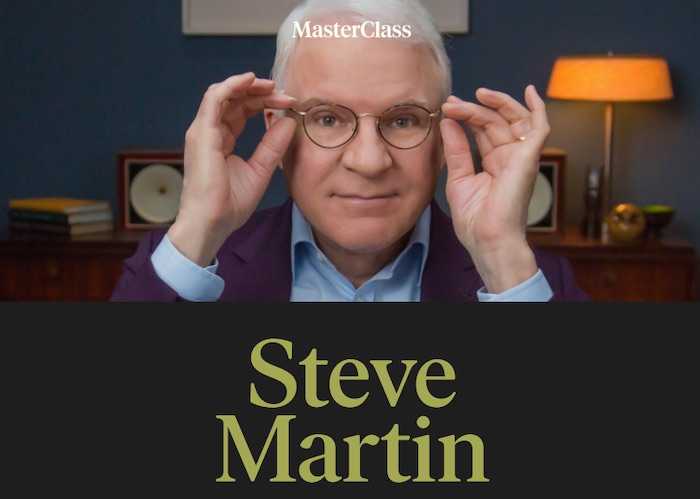 In this section, Steve Martin introduces himself and his objectives for his MasterClass. As he puts it, he'll talk to you about writing, performing, and "the specifics of standup."
With this in mind, it's worth considering whether live performance is the route you want to take when choosing your comedy MasterClass.
Martin's overall goal is to teach you how to find your comedic voice and nail your act.
You'll learn:
Practical knowledge about comedy
How to find inspiration around you
Methods for developing your talent
This lesson was a good introduction to the skills you can expect to develop in this class.
So, it all starts off well. But where does it go from there?
Section 2/5: Writing Jokes
Gathering Writing Material
"You have a million thoughts a day. Just learn to observe them a little."
This class teaches you:
The value of educating yourself
To become informed and intelligent
How to gather and assess material
Use comedy to reflect a wider context
I have to say, this section was one of my favorites when it came to teaching personal style and originality in comedy.
Martin encourages you to observe the world differently in order to gather knowledge for your acts. As he suggests, much of comedy is about noticing and observing so it's important to pay attention to details.
This class covers how to find and assess material in terms of how useful it is for your act — as well as how to mine your friends for knowledge.
Martin offers plenty of anecdotes and additional resources, especially to show you how comedians use knowledge to develop a comedic style.
You'll learn to think critically about comedy and ask key questions of the "state of the nation" to make your comedy relevant and meaningful.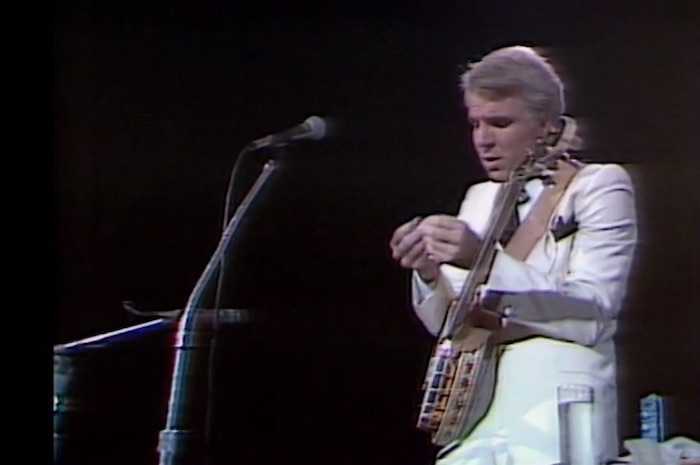 Jokes and Bits
"Make yourself the subject."
This section teaches you how to create a live presence on stage, as well as how to manage a crowd, develop bits from ideas, and control audience tension.
Martin offers some insightful tips on how to:
Establish and subvert expectations
Understand and use irony in your acts
Add layers to your performance
In this chapter, Martin focuses on how to develop bits and routines specifically for live shows. Much of this centers on how to keep content fresh and increase a bit's comedic value.
My key takeaway from this section was Martin's explanation of the "different kinds of laughter" and how you can surprise your audience through radical performance.
Bonus Chapter: Speeches
This chapter begins with exclusive footage of one of Martin's comedy speeches — a tribute to Tom Hanks at The Museum of Modern Art. Martin uses this as a case study to demonstrate how you can use speeches to deliver comedy gold.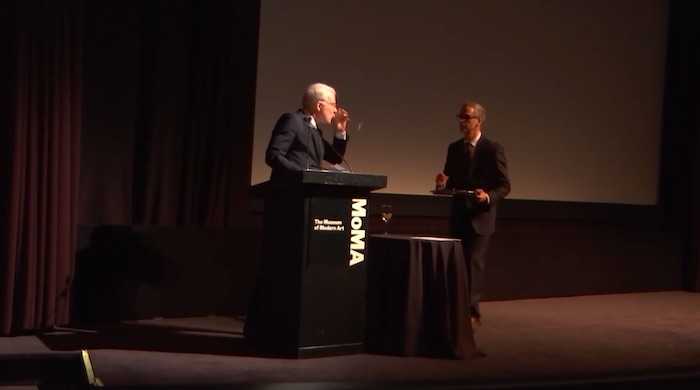 What I liked about this section was how Martin broke down his case study to show you exactly how he built and performed his speech.
In particular, this example was a great way to demonstrate where to start as well as how to set a scene with your audience in mind.
The case study format was a helpful way to learn and Martin even included some bonus tips on how to test your material before (and during!) the show.
Section 3/5: Performing Comedy
Finding Your Comedic Voice
"Liberate your individuality."
Martin relates how he got into comedy after experiencing an "existential crisis" while in college. Coming from a philosophy background, Martin grappled with comedy as a concept and realized his need to develop his own voice.
As he describes, there are ways to develop your own style and to unlock your uniqueness as a performer.
You'll learn how to:
Tap into your cultural perspective
Characterize yourself
Establish a manifesto
Define your taste
With his own musical talents being a feature of his acts, Martin insists on perfecting your talents to become a more interesting and diverse performer. He also explains how you can:
Assess demographics to tailor your comedy
Form yourself as a comedian
Take influences from other disciplines
Establish your standards as a performer
Martin offers some food for thought here, including questions you should ask of yourself when considering your persona. This takes you seamlessly into the next chapter:
Developing a Comedic Persona
"Imagine yourself at your best."
Here, Martin explains what a comedic persona means and what determines this image. He even provides some examples of famous comedians who have established a clear persona over the years.
At its core, this lesson is about choosing the image you want to portray to your audience and how to define yourself on stage. You'll learn how to tailor your image with your best (and worst) qualities in mind — right down to dressing for the part.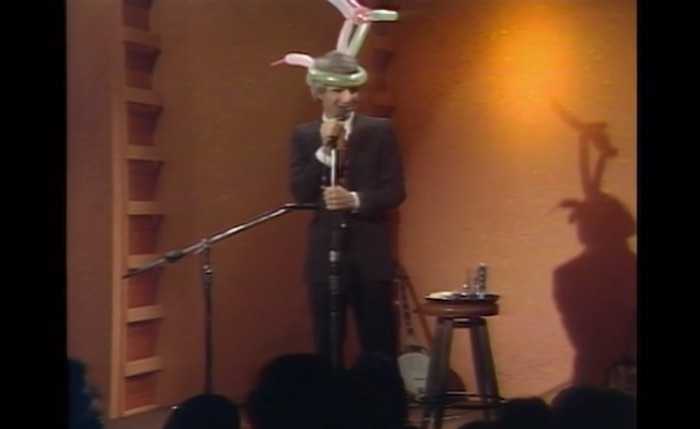 This lesson considers how to establish yourself as a comedian — especially in terms of "finding a vacuum you can fill." Martin relates this to his own comedic persona — a suit-wearing, balloon-hat wearing goof who would end his act looking silly.
You'll hear why Martin made certain creative decisions when it came to defining his persona, and also what he thinks the key takeaways from this lesson are (especially for young comedians).
Delivery
"Make it look spontaneous."
In this lesson, Martin focuses on "timing your… timing."
Here are my main takeaways:
The importance of timing and tempo to hook your audience
Why you should use physical comedy in your delivery
How to line up body and speech to hold your audience
How to stay ahead of the audience with "rollover jokes"
Overall, Martin's goal with delivery is to make it look effortless. He relates this to the "illusion of the first time" used in theater.
As he concludes, it all boils down to what audiences like and how your delivery style relates to your persona.
Creating Characters
"First, just be a person."
Martin begins by differentiating between characters for film and stage. He relates this to the portrayal of emotions in particular.
This class covers:
Exploring the many faces of emotion
Channeling your own weirdness
Following quirks through to characters
You'll learn how acting differs from your on-stage persona, and also how he and other comedy actors have worked to create weird and memorable characters.
Martin also gives a short case study of how he did this in Dirty Rotten Scoundrels with the help of costume and physical comedy.
Crafting Your Act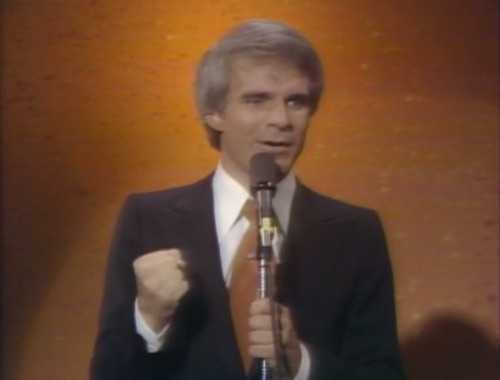 This class covers the following ground:
How to get the most out of your resources
The elements of showmanship
How to gain an artistic advantage
Structuring bits into a unified whole
Giving your act a deeper meaning
For those getting their first shows under their belts, this section provides valuable advice on how to create unity within your act, make use of callbacks, and tell a story.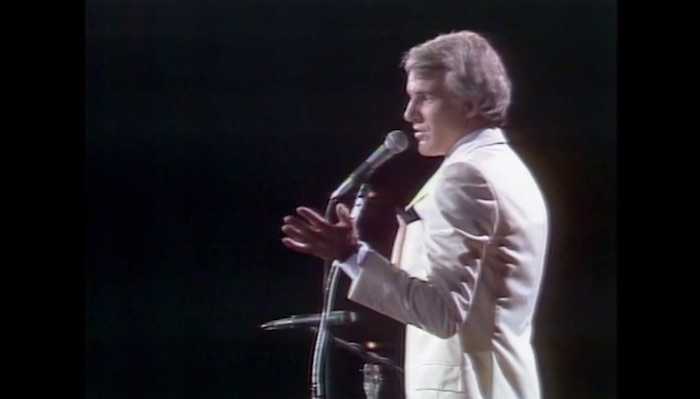 You'll learn how to make the most of every moment, create running gags, and know what to cut. I think this is a solid lesson for anyone starting out and looking to assess how impactful their early acts are.
Student Session: Workshopping Nalini's First Stand-Up Act
This chapter takes you to a workshop session with Steve Martin and a group of young comedians. These students are developing their first bits — perhaps like you — and are learning how to improve their work.
You'll learn:
How to start your act with a purpose
The importance of onstage identity
How to work with touchy subjects
These workshopping sections were some of my favorites of the course. As well as feeling exclusive, they also show you how to refine and improve upon your acts.
As someone who's never performed on stage before, I felt I could relate to the other students a lot more easily than I could Martin.
Student Session: Workshopping Tim's Act
With reference to another student's act, this class teaches you how to:
Perform live comedy like a pro
Establish your premise
Dispose of "chuffa"
Build a character
Sell yourself
Like other writing courses I had taken on MasterClass, this chapter was particularly helpful when it came to the editing process. Martin teaches you the importance of cutting your work in order to keep the best of the best.
This also leads into the fundamentals of structuring:
Opening and Closing Your Act
This class covers how to "button up" your act by setting a clear beginning and ending. At the start of the chapter, Martin makes it clear what he — and many audiences — like to see at these crucial points.
Admitting his fixation with comedians' opening lines, Martin explains what you should establish in your act's opening and how to use this moment to your advantage.
You also get to see another workshop section as Martin pulls Will's opening into the spotlight.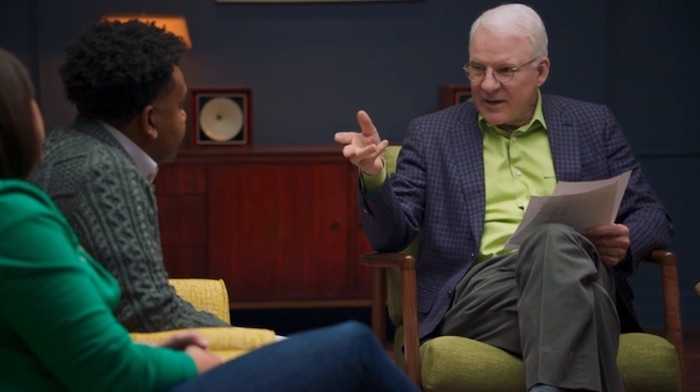 Growing as a Performer
"Confidence took me 25 years to get."
This lesson teaches you how to grow as a performer through experiences and making mistakes.
For me, the biggest takeaways were tips on how to:
Develop a catalogue of experience
Use the stage to rehearse
Learn from being bad
Take steps towards success
Build confidence as a performer
I found this section to have a good mixture of theoretical and practical teaching, from becoming aware of your mistakes to maintaining success. With some bad experiences in mind, Steve Martin takes you on to tackle:
Nerves, Hecklers, and Bombing
As Martin relates, his before-stage emotions are a mixture of nerves and excitement. With this in mind, you need to use the nerves to your advantage by embracing them.
In sum, "nerves are natural."
You'll learn how to improve your performance by eliminating distractions, choosing the right venues, and dealing with hecklers.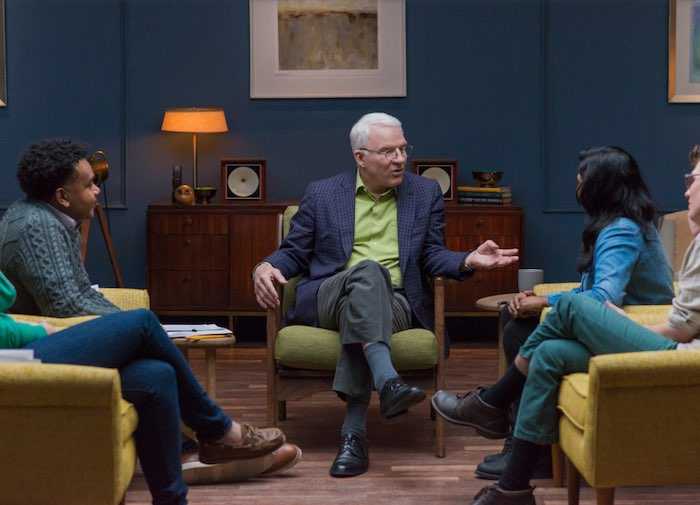 In a lesson that divides between lecture and student workshop, Martin shares his approach to dealing with hecklers and learning from bombing.
Section 4/5: Writing Comedy for the Stage and Screen
Story Techniques
Martin explains his process for writing for film vs. stage. In particular, he tells you where he starts and how he works from his initial idea.
He focuses particularly on: structure, free-writing, and dialogue.
You'll learn how to:
Create and build upon a base structure
Let your characters write dialogue
Give your subconscious time to work
Deal with writer's block
As you'd imagine from his filmography, Martin has ample examples to reference here. Among his case studies include Bowfinger and The Jerk, which he uses to demonstrate how he writes dialogue.
He also references his play, Meteor Shower, which you can view in PDF form. This is helpful to see how Martin structures his work on the page.
Screenwriting Case Study: Roxanne
Martin begins this section by providing some context for Roxanne — his 1987 adaptation of a 19th-century play.
In this lesson, he takes you through the stumbling blocks he encountered when he decided to adapt and update this text.
He even shows you some scene examples with commentary.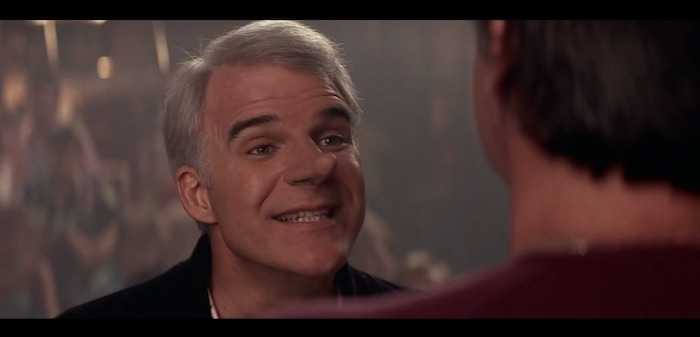 Editing, Parts 1 & 2
"Ditch the fancy words."
In a lesson that's applicable to all types of comedy writing, Martin shares his preferences when it comes to writing style and how to edit.
Returning to Bowfinger, he shows how he spared his audience a predictable scene by keeping only the best and most impactful dialogue.
Here are my main takeaways:
The importance of keeping the heart of a scene
How to source feedback and collaborate
How to write for film vs. other literature
Assessing feedback to edit your sketch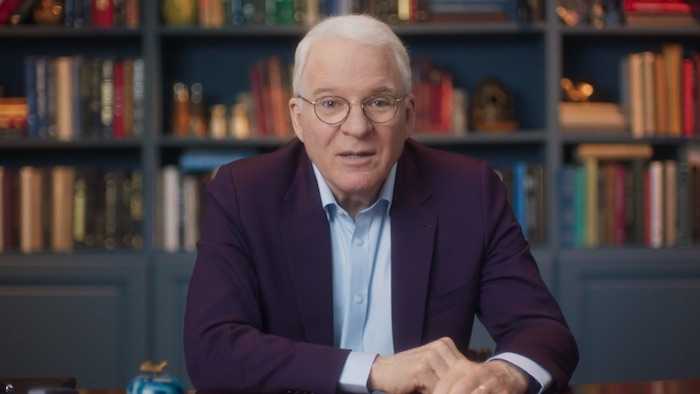 Writing Case Study: Meteor Shower
"No edit is too small."
In this section, Steve Martin uses his play, Meteor Shower, as a case study in writing. With particular attention to exposition, he teaches you how to set a scene that hooks your audience from the get-go.
You'll also learn how to:
Establish intent in your work
Avoid clunky exposition
Drop clues early on
Reveal descriptively vs. blatantly
Reading the opening lines of his script (which you can follow on the PDF), Martin takes you through what he wanted to achieve in his opening. This includes what he wanted us to know about the characters, situation, and theme.
If you're interested in writing comedy beyond sketches, this lesson is useful in showing you how you can adapt your skills for a different medium. It's also an interesting glimpse into how you can transfer your comedy knowledge into other kinds of writing.
Section 5/5: Finding Your Place in Comedy
Getting Started in Comedy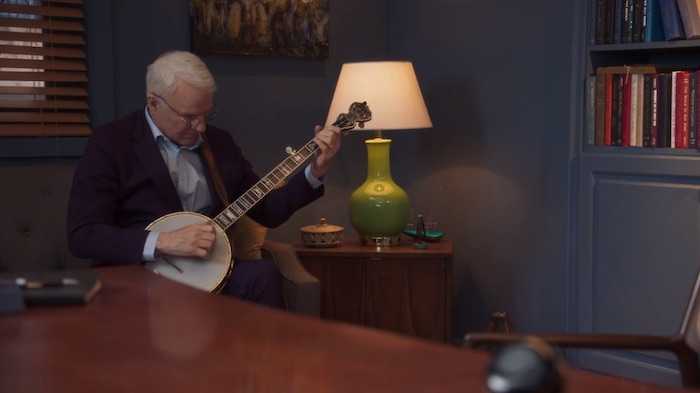 This class covers how to:
Make the most out of starting with nothing
Understand what comedy is to you
Recognize the qualities for show business
Get noticed in the comedy world
Stay original and inspired
A strong pro of this lesson is that it requires zero equipment or special skills — it's all about knowing yourself and recognizing how to build upon what you have.
Martin suggests ways in which you can increase your potential as a comedian and what habits you should adopt along the way to ensure success.
A Life in the Arts
"Negative feedback is a badge of honor."
With any career in the limelight, there's inevitably struggle. Martin speaks about how he used negative energy from reviews and the media to his advantage.
You'll learn:
How to embrace the difficulties of being a comedian
Know when to leave artistry behind you
How to stay upbeat and inspired in your career
While Martin addresses the standup comedian here, he also talks about fame and art more generally. In particular, he discusses the emotional toll of being overly analytical and philosophical.
He shares some lessons he learned from other actors and comedians throughout the years, and how he deals with negative feedback.
Profanity and Morality
By this section alone, I could tell that profanity and foul humor weren't Martin's favorites. In fact, his MasterClass seems to steer away from anything that could be considered vulgar or even political.
Admitting the value of personal preference, he teaches you how to:
Identify your morality
Define your taste
Tell comedy kindly
While this section was shorter than most, it did have some useful points to consider, such as how and when to use profanity.
For the last time, you get to witness a student session, where Martin addresses a student's act in relation to foul material.
Martin definitely doesn't tell you what you should and shouldn't say in your comedy act, but he does pose some questions that could help you consider which language choices would be more impactful.
Steve's Comedic Inspirations
This class takes you through some of Martin's favorite comedians and comedy moments. From early influences to physical comedy, Martin relates the styles that influenced him as a performer and made a lasting impression.
I was impressed by the range of comedy Martin shared — spanning from Charlie Chaplin to Amy Schumer! He even dropped a list of iconic comedy sketches you should check out.
Steve's Journey and Final Thoughts
This lesson covers how Martin fell in love with performing and eventually created his own "variety show."
For me, the biggest takeaways from this lesson were:
How to develop as a performer
Using your other talents to bear on your comedy
How to pitch ideas to others
Martin finishes with some parting advice, concluding with what he wants you to take away as a student. He reminds you of how to maintain your integrity as a performer and how to use his advice to achieve success.
What I Liked About Steve Martin's MasterClass
Learn from Steve Martin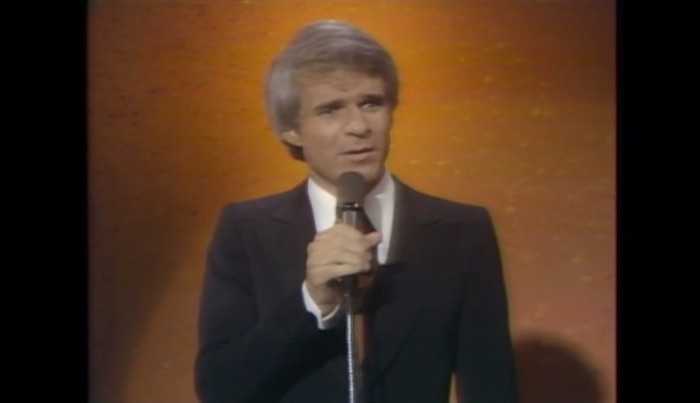 Steve Martin is one of the best known and most successful U.S. comedians in recent history. He's also a likeable talent, having maintained his success through the 1960s to the present day.
In his MasterClass, you get a unique opportunity to learn from the man himself. This includes getting to "sit in" on an exclusive workshop with aspiring comedians.
If you're willing to pay the price, MasterClass gives you unrivalled access to Martin's craft, and it's possibly the closest you'd get to a 1-1 experience.
Plenty of Resources
Alongside the video content, there are some additional resources that can help you to engage with the class content.
This includes the 74-page WorkBook, with assignments and further reading, as well as 2 of Martin's original scripts.
If you learn best by reading or annotating, these PDFs are a godsend. MasterClass really encourages you to take learning into your own hands and does its best to cater to a range of learning styles.
In fact, Martin's further reading suggestions also mean you can go beyond the MasterClass (and tackle Martin's first piece of advice – to educate yourself!).
Great Workshops
Having taken some other MasterClass that include workshops (Aaron Sorkin's Screenwriting MasterClass is one standout), I've found that student sessions really add another layer to the MasterClass experience.
During a somewhat hefty 5-hour course, you get to take a break from the lecture-style content and instead experience a seminar session with Steve Martin and a group of students.
For me, this felt the closest I'd get to a 1-1 experience with Martin, especially as the students were in the same boat as those at home.
In fact, it's the workshop sessions in particular that tackle the following:
Performing for the first time
Establishing your persona
Structuring your act
Dealing with hecklers
This is a great chance to hear Martin's tailored advice to the "everyman" viewer of MasterClass. I took away some great tips from these sections and I don't think the course would've been as strong without them.
What I Think Could Improve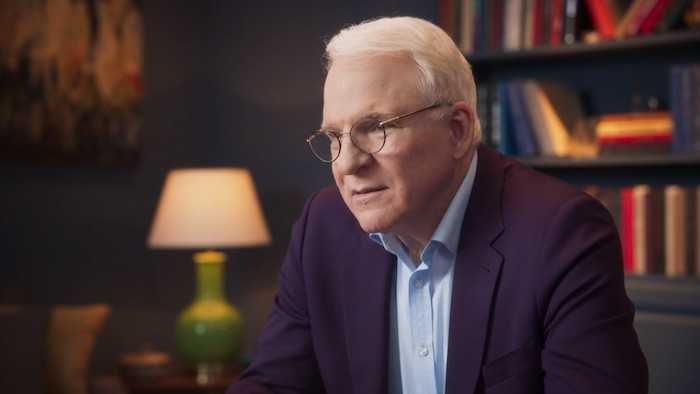 Not for Everyone
As likeable as Steve Martin is, I don't think his style of teaching (or even the content) is for everyone.
While Martin covers a range of subjects from standup to acting, I could tell the course was heavily focused on Martin's style of comedy.
Specifically, Martin focuses on: physical comedy, "kind" comedy, and live performance. He likes to stay away from vulgarity, profanity, or comedy that could "shake the tree."
Because of this, I'd say it's less suited to those interested in politically-driven comedy. Martin's style is characteristically "silly" and he's heavily influenced by old-time comedians such as Jack Benny and Jerry Lewis.
This is something to bear in mind when deciding whether this course is right for you.
Slightly Outdated
To an extent, this is a matter of opinion.
But, the reality is: Steve Martin's height of success spanned the 60s and 70s' comedy scene in America. As he admits, the state of the world was very different then and comedy has evolved with the times.
While some might consider his type of comedy "timeless," Martin constantly qualifies his comedy in relation to its context – such as his live shows after the Vietnam War.
At times he seems stuck when relating his teaching to the current times, even making statements like, "I don't know what that would translate as today."
That being said, I could see Martin making the conscious effort to keep atop of current events. He references contemporary comedians such as Amy Schumer and Chris Rock, and one of his case studies is the more recent Meteor Shower, which premiered in 2016.
Sometimes Hard to Follow
For the most part, I found Martin's teaching style very engaging. Most often, it felt like I was sitting in a room with him listening as he shared his secrets.
That being said, Martin isn't a trained professor. He'll occasionally veer off track and even give confusing and contradictory advice, perhaps without meaning to.
I think this was most apparent in the "Opening and Closing Your Act" chapter, where his advice seemed elusive and hard to grasp.
Who Is The Course For?
In my opinion, the Steve Martin MasterClass is ideal for someone who is:
Passionate about old school comedy
Keen to learn from one of America's greatest standups
Looking for a course that covers live performance and film
Wanting to delve into "kind" comedy and clean humor
Eager to hear how Steve Martin structures his acts
A fan of Steve Martin or comedy in general
This class is best suited to someone who's interested in comedy and starting to get their first shows under their belt. You'll learn how to write jokes and bits, create a unified show, and hook your audience's attention. Martin also teaches you how to set yourself up for success.
The MasterClass is less suited to those interested in more recent trends in comedy, or if your manifesto is politically-charged.
How Much Does the Course Cost?
At the time of writing MasterClass had three subscription offers. The cost of these (per month) is:
Individual (1 user) $15
Duo (2 users) $20
Family (6 users) $23
All are billed annually, which at first glance may seem pricey.
However, you can considerably reduce your costs by joining with friends or family. And of course by taking as many courses as possible.
With over 150 courses on the platform you're likely to find quite a few to interest you. Even if you buy an individual membership and find only 10% of the courses of interest this still works out to only $12 a course:
$180 (annual individual membership fee) / 15 courses = $12.
And if you join with friends or family then the cost of each course is drastically reduced. Check out our MasterClass review or MasterClass cost articles to see how.
Bearing in mind that these classes are taught by global leaders in their fields the value is unbeatable. You can pay over $100 for an online course taught by someone you've never even heard of, never mind an award winning comedian, actor and musician!
What's more, MasterClass also offers a 30 day refund if you're unhappy with your purchase.
You can also buy MasterClass as a gift.
Is There Anything Better Than the Steve Martin MasterClass?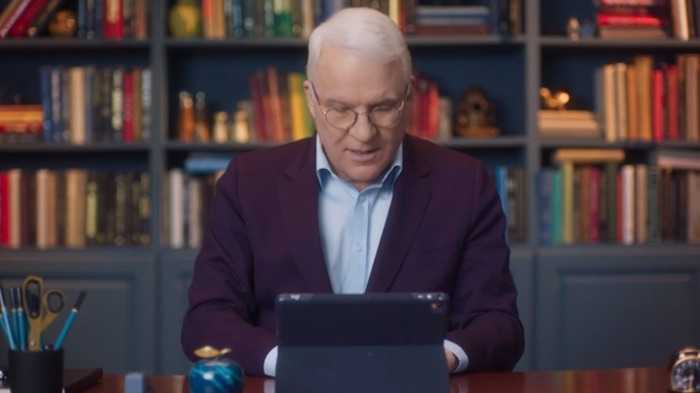 Luckily, there's no shortage of comedy courses on the web today.
Udemy offers a number of courses in comedy, including one on "Stand Up Comedy". These are often good value and Udemy frequently has sales. Bear in mind though that anyone can upload a course to Udemy so the teaching quality will vary.
With MasterClass, you also have the benefit of being able to access comedian Judd Apatow's course, as well as any of the other 150+ classes on the platform (check out our best MasterClass article for ideas and inspiration).
The verdict?
You have the chance to learn from 2 comedy legends from very different eras. This is a great way to get your money's worth and explore a broader scope of comedy than you otherwise would.
MasterClass also has the added bonus of high production values.
Steve Martin MasterClass: What Others Have Said
My aim here is to present the most balanced and fair review of Steve Martin's MasterClass. With that in mind, it's worth drawing attention to other students' experience with the course.
I searched Reddit and similar forums to get a general sense. One user pointed out that standup wasn't exactly secret knowledge, and that there were probably cheaper options out there.
"Worth is relative. If you have to ask, I'd probably say no. Standup isn't exactly some arcane secret magic. You can find all the same info in $10 books, and there are classes that are cheaper."
- Comment from Reddit
Another user echoed this comment, adding that open mics would teach you more than a MasterClass would:
"If you want to watch it for entertainment purposes or because you're a Steve Martin fan, go for it. But if you're actually trying to get better at comedy, open mics will teach you more than any instructional video would."
- Comment from Reddit
Considering the length of the course, it's a fair comment that it takes a while to get going. In fact, most users who'd completed the course agreed that it was worthwhile:
"I'm an absolute beginner in standup and it has been insanely helpful. 

I'm not saying it has made me a more funnier person or a better standup comedian but Martin gives some amazing insights and teaches how to analyse your thoughts for material, etc." 
- Comment from Reddit
"Most people don't realize he was performing in stadiums. The guy was huge! He knew when he was on stage performing for 10,000 that he was going to stop, because it couldn't get bigger than that. He's a great writer, performer, comedian, actor, and museum. I'm enjoying his MasterClass."
- Comment from Reddit
The bottom line is: most people took something of value away from Steve Martin's MasterClass, even if it was just to hear from the man himself.
Is the Course Content Unique?
The straight answer is: no.
Comedy is an age-old tradition and it's impossible for Steve's content to be 100% new. That being said, Steve does share his personal secrets and original tips, including his technique of "laying things in."
He also explains some terms he's learned within the industry. As one student admitted, the course also includes a lot of content that he doesn't share in his memoirs.
In fact, aside from interviews, I didn't find much other content where Steve discusses his craft, and especially not in as much detail as in his MasterClass.
So, here's my breakdown:
You'll learn comedy from Steve Martin's perspective — mainly how he likes to write and perform.
But you have to remember that Martin's comedy doesn't exist in a vacuum. Martin readily admits to the countless influences that have informed his style.
On the flip side, I think Martin's discussion of comedy is mostly original. He's admittedly biased and shares his own opinions when it comes to style, delivery, and structuring performance.
All things considered, you get the chance to hear from one of the greatest comedians of all time. And I think that's pretty valuable in itself.
Verdict: Is the Steve Martin MasterClass Worth It?
If you're a fan of classic standup comedy, the answer is yes.
This is an incredibly in-depth course, covering many specifics of standup performance. From what I could see, Steve Martin hasn't come close to sharing this amount of detail about his art before.
That being said, the value of Steve Martin's MasterClass depends on what you're interested in and what you aim to get out of it.
If you're approaching comedy from a more contemporary or political standpoint, this course might be less suited to you. Steve Martin very much relates his comedic style and techniques as they appeared in his early standup.
If you're less interested in live performance, I think there's little to get out of this course. Aside from a couple of chapters on playwriting and film, this MasterClass is focused on live acts. Most of his advice centers on our immediate interaction with the audience while on stage.
Overall:
If you're a fan of Steve Martin and his style of comedy, this course is highly insightful and great value for money. He's not simply a comedy theorist — he's a renowned performer who has stood the test of time.
Moreover, the all-access pass grants you unlimited access to all of MasterClass' courses across a year's subscription. Like Steve Martin, these teachers are all experts in their fields.
With that in mind, I think MasterClass is easily a bargain for your buck.
Frequently Asked Questions
How much does the Steve Martin MasterClass cost?
You can buy an individual all-access pass for $180, which gives you access to the whole of MasterClass for a year.
How long is the Steve Martin MasterClass?
The Steve Martin MasterClass is 4.6 hours long and consists of 25 lessons.
Can you get the Steve Martin MasterClass free?
No, you can't get the Steve Martin MasterClass for free. But you can sample the class for free and MasterClass has a range of purchasing options and offers refunds if you're not happy.
Can I get a refund if I don't like the Steve Martin MasterClass?
Yes, MasterClass has a 30 day refund policy if you purchase directly through them. But, if you purchase through other providers, their refund policy might apply.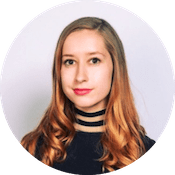 Rebecca graduated from King's College university with a first class honours in English Language, followed by a Masters' Degree in Eighteenth Century Studies.