Judd Apatow is an American writer, actor, producer, and comedian. He's made a name for himself in Hollywood by directing award-winning comedy movies. These include Knocked Up and The 40-Year-Old Virgin.
In Judd Apatow's MasterClass, you learn from the man himself. He teaches you the basics of writing and directing comedy, and even how to perform stand-up.
If you're here, you're likely interested in seeing whether this is the right course for you. In this Judd Apatow MasterClass review, I'll take you through the pros and cons to give you a better idea of what's inside so you can decide for yourself.
Before I start, here are some key points:
.
Quick summary
Learn how to:
Write and perform stand-up comedy
Develop life events into comedic storylines
Structure films for your market
Craft strong character and dialogue
Use workshops to develop your script
Cast and work with the right actors
Direct for comedy and tone
Edit and test your films for success
Launch your career in comedy
Pros
Learn from a prolific comedic filmmaker

Strong lesson variety and case studies

Generous additional resources
Cons
Unclear delivery at times
Not always comedy-specific
Examples are sometimes difficult to follow
Course length: 32 lessons, 6 hours, 33 minutes
Best for: Budding comedy writers looking to begin or improve.
Overall: A keen look at comedy screenwriting and production. Judd Apatow's MasterClass teaches you how to direct comedy actors and develop humor within your script (view details)
Now, I'll delve deeper into what the Judd Apatow MasterClass covers. I'll also explain what I liked/disliked about the course and how it could be improved.
Here's what I'll look into:
About Judd Apatow and MasterClass
Inside Judd Apatow's MasterClass
What I liked/disliked
Who the course is for, prices, and alternatives
What others have said about the course
Verdict – is the Judd Apatow MasterClass worth it?
Firstly, here are some basics:
About Judd Apatow
Judd Apatow is an award-winning comedy director and producer. He's known for his work on films such as Bridesmaids and the teen comedy series, Freaks and Geeks.
He founded Apatow Productions in 1999. As well as launching Freaks and Geeks, it also produced the 2004 film, Anchorman. The company now has 25 films to date.
In 2013, he received a BAFTA award for the comedy series, Girls. He's also won 2 Primetime Emmy awards, a Hollywood Film award, and even Comedy Person of the Year – to mention a few.
If you're interested in learning more about comedy writing and production, this MasterClass is a great resource.
If you haven't seen the trailer for this MasterClass yet, I high recommend you watch it:
About MasterClass
"Online classes created for students of all skill levels."
Founded in 2015, MasterClass is an online learning resource offering 80+ video lessons from celebrity teachers.
Such teachers include James Cameron teaching filmmaking, Christina Aguilera teaching singing, David Mamet teaching dramatic writing, and Gordon Ramsay teaching cooking.
With its high production values putting it at the top of online learning, MasterClass offers lessons in almost every category you can think of.
For a $90 payment, you can access a MasterClass of your choice and all of its accompanying resources. Once you buy it, it's yours forever. This means you can revisit it as many times as you'd like.
The second option is the all-access pass. This is a yearly subscription of $180 that gives you access to all MasterClasses across the year. With this in mind, you can take multiple courses across categories and dip in and out as you please.
Despite being a young company, MasterClass has already changed the landscape of online learning. That being said, it might not be for everyone. I hope to cover both the pros and cons to help you decide whether MasterClass is for you.
Inside Judd Apatow's MasterClass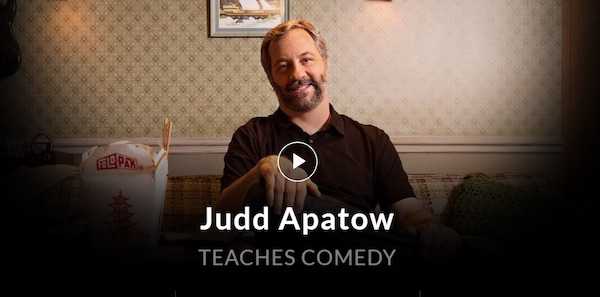 With 32 lessons to explore, Judd Apatow's MasterClass covers 6 hours and 33 minutes. Each video lesson is roughly between 15 and 20 minutes long.
Along with the MasterClass video lessons, there are also the following resources:
Community Hub
55-page Workbook
Funny People Final Script and "Vomit Pass"
Knocked Up Brainstorm, First Draft, and Handwritten Notes
LOVE First Draft, Pilot, and Episode "Roadmap"
The 40-Year-Old Virgin Brainstorm, Outline, and Script
Here's what you'll find inside the Judd Apatow MasterClass.
Lessons 1-4: Introduction, Judd's Journey, Writing & Performing Stand-Up Comedy
"Comedy is a great way to try to figure out how the world works."
In his opening chapters, Judd sets out his aim to tell you "everything I know." He elaborates on his history with comedy and stand-up, and even details why you need humor in life.
As he puts it, his MasterClass is part-comedy lecture, part-life coaching. He explains why he felt connected to the world of comedy from a young age and how he studied comedians to better understand their craft.
In particular, he goes into some detail about his radio show, Club Comedy, and how this allowed him to start conversations with established comedians.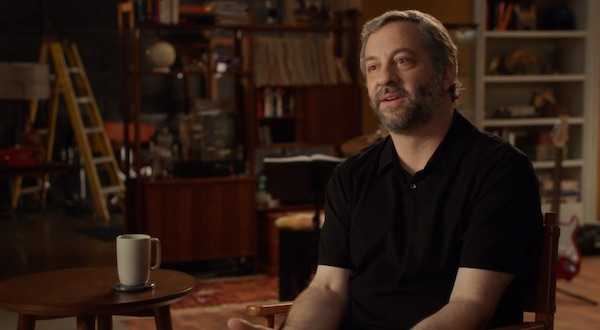 Along with this, he teaches you how to approach stand-up comedy by developing a unique point of view. He shares his secrets for making a routine compelling, especially in terms of structure and tone.
Overall, these opening chapters had some excellent takeaway points about how to read audience cues, recover from failed jokes, and develop a story around a premise.
I also found it helpful that Judd included case studies within each lesson. For example, you see a clip of Judd's stand-up routine on divorce. As well as showing you how a stand-up routine works, you also get a better idea of how a comedian relates to his/her audience.
Lessons 5-6: Developing Life Into a Story & Case Studies
"Examine the meaningful moments from your life."
As Judd sees it, real moments from your life can become key ingredients when making a scene. Specifically, there are moments in life that are cinematic, and you can use your experiences to create an impressionable scene.
Drawing on examples from his shows and from his favorite comedian, Garry Shandling, Judd teaches you how to:
Study comedians' lives to understand how they bear on content
Use the Writing Room as a space for exploring writers' experiences
Find and develop engaging stories from your life, beginning with its "essence"
Use visualization exercises to flesh out your characters
Understand the developments between truth, humor, and themes
In his case study chapter, Judd gives you several examples of how he took a personal moment and developed it for the screen. This included a scene from the hit series, Freaks and Geeks, which stemmed from his own childhood.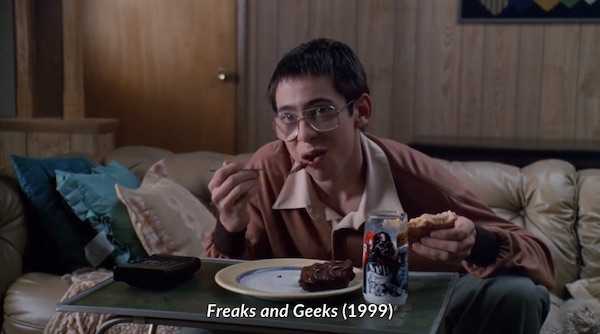 Lessons 7-9: Crafting Comedic Storylines & Structuring Films
"It really doesn't help to think of these stories just as comedy stories."
Unlike other teachers, who stress the disconnect between comedy and drama, Judd sees them as one and the same. As he puts it, a story should work just as well without the jokes. In sum, your jokes have to serve something beyond themselves.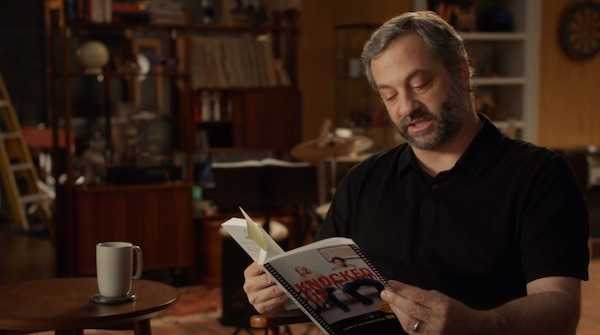 Using Knocked Up as his main example, Judd teaches you how to:
Use obstacles to create dramatic layers within your story
Drive your story through character and relatable stakes
Outline your story with key plot points in mind
Understand the basics of the Syd Field Paradigm
Develop innovative versions of established beats
In these sections, Judd hones in on the concept of story and lays down the 3-act structure as it appears in some of his films. He also considers a film's opening, and how you can use it to establish character.
As well as this, Judd teaches you how story and comedy go hand in hand. He uses Knocked Up as a case study in dramatic comedy, and teaches you the difference between jokes for story and jokes for jokes' sake. As he sums up, "comedy works much better if it's serving something."
Lessons 10-13: Writing Process, Habits & Character
"You can always write 5 pages a day."
In this section, Judd elaborates on how he builds story from a thematic idea. He takes you through his process from scene ideas to full outlines.
Throughout the video, he shares how he uses notecards and the "Vomit Pass" to get his ideas down. As he stresses, this is an important way to lay out your material and work towards a draft.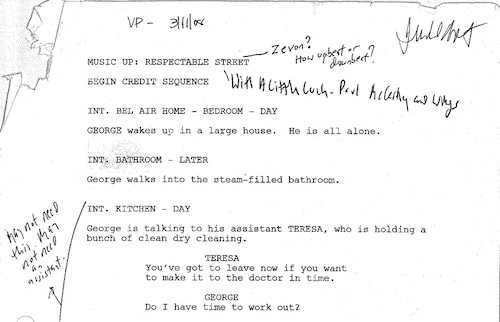 Along with this, he shares his tips and tricks for developing good working habits. In particular, this includes how to establish flow, get a clearer perspective on dialogue, and create realism.
For Judd, character is a focal point in the writing process, and it's the characters themselves that inform the story. In fact, Judd shares some unconventional tips for developing character, with particular attention to psychology, values, and conflicting egos.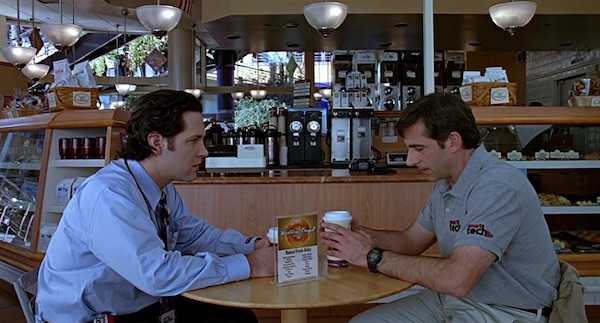 Judd shows you how he developed Steve Carell's character in The 40-Year-Old Virgin, and took the time to flesh this character out for the audience's understanding. A key takeaway from this case study, and the lesson as a whole, is the focus on character conflict. As Judd describes, this is a way to not only understand characters better, but to drive the story.
Lessons 14-15: Dialogue and Writing for TV
"With movies, you have an end. With television, it's a continuous exploration of how people are doing."
Following on from his discussion of character, Judd stresses the importance of dialogue for communicating what a character wants. Using Seth Rogen's character in Knocked Up as a prime example, Judd demonstrates how he used text and subtext to express what his character wants.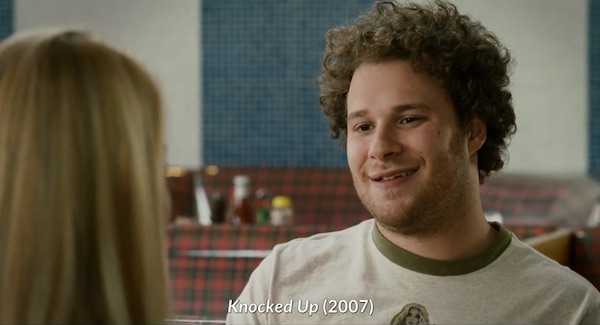 Like Shonda Rhimes' MasterClass, which also focuses on text vs. subtext, Judd's class considers how characters can reveal themselves through dialogue. For Judd, understanding subtext is crucial when approaching dialogue and writing for realism.
In this lesson, you learn how to:
Base humor on characters' personalities
Reveal a character's motives through dialogue
Write stories for television (in contrast to film)
Understand a season's endpoint and how to get there
What I found most helpful in this section was the additional resources on the web series, LOVE. This includes the script for the pilot and 2 episode drafts. As Judd takes a turn towards TV comedy, this is a nice way to get a feel for how this writing differs when compared to movies.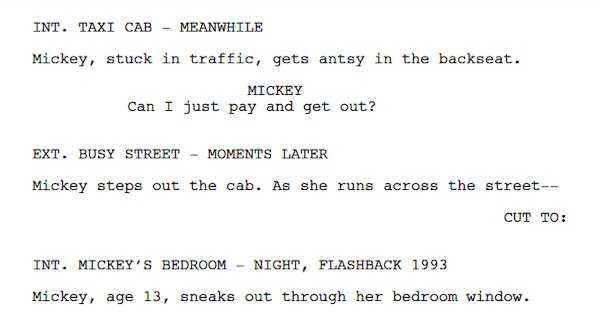 That being said, I think Judd fell a little short when it came to explaining the A, B, and C stories. In fact, Judd uses these terms without elaborating on them at all. This suggests to me that Judd expects some prior knowledge of TV writing, or at least that his students will research it beyond the course.
Lessons 16-17: Workshopping Scripts
"If this sucks, what will I wish I did?"
In this 2-part lesson, Judd teaches you how to:
Understand roundtables and use them to improve your script
Take and consider notes in a professional way
Involve the right collaborators for table reads and rewrites
Gain a better insight into the rewriting and editing process
From the start of this chapter, Judd focuses on how you can include other people in the discussion and reworking of your script. As he sees it, roundtables can be a valuable source for feedback and lead to significant improvement.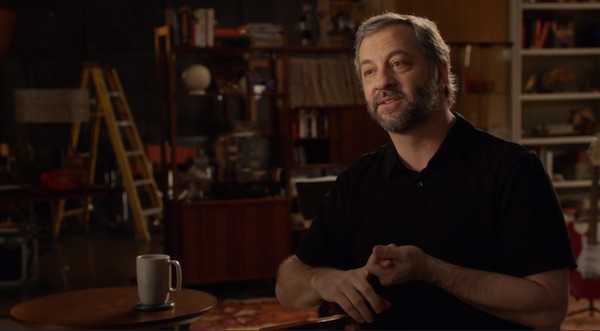 What was particularly helpful in this section was Judd's advice on note-taking. He even considers this in relation to where you're at in your career and when you should step in as "the final arbiter."
It was also interesting to see script-writing as a collaborative process. While Judd's advice is more geared towards those further along in their career, this lesson still has great merit for any writer and suggests how you can involve others to receive feedback.
Lessons 18-20: Casting, Working with Actors & Advice
"For me, I'm trying to get to the essence of who a person is."
As someone with notable frequent collaborators, Judd appears to be someone who looks for specific qualities in actors. In fact, Judd recommends casting as early as possible in order to approach rewrites with the actor in mind.
Importantly, Judd teaches you how to find and encourage chemistry between your cast members and also gives some tips on what to look out for when casting for your film.
Judd takes this further to consider your relationship to your actors on set. In particular, he encourages making actors feel comfortable and informed about what scenes you'll be shooting.
As an actor himself, Judd has some good insight into what actors experience on set and how to encourage the best performances from them. This includes how to better direct an actor, what to do when things go wrong on set, and how to approach the auditioning process.
Lessons 21-23: Directing Tone, Shooting Comedy & Production
"Here's my best piece of advice for you: None of this is that hard."
In this 3-chapter section on directing, Judd begins by setting down the importance of tone. As he sees it, a director needs to maintain a consistent tone throughout the movie. He gives some examples of films that do this well.
While he sees this as important during shooting, he also advises you to establish tone before production. As he notes, this is important for creating credibility. With this in mind, you need to have these conversations as early as possible to ensure everyone is on the same page.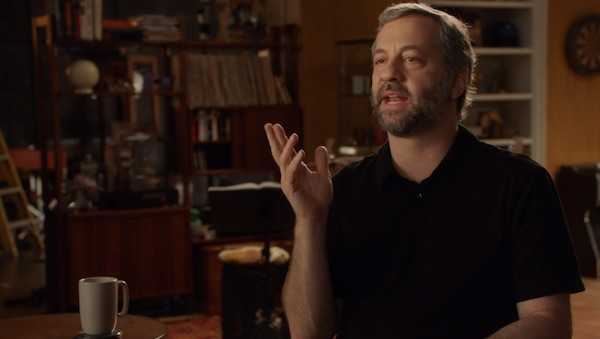 While I found some of this advice quite vague, Judd does succeed in sharing some secondary resources regarding these ideas. As he discusses, there are key books you should read in order to learn the basics of directing.
You will also learn how to:
Take advantage of all resources at your disposal
Study your idols critically in order to learn from them
Understand what a "single" is and how to get them
Use multiple cameras to create interest and dimension
Schedule your shooting days to get the best material
Make low budgets serve rather than hinder you
In sum, this section offers some good insight into how Judd works on set. This includes how he plans shots, gathers extra material, and creates a strict timetable. A lot of his advice, despite only talking through it, is incredibly practical for anyone looking to get into directing.
I particularly liked that Judd touched on low budget filmmaking, using his own Pineapple Express as an example. While Judd is known for his high production values, it was good to see another case study that proved high budgets aren't essential for making a good film.
Lessons 24-25: Improvisation Case Studies & The Evolution of a Scene in Knocked Up
"Let actors surprise each other"
As Judd has already emphasized, finding the right actors for your film is important not only for character, but for improvising lines. Judd gives an example of how this worked in This is 40, through what Judd described as "guided improvisation."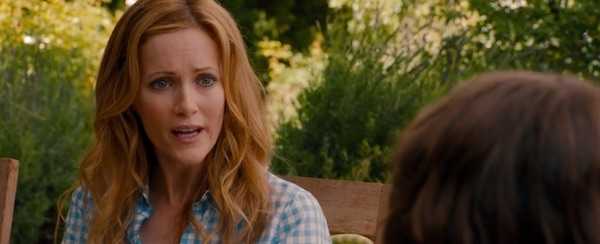 In these chapters, Judd stresses the importance of giving actors some creative license within the movie. Namely, doing so can increase the comic potential of a film and take it beyond the script material.
Along with This is 40, Judd also gives an example of how this worked in a scene from Knocked Up. In fact, he reads out his initial draft and compares it to the clip you see of the final cut. He takes you through the choices he and his actors made in this scene, and how using alternate jokes and improvisation made the scene better.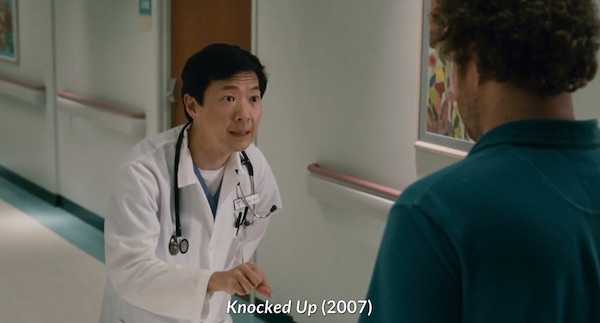 Lessons 26-27: Editing & Testing Films
"Every scene in comedy is an experiment."
In this section, Judd stresses the importance of testing your films. As he puts it, this is especially important for comedy, because "if the crowd doesn't like it, you're failing."
Firstly, Judd advises you to start with the area of greatest concern. He teaches you how to test these scenes early and adjust accordingly. In particular, he discusses what he calls the "rating process" whereby an audience can share their opinions on the scenes.
Importantly, Judd believes in approaching this method critically. In his opinion, it's a danger to take all criticism at face value and, instead, you should evaluate it according to the wider story.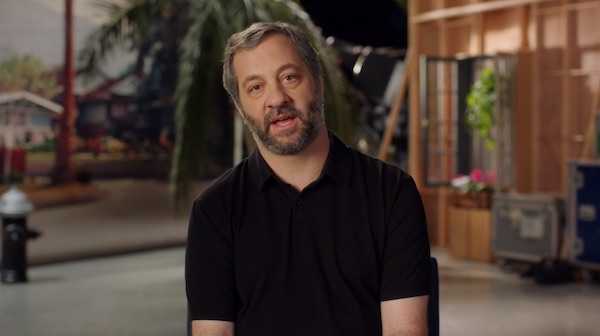 Overall, I found this one of the most helpful and practical lessons when it came to editing for comedy. As Judd suggests, the stakes are much higher in comedic films, where, if the joke fails, the movie as a whole can flop.
All in all, Judd gives some great advice on how to deal with these hurdles in post-production, including how to navigate reshoots and voice-overs. For me, this lesson was a good way of weighing up options when it comes to changing or improving your film.
Lesson 28: Music in Comedy
"Early on, I try to think of what the sound of the movie is."
Here, Judd considers the importance of music when it comes to enhancing a comedy movie. As he describes, music can serve certain functions within a scene and this can change how an audience reads it.
In this chapter, you will learn how to:
Use music to establish tone and character
Work with your composer to achieve your vision
Understand what music works and doesn't work in comedy
Experiment with music to create something original
Lesson 29: Pitching
"We want to pitch it with the main hooks that they think they'll need to sell it."
In this chapter, Judd teaches you how to successfully pitch a movie/TV show in front of executives. He offers some examples from his own works, including The 40-Year-Old Virgin.
As well as this, he considers what makes pitches fail and what you should avoid when selling yourself in the meeting room.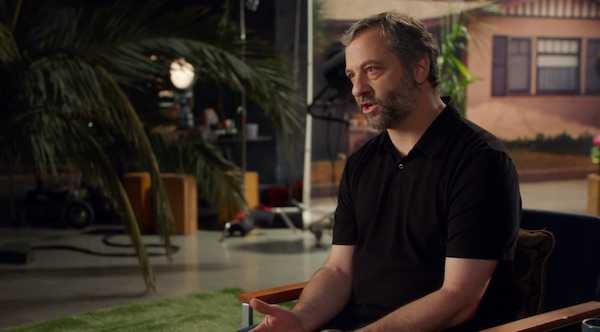 As he sees it, the pitching process is not only about pitching a film, but also about pitching yourself. With that in mind, Judd goes into detail about what he likes and dislikes in a pitch, how to sell your pitch to the market, and how to leave a good impression by the end of the meeting.
Lessons 30-32: Succeeding in Show Business, A Life in Comedy & Closing
"It's very important to find what you're interested in and pursue it energetically."
As he concludes his MasterClass, Judd looks back on his own career in comedy and how much of his own methods will differ now. At the same time, he encourages you to look out for certain jobs that can help you in your career.
As he believes, there are certain positions that will grant you leverage in the TV and film industry. He lists some of the positions that are available to young writers and even shares what roles are lacking in competition at the moment.
He will also teach you how to:
Get an education in comedy to find a way in
Adopt good habits and interpersonal skills
Manage relationships while taking notes
Find a support system throughout your journey
Overcome rejection and produce consistently
In conclusion, Judd ends with some helpful notes on collaborating with others. He sees this as an important part of the journey into comedy. As well as this, he reinforces the need for comedy in the current climate, and parts with his philosophy on why we need comedians today more than ever.
My Experience of Judd Apatow's MasterClass
Overall, Judd's MasterClass was insightful when it came to exploring the business of comedy writing. In particular, it included a lot of examples and extra materials that are valuable both during and after the course.
That being said, I don't think this MasterClass is for everyone. In fact, it's worth considering both the pros and cons before committing to this course.
What I Liked About Judd Apatow's MasterClass
Learn from a Prolific Comedic Filmmaker
You might be a huge fan of Judd Apatow's work. Or, you might dislike his sense of humor and style of delivery. Either way, there's no denying that Judd has earned his place in Hollywood as an accomplished writer and producer.
In his MasterClass, you learn from him in a 1-1 lesson style. From the offset, he vows to teach you everything he knows. He definitely delivers when it comes to sharing his own story of getting into comedy, and he leaves some parting wisdom for how you can do the same.
Great Additional Resources
Along with the 32 video lessons, MasterClass provides 12 additional resources for you to explore. This includes final scripts, outlines, and table read notes – all of which come from Judd himself.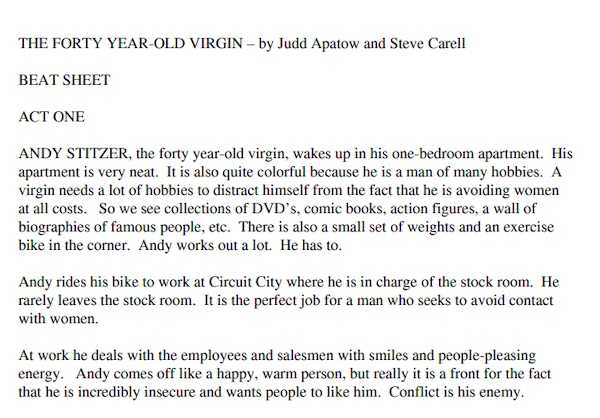 For visual learners, this is a great way to see the physicality of comedy writing. If you have a printer, it's also valuable to highlight and annotate key points. Personally, I found this a great way to take learning beyond the videos and take an active role within the course.
As well as these resources, Judd doesn't shy away from providing recommended films and reading. In fact, he shares many of his favorite texts for understanding comedy and directing. While he mentions them in the videos, these are also listed within the MasterClass Workbook.
Strong Lesson Variety and Case Studies
Throughout the lessons, there's a range of case studies and lesson variety to mix things up. This includes scene screenings, readings, and stand-up sketches.
If you're on the fence about MasterClass because of its teacher-and-listener setup, you can rest assured that this MasterClass goes beyond the lecture format.
All in all, Judd navigates the lesson plans with ease and breaks up lengthy lessons with some screenings from his case studies.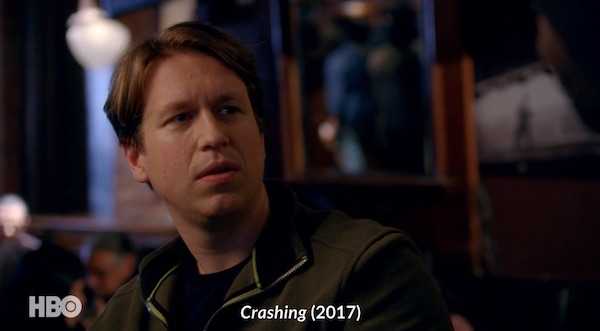 This lets you take an active role in analyzing a scene critically. As someone who isn't familiar with all of Judd's works, this was also a nice way to put his style into context.
Fun and Lively Community Hub
One of MasterClass's standout features is the Community Hub. This is a small forum dedicated to students of a given course. Here, you can chat to fellow users, share assignments, and even get feedback on your work.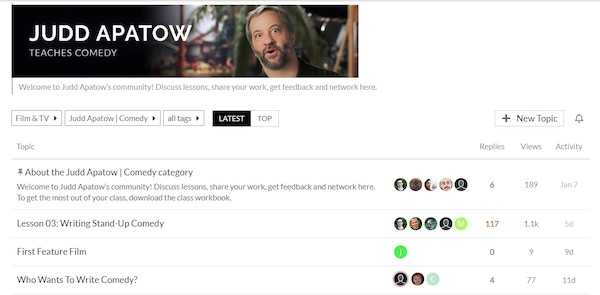 I found this particularly helpful as it made me feel more involved with the class. Also, you can ask questions of both MasterClass and other students to reinforce your learning. This is a lot better than other courses that can leave you with unanswered queries.
A Practical Guide to Learning Comedy
While this MasterClass isn't so much about teaching comedy itself, it does offer some good advice about breaking into the industry and learning comedy yourself. As a fairly abstract subject, I don't think it's easy for anyone to give a step-by-step guide to being funny.
Instead, Judd's MasterClass is a practical guide for developing your skills and finding a job that nurtures your passion. Having shared his own learning experiences, he encourages you to take certain steps towards getting an education in comedy.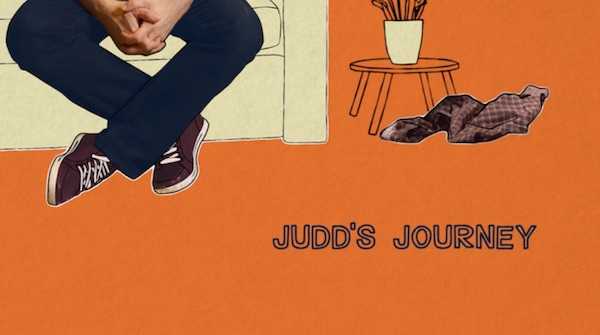 What this MasterClass lacks in hefty theory it makes up for in its pragmatic advice. You will learn how to study a comedian's craft, develop your own unique humor, and use your life experiences to foster comedic storylines.
Accessibility
Currently, this MasterClass is available in English with subtitles for the hard-of-hearing. The captions are carefully crafted to follow each lesson and are a far-cry from the auto-generated subtitles found in some videos.
Fortunately, MasterClass does have plans to expand its languages and captions to cater towards an even wider audience.
What Could Be Improved
Unclear Delivery at Times
Unlike some MasterClass professors, Judd doesn't have much teaching experience. Because of this, I found his delivery a little unclear at times and his anecdotes/examples hard to follow.
Throughout the lessons, he also mumbles a fair amount and is a pretty fast talker. While this might not be a problem for some, it's worth noting that Judd is a comedian rather than a teacher, and his lessons might, at times, reflect that.
Judd's MasterClass also lacks the theory I've seen in other MasterClasses such as David Mamet's. Although his practical advice is useful, he often name-drops key terms, perhaps expecting the viewer to research it elsewhere.
Not Always Comedy-Specific
While this MasterClass is titled, "Judd Apatow Teaches Comedy," this might not be the most accurate description. In fact, much of Judd's MasterClass covers directing, producing, writing, and editing.
With that in mind, comedy is the key focus in the early and late chapters. The larger bulk of the course is a lot more about structuring a TV show or film and creating the crucial ingredients for it to succeed.
I would say that comedy comes into these lessons, but always in relation to other points such as character, dialogue, and editing. I'd also say this is less suited to those interested in standup, as the course is far more production-focused.
Examples Can Be Hard to Follow
As I mentioned, Judd's unclear delivery can sometimes cloud your understanding of the examples he gives. At times, Judd's examples are also very brief, which gives you little time to put them into context and understand how they relate to the topic.
Throughout the course, I noticed Judd mention Garry Shandling several times. Some of his advice is as simple as, "be like Garry," but he fails to back this up with any clear example of what this means. Sometimes, I felt as though I needed a prior background in comedy to understand some of these lessons.
No On-Set or Writers' Room Footage
While on-set footage isn't that common on MasterClass (often due to copyright issues), many writing classes do offer a glimpse into the Writers' Room experience. As Judd dedicates a couple of chapters to writing workshops, it would have been nice to see how this process plays out.
Similarly, Judd gives some attention to how he directs his actors to bring out the best performances. Seeing an example of how this came about on set could've cemented the lesson a little better.
The Course Is Not Level-Specific
One struggle I had with this course was understanding who exactly it was geared towards. At first glance, it seemed clear this MasterClass was for beginners, with Judd providing ample advice on how to build your career from the ground up.
At the same time, Judd mentioned a lot of theories that he didn't support with explanations. This includes the types of storylines, cuts, and structural paradigms that underpin a film or series. Because of this, I felt like Judd was assuming a prior knowledge of these complex terms, and this definitely seemed at odds with other parts of the course.
Who Is This Course For?
On a scale of 1-10 (1 being a beginner and 10 being an expert), I would say this course is most suited to those at around a 2-7. As I mentioned, the course assumes some prior knowledge on behalf of the viewer, but also goes into great detail about how to get your foot in the door.
While Judd doesn't mention it specifically, I think this course might be most suitable for those at a college level of learning. Judd's advice is mostly practical, and if you're looking for in-depth explanations of theory and terminology, this isn't the course for you.
In this MasterClass, you will learn how to:
Effectively structure comedy films
Write a strong outline for your film
Develop good working and writing habits
Flesh out character through dialogue
Distinguish between film and TV writing
Improve your script through workshops
Work well with actors on set
Use improvisation to enhance your film
Consistently succeed in show business
How Much Does the Course Cost?
At the moment, MasterClass has 2 purchasing options:
Single-Course Payment
This is a one-off payment of $90, which gives you unlimited access to any one course. Once you buy it, it's yours forever. This includes all additional resources.
For Judd Apatow's MasterClass, this works out at just under $15 per hour. In context, this is a fair price for an online course, whether on or off MasterClass.
All-Access Pass
The all-access pass is a yearly subscription costing $180. With this, you can access unlimited courses across the year and dip in and out as you please. This is excellent value for money if you're considering multiple subject areas.
MasterClass offers refunds within 30 days of purchase.
Alternatives to Judd Apatow's MasterClass
On MasterClass, there are other comedy and writing courses available:
Along with this, there's also a range of MasterClasses in TV and film production. It's worth looking at their trailers to get a feel for the content on offer.
Outside of MasterClass, there are some other online options. For example, Udemy offers a stand-up comedy course and SkillShare has some shorter comedy classes.
While you might find these options valuable, I don't think they compare to the high production values and level of teaching you get with MasterClass.
Judd Apatow's MasterClass: What Others Have Said
While researching for Judd Apatow's MasterClass, I found some mixed reviews online. On Reddit, a few users were excited by the course. Some had already taken Steve Martin's class and were looking to learn more.
"I signed up. Steve Martin's MasterClass was great. Really looking forward to Judd's."
- Comment from Judd Apatow MasterClass Reddit
In particular, the course seemed to be a hit with young comedians who were serious about breaking into the industry. That being said, the all-access pass might be the best option if you fit into this category, as it lets you take an unlimited number of courses at any time.
As I found while watching the course, this MasterClass is also less suited to those interested in stand-up, as one user admitted in their comment:
"To be clear, it's for 'Comedy Writing/Directing'. Don't care for him as a Standup, but as far as being a creative force in TV and film you've got to respect the guy."
- Comment from Reddit
Is the Content Unique?
While researching Judd Apatow's other advice on comedy, I came across very little save for a 3-minute interview. Of course, this advice is succinct and incomparable to the breadth of his MasterClass.
That being said, Judd does have 2 published books, including the 2015 book, Sick in the Head: Conversations About Life and Comedy. Both of his books are readily available online and could be useful for those interested in learning from anecdotes.
At the same time, I don't think his books are intended as educational tools to help young people break into comedy. On the other hand, Judd's MasterClass was created with exactly that in mind. You also have the benefit of having all course material in one place, making it easy to revisit.
What You Will Need
Judd's MasterClass doesn't require any additional materials. If you have the budget, there are some recommended books and films you could purchase to take your learning further. However, this is not essential, and you get plenty of resources along with the video content.
Is It Worth It?
In my opinion, this MasterClass is not so much about whether you're a fan of Judd's work. For me, I found that I took away some useful information, especially about writing and pitching for comedy.
As Judd himself said, it's important to learn how to read and watch media critically in order to understand what does and doesn't work. Because of this, I think the Judd Apatow MasterClass is worth the watch for anyone looking to break into comedy writing for TV or film.
Pros:
Learn from a prolific comedic filmmaker
Generous additional resources
Strong lesson variety and case studies
Cons:
Unclear delivery at times
Not always comedy-specific
Examples are sometimes difficult to follow
You will learn how to:
Write and perform stand-up comedy
Develop life events into comedic storylines
Structure films for your market
Craft strong character and dialogue
Use workshops to develop your script
Cast and work with the right actors
Direct for comedy and tone
Edit and test your films for success
Launch your career in comedy
Whether you opt for a single course payment or the all-access pass, I think this course is worth the investment if its lesson plan appeals to you. To put the course into perspective, it's worth considering your goals and what you'd like to get out of the MasterClass.
If you're still unsure, there are plenty of MasterClasses to choose from. Luckily, all have trailers and teasers you can watch to better understand the course content. If you're interested in more than one topic (or strongly interested in one in particular), you might consider the all-access pass as a better value for money.
In conclusion, Judd Apatow's MasterClass is an interesting watch for those looking to pitch a script and break into comedy writing/production. While it's less suited to stand-up comedians, it covers considerable depth when it comes to honing in your craft and creating memorable comedic stories.
Frequently Asked Questions
Can you get the Judd Apatow MasterClass Free?
No, there's currently no way to get this MasterClass for free. However, someone can buy it for you as a gift.
How much does the Judd Apatow MasterClass cost?
For a single course payment, Judd's MasterClass is $90. If you choose the all-access pass, it will cost you $180 and give you access to unlimited courses throughout the year.
How long is Judd Apatow's MasterClass?
In total, Judd's MasterClass is 6 hours 33 minutes long.
Can I get a refund if I don't like the MasterClass?
Yes. MasterClass offers refunds within 30 days.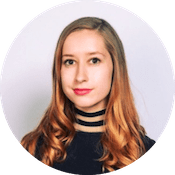 Rebecca graduated from King's College university with a first class honours in English Language, followed by a Masters' Degree in Eighteenth Century Studies.