Margaret Atwood's MasterClass offers a unique opportunity to learn creative writing from an acknowledged doyenne of dystopian and speculative novels. An opportunity I had to take up myself.
However, if you've found yourself here you may be unsure whether this is the right course for you. Or just curious to know more about what it involves.
So in this detailed Margaret Atwood MasterClass review, I aim to answer all your questions. I'll also highlight my likes and dislikes to help you identify any stumbling blocks.
But first, if you're short on time or just wanting the headlines this is for you:
.
Quick summary
Learn how to:
Research and write speculative fiction
Create a strong plot and structure
Bring characters to life and write compelling dialogue
Revise your work for publication
Take writing from a hobby to a vocation
Pros
Learn from a widely-respected author
Detailed lessons about crafting narrative worlds
Practical advice about creating strong working drafts
Cons
Specific to writing novels
Length of Course: 23 videos 3hr 43m
Best for: Anyone interested in writing a novel who's struggling to get started. Some advice is a little basic for seasoned writers. But this is made up for by the inspiration gained from hearing about the influences and experiences that have made Atwood the writer she is.
Overall: This course gives great insight into how to research and compile manuscripts as a writer. It offers some valuable advice about generating ideas and creating compelling characters. If novel-writing is your area of interest, I'd say this is definitely the course for you.
So, moving on to my more detailed review here's what I'll be covering:
What's included in Margaret Atwood's MasterClass.
What I liked and didn't like.
Who the course is for.
Price, alternatives, and course uniqueness.
Let's begin with the basics:
About Margaret Atwood
Margaret Atwood is a prolific author based in Toronto, Canada. Most known for her 1986 dystopian novel, The Handmaid's Tale.
Her historical fiction novel, The Blind Assassin, won the 2000 Booker Prize and the 2001 Hammett Prize.
She achieved the Los Angeles Times Innovator's Award as well as winning the Franz Kafka International Literary Prize.
If you haven't seen the trailer for this MasterClass, I highly recommend you watch it:
About MasterClass
"Learn from the world's best instructors."
MasterClass is an online educational resource offering 150+ video courses from celebrities that are globally renowned in their field. These include Mariah Carey, Gordon Ramsay, Doris Kearns Goodwin, and Dan Brown.
With such famous names, it's unsurprising that MasterClass has gained such popularity amongst audiences.
The site is known not only for its celebrity teachers but also for its super high production value and quality. If you want more details on MasterClass and some of its most popular classes, check out our Masterclass review and best MasterClass article.
But MasterClass isn't for everyone. For some, the teaching isn't quite in-depth enough and varies by instructor.
So, is Margaret Atwood's MasterClass on Creative Writing a good fit for you? Read on to find out.
Inside Margaret Atwood's MasterClass
Margaret Atwood's class consists of 23 lessons spanning just under 4 hours in total.
MasterClass breaks the lessons down into videos of around 10-20 minutes long and each has an accompanying chapter in a PDF Workbook.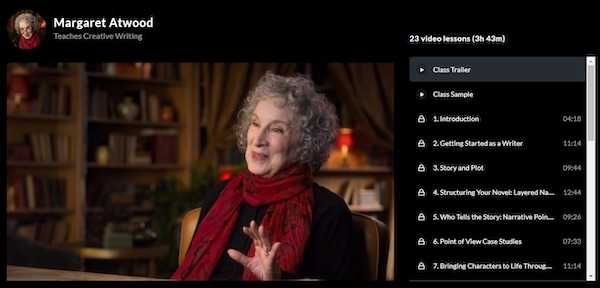 After a short introduction the class continues as follows:
Lesson 2: Getting Started as a Writer
"What are novels if not stories?"
Setting a personal tone, the course begins with Margaret's own backstory as a budding writer and her approach to starting a piece of work. This was a nice way to contextualise the course and gave some valuable insight into her writing process.
She tells us how to get readers interested from the beginning, and how to keep them interested till the end. According to Margaret, writing a novel is like composing a score, which the reader brings to life through reading.
As a starting point, this section gave some sound advice about how to stay motivated in the early stages of writing, and spoke directly to writers like myself who struggled to get started.
From the offset, she shares helpful tips on how to make your writing flow and advises at which point in the novel we should have met certain plot criterias.
Overall, this was a fantastic start to the MasterClass. Margaret has an easy-to-follow delivery style and guides us through how to find our own writing process.
Lesson 3: Story and Plot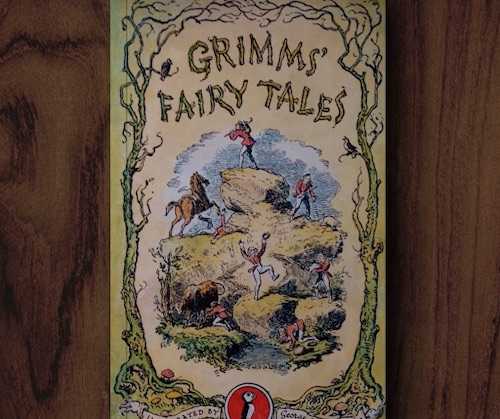 "Stories are patterns interrupted."
Beginning with an anecdote about her daughter's play, Margaret uses this section to drive home the fundamental elements each story should have. She teaches us:
How to get a story going.
What makes a strong plot.
How to build new stories out of old ones.
What you need to make a story succeed.
While Margaret insists there is no correct way to write, she does outline the essentials when it comes to forming a story and making it work.
She provides examples of potential synopses, prompting us to reconsider classic storylines to make something new and exciting.
Lesson 4-6: Structuring Narrative and Point of View
"If nothing is happening by page 10, you're in trouble."
Here, Margaret distinguishes between stories and structure. This is vital for understanding how to tell a story effectively. I like that Margaret has a matter-of-fact approach to writing without sounding too formulaic.
She draws on the familiar tale of Little Red Riding Hood and gives examples of how she would retell the story in a different way.
This section is valuable for giving us new ways of looking at storytelling. Margaret shares with us the "Rashomon approach" and tells us how to play with narrative time and order.
On a practical level, she also tells us how to work our way up to more complex variations, citing storytelling as a skill that must be practiced and developed.
She provides a lot of helpful terminology in this section, which the Workbook explores further. For writers eager to learn techniques, this is a great way of finding and experimenting with new ways of storytelling.
Lesson 7-9: Creating and Bringing Characters to Life
In this lesson we gain insight into how to create well-developed and nuanced characters that reflect our story.
While many of us know how to make up characters, Margaret insists that characters should reveal plot. She gives us some useful tools for doing this, and also shares her character chart for plotting characters in relation to one another.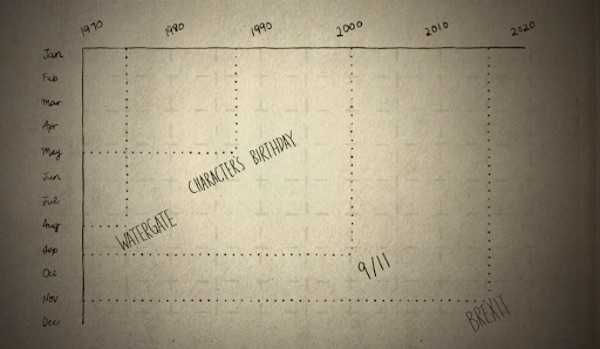 This section provided a fascinating way of seeing character biographies and gave me a new framework in which to imagine my characters.
She also drops some useful hints when it comes to "proofreading" your characters, and suggests ways in which we can make them more believable.
Lesson 10: Crafting Dialogue
"If you're going to have your characters talking to one another, it should be for some reason, not just to have them chattering away."
Margaret continues by outlining the difference between real life conversation and dialogue. She emphasises the purpose of dialogue in fiction and recommends some of her work as helpful resources.
She discusses how to use dialogue to express character and intention, and shows how tone of voice plays a significant role in many famous texts. Margaret even gives examples of films that use vernacular to show character and social class.
Importantly, this section tells us how to write for our setting, and how to utilise dialogue to further our characters' and plot's development. As well as this, she says, crafting dialogue creates plausibility, which is crucial for getting readers invested in our stories.
Lesson 11: Revealing the World Through Sensory Imagery
For readers of The Handmaid's Tale, this chapter is particularly poignant. Margaret anchors her points through reference to her definitive novel, and uses excerpts to illustrate how she creates imagery.
She gave us some meditation exercises (which I found particularly intimate, considering most exercises were exclusive to the Workbook).
She also covers the following:
Observing the particular rather than the general.
Adding texture to your world through sensory imagery.
How to hone in your sensory perception.
While this section could've been quite abstract and difficult to decipher, Margaret's examples colour her points perfectly, and I even learnt something new about symbolism in The Handmaid's Tale.
Lesson 12: Prose Style and Texture
"There is no one good style. People have styles they prefer."
Margaret uses this lesson to differentiate between style and description. She also shares some examples of different prose styles (and what they can achieve).
Margaret advises us to create a sampler of styles to help with our writing, and gives us assignments to vary our prose. I liked that she drew on two polarising styles to show us how storytelling can be done differently.
In fact, even some former literature students pointed out that they weren't taught these styles in college.
"I studied English literature and writing in college. That is where my degree lies, so I find it odd that I have never heard of these two writing styles… Thank you, Ms Atwood, for filling in this gap in my writing knowledge."
- Comment from the community
She also provides insight into how she manages style and description in her own work. I thought this was particularly useful, as many young writers struggle to find a balance between description and action.
Lesson 13: Working with Time in Fiction
"In a novel, time happens, people change, the clock hands move."
Firstly, Margaret asks a fundamental question: How do you keep your readers oriented? This section addresses the importance of time in novels and dispels the idea that time must be linear.
In fact, Margaret discusses circular vs. linear time and the value it brings to the plot as a whole. Specifically, the learner will learn how to do the following:
Use time to enhance plot.
Indicate time within the story.
Use new techniques to experiment with storytelling.
Establish your motives.
Margaret makes some valid points about how to use flashbacks and time jumps in novels, and gives some fresh insight into managing narrative time.
Lesson 14: The Door to Your Book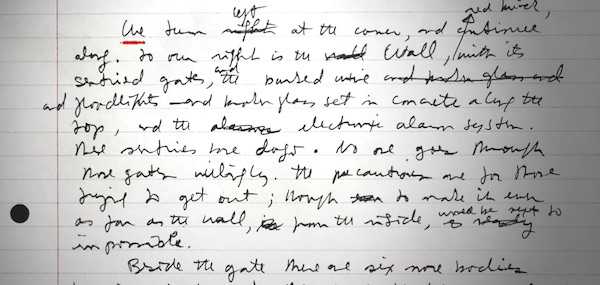 "The beginning of the writing is not the beginning of the novel."
Margaret invites us to consider the reality of a reader approaching a book in a bookstore and what we ourselves look for as potential readers. This was an effective way of getting us to switch perspectives.
She sees the first five pages of a book as a gateway which must check several boxes in order to entice the reader.
What I found most exciting about this section was that Margaret showed us her first manuscript for The Handmaid's Tale. She went through her original beginning and explained why she changed it.
Unlike other writers whose courses I've taken, Margaret shows us the physicality of writing. As well as detailing what a beginning needs, she demonstrates how she reworks her material with marginal notes and crossings out to get to the next draft.
She also gives examples of her favourite openings in literature and elaborates on why they work so well. I found this insightful as it forced me to reconsider the relationship a reader has to the physical book and gave me a new way of approaching the beginning.
Lesson 15-17: Writing the Middle and the Ending
"There's no shame in backtracking, there's no shame in revision."
Here, Margaret moves on from the beginning of the novel to address how to keep your reader engaged in the middle of your book.
Admitting that she finds the middle the hardest, she imparts some practical advice about overcoming hurdles and mishaps.
She provides some useful context for writing the middle and ending of a book, sharing what distinguishes real life from fiction and open endings from closed ones.
I liked that she gave examples from endings over the centuries to show how ways of finishing a book have changed, and outlines some trends that have worked for authors in recent years.
She poses two main questions for finishing a book:
How are you going to get your characters out?
How much resolution are you going to give?
Margaret tells us about the potential endings for The Handmaid's Tale. While it could be a spoiler for some, she lets us know why she chose the ending she did and how it suited her novel.
This was an interesting way of considering endings in particular as it opened a range of possibilities for rounding off a story.
Lesson 18: The Novel and the Shifting Sands of Genre
"The main rule is: hold my attention."
For anyone hoping for a clear-cut explanation of genre, this course probably isn't for you. Instead of elaborating on genre, Margaret focuses instead on creating believability.
She stresses that much of what we know about genre is out of our hands (suggesting, perhaps gloomily, that genre marketing is not our decision). Rather, as writers, we should know the following:
What makes a novel a novel.
The elements that comprise a good book.
What novels are ultimately about.
She posits some interesting theories in this section, and highlights the potential for experimenting with and reworking genre. Ultimately, she says, genre is not where our focus should lie.
I liked that this chapter dispelled with a lot of common myths about novels, and helped me reevaluate what I'd previously held to be true.
Lesson 19-20: Speculative Fiction
Near the end of the course, Margaret addresses speculative fiction. She helps us to do the following:
Understand what speculative fiction is.
Differentiate between speculative fiction and science fiction.
Create and stick to your own logic when writing.
Use speculative fiction to comment on society.
Having heard the term only vaguely, I was curious to know what speculative fiction was, and if it contradicted her previous views on genre.
I found it useful to consider the balance a writer should strike between fiction and reality when writing this kind of book, and I was even more compelled by her discussion of The Handmaid's Tale, which was her main case study.
Margaret shows us some of her research for this book, and tells us how to observe current events to get ideas for plots.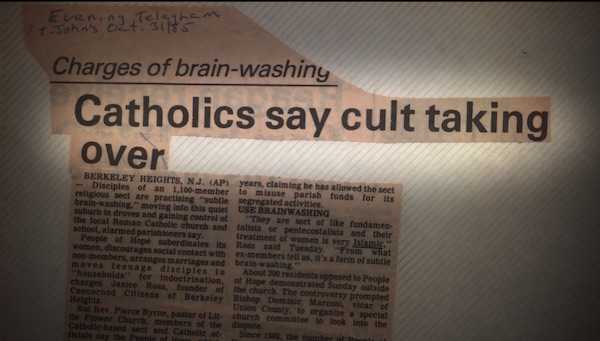 Although her emphasis is on speculative fiction, Margaret's research is insightful for anyone wanting to make their work more believable. She discusses resources for accurate costumes and tells us to consider ideas within the realm of possibility. I found that her advice was useful to all writers, regardless of what kind of fiction they wanted to write.
Lesson 22: Research and Historical Accuracy
"The goal is to keep the reader believing in your story, even through you both know it's fiction."
Following on from her research for The Handmaid's Tale, Margaret teaches us to balance research and writing. She tells us how to avoid over-researching and how best to manage both in tandem.
Margaret also lists a range of resources I hadn't considered to be valuable, and even goes into the pros and cons of these. She discusses how to approach research critically and how to usefully sift through information.
All of her tips are important for anyone looking to enhance their accuracy when writing. Margaret even gives us some horror stories of her own mishaps (and the consequent letters from readers that followed).
I liked that Margaret taught us how to view resources with a critical eye, and warned us of the dangers of taking sources at face value.
Lesson 21-23: The Writer's Path and the Business of Writing
"There are no guarantees in the world of art."
Finally, Margaret ends by discussing writing as a vocation. She makes the crucial distinction between vocation and career and is wholly realistic about writing as a business.
She believes there are 4 types of books, and ranks them according to desirability. Although much of her advice is pragmatic, she does encourage us to not give up, and even weighs up the factors at play when someone accepts a book for publishing.
Margaret gives some good advice about getting work published and establishing both an agent and contract. Although there is no secret formula in her eyes, she does discuss the importance of good working relationships.
She even looks further ahead: how to learn public speaking so you can summarise your books in interviews, how to deal with bad reviews, and how to overcome the hurdle of your second novel.
I enjoyed Margaret's long-term focus and found it more encouraging than other advice I'd seen. Margaret is both inspiring and practical, and gives some real wisdom when it comes to getting through the writing process.
What I Liked About Margaret Atwood's MasterClass
Having given the basic outline of this course, here's what I thought of Margaret's MasterClass.
I enjoyed a lot of what was on offer. However, there were a few shortcomings and I will also highlight these.
It's worth reading on to hear the pros and cons before deciding whether this class is for you
Learn Creative Writing from a Trusted Source
As a household name, Margaret Atwood is a trusted source when it comes to creative writing. Having published Testaments (the sequel to The Handmaid's Tale) in 2019, she is both historically notable and currently topical as a writer. We get to learn directly from Margaret in the space of her own library.
In terms of production values, MasterClass delivers astounding high quality videos. Along with this, Margaret's approach to teaching is no-nonsense and easy to follow. She brings humour and honesty to her lessons, and shares some exclusive insights into her own writing process.
I particularly liked that she showed us her own research and even her manuscript materials. It served to dissolve the boundary between her and the viewer, and she portrayed writing as a viable vocation for anyone willing to put in the work.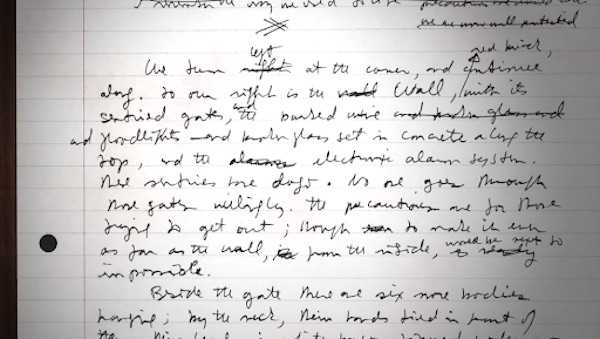 Craft Complex Dystopias
Personally, I found Margaret's sections on Speculative Fiction to be the most enticing. If you're coming to this course as a Margaret Atwood fan, I expect this will be the same for you.
She uses The Handmaid Tale as a lengthy case study to exemplify what she calls "wonder tales." She shares some points of interest when crafting dystopian fiction:
Relating your story to issues already in our society.
The difference between dystopian and utopian fiction.
Creating instability within your narrative world.
Finding significant themes.
The Workbook is valuable for providing extra resources on these sub-topics, and it also gives us assignments to complete in our own time. This is a good "hands-on" accompaniment to the sometimes abstract advice Margaret gives.
Create Working Drafts
What I enjoyed most about this class was seeing Margaret's drafts for some of her books. She presents writing as a working document rather than a finished product.
Margaret does a good job of breaking the writing process down, while showing us examples of how to plan, draft, and revise. This includes the messier side of writing that some authors would rather keep hidden.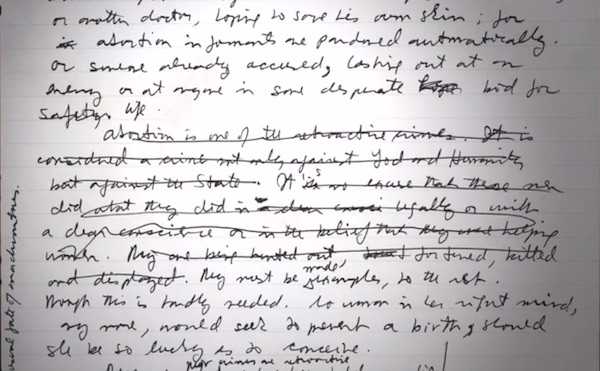 This section was useful in showing us how writing should realistically look, and dispelled a lot of misconceptions about writing in a neat and linear fashion.
Identify and Overcome Your Fears
Margaret is quick to address the fears that plague most young writers, and succeeds in contextualising writing for anyone unsure of how to start. She encourages us to consider what's stopping us from writing, and even details how to overcome the specifics.
She even tells us how writers in the past have overcome their fears and, at the very least, got started.
All in all, I think Margaret's advice is encouraging and pragmatic in equal measure. She tells us how to get onto the page and even how to take "creative breaks." In fact, she seems to have a solution to almost every stumbling block a writer can encounter.
Understand What Stories Need to Succeed
While many writing courses cover this, I've struggled to find any two the same. Margaret's course offers one of many perspectives on storytelling. Namely, she teaches us what stories need to be a story and how to tell when something is/isn't working.
The Workbook has a lot of helpful reading lists on this topic, from examples of storytelling to critical writing manuals.
What I also liked was that Margaret didn't only use her own examples; she also shows us other works that tell stories successfully. This made it a well-rounded course and went beyond one style of writing.
Practice Writing Every Day
As Margaret attests, many of us don't write for a living. We have other jobs and responsibilities, and it can be hard to fit writing into our everyday life. I liked that Margaret was open and honest about this, and didn't hold up any pretence about the ease of writing every day.
The video lessons and the Workbook both have useful advice for keeping up the habit of writing. Along with writing exercises, Margaret also provides tips and tricks on how to squeeze in writing throughout the day.
Good Balance of Abstract and Concrete
Margaret's MasterClass has a good mix of theory and practical. She explores some useful literary terms and theories to help us improve our work (e.g. formality, sensory imagery, prose style, and more) but always grounds these in concrete examples.
She often supports her theory with case studies, including her own works, such as The Blind Assassin and Alias Grace. These different examples serve to show us how to experiment with literature (and even how to imitate as an exercise).
What I found interesting was how physical Margaret's writing process was. She not only told us what techniques to use, but showed us how to rework our fiction on the page. This included using arrows to restructure paragraphs and even literally cutting and pasting one page onto another.
Accessibility
While Margaret's class is only available in English, it does provide captions for those who are hard-of-hearing. These subtitles are clearly created with users in mind, and are a far-cry from auto-generated captions.
Along with this, the Workbook is a helpful resource for those who learn best by reading. It's also great to print off and highlight as you go along.
What Could Be Improved
I am definitely a huge fan of Margaret Atwood's course. At the same time, I don't think this is a perfect course for everyone. Here's some points that might be dealbreakers for you.
No Definitive Advice
While this was a positive point for me, others might be put off by Margaret's speculative teaching. As writing is so subjective, it's naturally hard (maybe impossible) to give concrete advice for every topic. Margaret is very clear in saying her tips are not for everyone and that other approaches to writing are equally valid.
I often use Reddit to check out MasterClass courses before I take them, specifically to hear some feedback from other users. Some commenters mentioned that it seemed paradoxical to even teach writing, and that practice was the only way to progress.
"I think these MasterClasses are more about PR for the authors doing them than anything else. I'm going to be that guy and say, "nah, just write."
- Comment from Reddit
With that in mind, I still think Margaret's teaching can be useful, as it covers some important useful theory to consider, even if you end up going in a different direction. In fact, most users agreed that Margaret's course was valuable.
"If you're serious about your further education in the field of writing, Atwood, Gaiman, Gladwell, Brown, Patterson, Mamet, Sorkin, Stine, Bloom and Woodward have all created classes. If you think that even a single one of them has spent several hours paraphrasing 'just write', you're out of your mind."
- Comment from Reddit
Specific to Novel-Writing
It might seem unclear from the trailer, and even from the title of the course, but Margaret's course is novel-specific. Because of this, it's unlikely to be helpful to those writing poetry or even short stories.
Most people taking the course are interested in writing novels, but if you're seeking other forms of creative writing, it's worth bearing in mind. Unlike other courses I came across, Margaret doesn't have any sub-sections on other forms like short stories or comics.
Some might still find it useful to take this course, but MasterClass structures it with novel-writing in mind, and I think they could better signal this before the lesson plan.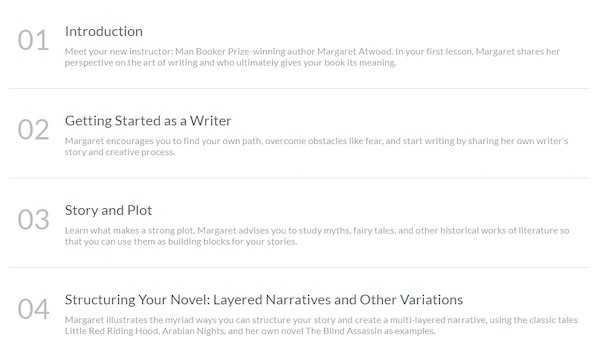 Technical Difficulties
To be honest, these were few and far between, and most negative comments involved difficulties downloading the Workbook. The Community Moderator did a great job of responding to these issues, but it seems a shame that there were so many comments about this problem in the first place.
"Hi, We have been experiencing some sporadic PDF issues. One solution would be to ……. If you need additional assistance, please reach out to our Student Support Team (support@masterclass.com). Thank you!"
- Comment from MasterClass support
There were some minor issues with captions and audio, which a few users had noted. While I understand it's hard to fine-tune everything considering the breadth of the course, it would've been nice to respond to these queries.
"The [CC] captioning starts to go off after about 4:00. Please fix this."
- Comment from the community
Who is this course for?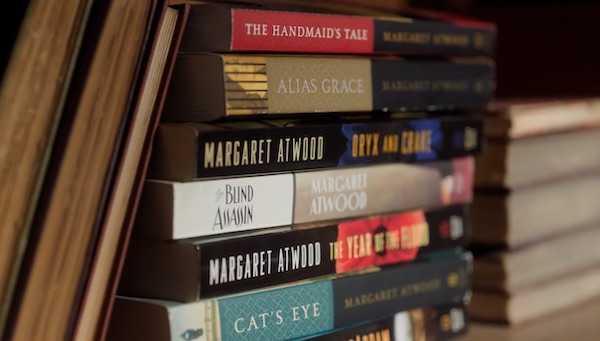 MasterClass targets Margaret's course towards anyone interested in writing a novel. As her first online course, Margaret addresses a wide range of viewers and does so on the assumption that many will be complete beginners.
In fact, she addresses most of her viewership as writers that are struggling to get started, and she keeps her jargon to a minimum to best address her audience.
For seasoned writers, some of Margaret's advice is common knowledge, but I also believe she shares a lot of her own experiences and opinions that are incomparable to others'.
If you choose to take this course, you can expect to learn how to:
Start writing.
Structure your novel.
Bring characters to life.
Craft dialogue.
Revise your work.
Research for historical accuracy.
On a scale of 1-10 (1 being a beginner and 10 being a professional), I think this course is useful to anyone between 1-8.
How much does the course cost?
At the time of writing MasterClass had three subscription offers. The cost of these (per month) is:
Individual (1 user) $15
Duo (2 users) $20
Family (6 users) $23
All are billed annually, which at first glance may seem pricey.
However, you can considerably reduce your costs by taking as many courses as possible.
With over 150 courses on the platform you're likely to find quite a few to interest you. Even if you buy an individual membership and find only 10% of the courses of interest this still works out to only $12 a course:
$180 (annual individual membership fee) / 15 courses = $12.
And if you join with friends or family then the cost of each course is drastically reduced. Check out our MasterClass review or MasterClass cost articles to see how.
Bearing in mind that these classes are taught by global leaders in their fields the value is unbeatable. You can pay over $100 for an online course taught by someone you've never even heard of, never mind the caliber of teachers on MasterClass.
What's more, MasterClass also offers a 30 day refund if you're unhappy with your purchase.
You can also purchase MasterClass as a gift.
Alternatives to Margaret Atwood's MasterClass
MasterClass has a range of writing courses available. They include:
Of course, a MasterClass subscription allows you to take them all!
Outside of MasterClass there are plenty of creative writing courses on platforms such as Coursera, edX and Udemy.
All three of these platforms allow you to purchase classes individually. That could be a benefit if you are not interested in a subscription.
But it is worth noting that Coursera and edX courses are taught by academics and anyone can upload a course to Udemy. So if you are interested in learning from an established best selling author, MasterClass may be a better choice for you.
What Others Have Said
Most learners came from MasterClass's adverts on YouTube, or heard of the course by word of mouth. Around 80% of learners were already fans of Margaret, and were sold on learning from her directly.
Because of this, most feedback was positive, with most agreeing that Margaret had a compelling and matter-of-fact style. The course structure was particularly successful, as each topic followed on seamlessly from the last.
"Margaret Atwood's Creative Writing MasterClass was skillfully executed. As a page-turner, it was refreshingly brilliant and gave me insight into the structure of a novel, narrative point of view, characterization and the business of writing. I am forever inspired by her wisdom and insight."
- Comment from the community
For those opting for a yearly subscription, MasterClass was also a great way of discovering new courses.
"Margaret is the reason I subscribed. Now I'm hooked to this thing. "

"Me too!"
- Comments from the community
However, there was some feedback that wasn't so great, and it was mainly a matter of people's opinions about what was engaging and what was less so.
On Reddit, in particular, there were some divisive comments. However, users who took the whole course reacted mostly positively, and found it to be a worthwhile investment.
"As a long time writer and writing teacher myself, I was very pleased with my investment in an all access pass. Lots of great tips, motivational and inspirational, hearing directly from true masters."
- Comment from Reddit
How long it took to complete the course
At a viewing total of 4 hours, Margaret's class is worth spreading out over at least a few days. Although there are 23 lessons overall, most of these are around 10 minutes long, and this makes it easy to watch several in a row.
If you're closely following the Workbook, this course can be a long term project. It's worth looking at the PDF after the video lessons and completing some of the exercises in your own time.
One perk of the Workbook is that you can go at your own pace. Unlike with the video lessons, you can decide when and how much time you want to commit to your Workbook.
Is the content unique?
As an exclusive look at Margaret's writing process, I'd say this course is mostly unique. Margaret tells a lot of anecdotes and shares a lot of her personal wisdom that I've not heard previously.
After researching online, I did find a clip on YouTube where Margaret outlines her top 5 writing tips. Nevertheless, I don't think this devalues the in-depth content we get on MasterClass.
Most agreed that the content was unique and refreshing, and would recommend it to others.
"This class is just as fascinating as the trailer makes it out to be. I decided to jump in and try a MasterClass course, and halfway through Miss Atwood's class, she's really changed the way I view not only the books I've read, but the way I view the story I want to write... Def recommend if you're interested"
- Comment from YouTube
What You Will Need
Margaret's course doesn't require any additional tools or equipment. All you need is a word processing app or a pen and paper.
The main "practice" of the lessons comes in the form of writing exercises and thought experiments. You can do these through simple note-taking and, if you like, on the community forum. However, there is some recommended reading that could come in handy.
Is Margaret Atwood's MasterClass worth it?
For me, absolutely. This course gives great insight into how to research and compile manuscripts as a writer. It offers some valuable advice about generating ideas and creating compelling characters. If novel-writing is your area of interest, I'd say this is definitely the course for you.
And a subscription allows you to take 150 other classes, including many in creative writing. For example, Billy Collins teaches how to read and write poetry and Neil Gaiman teaches storytelling through novels, short stories, and comics.
It's definitely worth reading some of Margaret's books, especially The Handmaid's Tale (on Amazon here). The Workbook does provide some excerpts, but as her most famous novel and most frequent case study, it's good to be familiar with the story.
You Will Learn How to:
Start writing daily
Create strong plots
Structure a novel successfully
Bring characters to life
Write compelling dialogue
Revise your work for publication
Research and write speculative fiction
Take writing from a hobby to a vocation
I found this course really insightful and easy to follow. Margaret teaches us the hard realities of writing but also shows us how to manage them. I enjoyed her enthusiasm when it came to research. In fact, her parting words on getting published were the most honest and helpful of all the courses so far.
Related articles: best online writing courses
Frequently Asked Questions
How long is Margaret Atwood's MasterClass?
Margaret Atwood's class consists of 23 lessons spanning just under 4 hours in total.
How much does Margaret Atwood's MasterClass cost?
A MasterClass all-access-pass costs $180 a year ($15 a month). This gives you access to this MasterClass, alongside 150+ other courses.
Can I get Margaret Atwood's MasterClass free?
Unfortunately you cannot get the course for free. But MasterClass has a range of purchasing options and offers refunds if you're not happy.
Can I get a refund if I don't like the MasterClass?
MasterClass has a 30 day refund policy. If you purchased a MasterClass from another provider their returns policy may apply.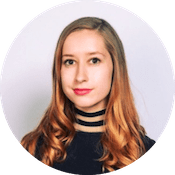 Rebecca graduated from King's College university with a first class honours in English Language, followed by a Masters' Degree in Eighteenth Century Studies.