Walter Mosley is a best-selling crime fiction author with over 60 published books.
So it's safe to say he knows a thing or two about writing!
But just how good is the Walter Mosley MasterClass — does it really help budding writers? And is it worth the money?
These are the points I'll be addressing in this Walter Mosley MasterClass review.
First of all, here are the highlights:
.
Quick summary
You'll learn:
Key habits for improving your writing (using Mosley's 10-point plan)
How to develop strong fictional characters
To distinguish between story and plot
What goes into a novel, from narrative voice to dialogue
How to write more descriptively
The importance of poetry in writing
How to use literature to represent history
Pros:
Learn from an accomplished author
Simple and matter-of-fact delivery style
Great examples and readings throughout
Practical advice on how to get published
Cons:
Less focus on how to research for your book
More aimed towards beginner writers
Lecture-style teaching rather than workshops
Length of course: 2 hours and 18 minutes, divided into 13 lessons.
Best for: Potential writers, Walter Mosley fans, and those looking for a no-nonsense MasterClass on how to get your novel done. Less suited to those who are already published.
Overall: An enjoyable MasterClass and a great opportunity to learn from one of America's best authors. It's certainly made me feel more capable of writing a book than I did before!
Here's what the Walter Mosley MasterClass review will cover:
About Walter Mosley and MasterClass
A sneak peek of what's inside
Pros and cons
Who it's for
How much it costs
Is there anything better?
What others thought of the course
How unique the content is
Final verdict: is it worth it?
So, let's get started:
About Walter Mosley
If you're here, you probably have some idea of who Walter Mosley is and what he's known for. With that in mind, I'll spare you the biography and sum up some career points:
Publishing his first novel, Devil in a Blue Dress, in 1990, Mosley has gone on to positively impact the crime thriller genre
In 2018, he earned the Edgar Award for Best Mystery Novel with Down the River Unto the Sea
Along with a 2016 Lifetime Achievement Award from the Mystery Writers of America, he also received the 2020 medal for Distinguished Contribution to American Letters
If you haven't seen it yet, it's worth checking out the MasterClass trailer:
About Masterclass
MasterClass was founded in 2015, and has since been an up-and-coming force on the e-learning scene.
Unlike other online courses, MasterClass is championed by celebrity teachers — all of whom are experts in their fields.
Classes include cooking by Gordon Ramsay, directing by Ron Howard, and economics by Paul Krugman.
With this in mind, it's not surprising that MasterClass is one of the most popular platforms for online learning.
At the same time, and having taken many MasterClasses myself, I can safely say that it's not for everyone.
So, in this Walter Mosley MasterClass review, I'll weigh up the pros and cons to help you decide whether this is the course for you.
An inside look into Walter Mosley's MasterClass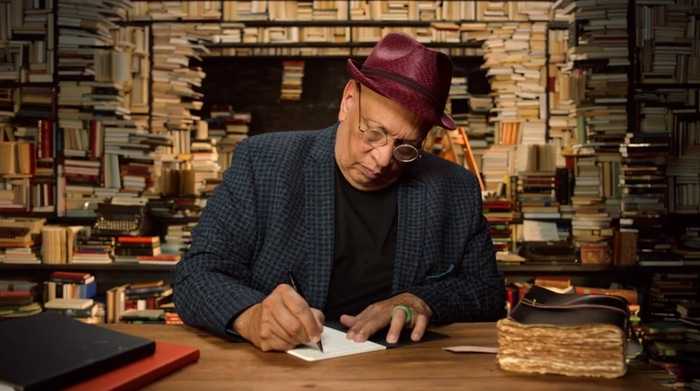 Walter Mosley's MasterClass is 2 hours and 18 minutes long, and is broken down into 13 video lessons.
Along with this, there's a 14-page Workbook with chapter recaps, essential reading, and exercises.
To give you a better idea of what you can expect from this course, here are my key takeaways from each lesson:
Lesson 1: Meet Your Instructor
"Without the fictive imagination, there is no growth"
In this chapter, Mosley sets out his aim for this MasterClass. Namely, he wants to teach you "how to plumb the depth of your intellect and soul to create the novel that's in you."
With this in mind, this section covers:
Why Mosley wanted to teach this MasterClass
The hardest things you'll face along the way
What Mosley hopes you'll take from this course
Mosley's background growing up in 1950s LA
One key takeaway in this chapter is Mosley's reference to learning African American history at school. As you'll see in some of the later sections, race and representation is a key theme in Mosley's work and in his MasterClass.
He also shares how and when he started writing, which takes you on to:
Lesson 2: Walter's Process: Writing Every Day
"If you stick to my schedule, […] you will have a completed novel in a year's time"
Using his "10-point plan" as a starting point, Mosley teaches you how to commit to writing by setting yourself a routine.
He also gives some exact advice on:
How long you should write for
Setting actionable writing goals
How to write and re-read your work
Motivating yourself to meet goals
In this section, Mosley teaches you how to get from the blank page to your first draft. He also shares his techniques for how to push through writer's block and edit your work.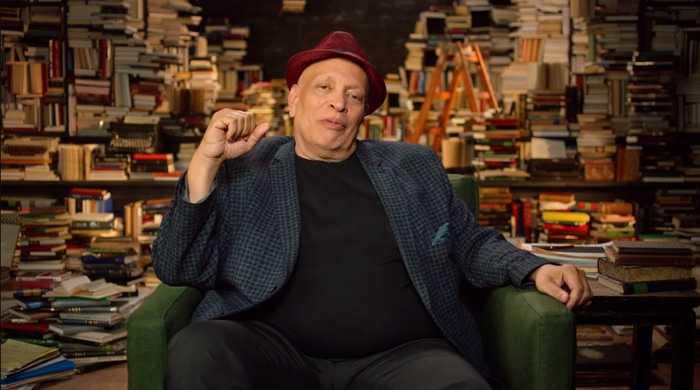 While this chapter is on writing, much of Mosley's focus is on rewriting, which, in his words, is where the novel lies.
I also felt that Mosley's advice was more specific than other writers' I'd heard. Mosley shares some lesser-discussed tips, including how to know when your draft is done!
Lesson 3: Developing Fictional Characters
"Almost everybody knows writing — knows storytelling"
In this chapter, Mosley uses his first publication, Devil in a Blue Dress, to teach you how to develop fictional characters.
Reading sections from this novel, Mosley teaches you how to:
Understand the differences between character and character development
Gain keener insight into how the "elements of fiction" work
Understand what your reader wants to know
Hook your reader by creating a compelling character
What I liked most about this section was Mosley's concrete references to his work. Using Easy Rawlins as a character case study, Mosley pinpoints exactly what he does with his protagonist and why.
Mosley also takes this further to consider readers' expectations. In fact, he even shares his unique philosophy on why people read novels, and what they want to gain from reading them.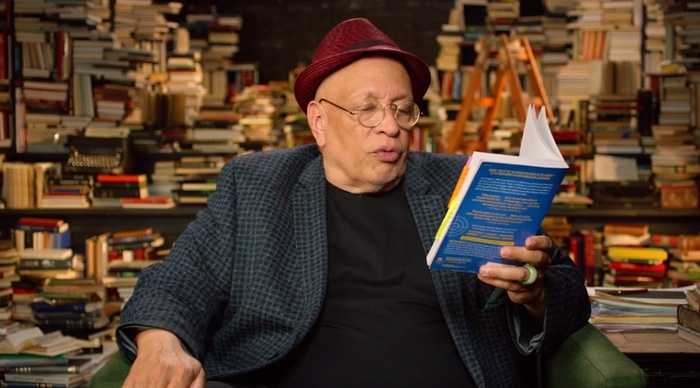 Overall, this section gave great insight into what Mosley sees as the most important aspects of character-creation. Hearing Mosley read passages was also helpful for understanding his techniques.
From here, Mosley takes you straight into another key element of fiction:
Lesson 4: Story vs. Plot
"There's not a whole bunch of different stories, but how the story occurs — that's the plot"
With his aim to show you what "makes" a story, Mosley uses his "story-cloud" analogy to help you visualize his points.
As he states, story alone is not enough to make a novel whole. This is where the plot comes in.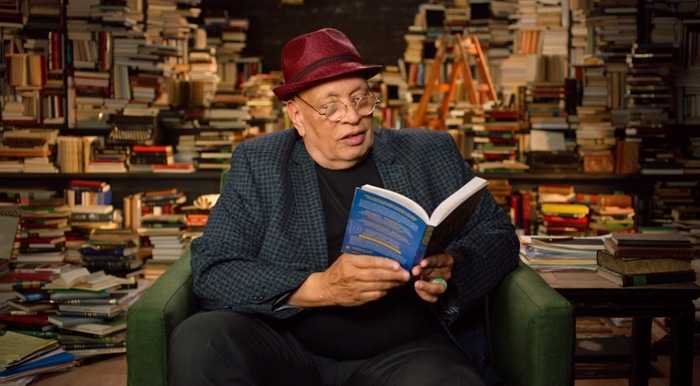 In this chapter, you'll learn the crucial differences between story and plot. Mosley also tells you what to look for in a good story and what the reader's thinking when they approach a book.
All in all, this chapter is a concise lesson on 2 key elements of fiction. I found this among the most insightful topics when it came to bringing the course together.
Lesson 5: Narrative Voice, Point of View, and Dialogue
"Once you get deeply involved in writing a novel, everything comes together"
Having laid down the facts about story and plot, Mosley takes you on to consider how stories are told.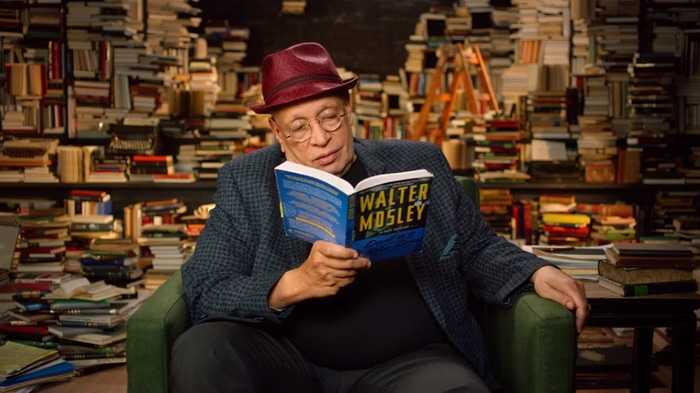 By the end of this lesson, you'll learn:
The kinds and subsets of narrative voices
Pros and cons of different narrative choices
What kind of voice Mosley prefers and why
How to shape a character through dialogue
In this section, Mosley reflects upon the narrative voice he chose for Devil in a Blue Dress. Using this as a springboard, he takes you through what works with certain character types and how you can use voice to inform your characters.
Dialogue, which Mosley says is both similar and different to narrative voice, is another way you can use your writing to convey information about your characters and their relations to one another.
Reading from his first novel, Mosley shows how you can add layers of meaning to dialogue and use it as a means of revelation.
Helpfully for me, this section also parted with some exercises on voice and dialogue. If you learn best by first-hand practices, this will likely be a valuable class feature.
Lesson 6: Descriptive and Vivid Language
"When you're reading a novel you really want to understand the jeopardy that every character is in"
With reference to some of his favorite fiction (as well as his own!), Mosley shows you how vivid language helps your reader become more involved in the story.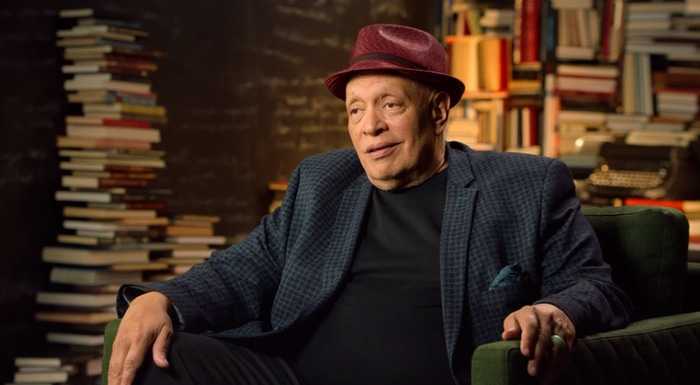 In fact, one of the key ways of bringing your novel to life, he says, is through "pedestrian details." Mosley explains what he means by this and also teaches you how to:
Understand and assess imagery for your writing
Use details to give a feeling to your reader
Get beyond overused language choices
Make your work balanced and readable
This section focuses on how to do away with predictable language and to instead write in a way that makes your reader feel. Mosley shares some of his best tips on how to do this, as well as giving examples of his own preferences when it comes to language.
To help you better get a feel for Mosley's taste, he also introduces you to:
Lesson 7: Using Poetry to Understand Language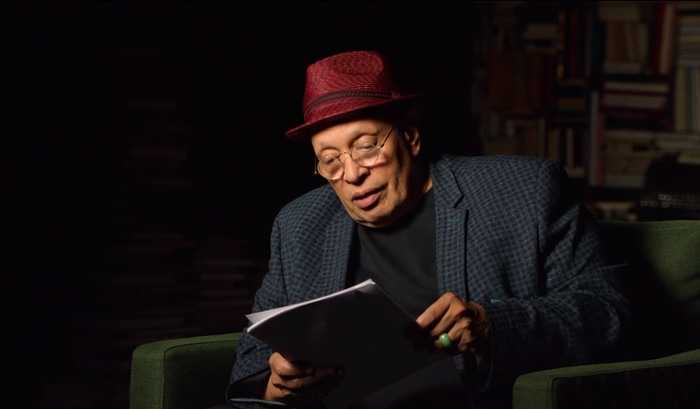 "Our deepest social memories were poems"
In this lesson, Mosley teaches you:
How to appreciate poetry and song as it relates to language
The importance of poetry across other forms of writing
How poets tell big stories in a way that fiction can't
Ways to use poetry to improve your own writing
As Mosley puts it, a great writer must understand poetry. As one of the oldest forms of expression, you can learn a lot from how poems convey information and feeling.
What I enjoyed most about this section was hearing Mosley read and discuss some of his favorite poets.
For any Mosley fan, this is also interesting because it shows you some of Mosley's best influences, and why Mosley writes how he does.
Interestingly, this takes you on to a more difficult — but equally important — topic:
Lesson 8: Fiction, Race, and Representation
"If you don't live in the literature of that country, your people don't exist"
In this chapter, Mosley philosophizes on the relations between fiction and history, and teaches you why it's important to have representation.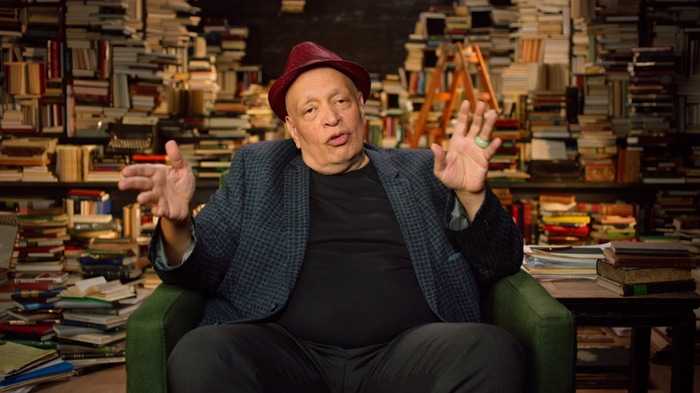 In a more personal, but also universal, train of thought, Mosley leaves you with these key takeaways:
Why representation matters
The importance of seeing yourself in fiction
How writers have broken the mold of classic literature
The significance of language in representation
The most important thing in writing
Here, Mosley fits literature into the bigger picture of representation (especially racial). As he suggests, existing in fiction validates existing in reality, and this is why it's vital to write about your people and your truth.
While this section is less of a "how-to" guide, it does highlight some important points when it comes to what function literature serves in the world.
I felt that Mosley did a good job of putting literature into a wider perspective while maintaining focus on the specifics he had taught so far.
Lesson 9: Genre and "Rules" of Fiction
"We know deep, powerful stories that have nothing to do with reading books"
In this section, Mosley addresses the myth that you must be a big reader in order to be a writer. Here, Mosley draws a line between reading and writing, focusing on other, more important, qualities you must have in order to write.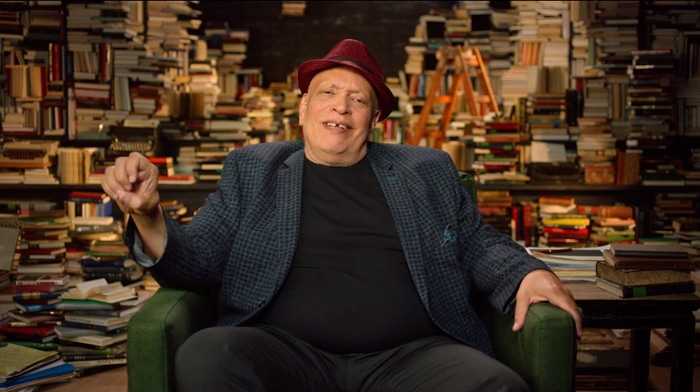 So, in this chapter, you'll learn:
What you need to be able to tell a good story
How to rethink your approach to the canon
What makes stories popular and accessible
How to have a healthy relationship with "genre"
This lesson focuses largely on genre's pros and cons, as well as what it means, what it can do for your work, and how you can play with it.
Mosley also shares his criticism of "the gatekeepers of literature," as well as universities and writing programs that use genre as a limitation rather than a tool.
With reference to his main case study, Mosley takes you through his grapples with genre in his first book. He then shares his tips and tricks for how to have a healthy relationship with genre.
Lesson 10: Surviving the Publishing Industry
"Everybody runs into these problems"
In this chapter, Mosley turns his attention to the publishing industry in a vein similar to that in Chapter 8.
Speaking candidly, he describes his experiences with publishing, prejudices, and rejections.
With this in mind, Mosley teaches you how to:
Accept and overcome prejudices in the industry
What to do when your work is criticized or rejected
Improve your chances of getting published
Find agents and gain valuable connections
In what I found to be the most actionable lesson of this course, Mosley lays down his 3 top tips for becoming a better writer.
As well as this, Mosley also teaches you how to network and improve your writing by making the most of your connections.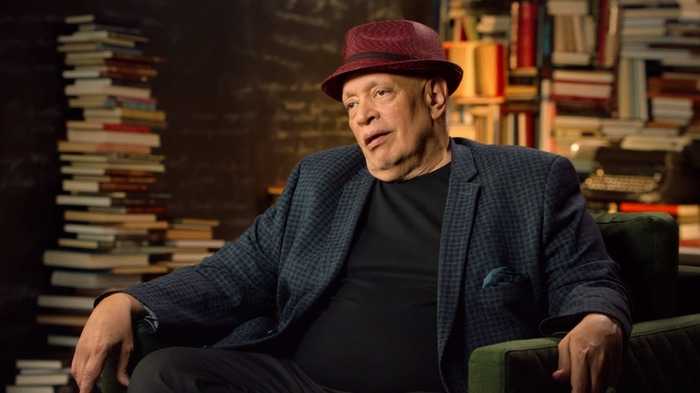 While this section was a standout for me, what I liked the most was that Mosley set out a step-by-step process for getting your work published.
Unlike other writers I'd listened to, Mosley doesn't beat around the bush or give vague advice. He gives clear directions that you can follow.
Another perk was his motivational manner of speech. Mosley admits the problems that come with writing, and helps you to reframe your thinking to be able to cope with these hardships.
As well as attaining success, Mosley also shares what he believes to be the most important part of writing a novel:
Lesson 11: Discovering Yourself Through Writing
"You should say all the things you know you could never say in real life"
In this chapter, Mosley gives some words of encouragement on how to be a better creator. He gives his opinions on what writing can do for you personally and how it can help you grow in character.
More than this, he says, writing keeps your mind alive and makes you more capable as you go along. So, writing is a great exercise in self-growth rather than a means to an end.
In this section, Mosley's emphasis is on writing your "truth." He explains what he means by this and goes on to cover the 3 key things you should remember from his MasterClass.
For me, this was a fresh insight into how writing can be celebrated as a process, rather than an end-product.
This was definitely among the most motivating chapters, as it focused on the small rewards you get through working, rather than the success, which, he admits, some people never attain.
Lesson 12: Living a Creative Life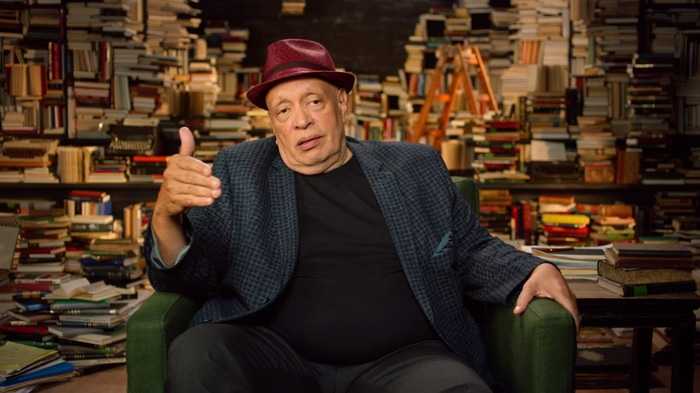 "All life is based on the ability to be creative"
Further to his lesson on celebrating small victories, Mosley teaches you how to be creative in your whole life — rather than just your work.
As he says, creativity is a deep commitment, and one that you must make as any kind of artist. With that in mind, this lesson will teach you how to:
Live a creative life day to day
Understand your life's influence on your work
Make bold choices in life and writing
Find your voice through creativity
Here, Mosley also ponders the question: why are people creative? His musings are pretty insightful for anyone interested in the arts, and I liked how vocal Mosley was on being a black creative in particular.
Overall, though, my key takeaway from this lesson was Mosley's approach to failure. Rather than seeing it as an obstacle, Mosley teaches you to rethink your relationship to failure and use it to your advantage.
Lesson 13: Walter's Most Important Thing
As he concludes his MasterClass, Mosley reflects on the lessons he's given and reiterates what he believes to be the key takeaways.
This closing section ties the course together nicely as it summarizes most of his main points.
All in all, Mosley's style of speaking is motivational. He encourages you to reassess your "limitations" as a writer and makes it clear that writing is a profession that's open to all.
What I liked about Walter Mosley's MasterClass
Learn from a highly-achieved author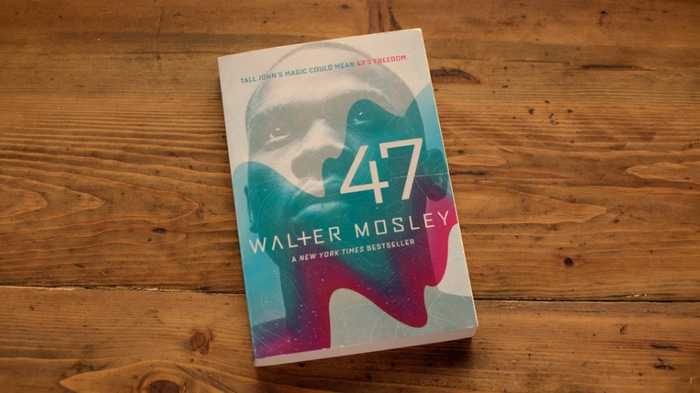 With over 60 books to his name, it's safe to say Mosley is an apt teacher for this MasterClass. Having published his first book in 1990, he has over 30 years' experience in the industry.
And while he's participated in panel discussions and interviews, he's never gone into this much detail about his process before. This makes MasterClass a unique opportunity to learn from one of the best writers of our time.
Simple and matter-of-fact delivery style
Unlike some classes, Mosley steers away from using jargon. In fact, of all the writers I'd heard from, he undoubtedly has the most universal reach.
This doesn't mean Mosley's lessons are simple — but the way he delivers them is so clear and understandable that it makes for a highly enjoyable course.
Great examples and readings throughout
Using Devil in a Blue Dress as his main case study, Mosley provides great literary examples and reads extracts throughout the course.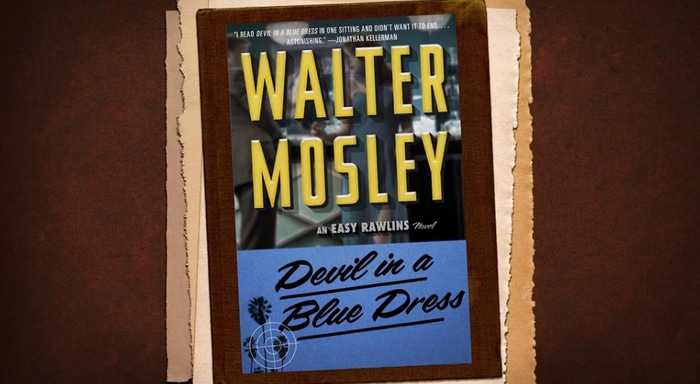 When learning such abstract topics such as story and plot, it's useful to have something more concrete to refer to. Mosley's readings enhanced my experience of the course and acted as case studies for the lessons.
Practical advice on how to get published
As I mentioned, Mosley's delivery style is direct and no-nonsense. While other writers are hesitant about sharing their trade secrets, Mosley tells you exactly how to get your book published and what steps you should take to find an agent.
If you're looking for advice you can really act on, Mosley's MasterClass is the course for you.
What I think could be improved
Less focus on how to research for your book
Although Mosley focuses a lot of his attention on the writing process, I couldn't help but ask myself: what about research?
Especially as someone who wrote an entire series about a private investigator, I wanted to hear how Mosley not only came up with the idea, but also read up on it.
Most aspiring writers hit a wall in their writing when they realize they just have to research in order to write.
As Mosley places a lot of emphasis on writing being removed from your daily life, I would've liked to hear more about the investigative side of things.
More aimed towards beginner writers
One downfall of this MasterClass is that it seems at times a little too geared towards beginners. Its lessons are certainly practical, but if you're an experienced writer you might not need to hear the difference between a metaphor and simile.
So, it's worth noting that Mosley covers a lot of basics, such as narrative voice, dialogue, and imagery. If you're approaching this course as a more seasoned writer, you might not learn anything new.
Fewer Workbook exercises than other classes
For me, the MasterClass Workbook is one of the main takeaways from any course. As well as summarizing the video lessons, you're prompted to complete certain exercises to help your understanding of the class.
With a writing class, it goes without saying that writing exercises are valuable ways of improving your skills. But, Mosley never mentioned any assignments throughout the course. The Workbook also contains far fewer exercises than other courses.
If you're someone who learns better by doing, this is a potential pitfall that you should weigh against the course's pros!
Lecture-style teaching rather than workshops
This could be a plus for some, but it's worth bearing in mind that Mosley's course consists solely of his talking and reading. While this doesn't mean it's dry, it does lack the variety of content found in other courses.
If you're looking for a better mixture of lecture- and seminar- style teachings, another class such as Aaron Sorkin's might be more suitable.
Either way, you should consider what you want to get out of the MasterClass and whether the teaching style/lesson plan appeals to you.
Who is this course for?
In my opinion, Walter Mosley's MasterClass is best suited to someone who's:
New to writing and eager to learn theory and technique
A fan of Mosley's who's keen to hear his opinions
Interested in writing impactful and political literature
Eager to develop their writing routines and get published
This course is best suited to someone who's just starting out in their writing. Perhaps you've written some short stories or had some novel ideas, and you're keen to get to the next step.
Or, if you're further along in your writing ventures, you might want to hear how to get published or find an agent. Those who are already published or have completed works might not get as much out of this foundation-level course.
How much does the course cost?
MasterClass pricing might've changed since this review was written, so for the latest info, click here.
At the time of writing, a MasterClass subscription costs $180 a year ($15 a month).
With the subscription, you have access to all 90+ MasterClasses.
The great thing about this is that the more classes you take, the less effective cost per class is.
For example, if you can find at least 4-6 classes you like, you're effectively paying $30-$45 per course ($180 / 6 classes = 30).
Bearing in mind these classes are taught by world experts, the valuable is unbeatable. It's sort of a way to hack learning.
Whatsmore, MasterClass offers a 30 day refund if you're not happy with your purchase.
If you want to buy a single course, there is a way to do this — but it's a little convoluted. You can buy a single MasterClass as a gift, and give that class to yourself. This price here is $90.
However, arguably the best value is with the all-access pass.
Alternatives to Walter Mosley's MasterClass
On MasterClass, there are plenty of writing courses available. At present, the category includes the following:
While some of these courses focus on different types of writing, they're fairly complementary. In fact, with the all-access pass, you can take them all.
Outside of MasterClass, there's no shortage of options available. One alternative is Udemy's Creative Writing course. While this course is cheaper than MasterClass, I don't think it compares with MasterClass's teaching standards.
The verdict?
With Walter Mosley's MasterClass, you get the chance to hear from a best-selling author who clearly knows how to succeed in the industry. In my opinion, this more than justifies the price tag.
That being said, I think MasterClass's all-access pass is the best value for money if you're keen on taking more than one course.
Walter Mosley MasterClass: what others have said
My aim here is to present the most fair and balanced review of Walter Mosley's MasterClass. So, it's worth drawing attention to other people's experiences.
When searching through Reddit and similar forums (as well as MasterClass itself), I found mainly positive reviews. However, some users did note that the course wasn't overly unique in terms of content:
"Walter is the first person/author I've listened to and felt inspired to just do it. Not that he said anything so different from what I have heard before."
It's also worth bearing in mind that Mosley is pretty anti-university. For example, he warns you against listening to literary gatekeepers and dismisses the limitations of genre.
So, as one user points out, this is a defining stance in his MasterClass, and it's worth considering whether it's something you agree with:
"If only I had his guidance at first [...]. In particular: Reading doesn't make you a writer. Telling a story makes you a writer. Universities don't know what good writing is. Don't listen to literary gatekeepers."
To date, Mosley's course has been well-received. As one user says, it was striking to see a writer speak so clearly and honestly about what they believe in:
"Walter Mosley is simply a human gift that just keeps on giving… What a way to start my first MasterClass and be blown away with an instructor who speaks and teaches from the depth of his soul."
"I found the Walter Mosley course to be really great! I like that he inspires, and doesn't sugar-coat things [...]. I came away from this course with a sense of motivation and a jolt of self-confidence that I really needed."
Overall, users found Mosley's no-nonsense approach to teaching refreshing. They also highlighted the motivation the course gave them as well as (or perhaps more so) than basic teaching.
However, as I've pointed out, this course is more geared towards those who are new to writing or are working towards their first publication. It focuses a lot on gaining the "drive" to write as well as the more technical side.
How long it took to complete the course
As one of the shorter writing courses on MasterClass, the Walter Mosley writing course takes little time to complete. Clocking in at 2 hours and 18 minutes, you could probably spread out 1 or 2 video lessons over the course of a week.
Is the course content unique?
In short: no. Mosley's course covers a lot of basics that you've likely learned in school or college. Mosley also partakes in interviews/panel discussions where he discusses his writing in some detail.
That being said, this MasterClass is Mosley's first online course and is also the first time I'd seen him discuss his craft in such depth.
It's worth bearing in mind that you're not just paying to hear from a renowned author, but for the complete package of a well-organized and clearly formatted course.
In my opinion, this is what sets MasterClass aside from its competitors.
What you will need
For this course, you don't need any extra materials. A notebook or word processing app is handy, and if you want to print the PDF to take notes, this is a great way to enhance your learning.
But, you definitely don't need any fancy equipment to complete this course. In fact, you don't even need to be familiar with Mosley's works to understand his lessons. With MasterClass, you have the benefit of all relevant information being in one place!
Is Walter Mosley's MasterClass worth it?
If you're new to writing, a fan of Mosley's, or are thinking about getting your work published, this course is most likely for you.
It's especially helpful if you're seeking to improve your writing and to appeal to your target audience.
However, if you're expecting a more in-depth or advanced writing course, you'll likely be disappointed.
All in all:
If you were inspired by what you saw in the trailer, and see yourself in any of the categories above, you'll probably gain a decent amount from this course.
Walter Mosley is particularly encouraging towards budding writers and shares a wealth of actionable advice.
I personally felt that publishing a book was more possible for me after taking this course. Mosley really breaks his lessons down and gives you the facts – plain and simple.
And the great thing about MasterClass's all-access pass is that you can mix and match courses to get the most out of the platform. So it's worth checking out some other courses to see if they appeal to you.
Beyond writing, you can learn negotiation from Chris Voss, producing from Alicia Keys, choreography from Parris Goebel, and many, many more.
Also, the ability to get a refund if the course isn't to your liking is a great safety net, and reduces your risk of losing money if the course just isn't for you.
Frequently asked questions
How much does the Walter Mosley MasterClass cost?
A MasterClass all-access-pass costs $180 a year ($15 a month). This gives you access to Walter Mosley's MasterClass, alongside 90+ other courses.
How long is Walter Mosley's MasterClass?
Walter Mosley's MasterClass is 2 hours and 18 minutes long and consists of 13 videos.
Can you get the Walter Mosley MasterClass for free?
Unfortunately you cannot get the Walter Mosley MasterClass for free. But MasterClass has a range of purchasing options and offers refunds if you're not happy.
Can I get a refund if I don't like the Walter Mosley MasterClass?
Yes, MasterClass operates a 30 day refund policy if you purchase directly through them. If you purchase through other providers, their returns policy may apply.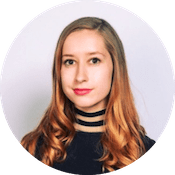 Rebecca graduated from King's College university with a first class honours in English Language, followed by a Masters' Degree in Eighteenth Century Studies.