Roxane Gay is an American writer and social commentator best known for her writings on feminist and racial issues.
She's a NYT contributor and has published fiction and non-fiction alike. So, if anyone can give you solid writing advice, it's Roxane Gay!
But just how good is the Roxane Gay MasterClass? Can it really help you to write for social change? And is it practical for young writers looking to start their career in writing?
These are the points I'll address in this Roxane Gay MasterClass review.
But first, here's a quick summary:
.
Quick summary
You'll learn:
About Gay's writing experience
How to challenge ideas and change minds
Advice for starting out as a writer
How to research for your writing
Processes for editing your work
How to write about difficult subjects
Tips for getting your work published
Pros
Learn from an esteemed writer
College-level advice and expertise
Helpful on-screen graphics
Unbiased approach to tricky issues
Cons
Fast-paced teaching style (could be considered a pro for some)
Complex terms not always explained
Centered on her experience
Length of course: 3 hours and 2 minutes, split into 20 lessons.
Best for: those interested in writing about political and cultural issues. Most helpful for those wanting to write on a personal level and pursue essay or memoir writing.
Overall: an important, eloquent and insightful course teaching you how to write to inspire social change. The class also includes workshops so you can hear from a range of writers and styles. For what the course is, it's hard to find fault. I especially liked Gay's breakdown of her writing framework.
Here's what this Roxane Gay MasterClass will cover:
About Roxane Gay and MasterClass
A sneak peek at what's inside
Pros and cons
Who it's for
How much it costs
Is there anything better?
What others thought of the course
How unique the content is
Final verdict: is it worth it?
Let's get started:
About Roxane Gay
If you're here, you likely have some idea of who Roxane Gay is and what she's known for. So, I'll spare you the biography and sum up some key career points:
Starting her academic career in 2010, Gay became a household name with her best-selling essay collection, Bad Feminist
Among her achievements are 2 Lambda Literary awards (one for her 2017 memoir, Hunger) and an Eisner Award for World of Wakanda
A revered spokesperson for the LGBTQ+ community, Queerty magazine listed her amongst their top 50 heroes in 2020
If you haven't seen her MasterClass trailer yet, I suggest you check it out:
About Masterclass
Founded in 2015, MasterClass has slowly risen to the top of the e-learning scene. With 150+ courses to date, there's something for everyone.
MasterClass's selling point is its celebrity teaching — so you can be assured that you're learning from the best.
Classes include mindfulness and meditation with Jon Kabat-Zinn, makeup with Bobbi Brown, fashion with Tan France, and dog training with Brandon McMillan — to name a few!
That being said, and having taken many MasterClasses myself, I can say that it's not for everyone. So, in this review, I'll weigh up the pros and cons to help you to decide whether MasterClass is for you.
But if you want to check out other great MasterClasses or learn more, you can check out our MasterClass review and Best MasterClasses.
An inside look into Roxane Gay's MasterClass
Roxane Gay's MasterClass is 3 hours, 2 minutes long, and is split into 20 lessons.
The class includes a 28-page Workbook with chapter reviews, recommended reading, and more.
Throughout the class, there's a mixture of 1-1 style teaching, where Gay shares her philosophy and writing tips, plus writers' workshops where she breaks down writers' works.
To give you a better idea of what you'll take from the course, here's my chapter breakdown:
Lessons 1-2: Meet Your Instructor & Writing as a Black Feminist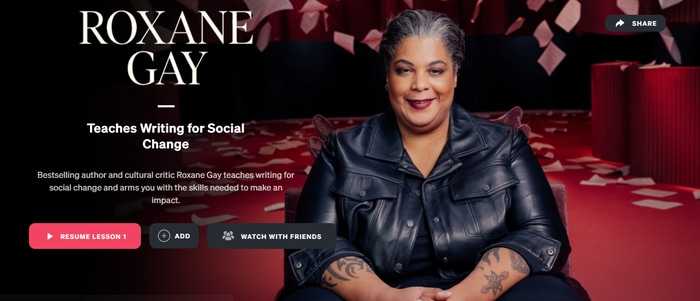 "Literature has brought us some of the greatest stories and characters you could imagine"
In these chapters, Gay guides you through what writing means to her and how she approaches her work as a Haitian-American. Writing since the age of 4, and being the first black woman to lead a Marvel comic series, Gay has an impressive career to date.
She also asserts her aims for this course: to teach you how to write a good story, get your readers to listen, and talk about important issues.
With this in mind, Gay teaches you how to:
Use your unique background to inform your writing
Write engaging works across different genres
Strike a balance when discussing polarizing topics
Make the most of existing literature to improve your style
All in all, Gay lends this lesson's focus to how she writes as a black woman. Much of the teaching is anecdotal and reflects upon her personal writing influences.
That being said, I found this a great introduction to Gay's goals as a writer.
Lesson 3: Challenging Ideas & Changing Minds
"Writing allows me to make clear my political affiliations"
Further to using your background to inform your writing, Gay tackles the subject of how writing can incite change. As she sees it, writing is a great tool for those who are introverted as it gives you a platform to share your voice.
So, with this in mind, this lesson teaches you how to:
Make your political writing strong and engaging
Use words to bring about change
Write and structure "opinion pieces"
Revisit your work and approach follow ups
In this chapter, Gay uses 2 opinion pieces as case studies to show you how she writes to bring about change. She also breaks down her exact writing structure to show you what an opinion piece needs to be a success.
What I liked most about this section was Gay's actionable tips on how to engage with the political world around you.
She gives you some practical advice on how you can test your opinions in a wider context, and to be able to strengthen your argument when you actually write it.
This takes you on to:
Lesson 4: Getting Started as a Writer
"Why am I the best person to write about this topic?"
Here, Gay addresses young writers' main concern: what to write. As Gay sees it, every writer has a different method for getting at their topics and choosing how to write about them.
In this chapter, Gay shares some effective tools for helping you decide where to start. She also shares her prompts to inspire direction. Most of her advice focuses on the questions you should ask yourself in order to get to the root of your idea.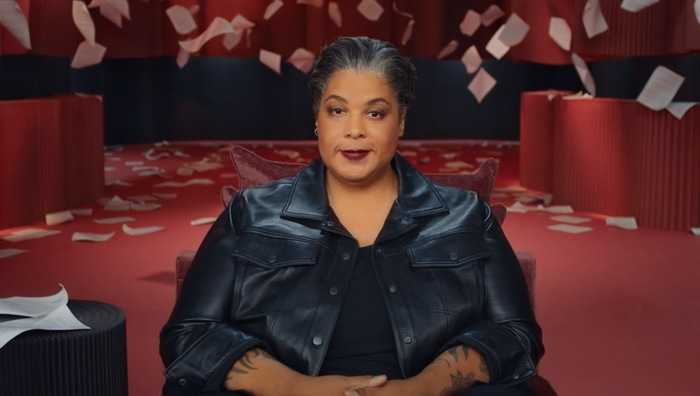 By the end of this lesson, you'll learn some concrete points on how to:
Find your "why"
Ask yourself key questions to get started
Strike a balance between the personal and objective
Make the most of your first draft
Decide what kind of format is right for you
Overall, this chapter gives you some solid tips on how to figure out your subject. It also takes you further to choose which format and writing style might best serve your work. Gay takes you through her own preferences, and shares her tricks for knowing when a format is "right."
These parting tidbits also lead you into the more in-depth topic of:
Lesson 5: Roxane's Writing Process
"I do think that writing is a muscle, and it needs to be exercised"
In answer to questions about her writing process, Gay has 2 answers. She takes you through what these are, along with what she does as "pre-writing prep."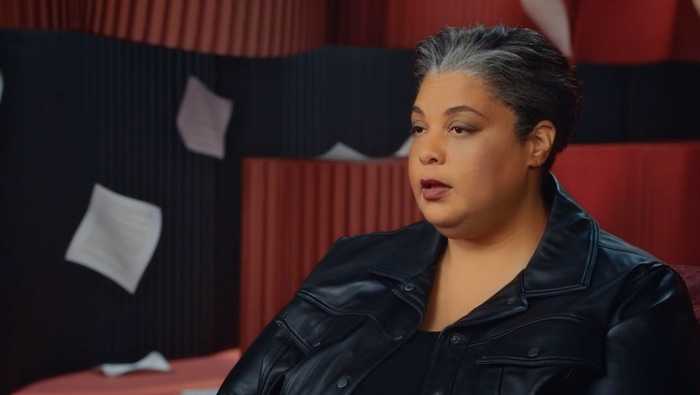 With attention to her exact process, Gay teaches you how to:
Write for an audience that's indifferent or apathetic
Assess your routine to decide when you should write
Use different frameworks to inspire creativity
Understand the requirements for different formats
Use effective strategies to overcome writer's block
As Gay asserts, it's important to look at your own writing style to understand what you do well (and not so well). In fact, she says, everyone has a writing process — it's just a case of finding it.
So, in this chapter, Gay prompts you to consider your own habits by sharing some of her own. She also advises you on how to be flexible — especially when your formats place different demands upon you.
My key takeaway from this lesson was Gay's attention to project variety. As she sees it, having more than one project on the go can actually work in your favor as it allows you to carry skills across genres.
Despite this advice, though, she admits that there's "no wrong way to be a writer other than to not write."
Lesson 6: Roxane's Writing Toolbox
In this chapter, Gay teaches you how to write opening lines that compel your reader to read on. If your opening is bad, no one's going to get on board — no matter how good the rest of your work is.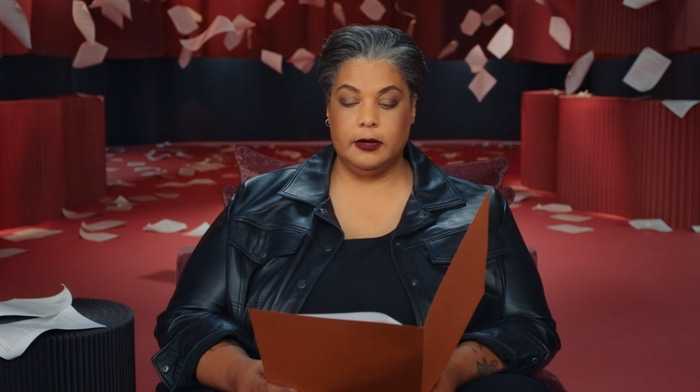 Along with this, Gay teaches you how to:
Find your "North Star"
Use humor as a way to disarm
Develop an ear for repetition
Use rhetoric to harness audiences
In this lesson, Gay shares the influence of her academia on her writing — especially in terms of using rhetoric. While she doesn't explain this in great depth, she does list some terms you should learn to improve your persuasive writing.
Gay also shares her philosophy on a more unique point: creating titles. As she admits, these come to her in a "range of ways" but, more often than not, there's a pattern to how she chooses.
Finally, Gay introduces you to her "I Still Love You" theory. As she takes you through what this means, Gay offers some advice for how you can use it to save your work for the future.
But, further to writing your own ideas, Gay takes you on to another key aspect of the writing process:
Lesson 7: Research
"Research underpins everything I do"
For Gay, research is a vital part of the writing process. Further to voicing your own feelings, being able to back up your claims is most important to ensuring your work's a success.
In fact, Gay even shares how she researched for her memoir — a genre you'd believe to be largely personal. Making this a real masterclass in memoir writing.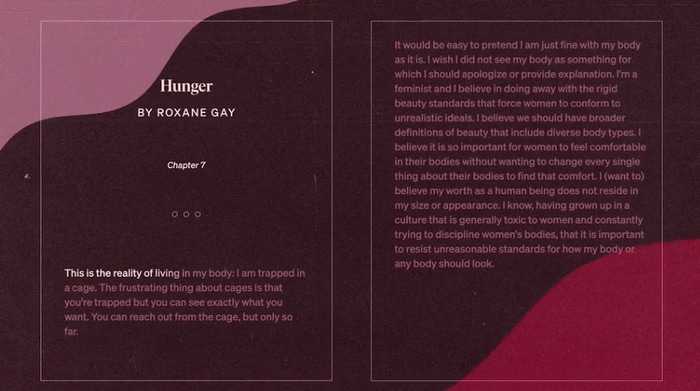 With this mind, this section teaches you how to:
Master the art of credible research
Use the best tools for your work
Effectively organize your research
Understand and undertake fact-checking
In Gay's opinion, there's one tool for research she thinks is most important. She shares what this is, along with her favorite programs for organizing research virtually — if that's your preference!
By the end of this lesson, you'll gain a better understanding of how to approach and organize your research. Gay also enlivens the research process, teaching you how it can be exciting rather than dull.
Ahead of this, Gay takes you on to:
Lesson 8: Self-Editing: Re-Visioning Your Work
"Everyone can edit themselves. And everyone should edit themselves"
In this section, Gay turns her focus to how you can edit your work for success. As she believes, so much of the work happens after your first draft — so it's important to know how to edit.
As Gay explains, there are 3 parts to the "revisioning" process that people often mix up. She breaks down each one and teaches you how to make necessary changes to your work.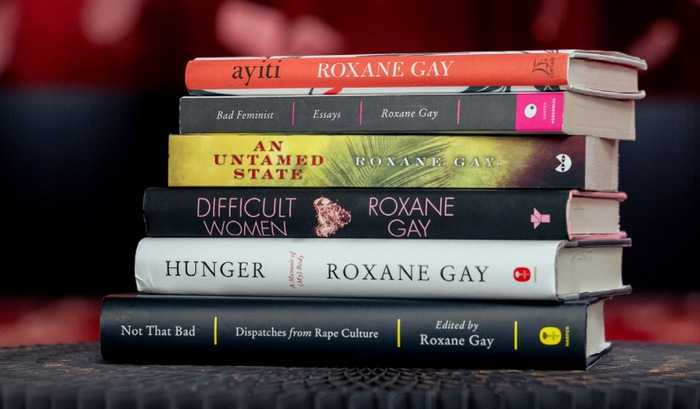 In this lesson, you'll learn how to take your work from first to final draft. You'll also learn how to edit your work alone and try Gay's editing tips for yourself.
What I liked most about this lesson was how specific Gay was when sharing her strategies. She even gives you some tools you can use to improve your revisioning, including archival resources.
Importantly, too, is the feedback process, which she breaks down in an easy-to-follow way. By the end of the lesson, you'll gain some helpful insights into how you can receive valuable feedback for your work.
This takes you on to:
Lesson 9: Consuming and Criticizing Culture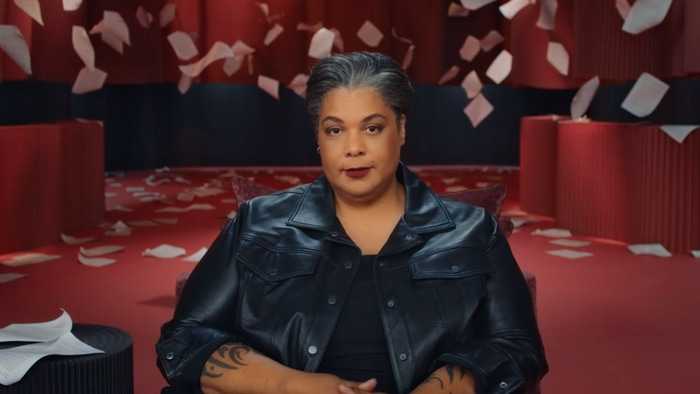 Having taught us her step-by-step process for writing an opinion piece, Gay takes you on to consider how you can engage with culture. Listing TV series as examples, she dives straight into what media can teach you about what the world values.
With this in mind, consuming many forms of culture can help you find stories to engage with. Every piece (such as a series) tells a bigger story beyond itself that often speaks volumes about cultural presentation.
So, in this lesson, Gay teaches you how to:
Make connections between pieces and the world beyond it
Relate these connections to the personal/universal essay
Develop a level of discernment by engaging with criticism
Put criticism in context by considering your goals
As Gay explains, cultural criticism has led to visible social change that's reflected in media. For example, there's far more diversity on screen than there was even a decade ago. This, she says, is what writing can do.
Gay concludes this chapter with a close reading from her essay collection, Bad Feminist. She discusses the trope of the "unlikeable woman" and also debates the hypocrisy of enjoying sexist lyrics.
Overall, Gay reflects on the success of this work and how it inspired social discussion. She then takes you on to a trickier subject:
Lesson 10: Writing About Trauma
Right off the bat, Gay admits to the difficulties of writing about trauma. As she sees it, you need to be in the right place and have support around you.
Whatsmore, you also have a duty to your audience to be honest and ethical. So, you need to strike a balance between telling and withholding. The goal, she says, is understanding — not suffering.
With this in mind, Gay teaches you how to judge what style of telling is best for you. She also leaves you with some important points to remember when choosing between explicit/implicit writing.
My key takeaway from this section was Gay's advice on how to frame yourself as a writer. Despite the context, trauma isn't all you have to offer, and you need to understand the complexities of being a victim/survivor.
So, by the end of this lesson, you'll have a better understanding of how to assess your boundaries, establish your code of ethics, and even use fiction as a storytelling vehicle.
With attention to tightening your work to keep only what's essential, Gay takes you on to:
Lessons 11-13: Writer's Workshop: Feedback, Common Ground & Finding Your Voice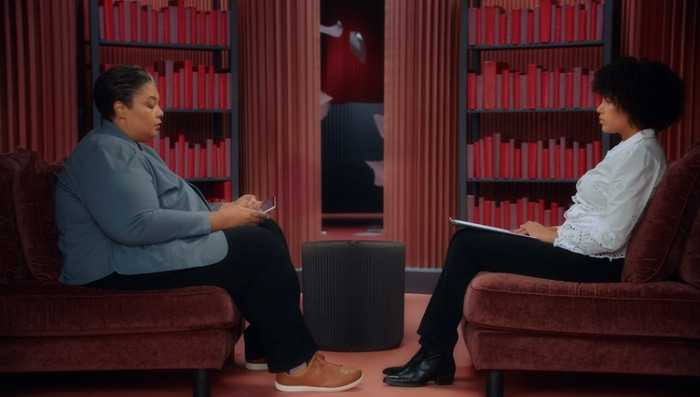 "Voice is something that we all have"
In these chapters, you get to sit in on a writer's workshop with 3 different writers. Helpfully, these writers' pieces are varied, which makes the advice helpful to a range of viewers.
Bearing in mind that Gay is an experienced professor, these workshops teach you how to:
Handle critiques and judge what works well in your writing
Write endings and polish your final drafts
Help your readers connect with your work
Develop your voice through creative influence
One thing I liked about these workshops was that you got to hear from a range of writing styles beyond Gay's own. Along with hearing Gay's critiques, this was helpful in getting a bigger picture of the kinds of writing Gay teaches.
In my view, this section also prepared you for the feedback process mentioned earlier. Gay asks helpful questions of her students and gets the same in return. As a case-by-case analysis, you also gain better insight into how to refine your work.
While it would've helped to have these students' essays on the resources page, I appreciated that each writer read their works aloud and set some context for their ideas.
Lessons 14-15: Engaging with Your Readers and Having a Day Job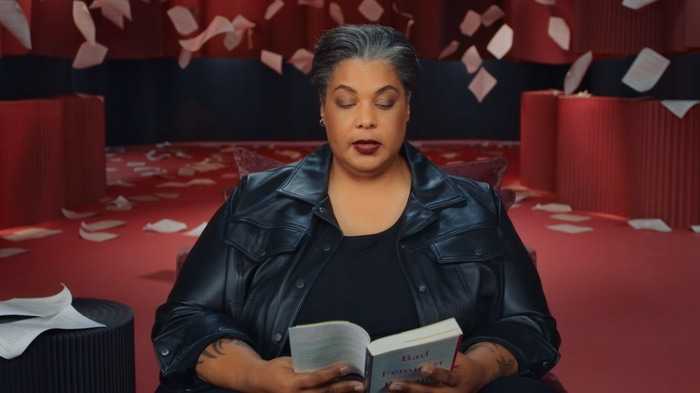 With attention to social media, Gay teaches you how you can make the most of available tools to engage with your readers. In her view, being on Twitter is a huge benefit for any writer — so, too, is having your own website.
That being said, this lesson teaches you:
The pros and cons of social media
How to engage with readers
What your website should include
How to use social platforms in your favor
Further to this, Gay also touches on another practical point: having a day job. As she sees it, this is the greatest gift you can give yourself as a writer — especially when starting out.
Touching on the financial realities of being a writer, Gay moves you forward to:
Lessons 16-17: The Business of Writing & Finding an Agent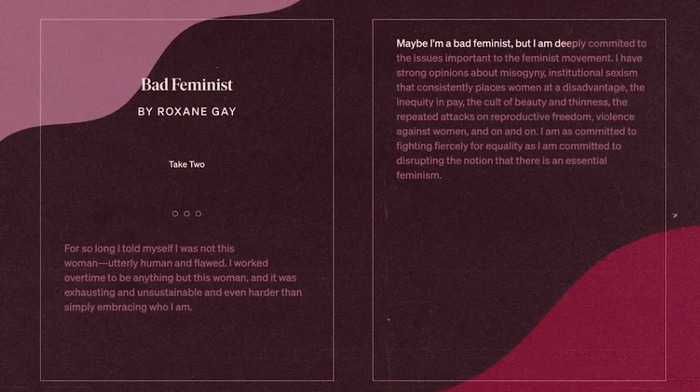 In what I found to be 2 of the meatier chapters of this course, Gay takes you through some of the steps for getting your work into the world. As says, there are plenty of resources out there — the struggle is knowing where to start.
So, with this in mind, these chapters teach you how to:
Research to increase your chances of getting published
Understand the step-by-step process for submitting your work
Write a professional and effective cover letter
Find the right agent for your work
Unlike other writers I'd heard from, Gay also takes the time to break down some terms. These include issues around copyright — a must-know for every writer!
Gay ends this section with her top 3 tips to help you manage the business side of writing. These include how to negotiate contracts, understand your values, and make the most of available resources.
That being said, Gay also delves into more detail on:
Lesson 18: Getting Published
"As a black woman, if I don't advocate for myself, most of the time, no one else will"
Having covered how you can better set yourself up for getting an agent, Gay turns her attention to actually selling a book.
While some teachers can be vague about this process, Gay shares with you exactly what happens in the publishing process and the step you should take to get the best deal.
That being said, this lesson teaches you:
Key terms in the publishing industry
North American vs. worldwide rights
What to expect financially
The pros and cons of self-publishing
How to be your own advocate
Like most of the course, this lesson focuses on how to navigate the publishing world as a minority writer. In fact, she specifies her advice with this point in mind, and even shares ways you can prepare for the inherent racism in publishing.
However, I still think this lesson appeals largely to all writers as it distils a lot of complex terms. For example, Gay takes you through the royalty structure and explains what's meant by an advance.
She also doesn't shy away from sharing her own views on publishing — from what type of publishing serves your work best, to how you can negotiate the financial side.
This chapter leads you on to Gay's parting advice:
Lessons 19-20: Becoming a Good Literary Citizen & Moving Forward
"If you want something, you have to put it into the world"
At the end of her class, Gay reflects on the importance of giving back to the community. She explains what she means by this and leaves you with some tidbits on how you can be more involved with your readers.
In fact, Gay even lists some of own endeavors to give back, such as volunteering, judging contests, and blurb-writing. As she sees it, these are key ways you can help preserve the literary community.
Along with this, Gay also summarizes some of her main points from the course. These include how to:
Set your own career goals in a healthy way
Research and read to be inspired
Gain valuable feedback on your writing
Work to get your writing into the world
Overall, these concluding chapters were insightful for giving you some exact resources to use. In my view, this makes the lessons more tactile and actionable for the reader.
Speaking from a professional level, Gay clearly knows what works and what doesn't in her industry. I could also tell she was genuinely enthused to get more minority writers telling their stories.
What I liked about Roxane Gay's MasterClass
Learn from an esteemed writer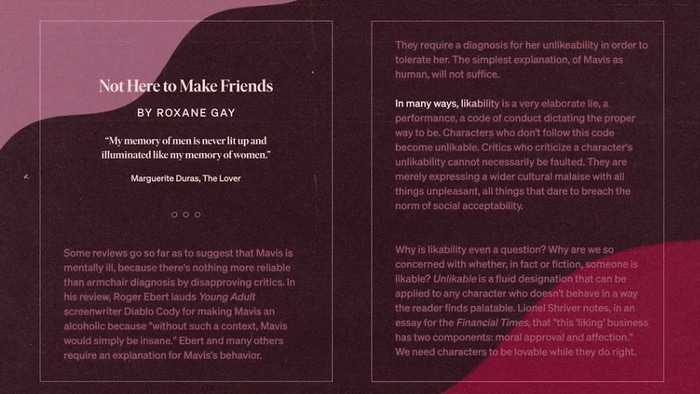 As a contributing opinion-writer to The New York Times and a great author in her own right, Roxane Gay is a revered name in the literary community. With her strong online presence, too, she stands out as one of the most culturally-involved authors of our time.
In this MasterClass, you get the chance to hear from Gay herself and gain unique insight into how she writes. You also know that you're hearing from a writer who's made a name for herself in the industry. For me, this more than justifies the price.
College-level advice and expertise
Teaching at Eastern Illinois University, as well as Purdue and Yale, Gay has experience teaching in a professional context. I think this sets MasterClass apart from other online courses, which don't always have the same level of expertise.
Gay's teaching prestige really shows in her MasterClass. She's eloquent, clear, and does a great job at distilling complex information.
If you're interested in taking a MasterClass but are hesitant about the authors' teaching skills, Roxane Gay is a solid starting point.
Helpful on-screen graphics
If you're a visual learner or avid note-taker, you'll likely benefit from the end-of-lesson summaries. These are on-screen graphics that sum up the lesson's takeaways. For me, this was a great way to revise each lesson.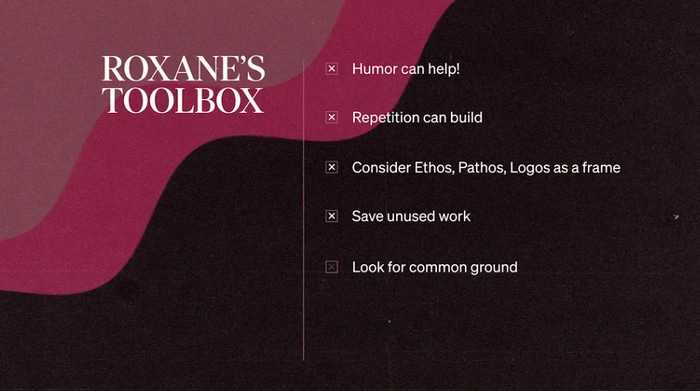 Unbiased approach to tricky issues
If you're familiar with Gay's work, you probably know that she deals with some polarizing subjects. While I was hesitant about how this could divide audiences, I was impressed by how professional and unbiased Gay's approach to these topics was.
While Gay does discuss tricky issues such as abuse, politics, and racism, she does this in a pretty conservative way. She avoids projecting her views in a divisive way and also makes her teaching as inclusive as possible.
In her "Writing Trauma" chapter, in particular, Gay is careful not to include graphic details or upset her viewers. She does, however, get her ideas across in a way that's honest and to-the-point.
What I think could be improved
Fast-paced teaching style
One minor con about Gay's MasterClass is how fast she sometimes speaks. For me, this was most obvious in the early chapters. While it means you get a lot of helpful notes, you might also find yourself pausing and rewinding to hear points you might've missed!
Of course, this could be considered a pro for some. Gay definitely likes to get to the point in her lessons and ensures that everything she says is content-rich.
Complex terms not always explained
Overall, I think Gay does a good job of explaining difficult terms. When talking about publishing, in particular, she cleared up a lot of words I didn't understand.
At the same time, she does mention terms relating to her degree that are mostly glossed over. I think we would have benefitted from having these explained. As Gay admits, these terms are integral to how she writes!
Heavily centered on her experience
As you might expect from an opinion writer, Gay doesn't shy away from sharing her own views. In fact, most of her case studies center on her own work and experience.
While I think this is part and parcel of the kind of course this is, you might feel a little detached from the content if you're not, say, a minority writer like Gay.
That being said, I think the course greatly benefits from the workshop sessions with other students. These lessons focus as much on tightening prose and writing fluently as they do on minority experiences.
Who is this course for?
In my view, this course is best suited to someone who's:
Interested in opinion-writing
A fan of Gay's writing and agenda
Keen to write from a minority point of view
Looking to inspire social change
This course is less suited to those who want to write non-political fiction. Much of Gay's advice is centered on writing to reflect a bigger picture of how the world is. She also sees writing as a tool to bring about change.
However, if any of the above bullets sound like you, I think you'll gain a lot from this MasterClass.
How much does the course cost?
MasterClass pricing might've changed since this review, so for the latest info click here.
At the time of writing, a MasterClass subscription costs $180 a year ($15 a month billed annually).
With this you have access to all 150+ MasterClasses.
The great thing about this is that the more classes you take, the less effective cost per class is.
For example, if you find at least 4-6 classes you like, you're effectively paying $30-$45 per course ($180 / 6 classes = 30).
Bearing in mind these classes are taught by world experts, the value is unbeatable. It's sort of a way to hack learning.
Also, MasterClass offers a 30 day refund if you're not happy with your purchase. You can also buy MasterClass as a gift.
Alternatives to Roxane Gay's MasterClass
Both on and outside of MasterClass, there are a range of writing courses available. These are the courses MasterClass offers at the time of writing:
Outside of MasterClass, I found a similar course from the University of Michigan via edX. While this is free, it does require a $49 payment if you'd like a certificate. It's also focused on storytelling rather than other genres.
Coursera also offers over 400 writing courses and many can be taken for free if you don't want a certificate. Both edX and Coursera courses are delivered by academics rather than accomplished authors.
Likewise there are hundreds of creative writing courses on Udemy. You need to bear in mind that anyone can upload a course to Udemy so the quality of teaching is variable.
And what makes the Roxane Gay MasterClass special is that it also covers the business side of writing such as finding an agent and getting published.
The verdict?
Roxane Gay is an accomplished writer and professor who's knowledgeable in a range of genres. She also has firsthand experience navigating the publishing world.
So, with this in mind, I think MasterClass is unrivalled in terms of the content you get, as well as its production values.
Whatsmore, with the all-access pass, you can take any or all of the MasterClass courses!
Roxane Gay's MasterClass: what others have said
My aim here is to present the most fair review of Roxane Gay's MasterClass. So, it's worth hearing what others thought about the course — good and bad.
When searching Reddit and similar forums (as well as MasterClass itself) I found some mixed reviews. One user felt that the course was too politically-inclined and therefore divisive:
"I hope MasterClass don't go into the political field more than this class… Not saying this one is politically skewed or something, but there's really sensitive areas about these kinds of topics" -- Comment from YouTube
Another user had a different take on this: that there was too much focus on the "social change" side of writing, and less focus on writing itself:
"Before you learn how to write for social change, learn how to write. Focus on delivering emotions through form, before focusing on the message. If you skip the basics, only those who agree with you will get the message" -- Comment from YouTube
While I understand this point of view, I think Gay herself does drive home her belief that political writing must be great writing before anything else.
In the workshop sections, in particular, Gay gives a lot of attention to how to improve your prose to better engage the reader.
For most users who took the course, this MasterClass was insightful. In fact, many seemed pretty starstruck to be able to learn from Roxane Gay herself:
"So glad to see Roxane Gay on MasterClass!" -- Comment from MasterClass
"It's great to hear from her perspective and experience" -- Comment from MasterClass
"I just finished this class and loved all the content. I've taken a few classes and this one is at the top of my favorites. Writing for social change is such a great topic and Roxane handled it so beautifully. I feel encouraged and will come back to this class over and over I think" -- Comment from MasterClass
Overall, users enjoyed Gay's MasterClass. And while I understand some users' concerns, I think the beauty of MasterClass is the sheer breadth of learning on offer. If you opt for the all-access pass, you can gain a range of insights both in and outside of political writing.
How long it took to complete the course
Roxane Gay's Masterclass is 3 hours and 2 minutes long, split into 20 video lessons. This is quite short for a MasterClass, and I think it can easily be spread out over a week.
Is the course content unique?
Overall, I'd say this course isn't entirely unique. Roxane Gay does have another class available on SkillShare. But, this course is a lot shorter and focuses on writing personal essays.
Of course, Gay also teaches in a university setting, but this is more exclusive and often not remote. So, you don't have the benefit of having all resources available from home.
With this in mind, I'd say Gay's MasterClass is unique in the breadth of writing it covers — from opinion writing to short stories (and even novels). It's also Gay's longest online course!
For me, MasterClass's production values and tailored resources set it apart from other learning options. You even have a forum to discuss the class with others and a Workbook to revise in your own time.
What you will need
While Gay does recommend some writing programs, these are in no way essential for completing the course. If you have a way of taking notes, that's all you need!
Is Roxane Gay's MasterClass worth it?
If you're eager to pursue writing for social change, you'll definitely gain a wealth of knowledge from this course.
For what this course is, it's incredibly hard to find fault with it. I personally found her advice on writing structure to be particularly insightful.
So, if you liked what you saw in the trailer and lesson plan, I'd say this course is for you.
And remember, to get the most value out of MasterClass, it's best to take as many classes as you can that interest you. With so many classes in the writing category, you'll have plenty to choose from.
You can also learn Tennis by Serena Williams, Acting by Samuel L. Jackson, and Gymnastics by Simone Biles.
Also, MasterClass has a 30-day refund policy if the course wasn't what you were hoping for. This reduces your risk of losing money if a class just isn't for you.
Frequently asked questions
How much does Roxane Gay's MasterClass cost?
A MasterClass all-access-pass costs $180 a year ($15 a month). This gives you access to Roxane Gay's MasterClass, alongside 100+ other courses.
How long is Roxane Gay's MasterClass?
Roxane Gay's MasterClass is 3 hours and 2 minutes long and consists of 20 videos.
Can you get Roxane Gay's MasterClass for free?
Unfortunately you can't get the Roxane Gay MasterClass for free. But MasterClass has a range of purchasing options and offers refunds if you're not happy.
Can I get a refund if I don't like the Roxane Gay MasterClass?
Yes, MasterClass operates a 30 day refund policy if you purchase directly through them. If you purchase through other providers, their returns policy may apply.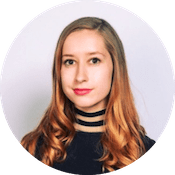 Rebecca graduated from King's College university with a first class honours in English Language, followed by a Masters' Degree in Eighteenth Century Studies.