MasterClass buy one get one free deals are incredibly rare and only run for a limited time.
In this article I'll be telling you everything you need to know about the MasterClass 2-for-1 promo including how you can make the most of it.
Here's what's in store:
What is MasterClass' 2 for 1 promotion?
Is the buy one get one free offer actually a good deal?
How the deal works
MasterClass two for one eligibility
What does the All-Access Pass include?
Example classes available on MasterClass
Advantages of MasterClass
Frequently Asked Questions
What is the MasterClass two for one promotion?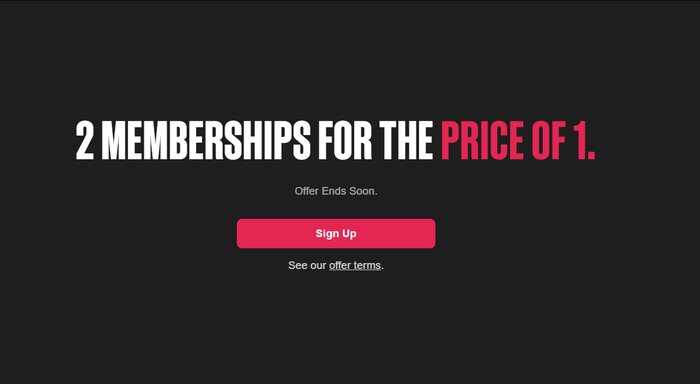 The MasterClass 2-for-1 offer is exactly as it sounds:
Buy one annual membership, give one free.
No promo code necessary.
Is the MasterClass buy one get one free deal a good deal?
If you're no stranger to deals, you'll know that deals are often not as good as they seem. Prices can be hiked ahead of time so that you think you're getting a bargain when you're actually not.
No so with MasterClass.
A MasterClass pass has been $180 for a long time. That means that this buy one get one free deal does literally double your bang for your buck.
To purchase 2 All-Access Passes, it would typically cost $360 (2 x $180).
With this 2-for-1 offer they will cost only $180.
And if $180 dollars still sounds like a lot, don't worry. There are two scenarios for making use of the deal:
Buy a pass for you at $180 and gift the free one to someone else
This is the most obvious way and makes for a Christmas gift that also benefits you!
Team up with a friend and split the cost
If you're looking to pay less money upfront, you could team up with a friend and contribute $90 each to the upfront cost.
Rare MasterClass deal
Aside from being good value for money, MasterClass deals are incredibly rare.
If you're looking for a better one to come along, you may not find one. And you'll also likely be waiting a really long time!
How the MasterClass buy one get one free deal works
There are 5 simple steps to getting your buy one get one free deal deal.
Step 1: Visit MasterClass
Click here to go to MasterClass and then click Sign Up.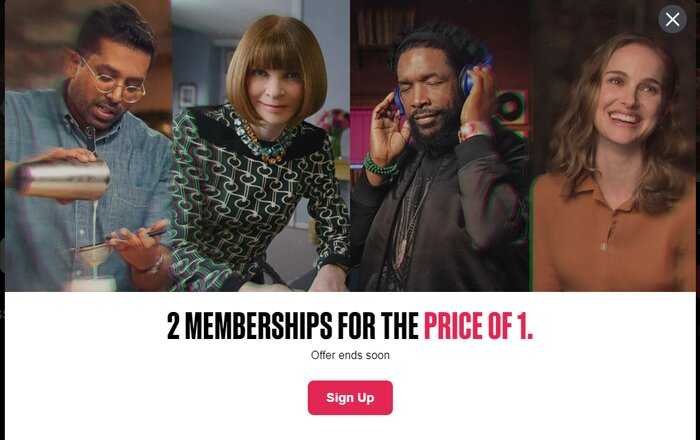 Step 2: Create your MasterClass account
You'll be taken to a sign-up form to create your MasterClass account.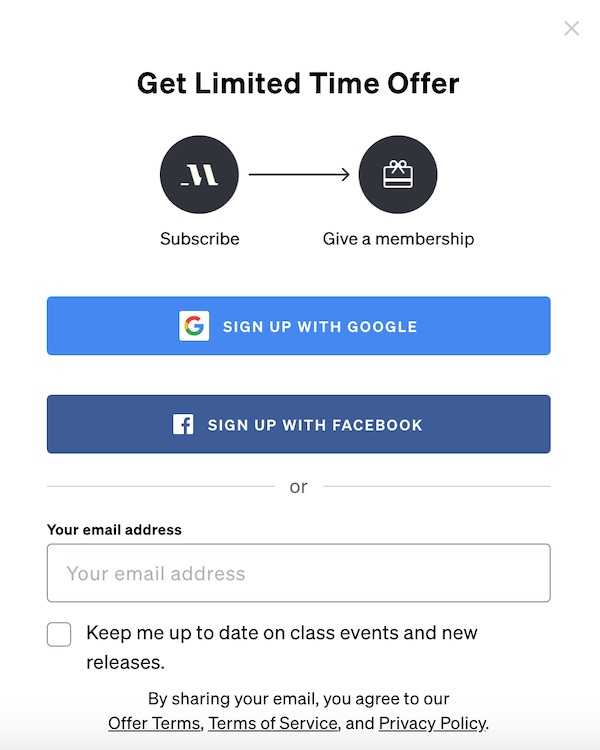 You can sign up using a Facebook account, Google account, or email address.
Step 3: Purchase your 1 year All-Access Pass
You will then need to make payment for your purchase. At the top of the payment window you should be able to see your gift option listed. You do not need a discount code or coupon code.
Step 4: Send your free gift
Once you have made your purchase, you will receive a confirmation email and an email prompting you to send membership.
It will look something like this: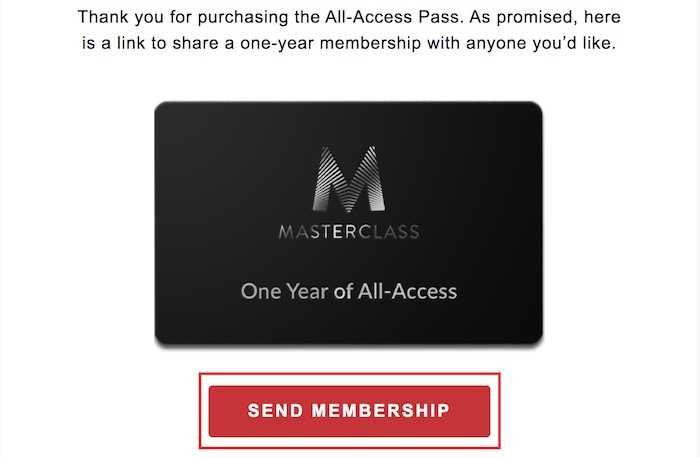 Complete the delivery form. You'll need your recipient's email address and you can also add a personal message or select it to deliver on a later date.
(If you don't have your intended recipient's details to hand, you can complete this step later.)
Step 5: Redeeming the MasterClass 2 for 1 gift pass
Your recipient should receive an email. They will need to click Activate Annual Pass and sign up to MasterClass as you did in Step 2.
The recipient will need to enter card details to redeem their gift. They will not be charged until their subscription auto-renews the following year. (They can cancel the auto-renew at any time.)
MasterClass buy one get one free eligibility
To be eligible for the MasterClass deal you must:
Never have participated in a past MasterClass 2-for-1 offer scheme
Not have a current active annual pass membership
Provide MasterClass with valid payment details
Sign up to MasterClass directly (not through a 3rd party provider like Amazon/Roku/App Store)
What does the All-Access Pass include?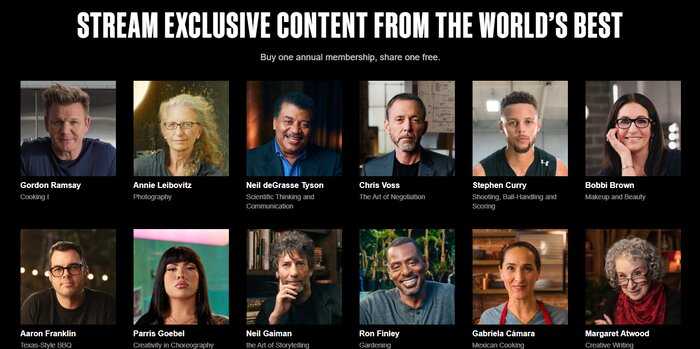 You might be wondering:
"What exactly does an All-Access Pass get me?"
Exactly what it sounds like: you will get unlimited access to all 150+ classes and sessions available on MasterClass.
You can take them multiple times, take as many courses as you like and keep the supporting resources that accompany them forever.
Example classes that are available on MasterClass
There are countless great options on MasterClass and they're adding new classes all the time.
You can check out our Best MasterClass Review here.
But our current top 10 are (by category):
To browse the full catalogue, visit MasterClass here.
Advantages of MasterClass
MasterClass has made its name as a powerhouse in online learning, and for good reason.
There are some great advantages of learning with MasterClass.
Learn from world-class instructors
The USP of MasterClass is that every single instructor is a household name and a master in their field. You cannot get this experience anywhere else.
Structured classes and resources
While some similar information may be available elsewhere, MasterClass courses are packaged into well-structured, comprehensive courses that take the stress out of learning. You'll often get a PDF workbook packed full of further reading suggestions and assignments.
Incredible production quality
MasterClasses are just a joy to watch. Every single one feels like a cinematic experience. If you've ever tried to watch a YouTube tutorial with bad audio or fuzzy visuals, you know how important this is! The amazing production quality means that you can sit back and just enjoy learning.
Access to project based sessions
MasterClass has recently added project based sessions to its library. These are time bound hands on classes that you complete with a cohort of fellow students who support your learning journey.
Money back guarantee
While I love MasterClass, I appreciate it's not always the perfect fit for everyone. MasterClass lets you try risk-free with their 30 day money back guarantee*.
*It is important to note that once the free gift pass has been activated, you are no longer eligible for a refund on your purchase. Buy your All-Access Pass and schedule your gift pass to deliver at least 31 days later to ensure that you can get a refund if you need to.
Other online learning discount deals
Final thoughts
The MasterClass 2 for 1 deal is hands down a steal.
MasterClass' stable pricing means that it's a real deal not an inflated scam
An All-Access Pass makes a really thoughtful, educational and fun gift – and Christmas is just around the corner
MasterClass is an amazing platform for casual learning that's fun and world-class
In fact, I actually first signed up to MasterClass with a similar buy one, gift one deal and I have no regrets. Definitely one of the best purchases I've made!
So what are you waiting for?
Frequently Asked Questions
What is MasterClass' buy one gift one offer?
You will be able to buy one All-Access Pass ($180) and gift another All-Access Pass for free.
How much does MasterClass 2 for 1 deal cost?
You buy an All-Access pass for $180, and get another free. So you're getting $360 worth of value of $180. 
I don't have anyone to give the free pass to. Can I just get one for $90?
No. You must make a full priced purchase at $180 to be eligible for the free pass. But if you can find a friend who is interested you could split the cost.
I used to have a MasterClass subscription but don't anymore. Am I eligible for the deal?
Yes. As long as a) you don't have a current MasterClass subscription and b) you didn't previously benefit from a similar 2-for-1 promotion, you will be eligible for the deal.
Does the 2-for-1 deal apply on platforms like the App Store, Roku, Amazon and Google Play?
No. The MasterClass 2-for-1 deal is only eligible through MasterClass directly. Once you have registered and bought your All-Access Pass, you should then be able to sign into the MasterClass app and use MasterClass as normal.
Does the free gift membership expire?
Yes. If not redeemed, the gift membership will expire 365 days after you make your purchase.
Can I buy one All-Access Pass and gift the other one to myself?
No. MasterClass does not allow you to give the other class to yourself.
Can I save the MasterClass gift for later?
You can choose to send the MasterClass gift on a later date. For example, you could buy your All-Access Pass today and set the gift delivery date for your recipient's birthday. However, the gift will expire if not redeemed within 365 days of your purchase.
Can I send the gift to someone who already has MasterClass?
If your intended recipient already uses and loves MasterClass, that's great! You can still give them the free gift and it will add 12 months onto their current subscription.
My intended recipient uses the MasterClass app. Can they still redeem the gift?
Yes. The recipient will need to follow the redemption link you send them. Once they have completed the steps, they will be able to log in to the MasterClass app where the gift will be active.
I can't enter a recipient right now. Can I do it later?
If you haven't got your recipient's email address to hand or you're not sure who to send the gift to, don't worry! You can click Schedule Later and you'll be able to manage your gift from the menu when you're logged into your MasterClass account. The gift must be redeemed within 365 days of purchase otherwise it will expire.
Can I delay my MasterClass start date?
No. You can only delay the gift option. If you are the one purchasing the All-Access Pass, your membership will start immediately.
I sent my gift to somebody but they didn't want to redeem it. Can I send it to someone else?
You can send the redemption link to as many people as you like. However, once the free gift has been redeemed, it will no longer work.
Can I get a refund on my MasterClass deal purchase?
You can get a refund on your MasterClass 2 for 1 deal purchase. However, it must be requested before the free gift pass is redeemed. This is to prevent abuse of the promotion. The safest option is to send your free gift after the 30 day refund period has elapsed.
I currently have a MasterClass subscription. Can I still benefit from the promotion?
No. Unfortunately, this deal only applies to new members (or past members who do not currently have an active subscription).
Can I track and manage my gift?
Yes. You can track and manage your gift when you are logged into your MasterClass account. Click on the drop-down menu on the top right of your screen and select the Gift option.
I sent my MasterClass gift but the recipient hasn't received it. What should I do?
If your recipient can't see their gift: Check that you didn't set it to schedule for later. You can see this by visiting the Gift section of your MasterClass account. Ask the recipient to check their junk folder. In Gmail in particular, MasterClass free gifts can be automatically sent to the Promotions folder
Do I need a coupon code or a discount code to redeem my 2-for-1 offer?
No, no coupon code of any type is needed.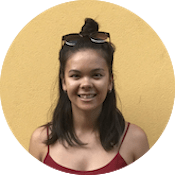 Glenda is an award winning full time professional harpist. Alongside harp she also plays the piano and violin. Besides music, her passions are cooking, writing and learning.