With 10 million users and 100+ courses designed to illuminate the soul of math, science, and engineering, Brilliant is an amazing way to get to grips with the laws that shape our world.
As a platform dedicated to transforming STEM subjects from something to be feared to something to be loved, Brilliant is great value, even at full price.
In this article you'll find the latest and best Brilliant discount codes to help you get even more value from the platform.
Note: You won't find better Brilliant offers elsewhere. We get the best, latest and exclusive Brilliant discounts so we recommend you use our links.
Brilliant promo codes
-> Read our full Brilliant.org review
How to claim your Brilliant discount code
The steps you use to claim your Brilliant discount depend on whether the deal can be redeemed by simply clicking the link, or if there's a link click and a discount code
If only a link click is needed, click the correct link in the table and follow the instructions provided
If a discount code is needed, you need to click the link and use the discount code at checkout
Generally, the steps are as follows: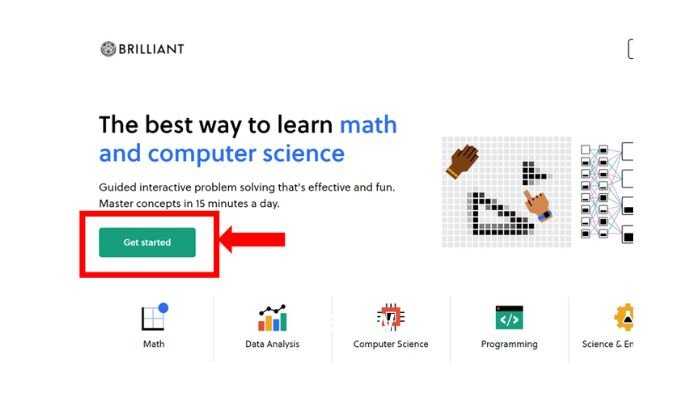 Head on over to Brilliant using any of our links and click on 'Get Started'
Click 'Continue' to answer questions on your learning preferences
Provide your email or join with Facebook account or Google account
Provide payment details and discount code (if needed)
Brilliant discount code eligibility criteria
Eligibility criteria can vary between deals, but generally you must:
Apply within the time frame if there is an expiry date
Provide valid payment details
Do not have a current Brilliant premium membership subscription
About Brilliant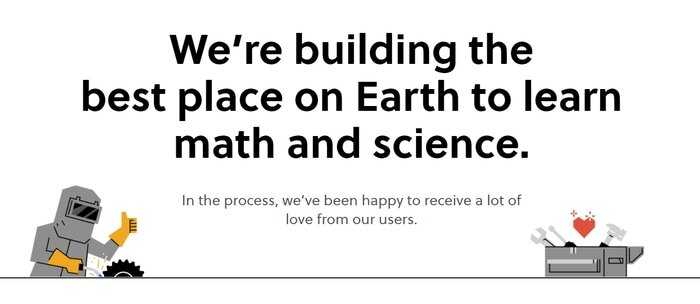 Brilliant.org is an online learning platform founded by Sue Khim in 2012. Its radical approach to education led to Khim being named in Forbes' 30 under 30 in Education listing. Her mission was to:
"change the way people feel about STEM subjects — from scary, abstract, or frustrating, to inspiring and fun."
The ability to evaluate, problem solve and be forward thinking in today's world has never been more important. Yet these skills do rely on a grasp of STEM subjects that many people feel are dry, difficult or intimidating.
Brilliant.org aims to revolutionize that perception by making learning those subjects fun, effortless, inspiring and effective for everyone. There are no passive videos, the platform is 100% about active learning.
It's available on desktop and via the Brilliant app.
Pros of Brilliant

"Brilliant allows students to actually think, and not simply rely on a memorized algorithm. The visual component helps so much. And the choices allow students who can't solve the problem practice doing test-taking strategies to use logic to pick their answer. You cannot lose with this site. It has saved me so much this year and gotten my students so highly engaged. They actually ask for this! Jessica Gentry, Brilliant User
Fun, engaging and active learning through interactive problem solving and visualizations
Instant feedback
Promotes mastery over memorizing and helps you excel Math, logic and science
100+ courses available on desktop and via the Brilliant app
Helps you think laterally and solve problems creatively
Key takeaways highlighted and revisited in an array of real life contexts
Builds skills incrementally and provides stretch and challenge
Clear hints and explanations that make it easy to learn
4.7 rating on TrustPilot and over 50k 5 star reviews on Apple store and Google Play
Cons of Brilliant
Could use some downloadable crib sheets of key terms, etc. to save note taking
One or two typos or omissions in the three courses I took
Could be more predictive in terms of suggesting alternative pathways if users are making fast progress or struggling with new ideas
Best Courses on Brilliant
Of course, the best courses for you depend on your own interests and the skills you're seeking to develop.
But, to give you an idea of what Brilliant has to offer, I've reviewed the top programs in a handful of categories:
Best Brilliant Math Courses
Mathematical Fundamentals
You will learn how to:
Think like a mathematician
Understand numbers differently and get comfortable with them
See patterns and identify general insights from specific problems to solve new problems faster
Reframe information to make solutions clearer
Unpick math rules so you understand why they are true
See algebra as a powerful tool and nothing to be afraid of
Length of Course: There are 28 games and puzzles and each one took me between 5-10 minutes to finish, depending on difficulty. In all I spent just under five hours completing the course over several sessions.
Best for: Anyone wanting to get the most out of this platform who is not already confident in math – this course is a great place to start your journey. Also excellent for those who have struggled to get to grips with basic math concepts through traditional methods of teaching.
Overall: A super, superfun course that really did shift my perspective on math. Made fantastic use of visual and kinaesthetic learning styles to teach, practice and strengthen mathematical concepts. If it was compulsory in schools, all kids might love math.
Other great Math courses:
Math Foundations: 7 different courses starting with pre-algebra, moving through into algebra and geometry fundamentals.
Enrichment and Competition Math: ideal for math enthusiasts looking to explore a wide range of geometry, logic, number theory and probability.
Probability, Statistics, and Finance: Great for anyone interested in probability and statistics and their real-world applications.
Best Brilliant Logic Course
Logic
You will learn how to:
Tone your critical thinking skills
Solve problems by visualizing relationships
Use worst case analysis to arrive at a logical strategy
Use a range of techniques to eliminate the impossible to arrive at the truth
Length of Course: There are 18 games and puzzles and each one took me between 5-10 minutes to finish, depending on difficulty. In all I spent around three hours completing the course across two sessions.
Best for: Anyone wanting to sharpen their ability to analyse information and solve problems. Also great for developing your powers of persuasion and composing rational arguments.
Overall: A course that was fun and cleverly constructed with lots of visuals, animations and games to make abstract ideas accessible. Again, I did not find it easy and, as the challenges grew harder, made many errors. However I felt motivated to persevere and now feel better equipped to filter out fallacies in a modern world that's full of them!
Best Brilliant Computer Science Course
Computer Science Foundations
Designed to teach you the foundations of Computer Science, you will explore algorithms and programming and then move through to more intermediate subjects like neural networks.
Brilliant cost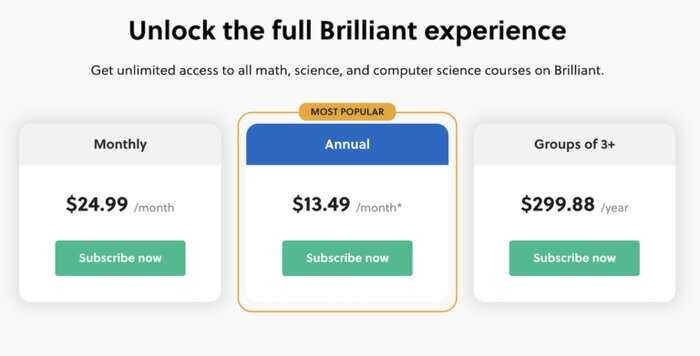 Brilliant does offer a Free option. It's limited but it does give you access to daily challenges and allow you to sample free previews of each course. It also allows you to track your progress across the web and mobile Brilliant app.
How much is a Brilliant subscription?
Brilliant.org offers 3 premium subscription plans. All of them provide unrestricted access to every Brilliant course, offline mode on the mobile Brilliant apps, and guided courses. At the time of writing the costs for a Brilliant premium subscription were:
Individual monthly: $24.99 per month
Individual annual: $13.49 per month (billed annually at $161.88)
Group plan (3-50 people) Larger organizations can contact Brilliant for prices: $299.88 per year
The individual annual subscription represents a saving of just under 50% compared to the monthly subscription:
Annual $161.88 per year
Monthly 24.99×12 =$299.88 per year
And if you use your math to break it down further, the annual cost works out to around 44c a day, far less than the price of a cup of coffee!
Brilliant subscription plans renew automatically. So if you wish to end your membership at the end of its term, remember to turn off auto-renew from your settings.
Other eLearning discounts
Learnopoly's discount promise
Oftentimes, you find a discount advertised online that is no longer available (or sometimes never was).
Here at Learnopoly:
We offer genuine discount codes only
Our deals are kept up to date
We include a mix of always available and limited time only deals.
When the deal is only available for a limited time, we transparently show the expiry date
Brilliant.org offers – Final thoughts
Brilliant offers carefully curated, short, sharp interactive lessons that build crucial skills in a variety of real world contexts.
The range of topics covered is broad and the teaching methodology is fun, interactive and incrementally challenging.
STEM topics that can be dry and abstract come to life before your eyes in a compelling and exciting way. And mistakes are valued as part of the learning journey, helping to boost confidence and staying power.
Even at full price, you can subscribe to Brilliant for around 40c a day – and with our discounts, you get even more bang for your buck.
So what have you got to lose?
See our article: Black Friday Discount Deals
Brilliant discount FAQs
What is the best Brilliant discount code?
Brilliant deals vary from time to time – always check Learnopoly for the best and most current deal available.
Can I use more than one discount code?
Generally only one discount applies.
Am I eligible for a Brilliant discount? 
You are usually eligible for a discount on the subscription if you don't have a current membership
Does Brilliant have a refund policy?
Brilliant does not have a refund policy but will consider requests on an individual basis if you email them on support@brilliant.org. And as there is a free trial so you can sample the product risk free.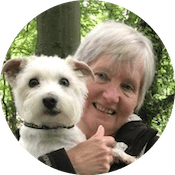 Liz Hurley has 30+ years of high school teaching experience and is one of our senior writers here at Learnopoly.