There's a stellar line-up of authors in the MasterClass writing category. But I knew straight away that I would start with Joyce Carol Oates because her MasterClass explored the art of the short story.
Lack of confidence and wanting to get started with the more manageable short form was what led me to Joyce Carol Oates's MasterClass. Whatever brought you here, I'm guessing you want some help deciding whether her course is right for you.
So this balanced Joyce Carol Oates review will set out what I loved about this course, but also a few ways in which it could be improved. This should help you decide whether this MasterClass has something to offer to inspire you in your writing exploits. 
Before we get to the detailed review, anyone short on time or interested in key points – this summary is for you:
.
Quick summary
Learn how to:
Generate a plot, focus on what matters and get started
Keep a journal to sharpen your awareness and provide creative inspiration
Tap into personal memories and dark topics, write about them and appreciate why this works
Surprise and challenge your audience
Understand and produce different short forms
Read in order to write
Collaborate with others to identify your blind spots
Pros
Learn from a world-renowned author and skilled educator
Do-able (yet challenging) activities
In-depth explanations and engaging content
Cons
Biased towards Joyce's unique writing style
Course Length: 14 videos totalling 3 hours 21 minutes.
Best for: New writers looking for impetus to get started. Experienced writers seeking unique and unusual ideas or finding themselves lacking in motivation.
Overall: an enjoyable and motivating class with real potential to unlock your creativity
Now for the finer detail.
This Joyce Carol Oates review is fairly lengthy to help you make an informed choice. But you can just select what's relevant from the headings below or jump straight to Is the Joyce Carol Oates MasterClass worth it? for my final verdict:
About Joyce Carol Oates and MasterClass
Inside Joyce Carol Oates's MasterClass (an overview of the course)
What I loved and what could be Improved
Who this MasterClass is suitable for
Alternatives and uniqueness of content
What others have said – including Reddit
Is the Joyce Carol Oates MasterClass worth it?
Let's begin with the basics:
About Joyce Carol Oates
Joyce Carol Oates is a highly productive and successful author. Of her nearly 100 novels, novellas, plays and short story collections the most popular include Them, Black Water and Wonderland.
Her many awards include the US National Book Award for Fiction and she is a five times Pulitzer finalist.
When deciding which of the writing courses to take on MasterClass I chose Oates because I hoped that the focus and discipline necessary to be so prolific would inspire and rub off on me. Plus, what better way to nurture those qualities than by starting with the more manageable short form?
If you haven't seen it already, I highly recommend you watch the trailer for Joyce's MasterClass:
About MasterClass
MasterClass erupted on to the scene in 2015 with a simple aim:
To get famous people to teach us what made them famous.
MasterClass provides an annual subscription giving you open access to every MasterClass on the platform.
With that in mind, find out if Joyce Carol Oates's MasterClass has can help you on your writing journey!
Inside Joyce Carol Oates's MasterClass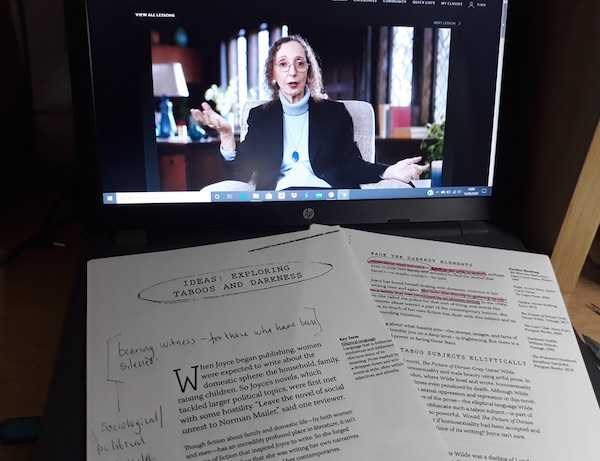 Joyce Carol Oates's MasterClass includes a short introduction and conclusion and 12 lessons between 8 and 25 minutes long. In total it's about three and a half hours of viewing.
You can also download a workbook to follow or annotate as you progress. At the end of each section, you'll find bonus content such as suggestions for further reading and writing exercises to support and cement your learning.
There are also free texts to study – since learning to read as a writer is also part of the course.
Here's a play by play breakdown of the lessons so you can decide if this is the right course for you. The first lesson is a short intro, followed by:
Lesson 2: Principles of Writing Short Fiction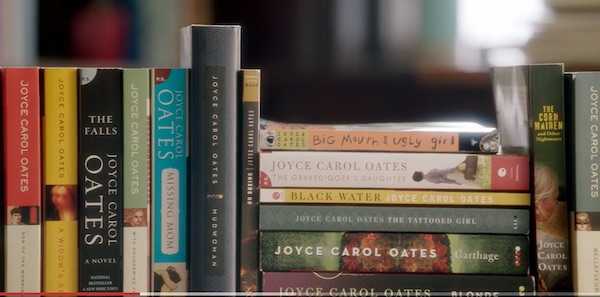 "Everyone has a story to tell."
Joyce opens immediately by insisting that each of us has a story to tell, and an impulse to tell it. This was a fantastic way of reeling me in and making me feel I had potential to unlock.
Whilst we all have a story, she continues, we don't all have the 'the form'. So this chapter provides a simple recipe for that form. This included not only the basic ingredients, but also methods to ensure that every moment of your writing counts.
This opening section bewitches the viewer, providing a fascinating insight into what makes Joyce the powerhouse writer she is.
Just 20 minutes into the course and I had a framework for how to generate a plot, focus on what matters and get started in a way that was truly empowering.
Without giving too much away, there is one pearl of wisdom in particular that not only helps you get started, but more importantly helps you get finished and gain a real sense of achievement.
Lesson 3: Journals: Observing the World
"Self-expression in a journal can turn into a work of art."
Here, Joyce shares her conviction that the primary motive for writing is self expression. But for Joyce, it's the private self that a writer needs to get in touch with, not the one on public display.
To tap into this private self, Joyce keeps a journal and advocates you do too. Writing freely for yourself keeps you in contact with who you really are and sharpens your awareness of the world.
She reveals the ways in which this simple activity can provide you with creative inspiration and a treasure trove of resources to use in your writing. She also shares a diary excerpt from one of England's most distinguished writers to exemplify how being able to 'cast a sharp eye freely' can provide depth and texture to public prose.
Lesson 4: Ideas: Exploring Taboos and Darkness
Joyce believes that confronting taboos and connecting with the darker side of your past and personality can really bear fruit when looking for compelling content for fiction.
Writers who do this, "hit a nerve of candor" and find a ready audience. Why? taboo topics resonate with us all because they get to the essence of what it means to be human.
In this section, Joyce describes ways to tap into the dark side, how to write about it, and gives you many examples of why it works.
"Funny how sometimes I just need someone to give me permission - permission to use things from my life, all my family's pain, which is also my pain. These personal things, that I thought were too mundane or ugly. She's right - my personal darkness and all the things I think are taboo about my own life, are the things that I feel most passionate about. And that is such a great place to start writing from."
- Comment from the community
Lesson 5: Structure and Form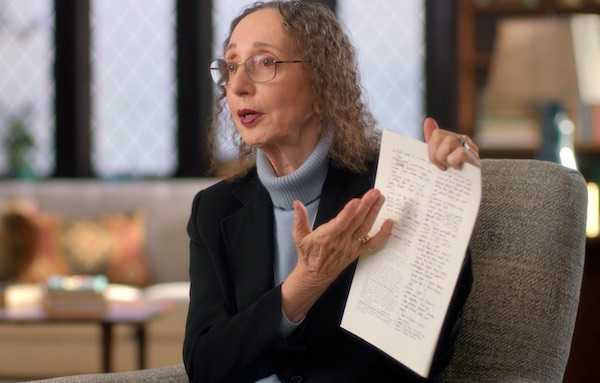 This formal title might lead you to think you are about to be handed the golden rules for constructing the perfect short form text. But for Joyce, there is only one rule to remember about form and structure,
"don't be boring"
So in this lesson Joyce provides examples of how you can subvert structure and form in order to surprise and challenge your audience. Not only in terms of what you say, and how you say it, but also how it looks too.
"I love Joyce's enthusiasm for the craft of writing and encouragement of bold creativity. This lesson really spoke to me in its validation of unique forms and just giving something new a try."
- Comment from the community
Lesson 6: Ideas: Writing the Familiar
"At the heart of our being as adults, we have memories of mysteries in childhood."
This lesson discusses the universality of our longing to understand our personal histories, and how tapping into them can provide both inspiration and a ready audience for a story.
In particular, Joyce encourages us to delve deep into experiences that invoked a sense of mystery during childhood, and shares with us both the painful and mystical memories that have inspired her own writing.
Best of all – you will be given an opening sentence for a short story that is simply irresistible and can't fail to get you started.
Lesson 7 & 8: Form Study: Miniature Narrative & Short Monologue
"The shorter you can make a story, the better."
The key takeaway for me from these two sessions was… less is more. Both in terms of story length and economy of language.
Here you gain insights and inspiration from Joyce, and other carefully selected masters of both genres, to get you started on manageable projects that will boost your confidence, and give you a real sense of achievement.
"I examined several writers with different styles of teaching, however, Joyce Oates classes are by far extraordinary. They are very quick, straight to the point, and amazingly engaging. I am already a bit sad I might finish her classes a little fast, they are quite entertaining. I hope she creates a second class, I would be very willing to join"
- Comment from the community
Lesson 9: Short Story Study, Where are you going, where have you been?
Where Are You Going, Where Have You Been?" is probably Joyce's most well known, reprinted and widely dissected story.
Joyce uses it here to combine everything she has talked about so far: the use and hypnotic appeal of dark subject matter; how history and personal reactions to real life horrors can inspire; and, lastly, how adjusting perspective can bring the reader up short..
The aim here is to exemplify how her approach has led to her success, and how it can contribute to yours.
"Such a great insight and metaphors that can be used in creating stories. Providing a way of looking at things you would have never considered before."
Comment from the community
Lesson 10: Reading and Studying Writing
"You can't be a writer unless you're reading all the time, and reading with purpose."
All good writers stand on the shoulders of the giants that came before them. Perhaps the most influential are those we encounter as children. This is what Joyce believes, and I'm guessing you'd be hard-pressed to find an author who disagrees.
After all, if you want to learn tennis, she says, you would learn from someone better than you. How else would you improve?
"It is extremely important that one reads more than on writes. Joyce Carol Oates exposes the reason why in perfect detail during this class, which I find incredible. As far as I can tell - or at least judging on my personal experience - the books you love really are the ones that make you a better writer. When she mentioned Harry Potter, my heart did a small jump; the series by J.K. Rowling are my major inspiration and role model as in what I want my work to resemble. This was a fantastic class."
- Comment from the community
As well as exploring Joyce's own influences, you gain insights here for practical ways you can encounter texts that will help you up your writing game. Some will be challenging, but Joyce reveals a way in which they can be fun and surprising too.
The lesson ends with the importance of discussing your reading with others. It deepens understanding, challenges your own perspective and sharpens your self expression.
That being said, the final three workshops:
Lessons 11, 12 & 13: "Indian Camp", "Labour Day" and "Near Death"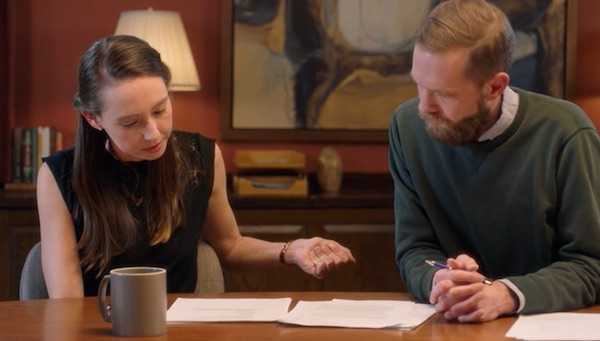 consist of Joyce and two of her students discussing three short stories, just as they would in one of Joyce's collegiate or graduate classes. One, 'Indian Camp, is by Ernest Hemmingway, the other two are short stories written by the students themselves.
From these final lessons, you see clearly how considering someone else's perceptions and questions can bring clarity to your work and help reveal your blind spots.
"This lesson was invaluable... so much discussion that offered insight into the creative process and how it is perceived vs intended and identifying just how much of the writing is driven by actual intention"
- Comment from the community
What I Liked About Joyce Carol Oates's MasterClass
Here I sum up my experience of this class – what I loved and learned and how I think it could be improved – in order to help you decide whether it's right for you.
Tried and trusted teaching from a World-Renowned Author
This course follows the format used by Joyce to teach her students creative writing at Princeton University for over 30 years. As a teacher myself, I know that the more you teach something, the more you learn and the more you hone your teaching to make it as effective and meaningful as possible.
For me the flow and clarity that Joyce demonstrated during this MasterClass was testament, not just to her skill as a writer, but her wholehearted commitment to sharing that skill in the most engaging and encouraging way possible. Which brings me to my next point.
Use of Analogy
I used to tell my young students that some information will reach their ears, some will reach their heads but the most striking will touch their hearts.
In my experience, the best way to achieve the latter was through analogy. Seeing eyes light up when you find a way to unlock deep and lasting understanding is one of the most gratifying experiences a teacher can have.
To experience that shift yourself in the hands of a great teacher is even more rewarding.
It's not so much that Joyce is revealing arcane secrets – some of what she says is common sense – it's the way in which she is able to make it resonate, trigger a reaction and motivate you to respond.
Joyce's presentation style
I took the course during the height of the Covid pandemic – in the age of Zoom. Perhaps that's why I found myself nodding, clapping and even waving goodbye at the end.
But I think it had a lot to do with Joyce's gentle, conversational style.
She also uses her hands in a graceful way that's quite mesmeric and has an open, friendly expression that is really engaging.
The genre – short form writing
Before taking this course, though I felt I had stories to tell, I always pictured myself sitting for hours, staring at an empty screen not knowing where to start.
I hoped that starting out with the short form might be a more manageable way to get going. It was. However, the way Joyce has structured, paced and resourced the course both enables you to get going and keep going.
Which links to my next point.
The exercises
You can tell Joyce has years of teaching experience. The exercises are exciting and manageable but at the same time challenging and incremental. They build in complexity but provide just the right amount of stretch to be within reach and provide a sense of achievement.
Good balance of theory and practical
This course, by its nature, is three and half hours of listening to Joyce Carol Oates.
However, there is little purely theoretical discussion. This is not a language or literature course. Following the MasterClass value proposition, we are finding out what makes Joyce famous.
However, the course is crafted to take everything Joyce talks about and enable you to apply it practically to your own writing. The exercises and resources supplied complement the course in a direct and logical way.
The workbook
This is extremely well written and precisely follows the flow of the course. 
I printed it and annotated it as I went along – that enabled me to personalise it for my future use.
There are lots of suggestions for further reading and many exercises to further develop your own art.
The workshops
Most MasterClasses, by definition, feature only the master.
However, the inclusion of three workshops was a great way to hear different perspectives on the stories being analysed – and to see how Joyce responded and shifted in the light of the views of others.
Access
As with all MasterClass there are English subtitles for the hearing imparied. The Workbook is a great companion to each video and can be read at your own pace.
What Could Be Improved
Much as I enjoyed Joyce Carol Oates's class, there are one or two areas that could be improved upon. Here are some areas that might be a deal-breaker for you.
Bias
All MasterClass classes are inherently biased.
Joyce Carol Oates is a tremendously successful author, but is not without her critics. She tackles difficult subject matter, likes to subvert form and structure and admits much of her work has a sociological or political agenda. This has won her glowing praise but virulent criticism too.
I was completely ignorant of her writing before the course, but you may like to check it out first. A good start is one of her short story collections available on Amazon.
Learning Outcomes
It would be nice to see a concise short-list of statements describing what participants should know, understand and be able to do once they've completed the course. And, of course, how and why that knowledge and those skills will be useful to them.
No 1-1 Contact
Some MasterClasses offer opportunities for direct (though infrequent) contact with members of the MasterClass community.
Gordon Ramsay, for example, provides a section whereby students can ask questions which might be selected for a video response from the man himself.
No glossary of terms
There is very little jargon used in this course but there is some. These terms are defined in the workbook in the sections where they are first used. But it would be handy to have them grouped together at the back for easy reference.
Who is this course suitable for?
On a scale of 1-10 (1 being a complete beginner and 10 being a seasoned writer), I would say this course definitely appeals to those between 1 and 7.
This is not the kind of writing course that delves deep into the arcane world of complex language devices. It truly follows the MasterClass value proposition of getting famous people to teach us what made them famous. As such it should appeal to anyone interested in writing particularly:
novice writers needing impetus to get started
new writers looking for an achievable yet challenging programme of study
anyone seeking unique and unusual ideas to help them with the whole writing process
those needing inspirational practical activities to fire them up and provide motivation and a sense of achievement; and
more experienced writers who may find themselves lacking in motivation and inspiration
"I took this course because I've been stalled. Just the first lesson got me writing again. I feel more confidence than I have in years..."
- Comment from the community
How much does the course cost?
MasterClass pricing may have changed since this review was written, so for the latest purchasing information please check here.
At the time of writing, a MasterClass subscription costs $180 per year. AKA $15 a month.
With the subscription, you have access to all the 80+ courses on MasterClass.
The great thing about this offering is that the more classes you take, the less the effective cost per class is.
For example, if you're able to find at least 4-6 classes you like, it means you're effectively paying $30-$45 per course. ($180 / 6 classes = $30).
Bearing in mind that these classes are taught by world experts the value is unbeatable. It's sort of a way to hack learning.
Whatsmore, MasterClass also offers a 30 day refund if you're unhappy with your purchase.
At first sight these might seem sizable sums. But you're not just getting the benefit of decades of writing experience, but decades of teaching experience too. You can be sure that students at Princeton University paid a lot more for the privilege of Joyce's tutelage!
Alternatives to Joyce Carol Oates's MasterClass
There are other writing courses available on MasterClass including (but not limited to):
If you're a writer looking for one course to take there's bound to be something on MasterClass which suits your interests. However, if you opt for a subscription, you could easily take them all.
There are other online courses available to purchase outside of MasterClass. FutureLearn offers a short course on writing fiction and Udemy has several courses dedicated to writing.
But, when it comes to learning from someone famous for their craft, there is no alternative to MasterClass.
Joyce Carol Oates's MasterClass: What Others Have Said
Looking at the comments in the MasterClass Community, reception of this course is overwhelmingly positive.
Words like mesmerizing and hypnotic feature in many descriptions of Joyce's approach.
There is also warm praise for the helpful and inspiring nature of the ideas and activities within the course. Many felt these had either provided a perfect springboard for writing, or had helped them re-examine and refresh their approach to their craft.
It was apparent that most of those taking the course were already huge fans of Joyce's work. Though those who weren't were still enthusiastic.
"This was my favourite MasterClass so far (which surprises me). I have never read anything by this author (so she's not a celebrity to me!). I was able to really listen and learn from her. She is gentle yet clear and knowledgeable about her craft and I am inspired to start on a fresh story of my own. Thank you. So much resonated with me..."
- Comment from the community
That said, there were a minority of negative comments. Most of these centred around technical issues relating to accessing additional resources. These appear to have been resolved now.
One or two found the pace too slow and another felt Joyce spent too much time talking about herself and her work (which is kind of the point of a MasterClass?). This member gave up early in the course, which is a shame because he missed many occasions when the work of others (including Joyce's students) was discussed.
Overall, the course feedback was extremely positive.
There was very little on Reddit relating to Joyce's MasterClass. However, in response to one question: Has anyone taken the class and is it worth the money? There were two interesting responses.
1. Yes. It's well worth it. It's amazing the difference between a writer's masterclass and someone like her who is a writer in her own right but is also teaching it.
2. No, but it was enough to get me interested. She's so damned good and so productive anything she says about writing is worth listening to.
So even the respondent who felt the course was not worth the money, still felt it had something to offer.
I give (and explain) my own views below. But in a nutshell, I believe it's well worth the investment and if you buy it as part of an annual subscription you gain access to every other MasterClass on the site.
How long it took to complete the course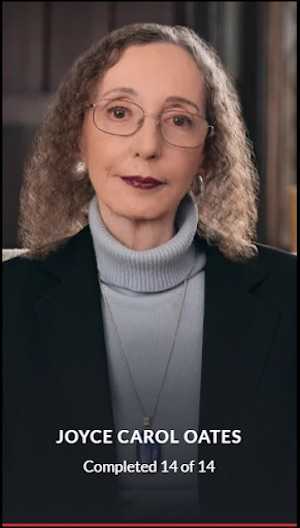 Joyce's class is around 3.5 hours of viewing time.
I viewed 3 or 4 lessons at a time over four days. Many participants found the course so compelling, they viewed it all in one go to gain an overview, then retook the course completing the exercises as they went along.
So basically, it's up to you how long it takes – and the fact that the workbook is so good makes it a readily available source of inspiration when technology is not handy.
Is the content unique?
As an inside look into what makes Joyce the author she is and how you can apply that knowledge to your own craft, the course is unique. Unless, of course, you are a student at Princeton University who has taken her Creative Writing course!
She shares lots of deeply personal insights and reveals amazing tips and tricks to unlock your creative spirit.
If you search for "Joyce Carol Oates's writing advice" you will come across a sparse list of top tips, an interview or two and a couple of 3-4 minute videos on YouTube. So with that in mind, her MasterClass content truly seems to be unique.
What You Will Need
All you need to enjoy this class are:
An eagerness to learn;
Writing materials; and
A printer if you want to print out the workbook and resources in order to annotate them.
That being said, there is a lot of recommended reading that could come in handy – all of which should be readily available on Amazon.
Joyce Carol Oates's MasterClass: Is it worth it?
In a word, yes. The course exceeded my expectations and enabled me to conquer my fear of facing a blank screen and having nothing to say.
Pros:
Learning from a world-renowned author and skilled educator
Well honed course based on 30 years of teaching creative writing at Princeton
Well considered and highly do-able (yet challenging) activities
Great value for money, especially with an all-access pass
In-depth classes with high production quality and engaging content
Cons:
No 1-1 contact
Very biased towards Oates's own style of writing – but this is the nature of a MasterClass
For someone who is serious about wanting to tell their story, it is definitely worth it.
The annual subscription for unlimited classes is great value for money for writers as there are 20 other authors whose classes you can access.
All in all, Joyce Carol Oates's class was mesmerising and motivating.
At the beginning of this review I revealed what the founder of MasterClass felt was the core value proposition of his company:
There's just stuff you can learn from the absolute best that you can apply to whatever part of your own life.
With that in mind, there is no doubt in my mind that Joyce Carol Oates's MasterClass has 'stuff' to offer that you can immediately and successfully apply to unlock your creative potential.
Frequently asked questions:
How much does Joyce Carol Oates' MasterClass cost?
A MasterClass all-access-pass costs $180 a year ($15 a month). This gives you access to this MasterClass, alongside 80+ other courses.
How long is Joyce Carol Oates' Masterclass?
It's 14 lessons amounting to just under three and half hours.
Can you get the Joyce Carol Oates MasterClass for free?
Unfortunately you cannot get the course for free. But MasterClass has a range of purchasing options and offers refunds if you're not happy.
Can I get a refund if I don't like the class?
You can get a refund up to 30 days from purchasing the course from MasterClass. If you purchased it through another provider their refund policies may apply.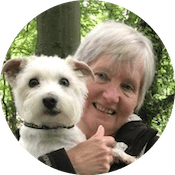 Liz Hurley has 30+ years of high school teaching experience and is one of our senior writers here at Learnopoly.