Looking for unique present ideas? The gift of a MasterClass can be the perfect choice.
MasterClasses are: fun, educational, and a unique opportunity to learn from world-class icons.
Sound like what you're looking for?
Let's get stuck in!
In this MasterClass Gift article, I'll talk you through:
What MasterClass is
What your gift options are
How much does a MasterClass gift cost
How to gift a MasterClass (step-by-step guide)
MasterClass gift ideas
Frequently Asked Questions
What is MasterClass?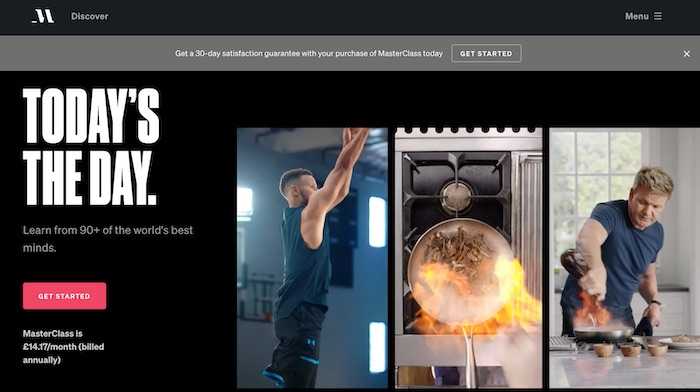 MasterClass is an online learning platform that gives access to the world's best instructors. These are household names that are at the forefront of the field.
Think Gordon Ramsay, Hans Zimmer, Chris Hadfield, Neil deGrasse Tyson, Tony Hawk, Natalie Portman. The list goes on!
MasterClasses take the form of a set of videos often accompanied by a PDF workbook complete with assignments and further reading. Generally the classes are around 3 hours in length, broken into 15-20 lessons.
They are educational and fun, making them the perfect gift for any occasion.
MasterClass gift options
There are two ways to experience MasterClass and you can choose to give either of these options.
All-Access Pass
This is the best way to experience MasterClass as it gives access to all 90+ MasterClasses
Single class
Here you can purchase a single class
How much does a MasterClass gift cost?
A MasterClass All-Access Pass is $180, and a single course costs $90.
MasterClass gift ideas: topics and classes
MasterClass has over 90 courses available and are adding new courses all the time.
Some of the courses available are:
Food
Music
Sports and Games
Garry Kasparov Teaches Chess
Daniel Negreanu Teaches Poker
Phil Ivey Teaches Poker Strategy
Serena Williams Teaches Tennis
Misty Copeland Teaches Ballet Technique and Artistry
Arts and Entertainment
Design and Style
There are countless great gift options on MasterClass and they're adding new classes all the time.
To browse the full catalogue, visit MasterClass here.
How to gift a MasterClass (step-by-step guide)
Now that you've decided which MasterClass you would like to give, here's how to do it in 4 easy steps.
Let's start together here: masterclass.com/gift
Step 1: Select your gift option
Step 1 will depend on whether you would like to purchase an annual All-Access Pass or just a single class.
And I've included both options below so skip to the one that applies to you.
When you visit the Gift page, you'll see a screen that looks something like this: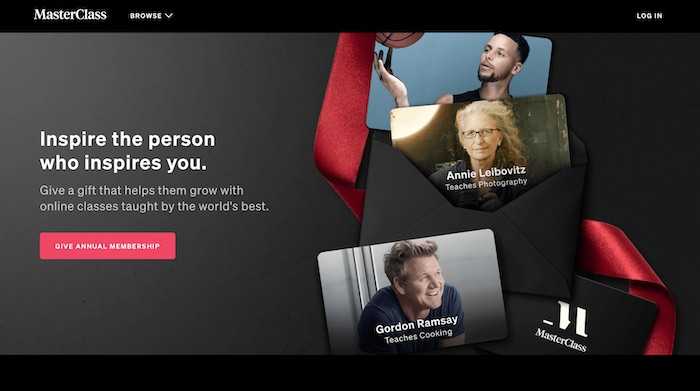 To buy an annual All-Access Pass Select: Give Annual Membership
To buy a single class:
1) Scroll down the page and you will be presented with a selection of individual classes.
Top tip: you can use the arrow on the right of each category so view more options.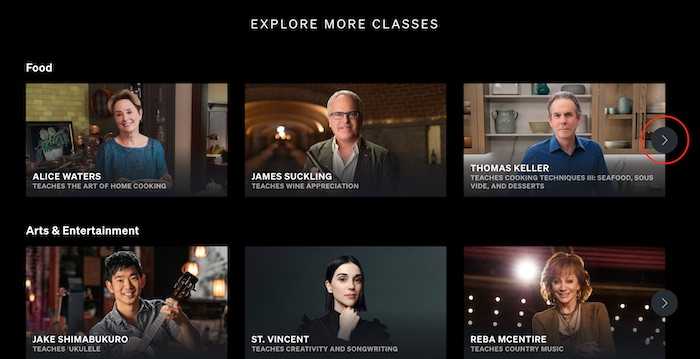 2) when you find your class, click on it and then select: Give This Class.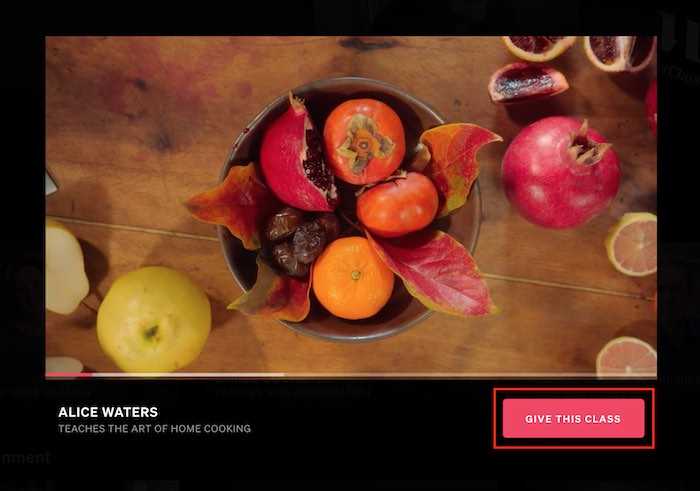 Once you've clicked Give This Class, MasterClass will try to get you to buy an All-Access Pass, but don't worry: the single class option is still there!
3) select continue with a single class.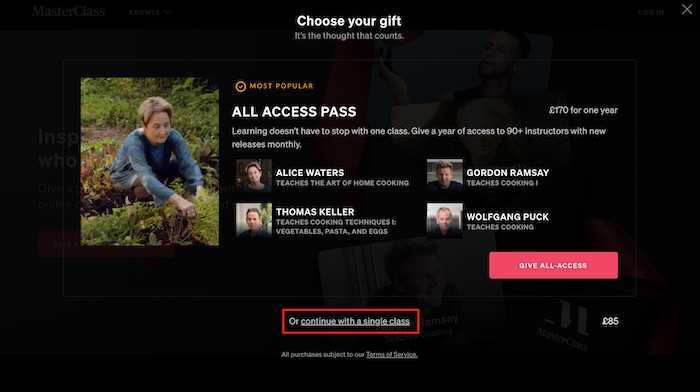 Step 2: Create a MasterClass account
Whether you bought an All-Access Pass or a single class. So you will need to create a MasterClass account.
You will be taken to a sign up form which looks like this: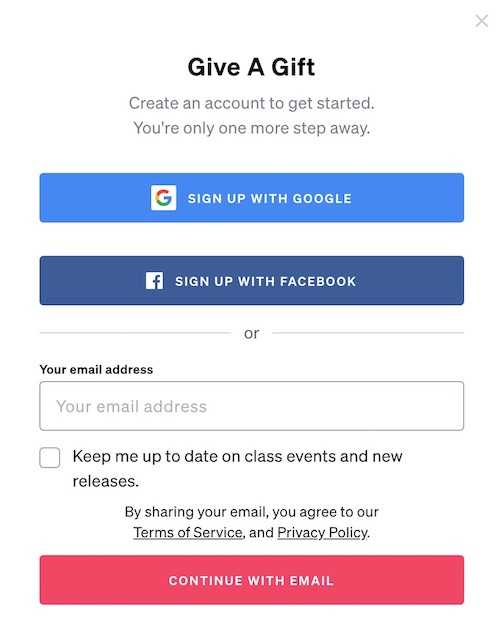 As you can see, you will need:
An email address or
A Facebook account or
A Google account
Step 3: Personalize your gift
You're almost there!
Once you've created your account, you'll be taken to the order completion zone.
Here, you can enter the name and email address of your recipient, as well as add a gift message.
You can opt to send the gift immediately or schedule a delivery time so that it arrives on their big day.
Top tip: MasterClass does not currently offer gift cards. However, if you would like to present your gift physically, you can put your email address in the Student Email option and print out the gift email to go in your own card.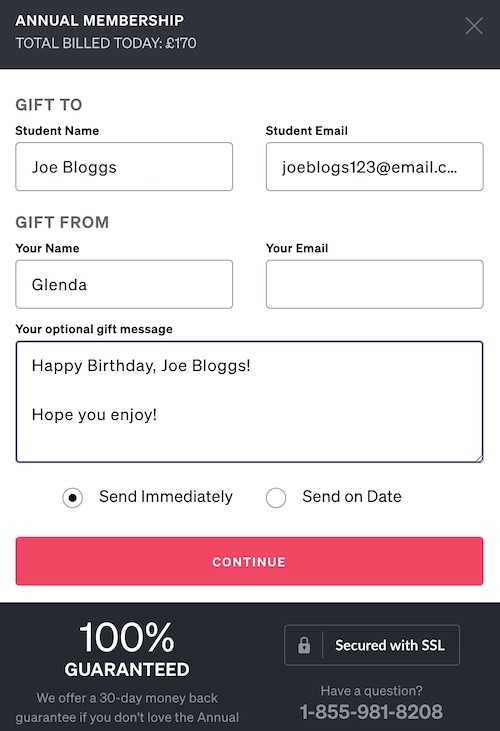 Step 4: MasterClass payment
Your final payment screen will look something like this: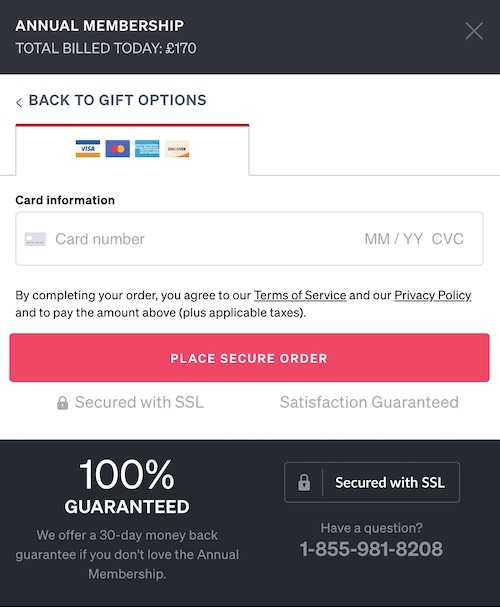 You can pay using:
Visa Card
MasterCard
American Express
Discover Card
And once your payment is complete, you should receive an email receipt.
How to redeem your MasterClass gift
Redeeming or activating your MasterClass gift is very simple. All you need is the email from MasterClass notifying you of your gift code.
Top tip: if you're expecting an eGift but can't see it in your inbox, check your Junk Mail folder.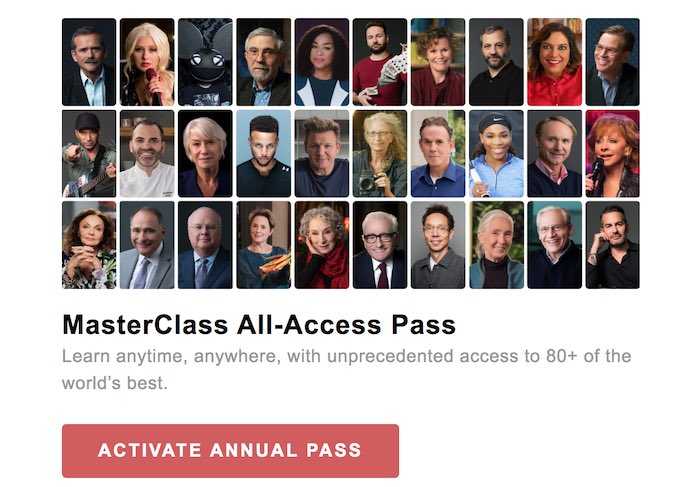 Step 1: click on Activate Annual Pass (or equivalent for a single class)
Step 2: sign up to MasterClass using an email address, Facebook or Google. Note: you will not need to pay as your gift is prepaid
Step 3: get learning!
Now that you have everything you need to know about giving a MasterClass as a gift, visit MasterClass here!
Frequently Asked Questions
Can you give MasterClass as a gift?
Yes, MasterClass has a gift option for both the All-Access Pass and stand alone classes.
How much does a MasterClass gift cost?
To gift a single MasterClass course costs $90. Alternatively, you can purchase an All-Access Pass for $180.
If the recipient doesn't like the class, can I swap it for something else?
MasterClass does not currently offer swaps. However, they do offer a 30 day money back guarantee on gifts from the time of activation (not purchase). If the recipient is unhappy with their class, you can return it for a full refund within 30 days and then purchase another at no extra cost.
Is the MasterClass gift a subscription or stand alone?
If you give a MasterClass as a gift, it is a stand alone purchase. It will not automatically renew.
Can I choose when to send my gift?
Yes – when purchasing, there is a Deliver on option which allows you to select the delivery date.  For example, you could place the order two weeks before a birthday but select the eGift to deliver on the recipient's birthday.
Can I purchase multiple gifts for different people at once?
You can only buy gifts for one recipient at a time. If you want to do several, you will have to go through the gift process each time. That said, once you have signed up once, it becomes much quicker to order a gift.
My recipient hasn't received their gift. What can I do?
If your recipient hasn't received their gift you can: 1) Check if the eGift was delivered to their Junk Mail folder accidentally (for Gmail in particular, MasterClass gifts often go to the Promotions folder), 2) Ensure that the delivery date and time has elapsed. If you accidentally selected a different time zone, it may deliver a few hours later than expected,
3) Contact MasterClass at support@masterclass.com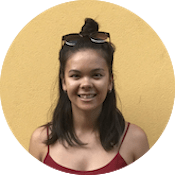 Glenda is an award winning full time professional harpist. Alongside harp she also plays the piano and violin. Besides music, her passions are cooking, writing and learning.