Phil Ivey is widely recognised as one of the greatest poker players of all time.
But that doesn't automatically mean that his MasterClass is right for you.
And in fact, having completed the course myself I can say there's some people it's definitely not suitable for.
So in this balanced Phil Ivey MasterClass review I'll be using my experience of taking the class to look at whether it's worth the money, how unique the content actually is, who it's right for, and if there's something better.
But first, the highlights:
.
Quick summary
You will learn how to:
Implement the strategies and techniques Ivey's used to become one of the most decorated poker players ever
Master Pre and Postflop play to maximise your chances of winning, extract value from your opponents, and minimise risk
Use key fundamental concepts like Ranges, Position, and Board texture to your advantage
Disguise strong hands, bluff convincingly, read your opponents and induce tilt
Think like Phil Ivey through a series of world class hand reviews with elite poker players
Master the mental game, develop your judgement, and think critically
Pros
Unique opportunity to learn directly from Phil Ivey
Materially improved my own poker playing
Insanely good hand reviews
Cons
Definitely not for everyone
Light on poker math (odds and probabilities)
Some sections a little thin
Length of course: 12 videos, 3 hours and 30 minutes long.
Best for: someone that is serious about improving their game and wants to learn from one of the greatest players of all time. Less suited for complete beginners and those seeking a math-heavy course.
Overall: A rare opportunity to learn from Ivey and get his thoughts on famous poker hands. The course is carefully curated and teaches you what Ivey believes to be the key aspects of the game. Particularly strong focus on the mental side of the game like reading your opponents. Great value compared to other poker courses online.
Here's what's in store in this Phil Ivey poker MasterClass review:
About Phil Ivey
About MasterClass
A sneak peak of what's included
Pros and cons
Who it's for
How much it costs
Is there anything better
What other people thought of the course
How unique the content is
The bottom line: is it actually worth the money?
So let's get started:
About Phil Ivey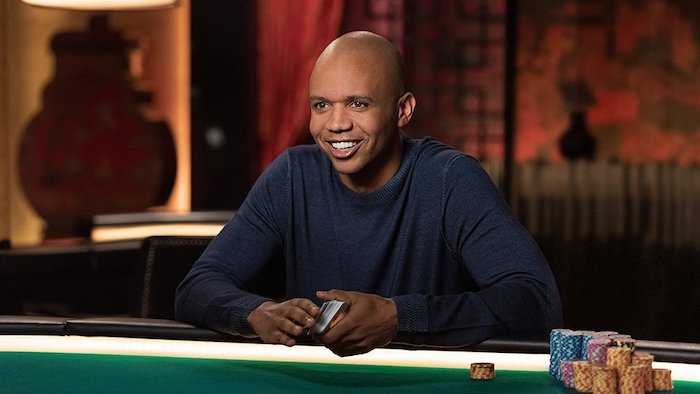 If you're reading this Phil Ivey MasterClass review you'll likely know who Phil Ivey is — so I'm going to spare you the full details and instead point out a few careers highlights:
Ivey has won 10 World Series of Poker bracelets (WSOP). WSOP bracelets are considered the most coveted non-monetary prize a poker player can possibly win
Ivey has achieved over $29 million in casino winnings and has a total net worth estimated at over $100 million
He's been playing poker for over 30 years, is nicknamed the "Tiger Woods of poker", and has been a hall of famer since 2017
And if you haven't seen the trailer for the Phil Ivey teaches poker strategy MasterClass, I highly recommend you check it out:
About Masterclass

MasterClass is a platform that allows world class experts to teach you how they became successful.
You'll find over 190+ different classes all taught by major names in their respective fields.
You can learn cooking from Gordon Ramsay, filmmaking from Martin Scorsese, writing from James Patterson, music from Hans Zimmer, and many more.
Founded in 2015, MasterClass has had a meteoric rise in popularity, with many describing it as the Netflix of education. It's no surprise given the large names they attract and the incredibly high quality courses they produce.
That being said, having taken many of the classes offered I can safely say that it's not for everyone.
And so in this Phil Ivey MasterClass review I'll be helping you decide if this is the right course for you.
If you want more details on MasterClass and some of its most popular classes, check out our Masterclass review and best MasterClass article.
Inside Phil Ivey's MasterClass
Phil Ivey's MasterClass is 3 hours and 30 minutes long and consists of 12 videos. Alongside the video lessons you also get:
A 36 page Workbook which follows the videos
A 14 page Poker Fundamentals guide teaching you the rules of poker
The guide is great as the basic rules are described here — anyone who needs a refresher of these can study the guide before getting started. Poker regulars can skip this and get stuck into the more meaty stuff from the first video.
Ivey's MasterClass itself is broken down into 3 key sections:
Pre & Postflop Strategy
Getting In Your Opponent's Head
Taking Your Game To The Next Level
To give you a better idea of whether this course is for you I'll cover the highlights of each lesson.
After a short introduction in which Phil Ivey describes why he has chosen to give this MasterClass, as well as how he first got into poker, the course continues as follows:
Section 1/3: Pre & Postflop Strategy
Preflop and blind defence
"A solid understanding of the preflop play is crucial for any player"
Ivey explains how most hands in poker are won or lost before the flop even comes down. So it's essential you master preflop play if you want to progress your game.
The keys to success are: positional play, hand ranges, and game dynamics.
You will learn:
The fundamentals of positional play and hand ranges
How to capitalise on a strong position
How (and when) to play in a weak position
As you might expect, Ivey goes beyond saying what is a good position and what is a good hand range. Ivey explains what factors both depend on, such as:
Your opponents
The stage of the game
Your confidence at playing postflop
Phil goes on to explain how you can win with a weak hand due to good positional play.
He then completes a Hand Review which saw him eliminated from a tournament due to poor preflop game play.
This lesson packs a powerful punch and I was impressed with the no-nonsense approach to teaching as well as the fact the first hand we see Phil plays he loses.
So the course gets off to a positive start, but how does it continue?
Betting tactics
"Betting in poker is all about maximizing value. You need to know how to get worse hands to call and better hands to fold."
Phil Ivey explains that, "every bet has a reason" and once you've "mastered betting tactics, you will be unstoppable at the table".
At its heart, this lesson is about manipulating other players to get them to do what you want through betting. You'll learn when and how much to bet — covering a broad range of scenarios.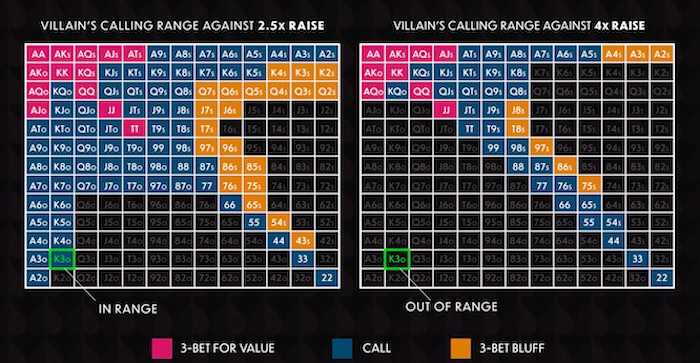 This lesson takes it to the next level by explaining how you can isolate and take advantage of aggressive players, and how you can induce another player to bluff when you have a stronger hand.
If you're already familiar with concepts like three-betting, overbetting, and value betting (as I was before this course) you'll still benefit from hearing how Phil thinks about these things.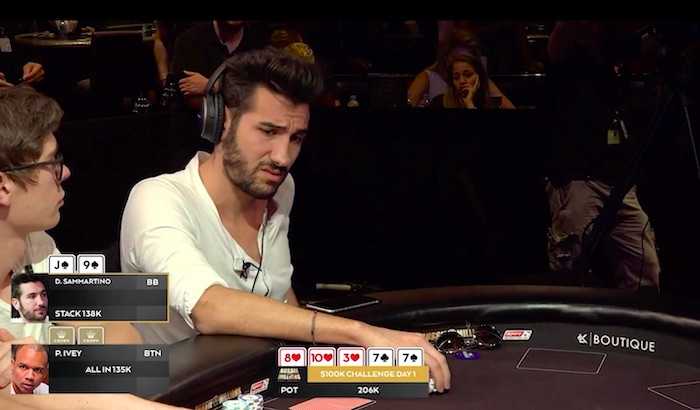 The hand in the card review is famous in the poker world — to have Phil narrate and use it to illustrate the concept in this lesson is pretty powerful stuff.
Bluffing
"Giving bluff is a part of playing poker. If you're not bluffing you're not playing correctly"
This is probably one of the lessons you're most eager to see from Ivey (along with the mental games one).
Here are my main takeaways:
The importance of bluffing and why it must be an essential tool in your arsenal
The very strong reason/s you should consider when (and when not to) bluff
How to pull off a bluff by telling the correct story
How to take your opponent off a hand they would otherwise have won
At the end of the day, this boils down to judgement. Judgement of the other player. Judgement of the board.
You'll see Ivey taking an opponent off a hand he has an 80% chance of winning and as a result pocketing a cool $250k: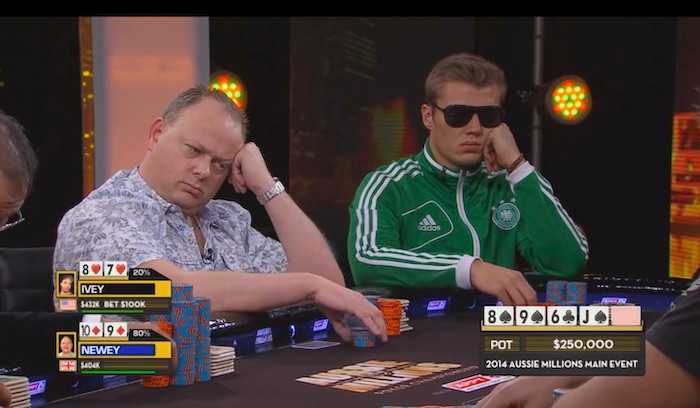 Followed by an even more ballsy bluff: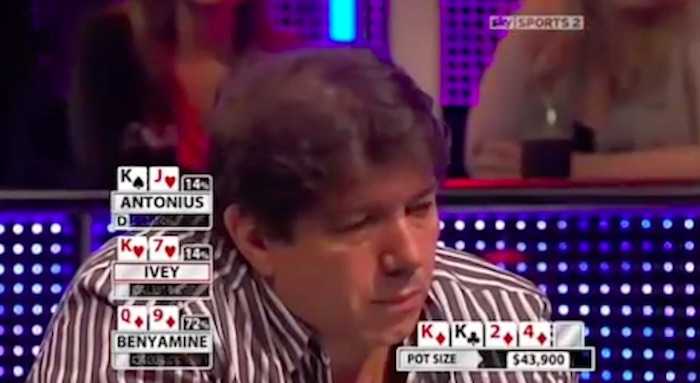 If you can't make out the detail, what you're seeing is:
Ivey on trip Kings with a 7 kicker
Antonious is also on tirp Kings but this time with Jack high
And Benyamine on a flush
As summed up by the commentator:
"Woooahhh – that's power poker. [Ivey] had the third best hand and ends up taking down the pot"
But don't worry, it's not all sunshine and rainbows. The following hand review sees Ivey crash out from a World Series Poker tournament by stuffing a bluff.
It's great Ivey's up for sharing his trials and tribulations not only the Ws.
Postflop 1
"Postflop is where things get serious. The bigger the pot, the higher the stakes."
Phil Ivey kicks off by stating that, "postflop is where the real profit is made in poker—and where your mistakes will cost you more".
This class covers:
Forcing your opponent to make mistakes
Neutralising aggressive players
Disguising your hand
You'll learn about slow playing, floating, and draws. What each of those elements are, considerations (such as board texture — wet and dry), and how to execute them to your advantage.
You'll see Ivey disguise a superior hand and have his opponent, Isaac Haxton, actually bet in to him: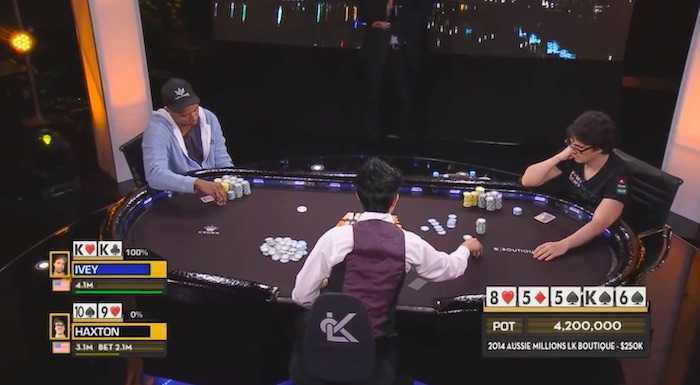 And with regards to floating, as Ivey puts it:
"I think you at home should really consider adding floating to your strategy. You need to be careful because this can be a dangerous play, but if you use it at the right time then this can be very profitable."
Postflop 2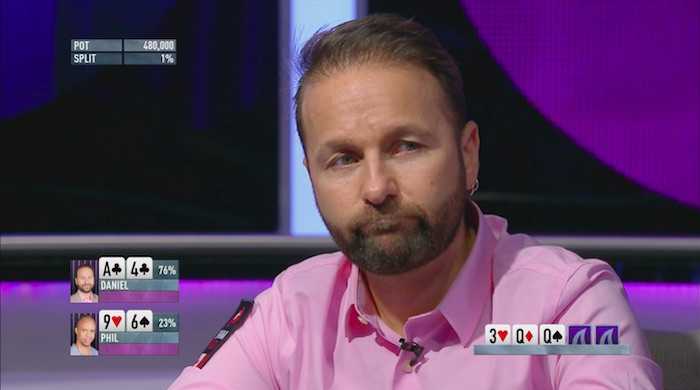 This class covers a lot of ground including:
Trusting your instincts and how too many people rely on math alone
How to anticipate your opponents' hands
When you should fold
The importance (and how) of winning small pots
A great thing about this lesson is the hand review covered, you'll see gameplay with:
Daniel Negreanu
Phil Hellmuth
Doug Polk
For any fan of professional poker this is highly entertaining and great to hear Phil's thoughts on the game.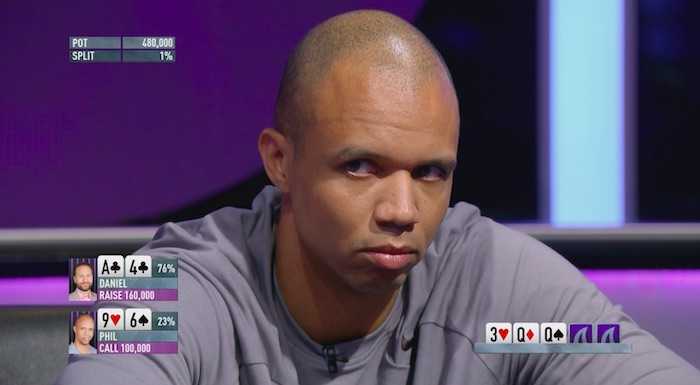 Deepstack
"If you're able to hone your skills playing with a deeper stack, you'll have a huge advantage over anyone you face at the table."
The deeper the stacks, the greater the risk. Ivey speaks through considerations when playing deep stack poker — how you can minimize risk and maximise value.
You'll learn:
Pot, implied, and reverse odds
The respective value of a range of hands
How you should think in deep stack poker
By far the best parts in this lesson are the hand reviews.
You'll hear Ivey verbalises his thought process in what may be one of the best folds in poker history:
"I don't even know if I could have folded if he showed me the straight. I mean we are witnessing utter brilliance from Mr Ivey. This is what separates Phil Ivey from everybody else" - Poker commentator
As well as one of Phil Ivey's brutal defeats (along with lessons learned):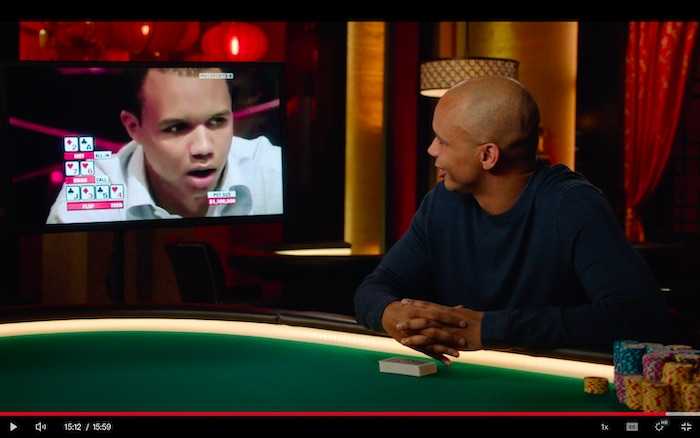 "I'm just waiting for this hand to end man. Take this hand off PLEASE!"
Section 2/3: Getting in Your Opponent's Head
The mental game
This class teaches you:
The value of awareness in poker
To know yourself and what you can influence
How to put your opponents on tilt
I hate to say it but this section was a little thin.
Ivey does touch on the infamous Ivey glare and intimidation tactics. But it wasn't as detailed as some of the other classes. Given Phil Ivey is so well known for having an incredible mental game I was hoping to get more out of it.
Table Image and tells
"You have to be really aware of what image you're putting out there on a given day, constantly gathering information on your opponents, because that can mean the difference between winning and losing."
This class covers how to gather information about your opponents to inform your own actions — as well as being self aware of the information you reveal about yourself.
The hand reviews in this section are phenomenal.
You'll see Ivey get a perfect read on Doug Polk's bluff at the Aussie millions — Ivey calling it and winning: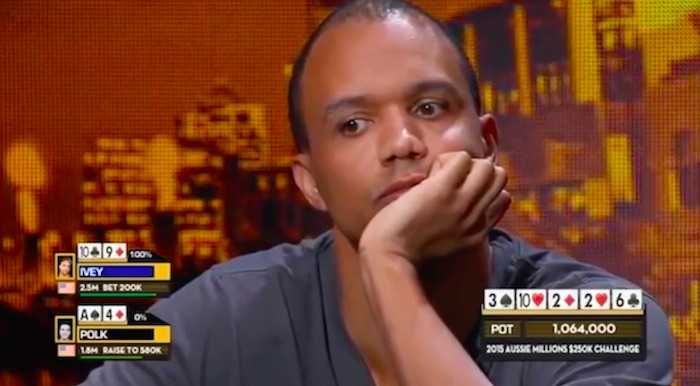 As Ivey puts it:
"You can read a lot of books, you can do all the math you want, but when somebody makes a really big bet I have to think whether they have the hand or they don't. And that comes down to really are they lying to me or are they telling me the truth."
You'll also get to see the phenomenal read featured in the trailer for Phil Ivey's MasterClass.
Section 3/3: Taking Your Game To The Next Level
Strategies for success
"To be successful at poker you have to be patient, dedicated, and adaptable."
This lesson covers a range of topics that will help you continuously improve your poker game.
For me, the biggest takeaways centered on highly practical tips to:
Analyze your own game to inform what you needed to improve upon
Practice effectively to master different elements of poker
Transform your mental game
After this class there's a short closing summary from Ivey where he shares some concluding thoughts, from there you'll actually go to a:
Bonus chapter: Seven card stud
7 Card Stud was the first card game Ivey learned at 8 years old. His grandfather, who taught him how to play, actually used to cheat so Ivey would always lose and be discouraged to gamble.
Funny how things turn out hey!
You'll learn why you should consider playing Stud, how to win, and how your Texas Hold 'Em game will benefit as a result of doing so.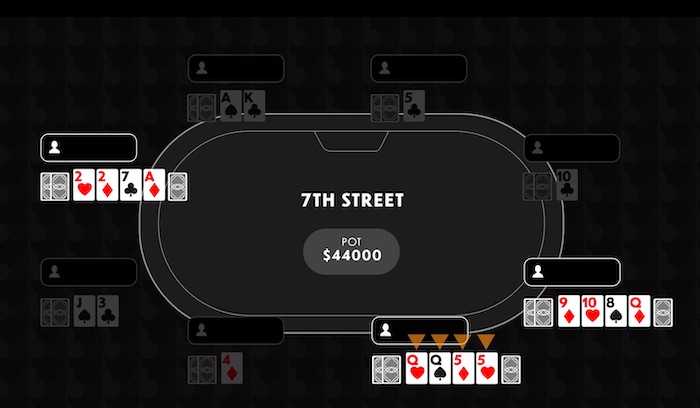 I wasn't particularly excited when I saw Stud was the focus of the bonus chapter, but it was actually one of the best lessons in the MasterClass.
What I liked about Phil Ivey's MasterClass
Learn from Phil Ivey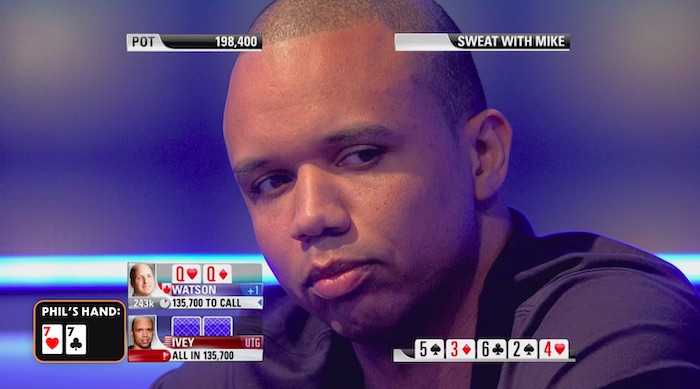 Phil Ivey is undoubtedly one of the best players out there. Not only that, he's a player many aspire to and want to be like.
And how many opportunities have you had to be taught by Ivey? If you're like me, the answer prior to this was 0.
With the Phil Ivey MasterClass, you get to learn from the man himself. You'll hear him verbalise his thought processes and share key strategies/tactics that have made him so successful.
And that's exactly one of the things that makes MasterClass so great in general:
Anyone with a wifi connection and a willingness to pay can learn from people who are at the very top of their field.
Improved my poker playing
A key test on how good this course was: did it actually improve my game?
For me, the answer is yes.
I play poker semi-regularly and so I was able to put what I'd learnt into practice pretty quickly.
By far the thing that had improved most was my ability to read and play my opponents. Ivey's big on the whole 'play the player' and so this should come as no surprise.
Practically what this meant was that I was able to bluff more convincingly while at the same time calling opponents in theirs.
Notably, this is something I always thought I was OK at to begin with — but the MasterClass really enhanced this ability and won me hands I'm pretty sure I'd have lost otherwise.
Of course I have to add the relevant disclaimer that this course doesn't guarantee results (no course can) but I can say I definitely learned more about the game.
Ridiculously good hand reviews
The hand reviews are insanely good.
They're everything they should be and more: instructive, broad in selection, comprehensive in depth, well balanced (wins and losses), famous hands, and highly entertaining.
They're simply a great aid to learning and I don't have a single negative thing to say about them.
It's also rare to have Phil Ivey do such extensive commentary on his hands — from my experience this is really something that is truly unique to his MasterClass.
You'll see games featuring poker stars such as:
Tom Dwan
Patrick Antonius
Isaac Haxton
Doug Polk
Antonio Esfandiari
Phil Hellmuth
Many of these hands are famous in the poker world and have millions of views on YouTube. This is your chance to hear what was going through Ivey's mind when he was playing them.
What I think could improve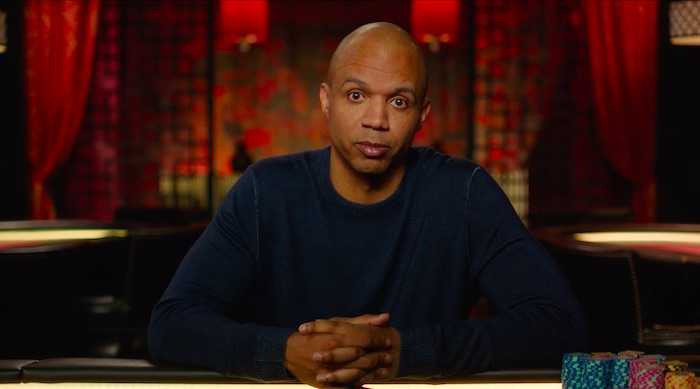 Mental game section could have been longer
Don't get me wrong — Ivey does cover critical aspects of the mental game.
And as I mentioned in the pros section, this was a part of my playing I saw a noticeable improvement in.
That being said, I was hoping to get more out of it, given it's Phil Ivey and it's what he's known for.
The message here is this: you'll learn more about the mental side of poker in this course compared to others that you'd find, however Ivey isn't going to spill all his secrets.
This is understandable given he's an active player.
Light on math
(This might be considered a pro for some!)
Ivey doesn't get into the weeds of betting odds and probabilities. He does touch on them, but in no great detail.
For Ivey, it's all about playing the player. Reading the situation and responding accordingly.
I expected this would be the case going into the MasterClass given his play style. But nevertheless, I wanted to highlight this for you in this Phil Ivey MasterClass review so you're properly informed.
One interesting point here is that anyone can teach the math of poker — it's binary, right or wrong. The value in this class is actually hearing unique insights from Ivey on the hands he's played and the strategies he's used. So don't let this put you off.
Not for everyone
Naturally this course isn't for everyone.
I'll cover who it's best for in the following section, but first it's worth pointing out who it's not for:
Complete beginners (unless you are serious about improving your game).
Ivey doesn't explain the rules of poker in the video lessons. While there is a written guide, it might be hard to follow for a complete novice.
Ivey is a fast talker who knows his game extremely well. He'll talk through hands in rapid succession and so if you're new you might be left behind.
Again — this could be considered a pro for those of you with some experience as it means the course is well paced.
Who is this course for?
In my opinion, the Phil Ivey MasterClass is for someone who is:
Serious about getting better and winning in poker
Keen to learn from one of the greatest players of all time
Looking for a well rounded course that touches on each aspect of the game
Wanting to emulate Phil Ivey's approach of 'playing the player'
Eager to hear incredibly detailed hand break downs
A fan of Phil Ivey or poker in general
The class is best suited for someone who has some experience and wants to take their playing to the next level. You'll become a master of situational play and gain a greater awareness of your opponents. This will, in turn, increase your chances of winning.
The MasterClass is less suitable for complete beginners or those wanting a math heavy based course.
How much does the course cost?
At the time of writing MasterClass had three subscription offers. The cost of these (per month) is:
Individual (1 user) $10
Duo (2 users) $15
Family (6 users) $20
All are billed annually, which at first glance may seem pricey.
However, you can considerably reduce your costs by taking as many courses as possible.
With around 200 courses on the platform you're likely to find quite a few to interest you. Even if you buy an individual membership and find only 10% of the courses of interest this still works out to only $6 a course:
$120 (annual individual membership fee) / 20 courses = $6.
And if you join with friends or family then the cost of each course is drastically reduced. Check out our MasterClass review or MasterClass cost articles to see how.
Bearing in mind that these classes are taught by global leaders in their fields the value is unbeatable. You can pay over $100 for an online course taught by someone you've never even heard of, never mind the caliber of teachers on MasterClass.
What's more, MasterClass also offers a 30 day refund if you're unhappy with your purchase.
You can also purchase MasterClass as a gift.
Alternatives To The Phil Ivey MasterClass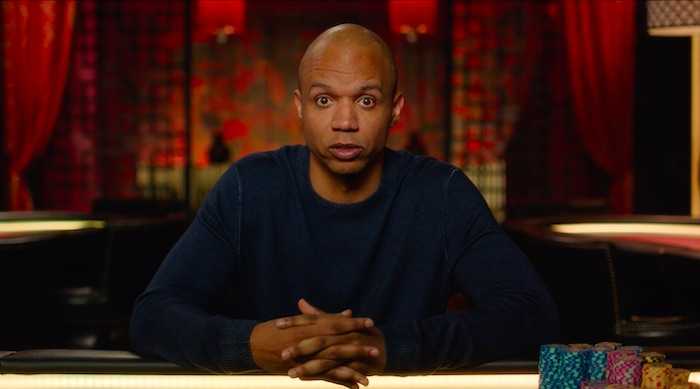 There's no shortage of poker courses out there.
You'll find a ton of on Udemy — these are typically much cheaper but also lower quality.
Alternatively you can get training from a dedicated poker site, such as:
I've sampled the courses on Upswing and can recommend them in good faith. The ones that I tried were a lot of fun and quite challenging, and make the site well worth a check. Read my Upswing Poker Review here.
Courses on specialist platforms tend to be a lot more expensive. Generally they'll have a monthly fee between $30-$100 or advanced courses which can sell for over $1,000.
That's significantly more than the cost of the Phil Ivey MasterClass — and to my knowledge they are not taught by someone who has the same notoriety or success as Ivey.
But perhaps the best thing about MasterClass is that there's another wildly successful poker player who also has a course there: Daniel Negreanu.
So with an all access pass for $180 you can watch both, plus any of the other classes on the platform (I can recommend the Chris Voss MasterClass on the art of negotiation).
The bottom line?
You can get taught by two of the best poker players in the world, plus have access to so many other courses, for less than what you might pay for a course on a dedicated poker site.
So it's a great way to maximise money, time, and quality results.
(I think MasterClass is able to offer their courses for less purely because of the scale at which they are operating. They have so many customers and are growing so quickly they can afford to offer there courses for less)
Phil Ivey MasterClass: What others have said
My ambition in writing this Phil Ivey MasterClass review is to create the best and most comprehensive review of the course on the internet. To that end it's worth highlighting other people's experience with the class.
I googled "Phil Ivey MasterClass Reddit" to get a general sense. One user points out that, while the class was entertaining and the hand reviews were interesting, they didn't feel like they learned anything new:
"Just finished the class myself and I'd say I'm an average poker player. But I didn't feel like the class really revealed anything groundbreaking. The hand reviews were interesting and it was cool to see Phil Ivey in a relaxed setting but not sure how much I got out of it outside of entertainment." Phil Ivey MasterClass Reddit review
Someone who had partially completed the course felt similar — although they didn't regret purchasing the class and thought overall hearing Ivey explain his thought process was worth it:
"I've watched the first 5 videos. Nothing groundbreaking yet but I bought the individual pass for mainly this course and don't regret it. He talks (seemingly) very honestly about poker and his thought process in certain situations.

He's by no means a natural teacher though. If you want it to be like a run it once training video you'll be disappointed. If you want to hear Phil Ivey talk about poker and his thought process in a bunch of different situations for a few hours , it's worth it"
- Phil Ivey MasterClass Reddit review
This was followed up by someone else who agreed he wasn't a natural teacher but thought it was still a good opportunity:
"I agree that he's not a natural, but I think you'll find as you get deeper into the course he finds his swing a bit more. Pretty cool to hear Phil finally talk poker tho eh?"
- Phil Ivey MasterClass Reddit review
The funny thing is that even the negative comments still have something positive to say!
Personally I didn't notice whether he was a natural teacher or not. What I care about is actually what I'm going to learn. If you pay close attention and put what he teaches into practice you'll likely benefit.
And I definitely agree that the value is in hearing Ivey talk through his thought process.
The majority of users seemed to agree:
"It's good. Watched it all. Yes, lots of analysis from his live plays. I would say it's worth it.

Some really good nuggets, and some good really advanced stuff too. Ranging, betting, etc."
- Phil Ivey MasterClass Reddit review
"I'm half way through and I am happy I bought it. Solid advice as expected."
- Phil Ivey MasterClass Reddit review
The message here is really that most people are positive about the class and the value is in being taught by Ivey himself.
Is the course content unique?
The answer is no — not all of the content in this class is unique.
Poker is an old, widely played, and very popular game. As a result, there's a ton of well documented strategies out there.
Ranges, board texture, floating, three betting, bluffing, etc. There's heaps of content on these topics already.
What is unique about this MasterClass is that it's taught by Phil Ivey, one of the greatest poker players of all time.
I have never seen a video or commentary by Ivey that gets even close to the level of detail he provides in this course.
So here's the deal:
You aren't going to learn some brand new, groundbreaking strategy that no one has ever heard before.
But you are going to have Ivey compile a list of what he thinks are the most important aspects of the game, and hear his take on each of them.
You're also going to get inside the mind of Ivey as he talks through some of the greatest hands in poker history.
That's definitely insight you won't get anywhere else.
Verdict: Is the Phil Ivey MasterClass worth it?
My answer: yes.
This is an incredibly high quality course and Phil Ivey hasn't come even close to producing anything as detailed as this before.
That being said:
It does depend on you, your experience, and what you're hoping to get out of it.
IF you are expecting to hear a brand new, groundbreaking strategy that will make you millions overnight then you are going to be disappointed.
But if you realise that the value is in Ivey carefully curating a list of known strategies and giving his unique take on each one, then you'll enjoy this course.
IF you are wanting to analyse odds and probabilities like Rain Man then this definitely isn't for you.
But if you realise that you can learn poker math easily from other sources, and that the opportunity with this course is to learn the ability to read people and situations, then there is no one better to teach you that then Phil Ivey.
For me, the hand reviews alone make the course worth it. Ivey simply thinks on another level and I've long been fascinated by the audacious hands he plays and wins. To have him narrate his thought process is so powerful. And everyone who has taken this course seems to agree.
Overall:
With an all-access-pass at $120, you can get access to Daniel Negreanu MasterClass, as well as over 190 courses taught by experts in their field.
And so currently I don't see anything that comes close to MasterClass on this front.
Phil Ivey MastreClass – Frequently Asked Questions
How much does the Phil Ivey MasterClass cost?
An individual all access subscription is $120 for the year which gives you unlimited access to all 190+ MasterClasses for one year.
How long is the Phil Ivey MasterClass?
Phil Ivey's MasterClass is 3 hours and 30 minutes long and consists of 12 videos.
Can you get the Phil Ivey MasterClass for free?
Unfortunately you cannot get the Phil Ivey MasterClass for free. But MasterClass has a range of purchasing options and offers refunds if you're not happy.
Can I get a refund if I don't like the Phil Ivey MasterClass?
Yes, MasterClass operates a 30 day refund policy if you purchase directly through them. If you purchase through other providers, their returns policy may apply.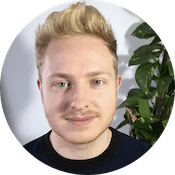 Finn is the CEO of Learnopoly and has 6 years experience in financial services, first at a tier 1 bank then at a financial technology startup, working in strategic partnerships and business development. Finn has built several internet businesses and has a deep passion for learning.