Heard people talking about Upswing Poker but wondering if it's really worth the cost? This Upswing Poker review has you covered.
Within the world of online poker courses, Upswing is one of the most prominent services, featuring lessons taught by world-class poker players to help you become the most skilled player at the table.
When I got the call to review the site, I can't deny I was really excited to see what Upswing Poker had to offer. But I had some reservations.
Upswing is known as one of the most high end online poker learning sites, selling courses for up to $1,000.
Can an online course really be worth that kind of investment? And what does a $1000 poker class look like?
I can report, having now used the site and taken its classes, that Upswing has a lot of fantastic stuff to offer. But there's a few things you need to know going in.
But if you're in a hurry, here's the summary:
.
Quick summary
Pros
Vast amounts of study content, from hand reviews and instructional lessons to range charts and betting stats
Covers wide range of poker styles and rulesets, as well as teaching strategies for live and online play
Strong learning curve, especially on the Poker Lab course, makes learning faster and easier for people of all levels
Get instruction from world champions with millions of dollars in earnings to their name
Cons
Audio quality in some videos can be inconsistent
High price tag may be beyond some buyers' budgets
Best for: New tournament players looking to improve their gameplan. Pro players looking to up their profits. Anyone passionate about competitive poker who wants to take their understanding of poker math and theory to the next level.
Overall: Upswing Poker is an incredible tool for improving your poker game. The sheer amount and quality of poker theory instruction here is unparalleled. Upswing Poker is definitely a site that requires a lot of investment, both financial and time wise, but if you're up to the challenge it's sure to take your game to the next level.
In this review of Upswing Poker, we'll be covering:
What is Upswing Poker?
How it works
What a class is like
My review of 3 sample classes
What I liked about Upswing Poker and think could be improved
Who it's for
How much Upswing Poker costs
Refund policies
Some tips for finding great courses
Alternatives to Upswing Poker
What others have said
And ultimately, is it worth it?
So without further ado, let's get into it!
What is Upswing Poker?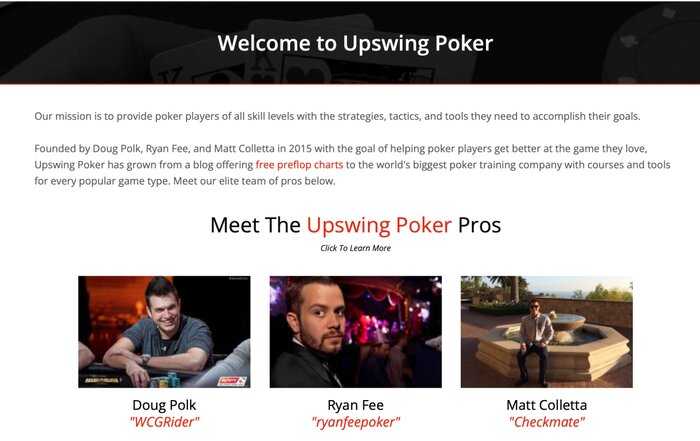 Upswing Poker is an online poker learning platform started by poker pros Doug Polk and Ryan Fee. The site offers a wide range of courses on aspects of poker, from basic strategy to winning tournaments to managing bets and many more.
The site has a dedicated user base, with over 4,000 members watching their hundreds of hours worth of poker tutorials. Upswing Poker can also boast some impressive user success stories, with multiple members earning over $1,000,000 in tournaments.
If you're looking to take your poker game to the next level through online study, Upswing Poker is definitely one to check out.
How does Upswing Poker work?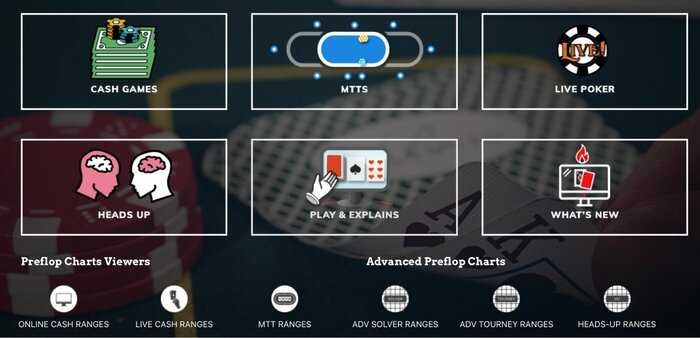 Upswing Poker offers a range of classes, some available for individual purchase, some for subscription.
Typically, individual courses are available for a single payment purchase. And collections of courses, such as the Upswing Lab, can be accessed via a monthly subscription fee.
Upswing Poker classes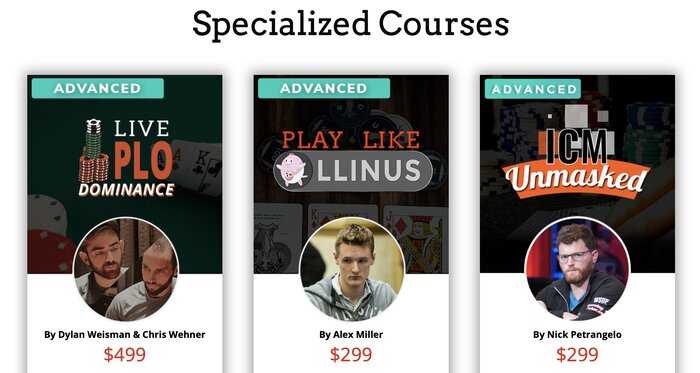 Upswing Poker includes 17 different courses covering a range of poker subjects, including:
Poker tournament strategy
Winning cash games
Playing mixed games
PLO rules poker
High stakes poker
Pro poker game review
And many more!
What a class is like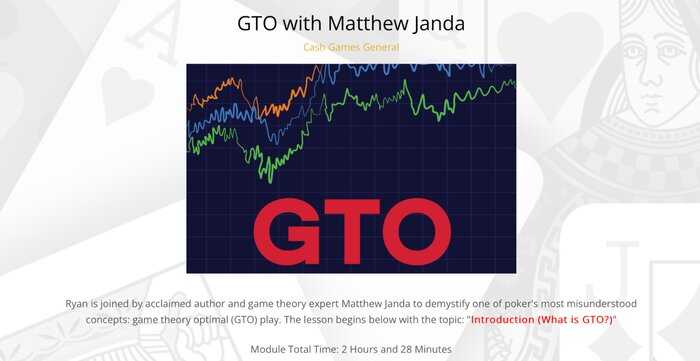 Upswing Poker classes tend to follow a lecture-style format. Videos include a video feed of the instructor alongside a screen recording of whatever material the lesson is focused on.
This format is then applied to a number of different topics: theory, game reviews, software tutorials, etc. With each lesson altering the format to suit the particular subject.
For example, theory lessons may include a visualization of one of a specialized hand range chart, with the instructor explaining what the student is looking at and how to apply it to their own study.
On the other hand, a game review may include a video playback of an online game with voice-over explaining the game context and what can be learned from the plays as they happen.
My review of 3 classes
To get to grips with what Upswing Poker had to offer, I've reviewed three of their available classes.
Choosing the classes was no easy feat, but in the end I opted for:
Winning Poker Tournaments
The Poker Lab
Live Poker
Winning Poker Tournaments and the Poker Lab are two of Upswing's best selling classes, so I was keen to see the best that Upswing Poker had to offer.
I also chose to review Live Poker as many of the courses on Upswing Poker focus on online play, so I was curious to see how they would handle teaching in the live setting, the way I most commonly play the game.
Winning poker tournaments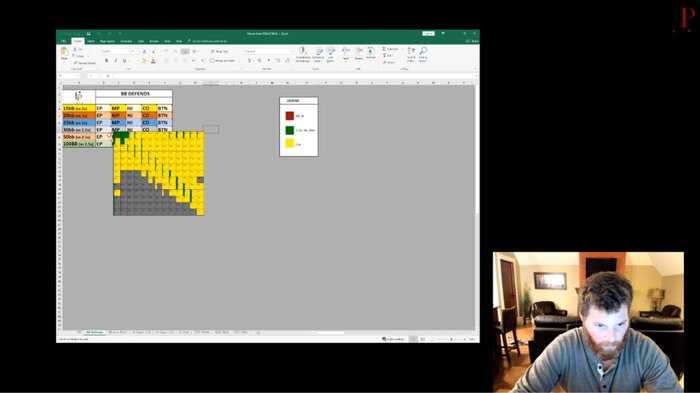 You will learn:
How poker champion Nick Petrangelo approaches poker study
To use the provided master sheets to maximize your EV in all stages of the game
Pre-flop strategies against RFI and defended boards
C-betting effectively on high, dynamic and wet boards
Post-flop strategies when playing out of position
How to analyze competitive games to help improve your game
Pros:
Access to a wide range of master sheets for personal study
In-depth curriculum covering how to play almost every possible poker board you might face
Straightforward interface to make study easier and more efficient
Video lessons help break down the theory in an accessible format
Exclusive breakdowns of Nick's most successful games
Cons:
Very advanced content, not necessarily appropriate for players new to theory
Length of course: 60 video lessons totalling over 30 hours of content
Who is it for: Experienced poker players looking to improve their tournament play. Players looking to turn pro and make a living from poker. Anyone serious about poker who wants to take their skills and study to the next level.
Overall: Nick Petrangelo's course contains a frankly frightening amount of poker theory, with over 250 charts to help you play optimally on almost every conceivable board. And despite the volume of content, Petrangelo's videos help breakdown the content to an accessible level, making this course an invaluable resource for people looking to improve their tournament play. If you're a tournament player looking to optimize your game and deep dive into poker statistics, this class is definitely for you.
Lab core strategy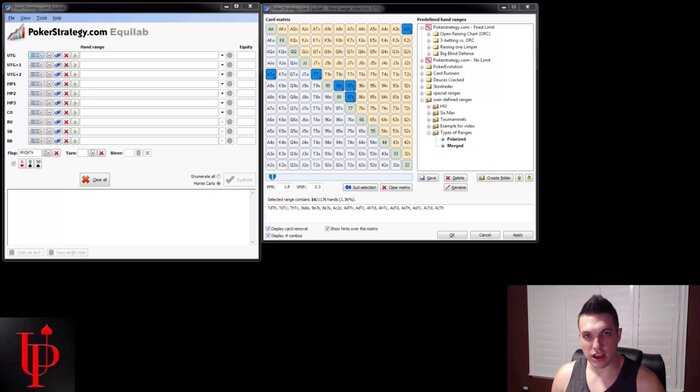 You will learn:
Fundamental poker theory like basic terminology, using matrices and understanding ranges
Intro to pre-flop strategy, including how to play against raise first in and 3-bet
The basics of post-flop strategy, including bet sizes and how to play with single raised pots and 3-bet pots
How to manage your bankroll and select games intelligently
Playing the mental game and preventing tilt and bias
How to use poker analysis software to aid your theory knowledge
Pros:
Covers all the fundamentals a budding poker player needs to know
Lessons are well taught and approachable, with detailed explanation of each topic
Breaks down poker into stages for more intuitive learning, and highlights self-study students can do in their own time to further their knowledge
Includes interactive quizzes to aid with memory retention and faster learning
Cons:
Focussed on the beginner level, may be less applicable for advanced players
Length of course: 30 lesson topics featuring 18 hours and 28 minutes of video content
Who is it for: Beginner players looking to get to grips with basic terminology and theory. Players looking to start playing competitively who want to develop their strategy. Theory minded players who want to learn how to use analytical software and take their poker study to the next level.
Overall: Lab core strategy is a brilliant class to get you started with competitive poker, and acts as a great primer for the other classes offered in the lab. The course guides you through everything you need to know about terminology, ranges, betting, and more to turn you from a complete poker beginner to a competent competitor.
Live poker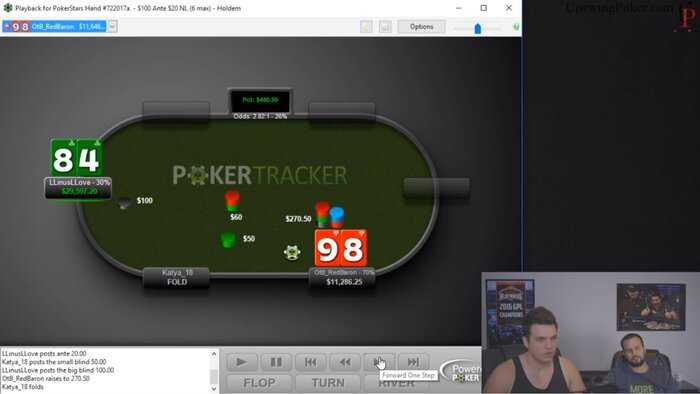 You will learn:
What you can learn from famous plays and blunders in live and online poker
The factors you need to be considering when making a play
How strategy changes throughout different stages of a tournament
Dynamics at play in live vs online poker
Top player's strategies for reviewing their own games and learning from them
Pros:
Unique insight into pro-poker players thought process
Charismatic and passionate hosts
Conversational format makes the classes more engaging than drier theory reviews
Reviews a variety of famous boards from winning and losing positions
Cons:
Production quality can be inconsistent
Length of course: 63 video lessons totalling 21 hours and 45 minutes
Who is it for: Poker fans looking to see an expert's perspective on high stakes games. Competitive poker players looking to better understand how to break down and analyze their own games. Any and all players who want to better understand high level play.
Overall: Live Poker is an in-depth and engaging course covering everything you need to know about playing live. The class takes you through all aspects of live play strategy, and includes some unique breakdowns of previous famous games to give you an insight into what high-level live play is really like. If you're a poker fan with an interest in live competition, this class is definitely worth investigating.
What I liked about Upswing Poker
Plenty of study resources
One of the biggest sells of the site is the sheer volume of poker study resources that Upswing Poker provides. Their courses are packed with hundreds of range charts, strategy guides and software tutorials to help you build a powerful study routine.
A lot of poker courses will talk about hand ranges, or possibly even feature a generic range chart, but getting access to a multitude of charts used by poker pros in their own study to help them win high level tournaments is what sets Upswing Poker apart from the competition.
Upswing Poker furthers this model by teaching you how to use poker analysis software for yourself, helping you analyze your own games and improve your poker knowledge outside of the course material.
World class instruction
Another key benefit of Upswing Poker's classes is the choice of instructor.
Doug Polk, co-founder of the website and instructor on many of the courses, is a pro player with almost $10,000,000 in tournament earnings.
Other instructors include WSOP champion Nick Petrangelo, as well other high rolling players with millions in earnings like Kane Kalas and Daniel Weisman.
The caliber of instructor on display here is second to none, and assures you that you're learning from highly skilled and experienced people who know what they're talking about.
Covers wide range of poker settings
One thing I was particularly pleased to see was the attention given to players who may be playing under different rules and settings.
There are classes on the site that cover poker in general, giving brief sections on different poker settings. But there are also full courses dedicated specifically to just cash games, or just live tournaments.
Spreading the content over a range of different poker styles means there's something for everyone, no matter how you personally play poker.
Strong learning curve
In addition to Upswing Poker having something for everyone, classes on the site are divided by their intended audience: beginner, intermediate, advanced.
This approach makes sorting through classes to find something your level ridiculously easy, and on top of that many of the beginner courses build into the intermediate courses, which then build into the advanced courses.
Overall the content has a great learning curve that gives Upswing Poker huge long-term appeal, and can help you grow as a player over a much longer timeframe than you might expect.
What could be improved
Inconsistent production value
It's clear when taking Upswing Poker's classes that production value comes secondary to the quality of instruction.
Classes don't feature fancy segway graphics and studio lighting, and generally I don't think this is an issue. Content quality should always be the priority for an online course, and Upswing Poker delivers this in spades.
However, there are a few classes where audio quality dips, generally due to voice-overs recorded from video calls rather than in-studio mics, which is a little disappointing to see.
Whilst I don't think the production value impedes learning for the most part, it would be nice to see future courses focussing more on improved audio quality, especially with the many hours of content students will be listening to throughout their study.
High price tags
It's no secret that Upswing Poker bills itself as a high-end service, with multiple courses costing up to $999.
By itself this isn't an issue, putting a high price tag on a valuable product isn't a bad thing, and for people who are serious about making poker their primary income source, many of Upswing Poker's classes are a worthwhile investment.
However, from a buyer's perspective, it's worth knowing that many of the courses may not be accessible to you based on your budget.
Upswing Poker does offer a couple courses for people looking to spend $100 or less, however the vast majority of their classes will run you at least $300.
If that's within your budget it's well worth a look, but understand going in that Upswing Poker's classes are meant to be top of the range, and thus have top shelf prices to boot.
Who is Upswing Poker for?
Upswing has a lot to offer to a wide range of players. But it is definitely geared towards more experienced, competitive poker players. In my opinion Upswing Poker is best for:
Players new to competition and tournaments looking to improve their game
Low-level pro players looking to up their profits and play smarter
Players looking to make their online play more profitable
All skill levels of players looking to deepen their knowledge of poker math and making GTO plays
And anyone looking to take poker more seriously
How much does Upswing Poker cost
Price ranges on Upswing Poker vary from class to class. The cheapest offered class is $7 whilst the most expensive is $999. The majority of offered classes cost between $299 and $999.
Additionally Upswing Poker offers two subscription services: the first being the Upswing Lab, a collection of courses designed to cover all aspects of poker study and strategy in a single bundle, which can be accessed for $99 per month.
The second being the PLO matrix, which gives you full access to Upswing's premier pre-flop range analysis tool for $49 per month.
Upswing Poker refund
Most courses on Upswing Poker are single purchase and are not refundable. However, Upswing Poker does offer a 30-day money back guarantee on their Poker Lab subscription service.
Tips to finding great courses on Upswing Poker
All courses can be accessed through the 'learning tab' on Upswing Poker's home page.
The things you should consider before picking a course are: 1. Is it appropriate to your skill level, and what kind of Poker are you planning to play?
Helpfully, classes all indicate what skill level they're aimed at on their respective thumbnails, and there are a range of classes covering different poker rulesets, as well as courses targeted at specifically online or live play.
If you're a beginner/intermediate looking for a course on general poker theory, The Poker Lab could be a good option, as it gives an overview of poker theory and strategy from beginner to advanced, and easily has the most content out of any individual course.
Upswing Poker alternatives
If you're still unsure if Upswing Poker is the best option for you, I've provided some alternatives that may be more suitable, depending on what your goals are.
MasterClass:
MasterClass features a couple poker courses from former world champions Phil Ivey and Daniel Negreanu.
Compared to Upswing Poker, these classes have some slicker production value, but are more aimed at beginners. A MasterClass subscription also has the added benefit of giving you access to the entire site, providing you hundreds of classes on dozens of different subjects outside of poker.
Check out our reviews for Phil Ivey's MasterClass here, and Daniel Negreanu's MasterClass here if you're interested in learning more about MasterClass's poker content.
Udemy:
Udemy also offers a number of poker courses, the most popular of which being "Crush microstakes online poker" by Alton Hardin.
Hardin's class features 23.5 hours of content covering essential poker math, pre-flop strategy, bluffing and calling, and so much more. Its quality is attested to by users, with a rating of 4.6/5 stars from 1,678 reviewers.
At time of writing the course costs $70, making it much cheaper than many of Upswing Poker's classes. It should be worth noting that the advantage of Upswing Poker is that many of its options, particularly the lab, give you access to strategies across a wide range of poker setting and rule sets.
That being said, if you exclusively play microstakes online poker, then this could be the perfect course for you, and it's worth checking out.
The most important thing to consider when deciding on a course to pursue is simply what your goals are.
Upswing Poker offers a lot for players who want to invest in their game and improve their profits on the pro-level, but sites like MasterClass and Udemy can also offer great options for beginners and people looking at learning about a very specific ruleset.
Upswing Poker what others have said
Online, Upswing Poker has been featured pretty heavily in the discourse, with a lot of commenters supporting the platform, particularly for its extensive wealth of content:
"As someone who before the last month or so hadn't played in a long time it was a good start learning to think in ranges etc, explains everything well with lots of example hands."
"If you study hard and apply the material properly then you will earn your money back. IMO upswing lab is amazing and it has completely changed my game"
That being said I did see a few negative comments, one particular Redditor derided the course as being "useless" for live poker:
"I'm sure this will help some online players, but for live poker players like me, all of this is absolutely useless. Live thrives on an exploitative approach and making GTO bets is suicidal."
Whilst I understand where the commenter may be coming from, this is a very extreme take, and I'm not sure it's a particularly valid one.
What is worth pointing out is that as Doug Polk has an extensive history as an online player, a lot of the course curriculum for the lab (which is what I assume this commenter was using) is focussed on poker math and developing GTO strategies.
In online this is the best way to play, however in live games reading opponents is also a highly important skill, and you won't be able to benefit from your theory understanding if you're too easy to read.
That being said, poker math is the foundation of all poker play, and still plays a central role in all high level live poker. So to disregard what is an incredibly in depth and well-made poker theory course because it's "useless in live", probably just means you're not practicing your other live play skills.
Is Upswing Poker worth it?
The short answer is, it depends.
For the average poker fan who puts up $25 a week on a Friday night game with his buddies, Upswing Poker is not going to be a worthwhile investment.
However, if you're serious about making a career in poker, then there's a lot of invaluable info here that's sure to up your win rate and help you on your way to becoming a pro-player.
Whilst Upswing Poker does offer one $7 course, to access the bulk of its content you're going to need to put in at least a few hundred dollars. For some people this might be inaccessible but for those who are willing to make that kind of investment, Upswing has loads to offer.
For the price you pay you're getting dozens of hours of theory study, hand reviews, software tutorials and access to hundreds of charts used by high-level pros. The tools they're giving you will drastically improve your understanding of the game, and your ability to make GTO plays.
If you can do the study, you could see your win rate (and naturally earnings) significantly improve. 
Related articles: Best Online Chess courses
Frequently asked questions
How much does Upswing Poker cost?
Single purchase Upswing Poker courses vary in cost between $7 and $999, the Upswing Lab costs $99 per month.
Does Upswing Poker have a refund policy?
Upswing Poker does not have a refund policy for single purchase courses, however the Upswing Lab does offer a 30-day money back guarantee. 
How many courses are available on Upswing Poker?
At time of writing there are 17 courses on Upswing Poker.
Does Upswing Poker have a free trial?
Upswing Poker does not currently offer any free trials.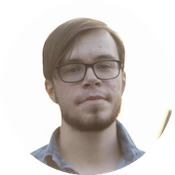 Finn is a post-graduate student at King's College London. He has an undergraduate degree in Sport Science and is currently studying for his masters in physiology. In his spare time he's a keen martial artist and musician.