Chess is one of the most popular board games of all time. An estimated 600 million people play regularly.
Taking a chess course is a sure-fire way of winning more games. And with online chess courses, this has never been easier.
I've spent the past two weeks finding and reviewing chess courses to improve my opening strategy, race to control the center and dominate the end game. These courses will help you beat your friends and improve your Elo rating.
By the end of this review of the 10 best online chess courses, you'll know which one is the right one for you.
I'll be telling you everything you need to know about each course, including the length, instructors, features, content (what it teaches you about moves, tactics etc.) cost and much more.
So, let's get started.
What is the best online chess course?
These are our top chess course recommendations:
Our top pick is Udemy's The Complete Guide to Chess Tactics because it provides such a comprehensive insight into a wide range of chess tactics. All explained clearly and succinctly by an experienced instructor. It gives you a fantastic overview of the game. And with so much content, it doesn't matter if you're a beginner or a more advanced player, you're bound to learn something new here.
Another option is Chess.com. This site is the place to go if you want to play chess online. With a whopping 93 million estimated users, you can play chess with anybody across the world.
But Chess.com also offers courses on how to play the game, teaching you what you need to know about the parts, moves and various tactics.
Our third choice is a MasterClass with Garry Kasparov, which makes it extremely unique. Where else can you be taught by a chess Grandmaster?
MasterClass is also interesting because it's a subscription option. So, if you subscribe, you get access to Garry's course plus a range of classes led by major celebrities.
Ultimately, all of these courses offer something unique. So keep reading to find the right chess course for you.
Best online Chess course reviews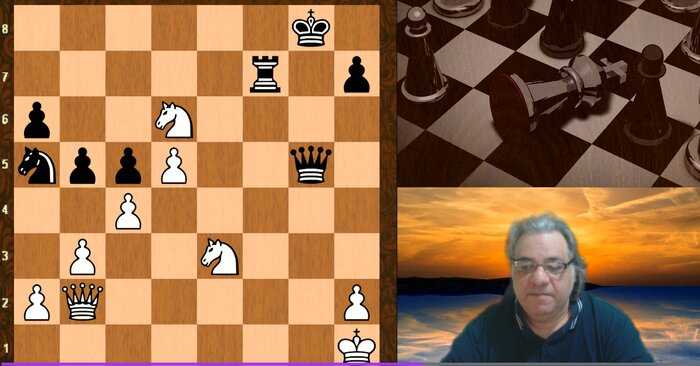 Platform: Udemy | Teachers: Tyfon Gavriel | Course length: 21.5 hours of on-demand video
Chess Tactics is delivered by an experienced tutor, has an incredible 21.5 hours of on-demand lessons, and with a 4.7 rating, it's clear people like what they get.
It starts with a basic outline of what a chess tactic actually is, before delving into virtually every single one in the book and how you can master them.
As a result, it will teach you the essentials when it comes to chess tactics. It is designed for absolute beginners, but there is so much content that more experienced players are bound to learn something.
You will learn:
A clear introduction to what chess tactics are
A range of Tactical combination examples
Several common combination move types
The most important official tactics
Checkmate combination patterns and principles
Helpful tips for training tactical abilities
Personal tactical game examples
Pros:
Incredibly comprehensive, covering a massive range of tactics
Hours of video lessons, and additional resources; you really get your money's worth
Philosophical, helping you to think about tactics in a new way
Easily explained concepts with an experienced instructor
A quiz at the end to help ensure you've mastered the knowledge
Teaches principles, rather than just steps to memorize, so your overall playing ability will improve
Cons:
Can be a little overwhelming in length (this will depend on what you're looking for)
Best for: Anyone looking to really hone their chess tactics and skills. The course is accessible for beginners, especially those who want a tactical head start. However, there is so much content, more advanced players are bound to learn something.
Overall: With hours and hours of lessons, this course is a goldmine for anyone who wants to focus on tactics, one of the most important parts of chess. Each tactic is explained clearly and made relevant to the wider playing of the game. It is accessible for beginners, but with so many lessons, I'm sure any chess player can find something of value in this course. You can't go wrong with this one.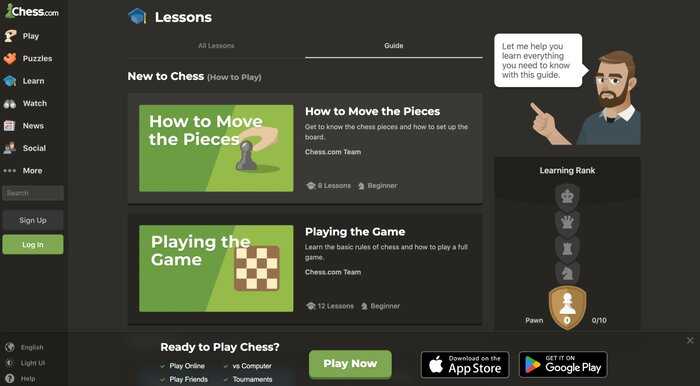 Platform: Chess.com | Teachers: Chess.com team | Course length: 128 lessons, ranging between 1 and 7 minutes
Our second option is offered by Chess.com. It is estimated that this site has 93 million registered users, which is absolutely incredible.
Chess players across the world, from rookies to Grandmasters, use this site as a resource to play both computers and each other. And although there is a membership option which contains additional features, using this site for this feature is free.
Chess.com also offers a series of video courses on how to play the game. Aimed at beginners, intermediate and advanced players. These lessons will also cost you nothing.
To have one such a widely popular website offer its classes for free is pretty outstanding. So if you're looking to learn all about chess, or just sharpen your skills, without any cost, this could be the option for you.
You will learn:
The pieces and how to move them
Capturing pieces and finding checkmate
Making the most of your pieces
Endgames
Winning with tactics
Forcing moves
Key openings
Activating your pieces
Advancing endgames
Advancing the king
Endgame patterns
Pros:
It is a free course, which is amazing considering the information it contains
Part of one of the most popular chess resources in the world
Animated video lessons which help visualize concepts
Available for everyone and contains lessons for beginners, intermediate and advanced players
Includes challenges to help you master each skill
Lessons are divided into shorter, easy-to-understand videos
Has millions of students, so is a tried and tested way of learning chess
Cons:
The visuals are a little basic and poor quality
Best for: All chess players; beginners, intermediates and advanced. Each class is denoted by what level it is aimed at, so you can just aim for whichever one suits your skill level.
Overall: This course has everything. It has lessons on all the key chess concepts, moves and strategies, with something for beginner, intermediate and advanced players. It's offered by a chess website with millions of global users so this is easily the most popular course on this list. To top it all off, this course is free, which is quite astounding considering all the chess insights available here.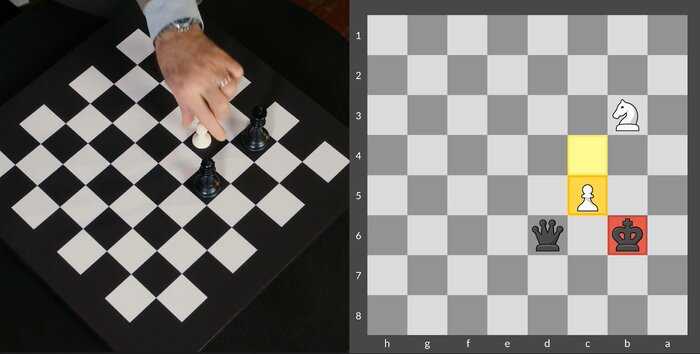 Platform: MasterClass | Teachers: Garry Kasparov | Course length: 29 lessons, totalling 7 hours and 20 minutes
Our third entry is from MasterClass, an e-learning site with lessons from celebrities who are at the peak of the disciplines they're teaching.
This is MasterClass' only chess course, and it's offered by a legend of the game, Garry Kasparov. Kasparov was ranked as the Number One chess player in the world for over 255 months, the most ever, and has won the most consecutive tournament victories.
With stats like that, a lesson from Garry Kasparov is a lesson from a Grandmaster in every sense of the word.
You will learn:
Garry's chess fundamentals
Skewers
Double attacks
Discovered attacks
Pins
Deflection and attraction
Interference
Endgames
Overload
Simuls
Openings
Garry's chess journey
Computers and chess
Pros:
Taught by someone considered to be one of the best in the world
Extremely comprehensive, with lots of video content and an additional handbook
Goes into detail about particular moves, plays, strategies and techniques
Lessons are taught through super insightful anecdotes
Accessible for beginners whilst still focusing on tactical themes
Beautifully gets across the passion Kasparov has for chess
Cons:
A little basic, which is disappointing considering Garry Kasparov's knowledge and experience
Some people might be put off by the anecdotal teaching style
Best for: Beginner to intermediate chess players interested in the insights and tips that a chess rockstar can provide. This course is also ideal for people interested in Garry Kasparov's life and ideas.
Overall: There are very few places where you can learn from a chess Grandmaster. This course lets you inside the mind of one of the greatest chess players of all time. Garry Kasparov's MasterClass combines his encyclopedic knowledge of chess tactics and strategies with his experience playing at the very top. This makes for essential viewing for anyone interested in the mind of a chess Grandmaster.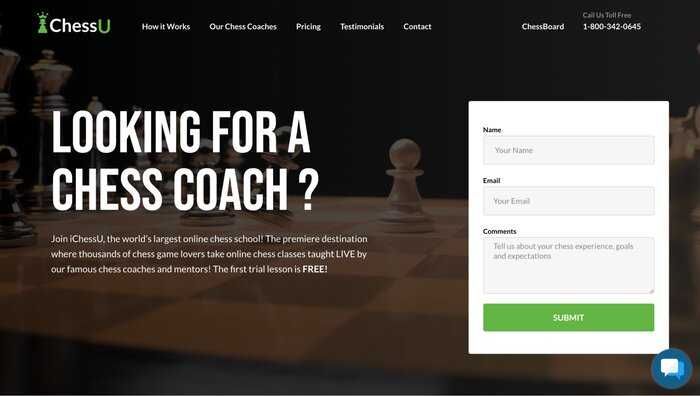 Platform: IChessU | Teachers: Various (including Borish Avruch, Emir Ramic and many more)| Course length: N/A, these are live online lessons
E-learning has opened many doors for how we can develop new skills. However, some have criticized it for missing the personal touch an in-person teacher can provide.
IChessU is a defiant response to these critics, combining the best of both worlds. A subscription to this service grants you access to a personal chess tutor, who you will devise a lesson plan with, focusing on whatever it is you want to cover.
This means you get the benefits of learning online (setting the pace yourself, taking lessons wherever you like) without missing out on an interaction with a teacher.
You will learn:
Whatever you want! You submit a form that outlines your learning goals and then work on a plan with an assigned coach
Pros:
Offers personal teaching, which will directly address the challenges your facing and identifies where you can improve
Top-quality, world-renowned chess coaches
Allows you to build a personal relationship with your teacher, which can make a big difference in confidence
Still quite flexible, as you set the dates and times of your lessons and can take them anywhere
A range of purchasing options, with a couple of hours per month to up to twenty hours per month available
Cons:
Limited flexibility as you can't just engage in the content whenever you like
Quite an expensive option
Best for: Anyone who wants to develop their chess skills, and feels that they need specific feedback on how to go about this.
Overall: If you're looking for a personal chess tutor, but there's no one local or you can't find the right time and place, this could be the ideal course. IChessU takes the flexibility of learning online and combines it with the specific instructions and feedback that you only really get with a personal tutor. This means you will have a qualified chess instructor observing your playing, offering you guidance and helping you to directly achieve your goals.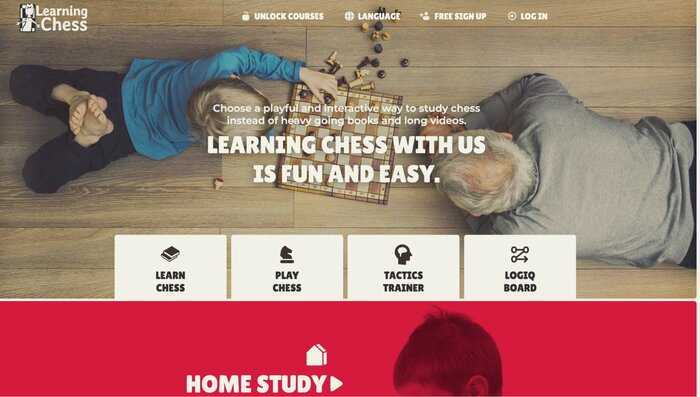 Platform: Learning Chess | Teachers: N/A, this is an interactive course | Course length: 36 interactive lessons
This course does things a little differently.
Like Chess.com, Learning Chess is another globally used chess website. However, where the chess courses on Learning Chess differ is that they're interactive. This means that you learn by playing.
This is a fantastic way of getting to grips with the board, the pieces, the moves and the strategies of chess.
Because this list has been saturated with beginner courses, I've added the Advanced option here, just to give you a sense of what's out there.
You will learn:
Blocking
Using pins, deflections and decoys
Discovered attacks
Winning with activity
Intuitive sacrifices
Variation calculation
Destructive sacrifices
Minority attack
Exchange sacrifices
Rook endgames
Pros:
Has an incredible level of detail, with a massive range of very specific lessons
Taught interactively giving you a real sense of how to use each play
Tests your knowledge with frequent tasks, questions and an end-of-course exam
Offers an advanced course on playing chess when many don't exist online
Builds nicely on top of the previous courses
Cons:
Doesn't have an instructor, making it difficult to grasp some concepts
Not very engaging
Best for: Chess players with a couple of years of experience looking to take their playing to the next level. If you have no clue what any of the terms mean in the You Will Learn section, this might not be the course for you.
Overall: The best way to improve your understanding of chess is by actually playing the game. So this course is an excellent way of explaining your chess knowledge. There is an incredible range of content available, designed specifically for players who have experience but want to keep growing.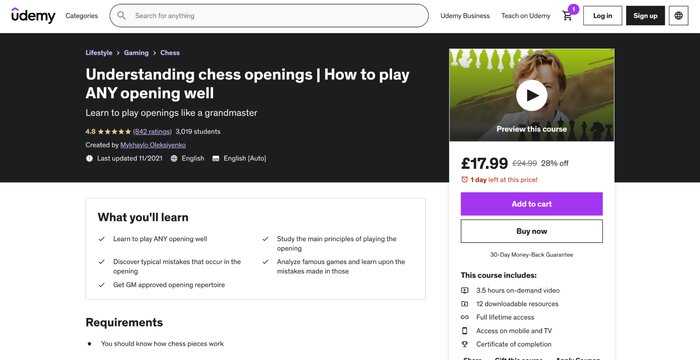 Platform: Udemy | Teachers: Mykhaylo Oleksiyenko | Course length: 3.5 hours of on-demand video
Our sixth place spot is another Udemy offering, led by a Grandmaster with over ten years of experience and thousands of students.
In order to vary our list I've also included this class which is on a specific aspect of chess. The opening of the game can have a massive effect on its outcome, so mastering this is extremely important.
So Understanding Chess Openings | How to Play Any Opening Well is essential viewing for anyone struggling with starting their game.
If you're looking for a shorter course on this specific skill, this might just be for you.
You will learn:
The essential rules of the opening
Center, development and castle openings
Reasons for failures in famous games
A Grandmaster's invaluable opinion on how to open
Openings for white
Openings for black
Pros:
A shorter course that gets straight to the point
Covers an essential element of the game
Illuminates its teaching with examples
Led by an accomplished instructor who is fascinated by chess
Teaches beginners about a more technical elements of the game
Includes a range of downloadable materials
Cons:
Might be a little specific
Quite short, because of its specificity
Best for: Beginners who struggle with opening their games, who are looking to understand why it is so important and master opening the game themselves.
Overall: This is a course that just gets the job done. With only 3.5 hours of video lessons, it is one of the shorter courses on the site. However, in that time, it packs in everything a new chess player will need to know about opening a game. The instructor is super passionate about chess and clearly has years of experience teaching. His enthusiasm, use of examples and the downloadable resources will give you a great understanding of how to open a game of chess.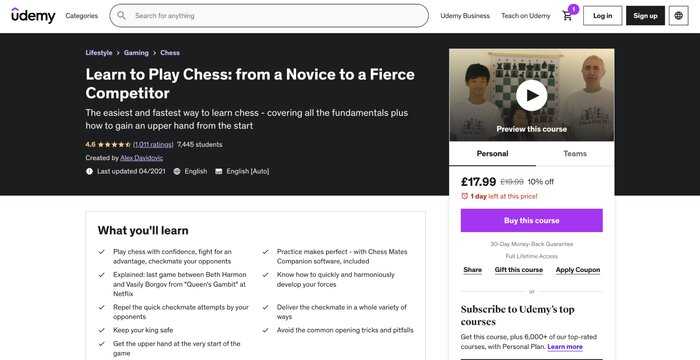 Platform: Udemy | Teachers: Alex Davidovic | Course length: 3.5 hours of on-demand video
Our second course in a row from Udemy, this course is the same length as the one before but focuses on the whole game.
For a lot of our entrants, I have emphasized the breadth of content as a key pro. However, for some people, a whistle-stop introduction is a much easier and more helpful way of getting started with chess.
Learn to Play Chess: From a Novice to a Fierce Competitor clocks in at just 3.5 hours long, but in that time will provide you with key information on repelling your opponent, defending your king and winning the game.
You will learn:
How to set up the board
How each piece move and captures
How to checkmate the king
Promoting pawns
Avoiding stalemates
Two-move and three-move checkmates, and how to avoid them
The finale of the Queen's Gambit explained
Pros:
Delivers the basic concepts in a clear way
Doesn't assume any prior knowledge, covering each new topic clearly
Very short, so doesn't require a lot of time
Structured in a way that gradually builds your knowledge
Led by an instructor passionate about strategy, with a PhD in Computer Science
Gets you access to Chess Mates, a website with even more learning materials
Cons:
Very short and could probably include more concepts
Extremely basic (which might be ideal if you're a beginner)
Best for: Absolute beginners. This course will introduce you to the very, very basics, from setting up the board to what each piece does.
Overall: This course is a fantastic introduction to chess for those who know absolutely nothing about the game and are keen to learn. At only 3.5 hours, you won't have to spend long with this course, but by the end, you will learn what each piece does and the basic structure of the game. This is a great foundation on which you can improve as a player. And you'll be joining over 7,000 students who have already used this as their first step into the chess world.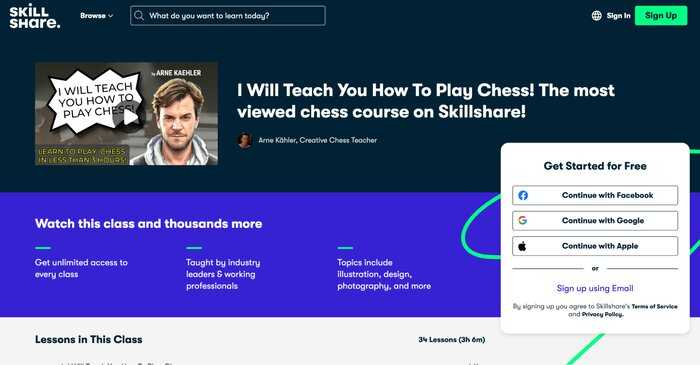 Platform: SkillShare | Teachers: Arne Kahler | Course length: 34 lessons totalling 3 hours and 6 minutes.
This entrant on our list is provided by SkillShare. Like Udemy, this platform offers courses in a massive range of disciplines, with over 30,000 online video classes.
However, SkillShare is a subscription service. This means that you pay a monthly fee for access to all 30,000 courses.
If you're subscribed to SkillShare and you want to learn chess, then, as the title suggests, this option should be at the top of your list.
Like the option above, it teaches you all the key concepts. However, you would be paying for this course along with a range of other courses through the subscription service.
Whether or not you prefer this depends on your preferences.
You will learn:
All about the board
Each piece and the moves available to it
Special moves such as pawn promotions and castling
Pawn endgame basics
Notation basics
Chess openings
How to play a game online
Pros:
Introduces the key concepts in a direct way
Led by SkillShares most viewed chess instructor
An engaging, humorous teaching style that clearly articulates everything
Goes beyond the absolute basics, covering some key moves and strategies
Includes a hands-on class project to help embed the knowledge
Cons:
Again, very short
Could go into a little more detail about strategies
Best for: Absolute beginners. The short length and funny, warm teaching style makes it ideal for anyone who wants to learn this notoriously difficult game but feels a little intimidated.
Overall: This is another fantastic introduction to how to play chess. It covers all the basics; the board, the pieces and how they move. However, it also introduces some basic strategies and tactical moves, which will keep the more speedy learners interested. The instructor is funny, engaging and makes everything interesting, so it's no wonder he has taught over 8,000 students across the site. His teaching, combined with an end-of-course project to help embed your learning, takes this class to the next level.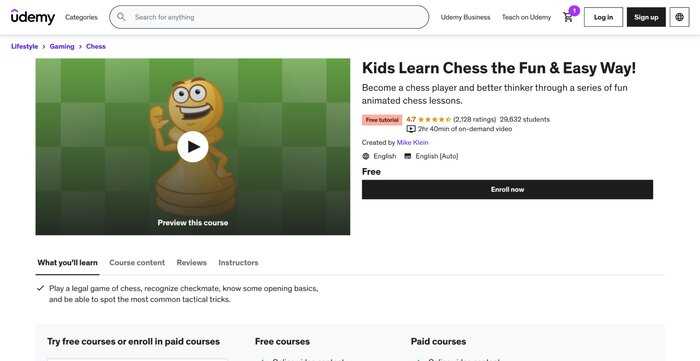 Platform: Udemy | Teachers: Mike Klein | Course length: 2 hours and 40 minutes of on-demand video.
Our penultimate option is aimed at a younger audience. It's also our final offering from Udemy, which, with over 4 entries in this list, is clearly the place to be if you want to learn how to play chess.
Chess is a game that engages all facets of the brain. It requires you to put yourself in your opponent's shoes and think about the moves they are going to make.
This kind of strategic thinking can be a skill for life. So, if you or someone you know has kids, getting them into chess is a great way of developing their minds and getting them to think.
However, I've also included this course because it is remarkably popular, with over 29,000 students! The course has a rating of 4.6 from over 2,000 ratings, which is incredibly impressive for a Udemy course.
So if you find any of the above courses too complex, there is no harm in considering this course. With its acclaim and popularity, it's clearly doing something right.
You will learn:
Each piece and how it moves
Key concepts, like Check and Checkmate
How to castle
Special Pawn moves
Hanging pieces
Counting material
Tactics like the fork and the bin
Pros:
Simplified instructions, allowing for a real insight into the game
Comprehensive, building a great foundation for chess knowledge
Not overwhelming, covering enough content to keep kids interested
Keeps everything fun, light and easy to understand
Can be used by a range of age groups
Introduces some basic moves and strategies, which will push learners
Cons:
Designed for children, so might not be as helpful for older users
Best for: Anyone who wants a really simplified introduction to the game. It is written specifically for younger children but can be used by older age groups.
Overall: It was difficult to put this list together without mentioning this course. It is both insanely popular and acclaimed, with over 29,000 students. And it's easy to see why. It covers all the key concepts in a simple way, introducing the pieces, basic concepts and key moves in a manner that's easy to digest. Although it is designed for a younger audience, chess newbies of all ages might want to consider this option as a way of getting started with the game.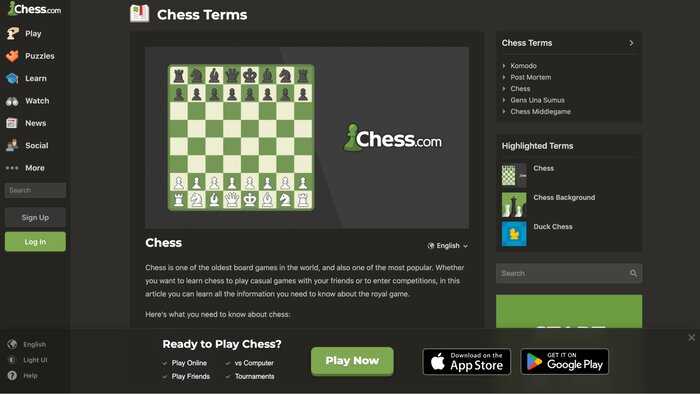 Platform: Chess.com | Teachers: Chess.com team | Course length: N/A, this is a written course.
Our final offering is from Chess.com. I've included it because it offers a different teaching style, which you might prefer.
This class takes the form of a written guide, containing all the information you need from the game. Whereas most courses on this list have taken a video form, for some this way of teaching is preferable.
Although a video lesson requires your whole attention, I like to think of this option as a resource you can keep coming back to. It will be available if you are playing a game on Chess.com or practicing in real life.
And, did I mention? Courses from this site are absolutely free.
You will learn:
Equipment, chess pieces and set-up
Movement and captures
Game outcomes and time controls
Playing chess against both humans and computers
Chess theories and strategies
Openings
Middlegame
Endgame
Tactics
Notation
Federations and the ratings system
Pros:
A written resource, so you can access it anytime
Guides you on all the key elements of chess
Goes into detail on strategies and tactics
Part of the biggest chess website online
Includes helpful visuals and diagrams
Adds wider information on chess' history, tournaments and culture
It's free!
Cons:
The guidebook style is not as engaging
Limited in ability to demonstrate examples of gameplay
Best for: Both absolute beginners and intermediates looking to learn more about the history and philosophy behind the game. Ultimately, it's for those who want a course to guide them along as they experiment with playing.
Overall: This course nicely rounds off our list of excellent chess courses by including all the information you could need, including not only the basic information on how the game is played but insight into the history and culture of chess. The key difference is that all of this course is in text form. For some, this will be a setback. For others, it will be helpful to have a guidebook on how to play the game. However, the ultimate selling point is that this resource is free. This would be a wonderful addition in itself, let alone the fact that it is offered by the most popular chess website in the world.
What are the advantages of taking a chess course?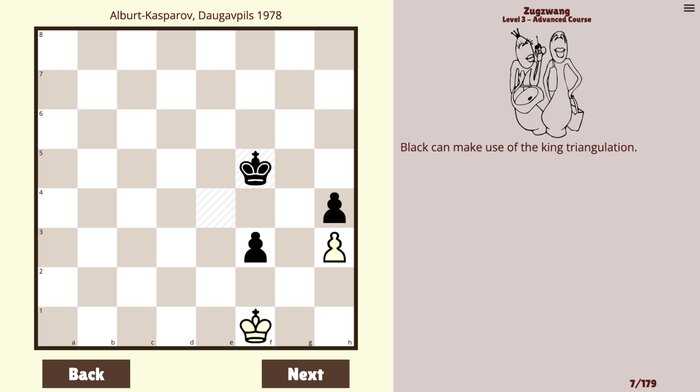 When it comes to taking a chess course, there are too many benefits to count.
It's estimated that humans have been playing chess for thousands of years, and it has become a symbol of skill, intelligence and tactfulness.
With the emergence of online courses, developing these skills through learning chess is easier than ever.
Below are a couple of advantages of taking a chess course.
Keep your brain engaged through learning a notoriously challenging game.
Impress friends and family with the knowledge you develop.
Chess is played across the world, so you have the chance to meet new people through the game.
Develop the skills associated with chess, including thinking strategically, patience, problem-solving and more.
Learning online means you can take classes on your schedule, wherever you like.
A lifelong skill; people enjoy playing chess throughout their whole lives.
Will help when it comes to your competence with other board games.
Buyers guide: what to look out for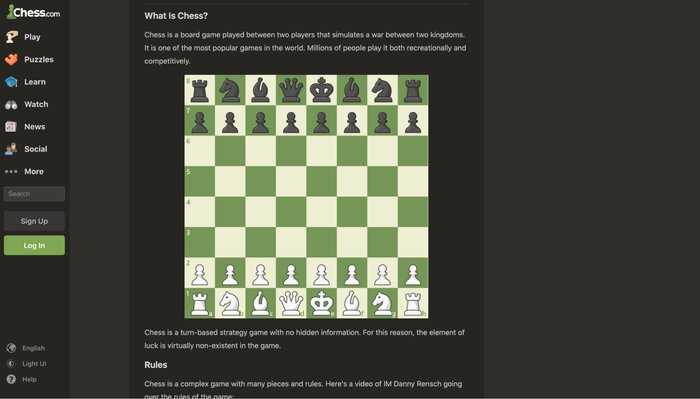 As you can see, there are a lot of options out there when it comes to chess courses.
There are a range of classes on this list alone, and I think these are the very best. But searching for online chess courses will yield hundreds of results.
To make sure you get your money's worth, I've put together a buyers guide of what to look out for before you purchase a course:
Favorable feedback from users and students
Whether teaches you alongside letting you play in real time
Positive feedback from sites like Learnopoly
The course's length and what it covers
The qualifications of the teacher(s)
How many people are enrolled
Free trials and refunds
Whether the course is a general overview or focuses on specific chess moves and tactics (depends on what you're looking for)
How much does it cost?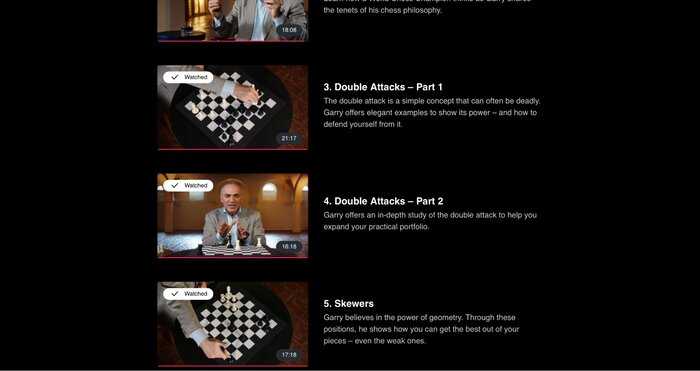 The price of the chess courses varies massively and depends on a range of factors.
One of the key distinctions between the courses is whether they are part of a wider subscription service or whether you purchase the course on its own.
The costs for individual classes on this list range from absolutely free to £94.99.
Chess.com and Learning Chess both offer free chess classes as part of their wider websites, which are devoted to actually playing the game.
Although you can purchase a membership for both sites, this has more to do with the perks of actually playing the game, rather than the lessons, which you don't need to pay for. Some other courses on this list offer free trials as well.
Considering the content they give you, this is pretty remarkable.
Another thing to consider is that individual courses are often on sale. This is especially the case with Udemy courses. Make sure to refresh the page in order to make sure you're getting the best deal.
The cost for subscription courses on this list range from $15 a month to $600 a month.
Although this may seem more expensive, you need to consider how much you'll use the site. For example, with MasterClass and Skillshare subscriptions, the more courses you take, the better your value for money.
Ultimately, it's about what you're looking for.
How long does it take to learn how to play chess?
Again, how long it takes to complete each course listed here varies significantly.
The length of classes ranges from 2 hours and 40 minutes to 21.5 hours.
However, this will depend on a few things.
Firstly, these chess courses are marketed to different audiences. I can expect a beginner course to be shorter as it introduces just the basics, and still have a lot of value.
The time it takes to complete a lesson will also depend on the teaching style. For example, some courses, like MasterClass, are video lessons, so it takes as long as the video is.
Other courses, like Learning Chess, are primarily text-based and interactive, and so depend on your reading ability.
And some sites, like Udemy's courses, combine video lessons with a range of additional resources. So how long it takes to complete the course depends on how much you engage with it.
Finally, the time it takes to learn how to play chess will depend on your personal practice.
Learning a new skill will always require you to spend some of your own time going over what you learnt.
These are the top chess courses online, so they contain lots and lots of information. You will have to spend some extra time going over topics and, especially, playing the game itself to actually make it all stick.
Conclusion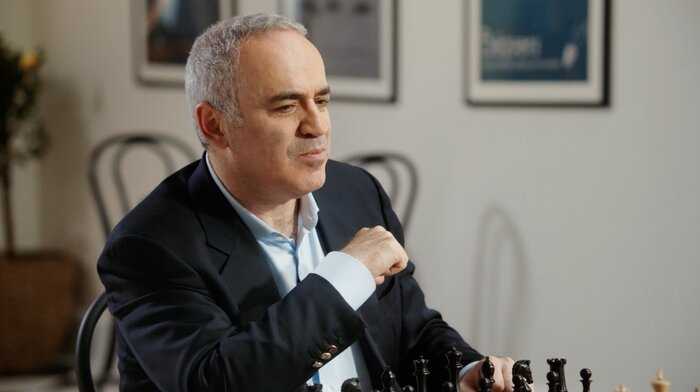 So there you have it. Our list of the top ten online chess courses.
Our top pick is Udemy's The Complete Guide to Chess Tactics.
I chose this course because it has hours and hours of video content covering everything you need to know.
This, combined with additional resources and the rave reviews it received, makes it a pretty clear winner.
But not too far behind is Chess.com. With an estimated 93 million users, this is clearly the place to go to play chess online.
However, it also offers courses for beginner, intermediate and advanced players. And they are absolutely free, which is quite remarkable.
Finally, I want to give a shoutout to MasterClass. Not only is their option taught by one of the biggest names in chess, but the site itself is a subscription service.
This means that when you subscribe, you get access to a wide range of topics, each led by a different celebrity who is outstanding in their field.
Ultimately, this list has aimed to combine both the best chess courses out there and show that there is a range of options for learning how to play chess online.
Hopefully, this has helped you find the right chess course for you.
Chess courses frequently asked questions
How much does a chess course cost?
The costs for individual classes on this list range from free to £94.99. The cost for subscription courses on this list range from $15 a month to $600 a month. 
How long do chess courses take?
The length of classes ranges from 2 hours and 40 minutes to 21.5 hours.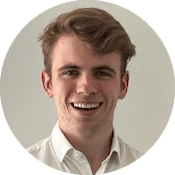 Charlie is a student reading politics at King's College London. He is also a passionate musician with over 14 years of experience. In his free time, he also enjoys cinema, long-distance running and learning new things.