As the first person a client sees, a receptionist creates the initial impression for the whole company. With that in mind, the courses on this list will help you to enforce a positive brand image as a front-desk worker.
So, if you're looking for the best online receptionist course in 2023, this article is here to help.
With so many admin-based online classes, it can seem difficult to know where to start looking.
For the last two weeks, I've become immersed in the world of online receptionist training, and here are our top picks for the best online receptionist courses.
We've looked at beginner, intermediate, and advanced classes – from general to specialist roles. Plus, we've considered different front desk settings such as offices and hotels.
That being said, let's look at the best receptionist courses out there.
What is the best online receptionist course?
In sum, here are our top receptionist classes:
Our top recommendation is Udemy's Become a Corporate Receptionist.
This is because the class is beginner-friendly, easy to follow, and teaches the fundamentals of receptionist training. It has over 6,000 students, covers all aspects of receptionist life, and really stands out if you're new to the receptionist world.
What's great about Udemy is that you can pay-per-course, which is ideal for those who don't want to invest in a subscription. It's also a budget-friendly option – making it more accessible than some of the steeper platforms out there.
So, with an impressive range of courses, you're bound to find the right fit for you. And, because Udemy filters its courses by highest rated, you can read real and honest student reviews.
That being said, another strong competitor is Skillshare. Skillshare's BUSINESS SKILLS – Receptionist and Frontline Course is the same length as our top Udemy pick. But, its teaching is more transferable as it delves into other frontline duties that are valuable for career progression.
Skillshare is a subscription platform, but with a one-month free trial you can try it risk free and gain access to its whole library of courses.
Read our mini reviews below to get the full details!
Best Online Receptionist Course Reviews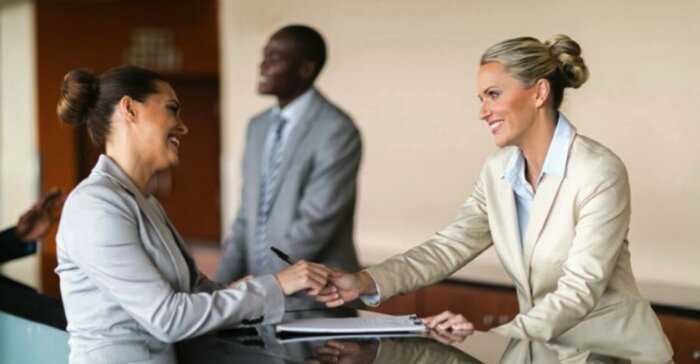 Platform: Udemy | Teacher: Dina Jumabayeva | Course length: 15 lectures totalling 1 hour and 3 minutes
Dina Jumabayeva is a visionary coach and business professional. With several courses on Udemy, she turns her attention to how you can become a successful corporate receptionist.
You'll learn to:
Understand a receptionist's role
Differentiate between various types of receptionists
Improve your in-person and telephone communication skills
Develop listening skills and take accurate messages
Present yourself professionally
Become an organized and diligent worker
Pros:
Highly informative and introductory
Excellent for those in customer-facing roles
Well-explained and accurate to the job description
Accessible course with new insights
A fun and to-the-point class
Comes with a certificate of completion
Cons:
More theoretical than practical
Mainly aimed at beginners
Foundational rather than in-depth learning
Who it's for: This course is targeted toward anyone in a public-facing role and geared toward helping you excel in administrative tasks. Jumabayeva teaches you how to answer calls, take messages, and receive visitors in a professional manner.
Overall: A well-taught course that provides insight for anyone in a public- or customer-service role. This class is mainly geared toward beginners but even professionals can learn new tips for polishing their professional image.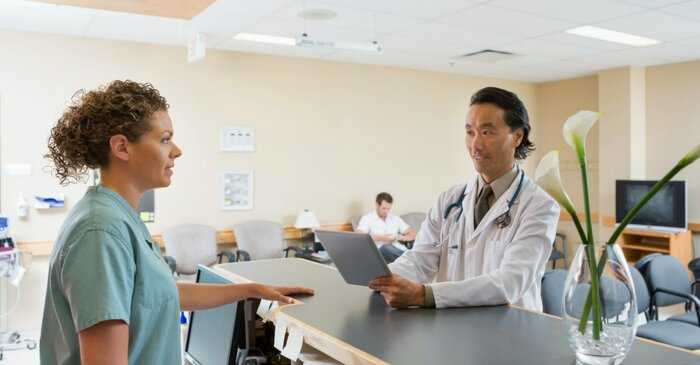 Platform: Udemy | Teacher: Dina Jumabayeva | Course length: 10 lectures totalling 1 hour and 7 minutes
Another receptionist course led by Dina Jumabayeva, this class focuses on how your position plays a key role in supporting medical staff. By the end of the lesson, you'll gain a better idea of medical filing and records, and improve your communication skills in a medical setting.
You'll learn to:
Implement your organizational skills in an exciting yet challenging role
Assist with filling out forms, filing, and even transcribing medical reports
Manage high volumes of daily-generated data
Showcase your assets to prospective employers
Manage appointments (with attention to computer programs)
Pros:
A practical course for job seekers
Field-specific and highly detailed class
Professional and knowledgeable instructor
Covers a wide range of receptionist duties
Cons:
Lacks additional resources/notes
Not as thorough as other courses
Short course content
Mostly suited to beginners
Who it's for: This class is ideal for beginners and job-seekers who are interested in the medical field. Jumabayeva teaches you how to communicate with patients/staff in a medical setting, understand terminologies, and grasp fundamental health and safety.
Overall: A great overview of the skills needed to become a medical receptionist. This class is particularly insightful for those with the medical industries in mind and has plenty of practical knowledge to help you ace job interviews. That being said, it's mostly geared toward entry-level students with no prior receptionist experience.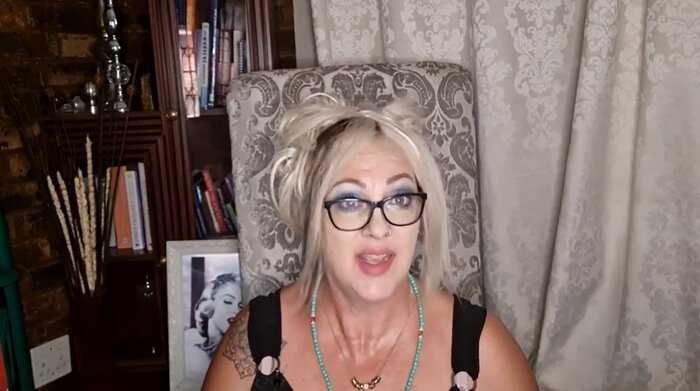 Platform: Skillshare | Teacher: Chantelle Joubert-Dreyer | Course length: 12 lessons totalling 1 hour and 12 minutes
Joubert-Dreyer owns two Skills Development Colleges in South Africa, which have been operating since 1998. With her motto being to "Inspire, energise, and learn," Dreyer upskills students by sharing her knowledge of secretarial, office support, and soft skills training.
You'll learn to:
Positively represent your company through personal image and understanding the job criteria
Greet and communicate professionally with your clients
Screen calls and take messages correctly
Perform properly in a frontline position
Understand how to approach other frontline duties
Pros:
Learn from an engaging and knowledgeable professor
Well-organized and explained lessons
Helpful examples to cement learning
Heavily focused on effective communication
Cons:
Less industry-specific
Mainly focused on communication and switchboard operating
Mostly suited to beginners
More attention to how to exceed in a role rather than land a job
Who it's for: This class is ideal for anyone who has landed their first job in a front office role and is looking to impress their employers. Dreyer teaches you how to feel comfortable with switchboard operation and gives you tips and tricks for making a good first impression.
Overall: I would say this course is more geared toward beginners – particularly ones outside of the medical field and in a more "general" receptionist role. There's less attention to how to land a job and more to how you can improve your soft skills within the workplace.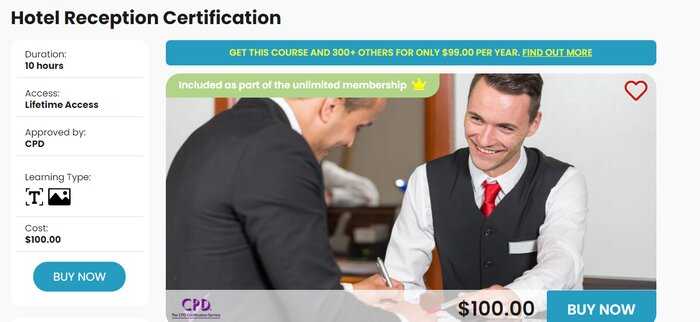 Platform: New Skills Academy | Teacher: Various | Course length: 16 modules totalling 10 hours
Approved by the CPD service, New Skills Academy is a worthy investment if you're looking for career progression or a foot through the door. Moreover, this class focuses on the hotel sector and is packed with industry-specific teaching.
You'll learn to:
Check in guests and provide standard hotel service
Improve your soft skills to connect with visitors
Deliver excellent customer service and communication
Partake in the upselling of hotel services
Understand the legal issues relating to your position
Pros:
Formally accredited by the CPD
Study at your own pace and from any device
24/7 student support and lifetime access
Longer and more detailed than other courses
Cons:
Longer lessons (less suited to those on-the-go)
Admin charge for posting certificates
Pricier than other courses
Lack of teacher/student feedback
Who it's for: Anyone who is serious about entering the hotel business as a front-of-house staff member. This course focuses on customer service elements with the aim of launching you on the path to success.
Overall: A certified class that focuses on various elements of hotel receptionist service such as administrative skills and brand standards. This course goes beyond basic communication and customer service and delves into other essential topics such as security and legal issues.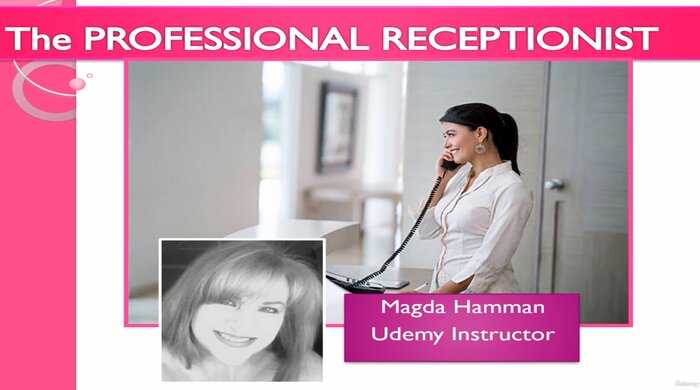 Platform: Udemy | Teacher: Madga Hamman | Course length: 12 lectures totalling 2 hours and 25 minutes
Instructor Magda Hamman specializes in Business Studies and has a Bachelor degree in Public Relations. As an entrepreneur with 30+ years' business experience, Hamman has a passion for seeing others thrive and become "unforgettable" in their work.
You'll learn to:
Understand the receptionist's role within a business
Develop excellent communication skills and telephone etiquette
Present yourself professionally
Apply for jobs and prepare for interviews
Receive and assist visitors
Pros:
Simple but resourceful teaching
Practical knowledge such as switchboard operating
Informative and applicable to various front desk roles
Easy to follow and understand
Longer than other Udemy courses on this list
Cons:
More "homemade" than other courses
Mostly refresher knowledge
Largely opinion-based
Who it's for: This course is ideal for anyone looking to find their first receptionist position, or who is returning to work after a long hiatus. Hamman covers telephone communication, personal style, and administrative duties. So, this is mostly geared toward beginners.
Overall: An easy-to-follow class that pins down the basics of receptionist training in a non-intimidating way. Some of Hamman's advice is opinion-based and up for debate, such as personal/desk presentation. But, it is longer than other courses on this list and covers all the essentials for general receptionist roles.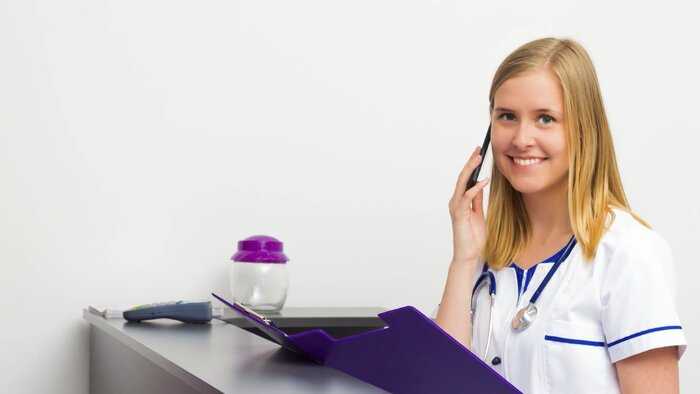 Platform: Universal Class | Teacher: Linda Zavadil | Course length: 12 lessons totalling 6 hours
With over 20 years' experience in customer relations, Linda Zavadil is an esteemed business professional and MA graduate. In this course, she teaches you how your role forms a greater part of the business, and how you can work with others toward your company's goals.
You'll learn to:
Perform basic office skills effectively
Master a receptionist's daily tasks
Create an excellent first impression
Direct client traffic throughout the day
Set and manage appointments
Pros:
Formally accredited end-of-class certificate
20 assignments to test your learning
Self-paced and flexible learning
Highly informative with video/written resources
Cons:
Costlier than other options on this list
Overview compared to, say, medical specialization
Who it's for: Students/job-seekers who are keen to learn more about what a receptionist does. You'll learn a mixture of hard and soft skills that can help you become more employable. These include bookkeeping, accounting, schedule-planning, and making travel arrangements
Overall: A fairly lengthy course that equips you with the knowledge to excel in receptionist work. This class is formally accredited with an end-of-course certificate and has a good mixture of video and text-based learning. That being said, it is one of the more expensive options on this list.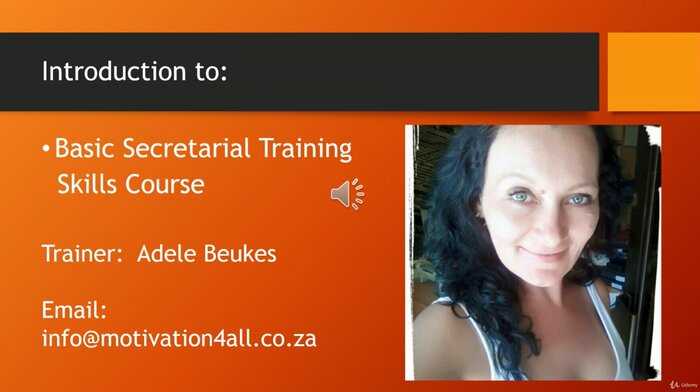 Platform: Udemy | Teacher: Adele Beukes | Course length: 6 lectures totalling 39 minutes
Adele Beukes is a trainer, educator, and motivational speaker with multiple courses on Udemy. She aims to inspire individuals to work toward their goals and improve their skills.
You'll learn to:
Understand and implement basic receptionist principles
Answer calls, take messages, and understand desired secretarial traits
Showcase your skills to prospective employers
Land your first receptionist role
Pros:
Informative and knowledgeable teaching
A short but concise introductory class
Clearly explained points
Certificate of completion
A good refresher course
Cons:
Less engaging than other teachers
Shorter than other courses on this list
Who it's for: Beginners to receptionist work or those returning to work after an extended leave. This class goes into detail about your employer's expectations and how you can meet them. It also mixes theory and practical knowledge.
Overall: An informative but brief course covering the basics of receptionist/secretarial training. The end-of-course certificate can be displayed on your CV but is not formally accredited.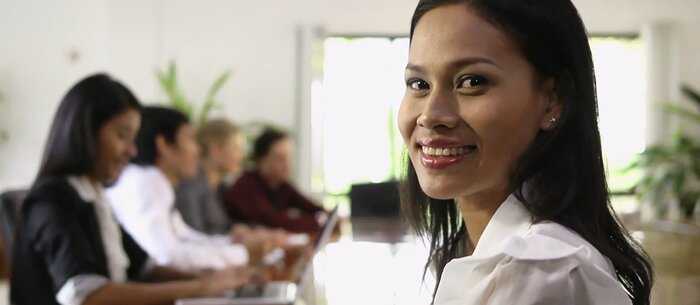 Platform: Udemy | Teacher: Rahul Monga | Course length: 51 lectures totalling 3 hours and 7 minutes
With a degree in dentistry, Rahul Monda is now a dental instructor with certifications in public speaking and effective communication. He currently has over 24 online courses and is passionate about passing on his knowledge.
You'll learn to:
Apply duties typical of a dental receptionist
Understand the policies for working in a dental environment
Sell yourself confidently to employers
Learn practical skills for exceeding in the field
Pros:
Knowledgeable and experienced instructor
Essential and specialized learning for dental receptionists
Budget-friendly course than is still lengthy and informative
Clear explanation of dental-specific terms
Cons:
Lack of infographics or visual examples
No course assessments or quizzes
Who it's for: This course is specifically designed for those who wish to become dental receptionists/administrators. All of the course content is geared toward dental specializations and the exact policies and procedures needed to work in those environments.
Overall: A more affordable option, this course is nonetheless highly informative and is ideal for those looking to stand out in interviews for having field-specific knowledge. Further to ad hoc duties, you'll also learn how to manage patient records, inventory, and insurance.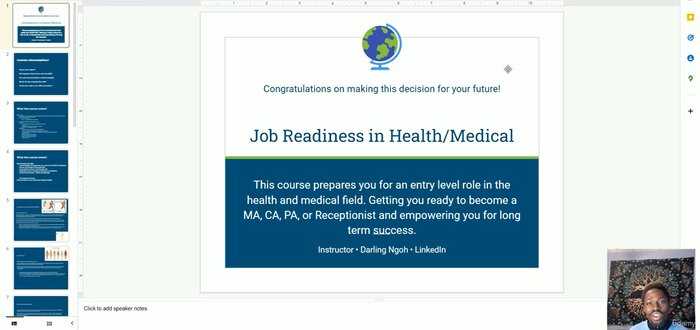 Platform: Udemy | Teacher: Darling Ngoh | Course length: 9 lectures totalling 2 hours and 2 minutes
Darling Ngoh is an experienced healthcare worker with particular attention to healthcare operations. This course is designed to prepare you for a role in the health/medical field with little to no experience.
You'll learn to:
Understand how different positions relate
Use common softwares for storing practices
Prepare your CV for an entry-level role
Get a better feel for what different roles entail
Pros:
Taught by a healthcare professional
Additional downloadable resources
Job prep resources for all students
Certificate of completion
Cons:
Not as clearly organized as other courses
Lessons are drawn out rather than succinct
Who it's for: This course is for individuals with no experience in the industry who are keen to get their foot on the ladder. It's also a great class for those who do have a little experience but want to further their understanding and growth.
Overall: This class is more theoretical than practical and provides an overview of the different administrative roles available. With a class quiz and additional resources, Ngoh helps you to prepare for job-readiness by the end of the course.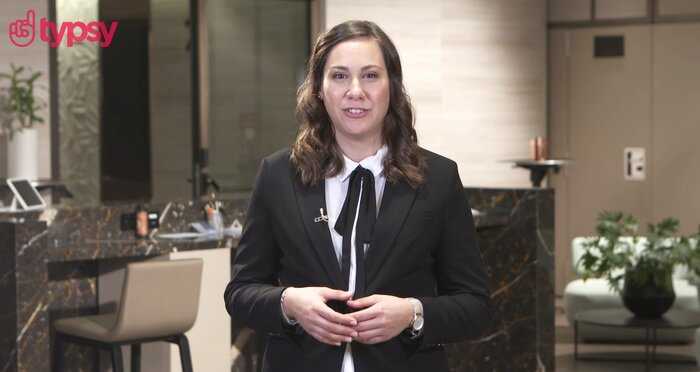 Platform: typsy | Teacher: Sofia Barroso Gomez | Course length: 10 lessons totalling 37 minutes
In 2016, Gomez was named International Receptionist of the Year for her exceptional front desk services. With over 10 years' expertise in the hospitality sector, Gomez is clearly an instructor to listen to.
You'll learn to:
Understand how different front office roles interact
Grasp the skills needed to make for an unforgettable experience
Implement front office duties and behaviors
Be a shining star in guest experience
Pros:
Taught by an award-winning front office professional
Learn online at your own pace
Strong focus on positive guest experience
Endorsed by the Institute of Hospitality
Cons:
Mostly focused on hotel-based roles
Shorter than other courses on this list
Who it's for: typsy's course is best suited to those who are looking for a hotel receptionist or similar hospitality role. This class has a strong focus on guest experience, such as how to interact with different personalities, and also on rooms and services.
Overall: Gomez is a charismatic instructor who puts guest experience at the forefront. So, if you want to learn how to give your guests an unforgettable experience, this is the course for you.
What are the advantages of taking a receptionist course?
In short, there are plenty:
Invest in yourself and your career
Build your relationships with colleagues and guests
Learn transferable skills for your work life
Work your way up the career ladder
Become qualified for a range of frontline positions
Buyers guide: what to look out for in a receptionist course
With so many options out there, choosing the right receptionist class can seem daunting. But, there are some points you should consider to help narrow down the options:
Experience and instructor ability – if you're investing your time and money into an online receptionist class, you need to make sure the instructor knows what they're talking about. So, if you're interested in a hotel receptionist role, it's important that your teacher has expertise in this position.
Develops skills – a great receptionist course will teach you new skills to exceed in your career path, but it will also help you to develop current ones. So, the right class will put you on the path to growth in terms of skills and confidence.
Customer service – it goes without saying that front desk roles are public-facing and therefore customer-service-focused. So, the best receptionist courses will give attention to this and teach you the skills needed to interact with different guests.
Syllabus and skill level – a lot of the courses on this list are entry-level, but you need to make sure that the skill level is right for you. If you have receptionist experience and are looking to progress into medical secretarial work, you probably don't need a general introduction to answering calls!
Price – of course, you'll want to choose something that's within budget. But, it's also important to consider the value you'll get out of a course, too. If a course is twice the price but is taught by an award-winning instructor, that extra cost could generate more value in the end.
How much do online receptionist classes cost?
Prices for individual Udemy classes on this list range from between $23 and $71. This is largely dependent on instructor caliber and course length. But, even at the top end, these are still cheaper than in-person courses.
If you calculate them hourly, these work out as even better value. This, paired with the fact that you're learning something that can help your career, makes these platforms pretty unbeatable.
For New Skills Academy, you're looking at $120 for full-course access. Considering this is a 10-hour course and is formally accredited, this is also a reasonable price. That being said, Universal Class is considerably cheaper at $70 (or $95 with certificate).
For subscription services like Skillshare, you're looking at $168 annually. This only works out at about $14 per month – which is akin to a Netflix plan or handful of coffees. Plus, considering you're investing in your future, I'd say this is a pretty good deal.
typsy, too, is subscription-based service, costing $103 a year for its premium subscription. Like Skillshare, its value increases with the more courses you take. But, it's worth noting that typsy is Hospitality-geared, whereas Skillshare includes a range of work-based and hobbyist topics.
How long does it take to learn receptionist courses online?
Courses on this list vary from 30 minutes to 10 hours!
Many of these courses have built-in quizzes and also have additional resources for you to study.
But, for shorter courses, you really need to see them as a springboard. For example, a 30-minute course that covers telephone answering is all well and good, but you need to put these lessons into practice to see how they apply in the real world.
And remember, you can revisit these videos as many times as you like if you need a refresher. Plus, you can use these sources regularly if you're job-hunting or even starting a new receptionist role.
How do we rank our results?
We rank our results based on the courses we believe to be the best.
Inevitably, this is subjective. But, the factors we consider are:
Teacher experience
Provides transferable skills
Has a strong and relevant syllabus
Student feedback/ratings
Production quality
Overall impressions
Wherever possible, we complete the courses in order to review them. Where we can't do this, we research thoroughly to ascertain class quality and student feedback.
Conclusion
If you're looking to learn receptionist skills online, you really are spoiled for choice.
Udemy is a great platform for if you want to take a single course but can't afford the likes of New Skills Academy or Universal Class. The great thing about Udemy is that anyone can make and share a course, so you don't have to settle for a single option in your category.
Udemy's Become a Corporate Receptionist is our top pick because it's affordable and bite-sized while still providing in-depth knowledge. It's also one of the platform's most popular receptionist courses, which we think speaks for itself.
That being said, if you're interested in more general receptionist training that isn't sector-specific, Skillshare's BUSINESS SKILLS – Receptionist and Frontline Course is our personal choice. With a Skillshare subscription, too, you're also free to take as many courses as you want across the platform.
So, hopefully, this article has helped you to find the best receptionist course for you!
Relevant articles: Best online hospitality courses, Best executive assistant courses, Best Microsoft Office courses, best Excel courses online, best online data entry course
Frequently asked questions
What is the best
online receptionist course?
Our top recommendations are Udemy's Become a Corporate Receptionist and Becoming a Medical Receptionist courses.
How much does an online receptionist course cost?
The classes on this list vary between $23 and $120. Typically, these are cheaper than in-person classes.
How long do online receptionist courses take?
The courses on this list vary between 30 minutes and 10 hours! But you should also account for putting the lessons into practice.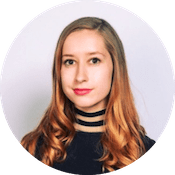 Rebecca graduated from King's College university with a first class honours in English Language, followed by a Masters' Degree in Eighteenth Century Studies.