Whether you're proofreading for books, online print, or any other form of literature, a well-edited and proofread text is key to communicating accurately and professionally.
With that in mind, the courses on this list are here to help you contribute to your chosen field – whether you're writing for business or pleasure. So, if you're looking for the best proofreading courses of 2022, this list is for you.
Recently, I've immersed myself in the world of online proofreading classes to find the best out there.
I've looked at proofreading for different levels, as well as for different types of media.
So, here are my top picks for the best online proofreading courses:
What is the best online proofreading class?
Overall, here are our picks for the best online proofreading courses:
In short, our top pick is Skillshare's Editing and Proofreading MasterClass.
This is because the class covers 64 lessons and 3+ hours of content without breaking the bank. It's also one of Skillshare's most popular and highly viewed proofreading courses, which speaks to its value.
Skillshare also offers over 40,000 courses on any topic you can think of. So, with a single membership, you can take various classes alongside your proofreading course. You can also mix and match proofreading classes to get the best value for time and money – and many of them feature on this list!
That being said, a strong competitor to Skillshare is Udemy. For a single-course purchase especially, Udemy's Proofreading to Perfection class covers a lot of material in a short space of time. It's also taught by a published author who lets you in on a wealth of professional secrets.
Thirdly, Coursera's Writing for Business is a superb option for anyone more interested in business writing and editing. Taking around four weeks to complete, this course is part of a longer series on persuasive writing and is ideal for students looking for something challenging.
Either way, with the platforms on this list offering a 7-day – 1-month free trial, you have little to lose and a whole lot to gain.
Read our mini review below to get the full details!
Best Online Proofreading Course Reviews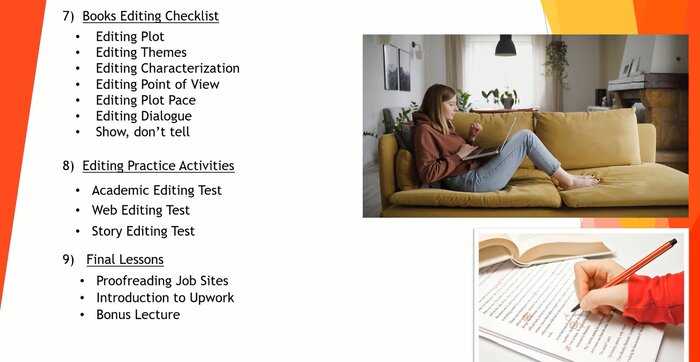 Platform: Skillshare | Teacher: Nitay L | Course length: 64 lessons totalling 3 hours and 49 minutes
Nitay L is a proofreader and translator at Upwork and has a wide range of freelancing knowledge. In this course, he aims to set you up for success and to realize your earning potential right away.
You'll learn to:
Hack proofreading with three key methods
Spot common grammar and language errors
Clarify text and fix poor syntax
Make a proofreading career
Pros:
Straightforward teaching that is ideal for beginners
Well-explained concepts and excellent detail
Engaging presentation of organized content
Taught by, and geared toward, self-learners
Cons:
Less suited to advanced users
Not all spelling/grammatical errors are addressed
Mostly for those interested in translation-editing
Who it's for: This class is for anyone interested in a proofreading career. That being said, it's most useful for aspiring translation-editors, as this is where Nitay L's experience lies. If you're looking to freelance on platforms like Upwork, this course is a valuable guide to getting started.
Overall: A comprehensive class taught by a well-rounded and experienced teacher. You'll uncover a number of methods for proofreading and editing, and, as Nitay L promises, you'll be ready to start earning after a few hours of fun video lessons.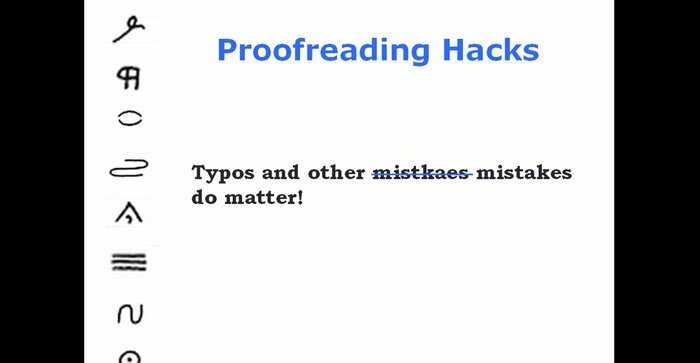 Platform: Udemy | Teacher: Marcia Yudkin | Course length: 12 lectures totalling 1 hour and 29 minutes in length
Marcia Yudkin is a marketing coach and published author of 15+ books. She's also been featured in The Wall Street Journal, Entrepreneur, and other esteemed journals. So, in this course, she helps you to create a proofreading routine to catch and correct errors – whether for your work or others'.
You'll also learn to:
Exercise skills used by professional editors
Understand the best systems for proofreading
Get better at producing error-free text
Better grasp when and how to proofread
Pros:
A great course for proofreaders with many helpful strategies
Well thought-out class with excellent presentation
Suitable for beginner and intermediate learners
Helpful examples and anecdotes
Cons:
Only considers American English
Shorter than other courses on this list
Udemy certificate is not formally accredited
Who it's for: This class is ideal for anyone who wants to proofread professionally, either for a company or as a freelancer. Yudkin has a wealth of experience and shares her tips on how to write, read, and edit professionally. So, if these are the skills you need to break into your chosen sector, this class is for you.
Overall: A brilliant class led by an enthusiastic teacher. Despite being under two hours, Yudkin packs in a lot of information for aspiring proofreaders. You can also use this knowledge to proofread your own work.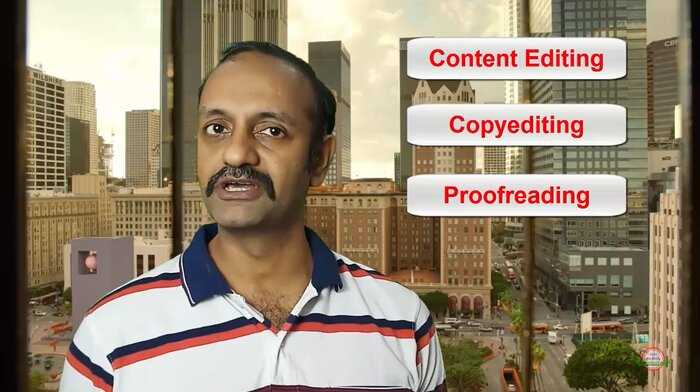 Platform: Skillshare | Teacher: Sivakumar Kannan | Course length: 62 lessons totalling 2 hours and 59 minutes
Sivakumar Kanna is a digital marketing expert with a passion for teaching. He runs his own marketing agency and hosts a range of online classes from SEO to email marketing. As he proclaims, this course is for anyone who wants to become a professional editor or enhance their writing by self-editing.
You'll learn to:
Understand and execute key proofreading strategies
Become a world-class editor by mastering the basics and beyond
Familiarize yourself with writing rules for different media
Drastically improve error-laden or dull text into something engaging
Pros:
Excellent class for intermediate learners
Recommended for those looking to sharpen their skills
Clear and enjoyable teaching style
Applicable knowledge to a range of skill levels
Cons:
Resources not always easy to navigate
Some confusion over British/American English
More suited to intermediate-level learners
Who it's for: In my opinion, this course is better suited to those with some prior knowledge of proofreading. This is because the class, while comprehensive, presents a lot of specialist knowledge that could be overwhelming for beginners. So, with that in mind, this course is best for intermediate learners who are looking for a refresher.
Overall: An engaging but fast-paced class that collates a lot of information on proofreading and editing. Kannan includes helpful and well-explained examples that help to cement his points. If you have some knowledge of proofreading but are returning after a break, this course is a good go-to to refresh your memory.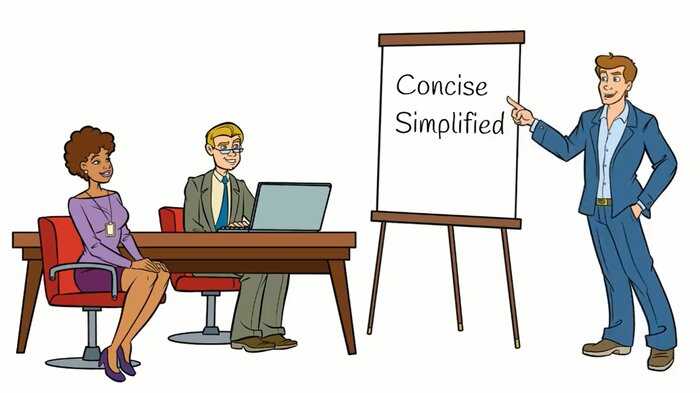 Platform: Skillshare | Teacher: Krishna N. Sharma | Course length: 37 lessons totalling 1 hour and 24 minutes
Professor Krisha N. Sharma is an author and teacher with over 40 best-selling publications to his name. Sharma has designed this course with newcomers in mind, so you don't need any prior knowledge before taking this course. Unlike other Skillshare courses, this class is accredited by Virtued Academy International.
You'll learn to:
Check for spelling, grammar, and punctuation effectively
Improve readability through word choice and syntax
Know your role (and limits) as a proofreader
Equip yourself with the best strategies to succeed
Pros:
Well-organized and informative class
Certified with end-of-class certificate
Strong introduction to editing and proofreading
Ideal for anyone looking to self-edit/sell their proofreading services
Cons:
Some grammatical errors are skimmed over
Fewer examples than with other courses
Some students did not receive a certificate as advertised
Who it's for: All in all, this class is perfect for anyone looking to step into proofreading with little to no experience. You do not need prior knowledge to understand this course. In fact, the class is well-rated for being informative and has clear and engaging instruction.
Overall: This class is thorough, beginner-friendly, and offers a great overview for aspiring proofreaders. You'll learn how to self-edit and proofread for others as well as to recognize your potential as a proofreader.

Platform: Skillshare | Teacher: Duncan Koerber | Course length: 17 lessons totalling 50 minutes
Duncan Koerber is a university professor who has taught writing and communication courses for 15+ years. Currently working at Brock University in Ontario, Canada, Koerber has a wealth of freelance experience in magazines and newspapers. He even has a writing textbook that was published in 2015.
You'll learn to:
Proofread practically for words and punctuation
Recognize and use proofreading symbols
Develop and refine your proofreading skills
Impress readers and employers with your polished text
Pros:
Packs a lot of valuable information in a short space of time
Clear and concise delivery
Engaging and great for instilling confidence in viewers
Ideal for those with busy lifestyles who can't invest in a long course
Cons:
Mostly tip-based rather than a guide
Fewer additional resources than other classes
Repetitious at times
Who it's for: This course is curated for those looking to step into the world of proofreading with little to no prior experience. Koerber's course also teaches you the necessary jargon and symbols to put proofreading into practice as a career. If you're looking for an introduction to proofreading in this sense, this course is for you.
Overall: A short but useful course filled with practical information and helpful tips and tricks. You'll learn how to proofread like a professional and gain confidence in furthering these skills. In short, this is a great overview of proofreading basics.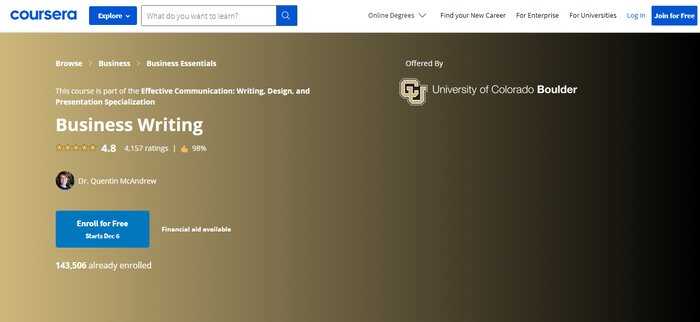 Platform: Coursera | Teacher: Dr. Quentin McAndrew | Course length: 4 weeks of lessons totalling approx. 13 hours
Dr. Quentin McAndrew is an instructor in the Department of English at the University of Colorado Boulder. CU-Boulder offers this course, with financial aid available, as part of their larger series on Effective Communication. As they note, writing well is one of the most valuable skills you can develop in the business world, and this course shows you how to do just that.
You'll learn to:
Avoid repetition and cut where needed
Revise your work to prioritize the active voice
Simplify sentences and edit out prepositional phrases
Finalize your proofreading drafts
Pros:
A lengthy and thorough course that covers many proofreading aspects
Excellent as a refresher course or for anyone looking to sharpen their skills
Acknowledges multiple types of business writing
Clear and personable teaching
Can be taken free (without certification)
Cons:
Filming style can be distracting at times
Heavier on exams/quizzes than on lessons
Considered too basic for some
Who it's for: This course is most beneficial to those looking for an introductory course to business writing. While it's too specialist for general proofreading viewers, it's also basic enough for it to be considered a foundational course for business writers.
Overall: A well-paced and informative class covering several weeks' worth of content. Unlike some of the other courses on this list, Business Writing specializes in proofreading for business/marketing text.

Platform: Skillshare | Teacher: Duncan Koerber | Course length: 22 lessons totalling 1 hour and 30 minutes
Another proofreading course led by Duncan Koerber, this class focuses on how to initiate your proofreading career using Upwork. In this course, Koerber distils the complete process for becoming a freelancer on the site. This includes how to maximize your success using Koerber's key techniques.
You'll learn to:
Create an account on Upwork and navigate your earning potential
Understand the different types of proofreading you can pursue
Effectively use, and gain from, Upwork's hire/bidding system
Sell your services and land the gigs on Upwork
Pros:
Highly detailed and well thought-out class
Extremely valuable for those starting out in freelancing
A solid overview of how to use one particular platform
Professional and articulate delivery
Cons:
Not up to date with Upwork's latest policies
Specific to only one platform
Who it's for: Anyone interested in kick starting their career in proofreading or editing on Upwork. In this class, Koerber teaches you how to set up an account, refine your profile, and use Upwork's bidding system to gain jobs.
Overall: A great introduction to how to proofread for a specific freelancing platform. This makes the content easily transferable as there is a clear resource in which to apply the knowledge. If you're looking to gain some freelancing experience and think Upwork might be the platform for you, this class is well worth a watch.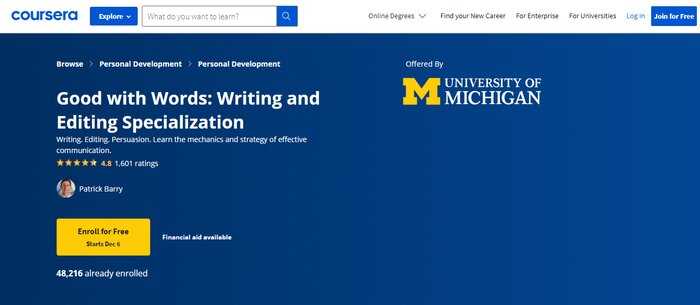 Platform: Coursera | Teacher: Patrick Barry | Course length: Approx 4 months to complete
Patrick Barry teaches at the University of Michigan Law School and is a visitor of both University of Chicago and UCLA. With a course specialty in speaking, writing, and editing, this class helps you to learn good habits for writing, editing, and proofreading text.
You'll learn to:
Understand the difference between editing and proofreading
Edit and proofread text to ensure effective communication
Assess punctuation and syntax professionally
Obtain life-long habits for strong writing and editing
Pros:
Provides transferable skills for writers and editors
A lengthy course with a wealth of information
No previous knowledge/experience needed
Subtitles available + flexible studying
Cons:
Pricier than other courses on this list
Covers many aspects of writing and editing (not just proofreading)
Could be too long a commitment for some learners
Who it's best for: This course is ideal for anyone who wants to improve their written voice through attention to syntax, punctuation, and word choice. Barry teaches you how to present difficult information in a reader-friendly way and helps you to cut down on the jargon and fluff that impinges clear reading.
Overall: This class is a lot longer than others on this list, taking around four months to complete. Offered by the University of Michigan, it's a great and well-rounded introduction to improving communication with the written word.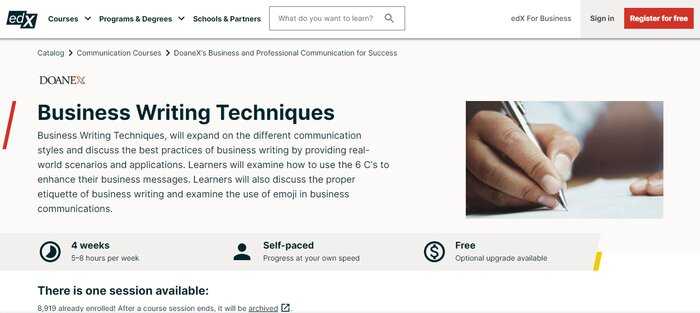 Platform: edX | Teacher: Deborah Sepich | Course length: 4 weeks with 5-8 hours per week
Deborah Sepich is an educator and entrepreneur. She currently works at Doane University where she specializes in business, writing, and communication. Another business-focused course, Business Writing Techniques teaches you how to write, proofread, and edit to a strong business standard.
You'll learn to:
Apply writing and proofreading techniques to real-world scenarios
Use the 6 Cs to enhance business messages
Revise and evaluate text to ensure concise and persuasive writing
Understand and put into practice proper business writing etiquette
Pros:
Self-paced course with flexible learning
Choose between free and paid options
Taught by a university professional
Certificate of completion with paid version
Cons:
Focused on business writing specifically
Longer than other courses on this list
Who it's for: This class is best for students or freelancers interested in business writing and communication. So, if you're looking to proofread copy for business, this course is for you. You'll learn a range of techniques for business writing as well as proofreading, which is valuable and transferable across media.
Overall: A strong university-led course focusing on writing and proofreading for business. However, because it falls under the category of Business Writing, it's both business-oriented and more focused on writing rather than proofreading alone. That being said, if the field is applicable to you, you'll get a lot out of this course.
Platform: LinkedIn Learning | Teacher: Erin Rickard | Course length: 15 lessons totalling 39 minutes
Erin Rickard is a professor, writer, and editor with over 10 years' experience in freelance writing. So, in this class, she guides you through the effective processes for editing and proofreading as a freelancer or other professional.
You'll learn to:
Proofread and edit your own writing to an impeccable standard
Master the five keys to effective proofreading
Navigate the rules of spelling and grammar
Overcome common editing and proofreading mistakes
Pros:
A great overview of proofreading and editing in the workplace
Well-organized course content and sections
Beginner-friendly and easy-to-understand teaching
Actionable advice for a range of professionals
Cons:
Less helpful for intermediate learners
Quiz questions and examples can be hard to follow
Who it's best for: This course is ideal for professionals or students who are about to set out into the working world. It gives a well-grounded overview of the importance of editing and proofreading and is applicable to a range of professional settings.
Overall: A short but informative course, either for beginners or as a refresher. The lessons are well-paced and Rickard explains her subject matter in a clear and concise way. The course also includes examples and quizzes to further your knowledge.
What are the advantages of taking a proofreading course?
In short, there are plenty! Such as:
Refine your professional image and be self-sufficient in writing
Progress into a new career path by learning widely applicable skills
Learn valuable tools for editing, writing for business, and proofing your CV
Save time and money by being able to proofread your own work
Buyers guide: what to look out for in a proofreading class
Because of how popular e-learning has become, it can be hard to know where to begin when looking for a proofreading course. So, we've compiled some points you should consider before committing to any one class:
Experience and instructor ability – if you're spending time and money taking a proofreading course, you want to be sure you're learning from someone with the right skills and experience. So, if you're interested in proofreading for blogs, you'll want to find a teacher who also has expertise in this field.
Develops skills – a good proofreading course will teach you the foundations of reading and editing for grammar, syntax, etc. But, it shouldn't only do this. A great class will help you to build upon your own skills and take these further. Hopefully, you should come away feeling inspired and ready to dive into the world of proofreading.
Working professionally – while proofreading is a great skill for anyone to have, if you're looking to study proofreading as a career step, it's important that you should learn the practicalities of the role. So, the best course for you will offer advice on managing priorities, working to tight deadlines, and balancing thoroughness with speed.
Syllabus and skill level – many of the courses on this list are beginner-friendly, but you should consider your own level when approaching a class. For example, if you have some prior knowledge of proofreading but want to brush up and revise, you probably don't need a whole introduction to what proofreading is.
Price – Ultimately, you'll want a course that you can afford. But, it's also important to consider the value you'll get out of the course as well as your immediate budget. For example, if a course is twice the cost but features a professional with more experience, that could end up being a better long-term investment than a cheaper alternative.
How much do online proofreading classes cost?
Prices for proofreading courses vary greatly, and some of the classes on this list are on subscription services. To give you a ballpark, edX's Business Writing Techniques and Coursera's Writing for Business Course can be taken for free (though there is a charge if your require certification). While Udemy's Proofreading to Perfection is $36.
LinkedIn Learning and Skillshare are both subscription platforms, which work out more cost-effective the more courses you take.
At the time of writing, LinkedIn Learning costs $39.99/month or $24.99/month annually. If you do wish to purchase an individual class, you're looking at around $35-$45 on average.
On the other hand, a Skillshare subscription is $168 annually, working out at about $14/month. And, considering you're investing in a wealth of knowledge for your personal and professional life, I'd say this is a pretty good deal.
How long does it take to learn proofreading courses online?
The courses on this list vary in terms of length – from 39 minutes to four months!
Many of these classes have built-in assessments, extra resources, and even exercises to try at home.
Because of this, it's hard to pinpoint the exact time it takes to learn proofreading. Plus, it's a skill that needs constant revision and practice, so you need to account for this as well as the course length itself.
With the exception of edX's free course option, you can revisit the paid-for courses as many times as you'd like. This is also true for as long as you're subscribed to a particular platform. So, if you feel like you need to sharpen your skills, there's always the option to return to the class.
How do we rank our results?
We rank our results based on the courses we believe to be the best.
Undeniably, this is subjective. However, the factors we consider are:
Teacher experience
Provides transferable skills
Has a strong and relevant syllabus
Student feedback/ratings
Production quality
Overall impressions
Where possible, we complete each course in order to review them. Where we can't do this, we research thoroughly to grasp students' honest opinions and course quality.
Conclusion
If you're looking to start out as a freelance proofreader, or if you have some knowledge and want to brush up on the technicalities, you're not short of options.
While the best course for you will depend on your own aims, our top pick is Skilshare's Editing and Proofreading MasterClass. As mentioned at the start of this article, the course covers over 60 lessons and 3 hours of content. This is a great middle-ground for someone who wants a course that is long enough to be informative, but not so much of an investment that it's inflexible.
Plus, the fact that this is one of Skillshare's most viewed and highly rated proofreading courses really speaks to the value students recognize in it. And, you can get great value for money by taking as many of Skillshare's 40,000 classes as you like with their subscription.
That being said, if you are more interested in a one-off course, Udemy's Proofreading to Perfection is a great alternative. Led by Marcia Yudkin, who is a marketing professional and published author, you'll learn the best proofreading strategies from a trusted source. Yudkin also lists several downloadable resources for you to revise offline.
So, hopefully, this article has given you a better idea of which proofreading course is best for you!
Related articles: Best online transcribing courses
Online Proofreading Courses: FAQs
How much does an online proofreading course cost?
The single-purchase classes on this list are between $36 – $150. Generally speaking, these are cheaper than in-person courses.
How long do online proofreading classes take?
The courses on this list vary from 39 minutes to four months. But you should also account for time spent putting the lessons into practice.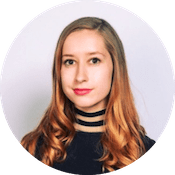 Rebecca graduated from King's College university with a first class honours in English Language, followed by a Masters' Degree in Eighteenth Century Studies.