With the amount of online courses today, learning to transcribe has never been easier. But, choosing the best transcribing course can be hard. After all, there are so many!
So, in this article, I'll take a look at the best online transcribing classes to help you decide which is right for you.
Whether you're new to transcribing or are looking for a refresher, I've got you covered. From navigating software to setting up your own website, I've researched the courses that teach you these skills and more.
And, while transcribing might seem like a job that's bombarded with applicants, the teachers in these courses prove that it's a difficult and refined skill. It also requires a lot of hard work – so you need to be able to put in the time and practice.
With that being said, let's get into it.
What is the best online transcribing course?
In short, here are our top picks:
Of these, our top recommendation is TCI's General Transcription. Mainly because it's a specialized course with extra resources. For instance, it even offers ongoing career support and a guaranteed internship by the end.
Similarly, Transcribe Anywhere's General Transcription: Theory and Practice is another great option for specialized learning.
Not only is the class taught by a professional transcriptionist, it also focuses on the marketing side of transcriptionist work. So, you'll not only learn to develop new skills – you'll also learn how to set up your business.
If you're interested in part-time freelancing, or if you have multiple areas of interest, a subscription platform like Skillshare might be more valuable. Skillshare membership gives you unrestricted access to over 40,000 courses. And it has a one month free trial (with our links) so there's little to lose and lots to gain.
But, if you're invested in a transcribing career, one of the specialized website options, like TCI or Transcribe Anywhere is probably a better pay-off in the long-run.
In fact, Transcribe Anywhere even has a free mini course so you can decide whether the full program is right for you. 
Read our mini reviews below to get the full details!
Best Online Transcribing Course Reviews
1. General Transcription (Transcription Certification Institute)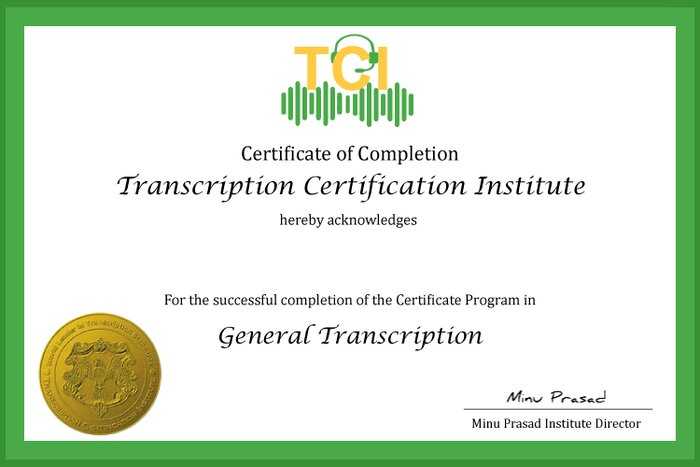 Platform: Transcription Certification Institute | Teacher: Various | Course length: 3 weeks
Launched in 2008, Transcription Certification Institute (TCI) aims to rectify the shortage of trained transcriptionists. With a team of experienced mentors, TCI developed a 3-week program for anyone looking to transcribe for a living.
You'll learn:
Transcription's importance and its different types
Top tips from transcription professionals
The best equipment and how to use it
How to write a strong transcriptionist résumé
The role that listening, editing, and referencing plays
Pros:
Learn from a professional team of transcriptionists
Course certificate and internship opportunities
Acquire the skills to start earning from home
Further transcription and career resources
Cons:
Pricier than other alternatives
A stand-alone course rather than a subscription
Who it's for: All in all, this course is for anyone who is looking to work from home as a transcriptionist. That being said, whether you want to work full-time or around your schedule, TCI's General Transcription course sets you up to earn straight away.
Overall: A carefully curated course that aims to equip a wider range of people with transcription skills. You'll learn transcribing foundations, desirable qualities, and the equipment you need to market yourself.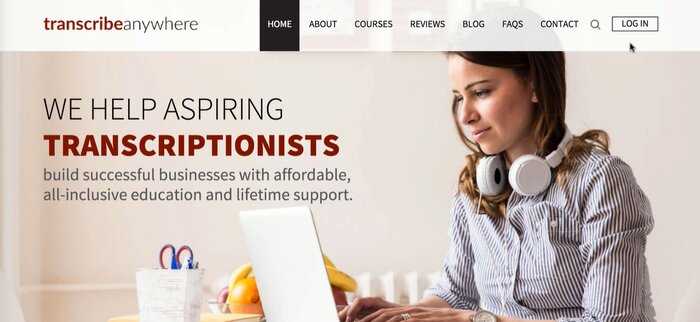 Platform: Transcribe Anywhere | Teacher: Janet Shaugnessy | Course length: 5 modules totalling approx 2-4 months
Janet Shaugnessy is a professional transcriptionist with over 10 years' experience with Zoom's Transcription Services. In as little as two months, Shaugnessy sets out to equip you with the skills needed to go from newbie to professional.
You'll learn:
How to set up a transcriptionist website
Transcription basics, including punctuation
How to use transcription software
Key differences in transcription types and terms
Templates for time-coding, résumés, invoices, and more
Pros:
Comprehensive and professional training
Lifetime course access and updated course material
Final exam and certificate
Three package options you can upgrade to
Cons:
More expensive than other courses on this list
Less focus on end-of-course career services
Who it's for: Shaugnessy stresses that unlike other classes, this is a program that requires real work to succeed. So, if you're ready to put in the time needed to study and practice, this course is for you. In the class, you'll learn transcription foundations and terminology, and also gain a better understanding of transcription theory and equipment.
Overall: This comprehensive course clearly demonstrates Shaugnessy's knowledge in the field. As an expert in general and legal transcription, Shaugnessy's advice is helpful for both newcomers and experienced transcriptionists. It also teaches a lot of valuable terms and techniques that some other classes lack.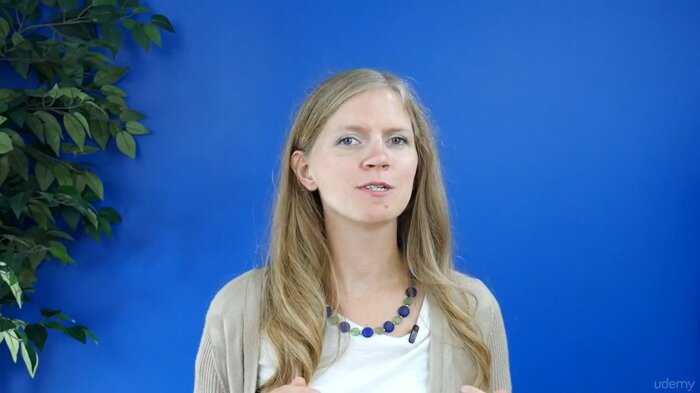 Platform: Udemy | Teacher: Chelsea Flint | Course length: 28 lectures totalling 1 hour and 38 minutes
Having transcribed hundreds of podcasts, interviews, and speeches, it's fair to say Chelsea Flint knows a thing or two about transcription. Starting from home with little experience, Flint shares her trade secrets for transcribing from home.
You'll learn:
How to professionally transcribe and edit
Techniques for working with poor audio
How to get paid for transcription work
Grammar and punctuation fundamentals
Advanced techniques such as timestamping
Pros:
Easy-to-follow instructor
Suited to all levels
Highly informative
Over 30 downloadable resources
Cons:
Requires a paid program download (two-day free trial)
Doesn't relate to the software's latest version
Who it's for: This class is targeted toward freelancers looking to make money through transcribing. Flint teaches you the techniques and confidence to market yourself and start making money.
Overall: While shorter than other courses on this list, Transcriptionist Skills comes packed with information and offers resources for out-of-class reading. However, the only downside is that it requires Express Scribe. Although there's a trial version of this, it only lasts two days, so you'd need to finish the course within that time to avoid being charged.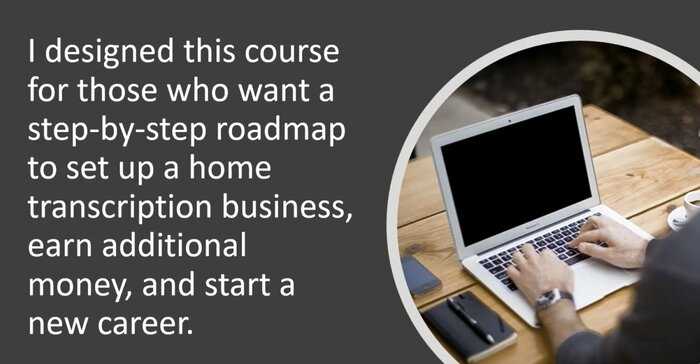 Platform: Udemy | Teacher: Amanda Fichter | Course length: 14 lectures totalling 1 hour and 44 minutes
Working from her 'home transcription office' for 10+ years, Amanda Fichter offers her expertise to help you work from home. In fact, this is one of four transcribing courses Fichter offers. With a 4.5 instructor rating, you can rest assured that you're in good hands.
You'll learn:
Different transcribing styles and training
The required skills to excel in transcribing
How to set up an at-home work station
Where to find consistent transcription work
Pros:
Informative introduction for beginners
Keen insight into whether transcription work is right for you
Plenty of focus on transcribing as a career
Engaging and easy-to-understand instructor
Cons:
Less suited to intermediate learners
Sometimes too heavy on working from home vs. transcribing skills
Who it's for: In my opinion, and others', this class is mostly geared toward stay-at-home parents seeking at-home employment, or those seeking a flexible career change. The class covers the pros and cons of working from home and Fichter draws a lot from her experience as a stay-at-home mom.
Overall: This is a useful foot-through-the-door course designed to give you confidence in a new career. With nearly 30 downloadable resources, Fichter's class shows you how to get stable transcriptionist work from the comfort of your home.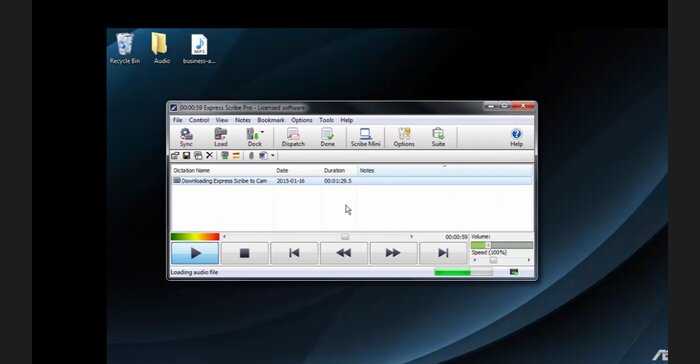 Platform: Udemy | Teacher: Chelsea Flint | Course length: 26 lectures totalling 1 hour and 16 minutes
Another transcribing course from Chelsea Flint, this course is more geared toward beginners. In fact, Flint describes this course as a blueprint for working from home in the transcribing field.
You'll learn:
How to transcribe audio files
The best ways to apply to transcription companies
How to create a professional transcriptionist résumé
Ways to earn money through transcribing
How to strengthen your typing and grammar skills
Pros:
A quick but informative course for beginners
Great introduction to more advanced classes
Helpful and affordable course for aspiring transcriptionists
Also useful as a refresher course
Cons:
Doesn't cover a wide range of transcript types
Lower audio quality than other classes
Quite fast-paced at times
Who it's for: Overall, this course is best suited to complete beginners or returning transcriptionists who need a refresher. Flint's class is as much an introduction to transcribing as a career as it is a skills-based course. Most importantly, you'll learn the doors transcribing can open for you and how you can make a living from it.
Overall: The second of Chelsea Flint's transcription courses, this class is more of a springboard into her other course. That being said, this class is highly informative in its own right and is an excellent 'decider' course if you're on the fence about a transcribing career.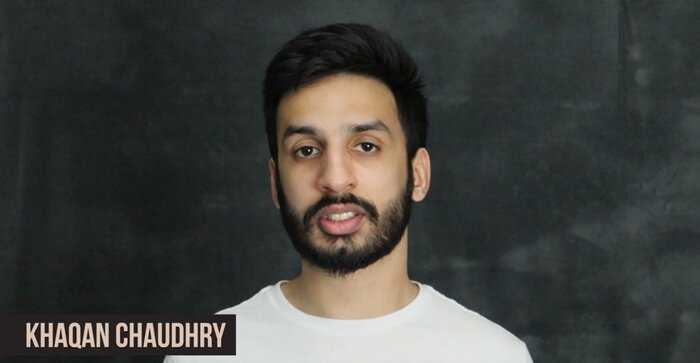 Platform: Udemy | Teacher: Khaqan Chaudhry | Course length: 24 lectures totalling 2 hours and 15 minutes
A full-time transcriptionist for over four years, Khaqan Chaudhry has worked for many transcriptionist companies. With that in mind, he designed this course to help you cut through the noise and land your first ever transcriptionist role.
You'll learn to:
Work with different audio players
Deal with difficult audio files
Create the perfect transcriptionist résumé
Excel in your transcribing exams
Master the entire transcribing process
Pros:
Well-explained and practical course
Excellent presentation and class content
Takes you through a genuine transcription test
Gives you the confidence to find your first transcription job
Cons:
A lot of focus on how to type
Spelling errors throughout course
Not as prestigious as TCI/TA
Who it's for: Chaudhry markets this course toward anyone who wants to become a full-time transcriptionist. In particular, it's aimed toward students who want to work from the comfort of their own home with a job that's flexible and consistent.
Overall: Taught by a professional transcriptionist and entrepreneur, Chaudhry instils you with the confidence and skills needed to find your first transcribing job. Moreover, using real exam content, this class is highly pragmatic and goal-oriented.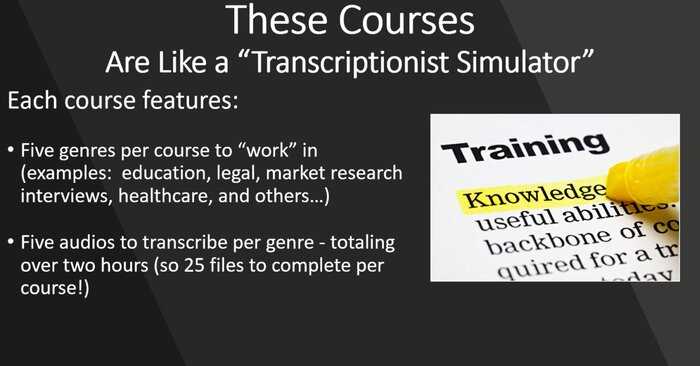 Platform: Udemy | Teacher: Amanda Fichter | Course length: 9 lectures totalling 35 minutes
Another course by self-employed transcriptionist, Amanda Fichter, this class is a three-part practice series. As Fichter explains, this is designed to complement her earlier course on transcribing from home.
You'll learn:
Hands-on transcribing practice exercises
How to transcribe in multiple genres
Proofreading techniques and simulators
How to transcribe for different clients
Your next steps to becoming a transcriptionist
Pros:
Hands-on course to complement theory-based learning
Immerse yourself in five different genres
Simulates a real transcriptionist's project
25 files to complete per course
Further learning with two more practice courses
Cons:
Designed to be taken alongside other courses
Not suited for complete beginners
Less informative than other classes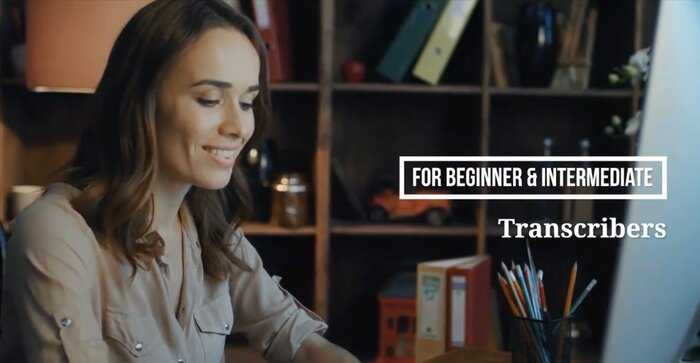 Platform: Skillshare | Teacher: Elizabeth Le Roux | Course length: 13 lessons totalling 1 hour and 32 minutes
Elizabeth Le Roux is a transcription enthusiast who aims to teach you transcription excellence. While it's an entry-level course, it's also suitable for those looking to brush up on their existing skills.
You'll learn:
What transcription is and the skills it requires
Transcription comprehension, accuracy, and examples
How to format, label, and tag transcriptions
Useful transcription tools
Where and how to find transcribing jobs
Pros:
Informative course with ample examples
Well-organized and clear course content
Helpful for beginners and aspiring freelancers
Directs you to career opportunities
Cons:
No transcript provided
Too basic for some
Who it's for: This course is for anyone looking to become successful by equipping themselves with the necessary skills to get ahead in transcribing. Suited for beginners, you'll learn how to comprehend, transcribe, proofread, and edit to deliver outstanding work to your clients.
Overall: A strong mix of theory and practice with career advice, close-reading, and plenty of examples. This course also includes an advanced module, which covers some of the more intermediate skills needed for advanced transcription.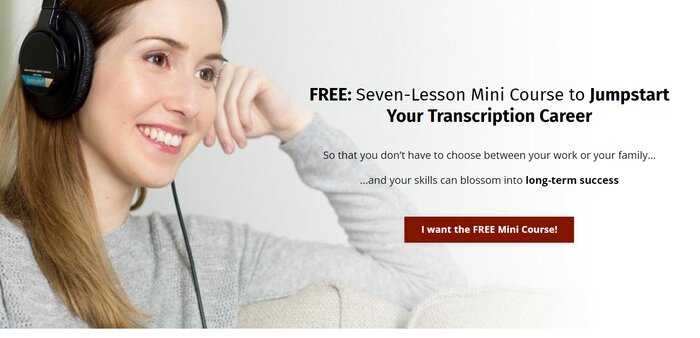 Platform: Transcribe Anywhere | Teacher: Janet Shaugnessy | Course length: Various
Founder of Transcribe Anywhere, Janet Shaugnessy is your course leader for this seven-part mini series on transcription basics. Here, she introduces you to the work she does as a professional transcriptionist.
You'll learn:
What transcription is and why it's important
The two keys to success as a transcriptionist
How to decide if you're a good fit for the role
What you need to get started as a transcriptionist
How to build your transcriptionist business
Pros:
Learn from a professional transcriptionist and business owner
Requires no additional equipment
Focuses on key terminology
Cons:
Text-based rather than video
Shorter than other courses on this list
Only a preview of TA's full course
Who it's for: This course is for anyone interested in transcription who doesn't want to jump in at the deep end. This free mini-course gives you an introduction to transcribing and helps you decide whether it's right for you.
Overall: An informative introduction to what transcription is and what it looks like as a job. You'll learn the skills necessary to excel in the business, how to market yourself, and whether your current lifestyle is a match for transcribing. If so, this is a great springboard into Shaugnessy's General Transcriptionist course.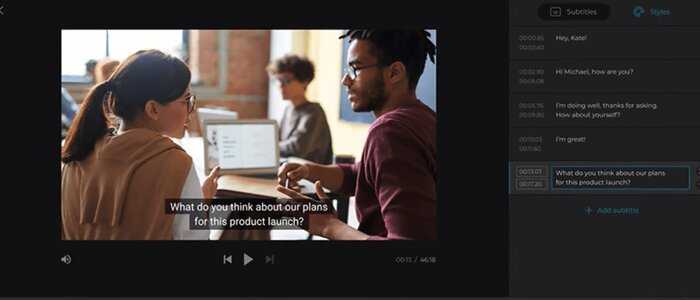 Platform: Skillshare | Teacher: Nitay L | Course length: 23 lessons totalling 1 hour and 57 minutes
Nitay L is a transcriptionist and proofreader for Upwork. With a wide range of freelancing knowledge and several years' experience working for leading companies, he brings his expertise to a wider viewership in this transcribing course.
You'll learn:
This ins and outs of freelance website, Upwork
The tools needed to work in transcription
How to sharpen your skills with practice activities
The three main types of transcription
Basic terminology and subtitle guidelines
Pros:
Highly informative about Upwork
A pragmatic course that gets you earning straight away
Detailed about various aspects of transcription
To-the-point course content
Cons:
Lower video quality than other courses on this list
Not as engaging as other courses
Focused on one freelancing website
Who it's for: This class is designed for freelancers looking to earn money through transcription. While some advice is transferable, it's heavily focused on how to use Upwork. As a result, most of the teaching is specific to this platform.
Overall: An informative course that includes plenty of examples and practice text. If you're interested in using Upwork, this is also an excellent tutorial for the site. That being said, it's not as varied as other classes and doesn't cover other career opportunities.
What are the advantages of taking a transcribing course?
In a nutshell, there are many advantages to taking a transcribing course. These include, but are not limited to:
Learn lifelong in-demand skills
Find a new career or side hustle
Understand the skills needed to transcribe your own work
Constantly improve and keep up-to-date with field developments
Develop desirable skills to add to your résumé
Earn additional income or transform your career
Buyers guide: what to look out for in a transcribing course
Choosing the right transcribing course can be confusing – especially when there are so many options out there. So, we recommend considering the following points:
Instructor experience and ability – if you're going to spend time and money learning a new skill, you want to be sure the teacher knows what they're talking about. You also want to ensure that they are able teachers and can present their expertise in a way that's easy to follow
Develops skills – while it's important to know the basics, the right class will encourage you to be constantly learning. So, whether it's through further courses or additional resources, the best course should leave you with a thirst for knowledge and the confidence to push yourself
Correct terminology – it goes without saying that transcribing requires strong attention to detail and an excellent understanding of spelling, grammar, and punctuation. So, the ideal course will teach you correct terminology and help you to identify transcription mistakes.
Syllabus and skill level – is the course you've chosen right for your skill level and goals? For example, if you want to work for a top company, a class focusing on Upwork probably isn't compatible. The same is true for your skill level. If you have basic transcription knowledge, you need a course that takes you beyond the basics.
Price – of course, you want something that's within your budget. Although, it's also important to consider a course's long-term value. For example, if a course is twice the price but is taught by a teacher with double the experience, the extra cost could generate more value in the end.
How much does a transcribing course cost?
Prices for individual classes on this list vary, with Udemy courses ranging from between $13 and $18. Even considering course length, this still works out as cheaper than in-person classes.
In terms of subscription platform Skillshare, a monthly subscription will set you back $32. However, if you opt for the annual subscription, you're looking at only $14 a month.
And the value increases the more courses you take. So, you can take any of the 40k Skillshare courses on this list for no additional cost, or even mix and match courses in various topics. And with our links you can get a one month free trial.
Apart from the free mini course with Transcribe Anywhere, the transcription-specific sites are steeper in cost ($499 as a one-time fee or $199 for three months). However, this is because they offer more additional resources and are much longer (three weeks for TCI and two to four months for TA).
In the long run, if you're serious about a career in transcribing, an option like TCI or TA can be a worthwhile investment.
It's also hard to contest the professionalism you get with field-specific course providers. In contrast, a platform like Udemy allows anyone to design, make, and offer a course so quality isn't always guaranteed – though our recommendations here are sound.
How long does it take to learn transcribing online?
Courses in this review vary from one hour to four months!
Some of the longer courses also have built-in practice time, case studies, and assessments.
But, for shorter courses, you need to account for practice time. A general rule is to take the course length and multiply by five (which accounts for practice hours). However, this is a guideline and your practice time will vary depending on your skills and experience.
Plus, with most of these courses, you can revisit the videos and go over them at your own pace.
As well as this, almost all of the courses on this list come with printable resources that you can use as permanent references.
Conclusion
To conclude, you're definitely spoiled for choice when it comes to learning transcribing online.
That being said, our top pick is TCI's General Transcription course. Not only is it a specialized platform with a ton of extra resources, it offers career support after course completion and a guaranteed internship.
However, Transcribe Anywhere's General Transcription: Theory and Practice is a close second. Not only is it taught by a professional transcriptionist with years of experience, it also considers marketing yourself. Plus, with a free mini course to let you in on what to expect, it's hard to say no to giving TA a try.
Of course, such specialist platforms aren't within everyone's budget. This is why we've featured other honorable mentions, including Chelsea Flint's Transcription Skills on Udemy, which has generous downloadable resources and a mixture of marketing and technical learning. 
Elizabeth Le Roux's Learn How to Transcribe course (Skillshare) is also a good option. Becuase with a Skillshare subscription you can take Nitay L's Transcription and Captioning MasterClass at no extra cost.
So, by now, hopefully you have a better idea of what transcriptionist courses are out there, and which might be a good fit for you!
Related articles: Best online proofreading courses
Transcribing courses: Frequently asked questions
How much does an online transcribing course cost?
Online transcribing courses featured in this round-up vary from free to $499. Despite the difference, it's worth taking into account course length, teacher quality, and additional resources.
How long does an online transcribing class take?
Classes included range from between an hour to four months. You should also account for practice time!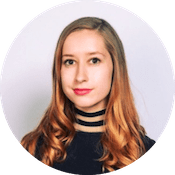 Rebecca graduated from King's College university with a first class honours in English Language, followed by a Masters' Degree in Eighteenth Century Studies.