A Coursera Certificate is an official endorsement that you've successfully completed a course on Coursera. And with partners like Yale, Stanford, Princeton and Google on board, a Coursera Certificate should definitely have value.
But if you're here you're probably asking yourself: Is a Coursera Certificate worth it? Does a Coursera Certificate have value? What difference will a Coursera Certificate on my resume make – if any?
Well, you've come to the right place. In this Coursera Certificate guide I'll be answering all the questions you might have about whether a Coursera certificate is worth it.
I'll be covering:
About Coursera and what a Coursera Certificate is – what it includes and what it doesn't
Why you might consider getting a Coursera Certificate
How much a Coursera Certificate costs
Top Coursera courses free (not certified) and paid (certified)
Are Coursera Certificates worth it?
How to add Coursera Certificates to your resume and LinkedIn
Coursera currently have a Black Friday deal. Click here to find out more.
What is a Coursera Certificate?
About Coursera
Coursera is one of the largest learning platforms in the world. It was started in 2012 by two Stanford professors with a mission to provide universal access to world-class learning.
Today, Cousera has 92 million registered users and is partnered with 250+ leading universities and industry educators to offer over 9,000 courses and degree programs. Over 100 Fortune 500 companies, and more than 6,000 businesses, campuses and governments use Coursera to upscale or reskill their employees, students and citizens.
What is a Coursera Certificate?
A Coursera Certificate is proof you've completed and passed a Coursera program.
All Coursera Certificates appear on your Accomplishments page as secure URLs. These can be shared online or to your LinkedIn profile. Plus, you can download Certificates as PDF files and print them.
To be eligible for a Certificate you have to:
Firstly, complete the name identification process
Then, pay the appropriate fee (these vary depending on the course) or be in receipt of Coursera Financial Aid
Lastly, pass any thresholds or assignments that are part of the course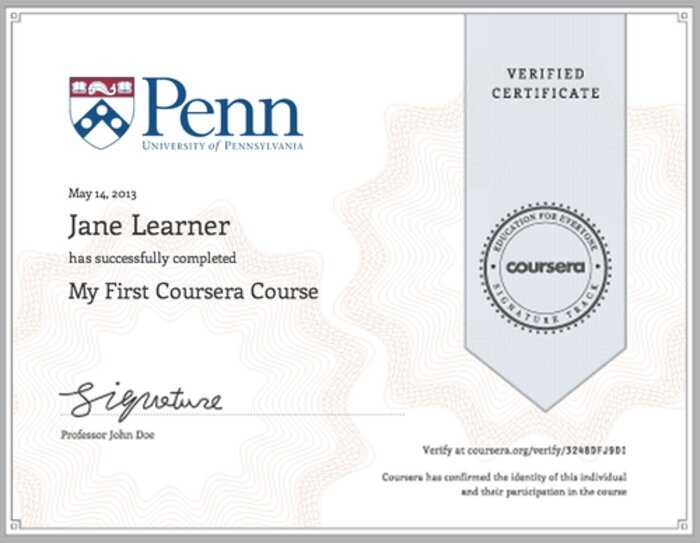 A Course Certificate includes the:
Course name
Tutor's signature
Partner Institution Logo
Verification URL allowing anyone you share the Certificate with to check its authenticity
Confirmation that Coursera has confirmed the identity of the recipient
A Course Certificate does not include:
Your photo
How long the course took to complete
The grade you received
Academic credit towards a degree from the partner institution offering the course (unless you are taking a MasterTrack – for more on these read our Coursera review)
Five reasons why you should get a Coursera Certificate
There are lots of reasons why you should consider getting a Coursera Certificate.
Coursera Certificates have value because they:
Provide official recognition from a world renowned institution
Are a way to build your qualifications, demonstrate your commitment to lifelong learning and stand out to a future employer
Increase your career prospects, help you earn more money through promotion and open new doors
Make it more likely you will finish the course. For example, research by Harvard and MIT shows that the completion rate for paid for courses is ten times higher compared to when not paying for the Certificate
And since Coursera's partners are globally renowned companies or top flight universities you would build mountains of debt to earn such Certificates in person
How much does a Coursera Certificate cost?
Coursera Course Certificates start at $49 and Certificates for Guided Projects start at $9.99. For Coursera Specializations and Professional Certificates there is a monthly cost of $39.99+ a month (so the final cost depends on how long it takes you to finish). You MUST remember to cancel your payment when you have finished or payment will continue to be taken.
A Coursera Plus subscription giving full certified access to 90% of the Coursera catalog is $399 per year. With a subscription you can take as many different courses as you like and earn certificates for all of them.
This table provides more details:
Coursera option
Goal
Length
Price
Billing
Courses
Gain knowledge
4-12 hours
*Free or from $49
Per course
Guided Projects
Learn a skill
1-2 hours
From $9.99
Per project
Specializations
Master a Skill
1-3 months
From $39.99 – with some *free content
Monthly
or per unit
Professional Certificates
Get job ready for a career
4-7 months
From $39.99
Monthly
Coursera Plus
Certified access to 90%+ of catalog
various
$59 Or$399
Monthly
or annually
MasterTrack Certificates
Earn credit towards a degree
4-7 months
From $2000
Per course or Monthly
*Free content is not eligible for a Certificate but you can upgrade and pay for the certificate at any time – even after completion
You can find out more about Coursera's pricing structure here.
Top Coursera Certificates (free and paid)
To give you a flavor of some of the most popular certified courses I've listed the most highly rated courses on the platform.
They include:
Courses: 1) Introduction to Psychology – Yale [rated 4.9/5] 2) The Science of Well Being – Yale [rated 4.9/5]
Guided Projects : 1) ChatGPT Playground for Beginners: Intro to NLP AI – Coursera Project Network [rated 4.8/5] 2) Wireshark for beginners: Capture packets – Coursera Project Network [rated 4.7/5]
Specializations : 1) Excel Skills for Business – MacQuarie University [rated 4.9/5] 2) Python for Everybody – University of Michigan [rated 4.8/5]
Professional Certificates: 1) Google Cyber Security – Google [rated 4.8/5] 2) IBM Data Analyst – IBM [rated 4.6/5]
So, as you can see, Coursera course providers are either prestigious universities or globally renowned companies. And the skills and knowledge being taught are in-demand and very marketable.
For short reviews of most of these courses and more detail about how Coursera works in general check out our Coursera review.
Benefits and drawbacks of Coursera Certificates
Pros of Coursera Certificates
According to Harvard and MIT completion rates for courses increase tenfold if you enrol in a course and pay for a certificate.
Many Guided Projects, Coursera Specializations or Professional Certificates teach new and highly marketable skills. They are project-based so you not only have a certificate but can provide evidence that you can do the things your certificate suggests you can.
Cons of Coursera Certificates
Whilst you have to verify your identity to receive a certificate, there is no guarantee that it was actually you who completed the course. It is possible to cheat and employers know this. The most valuable certificates are therefore those that are earned through completing a project that you can showcase to prove that you have learned what you have been certified for.
This brings me onto my next question:
Can a Coursera certificate get you a job?
Coursera does not provide or guarantee job placement.
However, if you take a:
Guided Project
Coursera Specialization
Coursera Professional Certificate
You will usually complete a project that you can showcase to employees. An employer is really more interested in what you learnt from the course, and, more importantly, how much of that knowledge/skill you bring to the table.
Are Coursera Certificates worth it?
On the whole, yes.
If you're seeking promotion, looking for a career change, or the skills you are learning are highly sought after, then a Coursera Certificate does have value and is definitely worth the investment.
Coursera partners and course providers are world class. The tutors are the same professors that teach in person or are recognized industry experts.
Any prospective employer is likely to see your investment in yourself as a good indicator that you're a self starter and are worth their investment too.
On the other hand, if you're just taking a course for fun and it's available for free, then enjoy it! And don't worry about the Certificate.
Plus, if the course you are considering is not very popular you must check out the course rating and any reviews for the course. Because if it's been on the platform a while it might be a little out of date.
Ultimately, there are lots of ways to check out Coursera content for free and then upgrade later if you want to. Plus Coursera offers a variety of refunds and money back guarantees, so there's very little risk to you.
For more granular advice for getting the best value out of Coursera check out our Coursera cost review.
How to add Coursera Certificate to your LinkedIn and resume
Share your Course Certificate on LinkedIn
Open your Accomplishments page
Find the Certificate you wish to share
Click on Add to LinkedIn Profile
Then follow the instructions and your Certificate will be placed in the Certifications section of your profile where it can be viewed by prospective employers and LinkedIn colleagues
To add your Coursera Certificate to your resume:
Log into your Coursera account and open your Accomplishments page
Find the Certificate you want to add to your resume
Copy the URL and paste it into your resume
Related articles: Coursera review, Coursera Cost, Coursera Refund, Udemy vs Coursera, Coursera Alternatives and Coursera Statistics
Coursera Certificate -FAQs
How much does a Coursera Certificate cost?
Coursera Course Certificates start at $49 and Certificates for Guided Projects start at $9.99. For Coursera Specializations and Professional Certificates there is a monthly cost of $39.99+ a month (so the final cost depends on how long it takes you to finish). A Coursera Plus subscription giving full certified access to 90% of the Coursera catalog is $399 per year. 
Do Coursera certificates count as academic credit towards a degree? 
The only Coursera Certificates that count as credit towards a whole degree are Coursera MasterTracks.
Can a Coursera Certificate guarantee you a job?
No – but it can make you stand out from the crowd to a prospective employer. And if you do a project based Specialization or Professional Certificate you will be able to showcase what you know.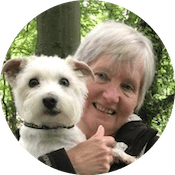 Liz Hurley has 30+ years of high school teaching experience and is one of our senior writers here at Learnopoly.